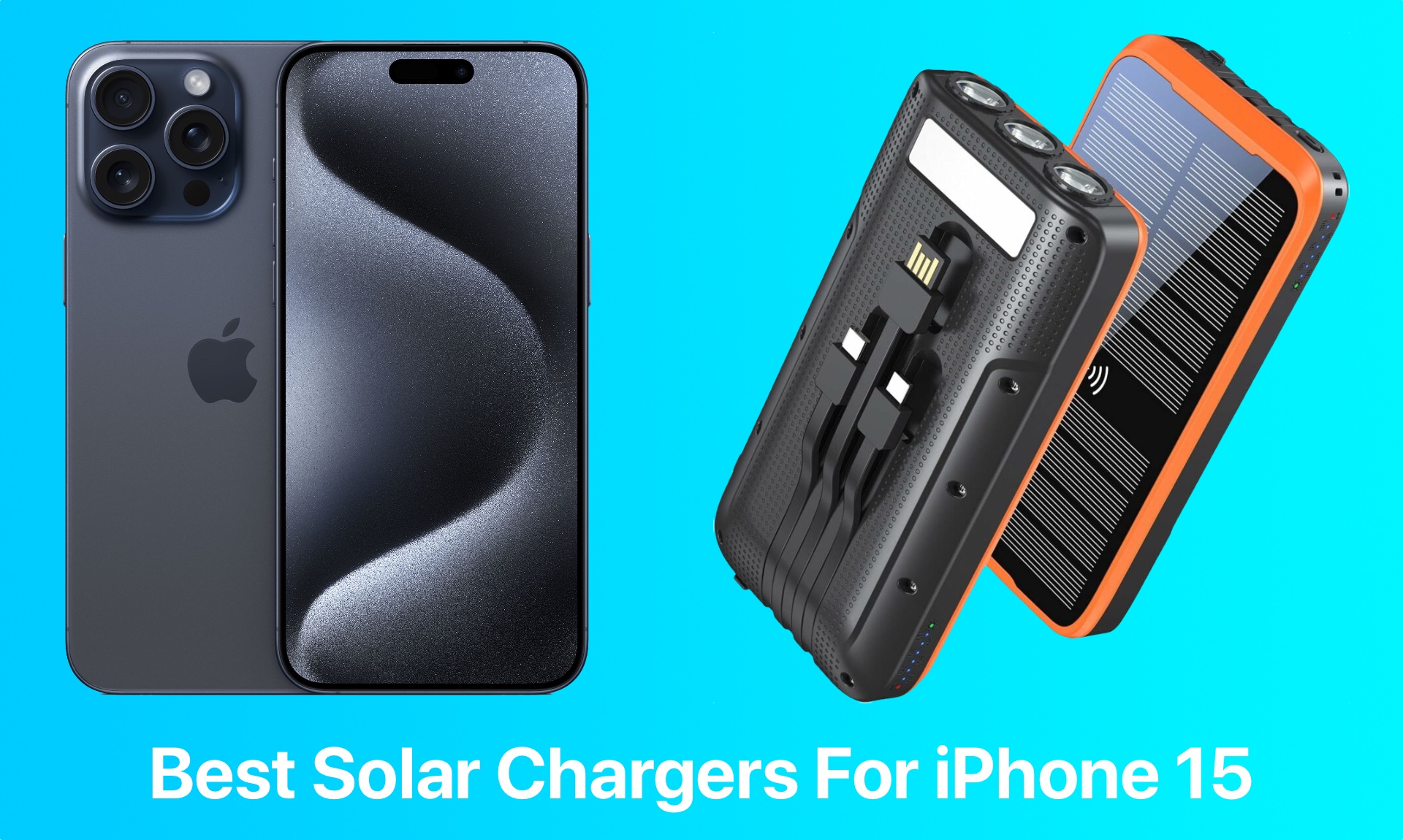 In a world that's constantly on the move, keeping your iPhone 15 and iPhone 15 Pro powered up has never been more critical. Whether you're a seasoned adventurer exploring the great outdoors or just looking for a sustainable way to charge your devices, the best solar charger power banks for iPhone 15 offer a bright solution to your power needs. Gone are the days of frantic searches for power outlets or carrying bulky portable chargers.
Join us as we embark on a journey through the best solar power banks for iPhone 15 Pro Max and iPhone 15. Say goodbye to battery anxiety and hello to eco-friendly charging that harnesses the power of the sun to keep your devices juiced up wherever you roam.
Let's explore the top contenders in the world of solar charging and help you find the perfect companion for your high-tech Apple devices.
If portable solar power banks for iPhone 15 are not for you, then you can also check out our list of best iPhone 15 power banks here.
Best Portable Solar Charger Power Banks For iPhone 15
Here are the best portable solar charger power banks for iPhone 15, iPhone 15 Plus, iPhone 15 Pro, and iPhone 15 Pro Max.
1. BLAVOR Solar Charger Power Bank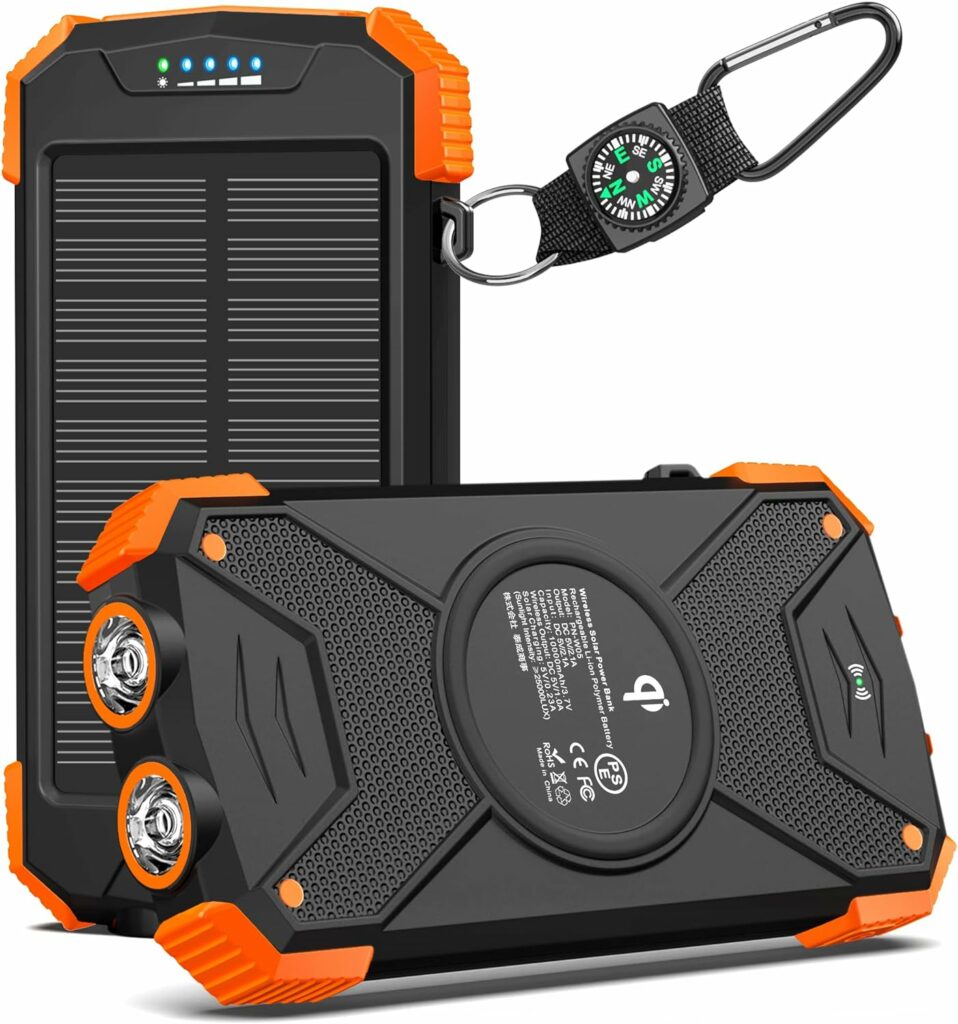 The BLAVOR Solar Charger Power Bank charges up to 50% faster with a 5V 2.4A output and zero worries about damaging your devices. You can even power up three gadgets simultaneously, thanks to multiple output/input options. Whether you have an iPhone or an iPad, this power bank has got you covered.
What sets Blavor apart is the safer Lithium-cobalt battery, offering 50% more cycles compared to the regular Li-polymer battery. And don't be fooled by its small size – this solar battery pack has a real-rated 10,000mAh punch. When fully juiced up, it can charge an iPhone 15 about 2.2 times, and an iPad Air once.
The BLAVOR portable solar charger is IPX5 waterproof, dustproof, and shockproof. It even features dual super-bright flashlights and comes with a handy compass carabiner for added safety during your outdoor adventures.
Buy BLAVOR Solar Charger Power Bank for $28.99 ($49.99 before) here.
2. Jinepin Solar Power Bank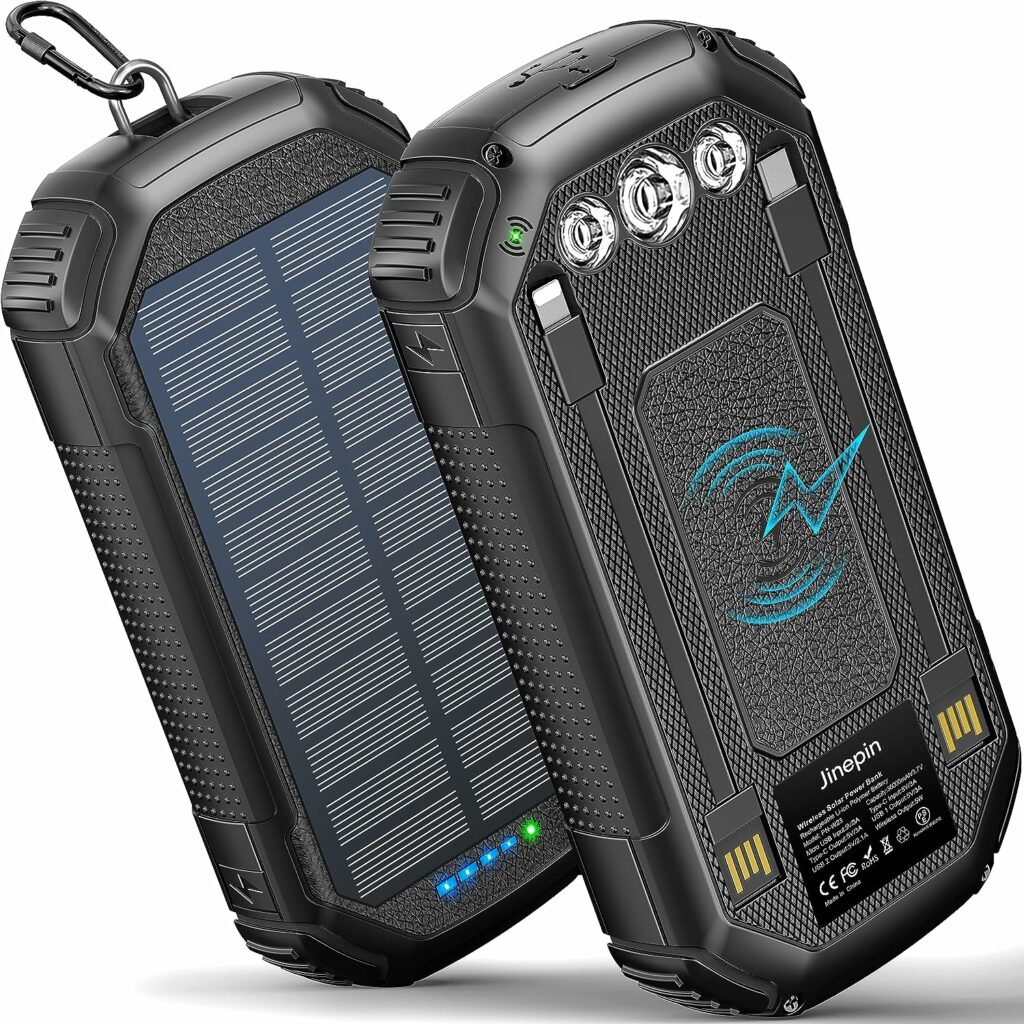 With a whopping 36000mAh high-capacity battery crafted from premium Li-polymer materials, Jinepin Solar Power Bank can charge your devices multiple times over. And guess what? It's not just tough; it's practically indestructible with its waterproof, dust-proof, and shockproof outer shell.
Jinepin has got your charging needs covered with 3 detachable cables, including USB C, Micro USB, and lightning cables. Tired of carrying extra cables? No problem! The brand has stashed two of them right in the back slot for your convenience.
Shed some light on your adventures with the bright LED camping light that comes with the solar battery pack. And for those moments when you need to recharge on the go, it has a handy carabiner – just hook it onto your backpack, and let the sun do its magic.
Buy Jinepin Solar Power Bank for $40.99 here.
3. Hiluckey Solar Charger Power Bank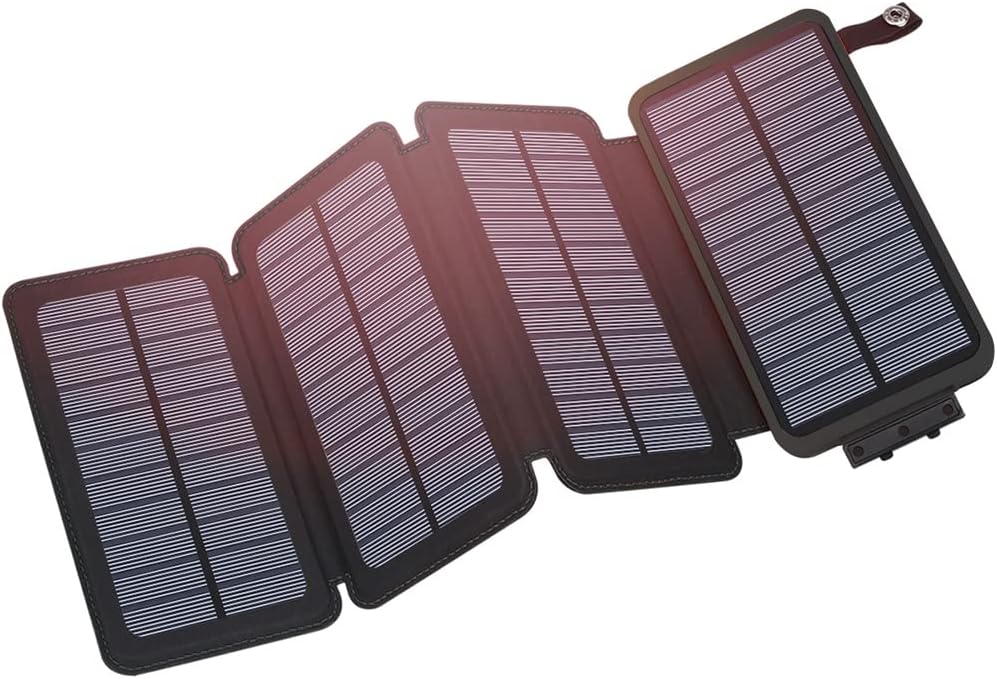 Next on our list of the best solar power banks iPhone is Hiluckey Solar Charger Power Bank. With four high-performance solar panels, it can generate up to 6W in direct sunlight. That means you can keep your iPhone running and your tablet charged even when you're off the grid.
Thanks to the upgraded 15W output, this portable solar charger can supercharge your iPhone to 50% in just 30 minutes. Plus, it can juice up three devices at once with its USB C port and dual USB A ports. Additionally, it comes with a built-in bright flashlight, making it a must-have for emergencies. Hang it on your backpack to catch some sun, and you're good to go.
Speaking of convenience, the USB C port supports both input and output. With a PD fast charger, it only takes about 8 hours to fully recharge. Plus, there's an internal security system to protect your precious devices from any mishaps.
Buy Hiluckey Solar Charger Power Bank for $46.99 here.
4. RABrand Solar Wireless Magnetic Power Bank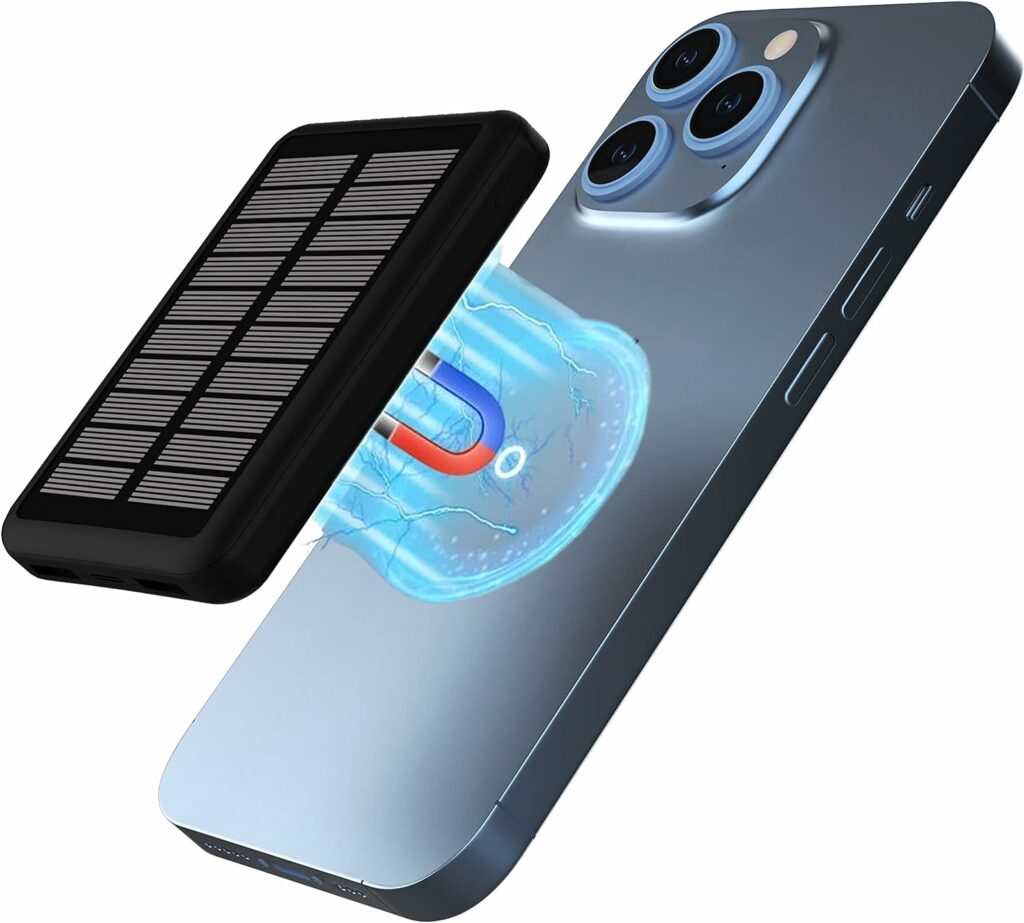 Experience lightning-fast wireless charging at 15W and a super-speedy cable output of 22.5W. What's even cooler? RABrand Solar Power Bank is a true all-weather champ, working seamlessly in sunny, cloudy, or rainy conditions, thanks to its robust solar power feature and strong magnetic design. Need to juice up multiple devices at once? No problem! This powerhouse can charge three devices simultaneously, whether you have MagSafe or regular cases.
Operating it is a breeze – just press and hold the power button to kickstart or stop charging. The smart LED indicators keep you in the loop about the power bank's charge percentage. Plus, it's intelligent enough to turn off automatically when unplugged from your device, saving energy.
Equipped with PD-QC output at 22.5W and a Type-C input at 9V/2.25A, it boasts one Type-C and two USB ports for versatile charging. And the best part? It automatically absorbs, making your charging experience hassle-free.
Buy RABrand Solar Wireless Magnetic Power Bank for $35.99 here.
5. Jinepin Wireless Solar Charger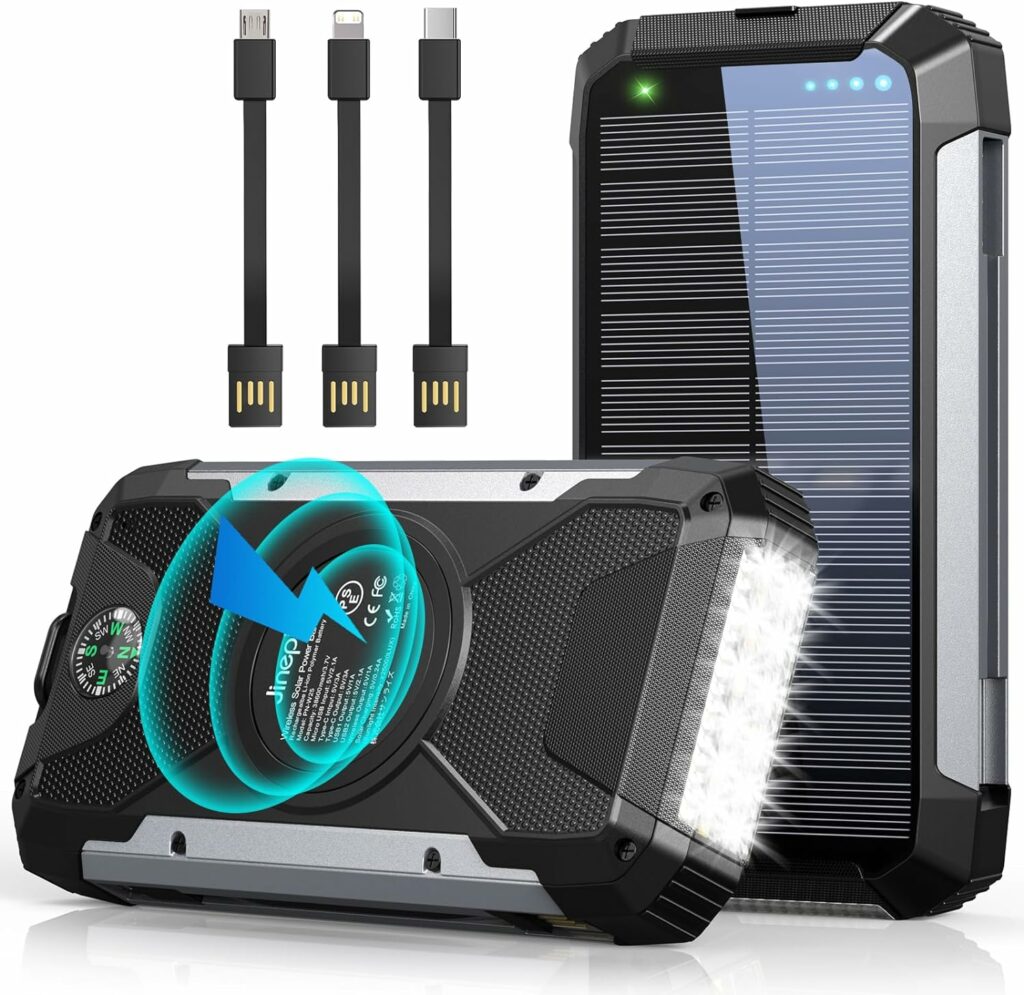 With a massive 38,600mAh capacity, Jinepin Wireless Solar Charger has got you covered. It can provide more than 5 full charges for an iPhone 15 Pro Max, and over 3 charges for an iPad mini 5.
But what sets this power bank apart is its cable-free convenience. It supports wireless charging for all Qi-enabled phones, making it super easy to charge your iDevices. Plus, it boasts dual USB A outputs and a USB C output (5V/3A), so you can charge up to 4 devices simultaneously, catering to your family and friends' charging needs.
Not only is it versatile in charging, but it also comes prepared with 3 cables – Micro-USB, IOS, and USB-C – so you can have your choice. With 2 USB output ports, 1 USB-C output port, and wireless charging, this power bank can handle multiple devices effortlessly.
Buy Jinepin Wireless Solar Charger for $41.98 ($49.99 before) here.
6. RETMSR Portable Charger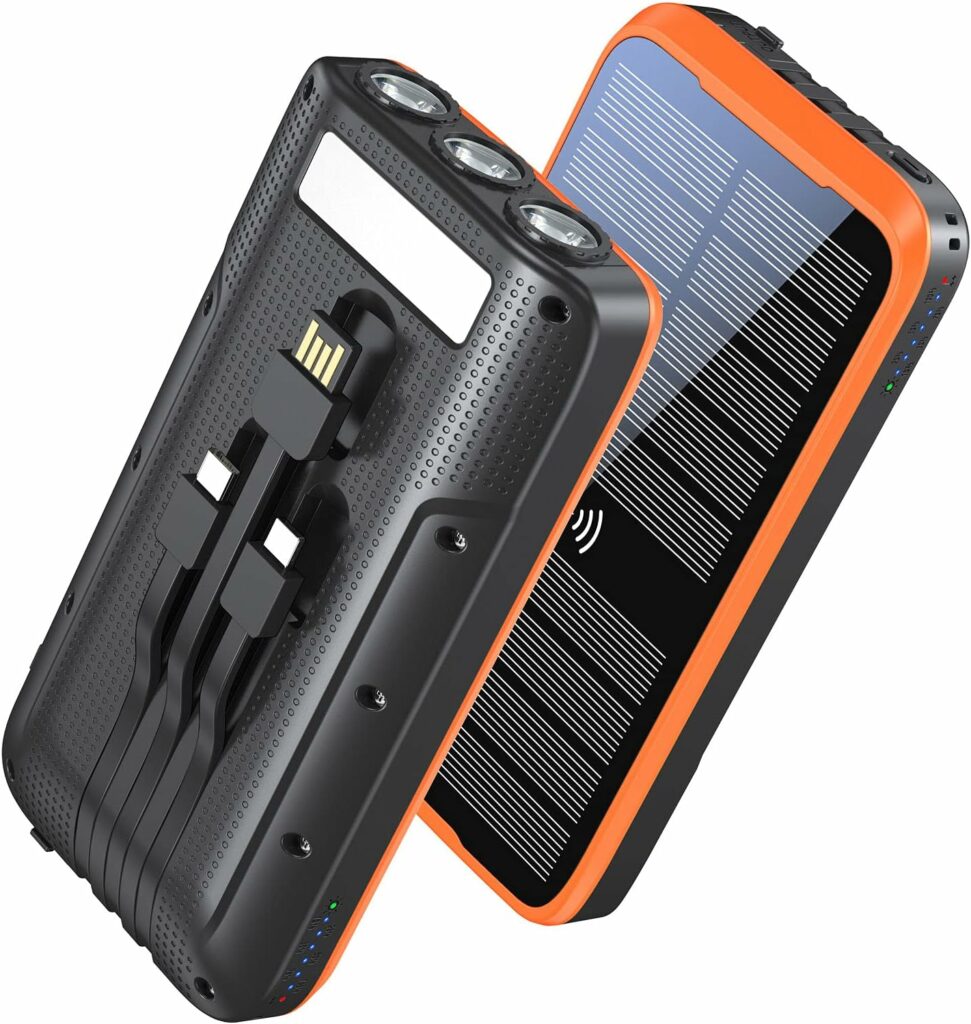 Enjoy the convenience of 10W wireless charging for your iPhone devices. Weighing in at just 1.05 lbs, RETMSR Portable Charger is a favorite among outdoor enthusiasts.
Need a quick top-up for your power bank? The USB-A 22.5W input cable can fully recharge it in just 6.5 hours. For your devices, the RETMSR Portable Charger has you covered with Type-C 15W and PD 20W output cables. Your iPhone 12 will be at 100% in just 40 minutes. Plus, this charger can juice up to five devices simultaneously.
For those sunny days, the built-in solar panel comes to the rescue. It's equipped with three powerful LED lights that provide 680 lumens of brightness, with a range of up to 350 feet. Whether you need strong, soft, SOS, or strobe lighting, it's your trusty companion for outdoor activities like camping and hiking.
Buy RETMSR Portable Charger for $26.99 ($29.99 before) here.
7. KAPURUI Portable External Backup Battery Charger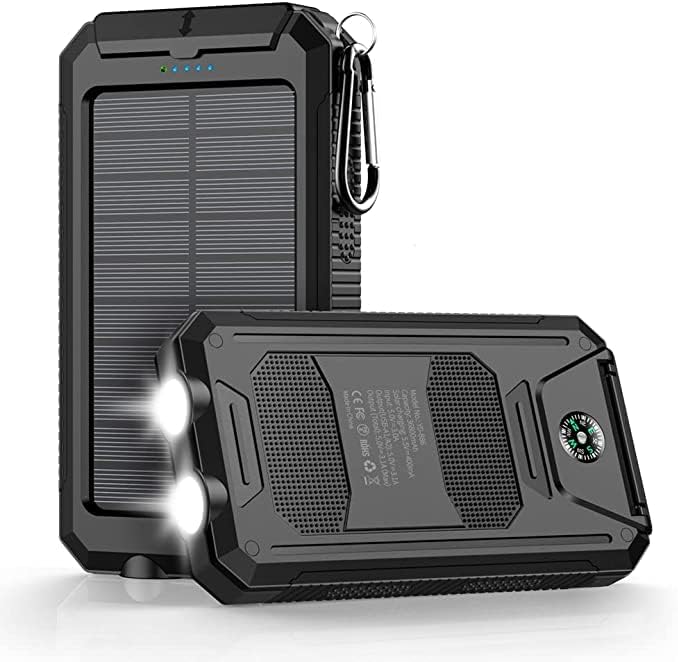 The RETMSR Portable Charger packs a punch with its high-density lithium polymer batteries, offering more juice in a compact package. Say goodbye to the anxiety of your gadgets running out of power, as this charger supports eco-friendly solar charging.
This charger doesn't just keep your devices running; it also lights up your way with two bright flashlights that have an impressive 100 hours of battery life. A long press of the power button for 3-4 seconds turns the flashlight on, and another press turns it off.
Thanks to its smart chip, this charger can intelligently identify most electronic products on the market and deliver a stable current, protecting your device from fluctuations. And durability is built-in too, with high-strength engineering ABS material that's flame-retardant and drop-resistant. The multi-channel waterproof and sealing process ensures it's ready for any adventure, making it one of the best waterproof solar chargers.
Buy the KAPURUI Portable External Backup Battery Charger for $23.80 ($29.99 before) here.
To Conclude
In a world where our smartphones are our lifelines, having reliable and efficient iPhone 15 Pro solar chargers is not just a convenience but a smart investment in our planet's future. With a plethora of options available, we've curated a list of portable chargers with solar charging for iPhones that combine cutting-edge technology with eco-conscious design.
From compact, portable chargers for your outdoor adventures to sleek and stylish options for everyday use, these chargers ensure your devices stay powered up while reducing your carbon footprint.
Disclosure: iOSHacker may receive a commission if you purchase products through our affiliate links. For more visit our privacy policy page.