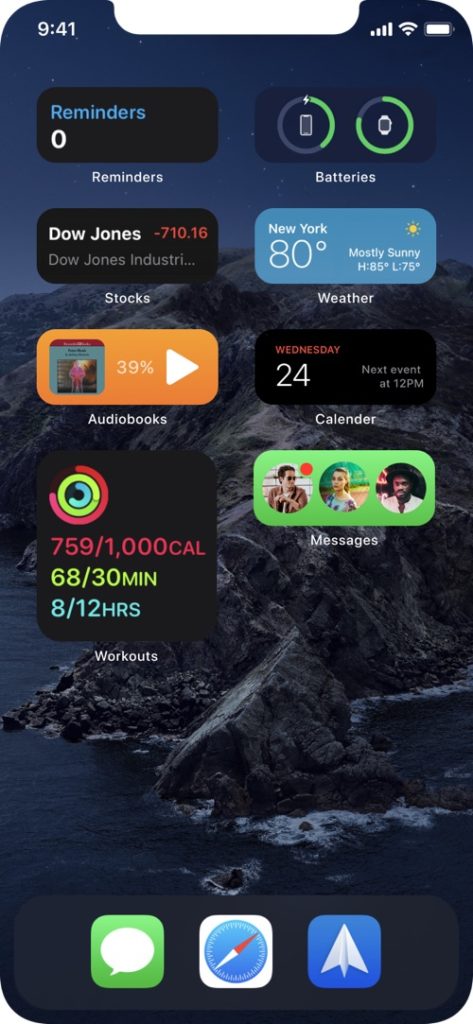 iOS 14 finally brings home screen widgets to the iPhone. This new feature allows users to add information rich widgets to the home screen and put them in between app icons. While Apple's implementation is great there's certainly room for improvement.
As we showed in our hands on video on iOS 14 widgets Apple has allowed users to choose between three sizes including Small, Medium and Large. Even though getting more than one options is something iOS users would normally celebrate, with the widgets there's an even smaller size that is currently missing.
As demonstrated by this Compact iOS 14 widget concept on Reddit Apple could have made the widgets look more elegant by offering an even smaller size. The Compact size that you can see in the image above would have been able to show almost as much information as the current 'Small' size while taking half the space.
On iOS 14 beta 1 Apple is offering a layout of 4×4 on the small option, however in concept we can see that 2×1 layout also works great. This size will even give users the ability to place more widgets or icons on a single page. It will essentially double the amount of widgets that can be housed on a single page.
The concept also has first party widgets that are currently missing from iOS 14 beta. This includes a dedicated widget for Messages and Audiobooks.
Interestingly the widgets in the concept, specifically the Messages widget has multiple tap targets (button). It looks great both visually and functionally allowing users to quickly jump to a specific message thread right from the widget.
This is also something Apple needs to reconsider with Small widget size, as according to its current widget guideline for developers Small size widgets can only have a single tap target, whereas medium and large widgets can offer multiple tap targets.
What do you think about this concept? Should Apple offer a Compact size in addition to the sizes already available in iOS 14 beta? Let us know!