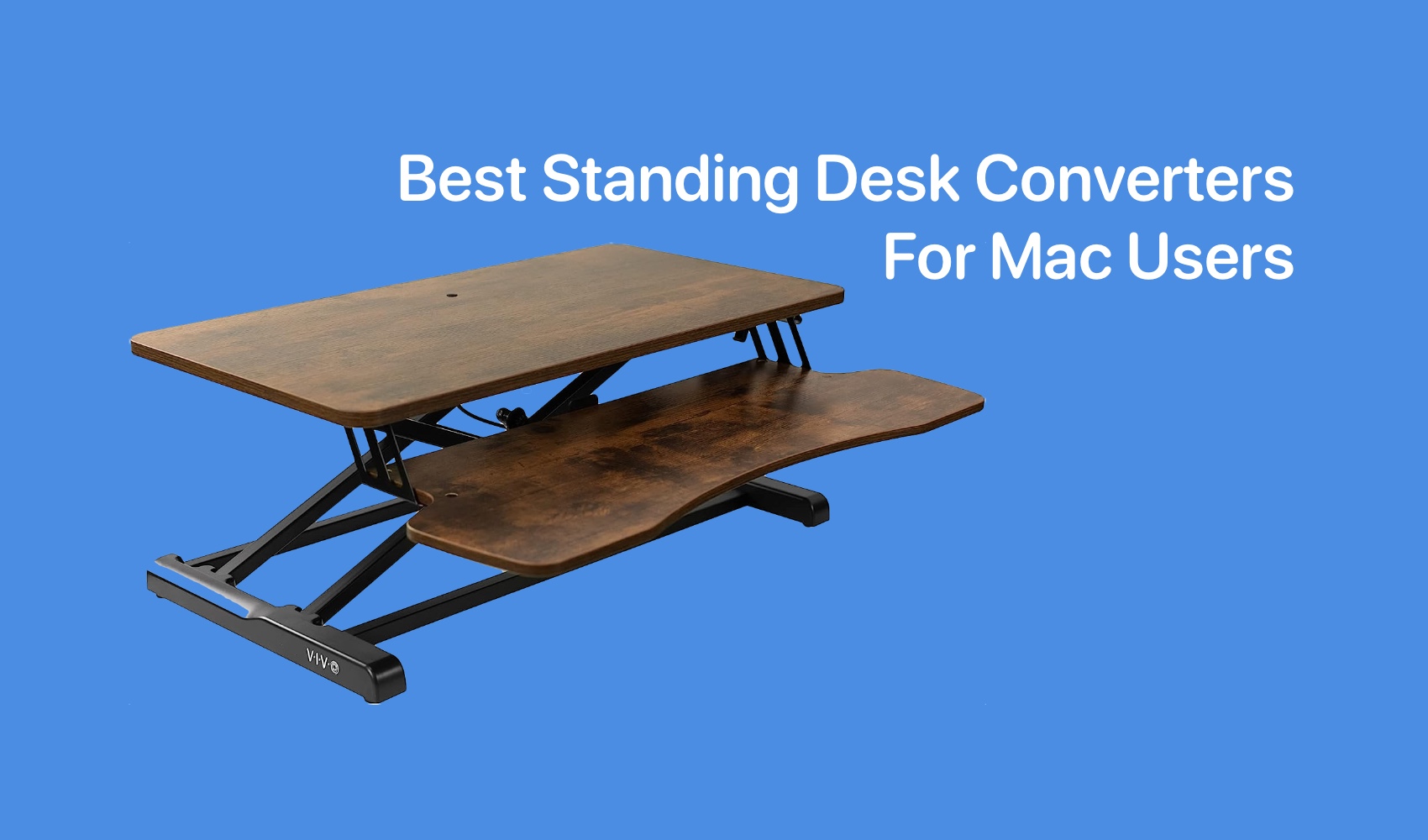 In this article, we're diving into the wonderful world of the best standing desk converters! Say goodbye to sedentary workdays and hello to a more active, lively, and, dare we say, Instagram-worthy workspace.
Tired of that inevitable midday slump where your energy hits rock bottom and your productivity seems to follow suit?

So, let's elevate your desk, mood, and Mac-loving heart with our top picks for the best standing desk converters in 2023. Your back and your boss will thank you – trust us!
Well, guess what? Your trusty Mac desk is about to get a serious upgrade – and it doesn't involve a complicated software update or a mystical unicorn mousepad. You can now convert any desk into a standing desk.
Best Standing Desk Converters
Here are some of the best standing desk converters that you can get for your Mac desk and make your work desk more comfortable.
1. VIVO 32-inch Desk Converter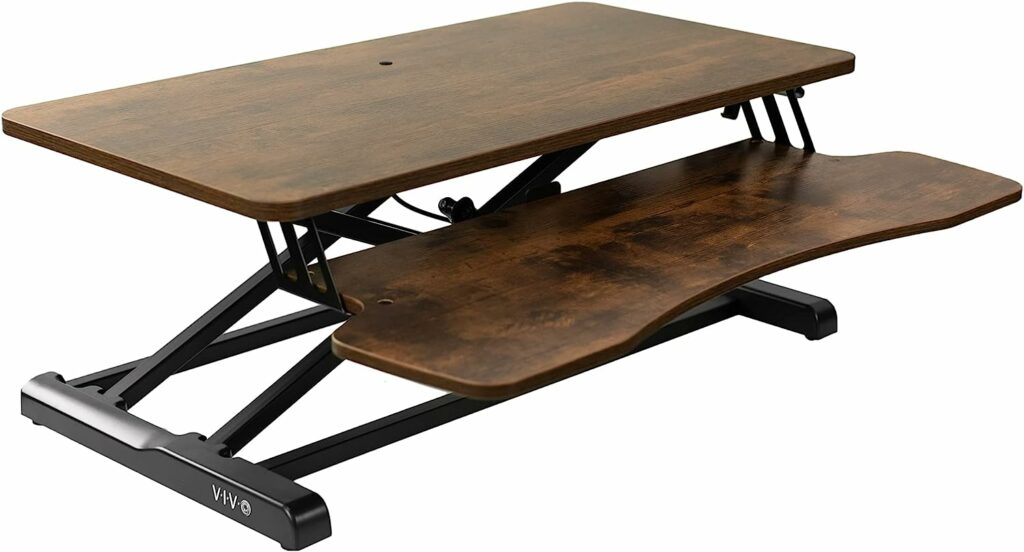 With a spacious top surface measuring 31.5″ x 15.7″, this desk riser optimizes your workspace, accommodating dual monitors without compromise. The intelligently designed keyboard tray, measuring 31.3″ x 11.8″ (10.5″ at the center), elevates harmoniously with the top surface, ensuring an ergonomically ideal setup.
Transition effortlessly from sitting to standing with the ingenious touch-height locking mechanism, providing a smooth adjustment range of 4.5″ to 20″. The lifting design ascends directly upward, maintaining a streamlined appearance.
Setting up your workstation is nearly effortless, as this riser is primed for immediate use. Simply place it on your current desk, affix the keyboard tray, and witness your workspace transform into a well-organized hub of efficiency.
Buy VIVO 32-inch Desk Converter for $149.99 here.
2. FLEXISPOT 35in Standing Desk Converter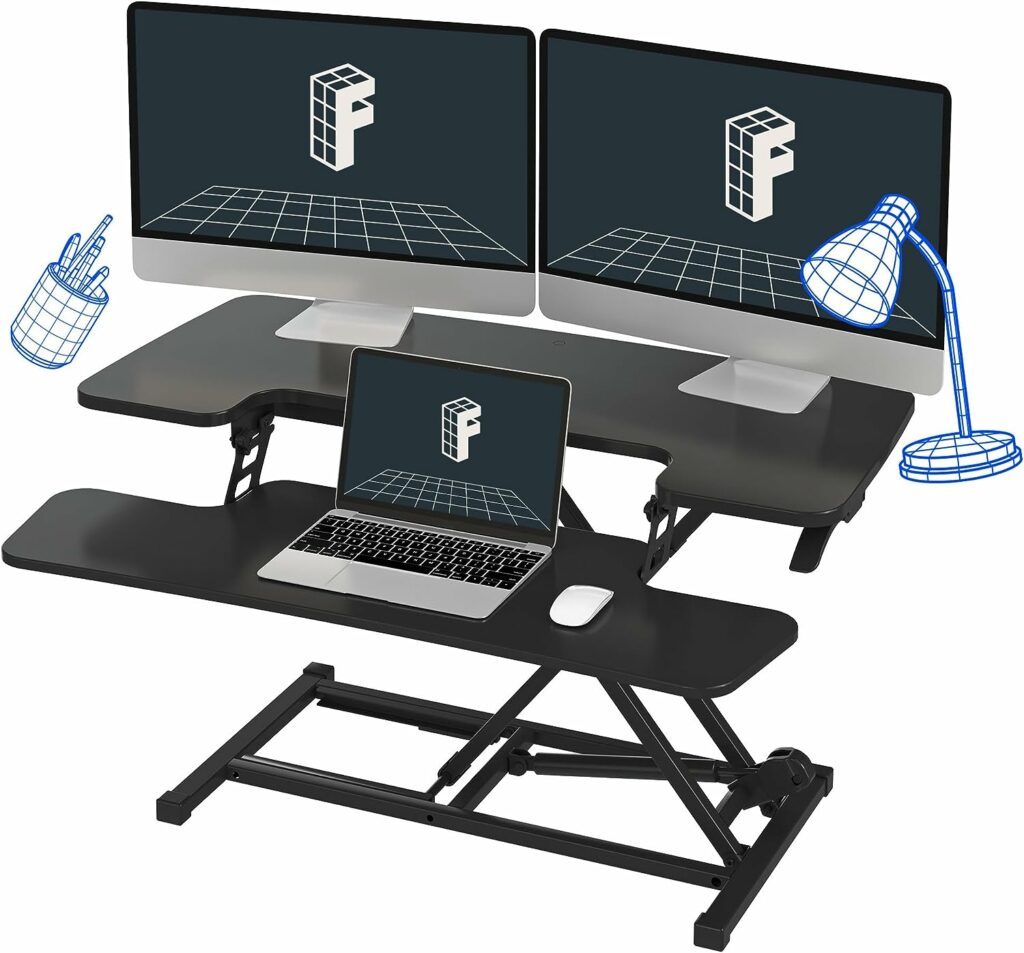 Designed with ergonomic excellence in mind, the two-tier configuration of the FlexiSpot standing desk riser is engineered to enhance your reading and typing experiences.
The expansive 35" top tier comfortably accommodates monitors up to 27", while the spacious base tier, boasting a depth of 12.1", readily accommodates a standard keyboard and mouse or a 13" laptop.
Transitioning from sitting to standing is effortless, thanks to the intuitive single-lever mechanism. Experience the fluidity of height adjustment, ranging from 4.7" to 19.7", allowing you to tailor the desk to your preferred ergonomic level. With the robust gas spring system, this innovation effortlessly supports weights of up to 33 lbs, while the dedicated keyboard tray can hold up to 4.4 lbs.
Buy FLEXISPOT 35in Standing Desk Converter for $149.99 here.
3. HW 32-Inch Height Adjustable Standing Desk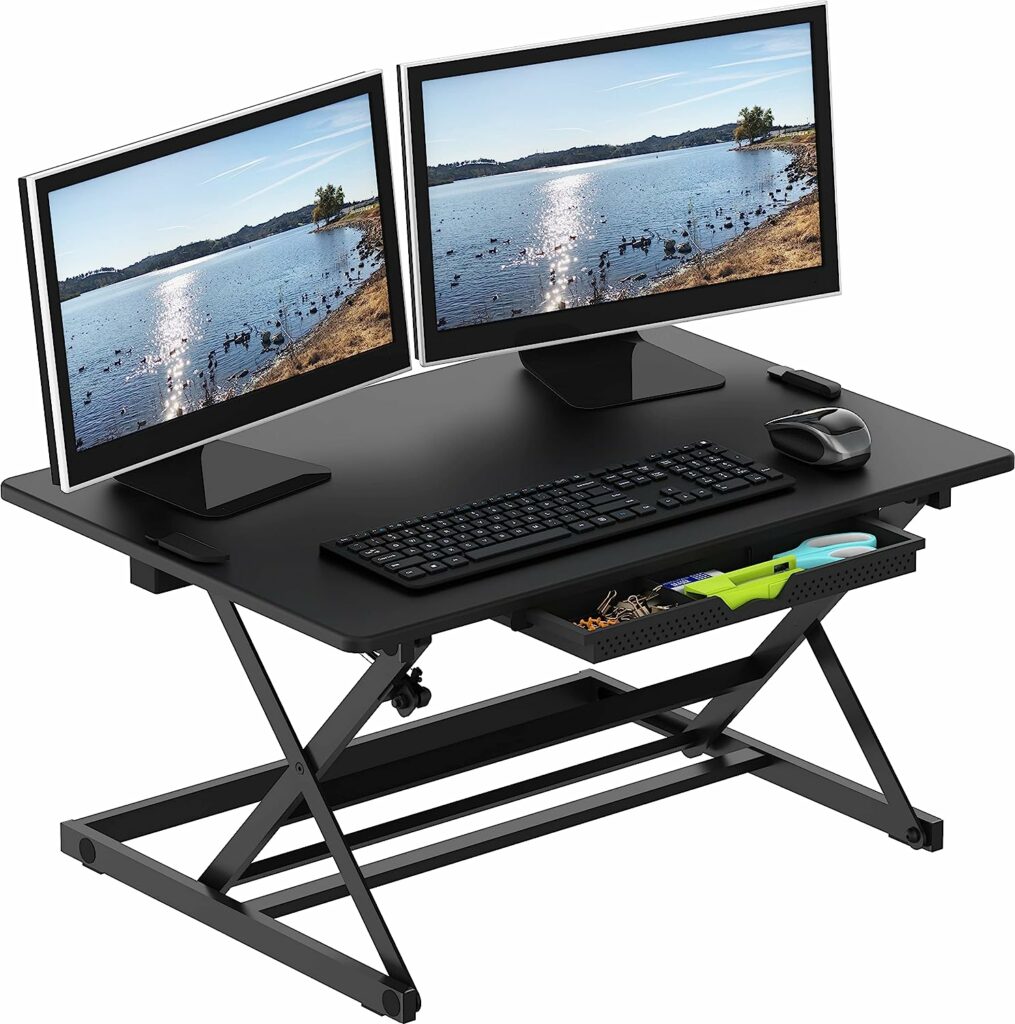 The height-adjustable workstation provides an essential solution for maintaining a healthy equilibrium between sitting and standing during extended work hours. It offers seamless adjustment to various height positions, ranging from 4″ to 16″, accommodating individual preferences and promoting well-being.
This workstation has two top-quality class 4 pneumatic cylinders capable of supporting up to 60 lbs of weight. The additional five dividers enhance your drawer space's flexibility, enabling tailored organization based on your specific requirements.
Furthermore, it provides stability while conserving valuable desk space when in use. Crafted from robust steel and adorned with a stylish powder coat finish, its design ensures durability, translating to a prolonged lifespan of usage.
Buy HW 32-Inch Height Adjustable Standing Desk for $109.87 here.
4. TechOrbits Standing Desk Converter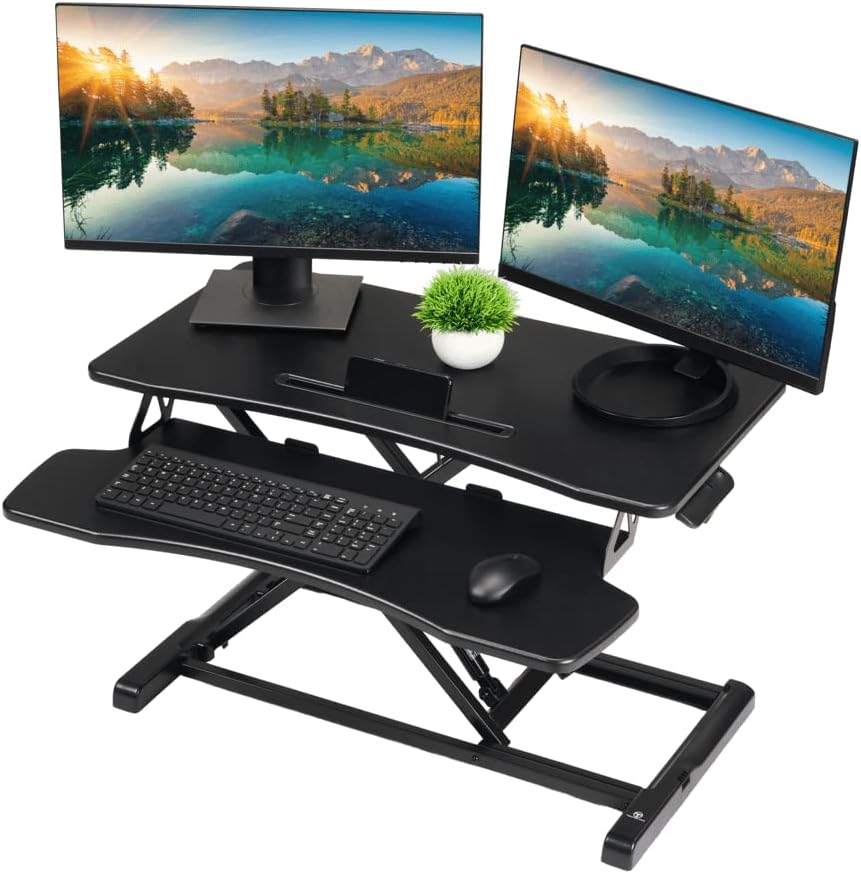 Experience a new level of dynamic work style with the TechOrbits Stand-Up Desk Workstation. Elevate your desktop effortlessly to your preferred height, transforming your work environment in an instant.
Crafted for convenience, this adjustable standing desk converter arrives with all the necessary components and user-friendly assembly instructions. Crafted from robust MDF wood, this converter ensures enduring strength and exudes a modern aesthetic.
Embrace a healthier work routine by transitioning from seated to standing with the TechOrbits Adjustable Standing Desk Converter. Boasting a generous 37″ width, this desk features 25L x 37.4W x 19.9H inches dimensions. Its upper tier can support up to 35 lbs, while the lower level accommodates 5 lbs, in addition to a dual monitor setup and various office essentials.
Buy TechOrbits Standing Desk Converter for $212.19 here.
5. Vari – VariDesk Pro Plus 36 – Dual Monitor Standing Desk Converter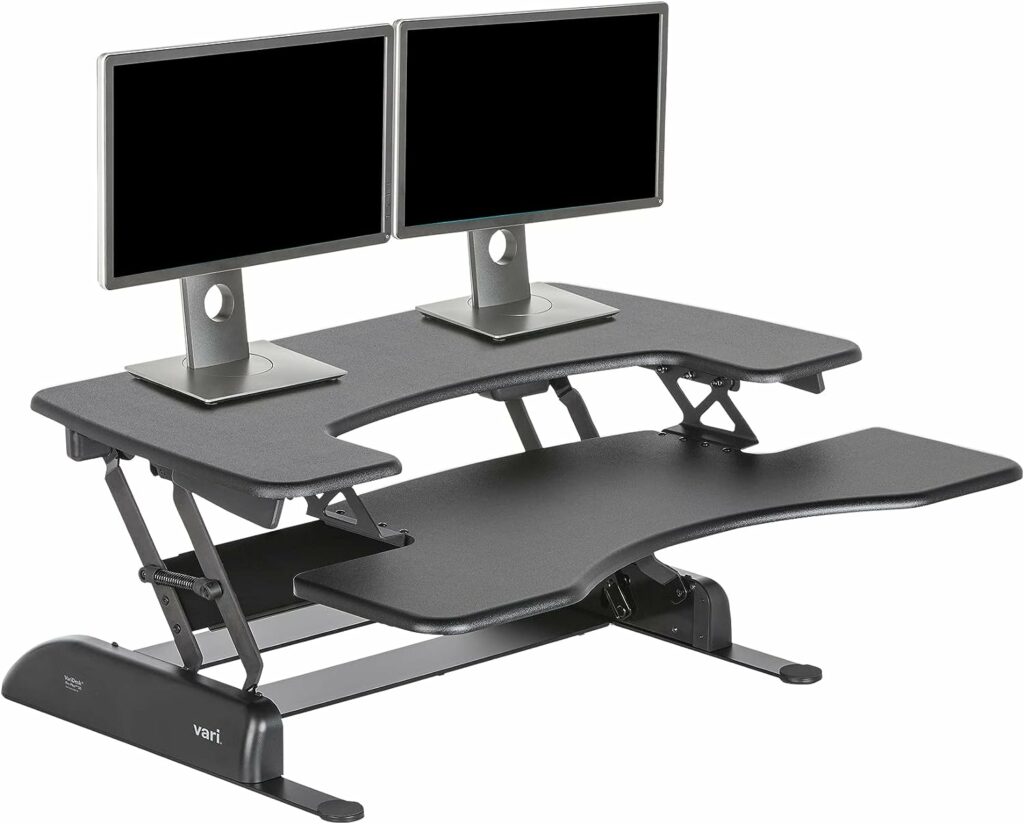 Effortlessly elevate your current workstation into a spacious sit-stand desk using this two-tier rising desk converter. The upper tier boasts ample dimensions (36" wide x 12.25" length) to accommodate up to two computer monitors. At the same time, the lower keyboard deck offers generous room for your keyboard, mouse, and supplementary accessories. A total of 11 adjustable height settings empower you to raise the sit-stand converter to a maximum of 17.5″ above your desk or table.
Enhanced with thicker gauge steel, a 3D laminate finish, and BIFMA certification, this dual monitor standing desk is engineered to withstand the test of time. Supported by dual stability bars and a substantial weighted base, this adaptable desk remains unwaveringly steady and dependable at all elevations.
Uplift and lower your computer workstation with utmost safety and convenience using VariDesk converters. Equipped with dual handles and a patented foam-wrapped steel mechanism that guards against pinch points, our sit-stand converters are meticulously crafted and rigorously tested to prioritize your safety and facilitate ease of use.
Buy Vari – VariDesk Pro Plus 36 – Dual Monitor Standing Desk Converter for $361.25 here.
6. SHW 36-Inch Height Adjustable Standing Desk Converter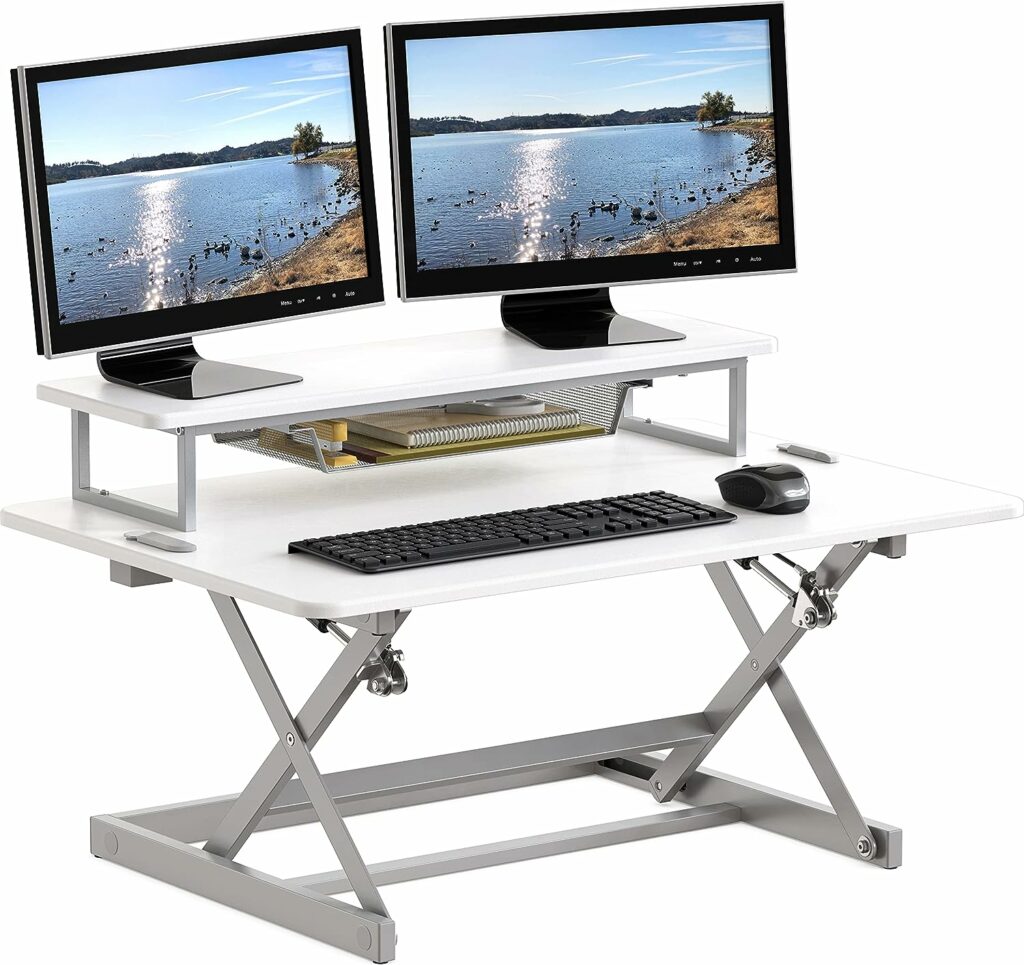 The height-adjustable workstation offers the invaluable opportunity to strike a harmonious and health-conscious equilibrium between seated and standing postures, ensuring your well-being even during extended work hours.
Crafted with an ergonomic design, this standing desk exudes reliability, maintaining unwavering stability to support your work essentials. Its robust construction boasts a remarkable weight capacity of up to 30 lbs, ensuring your workspace remains secure and dependable.
Featuring a generous 36-inch wide desktop complemented by an over-desk riser, this workstation is tailor-made for accommodating dual monitors with utmost ease. This expansive setup empowers you with enhanced multitasking capabilities, allowing you to seamlessly navigate your tasks and projects.
Buy SHW 36-Inch Height Adjustable Standing Desk Converter for $134.87 here.
7. ErGear Standing Up Desk Converter Height Adjustable Sit Stand Desk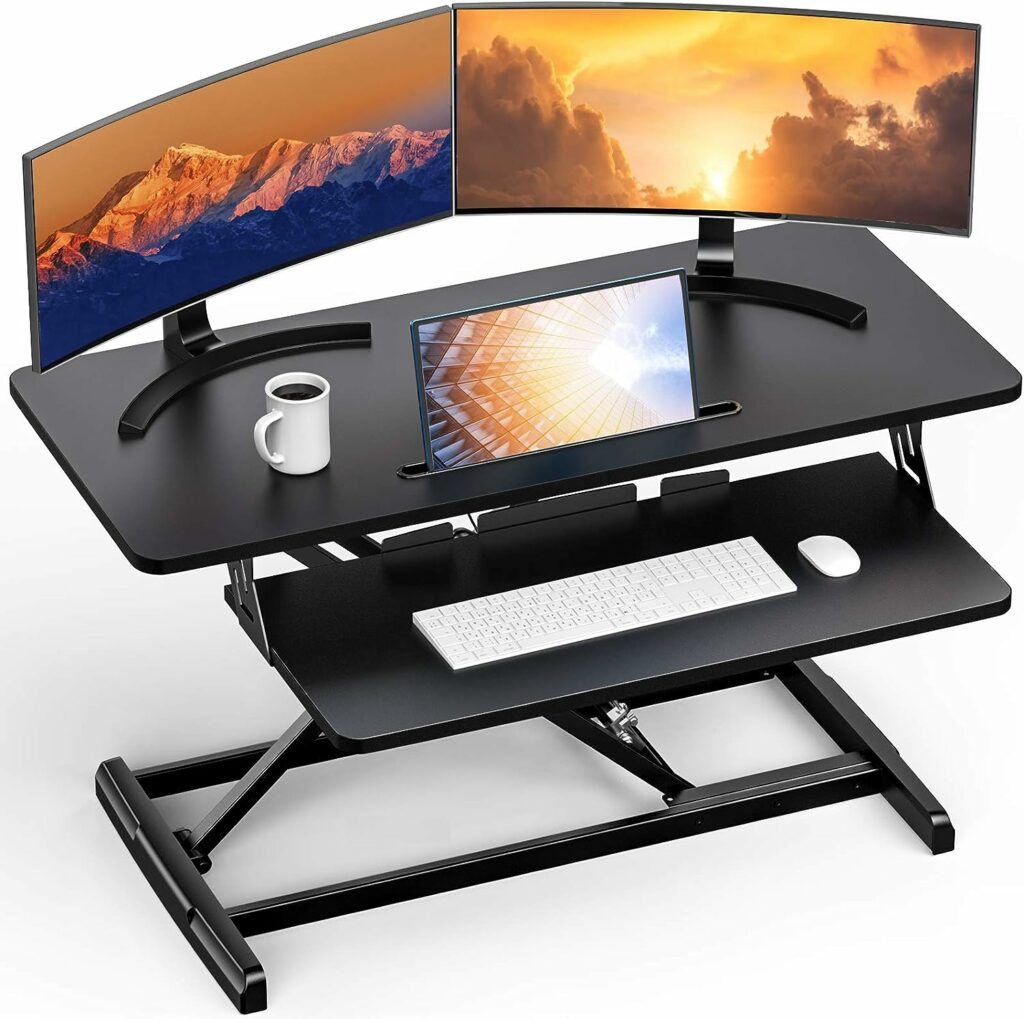 Transition seamlessly between sitting and standing during your extended workdays with the EGSSD6 standing desk converter, which offers your body an array of health benefits.
Crafted with precision, the ingenious gas spring lever system ensures a smooth and effortless height adjustment for your standing desk, facilitated by a conveniently placed handle. This allows you to tailor the desk's height to a range of preferences, spanning from 4.7″ to 19.3″ above the existing desk surface, allowing the flexibility to alternate between sitting and standing postures seamlessly.
The ErGear standing desk converter distinguishes itself through its user-friendly setup process, complemented by comprehensive assembly instructions. The impeccably smooth desktop is conducive to effortless daily upkeep and features waterproof construction, enhancing its durability.
Buy ErGear Standing Up Desk Converter Height Adjustable Sit Stand Desk for $179.99 here.
To Conclude
Whether you're seeking sleek design, ergonomic excellence, or seamless integration with your Mac setup, the standing desk converters highlighted in this article stand as prime examples of innovation and functionality.
As you embark on your journey to create a healthier and more efficient workspace, these top contenders promise to elevate your work experience, inviting a dynamic balance between work and well-being that can revolutionize the way you approach your daily tasks.
Embrace the transformative potential of these standing desk converters, and take a significant step towards a more vibrant and productive work life.
Disclosure: iOSHacker may receive a commission if you purchase products through our affiliate links. For more visit our privacy policy page.