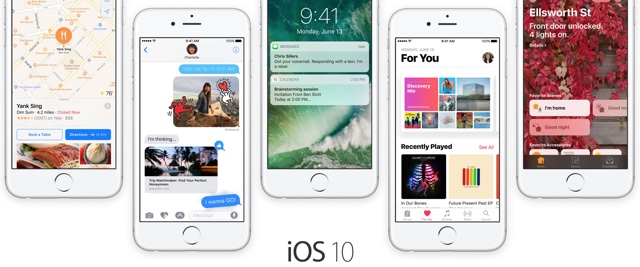 Apple has finally introduced iOS 10 in the recent WWDC conference held in San Francisco, California. This tenth major mobile operating system will come to iPad, iPod touch and iPhones users later this fall as a free upgrade with a bunch of flashy new options and redesigned apps. However, it is important here to note that its compatibility is with all the iPhones starting with iPhone 5, iPads mini 2 or over, iPad Air 4 and over, and iPod Touch 6th generation.
Apple's Craig Federighi started the iOS demo by announcing it as the biggest release in the history of iPhone software. It unveils the added features in iOS 10 like redesigned its lock screen by introducing "Raise to Wake" option so users can see the lock screen by simply picking up their phones, as if it their phone will literally wake up upon touching. Additionally, iMessage will automatically suggest you the emoji that can replace the word you type and these emoji are surprisingly three times larger now.
Thankfully, Apple has also declared that all the data sent via messages will be end-to-end encrypted, whether it is from a third party app or not. But still it is recommended to boost your privacy and enhance your security via best VPN for iOS which will surely be a true savior for your iOS.
What's more on iOS 10?
Let's talk in more detail what else Apple has proposed upon the tech world in this recently held WWDC conference:
Square's New Feature For iMessage
Like PayPal's Venmo and Snapchat's Snapcash, now Square cash users can easily make payments via Apple's iMessage. All you need to do is just download the Square cash for iMessage from Apple app store, open the Square cash for iMessage, enter the recipient name and amount to send on the iMessage and hit the send button. 
Invisible ink
The invisible ink feature will let you hide your texts or images until the user swipes across the message bubble. The executive said, it is designed in a way to enhance privacy of iOS user and help them to send "surprise" or "personal" messages to one another.
Apple Music
Apple said that it has completely redesigned the Apple Music from the much cluttered to the much simpler and easier to navigate design. Apple has added song lyrics in the mini player of your song library. Additionally, users can also listen to their favorite songs inside iMessage app through Apple Music link.
Tapbacks
Tapbacks feature allow you to either "heart" or "thumbs up" a message, just like you do in other social media platforms for instance Facebook and Twitter.
In short, Apple has completely feature-packed the iOS 10 by bringing all what a user wish to have in their iOS.
Apple's iOS 10 – Privacy
Everyone is familiar with the fact that no device or OS is said to be completely immune from security vulnerabilities until any safety precautions like VPN has been made to protect the device or OS. Apple's recent announcement of iOS 10 has undoubtedly overwhelmed all the Apple users with a slew of new amazing options.
However, the history tells us that Apple's iOS has many times been subjected to security loopholes which affected many innocent iOS users in past. Like the WireLurker malware, malicious XcodeGhost software, Acedeceiver malware, and SSL Drowns flaw had harmed a handful of iOS devices.
We are optimistic this time with the release of iOS 10 as the company promises that the new iOS 10 will give you end to end encryption as all the suggestions and happenings are made on-device. That is to say, nothing is on Cloud or Apple's server now with iOS 10. This step of Apple to enhance the privacy is considered a leading edge which will make completely impossible for hacker to breech into Apple's intelligence system. 
Apple didn't announce the other little features during the presentation, however we have already written a post about them here.
Disclosure: iOSHacker may receive a commission if you purchase products through our affiliate links. For more visit our privacy policy page.