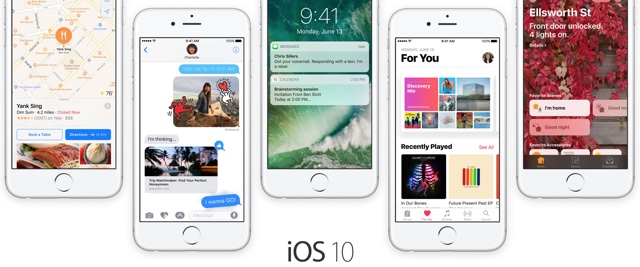 iOS 10 was announced at the inaugural WWDC 2016 keynote where Apple demoed 10 major features on stage. While all the big features were highlighted during the keynote, there are many others that you haven't probably heard about yet. There are many small but significant iOS 10 features that will make the experience of using an iPhone or iPad much more convenient and help you in your day to day tasks. Read on to learn about 10 hidden iOS 10 features Apple did not mentioned during the keynote.
Bedtime, Wake Alarm and redesigned Stopwatch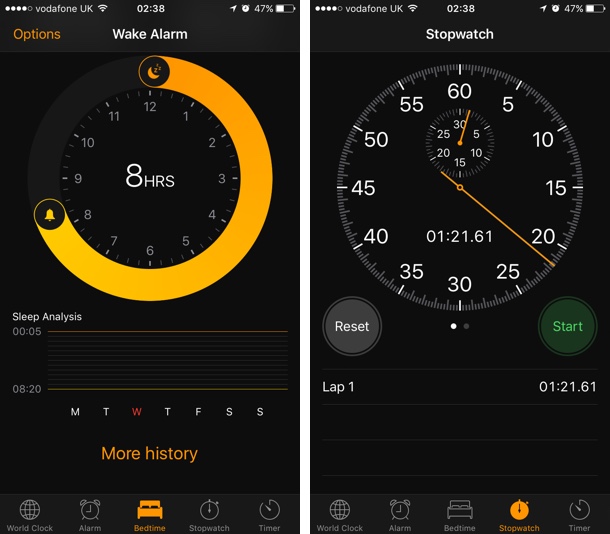 iOS 10 brings a new Clock app feature that will make it easier for users to follow a sleep and wakeup routine. A new Bedtime tab has been added to the button tab, which lets users select the number of hours they need to sleep on daily basis. Users can select a Bedtime and a Wake time. Once you have done so your iPhone will automatically send you a notification when its time to go to bed. Similarly an alarm will ring in the morning at your chosen wake time. If you are someone who struggles to follow a sleep routine, this new feature can really help. Clock app will also offer a weekly sleep analysis and history of your sleeping behavior.
The stopwatch section of iOS Clock app has also been redesigned and now features a watchOS chronograph watch face like clock. The stopwatch now offers an animation with a seconds and minute hands and also displays the time in the form of digital clock.
Deletable Stock apps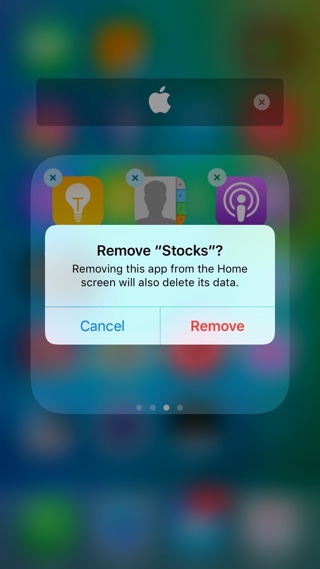 Although we have already written about this one, this feature deserves to be talked about again. Starting iOS 10 you will be able to delete the stock iOS apps from your iPhone and iPad. The deleted apps will be available on the App Store if you need to download them again. Here's a complete list of iOS stock apps that you can delete and those you can't.
Disable individual read receipts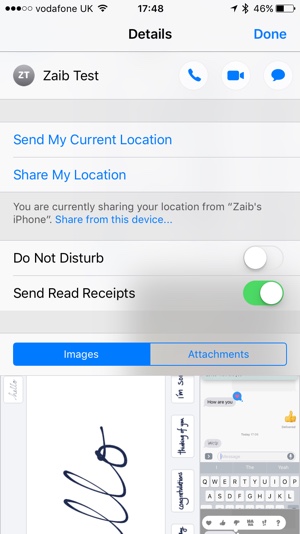 The new Messages app allows iMessage users to turn off read receipts for individual conversations. This includes both single conversations and groups. You can simply tap on the 'i' button from top right and turn on the toggle for hiding read receipts. This is different from iOS 9 that only lets you turn off read receipts universally.
Optimize Storage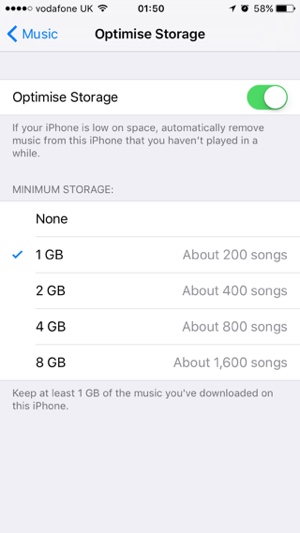 Apple knows you are always running out of storage, and while it still won't stop making 16GB devices the company has introduced a new storage optimization feature in iOS 10. When Optimize Storage setting is turned on from Music Settings, your iPhone will automatically remove songs you haven't played in a while from the device storage. You can choose the minimum storage that you always want to allocate to music even when the optimize storage option is enabled.
3D Touch shortcuts for Control Center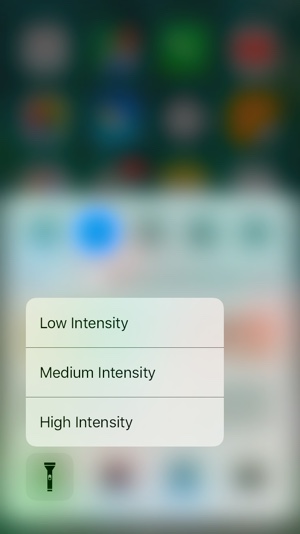 Control Center finally got some 3D Touch love, as now you will be able to force tap on the utility icons to access more options. For Torch you can access low, medium and high intensity settings. You can start a 1 minute, 5 minute, 20 minute or 1 hour time from the 3D Touch shortcut for stopwatch. Calculator shortcut allows you to copy the last result whereas you can access a certain camera screen from Camera utility icon.
Game Center app is no more
The Game Center app you never used is finally gone. While the Game Center is still baked into iOS, the app is no longer. So there will be one less icon to delete after updating to iOS 10 in the fall.
Markup in Messages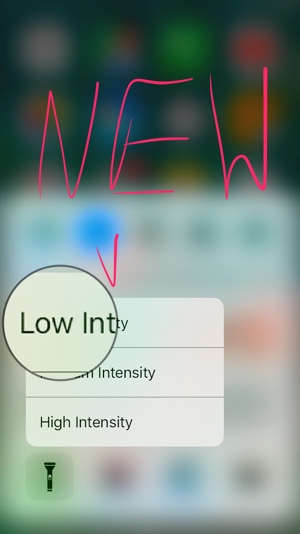 Now you can markup photos and videos right from the Messages app before sending them to your friends. You can scribble on the images, zoom on a particular part of the image with a magnifying glass, add text as well as add your signature to the image. To access the markup options select the image and once it appears in the type field tap on it. Finally hit the 'Markup' button from the bottom bar.
iCloud Notes sharing and collaboration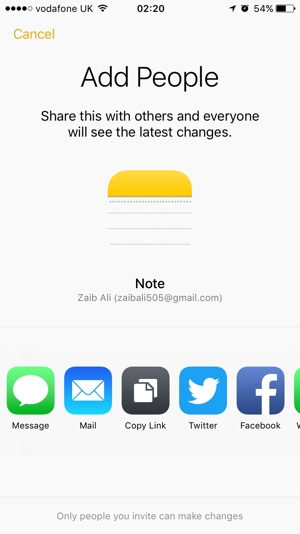 The new Notes app in iOS 10 will allow iOS users to share their notes with others and even allow them to make changes to that particular note. This is similar to how Google Docs works, which can make note-taking on iOS fun and more useful. You can invite your friends to with a URL or through any of the social network. Once they get the link they can even work on the note through the iCloud Notes web app.
New and faster animations, new keyboard sound
You really have to use an iOS 10 powered device to experience this one. With iOS 10 Apple has changed the app and folder animations. The animations have not only changed but they are also much faster, which makes the whole OS look faster than before.
If you keep the keyboard click sounds enabled, then you will find a slightly different sound coming out of your iOS device as you type starting iOS 10. While the sound isn't too different from the one we are accustomed to but for some it might take some time getting used to it.
iPhone will remember where you parked your car
If you have trouble finding where you parked your car, then you will love this new feature. Starting iOS 10 your iPhone will proactively remember where you parked your car and will mark the spot, so you can get back to it quickly and without any troubles. The OS even displays a notification telling you it has marked your car's location. When you want to find the car, you can open the Apple Maps app and see its location.
Disclosure: iOSHacker may receive a commission if you purchase products through our affiliate links. For more visit our privacy policy page.