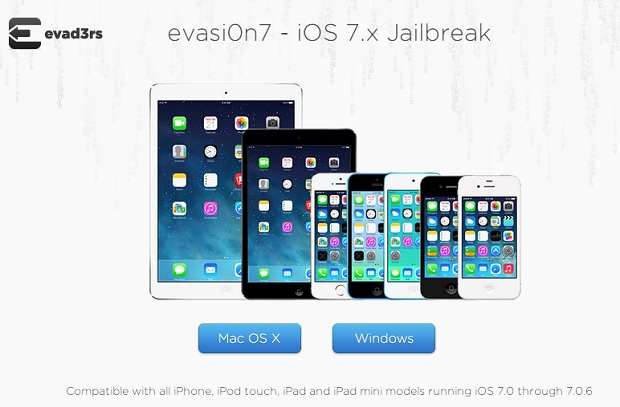 Not even a full day has passed since the release of iOS 7.0.6 and evad3rs have already unleashed the updated version of their popular evasi0n7 tool capable of untethered jailbreaking it. It took evad3rs just around 24 hours to come up with the updated version while unofficial builds of evasi0n7 with the same capability were also available on the Internet.
If you have updated your iOS device to iOS 7.0.6 you can simply download Evasi0n and jailbreak your device. The tool is available for both OS X and Windows operating systems and jailbreaks iPhones, iPads and iPod touch running iOS 7.0 up until iOS 7.0.6.
iOS Hacker Pimskeks, who is also a member of evad3rs team has advised users to backup their device and restore it to iOS 7.0.6 through iTunes. He has strongly advised jailbreakers to not install iOS 7.0.6 on a jailbroken or non-jailbroken device through OTA method.
For upgrading to iOS 7.0.6 backup your device and restore in iTunes, then jailbreak (and restore your backup). DO NOT USE OTA UPDATE.
— Nikias Bassen (@pimskeks) February 22, 2014
You can download latest version of evasi0n7 from this link or using the direct links below.