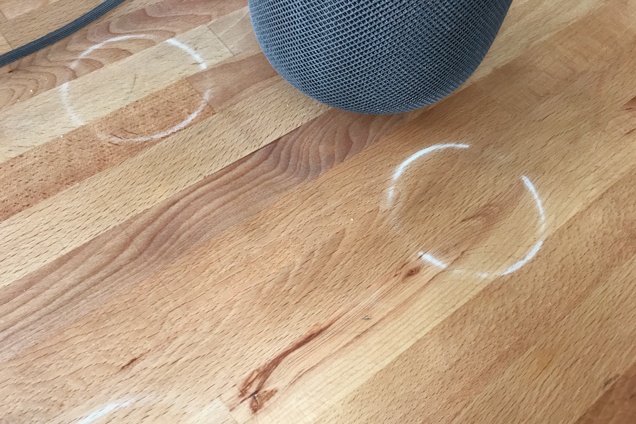 Want to place your shiny new HomePod on your favorite wooden table? Its probably not a good idea. Apple has confirmed that HomePod will leave white rings on wooden surface that has oil of wax finish. The confirmation comes after several publications noted this 'flaw' in their HomePod reviews. Many uses also posted about seeing white rings on wooden finishes on Twitter.
It doesn't take long for HomePod to leave its mark (no pun intended) as Pocket-Lint's review mentions that the white discolored ring appeared within 20 minutes of HomePod sitting on a solid oak kitchen worktop treated with Danish oil.
Confirming Pocket-Lint's concern Apple told the website that it is not unusual for HomePod to leave a "mild mark" when it is placed on certain types of waxed and oiled surfaces. The white rings are caused on the treated wood due to chemical interactions according to the company.
Apple has also recommended users who have experienced HomePod white rings to clean the surface with oiling method as recommended by the manufacturer. Website Wirecutter performed further tests on different materials like glass, granite countertop, nice fiberboard, polyurethane-sealed wood and IKEA bookcases and confirmed the ring does not appear on them, at least when the device is placed on them for a short term.
To be on the safe side avoid putting HomePod on wooden surfaces especially if they have danish oil or wax finishes. (MacRumors)
Disclosure: iOSHacker may receive a commission if you purchase products through our affiliate links. For more visit our privacy policy page.