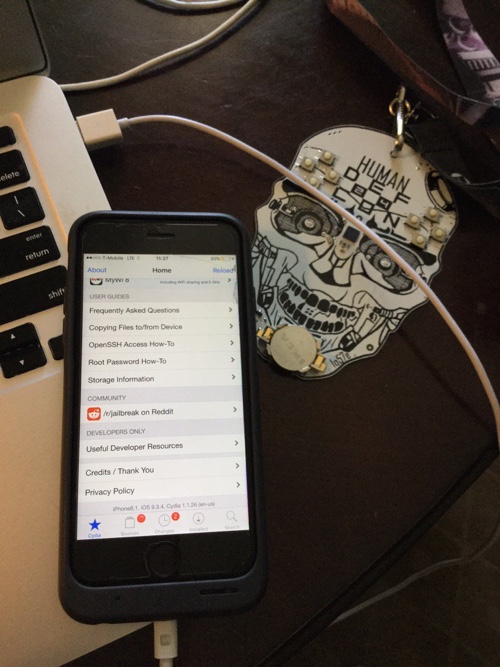 Recently Apple released an "important security update" for all iOS devices that closed the vulnerabilities used by PanGu in their iOS 9.3.3 jailbreak. iOS 9.3.4 was supposed to close all the gaps that could be used by hackers to jailbreak Apple devices. However it seems like Apple couldn't manage to close all the exploits in its mobile operating system, as a new jailbreak for iOS 9.3.4 has emerged. iOS hacker Luca Todesco, who has a history of showing off jailbreaks for different iOS versions and not releasing them has shown his iOS 9.3.4 jailbreak.
In the picture he has shared on his Twitter account we can see an iPhone 6s running Cydia on iOS 9.3.4. While we know for a fact that Todesco won't release the jailbreak and it is for his personal use only, it is encouraging for jailbreak fans to see the operating system is still jailbreakable, and someone such as PanGu or TaiG have got a chance of releasing a public version.
At this point we are unsure if any jailbreak team would take on the task of releasing an iOS 9.3.4 jailbreak, considering PanGu just released the semi-tethered iOS 9.3.3 jailbreak and iOS 10 is just around the corner. For that reason jailbreakers might want to focus their energy on the upcoming bigger iOS release rather than focusing on the old one.
Disclosure: iOSHacker may receive a commission if you purchase products through our affiliate links. For more visit our privacy policy page.