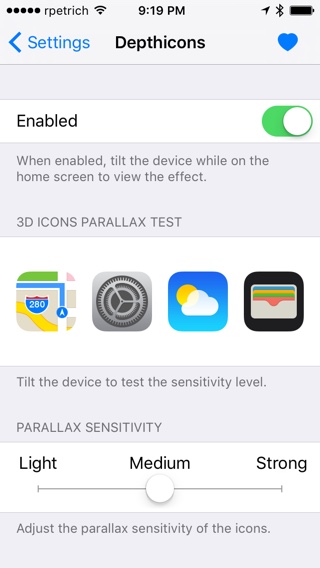 With iOS 7 Apple added a cool parallax effect to the wallpaper, which reacts when you tilt your device in any direction. Now Cydia tweak developers Ryan Petrich and Surenix have brought the same effect to the homescreen icons. With Depthicons tweak you can add parallax effect to the homescreen icons, effectively turning them into 3D icons. When the tweak is enabled you can tilt your device and see the parallax effect in action.
Depthicons allows users to change the sensitivity of the parallax effect as you can choose between light, medium and strong. The hack has been optimized for the homescreen icons and also features 'basic' support for third-party app icons. So you will see parallax action on App Store apps too if not as good as the stock ones. If you own an Apple TV 4th generation, then you would know how parallax effect looks on the icons. However with Depthicons the effect looks even more realistic as you are physically tilting the device.
You can download the Depthicons tweak from Cydia where it is available for $2.99. It fully supports iOS 9.