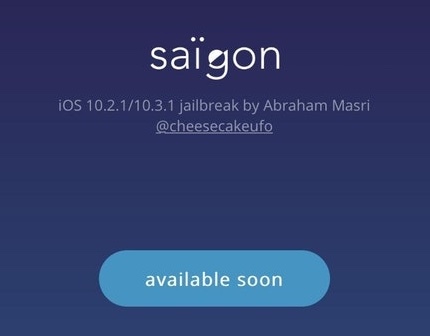 Still using iOS 10? Then we might have a great news for you. The Saïgon Jailbreak for various versions of iOS 10 has been released and currently been tested in a beta environment. This means you will be able to jailbreak iOS 10.2.1 and iOS 10.3.1 very soon. Currently Saïgon with support for iOS 10.2.1 is available as beta, however the developer has promised to release iOS 10.3.1 jailbreak for 64-bit devices very soon.
Once the jailbreak has been released users of iPhone 6 and 6 Plus, iPhone 6s, iPhone SE and iPad Air 2 Wi-Fi will be able to jailbreak iOS 10.2.1 on their devices. The developer has also announced that a jailbreak for iOS 10.3.1 running on iPhone 6s will be released.
The jailbreak is semi-tethered, which means you will have to launch the Saïgon app to and re-jailbreak every time your device restarts. You might also have to re-jailbreak using Cydia Impactor every 7 days to continue using the jailbreak.
Beware: While the jailbreak for iOS 10.2.1 is already available it is advisable to stay away from it since the beta software can create problems for your device, and even put you in a situation when you have to restore your device. If you restore, then you will be forced to upgrade to iOS 11 and will be unable to downgrade to iOS 10.
Using Saïgon to jailbreak iOS 10.2.1 – iOS 10.3.1
Saïgon is a Cydia Impactor based jailbreak. This means you can download the free Cydia Impactor tool, connect your iPhone or iPad to your computer and drag/drop the Saïgon IPA on the Cydia Impactor tool in order to jailbreak your device. You will need to enter an Apple ID and its password (with either an account with no two-factor authentication or app-specific password).
Once the jailbreak is installed you have to go to Settings > General > Profiles & Device Management on iOS device and tap on the Trust button. Then open Saïgon to complete the jailbreak.
It will be interesting to see how Saïgon jailbreak for iOS 10 by Abraham Masri evolves and whether he will add support for iPhone 7 and 7 Plus in the future. With most of the users already on iOS 11, a jailbreak for iOS 11 is also something we should be looking forward to.