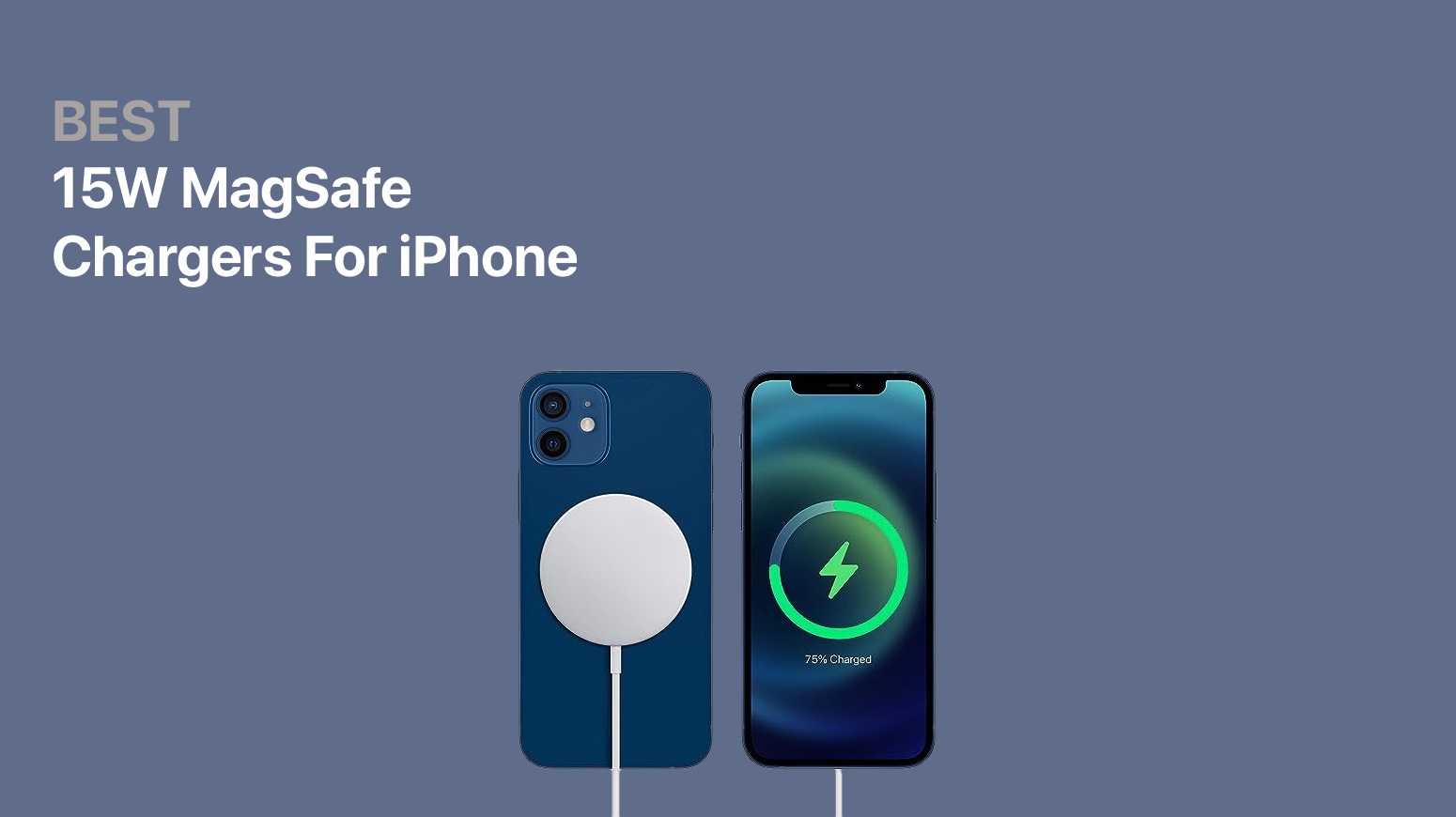 In this article, we explore the best 15W MagSafe chargers designed to eliminate the endless waiting and catapult you back into action faster than you can say "charged and ready to roll!"
If you've ever found yourself impatiently tapping your foot while waiting for your iPhone to juice up, well, you're not alone. We've all been there, watching the battery percentage creep up at a pace slower than a snail's morning jog.
But guess what? The wait is finally over.
We've got a lineup of the best 15W MagSafe chargers that are about to blow your charging expectations out of the water. We're talking about charging speeds that make your morning coffee brewing seem like a slo-mo replay.
Unplug the Ordinary: Plug into 15W MagSafe Chargers for iPhone Extraordinaire
You're on the go, living life at the speed of light. You've got places to be, messages to send, selfies to snap, and TikToks to conquer. The last thing you need is a sluggish charging experience holding you back.
That's where these chargers come in, flexing their 15W muscles to get your iPhone from "Is it even charging?" to "Ready to rock!" in record time.
So, buckle up, because we're about to embark on a charging adventure like no other, unveiling the best 15W MagSafe chargers for iPhones.
1. Apple 15W MagSafe Charger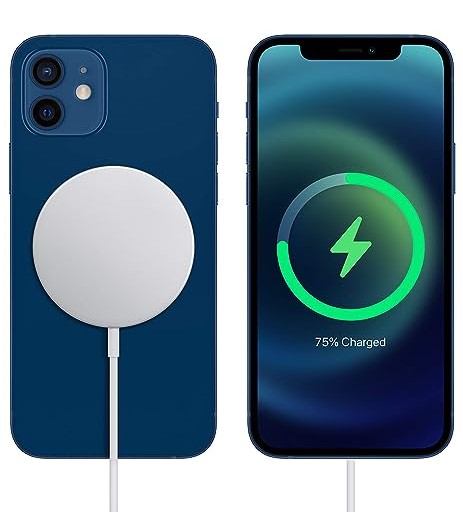 The OG in the game, Apple's 15W charger for iPhone continues to impress with its sleek design and lightning-fast charging speed.
So, here's the scoop on how this charger works its charm. You don't have to fumble with cables anymore, nor do you need to hunt for the perfect charging angle. Just snap it on and charge like a pro. And let's not forget about speed. It supports faster wireless charging up to a whopping 15W, meaning you'll be back in action before you can even finish scrolling through your Instagram feed.
Now, don't worry if you're not rocking the latest iPhone models just yet. If you've got an iPhone 8 or later, you're in the wireless charging game too. The best 15W MagSafe charger plays nice with Qi charging, which is a fancy way of saying it works with a bunch of devices, including AirPods models with a wireless charging case.
Buy the Apple MagSafe Charger from Amazon for $36.99.
2. ESR 15W Magsafe Charger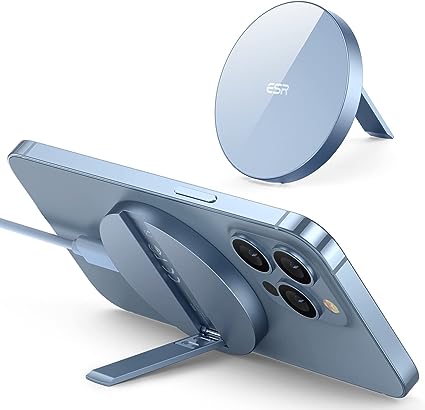 Looking for chargers that charge iPhone at 15W while keeping things stylish? ESR's 15W MagSafe Charger is the best 15W MagSafe charger in business for that and more.
MagSafe-compatible and tailored to the iPhone 14/13/12 series, this charger knows how to keep up with the latest trends. As for the speed, we're talking about a charger that can take your iPhone 13 from "battery emergency" to "full power party" in just 2.5 hours.
Plus, with better heat management, you get safe and secure faster charging. Moreover, it comes with a built-in kickstand that allows you to adjust your phone as needed as it charges.
Last but not least, let's talk about looks. This charger isn't just about power; it's about style too. With a sleek and stylish aluminum body, it's like the James Bond of chargers – tough and suave at the same time.
Buy the ESR Magsafe Charger from Amazon for $14.99.
3. Belkin 15W MagSafe Charger Pad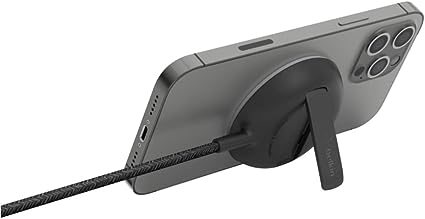 Slide your iPhone onto Belkin's 15W MagSafe Charger Pad, and watch the magic unfold. With its seamless charging experience, your iPhone will feel like it's floating on air.
The ultimate power-up pal for your iPhone 14, iPhone 13, and iPhone 12 series, if you've got certified MagSafe Cases, you're in for a charging treat. But the fun doesn't stop there – it's all about compatibility galore. Not only does this charger pair well with Apple devices, but it also shares Qi-enabled compatibility with AirPods Pro and supported Android devices.
But, there's more than just compatibility tricks when it comes to the best 15W MagSafe charger. Here's the thing: charging is great, but safety is essential. Belkin knows this, and that's why this 15W Magnetic charger for iPhone comes equipped with certified over-voltage protection.
Slim and lightweight, it's like your phone's new best friend that easily slides into your bag or carry-on.
Buy the Belkin MagSafe Wireless Charger Pad from Amazon for  $27.50.
4. Qiruicomy MagEase 15W MagSafe Charger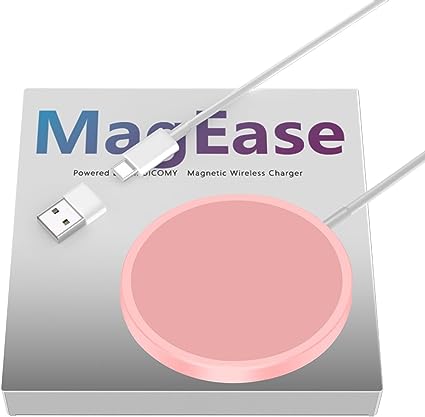 Qiruicomy's MagEase charger makes charging as easy as snapping your fingers. Its magnetic connection ensures your phone stays secure while it powers up, making it one of the most secure and best 15W MagSafe chargers available.
With the MagSafe chargers that charge at 15W, you're in for a treat. Thanks to the 16 built-in magnets, your device aligns perfectly, ensuring that charging efficiency is at its prime.
When we say fast charging, we mean lightning-speed fast. In just 30 minutes, you could have up to 50% charge, ready to tackle whatever the day throws your way. Plus, with advanced safety features like temperature control and foreign object detection, you can rest easy knowing that your iPhone and AirPods are getting juiced up securely.
Lastly, this charger also enhances the magnetic attraction effect when paired with Magsafe Clear Cases and Magsafe Leather Wallets.
Buy the MagEase Magnetic Charger from Amazon for $11.90.
5. Case-Mate Fuel 15W MagSafe Charger Pad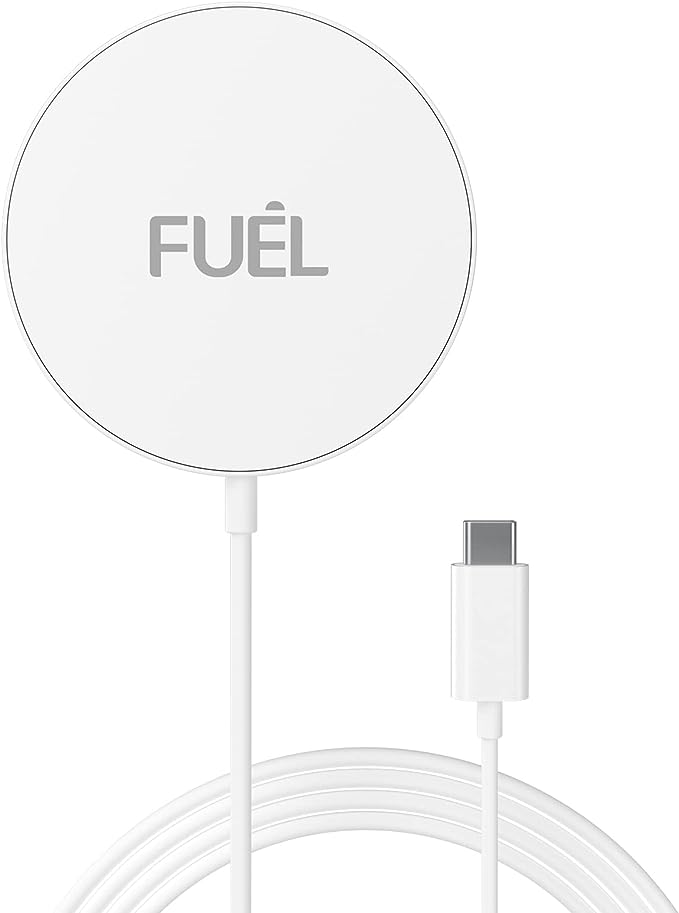 The Fuel 15W charger for iPhone adds a touch of flair to your charging routine. Style? Check. Speed? Double check!
But what makes it one of the best 15W MagSafe chargers is that it's a perfect combo of MagSafe and wireless charging. The built-in magnets create a secure connection between the charger and your MagSafe-compatible device, so you get a stable and efficient charging experience.
The Fuel Charger Pad is all about perfect alignment. It snaps onto your MagSafe-compatible phone or case and with its 15W rapid charging capabilities, you'll be powered up and ready to conquer in no time. The attached 4ft long USB-C cable ensures you've got all the space you need to charge and play without constraints.
And the best news? This charger isn't picky – it's ready to juice up all MagSafe cases and devices – from iPhone 14 Pro Max to AirPods Pro with MagSafe.
Buy the Case-Mate Magnetic Wireless Charging Pad from Amazon for $29.99.
6. DigiPower 15W Magsafe Charger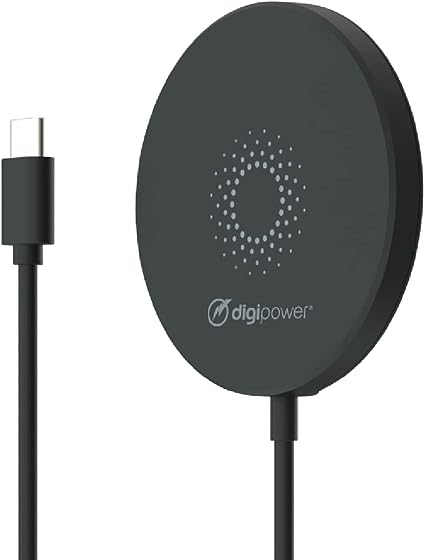 Fast charging meets magnetic convenience, making it a dynamic duo for busy bees. One of the best 15W MagSafe chargers, just place your iPhone on the charger, and just like that, it starts powering up.
As for the technical details, this charger boasts a cable length of 3.3 feet (that's around 1 meter for our metric buddies), and it connects to the power source via a USB-C connector.
Moreover, you don't have to worry about the accidental charging of random objects. And when it comes to battery health, this charger knows the rules. It prevents over-charging damage, meaning your iPhone stays as fresh as a daisy and continues being your trusty sidekick for the long haul.
To further ensure safety, the DigiPower charger that charges iPhone at 15W has an anti-slip magnetic charge pad base, giving your smartphone a comfy spot to charge while keeping it secure and steady. No accidental falls while it powers up here.
Buy the DigiPower Magsafe Wireless Charger from Amazon for $29.99.
7. Courant Mag:1 Essentials 15W MagSafe Charger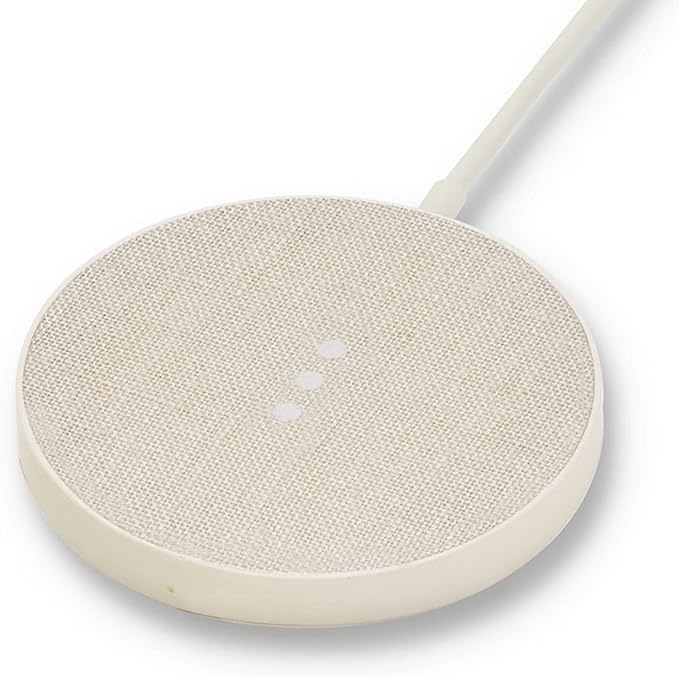 Snap your iPhone onto Courant's Mag:1 Essentials 15W Magnetic charger for iPhone and turn your charging spot into a mini photoshoot. Trust us, this isn't your ordinary charging experience – it's a whole new level of chic and cutting-edge tech rolled into one.
Courant takes tech aesthetics to a whole new level with its custom-made design. Belgian Linen meets a matte, color-matched frame, creating a masterpiece that turns heads and sparks conversations. It's proof that tech and style can indeed coexist harmoniously.
The Courant Mag:1 Essentials charger snaps onto your device effortlessly, delivering a lightning-fast 15W charge that's stable and efficient. But here's the twist – even if you're not rocking a MagSafe iPhone, you're still in for a treat. Qi-certified phone models can also bask in the glory of wireless charging, sans the magnetic magic.
One of the best 15W MagSafe chargers, the Belgian Linen is a high-quality gem produced using top-tier environmentally conscious methods. It's not only certified for product safety and social responsibility but it's also created in a CO2-neutral manner. Charging your phone while saving the planet? That's a win-win right there.
Buy the Courant Mag:1 Magnetic Charger from Amazon for  $29.99.
Sprint to Full Battery!
No more twiddling your thumbs as your battery inches its way to a respectable percentage.
Whether you're a multitasking maven, a social media maestro, or a gaming guru, these are the best 15W MagSafe chargers here to elevate your charging game to a whole new level.
It's like having a turbo boost for your iPhone's battery life.
So, as you bid adieu to this blog, don't just take our word for it – jump into the world of MagSafe chargers that charge at 15W and experience the magic for yourself.
Disclosure: iOSHacker may receive a commission if you purchase products through our affiliate links. For more visit our privacy policy page.