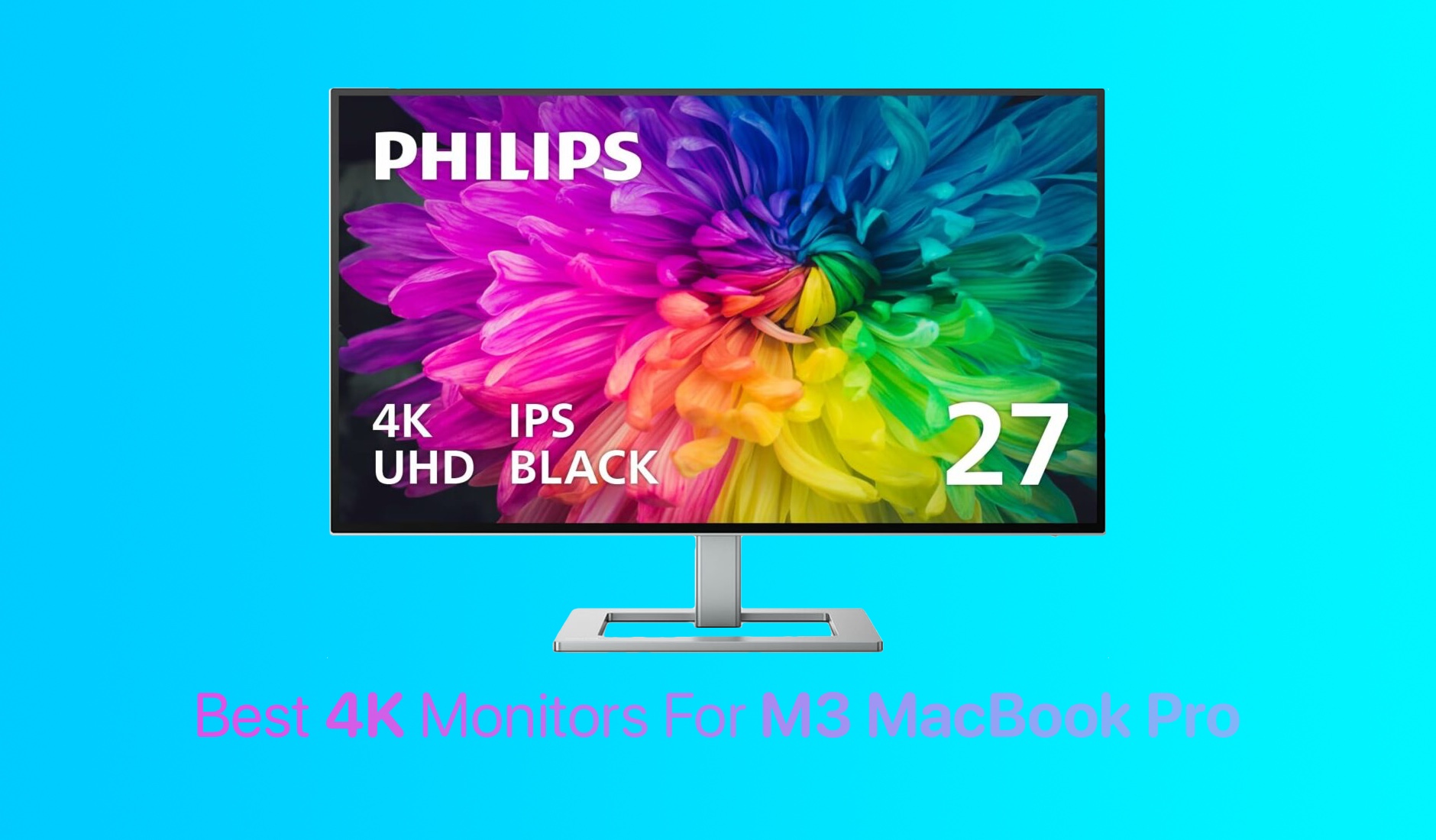 Ever find yourself squinting at your MacBook Pro screen, yearning for more pixels to bring your visuals to life? Well, fellow MacBook Pro aficionados, the quest for visual nirvana stops here!
Have you ever wondered what 8 million pixels could do for your productivity, creativity, or just your overall screen-gazing satisfaction?
Brace yourselves because we've embarked on a journey through the vast landscape of the best 4K monitors for M3 MacBook Pros to find the perfect match.
Look for monitors but on a budget? Then check out these budget monitors for M3 MacBook Pros.
Best 4K displays for M3 Max MacBook Pro
In a world where clarity is king, join us as we unveil the contenders for the throne in our quest for the best 4K Monitors for M3 MacBook Pros. It's time to elevate your viewing experience to a level that'll make even your pixels do a happy dance!"
1. Apple Studio Display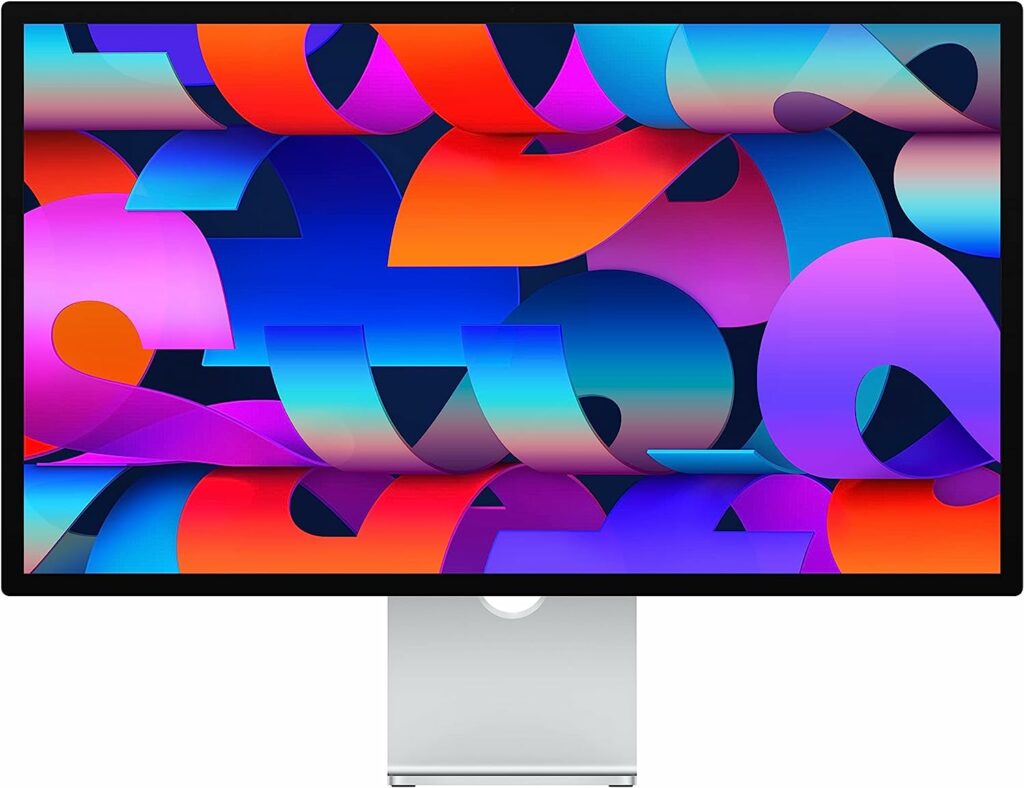 The Apple Studio Display is a tech marvel that's here to elevate your workspace to new heights. It is a 27-inch 5K Retina display that's not just immersive but practically transports you into the world it showcases. With a dazzling 600 nits of brightness and support for one billion colors in the P3 wide color spectrum, every pixel is a masterpiece.
Apple has packed in a 12MP Ultra Wide camera with Center Stage, making your video calls not just engaging but downright cinematic.
Say goodbye to awkward framing, as Center Stage automatically adjusts to keep you in the spotlight. And when it comes to crystal-clear calls and voice recordings, the Studio Display boasts a studio-quality three-mic array that's nothing short of impressive.
Connectivity is a breeze with one Thunderbolt 3 port and three USB-C ports. Need to power up your Mac notebook? No problem – the Studio Display delivers a whopping 96W of power, ensuring you stay charged up for whatever your creative endeavors throw at you.
Buy Apple Studio Display for $1,799 here.
2. SAMSUNG S80A Computer Monitor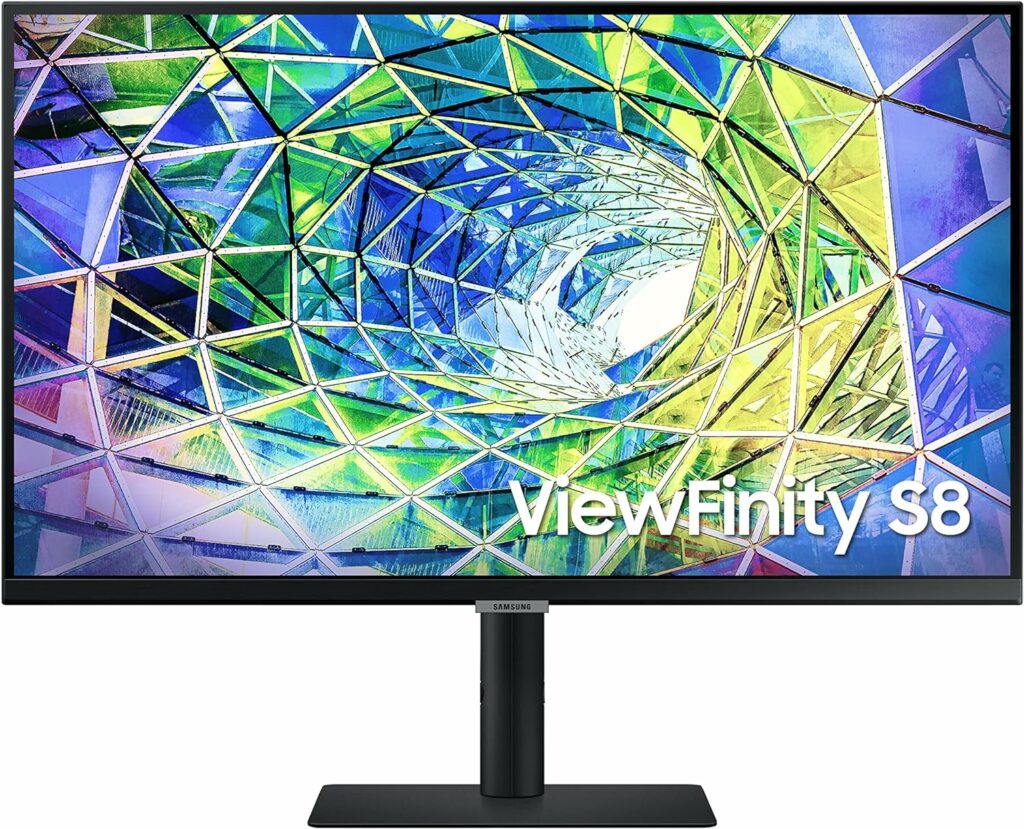 The SAMSUNG S80A Computer Monitor is your gateway to a visual wonderland! Dive into a Hi-Res 4K UHD experience with an IPS panel and HDR 10 that unveils every detail with four times the pixels of a Full HD monitor.
It's not just a monitor; it's a canvas of colors, boasting HDR10 for vibrant hues that pop like never before. Multiple connectivity options, including HDMI, DisplayPort, and USB-C, make it a multitasking champ, and the USB 3.0 hub simplifies your desk by connecting peripherals directly to the display.
But it's not just about visuals; this monitor cares for your eyes. The Eye Saver Mode and flicker-free smart adaptive picture setting keep your eyes fresh, and adjustable brightness and color temperature adapt to any environment. Late-night projects? No worries – it shields against excessive blue light.
The borderless design minimizes distractions, while the fully adjustable stand lets you tailor the monitor to your comfort – adjust height, tilt, swivel, and pivot. Plus, VESA mount compatibility gives you the freedom to place it anywhere.
Buy SAMSUNG S80A Computer Monitor for $273.35 here.
3. Dell S2722QC 4K USB-C Monitor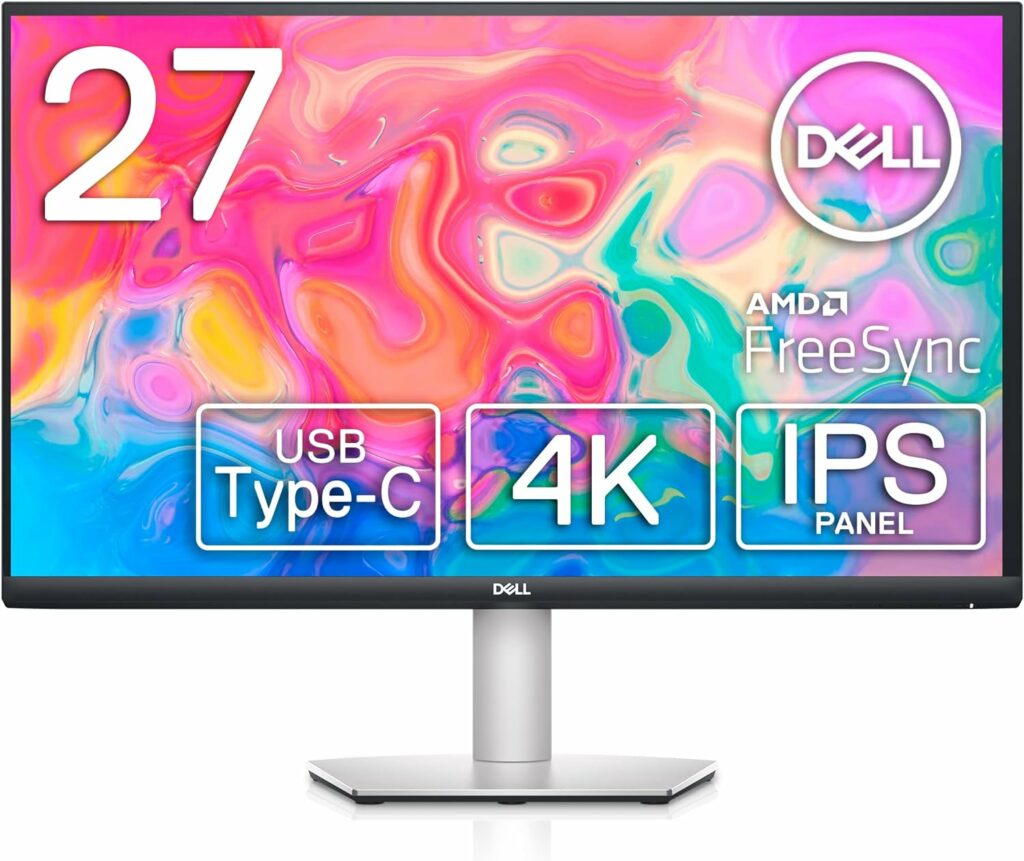 Step into a world of stunning visuals and seamless functionality with the Dell S2722QC 27-inch 4K USB-C Monitor. Its three-sided ultrathin bezel design not only adds a touch of elegance but also maximizes your screen real estate, allowing you to dive into your work or entertainment without unnecessary distractions.
The 4.0ms response time ensures that every detail is crisp and vibrant, making your viewing experience truly remarkable.
This one of the best 4k displays for MacBook is designed to adapt to your needs. Whether you're in the midst of a work crunch or enjoying a movie marathon, the height-adjustable stand, tilt, swivel, and pivot features ensure that you always find the perfect angle.
What sets it apart is its USB-C capability, offering a single-cable solution to charge and connect your laptop. Say goodbye to desktop clutter as this cable transmits power, video, audio, and data simultaneously.
Plus, the built-in dual 3W speakers deliver immersive audio without the need for additional accessories.
Buy Dell S2722QC 4K USB-C Monitor for $279.99 here.
4. PHILIPS Creator Series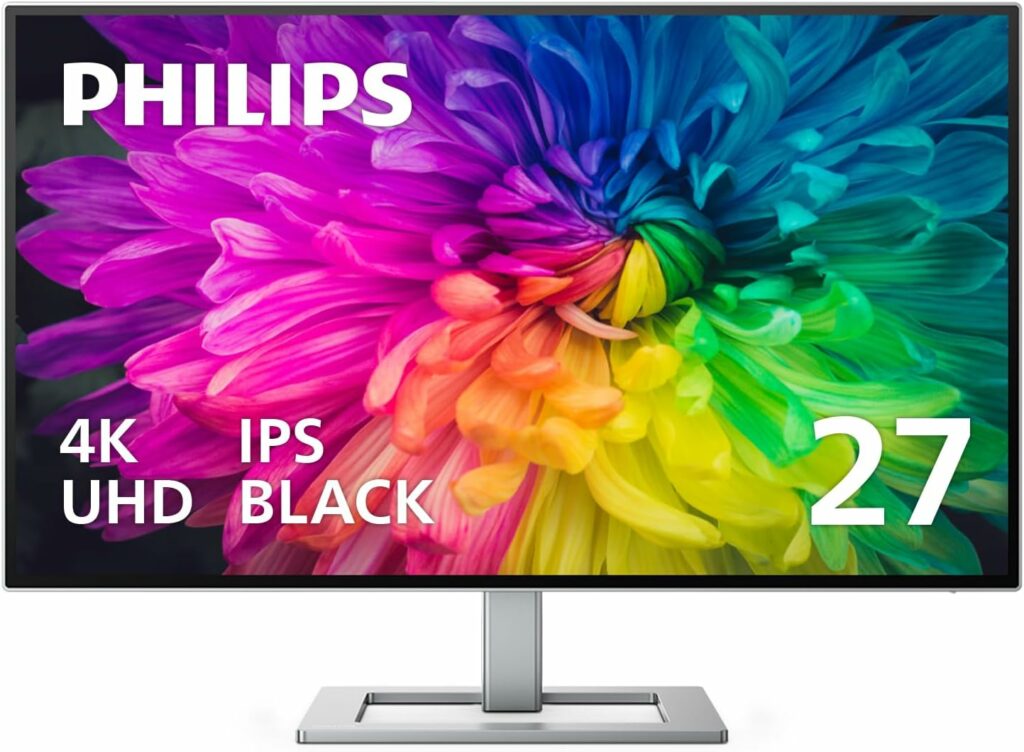 Elevate your visual content creation with the PHILIPS Creator Series 4K UHD IPS Black Display – a powerhouse of stunning visuals and seamless functionality. Say goodbye to compromises with the newly developed IPS Black technology, ensuring impeccable color expression and a superior contrast ratio, perfect for those demanding multi-monitor setups.
The 4K UHD resolution, at 3840 x 2160, unveils sharp images with exquisite details, making your work come to life.
Immerse yourself in a world of color with impressive gamut coverages – 100% sRGB, 98% Display/DCI-P3, 100% REC 709, 110.5% NTSC, 108.6% Adobe RGB, and VESA-certified DisplayHDR 400.
The USB-C docking not only transfers high-speed data and video signals but also powers your laptop with up to 96W of Power Delivery, all through a single USB-C cable. Efficiency meets elegance with the sleek edge-to-edge frameless design, making this  MacBook 4K monitor with USB-C the focal point of any home or office.
Customization is at your fingertips with various color spaces tailored for photography, videography, and graphic applications, including Display-P3 for MacBook Pro-like color accuracy.
The built-in KVM switch allows you to seamlessly switch between two computers with a single monitor, keyboard, and mouse set.
Buy PHILIPS Creator Series for $499 here.
5. INNOCN 27 Inch 4K Monitor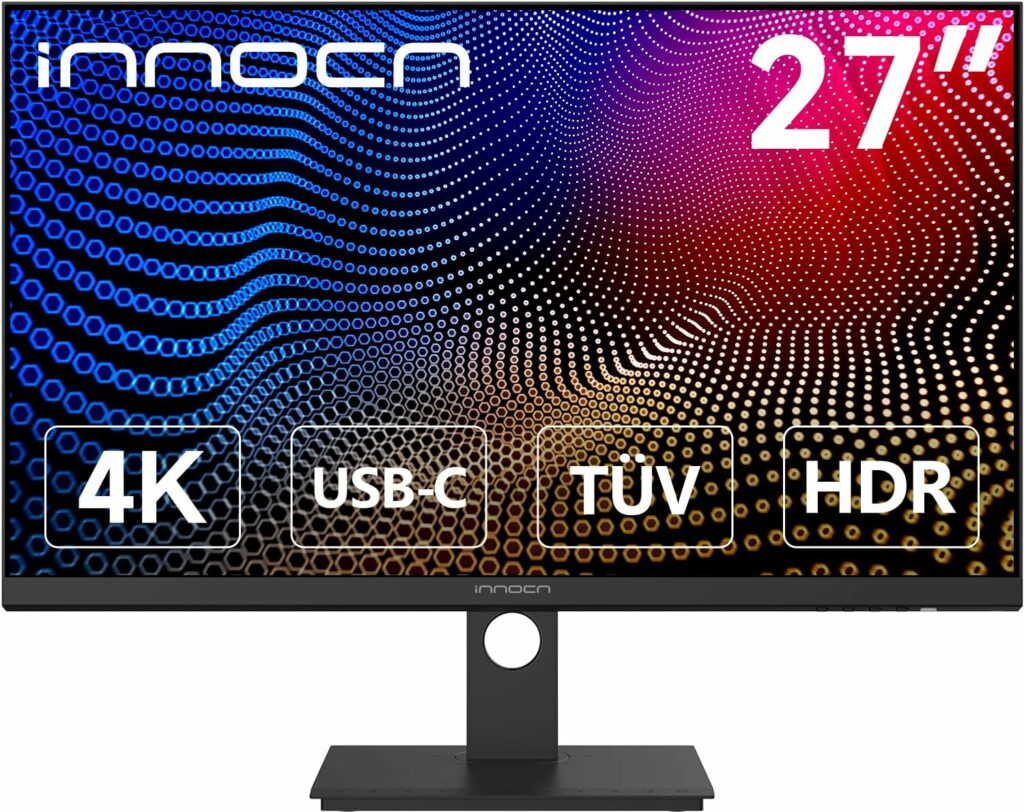 The INNOCN 27 Inch 4K Monitor is your all-in-one solution for a seamless and vibrant display experience.
With a plethora of connectivity options, including 1 x DP, 1 x USB C, 1 x HDMI, and 1 x 3.5MM Audio Jack, the company has ditched the traditional ports for the more powerful USB Type C and DP interfaces. Now, connecting your laptop, Mac, phones, tablets, and more is a breeze.
Experience visuals like never before with the high dynamic range (HDR) technology, delivering contrast and color performance that meets the Display HDR 400 standard. This ensures smooth images and an immersive video viewing experience.
The 27C1U-D model also comes with a pivot-adjustable stand, offering flexibility with left/right tilt, up/down adjustments, forward and backward movement, and even a ±90° pivot for ergonomic perfection. Plus, it's VESA wall-mountable for those who prefer a different setup.
INNOCN prioritizes color accuracy, making this M3 Pro MacBook Pro 4K monitor ideal for a range of activities – whether you're working from home, handling office duties, diving into design and photo/video editing, or indulging in some gaming.
Buy INNOCN 27 Inch 4K Monitor for $279.99 here.
6. ASUS ProArt Display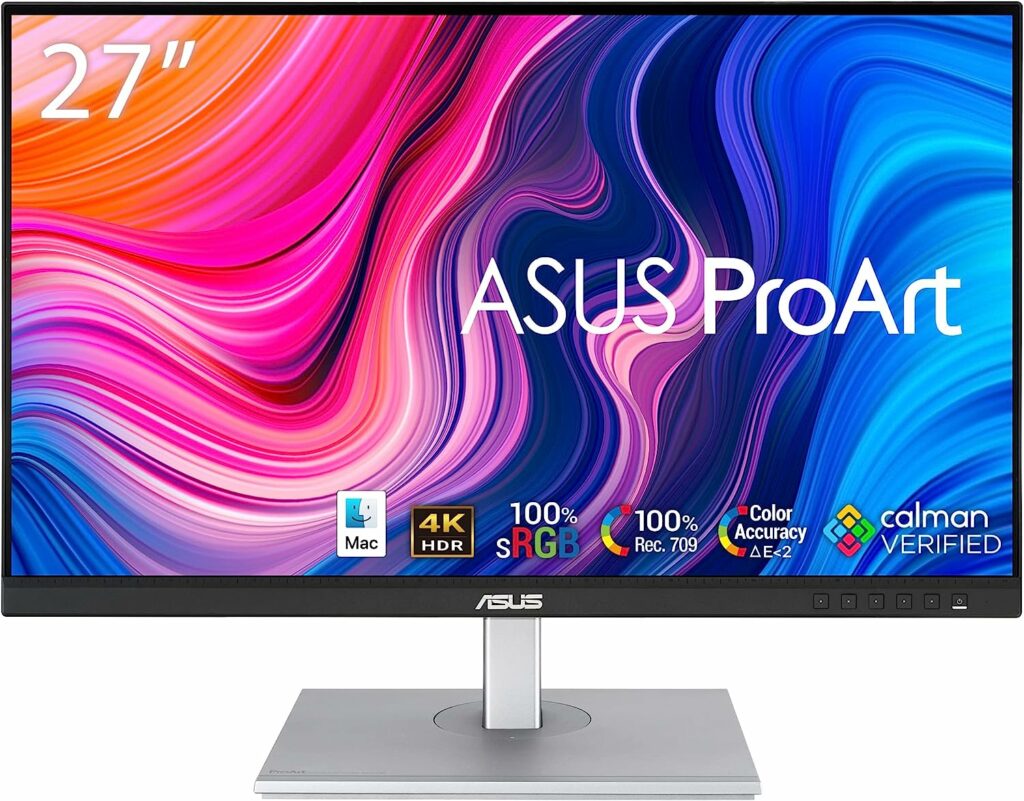 Boasting a 23.8-inch Full HD LED backlight display with a wide 178° viewing angle, ASUS ProArt Display brings your content to life with crystal clarity. Say goodbye to lag with a swift 5.0-millisecond response time, perfect for personal use.
Immerse yourself in a world of color precision, as the ProArt Display adheres to the international color standards, covering 100% sRGB and 100% Rec. 709 wide color gamut. It's not just a monitor; it's a canvas for your creativity.
Plus, revel in the assurance of factory calibration with a stellar Delta E < 2 color accuracy, Calman Verified for your peace of mind.
Connectivity is a breeze with options like DisplayPort over USB-C featuring 65W Power Delivery, DisplayPort, HDMI, and a USB 3.1 hub. Versatility meets performance, ensuring you have the right connections for any task at hand.
Buy ASUS ProArt Display for $436.99 here.
7. ViewSonic 27 Inch 4K IPS Monitor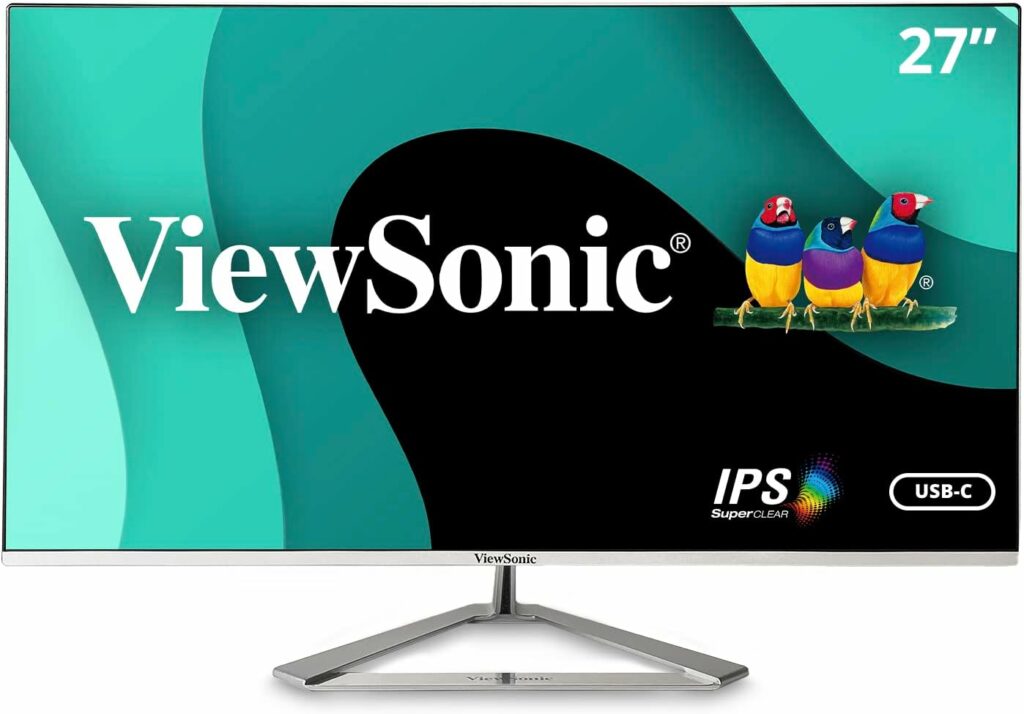 Boasting a razor-sharp 3840x2160p resolution and an expansive 27-inch display, ViewSonic 27 Inch 4K IPS Monitor delivers a feast for your eyes with rich colors and vibrant details.
One standout feature is the USB-C connectivity, a game-changer for seamless data, audio, and video transfer—all through one cable. Plus, the convenience of 65W charging over that same cable means fewer cords cluttering your workspace.
Versatility is the name of the game with the VX2776-4K-MHDU. Whether you're team Windows, macOS, or something in between, this USB-C 4K display has you covered.
With USB-C, HDMI, and DisplayPort inputs, it seamlessly integrates with laptops, PCs, and Macs, making it a versatile companion for all your computing needs.
Buy ViewSonic 27 Inch 4K IPS Monitor for $359.99 here.
8. LG 4K UHD Display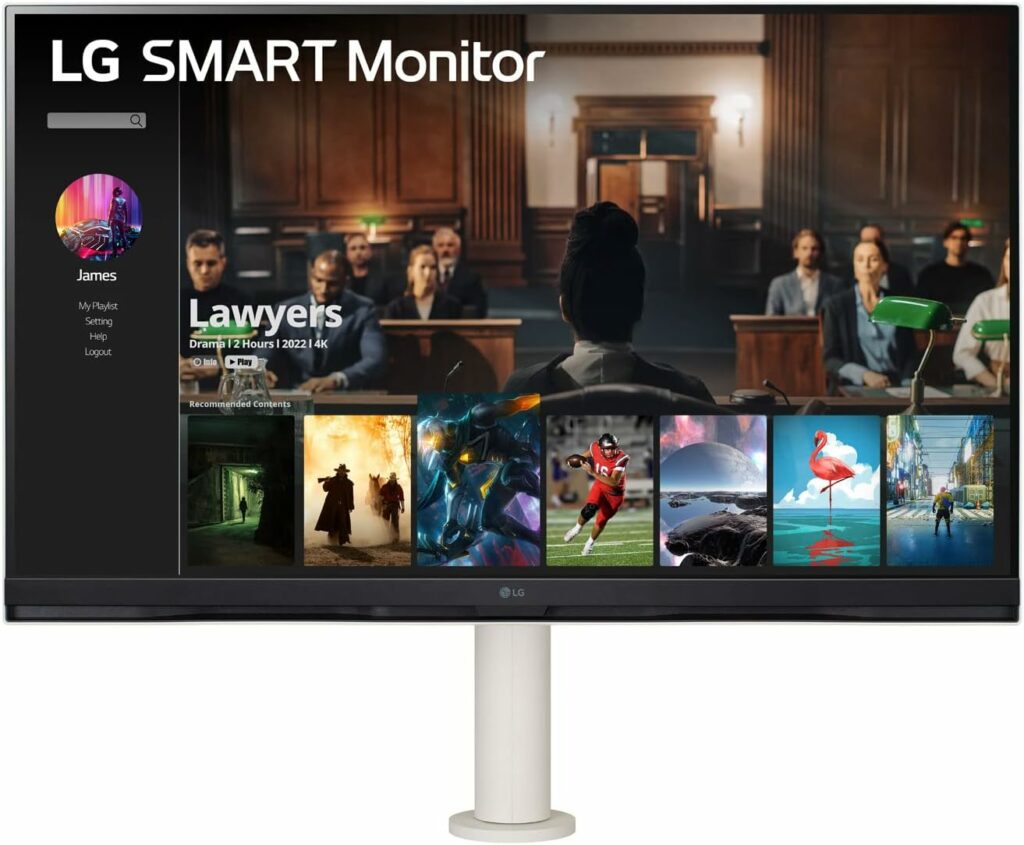 The LG (32SQ780S) is a 32-inch powerhouse with stunning 4K UHD display, boasting a crystal-clear resolution of 3840×2160. Dive into a world of vivid images and precise colors with DCI-P3 90% (Typ.).
Whether it's for business or personal use, this UHD monitor for MacBook Pro has you covered with its 16:9 aspect ratio and a wide viewing angle of 178.0 degrees. With a swift 5.0 milliseconds response time, your visuals are as smooth as they are vibrant.
Thanks to webOS22, you can seamlessly explore a plethora of shows and movies through built-in apps. Take control of your home appliances with ThinQ Home Dashboard, keeping everything at your fingertips.
The ergo stand goes the extra mile, offering adjustable features like extend/retract, swivel, pivot, height, and tilt for the most comfortable viewing experience.
Buy LG 4K UHD Display for $379.99 here.
9. BenQ EW3270U Premium Monitor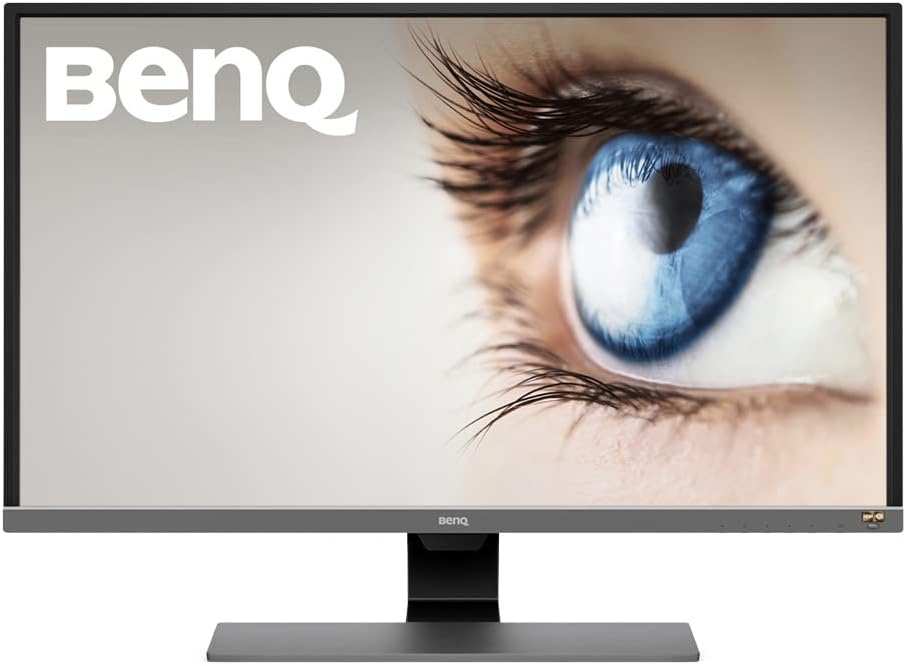 Dive into a world of endless entertainment with a stunning display that brings your content to life. Simplify your setup with an all-in-one cable that not only synchronizes images, videos, and data but also charges your mobile devices.
Experience cinematic magic with HDRi optimization, enhancing contrast and colors for an immersive viewing journey.
Say goodbye to clutter on your desk, thanks to the built-in speakers that deliver premium audio without sacrificing space.
This monitor has been designed to optimize display performance for both work and play while safeguarding your vision. Easily tailor your workspace to your liking by adjusting the monitor's height for optimal comfort during those long sessions.
Buy BenQ EW3270U Premium Monitor for $399.99 here.
To Conclude
In a world where pixels are the unsung heroes of our digital escapades, finding the perfect match for your M3 MacBook Pro is no small feat.
So, here you are, standing at the crossroads of clarity and performance, wondering which 4K monitor is your passport to a visual utopia. Each contender in our roundup boasts a symphony of pixels that dances harmoniously with your MacBook Pro's prowess.
As you embark on this journey of visual enchantment, remember that the  best 4K displays for 2024 is not just a display; it's a portal to a realm where every pixel whispers tales of clarity and brilliance.
So, dear reader, which of these technological marvels will grace your workspace and redefine your digital narrative? The choice is yours, and the adventure awaits!
Disclosure: iOSHacker may receive a commission if you purchase products through our affiliate links. For more visit our privacy policy page.