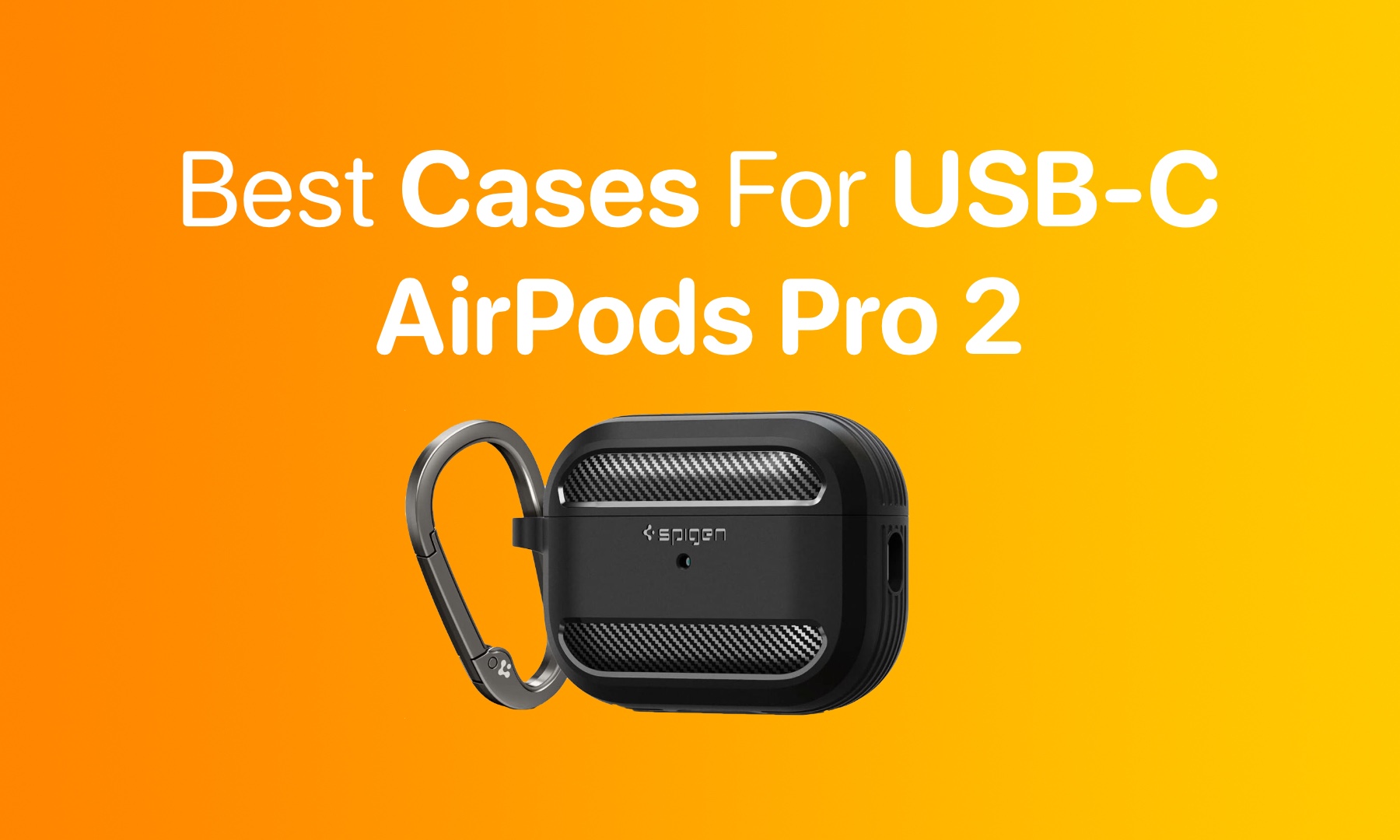 In this article, we have featured some of the best USB-C AirPods Pro 2 cases that you can buy right now. These cases provide ultimate protection to your AirPods Pro 2 while making them more stylish.
Are you ready to take your AirPods Pro 2 to the next level of style and protection? If you're anything like us, you can't live without your trusty earbuds, and you want to keep them safe and looking snazzy.
Well, you're in luck! We've scoured the internet to bring you the absolute best USB-C AirPods Pro 2 cases, so you can say goodbye to boring and hello to fabulous. Whether you're a fashion-forward trendsetter or just someone who likes their gadgets to look as good as they perform, we've got you covered.
Best USB-C AirPods Pro 2 Cases
Get ready to meet the coolest, most functional AirPods Pro 2 cases that you can buy right now!
1. Spigen Rugged Armor AirPods Pro 2nd Generation Case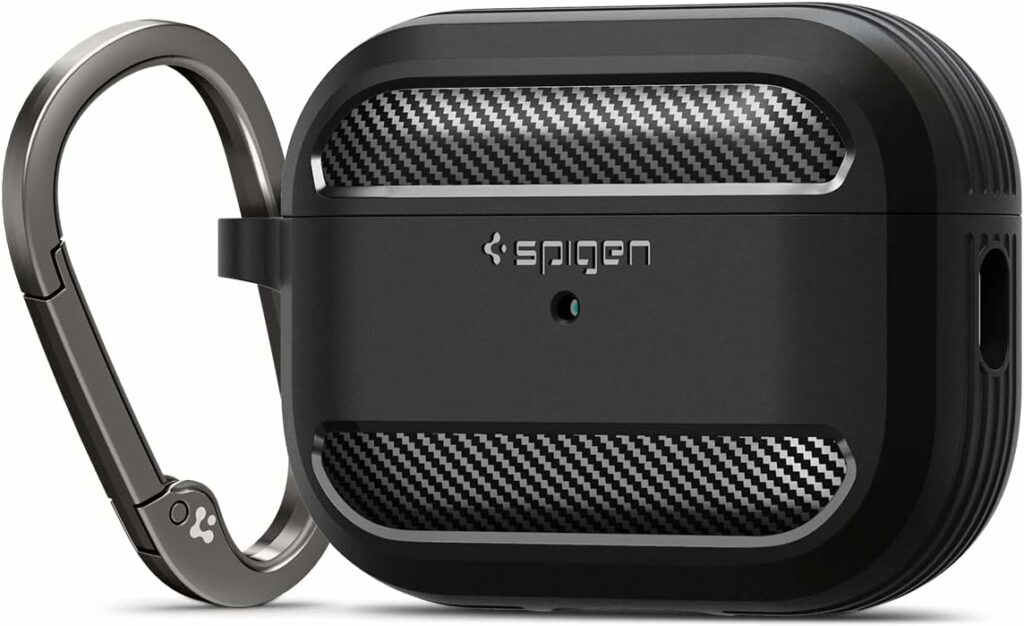 First on our list of the best cases for AirPods Pro 2 is Spigen Rugged Armor. It offers double-layered, robust protection, so you can bid farewell to those annoying scratches and dings caused by unexpected drops. Plus, it's got a nifty feature that lets you check your battery status at a glance, thanks to the transparent power light window.
Spigen has thrown in a handy metal carabiner for easy on-the-go portability. You can effortlessly clip it to your bag or belt loop for everyday carry. If you're into lanyards, this case has you covered with thoughtfully placed cutouts on the side, making it compatible with lanyard attachments.
This case isn't just a one-size-fits-all deal; it's precisely tailored for the Airpods Pro 2, ensuring a snug and secure fit. Plus, with the included keychain, you'll have your AirPods Pro 2 within arm's reach whenever you need them.
Buy Spigen Rugged Armor AirPods Pro 2nd Generation Case for $19.99 here.
2. ESR for AirPods Pro 2nd Generation Case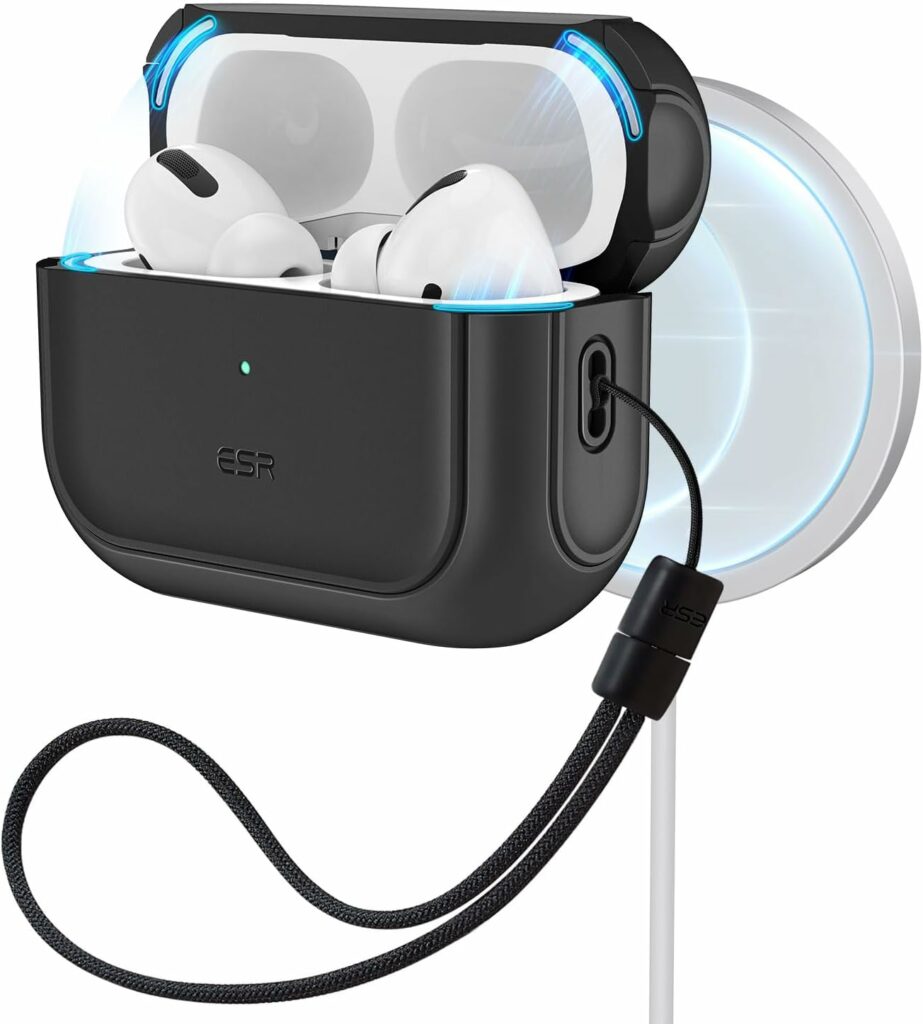 ESR is all about enhancing your earbud experience, from effortless charging to unbeatable protection and convenience. Imagine effortlessly charging your earbuds with a simple tap-and-go motion. That's what the strong magnets, snugly nestled into the back of the case, do when paired with MagSafe chargers.
But ESR doesn't stop at just convenience. The brand has got your earbuds' safety in mind too. The Hybrid Drop Protection combines the best of both worlds: an ultra-hard shell and a flexible, shock-absorbing core. So, your charging case stays protected and maintains that brand-new look even after accidental drops.
But here's the real game-changer – the specially positioned speaker cutouts. They let you hear the FIND MY app sound loud and clear, ensuring you always know where your earbuds are.
Buy ESR for AirPods Pro 2nd Generation Case for $15.99 here.
3. ESR for AirPods Pro Case
With this ESR innovative AirPods Pro 2 USB-C case with a keychain, you'll experience the magic of tap-and-go wireless charging for your AirPods. Thanks to strong magnets discreetly integrated into the case, your AirPods will securely lock onto all MagSafe and HaloLock chargers, making charging a breeze.
ESR case is built with shock-absorbing liquid silicone, ensuring your AirPods are powerfully protected against unexpected drops, bumps, and pesky scratches that seem to pop up out of nowhere. And here's the best part – this premium silicone not only feels incredibly smooth to the touch but also offers an enhanced grip, so you can confidently carry your AirPods wherever you go while still flaunting their sleek design.
Plus, specially positioned apertures on the base of the case allow you to hear important sounds like Find My, low battery alerts, and pairing notifications loud and clear, so you're always in the loop.
Buy ESR for AirPods Pro Case for $9.99 here.
4. Spigen Mag Armor (Mag Fit) AirPods Pro 2nd Generation Case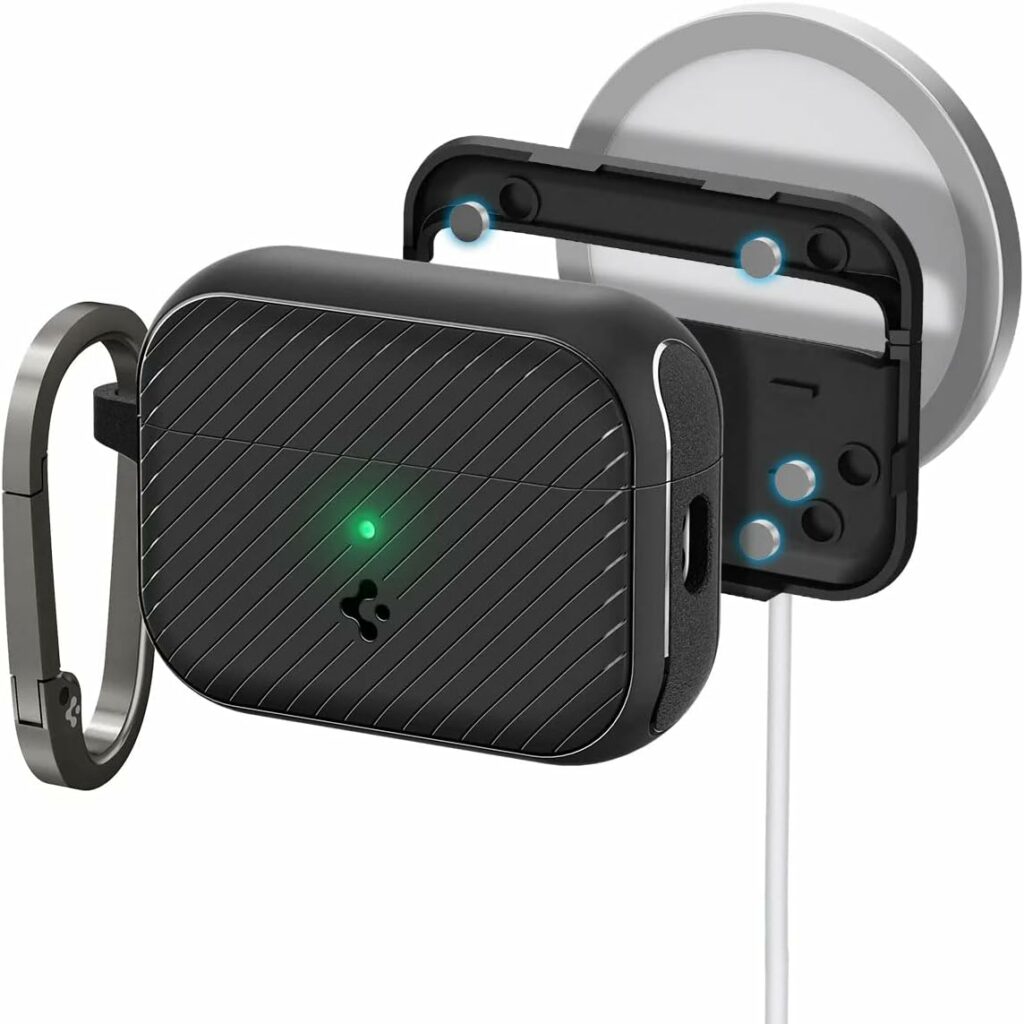 Experience the future of charging with the magnetic marvel! This one of the best cases for AirPods Pro 2 with USB-C boasts robust built-in magnets that ensure a secure connection for MagSafe wireless charging.
Spigen Mag Armor Case has got your back with adhesive tape pre-installed, providing extra support for your device. And don't worry about the long run – since it also includes replacement tape. Heading out on an adventure? The sleek design offers a sturdy carabiner, making it super easy to carry with you wherever you go. Plus, there are convenient cutouts on the side for lanyard compatibility.
Lastly, this product supports the visibility of the LED power light, so you can always stay in the know about your battery status with just a quick glance.
Buy Spigen Mag Armor (Mag Fit) AirPods Pro 2nd Generation Case for $22.99 here.
5. Delidigi AirPods Pro 2 Case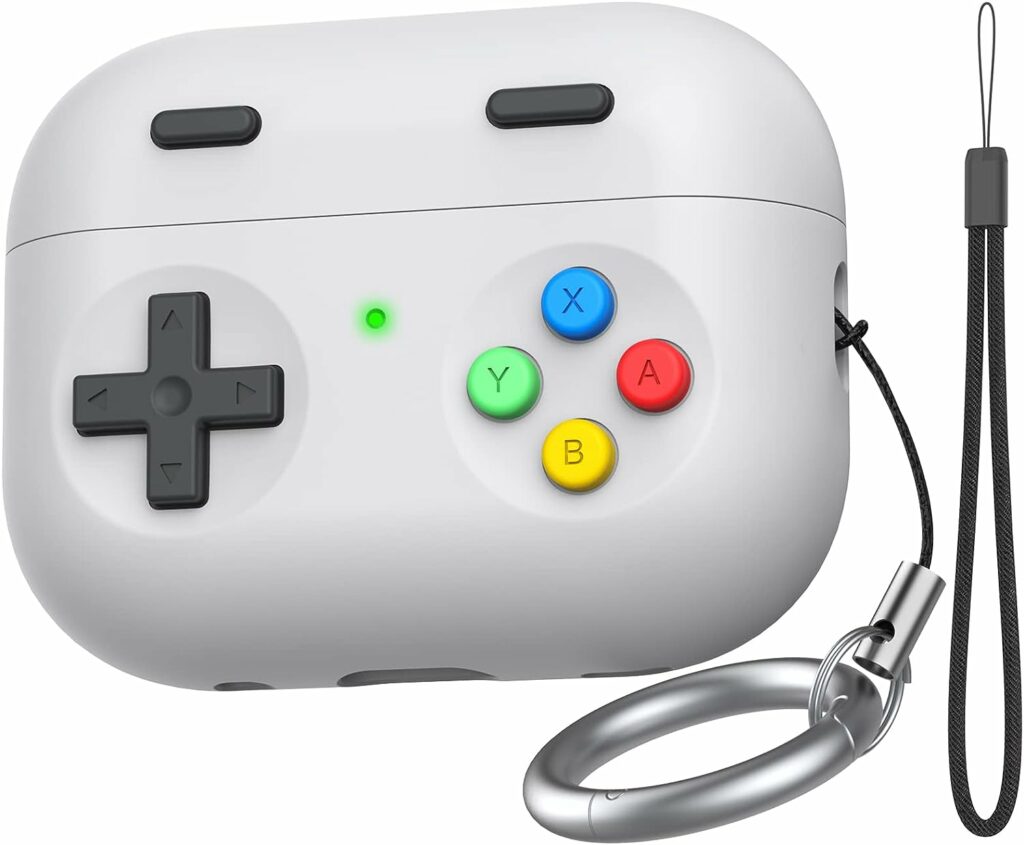 If you're all about that nostalgic gaming vibe or simply love a dash of retro flair, the Delidigi AirPods Pro 2 case has got your back. Designed with a vintage gaming console in mind, it's the perfect match for gamers and those who appreciate a touch of old-school cool.
What's more, this case isn't just eye candy; it's also super functional. You can keep it on when you're juicing up your AirPods wirelessly using a MagSafe charger or an Apple Watch charger. Crafted from high-quality silicone, this case forms a robust shield around your AirPods, shielding them from the perils of dust, pesky scratches, and the occasional daily bump.
And the cherry on top? Every package comes with not one, but two carrying options – a nifty lanyard and a trusty metal carabiner. These accessories ensure your AirPods Pro 2 stay safely and securely by your side wherever you go.
Buy the Delidigi AirPods Pro 2 Case for $10.99 here.
6. elago AirPods Pro Clear Case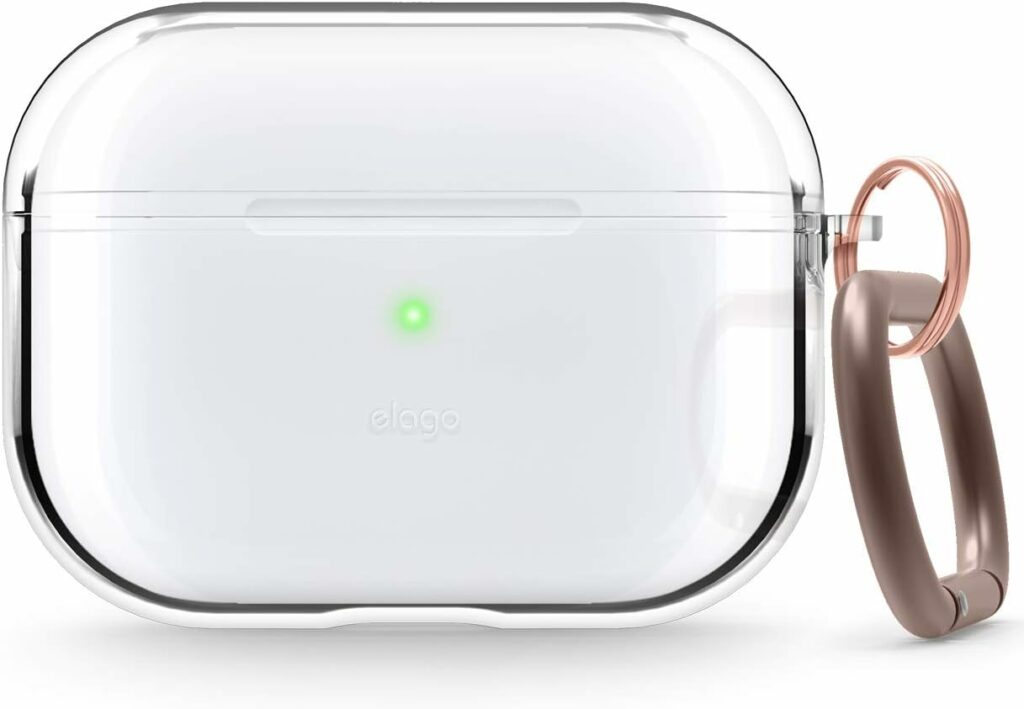 Elago is all about creating products that not only look great but are also incredibly useful and downright awesome! What sets elago AirPods Pro Clear Case apart? Well, they don't just slap their name on any old product. Nope, they're in it from the ground up, designing everything in-house. They start with mock-ups and create their very own molds, ensuring that every product is tailor-made for your precious AirPods Pro. It's all about giving your AirPods Pro the protection they need while adding a delightful splash of color to your life.
Now, let's talk about the common gripes with clear cases. You know how they tend to lose their luster, fade away, or turn an unappealing shade of yellow over time? Not with elago! Their cases are built to last. They won't fade, and that color will always shine! Why? Because they craft their cases using thermoplastic polyurethane (TPU), which means that the yellowing effect takes its sweet time to even think about showing up.
Oh, and those annoying smudges? Say goodbye to them with elago's innovative micro dot pattern.
Buy elago AirPods Pro Clear Case for $12.99 here.
7. CAGOS Airpods Pro 2nd Generation Case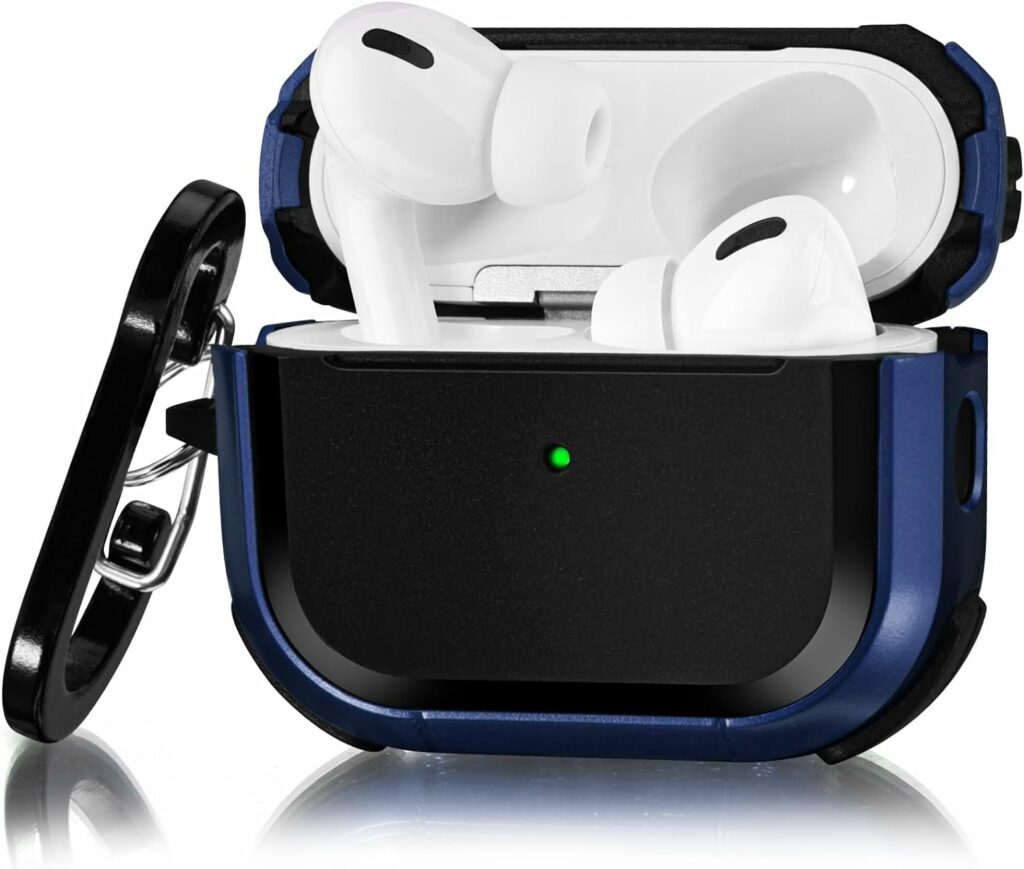 Meet your AirPods Pro's new bodyguard – a sleek case designed from top-notch TPU and PC materials. This isn't just any case; it's your ticket to a scratch-free and shockproof world for your AirPods Pro 2nd Gen.
Worried about your case doing a disappearing act? Fear not! CAGOS has thrown in a handy metal carabiner clip, making it a breeze to hook your AirPods Pro pouch onto your bag so you can bid farewell to earphone anxiety!
But it's not just about protection – this case is a style upgrade. The killer combo of a chic design and advanced texture will have your AirPods Pro looking sharper than ever. And here's the kicker – you can charge them wirelessly or with a cable, all without taking off the cover.
Buy CAGOS Airpods Pro 2nd Generation Case for $8.99 here.
8. KeyBudz for AirPods Pro Case with Lock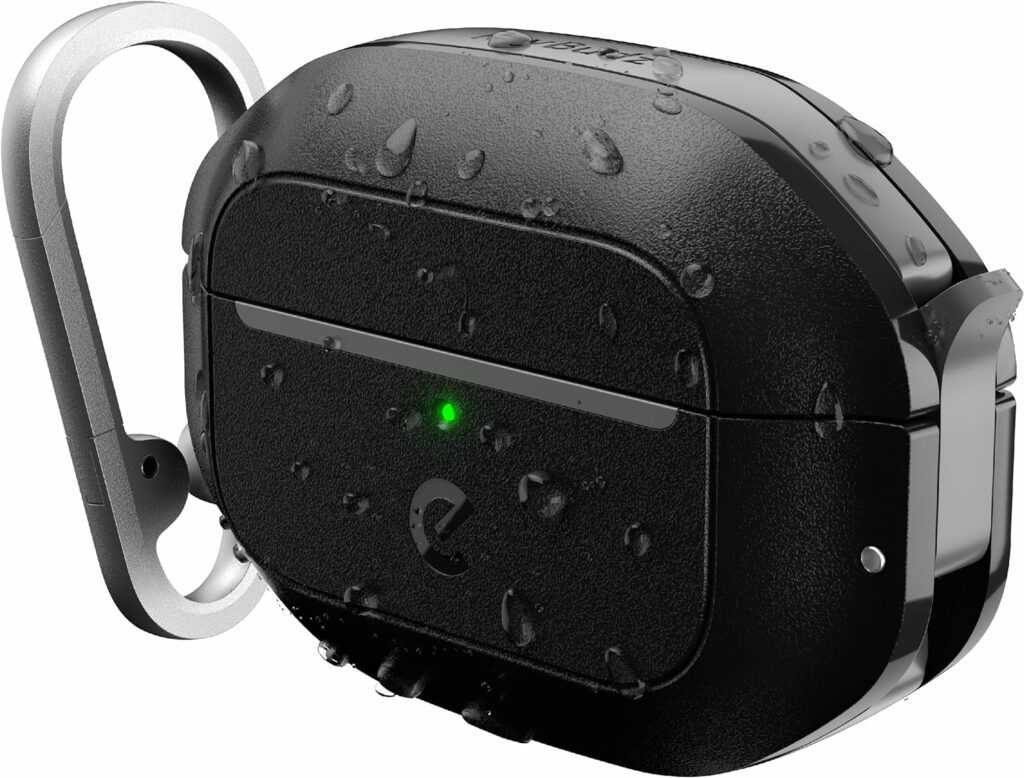 With Secure Locking System KeyBudz AirPods Pro Case is your ultimate companion for safeguarding your precious AirPods Pro 2nd Gen. It is a fortress against accidental drops and the unpredictable elements of life.
We're talking serious protection here: IP68 waterproof certified and military-grade drop-tested, this tough case is designed to defy dust, water, and gravity. This AirPods Pro 2nd Gen Case is the ONLY waterproof case made from certified 70% recycled content. It's a small step towards a greener planet while keeping your AirPods Pro in top-notch condition.
The rugged carabiner clip, crafted from anodized aluminum, lets you easily attach your AirPods to your backpack, bag, or purse. It's all about convenient and secure access, wherever you go. So, whether you're a man or a woman, this mindfully sourced, eco-friendly case is your go-to choice for protecting your AirPods Pro in style.
Buy KeyBudz for AirPods Pro Case with Lock for $29.95 here.
To Conclude
So, there you have it – the best USB-C AirPods Pro 2 cases in 2023 you can get your hands on right now. These cases not only protect your precious AirPods Pro 2 but also add a touch of personal flair to your everyday carry. With options ranging from rugged armor to sleek minimalism, you can rest easy knowing your earbuds are safe and sound.
So go ahead, pick the one that speaks to you and make your AirPods Pro 2 truly yours.
Disclosure: iOSHacker may receive a commission if you purchase products through our affiliate links. For more visit our privacy policy page.