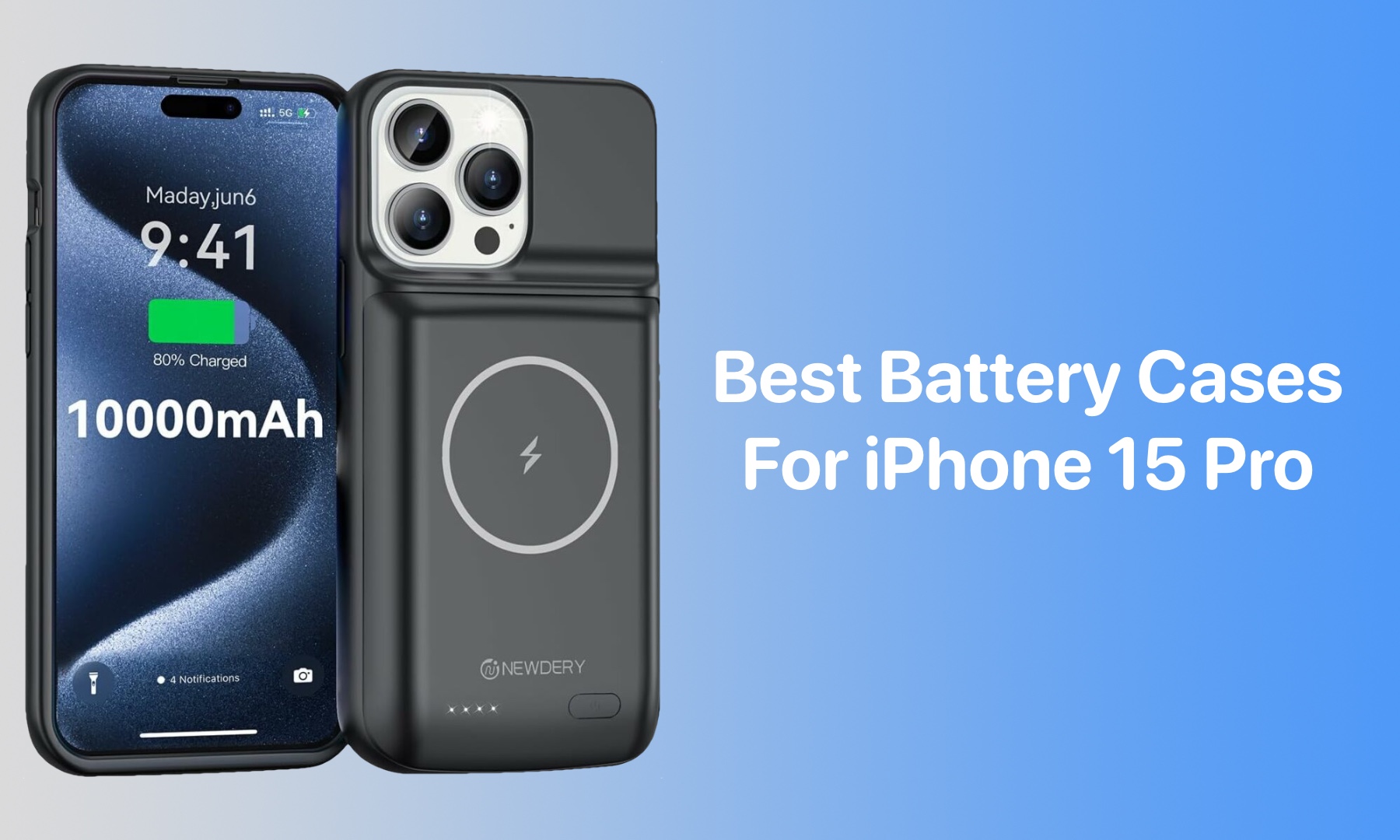 Here we have listed some of the best battery cases for iPhone 15 Pro that allow users to expand the battery life of their iPhone and use it for longer periods of time on the go.
Have you ever found yourself desperately searching for an outlet when your iPhone 15 Pro is gasping for its last breath? We've all been there, tethered to a wall while our sleek devices beg for a lifeline. But what if there was a way to break free from the tyranny of low battery anxiety? Enter the world of iPhone 15 Pro cases with built-in battery.
In a market flooded with options, each promising to be the knight in shining armor for your precious device, how do you separate the gems from the gimmicks?
Fear not, intrepid iPhone users, as we embark on a journey to discover the best battery cases for iPhone 15 Pro that not only juice up your phone but do so with style, efficiency, and a touch of tech wizardry.
Let's liberate our iPhones from the shackles of charging cables and explore the frontier of power-packed companionship!
Battery Cases For iPhone 15 Pro
You can find six of the best battery cases for iPhone 15 Pro below.
1. GIN FOXI 15W Fast Charging Battery Case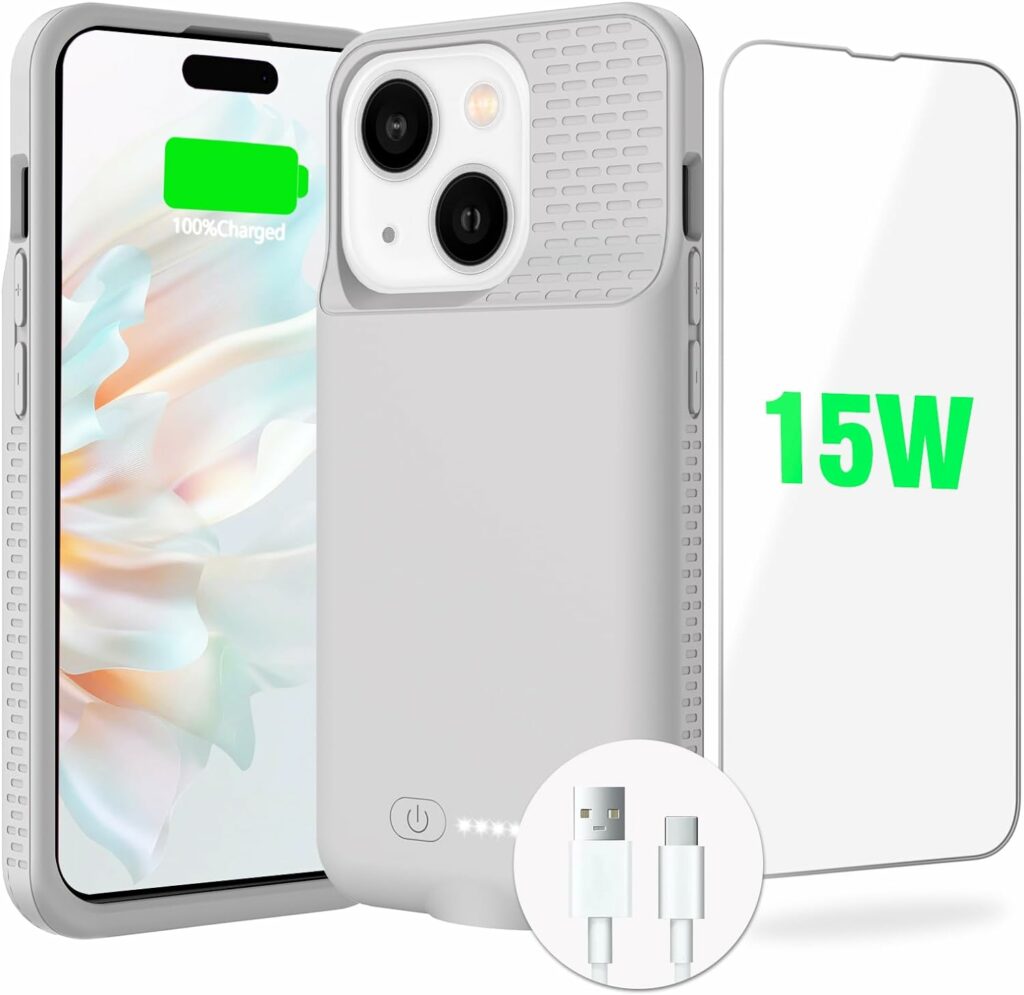 If you've ever found yourself desperately searching for an outlet while your phone's battery hangs on for dear life, GIN FOXI 15W Fast Charging Battery Case is here to save the day. At just 0.58 inches thick and weighing a mere 3.8 ounces, it's incredibly convenient.
The real magic lies in the 7000mAh battery that can double your phone's power. That means more time for chatting, listening to music, watching movies, and browsing the internet. Whether you're on the go or hard at work, this battery case is your best companion. Plus, it supports super-fast 15W charging with 3A high amperage, taking your iPhone from 0% to 55% in just 30 minutes.
What's more, you'll enjoy over 1,000 charging cycles – that's more than many other battery cases can offer. The upgraded buttons make for more responsive commands, and it's certified by CE, FC, and RoHS for your peace of mind. The inner smart security chip provides 10 layers of protection, safeguarding your phone from short-circuits, overheating, and over-charging.
Buy GIN FOXI 15W Fast Charging Battery Case for $39.99 here.
2. ZUEUS Battery Case for iPhone 15 Pro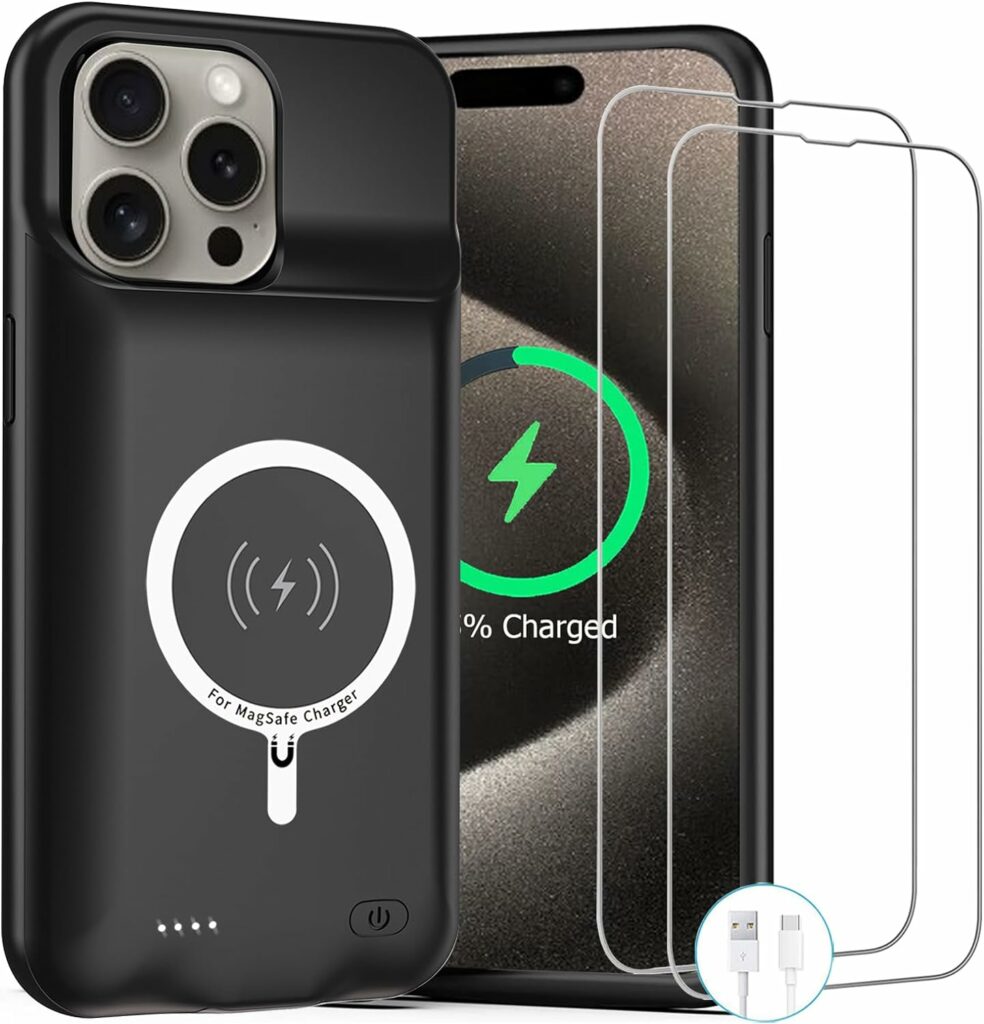 Tired of those dreaded "low battery" warnings and fumbling around for a charger? We get it; we've been there too. But here's some good news: the ZUEUS Battery Case for iPhone 15 Pro has got your back. With a whopping 10,000mAh capacity, this battery case is here to rescue your iPhone 15 Pro from the brink of death.
Now, one of the coolest features of this case is that it's fully compatible with CarPlay. No more dealing with the frustration of not being able to use CarPlay while charging your phone. This case allows you to have the best of both worlds, seamlessly.
The ZUEUS Battery Case is designed to support wireless charging via a Qi wireless pad, and it also allows you to charge your iPhone and the case simultaneously. No more taking your phone in and out of the case just to juice it up.
Buy the ZUEUS Battery Case for iPhone 15 Pro for $46.70 here.
3. Alpatronix Battery Case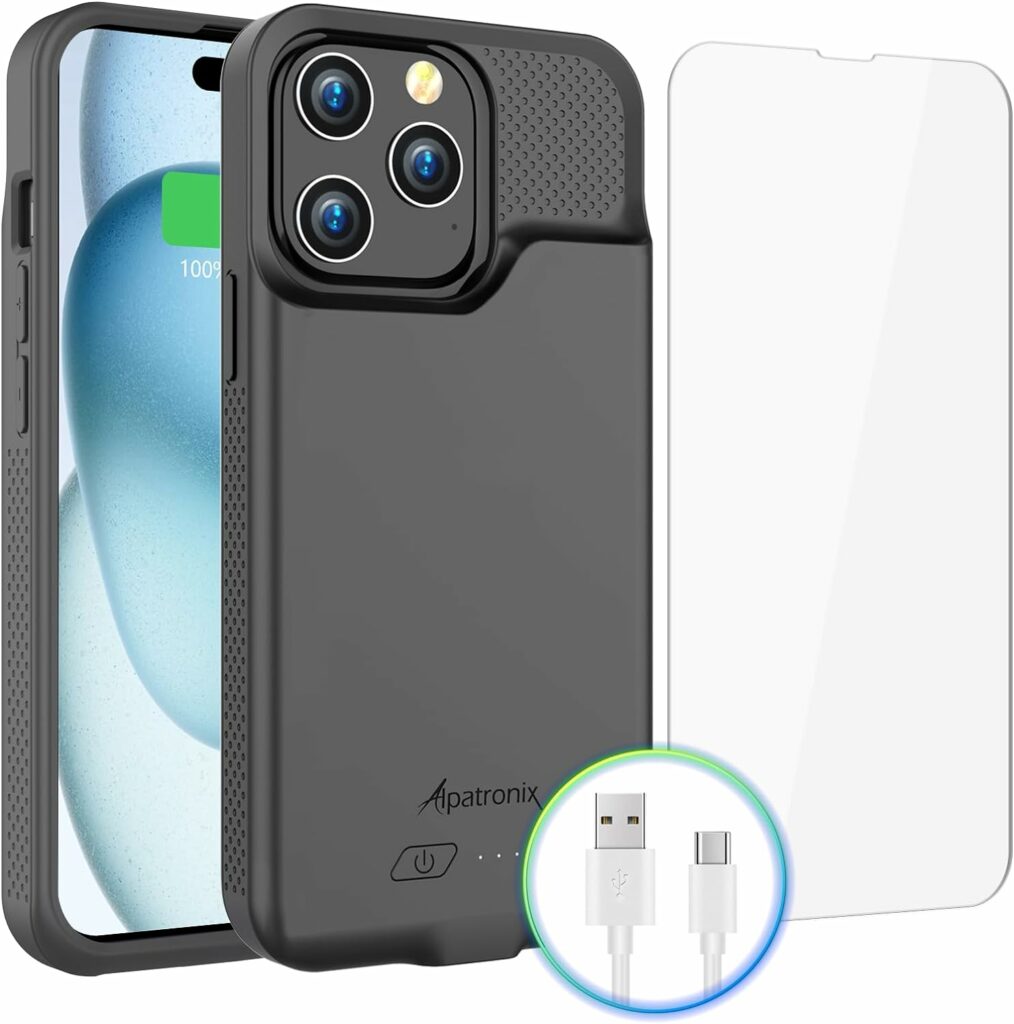 The Alpatronix BX15W is the California-designed battery case that's about to redefine your charging experience! Slim yet powerful, this case boasts a UL-tested battery, ensuring a reliable charge every single time. No more falling for those fake high battery capacities that leave you with only a meager 50% charge.
The beauty of this case? You can charge your iPhone and the case together without the hassle of removing it. Just use your original iPhone cable – no need to search for that extra one in the depths of your drawer. The clever design lets your iPhone charge first, and then the case follows suit.
This battery case is fully compatible with iPhone 15 and iPhone 15 Pro, supporting all your phone's functions through an original connector. Pop in your wireless headphones while your phone is snug in the case.
Buy the Alpatronix Battery Case for $49.95 here.
4. NEWDERY Battery Case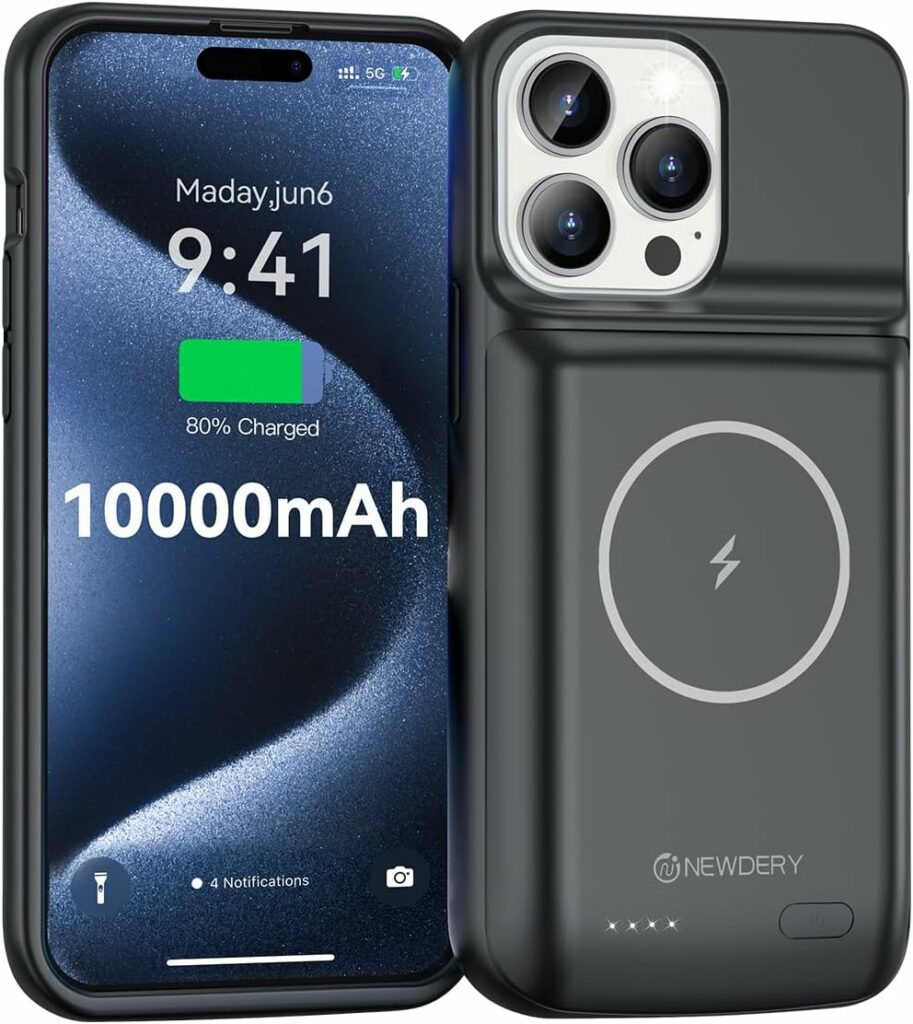 With a powerful 10,000mAh battery, NEWDERY Battery Case will supercharge your iPhone 15 or 15 Pro, extending your battery life by up to 200%. Whether you're a heavy phone user, always on the move for business trips, or an adventure-seeking traveler, this battery case ensures you stay connected and powered up.
The best part? It's designed with a built-in TYPE C port for convenience. But that's not all – it's also equipped with a magnetic module, allowing you to charge it wirelessly or with a mag charger. You can even simultaneously charge your iPhone and the battery case using a USB-C cable.
Keeping track of your power is easy with the four LED indicators that display your battery pack levels (25%, 50%, 75%, 100%) and flash during charging. Activating the charging is a breeze – just press and hold the power key for 3 seconds.
Buy NEWDERY Battery Case for $49.99 here.
5. ENCASED Falcon Power Battery Case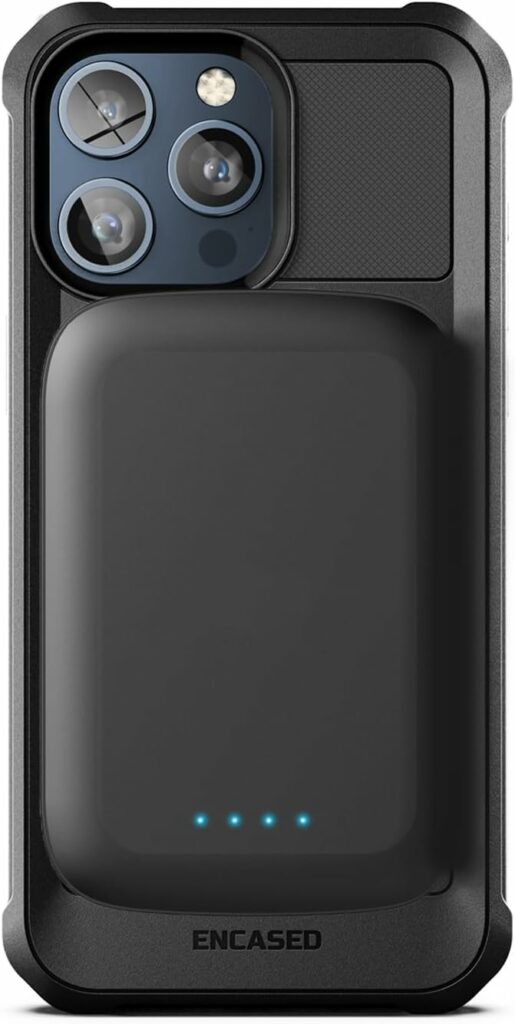 Say goodbye to the dreaded low battery warning with the ENCASED Falcon Power, the ultimate solution for your iPhone 15 Pro! This sleek battery case is a game-changer, ensuring you never run out of juice when you need it most. Imagine a portable charger that's not only small enough to fit in your bag or pocket but also packs a powerful punch – that's the Falcon Power for you.
What sets this battery case apart is its compatibility with MagSafe. Thanks to powerful built-in magnets, attaching the power bank is a breeze, guaranteeing a hassle-free alignment every single time.
With an impressive 5000mAh capacity, this pocket-sized powerhouse can give your iPhone a full extra charge in less than 2.5 hours. The included 3-foot USB-C charging cable ensures a speedy and efficient power-up process.
Buy an ENCASED Falcon Power Battery Case for $32.99 here.
6. BOVSRT Protective Charging Case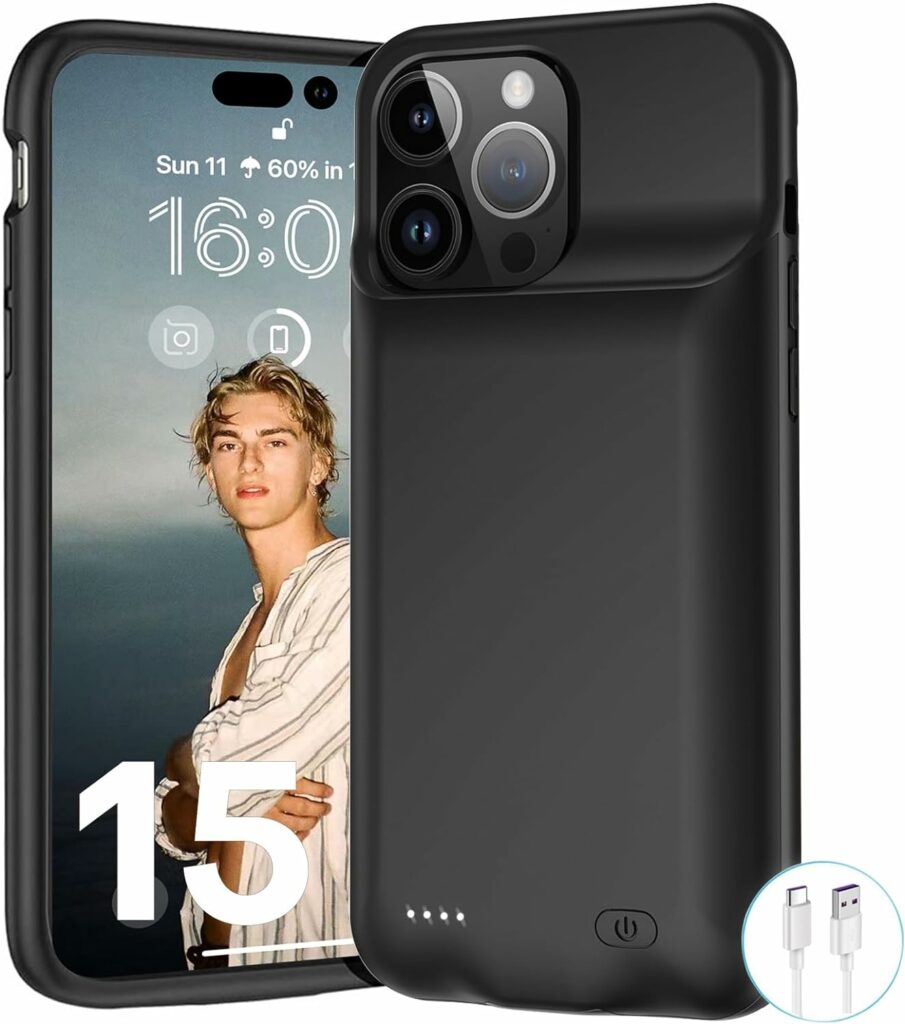 The BOVSRT Protective Charging Case is more than just a portable charger; it's a robust protective shield against the daily wear and tear that our beloved smartphones often endure.
One of its standout features is the raised bezels that offer extra screen protection, shielding your phone from accidental drops and scrapes. it's equipped with advanced chips that safeguard your smartphone from overheating, short-circuits, and overcharging – ensuring both your device and your peace of mind stay intact.
The design of this iPhone 15 Pro battery case is a testament to elegance and functionality. With its ultra-slim uni-body design, it's effortless to install, and the elastic soft material, coupled with full edge protection, defends your device against scratches, shocks, fingerprints, and the rigors of daily life.
Buy the BOVSRT Protective Charging Case for $43.87 here.
To Conclude
With a market flooded with options, our journey led us to these standout iPhone 15 Pro battery cases that seamlessly blend functionality with style. So, as you gear up to conquer your daily adventures, consider not just protecting, but empowering your iPhone 15 Pro.
After all, in a world that moves at the speed of innovation, why not ensure your device can keep up? Embrace the future of on-the-go power with one of these stellar portable charging cases for iPhone 15 Pro, and let your journey farther and last longer.
Disclosure: iOSHacker may receive a commission if you purchase products through our affiliate links. For more visit our privacy policy page.