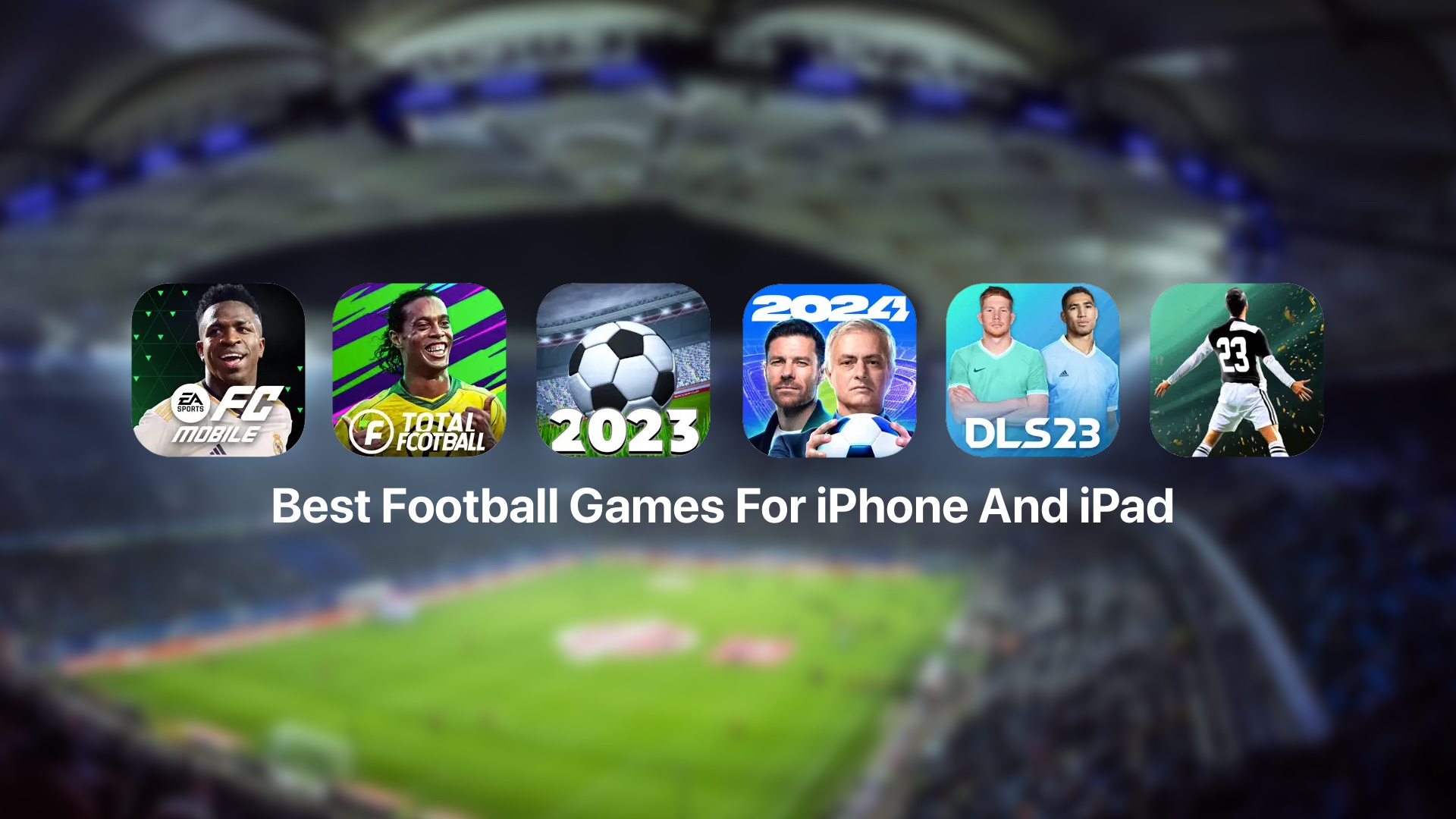 In this article, you will find a list of the best Football games for iPhone and iPad that you can download right now. These visually stunning games offer an elite gameplay that is fully immersive.
Are you ready to bring the thrill of the pitch right to your fingertips? Whether you're a die-hard football fanatic or just looking to kick back and enjoy a match on your iPhone or iPad, you've come to the right place. In the world of mobile gaming, there's a fantastic lineup of football games that can turn your device into a virtual stadium.
From managing your own dream team to scoring goals with a flick of your finger, these best soccer games for iPhone are designed to immerse you in the world's most popular sport like never before.
Best Football Games For iPhone And iPad
So, grab your virtual cleats, and let's explore the top football games in 2024 that'll have you cheering for goals and strategizing for victory in the palm of your hand!
1. EA SPORTS FC™ MOBILE 24 SOCCER

Join the EA SPORTS™ soccer fan club and embark on an incredible journey of soccer greatness! Build your dream Ultimate Team™ with legendary stars like Vini Jr., Erling Haaland, Virgil van Dijk, and Son Heung-min. Whether you want to play as Real Madrid in LALIGA EA SPORTS or dominate the Premier League with Manchester City, the choice is yours.
But what sets this iPhone soccer game apart? It's all about the authentic experience. Real-time 11v11 gameplay, true player personality, and dynamic game speed make each match a thrilling encounter. The elite shooting system lets you feel the impact of your star players on the pitch, while the impact controls like Power Shot, Hard Tackle, and Knock On open up new ways to score and defend.
Immerse yourself in the game with an authentic broadcast experience, featuring dynamic cameras and impactful replays. Hear the roar of the crowd with realistic stadium sound effects and live on-field audio commentary.
Install EA SPORTS FC™ MOBILE 24 SOCCER from the App Store now!
2. Dream League Soccer 2023

Welcome to Dream League Soccer 2023, where soccer dreams come to life with a fresh new look and exciting features! In this game, you're not just a spectator; you're in the heart of the action. With over 4,000 FIFPRO™ licensed players at your disposal, you can build your ultimate dream team and go head-to-head with the world's best soccer clubs.
What's a dream team without some superstar players? Sign legends like Kevin De Bruyne and Achraf Hakimi to create your very own Dream Team. But remember, it's not just about the players; it's about perfecting your style, developing your squad, and taking on any team that dares to challenge you as you climb the ranks. Plus, you can upgrade your stadium with world-class facilities as you aim for the Legendary Division.
And the visuals? They're simply jaw-dropping in this iPhone football game. Feast your eyes on the best-looking Dream League Soccer experience ever. Customize your manager with various options, including hairstyles and outfits. With the new and improved graphics engine, your dream team has never looked this good.
Install Dream League Soccer 2023 from the App Store now!
3. Football Game 2023: Real Kick

Get ready for some thrilling soccer action in Football League Soccer Game 2023! This game is taking penalty kicks to a whole new level with its sleek aesthetics and a fresh set of features. You have the chance to build your dream team using licensed players and pit them against the best football leagues across the globe.
One of the coolest features is that you can sign top superstar players and assemble your very own Dream Super Star Team. The level of customization is remarkable. Tailor your players to your liking and craft a team that can perform miracles on the field. You'll also have the chance to upgrade your players with top-notch gear as you march towards soccer glory.
This best football game for iPhone offers an immersive soccer experience with new animations and enhanced AI, completely reshaping the way you shoot and score on your mobile device. Football League Soccer Game 3D captures the true essence of multiplayer football, ensuring every match is filled with excitement and competition.
Install Football Game 2023: Real Kick from the App Store now!
4. Total Football – Mobile Soccer

Sure, we all want to win, but the price for victory has just gone up. Total Football's new AI engine is a game-changer. It's like the players on the field have evolved, making split-second decisions that keep you on your toes. Your team's moves and strategies have never been so spot-on, but beware, your opponents are on the same level.
Total Football has also kicked up the graphics a notch. You'll be treated to top-level console-quality visuals and 3D motion-captured player movements that are so realistic you'll feel like you're in the stadium.
And if you're looking for variety, you're in luck. There are new game modes and community events that will keep you engaged for hours on end. It's not just about winning; it's about the journey and the camaraderie with fellow football enthusiasts.
Install Total Football – Mobile Soccer from the App Store now!
5. Soccer Cup 2023: Football Game

Are you ready to dive into the thrilling world of soccer with Soccer Cup 2023? It's time to unleash your skills, showcase your unique style, and demonstrate pinpoint accuracy on the field. Become a soccer legend and let the world know which country boasts the best team on the planet.
Your journey begins with training – hone your abilities, get a grip on the basics, and gear up for the authentic soccer game experience. The next match is always on the horizon – play, improve your league standing, and work your way up to compete with even stronger teams in higher leagues.
Take charge of team management – customize your players to build the dream team you've always imagined. Keep an eye on your team's progress and statistics with in-depth statistics tracking. Each season, strive to accomplish four unique objectives in the season objectives challenge.
Install Soccer Cup 2023: Football Game from the App Store now!
6. Top Eleven Be a Soccer Manager

What's got everyone buzzing? The 3D live soccer matches are taking center stage, and they've never looked this good. The graphics are jaw-dropping, with every move and playstyle brought to life with incredible new animations. You can practically feel the energy of the match day in this best soccer game for iPad, thanks to night scenes and animated 3D crowds.
But it doesn't stop there. The new camera angles give you the power to choose how you want to watch your team's tactics unfold. The thrill of managing your club is now more immersive than ever in Top Eleven 2024.
With Top Eleven, you're not just managing a soccer team; you're creating your own soccer universe, all from the palm of your hand. From signing superstar players to designing your dream stadium, this game puts you in the driver's seat.
And the best part? You're not alone in this journey. Compete in real-time against soccer managers from all corners of the globe. Just like legendary coaches José Mourinho and Xabi Alonso, it's your turn to craft the soccer strategies that will transform your dreams into reality.
Install Top Eleven Be a Soccer Manager from the App Store now!
To Conclude
With these remarkable soccer games 2024, your iPhone or iPad transforms into a portal to the exciting and competitive world of football. So, go ahead and dive into the action, create your dream team, and lead your club to glory. These iPhone and iPad soccer games offer you the perfect opportunity to experience the joy, drama, and excitement of football, all while conveniently fitting in your pocket.
Disclosure: iOSHacker may receive a commission if you purchase products through our affiliate links. For more visit our privacy policy page.