There have been numerous upgrades to the 4th Generation iPad Pro 11-inch model announced by Apple, including the M2 chip and enhanced networking tech.
However, the exterior design of the iPad Pro has remained consistent for several years despite a substantial upgrade on the inside.
You can surely use 11-inch 4th Generation iPad Pro cases or covers you may have purchased for previous versions of the iPad 11 Pro on the all-new iPad 11 Pro M2. 
Nonetheless, we have put together some high-profile new cases that you can purchase now!
Best Cases for 11-inch 4th Generation iPad Pro In 2023
Here are the best cases that you should consider buying for your brand new 4th Generation iPad Pro.
1. ESR Hybrid Case Compatible with iPad Pro 11 Inch Case
What makes this case ideal:
Removable Magnetic Cover: An integrated magnetic lock and steady stand create a secure magnetic lock and make it easy to attach and remove on the go.
An Extremely Versatile Stand: Whether you are FaceTiming or watching videos, you can easily switch to landscape view, plus you can type or draw at any angle.
Top-Notch Protection: A scratch-resistant, clear back case with shock-absorbing sides provides complete protection from drops, bumps, and scratches, even if the cover is not attached.
Support for Pencil 2: Integrated magnetic clasp secures and protects your Pencil's magnetic clasp and allow for full magnetic pairing and charging support.
Buy ESR Hybrid Case Compatible with iPad Pro 11 Inch Case for $34.99 here
2. SUPCASE Unicorn Beetle Series Case Designed for iPad Pro 11 4th Generation
What makes SUPCASE Unicorn one of the best cases for the 4th Generation iPad Pro:
Innovative multi-layered design: For scratch and impact protection, this case combines polycarbonate and TPU for both a unique design and improved durability.
Apple Pencil 2 Support: This unique design provides magnetic attachment and wireless charging for the Apple Pencil 2.
Multi-position Functional kickstand: While on the go, you can easily watch your favorite shows, movies, and games hands-free anytime.
Precise cutouts: The precise cutouts in this case make all ports, buttons, and functions easily accessible.
Buy SUPCASE Unicorn Beetle Series Case Designed for iPad Pro 11 for $26.99 here
3. ProCase iPad Pro 11 Inch Case 4th Generation
What features make ProCase the best cases for 4th Generation iPad Pro:
Versatility with Protection: With this transparent frosted back cover, you can see the Apple icon through any color of your choice while also protecting the device against dirt, scratches, and fingerprints.
Unique Design: Designed with a lightweight hardback, your device will stay protected from accidental bumps and drops without adding excessive bulk.
2nd Gen Pencil Support: The cover supports the 2nd generation Apple Pencil, which has magnetic attachments and wireless charging capabilities. It also supports auto sleep and wake features along with an easy snap on and off.
Tri-fold front cover: ProCase satisfies your different needs with its dual standing positions and provides full access to all iPad features including cameras, speakers, ports, and buttons.
Buy ProCase iPad Pro 11 Inch Case for $12.99 here
4. TineeOwl Mocha iPad Pro 11-inch Case 4th Generation
Why we have added TineeOwl Case to our best of the best iPad cases list:
Newly Designed Pencil Holder: You can easily take in and out your pencil with this pencil holder while ensuring it stays safe. It also supports Apple Pencil wireless charging through the case seamlessly.
An Ultra-Comfy Matte Back: In addition to being fingerprint resistant, gentle scratch resistant, and super comfortable, this matte back case is also ultra-smooth and super durable.
Shock-Absorbing Flexible TPU Edge: Protects against everyday wear and tear. It can be used on all kinds of surfaces, like desks, sinks, and kitchen tops, since it is made of grippy TPU material that provides an all-around grip.
Precise Cut Outs: There is a generous cut-out that allows any USB-C connector of any size to be used. The buttons are highly tactile and clicky. Additionally, there is no distance between the volume buttons, contrary to other cases which makes it easier to press the buttons effortlessly.
Buy TineeOwl Mocha iPad Pro 11-inch Case 4th Generation for $27.99 here
5. JETech Case for iPad Pro 11 Inch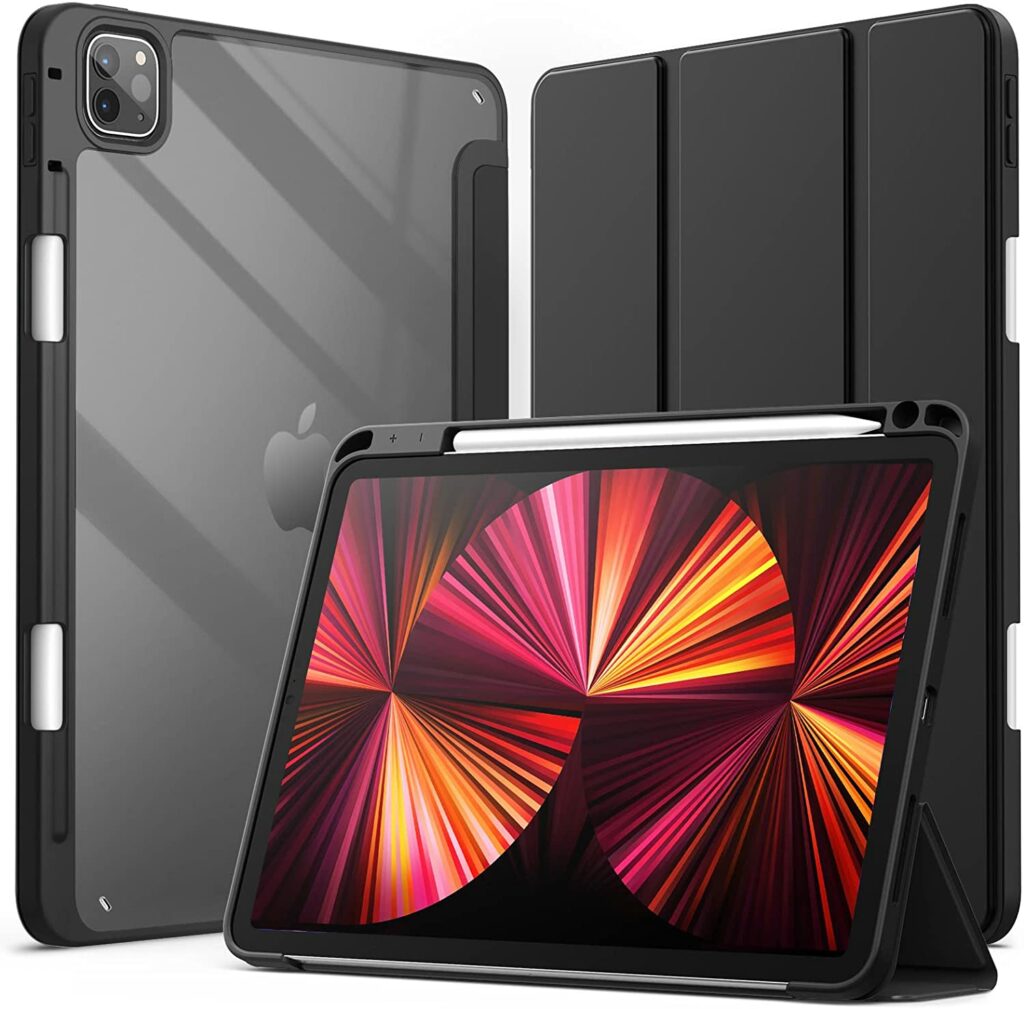 Reasons why you should consider buying a JETech case for your precious device.
Clear Crystal Back: Flexible TPU bumper and transparent hard PC back shell retain the original beauty of your device. This iPad case offers high protection against scratches and bumps while making installation and removal simple.
Built-in Pencil Holder: Keep or take out your Pencil easily. When not in use, the Pencil holder offers magnetic charging for the Pencil.
Precise Cutouts: JETech Magnetic smart cover supports automatic sleep/wake feature. It has perfectly aligned cutouts for easy access to speakers, buttons, and other ports.
Viewing & Typing Mode: To ensure optimal viewing and typing, the tri-fold front cover provides different angles to prop up your device.
Buy JETech Case for 4th Generation iPad Pro 11 Inch for $11.99 here
6. ZryXal New 4th Generation iPad Pro Case
What features make this cover stand out from the rest, let's check out:
Designed for Apple Pencil's Magnetic Attachment: The cover also includes a magnetic pencil attachment and charging feature, just like all the other covers on the list.
Support Touch ID and Auto Sleep/Wake Feature: This magnetic smart cover also supports the auto wake /sleep function. Besides, a powerful magnet secures the case closure and allows it easy to snap on and off.
Full Protection: An exterior of this cover is made of PU, the lining with microfiber, and the back cover with soft TPU. All these features combined provide full body protection against shocks, drops, and scratches.
Different Viewing Angles: Your iPad can be adjusted to two different angles using dual standing positions.
Buy ZryXal New iPad Pro 11 Inch Case for $18.99 here
7. Puxicu Slim Design Matte TPU Rubber Soft Skin Silicone Protective Cover for iPad Pro 11-inch
Want an iPad case that ensures durability and soft touch? Check out the features of this one:
Durable and Lightweight: Having a silicon exterior, it is super soft to the touch and lightweight which makes it super durable. You can easily install or remove the case without having the fear of scratches.
Precise Cut-out: This makes it convenient for you to easily access all the functional ports.
Anti-Slip Design: Since it is made of silicon, it provides extra grip on different surfaces preventing it from sliding or falling.
Anti-Fingerprint Material: It is made of matte TPU, which reduces fingerprints and gives the case a silky feel, making it scratch-resistant and fingerprint-resistant.
Buy Puxicu Slim Design Matte TPU Rubber Soft Skin Silicone Protective Cover for iPad for $9.99 here
Best 11-Inch iPad Pro 4th Generation Buyer's Guide
iPad Pro 11 cases come in numerous designs, styles, and colors. So, finding the best option can seem incredibly challenging.
It is suggested to pay attention to the following factors when shopping for your new iPad Pro 11 case to make it easier for you.
3 Factors to Consider Before Buying a 4th Generation iPad Pro 11-inch Case
You have reviewed the top 4th Generation iPad Pro 11-inch cases, but to avoid any confusion, consider these points before buying.
Material
There is no doubt that the construction of the iPad Pro 11 case is the primary factor to consider. The model you choose should be made with top-notch materials and be constructed in a way that ensures durability and quality.
Design or Color Options
The color and design option highly depends on your preferences. From basic black to uncountable shades of pastels, there are tons of designs available.
Compatibility
You should also confirm that the specific case you're looking at is perfectly compatible with your device. Because there are several versions available in the market, and each one is different. Hence, if you have an iPad Pro 11 Generation 3, you should only consider protective cases that are fully compatible with that device.
Final Words
We hope that the aforementioned list and a little buyer's guide will make your buying decision easier. So, get your hands on any of the cases of your choice and be ready to protect your precious device.
Was this guide helpful? Let us know in the comments section.