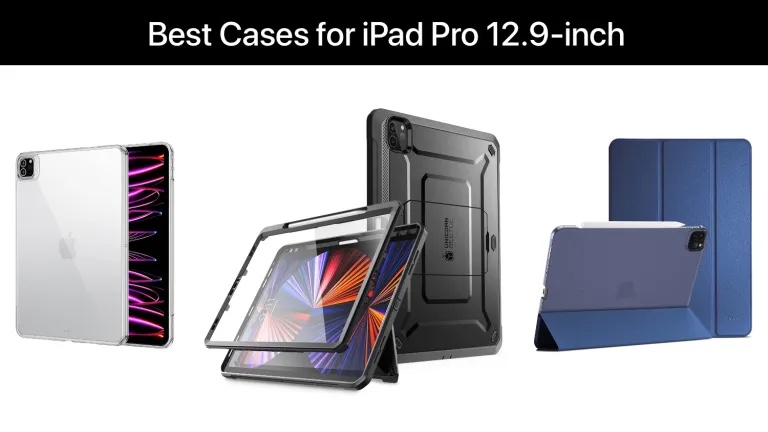 Are you a creative individual or someone who is mostly on the go? We bet you must own an iPad to get work done timely. Well, we suggest you consider buying 12.9-inch iPad Pro 2023 protective cases with a stand that will shield your iPad instantly so you can use it carefree anytime you want.
Besides giving your gadget added protection, these cases also enhance your typing experience, let you prop up your iPad Pro like a stand for browsing the web or watching movies, and give you more flexibility when it comes to adjusting viewing angles.
You can find a case for every need out there, and we have curated the best cases for 12.9-inch iPad 2023 for you below! Whether you are looking to protect your iPad or turn it into a work powerhouse, we have got you covered.
Best cases for iPad Pro 12.9-inch In 2023
Here are the best cases for 12.9-inch iPad Pro 2023 model that you should consider buying from well-known brands like ESR, JETECH, SUPCASE, and more.
1. ESR Classic Hybrid Back Case Compatible with iPad Pro 12.9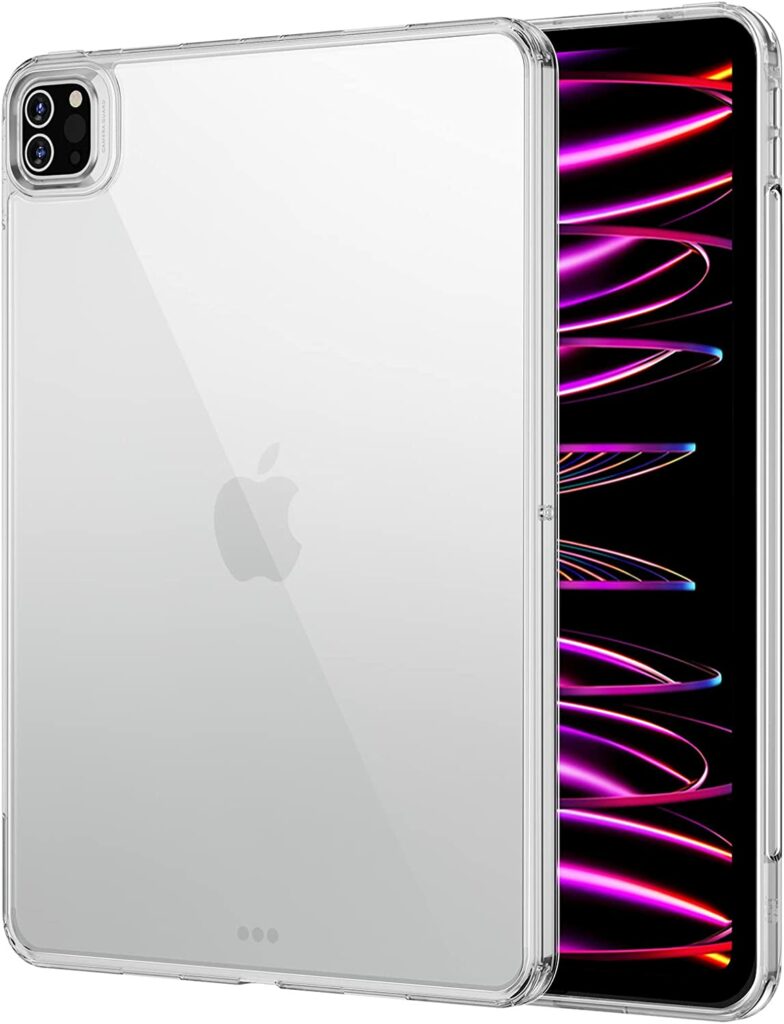 If you want a super-slim design that ensures a snug fit and excellent grip without adding bulk to your tablet then this one tick all the boxes.
With raised screen edges, a flexible polymer frame, and shock-absorbing Air-Guard corners, the ESR Classic Hybrid Back Case protects your iPad where it matters most.
A scratch-resistant acrylic back prevents bending and keeps crystal clear for longer, letting you show off the true style of your tablet.
Moreover, it supports magnetic pairing and charging via the recessed side groove of the Pencil 2.
Buy ESR Classic Hybrid Back Case for $17.99 here
2. ZtotopCases for New iPad Pro 12.9 Inch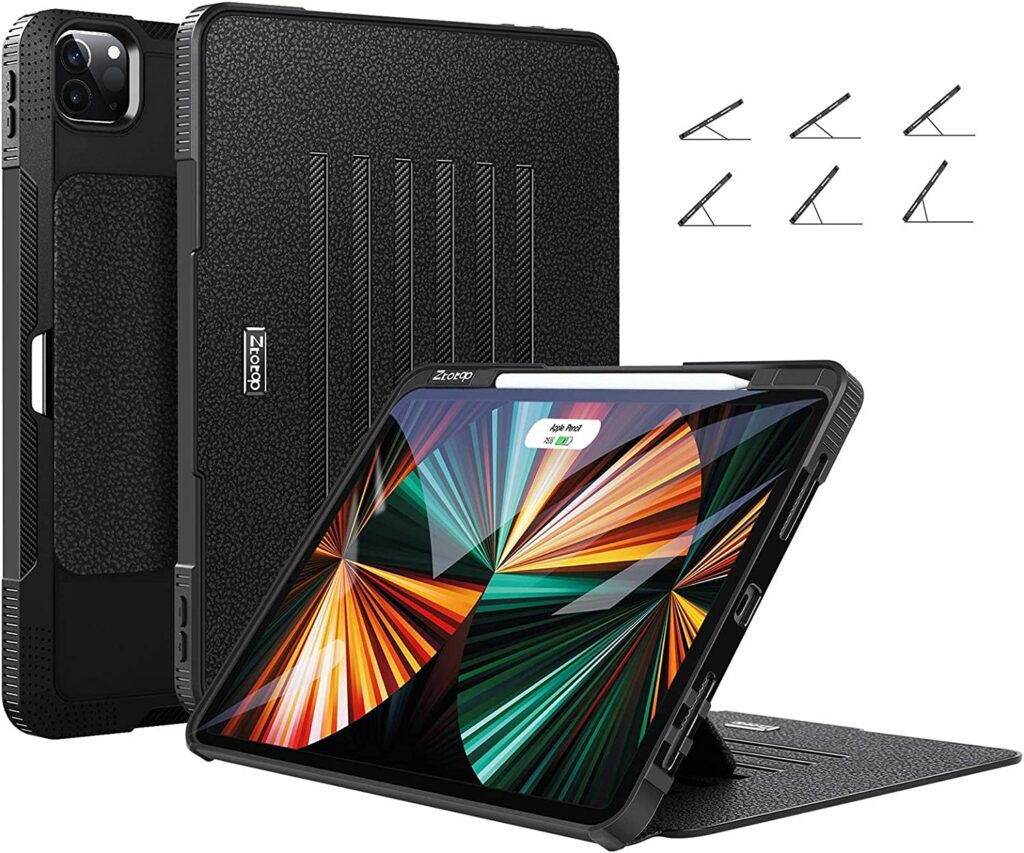 Featuring a tough TPU bumper with a PU leather exterior, this protective case will protect your iPad Pro 12.9 from bumps, scrapes, and accidental drops.
With multiple grooves and a strong magnetic kickstand, the iPad Pro can be adjusted to 6 secure viewing angles, providing a convenient stand position for reading, watching movies, or typing.
Support wireless charging for 2nd generation iPad pencils. With a built-in pencil holder, you can easily pull out your pencil and store it.
The magnetic smart cover supports auto wake and sleep functions. This case is secured with a powerful magnet, which makes putting on and taking off the tablet much easier and faster.
Buy ZtotopCases for New iPad Pro 12.9 Inch for $29.99 here
3. JETech Case for iPad Pro 12.9-Inch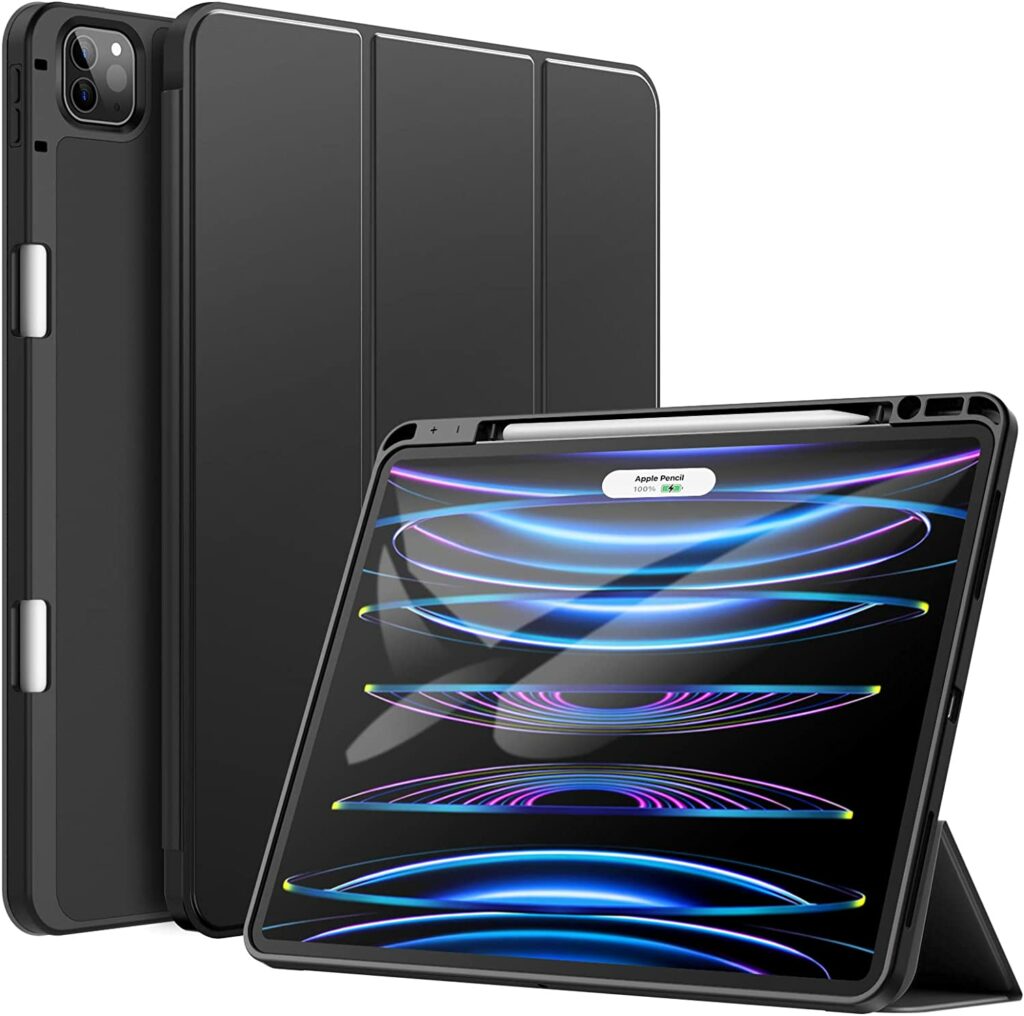 With its flexible TPU inner back, this cover protects your iPad against scratches and bumps, while making it easy to install or remove. The PU front and back covers have a silky feel to them and the slim profile ensures a comfortable grip. So, this is the smart pick if you want functionality, durability, and style.
You can keep your pencil in a convenient place and remove it easily. The pencil holder supports magnetic pencil charging when it is not in use. There is no need to worry about it falling off.
A magnetic smart cover is equipped with automatic sleep and wake feature plus, precise cutouts for easy access to all features.
Using the tri-fold front cover, you can adjust the angle for optimal viewing and typing.
Buy JETech Case for iPad Pro 12.9-Inch for $11.99 here
4. ZryXal New iPad Pro 12.9 Inch Case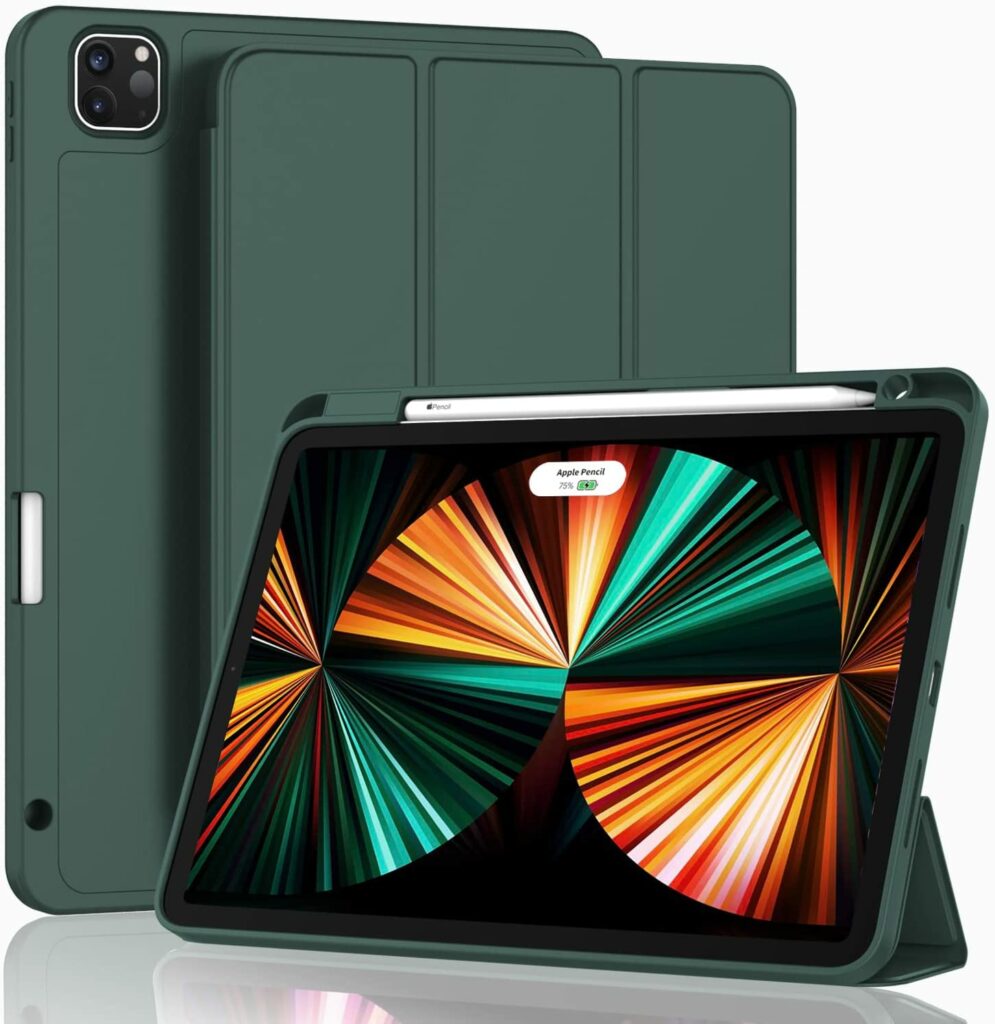 With its PU exterior, microfiber lining, and soft TPU back cover, this iPad case is made to ensure maximum protection. Along with other great features, this cover also provides full body protection against shocks, drops, and scratches.
The Apple Pencil holder is magnetically attached to the surface and is fully compatible with Apple Pencil charging.
The magnetic smart cover supports auto wake and sleep functions. Furthermore, a powerful magnet secures the case closure, making it easy to snap on and off.
A dual standing position allows users to angle the iPad according to their preferences.
Buy ZryXal New iPad Pro 12.9 Inch Case for $23.99 here
5. HOLIMET iPad Pro 12.9 Case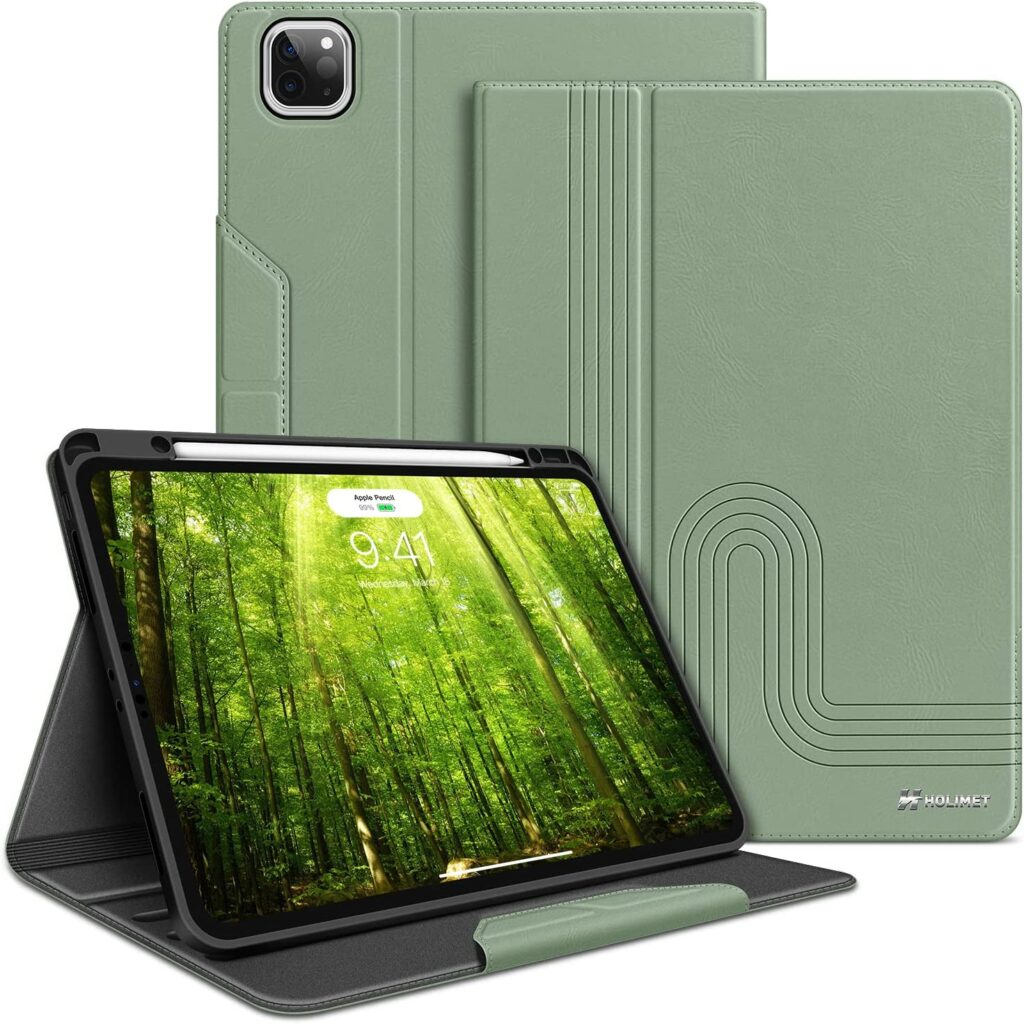 This case boasts a synthetic leather exterior and a polyurethane interior, both of which are waterproof and easy to protect and clean. You can install & remove the flexible TPU soft back cover without removing the iPad Pro 12.9 from the device.
With this iPad Pro 12.9-inch case, your Apple pencil will stay snug, preventing it from falling out or getting lost.
With the case, Apple pencils (2nd generation) can be wirelessly charged without removing the device. The pencil just pops out when you press the opening behind it.
The iPad stands securely at different angles thanks to anti-slip interior material and deep grooves. The stand position is convenient for watching movies and typing at the same time.
A powerful magnetic clasp on the exterior reduces battery drain and keeps the iPad Pro 12.9 protected when it's not in use.
All these features combined make this one of the best cases for 12.9-inch iPad.
Buy HOLIMET iPad Pro 12.9 Case for $39.90 here
6. SUPCASE Unicorn Beetle Pro Series Case for iPad Pro 12.9 Inch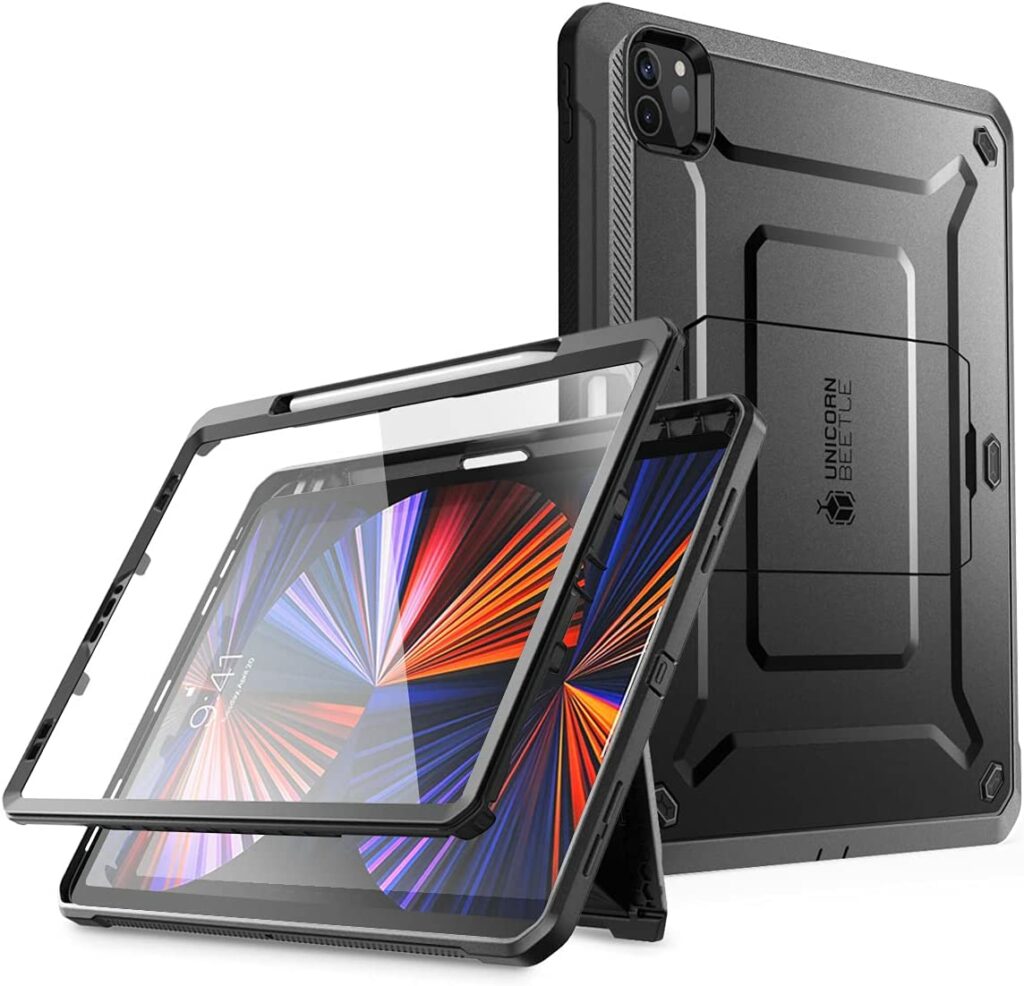 SUPCASE offers a protective case that prevents scratches without compromising sensitivity, and a pop-out kickstand that allows you to watch your favorite shows, movies, and games on the go.
With a unique design, the Apple Pencil 2 can adhere to magnetic surfaces and wirelessly charge at the same time.
The multi-layered case with a PC exterior shell and flexible TPU provides shock resistance against accidental drops, bumps, and impacts.
A port cover protects ports from dust and debris while allowing easy access to ports and functions.
Buy SUPCASE Unicorn Beetle Pro Series Case for $29.99 here
7. ProCase iPad Pro 12.9 Case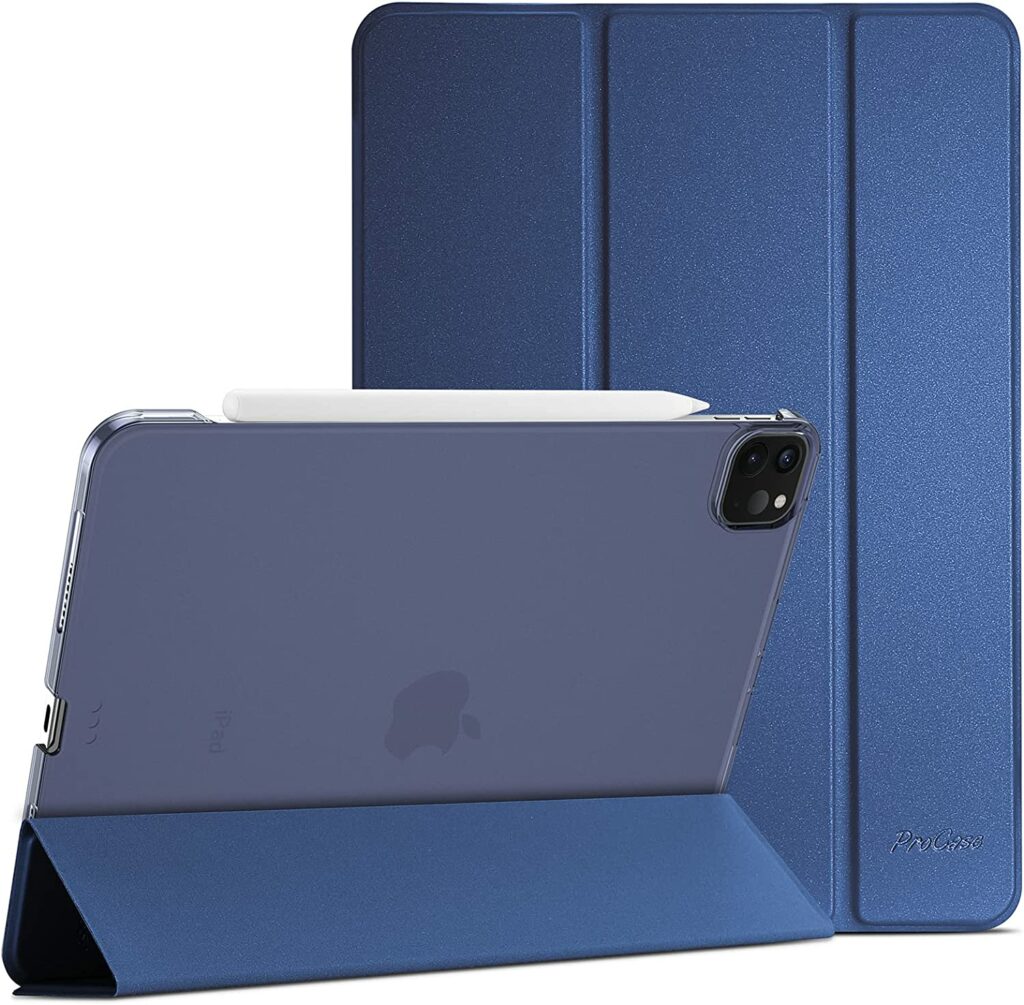 Designed to add minimal bulk while offering maximum protection against accidental falls and bumps, this durable back case offers top-grade protection for your device.
The transparent frosted back cover allows you to see the Apple icon through your favorite color while protecting your device against scratches and fingerprints.
This case features a classic and professional design with full access to all features including cameras, speakers, ports, and buttons, but note that it does not support Smart Keyboard.
Supports magnetic attachment and wireless charging of the second-generation Apple Pencil; features auto-sleep/wake functions; magnet locks case closure, easy snap-on, and snap-off.
Buy ProCase iPad Pro 12.9 Case for $12.99 here
Final Verdict
People mostly neglect the necessity of having a protective layer on their iPad. When you are always working or on the go, a protective case becomes mandatory.
With these recommendations mentioned above, you do not need to check if your device is mounted properly or constantly worry about scratches or cracks. However, when you pick any of the 12.9-inch iPad Pro 2023 cases, keep in mind your preference and needs.