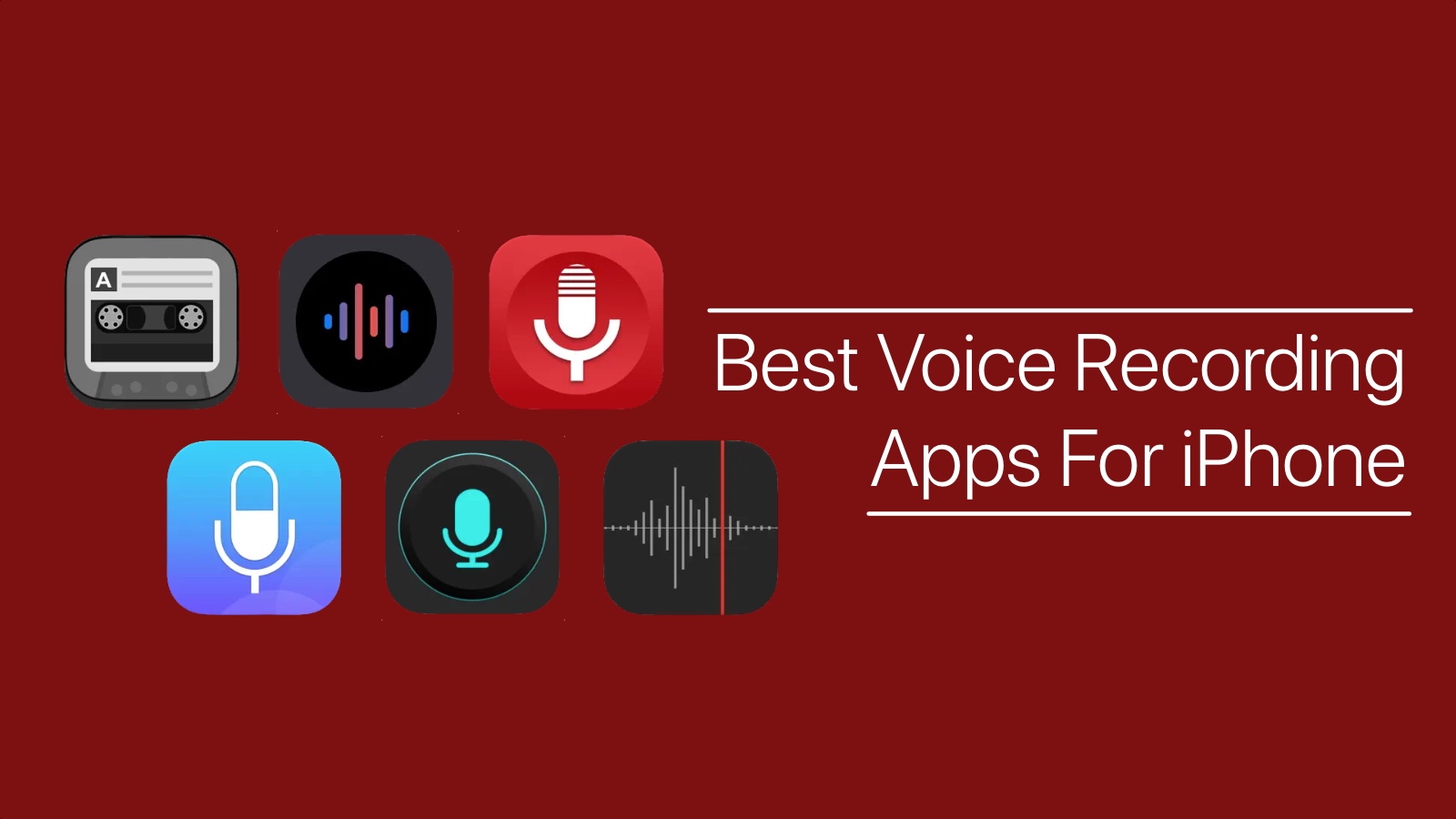 In this post we have featured some of the best voice recording apps for iPhone that should download on your iOS device.
Want to record lectures or maybe an interesting interview? Let's do the heavy lifting for you.
The iPhone and iPad have a multitude of audio recorders available in the App Store, but they are not all the same. For instance, some are designed for students to record hours of lectures, while others are built for journalists to record interviews.
Even though you could purchase a cheap Dictaphone online, BUT why spend money when you already own an iPhone with a microphone that works just fine?
The following are some of the best voice recording apps that can help you out in a wide variety of situations.
1. Voice Recorder & Audio Editor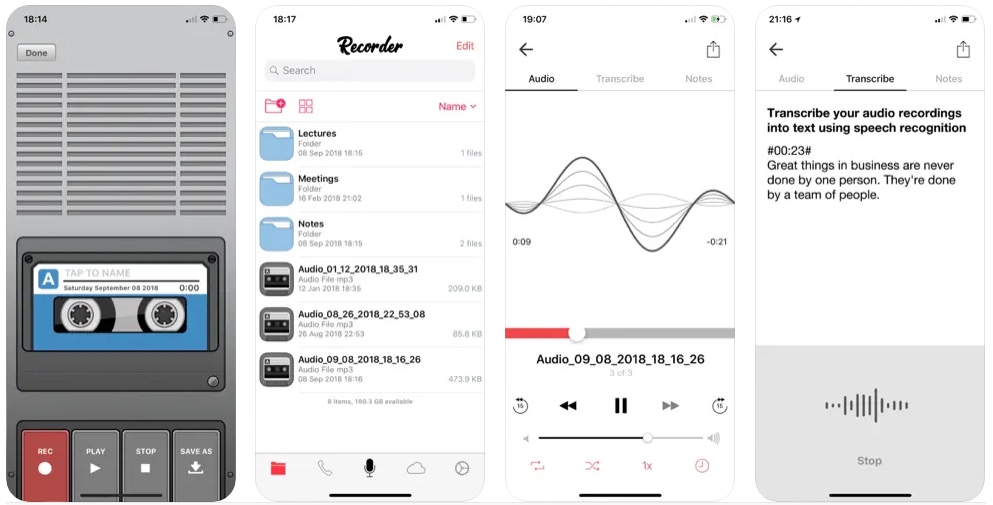 The recorder can be used as many times as you like for as long as you want.
This app is handy for recording lectures for school if you're looking for a way to keep notes. Purchasing an upgrade to this helpful app, allows you to get lectures transcribed as well, with an accuracy rate of 80%!
Some of the advanced features of this app include:
Multiple audio formats
Passcode protect recordings
Loop recordings
Trim recordings
Playback speed
Skip backward/forwards 15 seconds
Favorite recordings
Install Voice Recorder & Audio Editor from the App Store now
2. Voice recorder: Audio Editor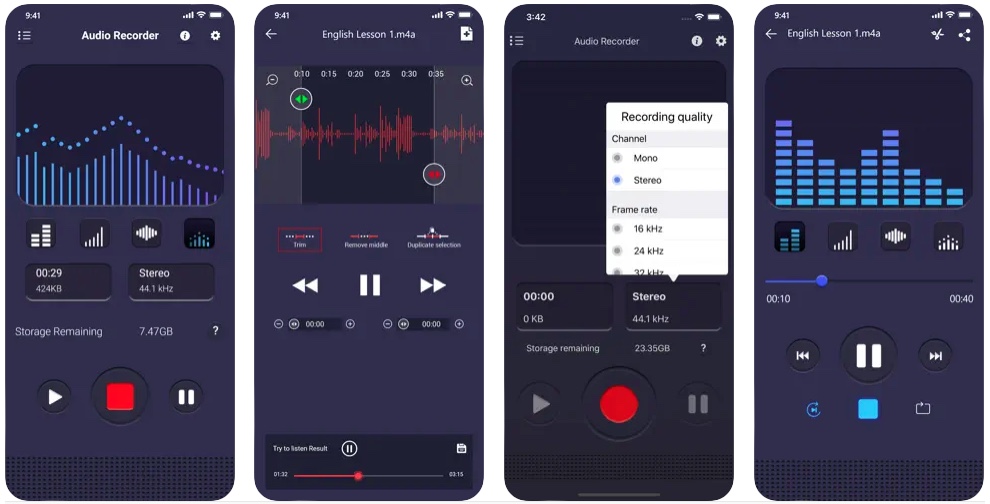 You should look no further if you are searching for the best voice recorders that can also accurately transcribe audio files.
You can select the file format of an audio file, alter its playback speed, or trim out unwanted parts in Voice Recorder: Audio Editor's free version. When you finish recording and editing your voice recordings, you can easily upload them to social media or store them online.
Using this App you can:
record your meetings, personal notes, speeches, lectures, songs
support high-quality MP3 format files
store files on internal storage or SD card
have a delete function, and share function (via email, SMS, MMS, Facebook, WhatsApp, dropbox, etc.).
encode with an adjustable sample rate (8-44 kHz)
record in the background (even when the display is off)
save/pause/resume/cancel recording process control
Install Voice recorder: Audio editor from the App Store now
3. Voice recorder – Voz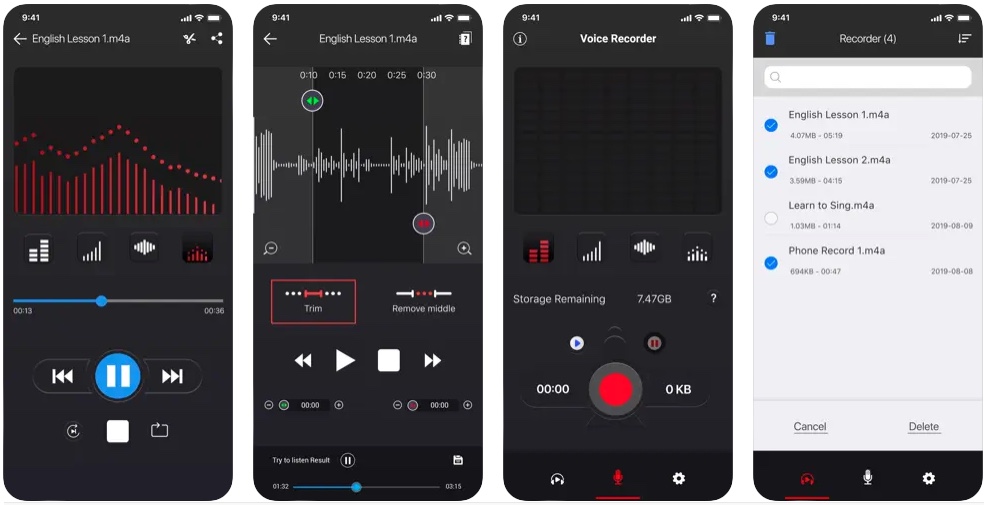 The Voice Recorder App lets you record audio, including songs, speeches, lectures, and meetings. It also lets you save them on your phone so that you can listen to the recordings whenever you want, on your phone.
Using this application, you can record better voice quality with less noise, as well as ensure the information is recorded, accurately, and with fewer errors.
Some of the prominent features of Voice Recorder include:
HD Audio recorder
High-quality voice recording
Option to Send/Share your recordings
Rename and delete your recordings
Save the recording file on the device's internal memory
Live audio spectrum analyzer
Mp3 encoded with adjustable sample rate (8-44 kHz)
Record in the background (even if the screen is off)
Microphone upscaling tool
Save/pause/resume /abort the recording process control
Move your audio recording through the computer easily
Install Voice recorder – Voz from the App Store now
4. AVR X – Voice Recorder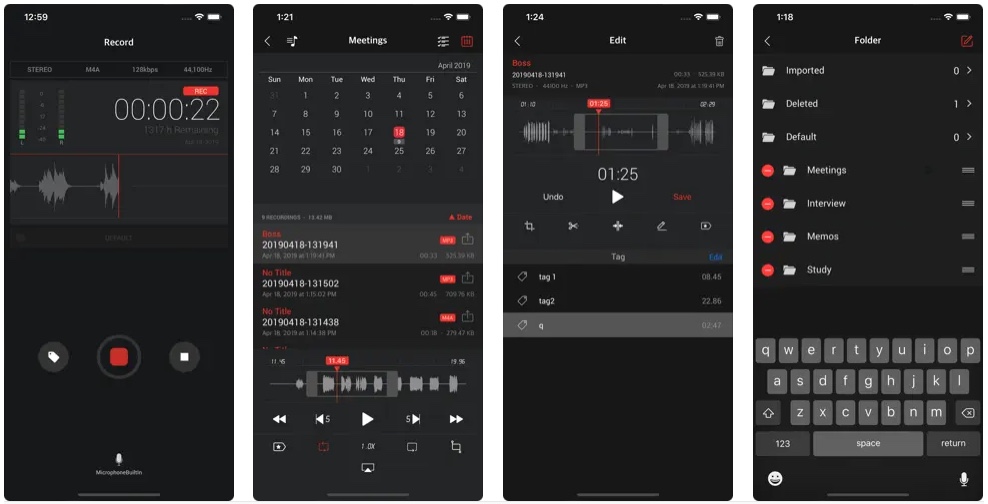 Voice Memos X is a powerful voice recording application that is suitable for business people, reporters, teachers, audio experts, audio engineers, school staff, and university students.
With this Voice Recorder, you can capture audio on the go and tag significant events. In case you need to pause the recording, you can resume where you left off afterward. Just this feature makes it an excellent note-taking tool.
What else does this App offer?
Direct recording MP3, WAV, M4A audio format
High-quality audio recording
Unlimited recording time
Background recording (you can use other apps while recording & secret recording is possible)
Wave display for recording status
Various audio quality options (11,025KHz, 22,050KHz, 44,100KHz,48,000KHz)
Mono/stereo recording
Records playable in various media
Display recording file size
Safe stop for low battery and storage space
Bluetooth support
Supported audio formats (MP3,WAV,M4A)
Install AVR X – Voice Recorder from the App Store now
5. Voice Recorder & Memos Pro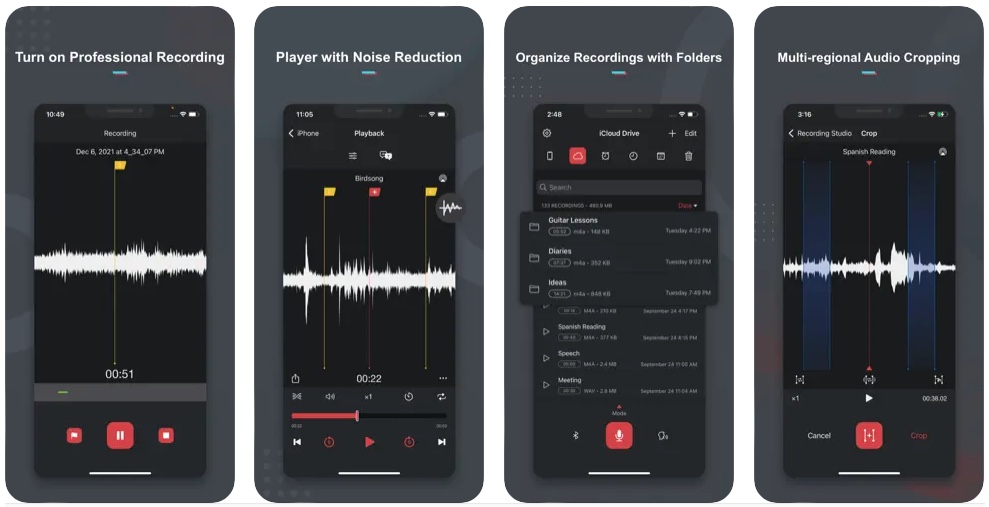 You can easily record anything you need with Voice Recorder & Memos Pro and improve your productivity. The process of starting a new voice recording session with this app is straightforward and takes only a few taps.
Voice Record Pro supports all standard file formats and allows you to convert your recordings into any format you prefer.
Along with powerful features, this app offers different recording modes, including:
Recording normal mode: In this mode, you can easily start recording, and stable background operation will ensure safe recording.
Preset time recording mode: You can specify when to start and stop recording in this mode.
Mix recording mode: Sound recordings can be mixed with selected audio.
Voice-activated recording mode: This mode records your voice when you speak normally, but automatically stops recording when you speak below a specified decibel level.
Bluetooth headset recording mode: When a Bluetooth headset is connected, recording begins automatically.
Install Voice Recorder & Memos Pro from the App Store now
6. Voice Recorder – Audio Editor⁺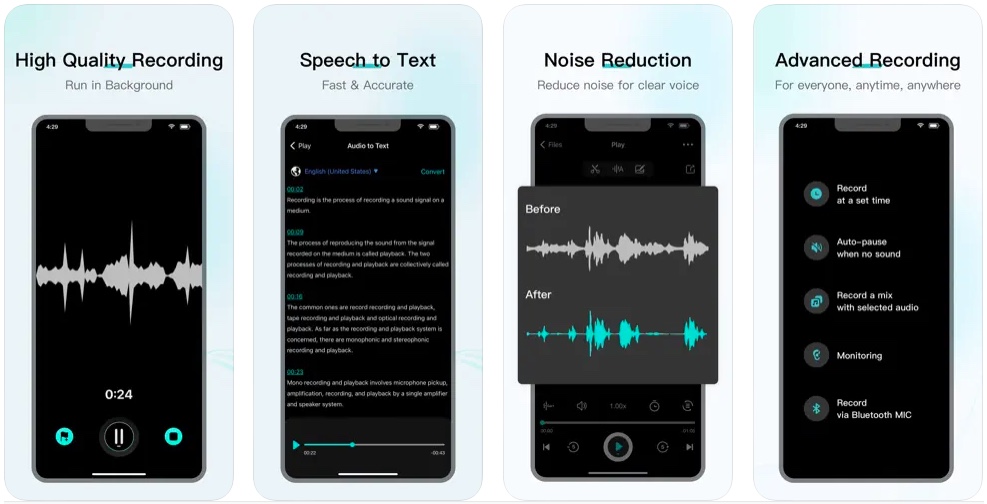 The "Voice Recorder" lets you record interviews, speeches, lectures, meetings, and inspirations with high-quality sound, while also offering editing options such as trimming, copying, cutting, pasting, joining, inserting, and mixing.
The other advanced features that this app offers are:
Noise Reduction
Listening while recording, real-time or delayed, it's up to you.
Remove silent regions in recorded clips with one click.
Voice Changer
Mark key points to quickly find what you need.
Audio Recovery
Audio Sharing
Share recordings by Email, Messages, Facebook, Twitter, YouTube, Instagram, and Snapchat.
Manage recordings by categories, Folders, Favorites, Trash, also built-in search and sort features.
Install Voice Recorder – Audio Editor⁺ from the App Store now
Final Words
These were some of our picks of the best-ranked voice recorders for iPhone. Whether you are a student in the quest for recording important lectures or a journalist to capture interviews, use any of the above-mentioned apps to make the most of your assigned jobs.
Which app would you for audio recording on the iPhone? Let us know in the comments below.