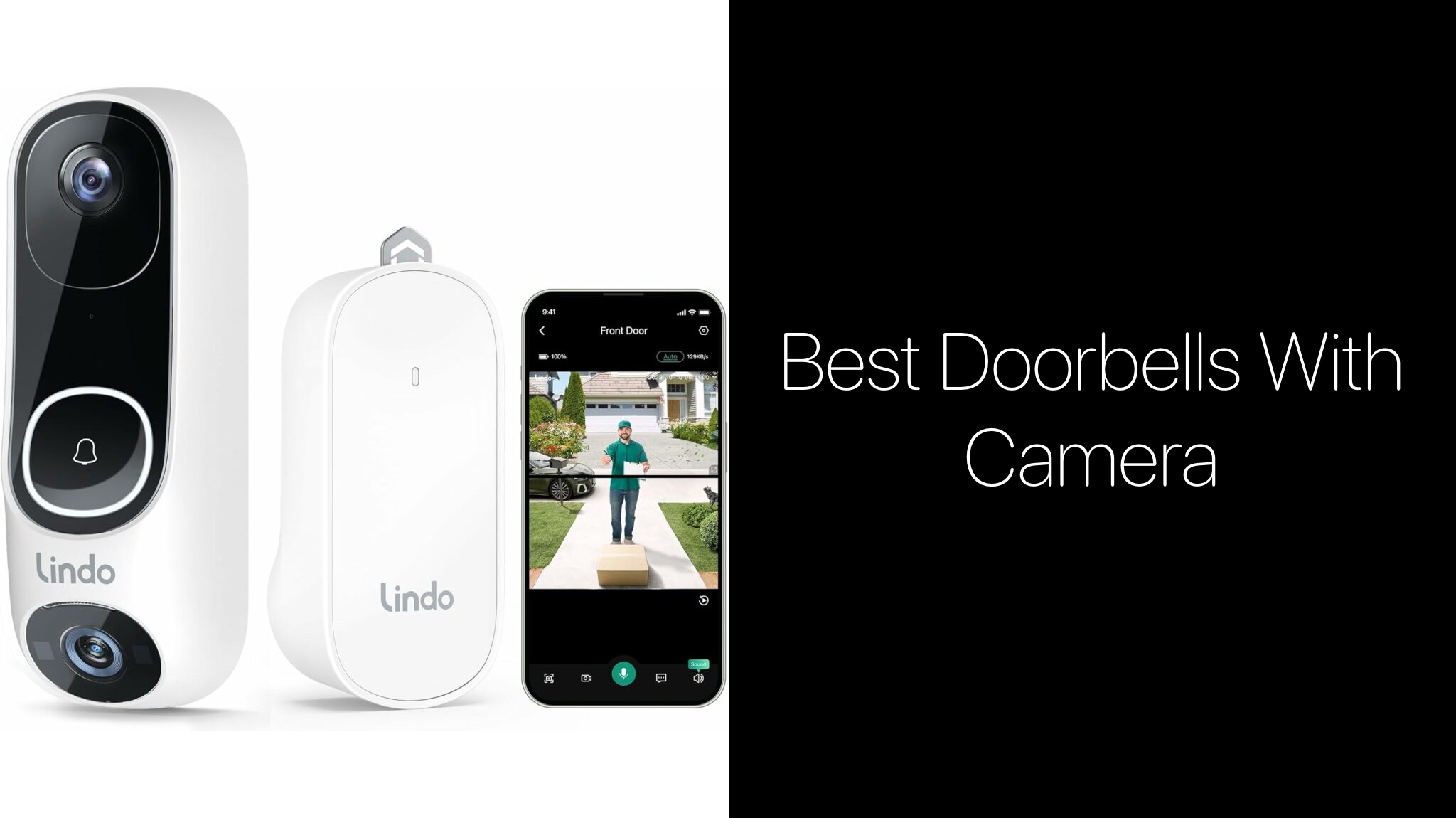 Are you tired of the age-old dilemma of deciding whether to answer the door or let your curiosity ring unanswered? Do you ever wish you could know who's knocking even when you're miles away from home? Well, the future has knocked, and it's got a camera!
In a world where your iPhone can do everything from ordering dinner to controlling your thermostat, why not use it to keep a watchful eye on your front door?
In this article, we'll take you on a virtual tour of the best doorbell camera for 2024 that syncs seamlessly with your trusty iPhone, ensuring that you're always in the know, no matter where you go.
Get ready to welcome convenience, security, and peace of mind to your doorstep in this exciting exploration of smart doorbell technology.
Best Doorbells With Camera That Works With iPhone
Here you will find the best doorbells with cameras that are designed to work with your iPhone. With these smart doorbells, you can get alerts and see video footage of whose outside your house.
1. Blink Video Doorbell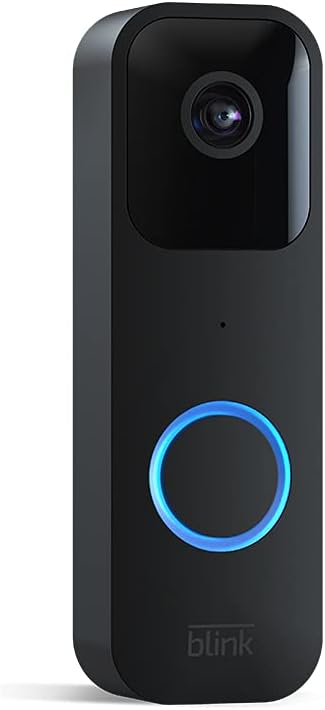 The Blink Video Doorbell keeps you in the loop by sending you alerts whenever motion is detected or someone presses the doorbell. And here's the best part: you can go wireless or connect it to your existing doorbell wiring for the ultimate experience. Pair it with a Sync Module, and you can engage live view and two-way audio on demand – it's like having eyes and ears at your doorstep, anytime.
You can save and share clips in the cloud with a complimentary 30-day trial of the Blink Subscription Plan. Or, if you prefer to keep it local, use the Sync Module 2 and a USB drive. The choice is yours.
Setting up the Blink Video Doorbell is a breeze. With two included AA lithium batteries and the user-friendly app, you'll be up and running in minutes. Plus, it's compatible with Alexa, so you can receive alerts and have two-way conversations with visitors. Just ask Alexa to answer the front door, and you're good to go.
Buy Blink Video Doorbell for $59.99 here.
2. Arlo Essential Wired Video Doorbell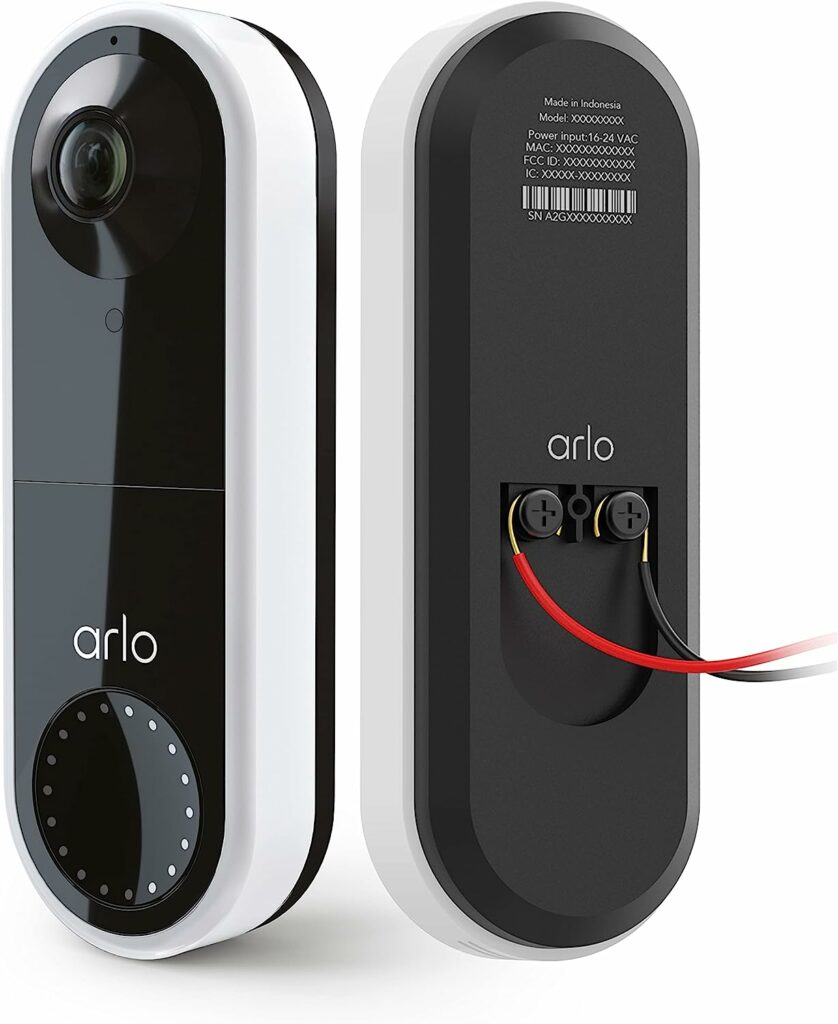 the Arlo Essential Wired Video Doorbell – your gateway to enhanced home security. This sleek smart wireless video doorbell that works with iPhone seamlessly blends form and function, providing you with a clear and comprehensive view of your front door. But, before we dive into the amazing features, here's the catch: this beauty requires existing electrical wiring with a voltage range of 16V AC to 24V AC and a 10VA.
One of the standout features of this best video doorbell is its impressive 180-degree field of view, allowing you to see a person from head to toe or spot a package on the ground. No more guesswork, just crystal-clear vision. With HD and HDR quality footage, you won't miss a single detail, whether it's bright daylight or a dimly lit evening.
But what's a doorbell without the power of two-way communication? Arlo has you covered. You can now chat with your visitors or respond with pre-recorded quick messages, ensuring you're always in control, whether you're at home or away. And with the Arlo Secure plan, you'll get smart notifications for people, vehicles, packages, and even those pesky neighborhood animals.
Buy the Arlo Essential Wired Video Doorbell for $56 here.
3. Lindo Pro Dual Camera Video Doorbell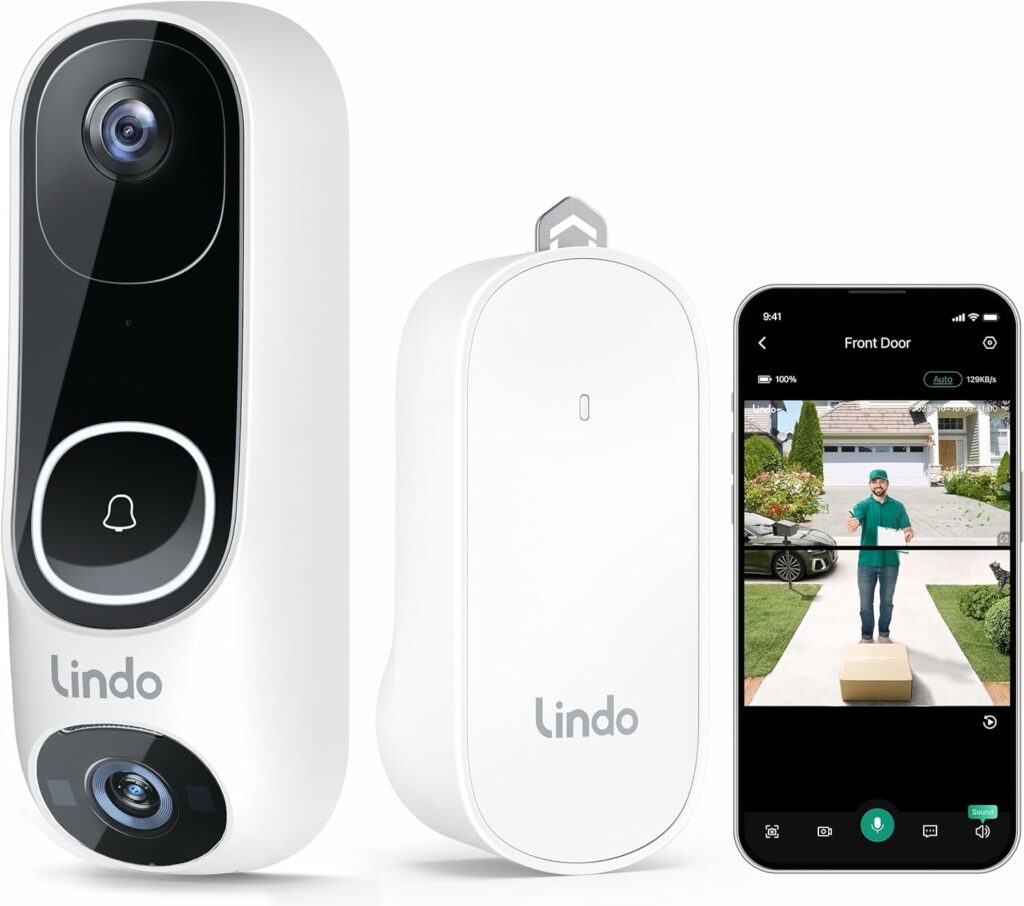 The Lindo Pro Dual Camera Video Doorbell is your new home sentinel that's changing the game. Imagine having not one, but two eyes on your front porch. With cameras strategically positioned to cover over 190°, this doorbell sees it all.
Lindo's 5MP camera goes beyond the ordinary 2K, giving you a whopping 50% more detail. It's not just a doorbell; it's a window to your doorstep, letting you capture every nuance with precision. Its intelligent AI package and human detection algorithm have undergone rigorous training on millions of real scenes. Combined with PIR and radar sensors, false alarms are slashed by up to 95%.
No more fretting about battery life either. Lindo gives you the power to choose from three supply methods, making permanent power a reality. Rain, storm, or shine, Lindo stands strong.
Buy Lindo Pro Dual Camera Video Doorbell for $149.99 here.
4. eufy Security Video Doorbell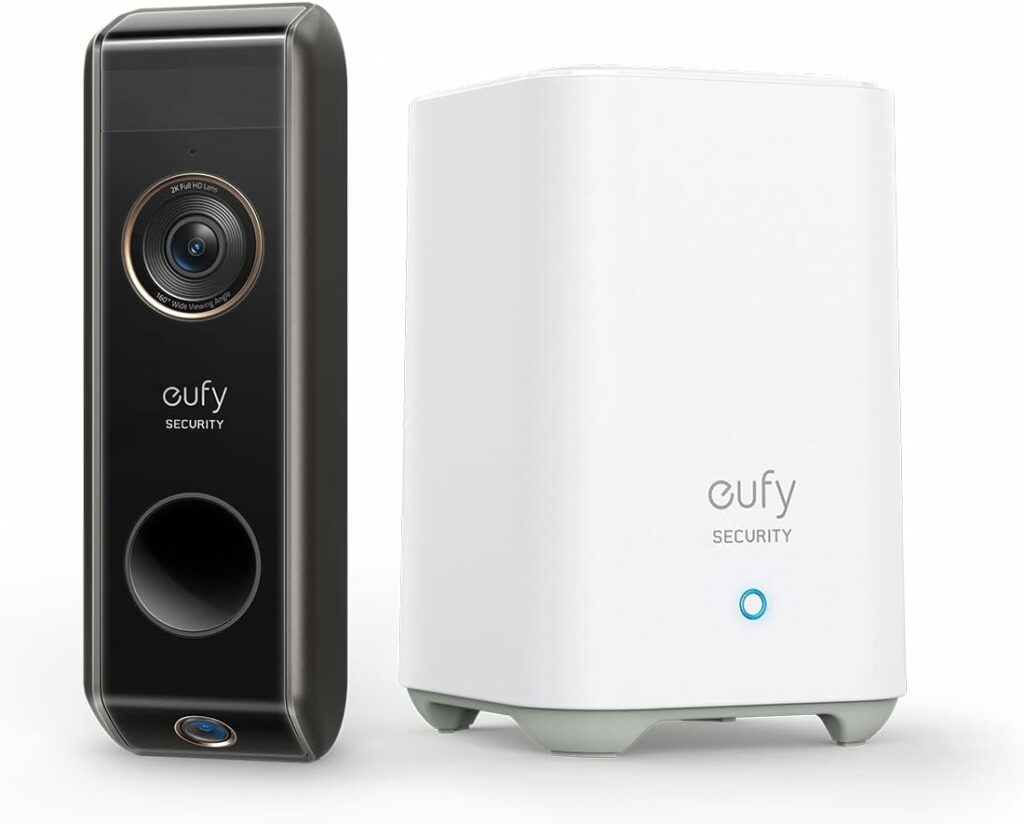 Let's face it, the view from regular cameras often falls short, leaving blind spots that could put your home at risk. But with eufy's Porch View Camera, those worries are a thing of the past. Your doorstep is now in full view, leaving no room for surprises.
What sets this one of the best iPhone video doorbells apart are its advanced PIR and radar motion sensors, which are like security guards that can tell who's near and who's far. Not only do they keep a vigilant eye on your property, but they also slash false alarms by a staggering 95%. You'll receive instant notifications when your deliveries arrive, and even pick-up reminders.
But that's not all! With its 2K HD surveillance, eufy ensures you can identify visitors with incredible detail. Even if they're backlit by the sun, the high dynamic range technology guarantees that you'll see them in perfect color and clarity.
Buy eufy Security Video Doorbell for $259.99 here.
5. WUUK Doorbell Camera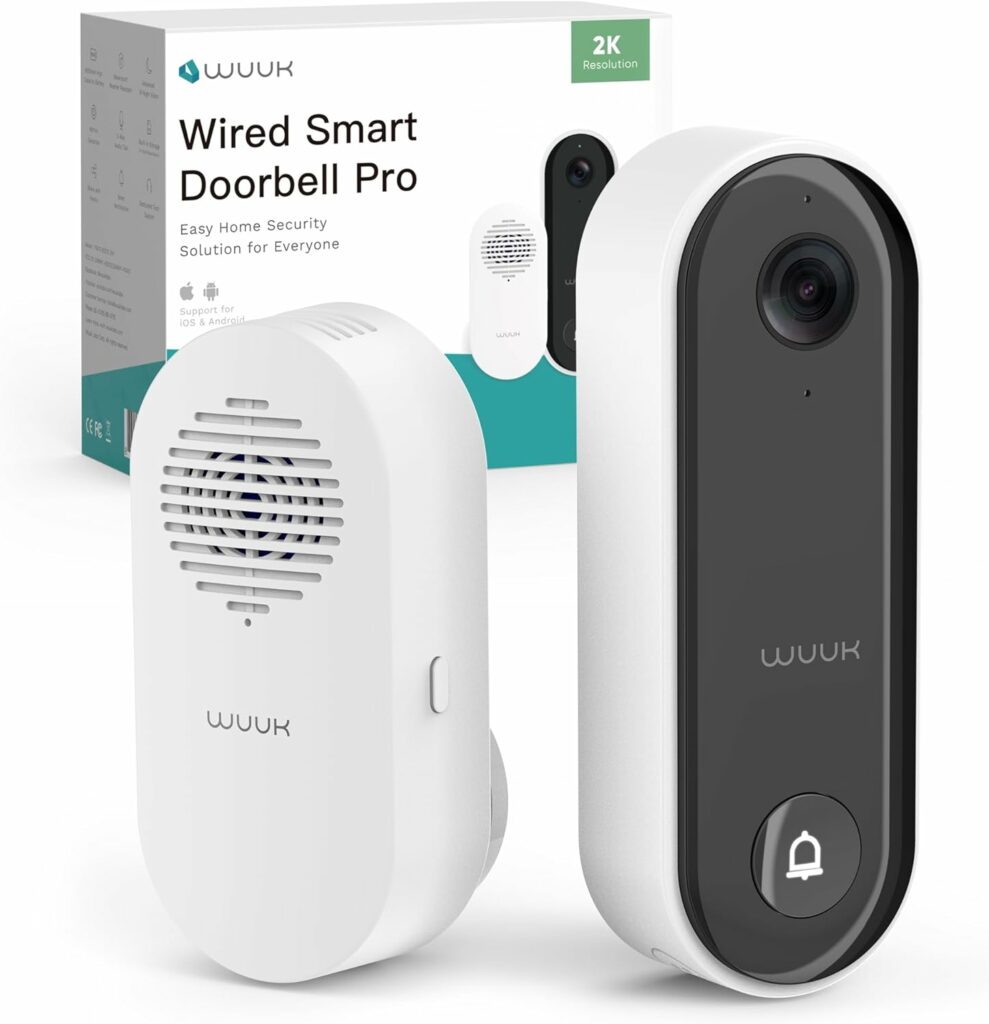 The WUUK Doorbell Camera is about to change the way you welcome your guests. This sleek device doesn't just capture video; it's got a brain of its own. Thanks to advanced on-device AI facial recognition, your WUUK camera can actually identify familiar faces and give your visitors a personalized greeting.
One of the best things about the WUUK doorbell camera is that it doesn't require any pesky monthly fees. With local SD storage (up to 256GB, just pop in an SD card), your data stays in your hands, prioritizing your privacy. Plus, it records non-stop, 24/7, and even kicks in with event-based recording when it detects humans or motion.
The DIY wire installation takes less than 15 minutes, and you're good to go. Say goodbye to battery concerns and enjoy around-the-clock protection. And speaking of protection, the WUUK doorbell's chime isn't just a ringer; it's also an extender. You can add up to 8 chimes to cover a wide area or multiple floors, ensuring that you won't miss a visitor, even if you're far from the door.
Buy WUUK Doorbell Camera for $99.99 here.
6. Google Nest Doorbell (Wired)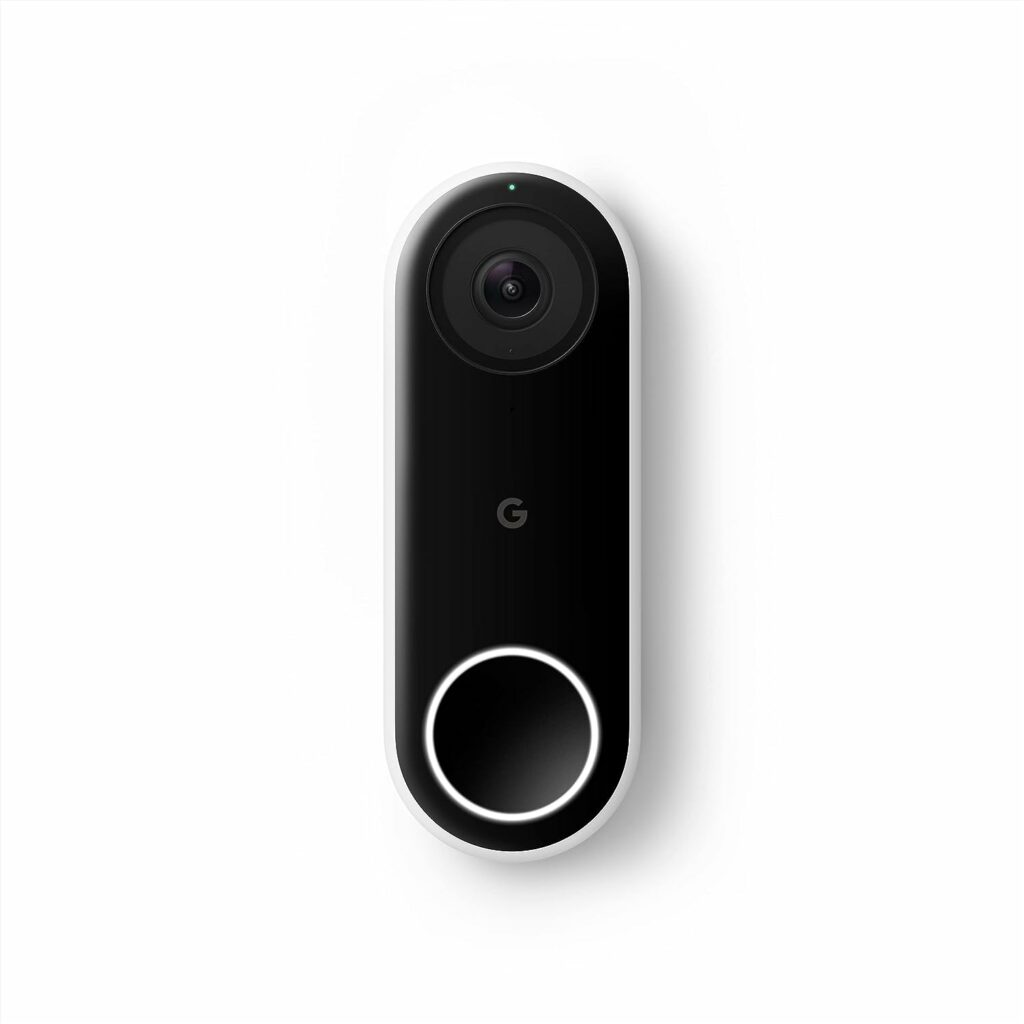 This wired Nest Doorbell is your ultimate companion for keeping an eye on your doorstep. It's all about convenience and control.
So, what's the buzz about this doorbell? Well, it's not just about ringing your chime anymore. With person alerts, this best doorbell with a camera can distinguish between people and inanimate objects. It sends you an alert even if they decide to keep the doorbell button untouched. So, for that package delivery or surprise visitor – you won't miss a thing.
Picture quality? It's top-notch, thanks to HDR video with night vision. It ensures you get clear, crisp images no matter the time of day. The 4:3 aspect ratio? This one of the best video doorbells 2024 is designed to give you a full view, showing everything from head to toe, ensuring you catch every detail.
Buy a Google Nest Doorbell (Wired) for $97.99 here.
7. Tuck SHARKPOP Doorbell Camera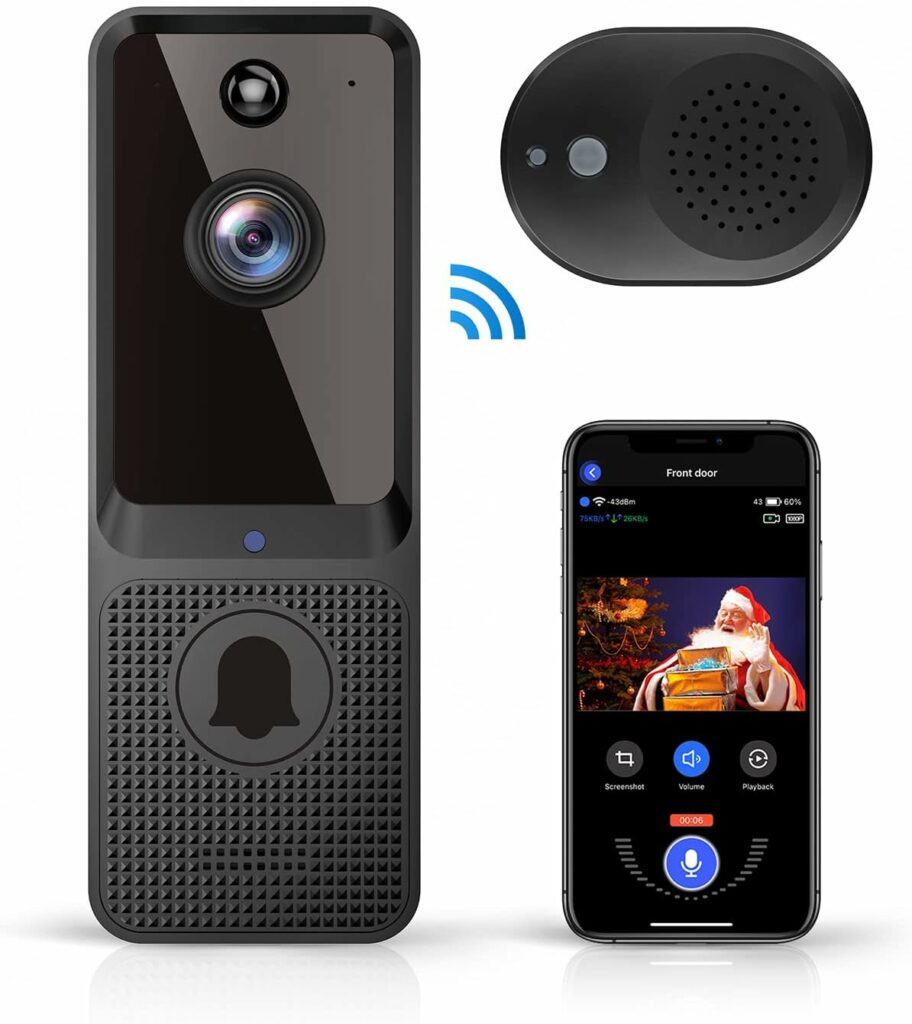 Tuck SHARKPOP Doorbell Camera is not just smart; it's brilliant. The intelligent technology accurately distinguishes between humans and other random objects, putting an end to those annoying false alarms. Get instant notifications only when there's human movement, ensuring you're always in the loop without unnecessary interruptions with this doorbell with the app.
The built-in infrared lights and a savvy infrared sensor ensure crisp images even in the dark. And with its wide-angle design, you won't miss a thing. It's like having a night-vision superhero on your doorstep.
Go wireless with 100% freedom – just pick adhesive tape or screws, and you're good to go. Plus, as a bonus, we're throwing in a free indoor chime that syncs seamlessly with your outdoor camera, so you never miss a ring, even if your phone is on silent.
Buy Tuck SHARKPOP Doorbell Camera for $31.88 here.
To Conclude
As we've journeyed through the realm of the best video doorbells for iPhone users, one thing becomes abundantly clear: our choices have never been more diverse, technologically advanced, and user-friendly. With options ranging from sleek designs to robust features, it's easy to wonder which one would make your doorstep feel the safest. So, which one suits your unique needs? Is it the sleek and unobtrusive models, or the ones bursting with innovative tech? The answer lies within the fingerprint of your lifestyle, and these smart doorbells stand ready to be your modern gatekeepers.
So, which of the best smart doorbells that work with Alexa will chime its way into your heart? The choice is yours, but rest assured, it's a melody that harmonizes the symphony of technology and peace of mind at your front door.
Disclosure: iOSHacker may receive a commission if you purchase products through our affiliate links. For more visit our privacy policy page.