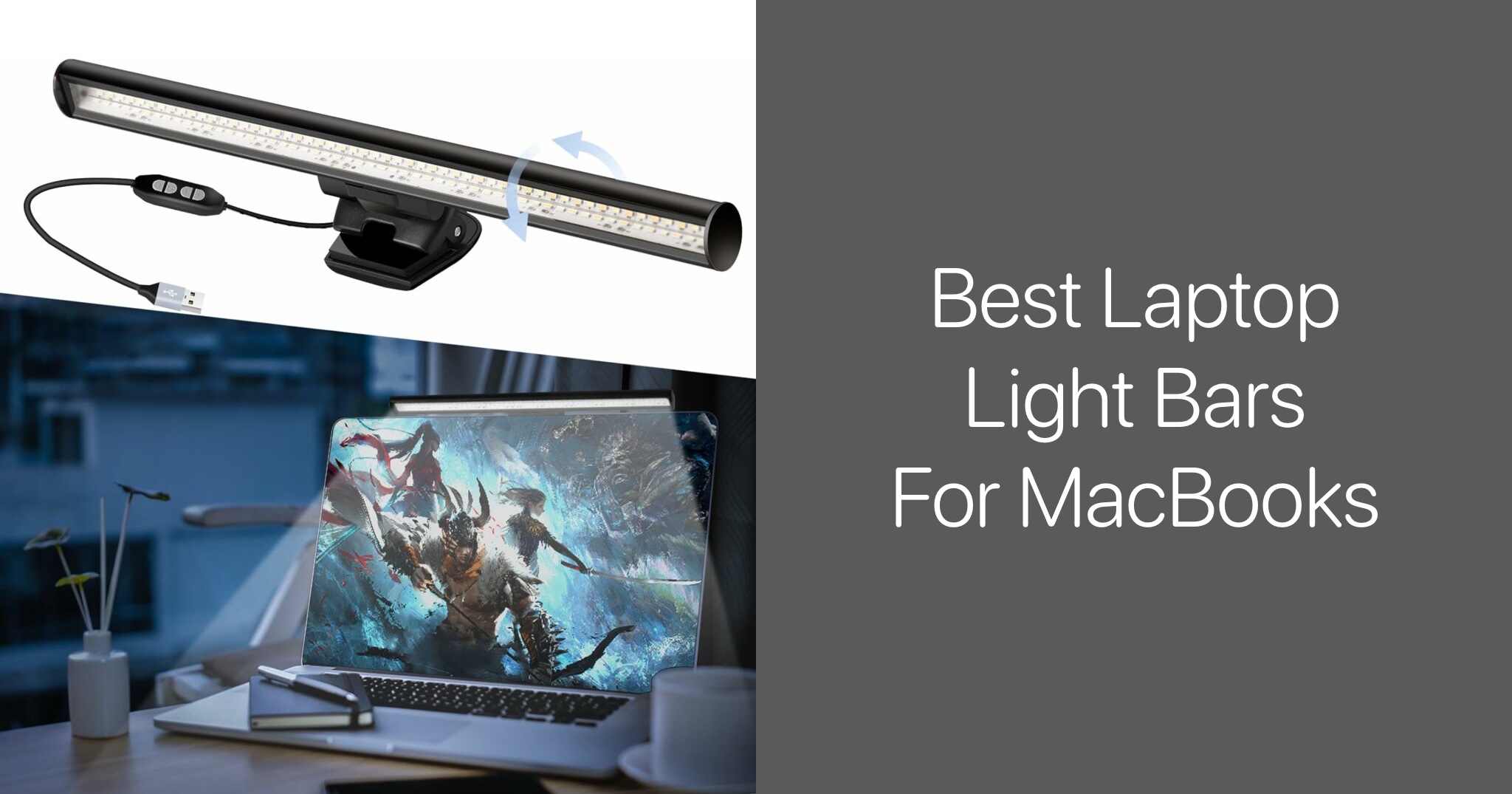 In this article, we discuss the best laptop light bars for MacBook Pro and MacBook Air which are all about functionality, productivity, and a touch of personalization.
We've all been there – peering at our keyboard in dimly lit spaces, trying to make sense of the keys. And we understand that fumbling for the right keys during late-night work sessions or gaming marathons can be a frustrating experience. At the end of the day (or the first 5 minutes for me) it always leaves us yearning for a solution that not only brightens our surroundings but also enhances our MacBook's aesthetics.
That's precisely where the best laptop light bar for your MacBook comes into play, and it's about to change your computing experience in ways you never thought possible.
These light bars for laptops and MacBooks are especially great for students living in dorm rooms as they can study at night without disturbing their roommates.
Illuminate Your Workspace: Best Keyboard Lights for MacBook Pro in 2023
Are you ready to unlock the full potential of your MacBook Pro and take your computing experience to uncharted territories? With the right keyboard light, you can work, play, and create in any environment, day or night.
No more straining your eyes or fumbling with keys in the dark. Let's explore the best MacBook Air light bars for you:
1. WMY-LIGHT Light Bar for MacBook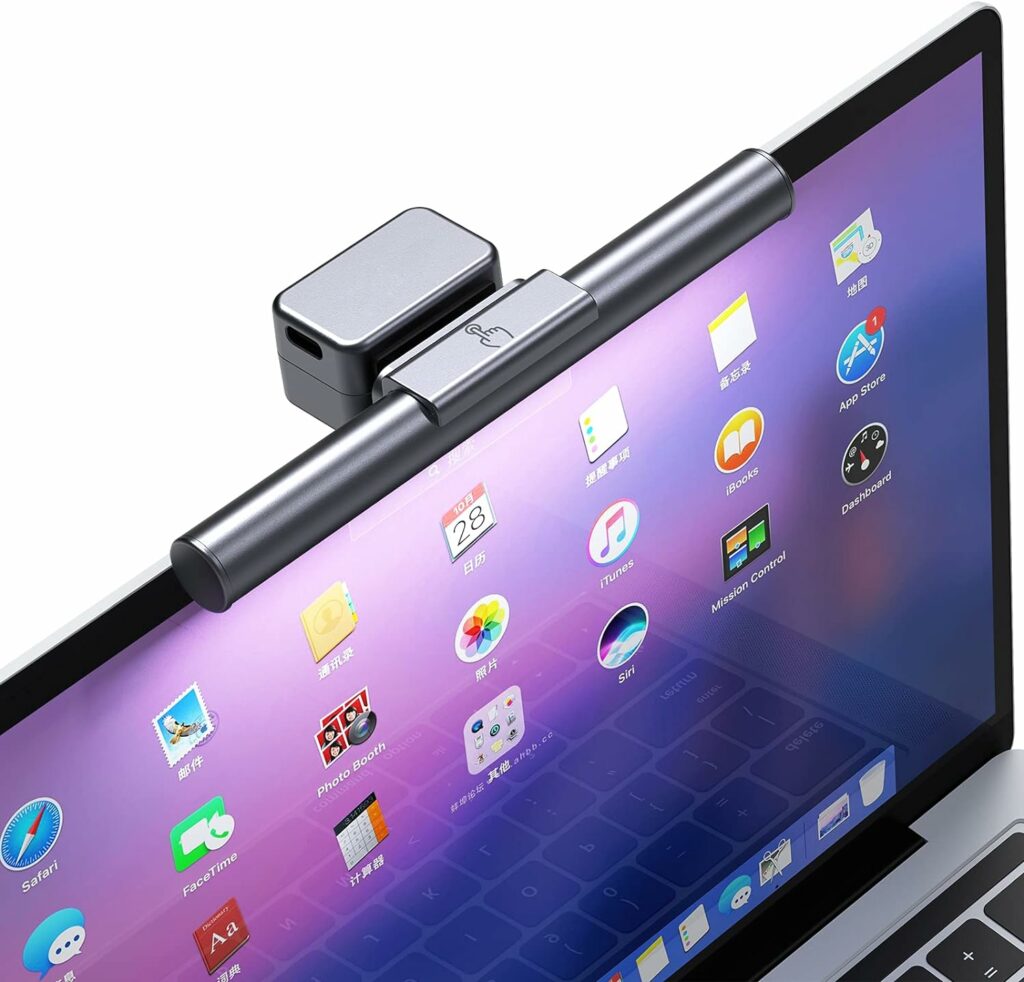 The WMY-LIGHT light bar for MacBook is a top contender. Thanks to its asymmetrical optical design, it targets your desk area with precise lighting, completely avoiding any reflective glare on your screen.
The best part that makes it the best laptop light bar? Equipped with high-quality LED beads, it emits uniform, soft, and non-flickering light that's easy on your eyes. No more eye strain or fatigue, even during extended work sessions or reading marathons.
Customization is a breeze with its dimming and 3 lighting modes. You can effortlessly switch between warm and cool light to suit different tasks. The simple button controls offer 6 brightness levels, so you can fine-tune your lighting source according to your specific needs. The convenience factor is a big win, too. It's USB powered, meaning you can plug it into your computer, power bank, or any USB-compatible device.
Buy the WMY-LIGHT Light Bar for MacBook for $29.95 here.
2. ROGBLIN Light Bar for MacBook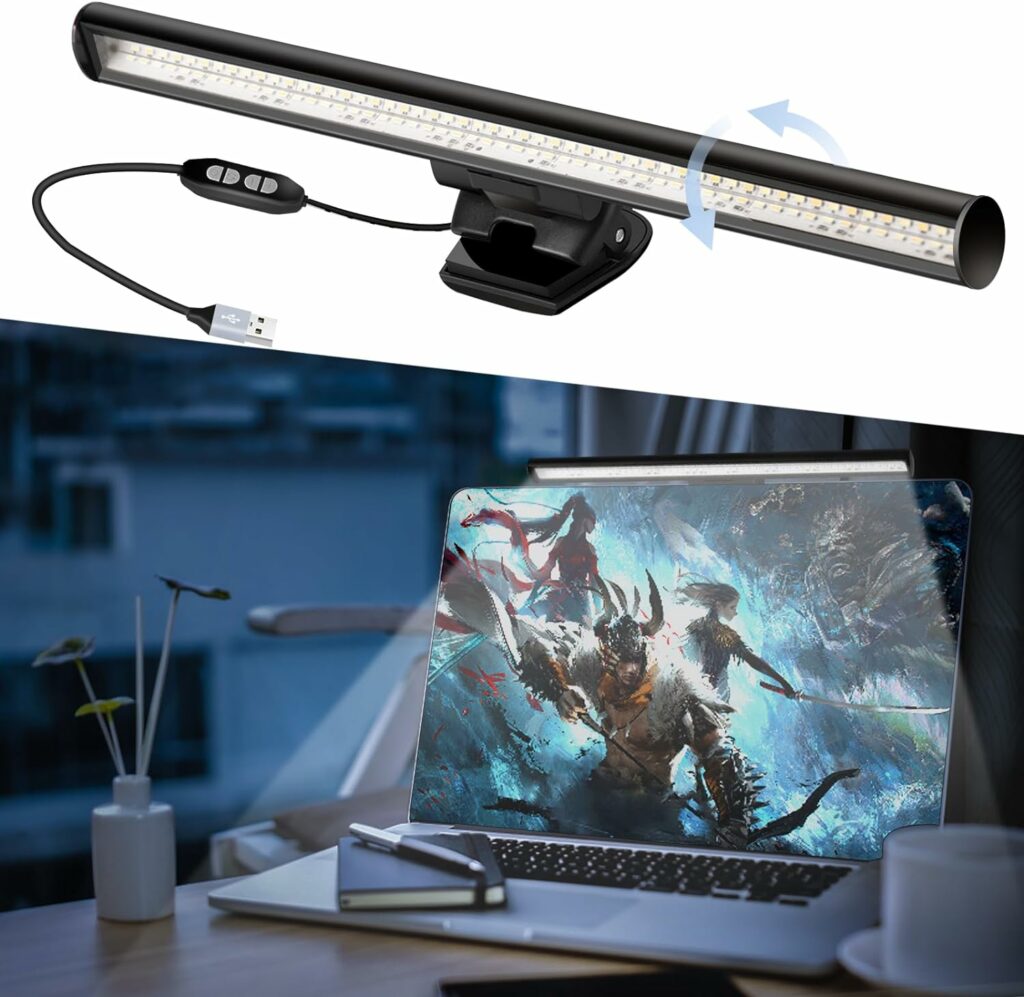 ROGBLIN offers a great screen light for MacBook with vibrant colors and multiple modes. It boasts an ingenious design that eliminates screen glare and flicker. Unlike regular desk lamps that can cast annoying reflective glare on your screen, this light bar is thoughtfully designed to illuminate only your desk, ensuring that your screen remains glare-free.
With ten adjustable brightness levels, you can set the illumination just the way you like it, whether you need a subtle glow or intense brightness. On top of that, it provides three color temperature settings: warm light for relaxation, mixed light for versatility, and white light for enhanced concentration and work efficiency.
Thanks to the gravity-rotating shaft fixing device and unique structure, it conveniently sits on top of your monitor, freeing up valuable desk space and making it one of the best laptop light bars.
Buy the ROGBLIN Light Bar for MacBook for $18.99 here.
3. Blikshin Light Bar for MacBook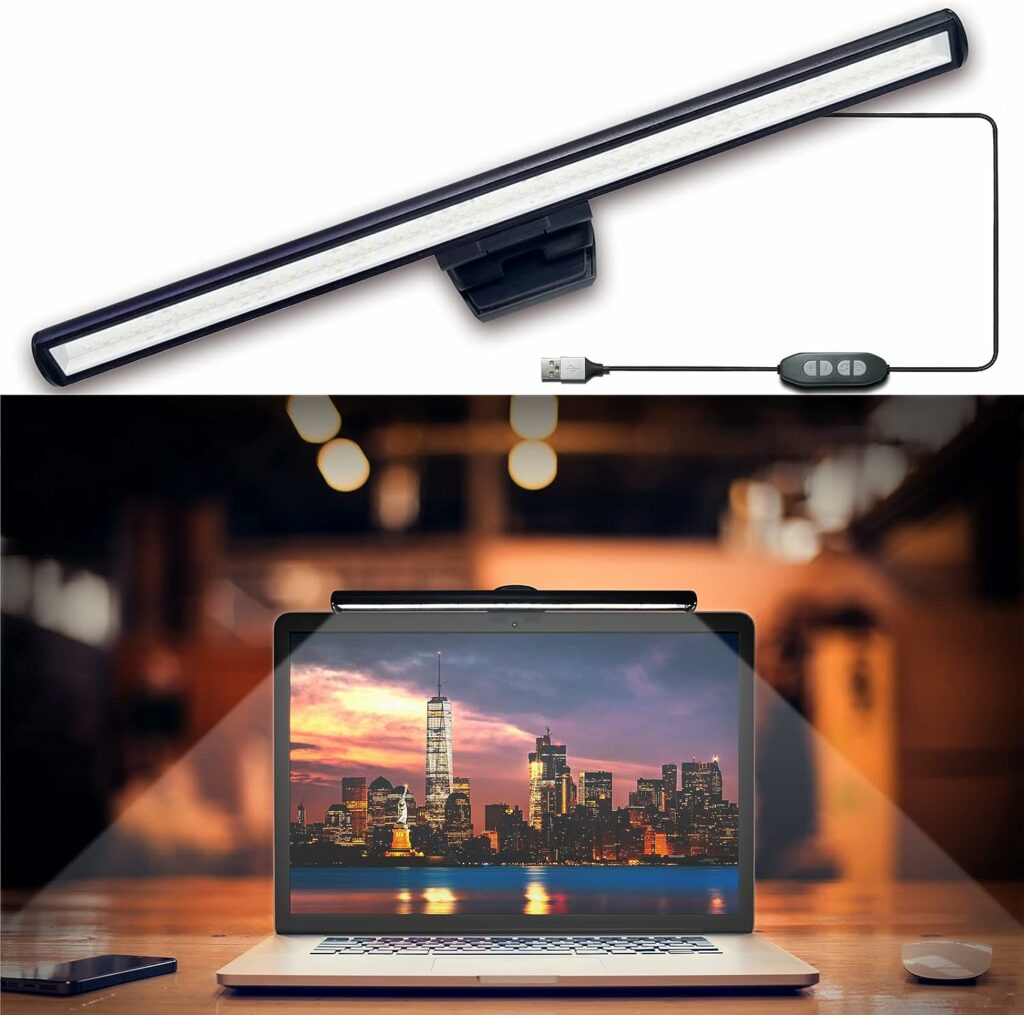 Blikshin's sleek design adds a touch of elegance to your MacBook. It's not just about aesthetics, though. It's built with a focus on eye protection, ensuring that it delivers glare-free illumination to your keyboard and desktop. Unlike traditional desk lamps, this USB-powered MacBook Pro light bar eliminates flicker and glare, safeguarding your eyes during work or study sessions.
Installation is a breeze with a convenient clip that supports laptop screens less than 0.4 inches thick, making it one of the best laptop light bars. The 3.15-inch long wire allows you to easily place the Monitor Light Bar on the top of your computer, instantly illuminating your workspace while saving valuable desk space.
Equipped with integrated keys, you can easily control the brightness. With a simple press, you can adjust the brightness from as low as 15% to full brightness, giving you the flexibility to set the perfect lighting level for your needs.
Buy the Blikshin Light Bar for MacBook for $18.89 here.
4. Skybess Light Bar for MacBook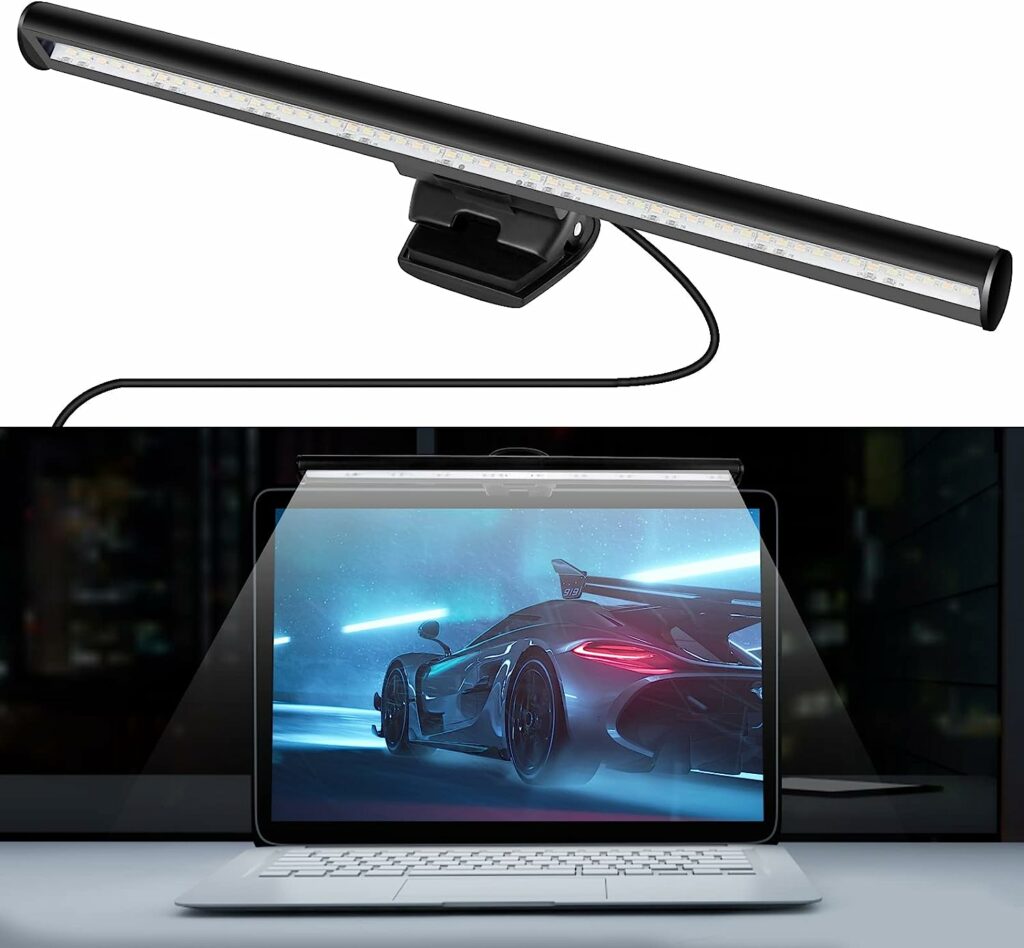 Skybess takes things up a notch with its touch-sensitive controls. And with this innovative device, you can say goodbye to screen glare, a common issue with traditional lights. This keyboard light for MacBook Pro can be easily clipped to the top of your laptop screen, which not only provides excellent lighting but also saves valuable desk space.
The slim and stylish appearance adds a modern touch to your workspace without blocking your laptop's camera. Moreover, it offers you versatility with its dimming and three lighting modes. One of the best laptop light bars, it features 27 warm color LEDs and 27 white LEDs, allowing you to switch between Warm Light, Natural Light, and Cool White Light modes. You can also adjust the brightness from 10% to 100%, catering to different occasions and preferences.
Buy the Skybess Light Bar for MacBook for $17.99 here.
5. LFNOWN Light Bar for MacBook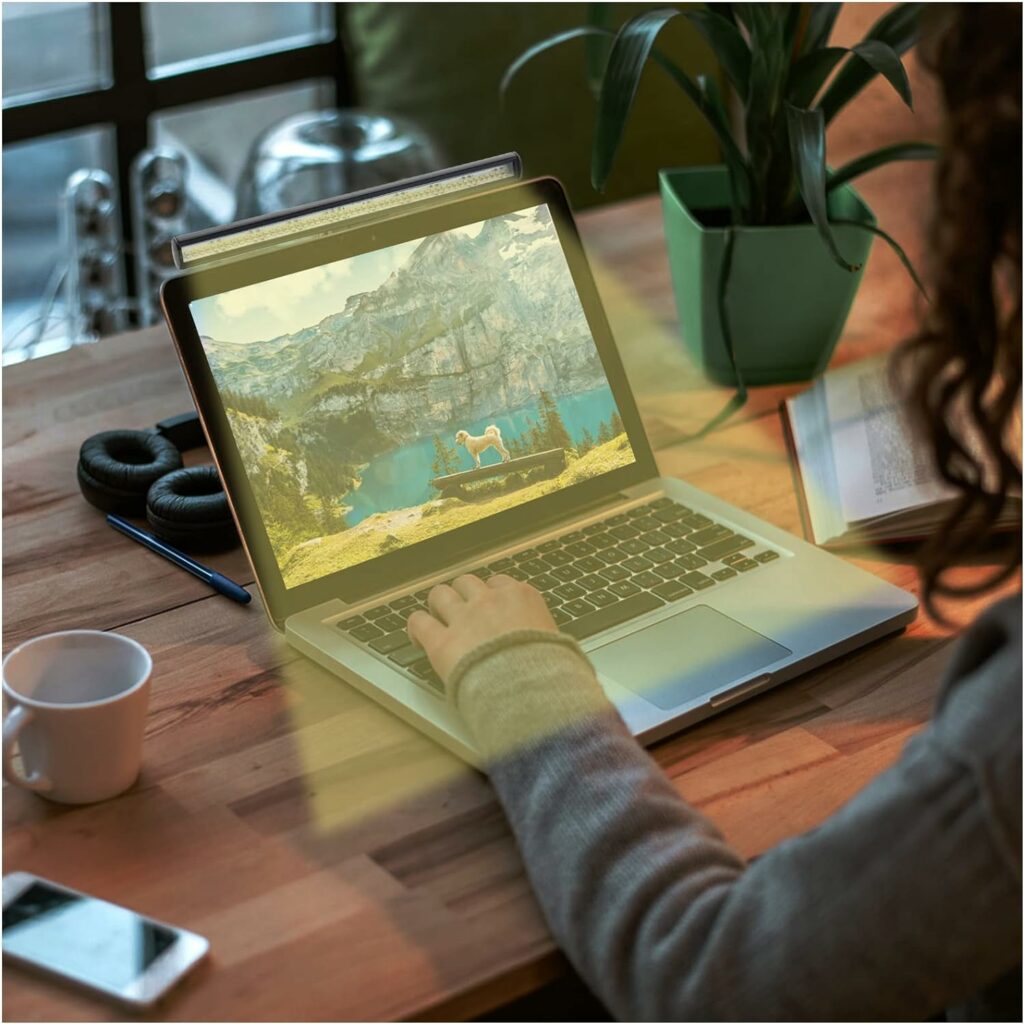 Designed with a keen focus on eye protection, LFNOWN's MacBook Air light bar boasts an ingenious solution for those who work or study on laptops in the evening. It's specifically crafted to provide ideal illumination while preventing reflected glare on your screen.
What makes it one of the best laptop light bars is its construction. Made from black ABS housing, it's not only simple and lightweight but also gentle to the touch. The reflector design enhances the lighting effect and, more importantly, minimizes the potential for dazzling light, sparing your eyes from fatigue after long hours of computer use.
Moreover, it operates on a safe low-voltage DC5V power supply. Simply plug its built-in standard 5V interface cable into your computer's USB port, or use it with a compatible charger, portable power source, or adapter.
Buy the LFNOWN Light Bar for MacBook for $18.99 here.
6. Koostone Light Bar for MacBook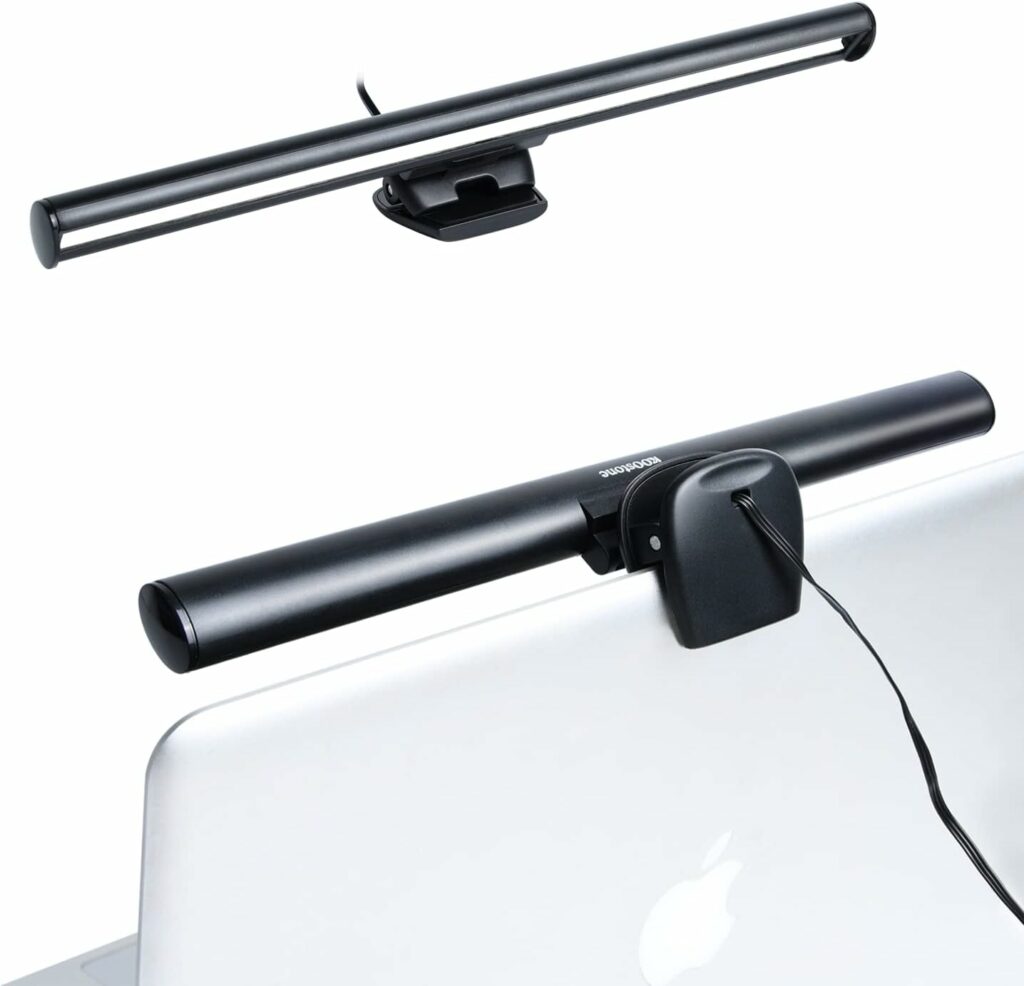 With three light colors and ten brightness levels, the Koostone keyboard light for MacBook Air caters to your specific needs, providing warm, relaxing light for leisure and cool, efficient light for work. However, its best feature is its eye-friendly LEDs and asymmetrical optical design, which ensures that it illuminates your keyboard and desk without causing screen glare.
Designed to eliminate reflective glare, it protects your eyes and makes your screen time comfortable. The 54 LEDs not only save energy but also have an incredible lifespan of up to 50,000 hours, meaning you won't need to replace bulbs and can save money in the long run. What makes it one of the best laptop light bars is the memory function, which ensures that the light bar remembers the brightness and color mode you used last time, saving you from having to reset it every time.
Buy the Koostone Light Bar for MacBook for $18.99 here.
7. OOWOLF Light Bar for MacBook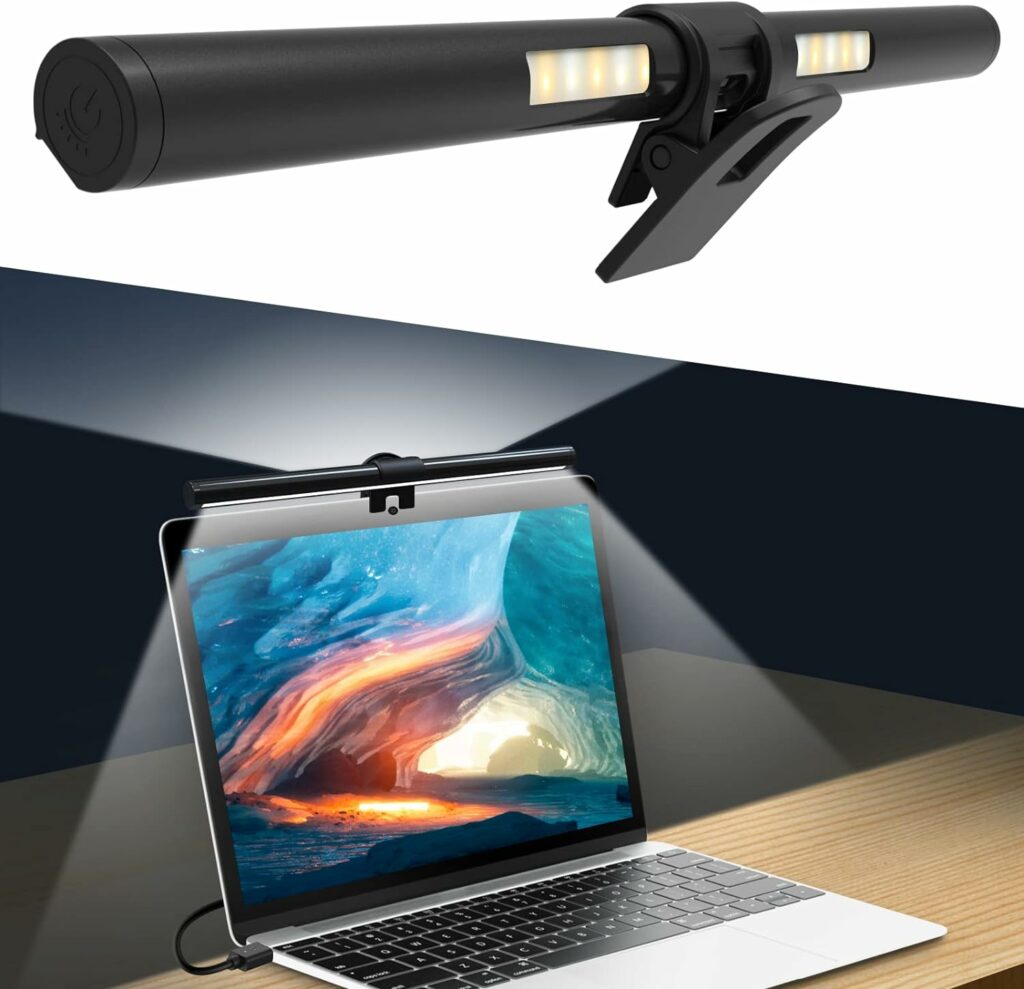 OOWOLF screen light for MacBook offers a versatile option with adjustable color and brightness settings. The ultra-high Color Rendering Index (CRI≥95) is its best feature, which ensures that you get incredibly accurate and natural colors when working. You don't have to suffer color errors and visual fatigue – this light bar enhances the precision and efficiency of your work, even during extended hours.
Unlike other LED monitor lights that only illuminate the front, this light bar features two special "Rear Ambient" lights. These lights reduce the pressure and irritation caused by dark surroundings, delivering the highest level of lighting comfort while you're reading or working. No more strained eyes or uncomfortable reading conditions when using the best laptop light bar.
Lastly, the light bar boasts a handy Dimming Memory Function with three color modes for both front and back lighting. And each mode comes with ten adjustable brightness levels, which can be easily controlled by the touch buttons. The best part? It remembers your color temperature and brightness settings, so you don't have to readjust them every time you power it up.
Buy the OOWOLF Light Bar for MacBook for $25.99 here.
Conclusion
Whether you're a creative professional who craves the perfect lighting setup for your design work or just someone who wants to Netflix and chill with ease, there's a MacBook Pro light bar out there for you. The options for the best laptop light bar are abundant, ranging from sleek and minimalistic designs to customizable, color-changing marvels.
The choice is truly yours.
Disclosure: iOSHacker may receive a commission if you purchase products through our affiliate links. For more visit our privacy policy page.