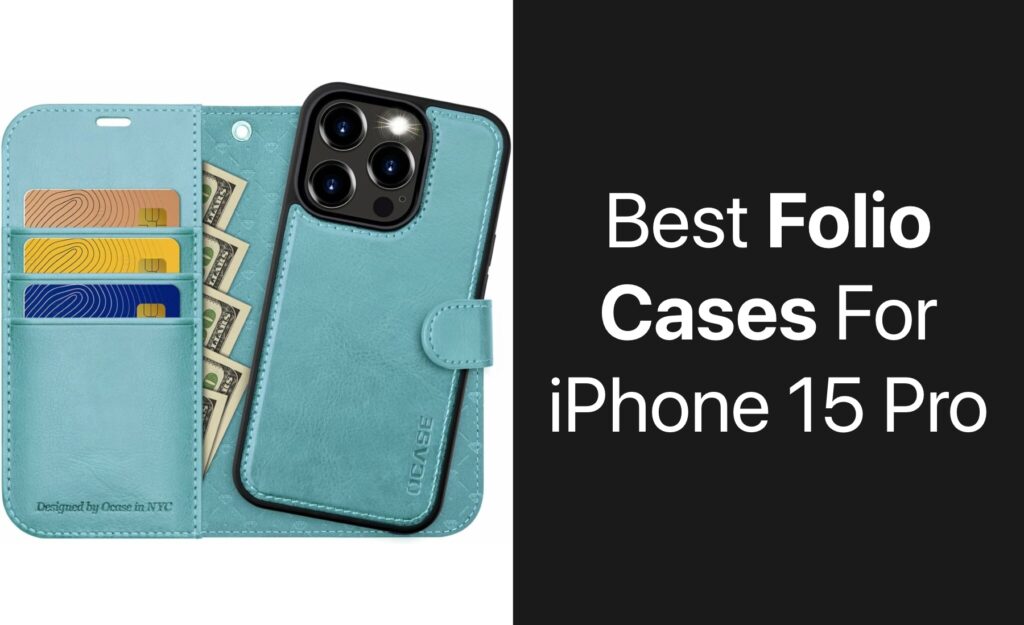 Looking for the best folio cases for your iPhone 15 Pro? Then look no further as here you will find the best cases that feature built-in wallets and double as kickstands.
As the smartphone world continues to evolve at breakneck speed, one thing remains constant: our insatiable desire to keep our precious devices not just protected, but also looking oh-so-chic. Enter the iPhone 15 Pro, a marvel of technology and design.
Now, you've got this cutting-edge piece of innovation in your hands, and you want to cradle it in style while safeguarding it from the hustle and bustle of daily life.
That's where the magic of folio cases comes into play, and we're here to guide you through the wonderful world of the best folio cases for iPhone 15 Pro. Get ready to discover a selection of cases that seamlessly blend fashion with functionality, adding an extra touch of sophistication to your digital companion. Whether you're a minimalist, a fashion-forward trendsetter, or someone who demands top-notch durability, we've got you covered!
So, let's dive into this elegant realm of iPhone 15 Pro folio cases and find the perfect match for your style and needs.
1. OCASE Wallet Case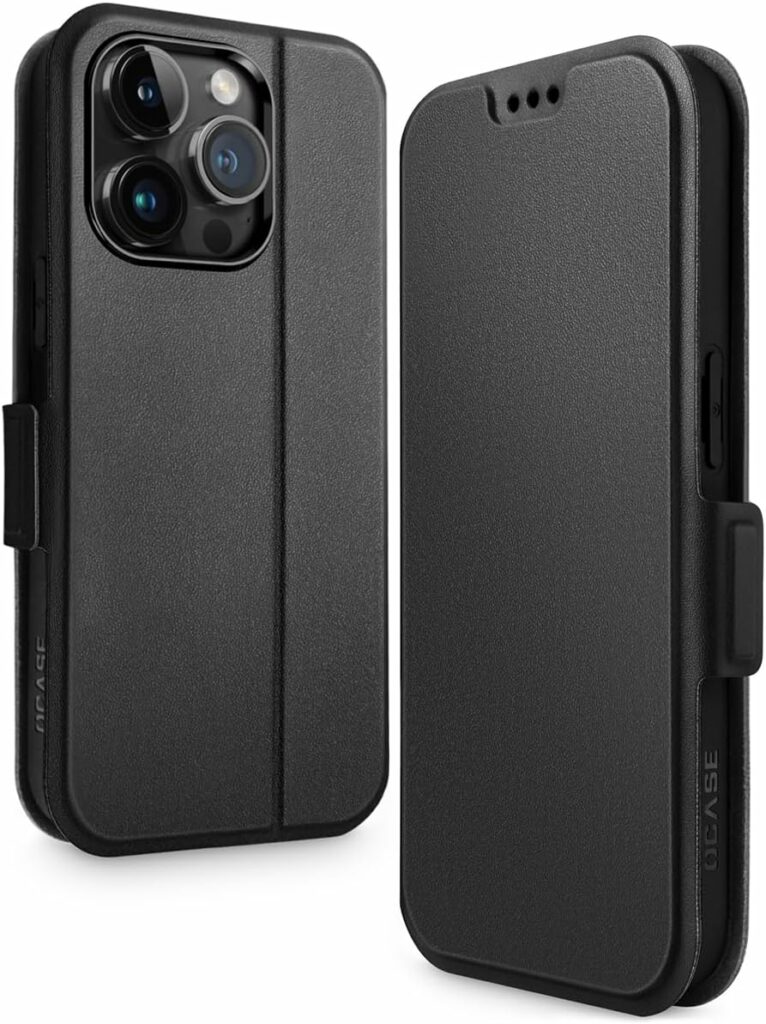 Ever thought about slipping your phone into your pocket? Well, with OCASE Wallet Case, you can! It's not only bag-friendly but pocket-friendly too. And here's the kicker – the magnetic closure and cleverly designed card slot make this wallet case the ideal travel companion. You can securely stash two cards while keeping your phone snug and your style intact.
Need a hands-free video binge session? Just flip the case, and voila – instant kickstand! Watch your favorite movies or videos at the perfect angle without straining your hands. OCASE has got you covered when it comes to usability, too, with precision cutouts for speakers, charging ports, audio ports, and buttons. Plus, you can keep using your inductive charging without a hitch.
Quality is paramount, and that's why the brand handcrafts the cases from durable PU leather and flexible TPU materials. It not only provides top-notch protection but also feels great in your hand, offering anti-slip functionality.
Buy the OCASE Wallet Case for $15.99 here.
2. Case-Mate Wallet Folio Case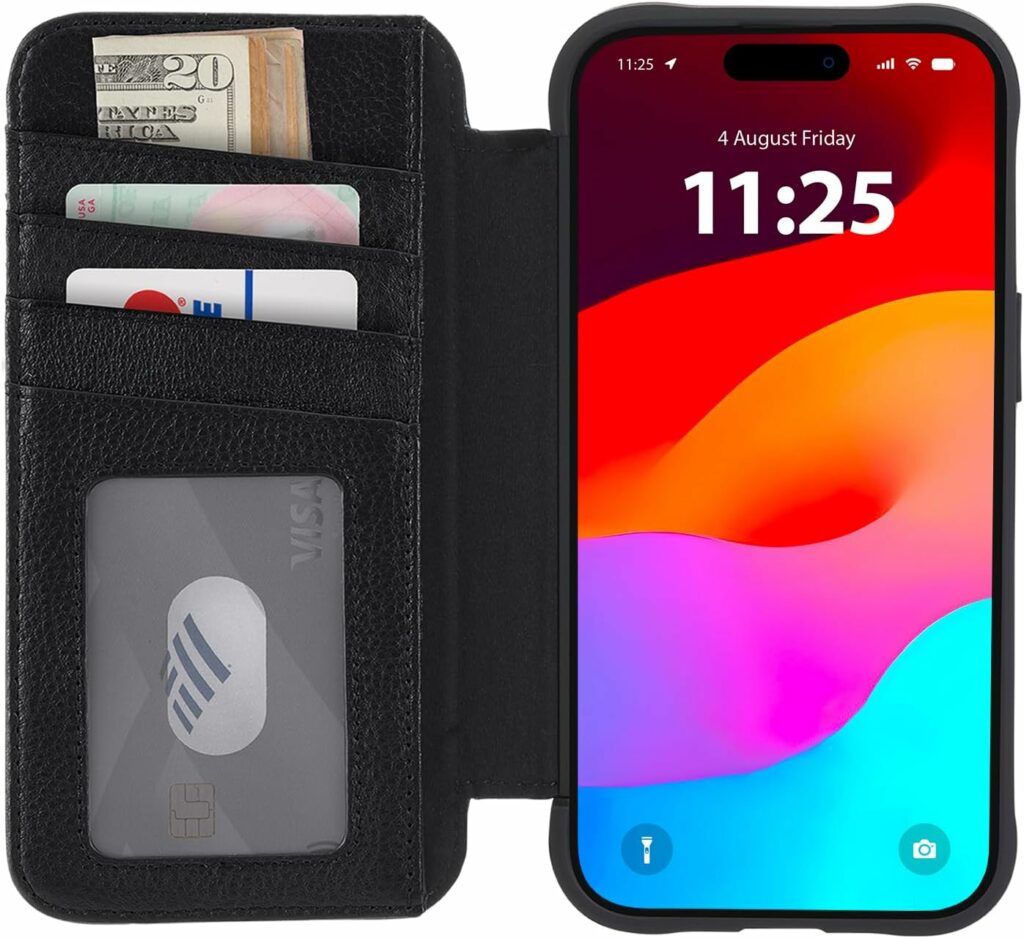 The Case-Mate Wallet Folio is not just about style and convenience; it's a fortress for your iPhone 15 Pro. Engineered with superior impact and shock-absorbing materials and cushioned corners, it ensures your phone survives drops, bumps, dirt, and scratches. This case offers 360-degree protection, with raised bezels providing an extra layer of security for your precious device.
The exterior of this wallet case is nothing short of luxurious. Crafted with premium pebbled genuine leather, it's not just about aesthetics but durability. Scratch and abrasion-resistant, it promises to look as good as new, even after daily use. The soft and pleasant texture adds to the premium feel.
One of the standout features is the perfectly aligned built-in magnets, making wireless and magnetic charging a breeze. No more fumbling with cords. It's fully compatible with all MagSafe and iPhone accessories, ensuring you can customize your setup with ease – from wallets to battery packs, phone grips to car mounts.
Buy Case-Mate Wallet Folio Case for $64.99 here.
3. SHIELDON Case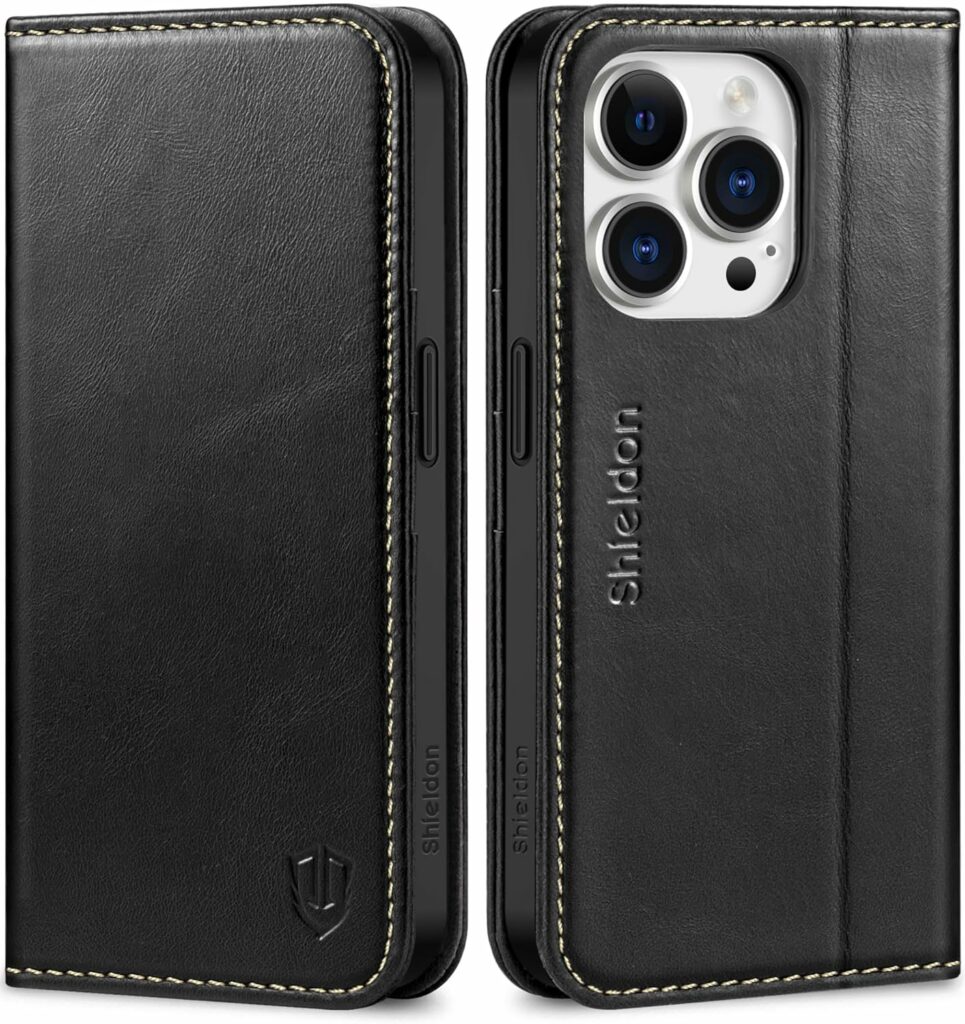 Crafted with precision from oil wax cowhide leather, SHIELDON Case exudes luxury and durability. What sets oil wax leather apart is the meticulous polishing and oiling process, making it not only scratch-resistant but also shinier and sleeker with each use. It's like a fine wine, it gets better with time.
But it's not all about looks; this case means serious business when it comes to protection. Inside, you'll find a soft full-body interior shell with a shockproof edge, ensuring your precious phone is safe from scratches, drops, and those inevitable bumps in life. Your camera isn't left out either, thanks to the raised lips around the lens.
The iPhone 15 Pro wallet case combines the convenience of a wallet with the protection of a phone case. It boasts three card slots and a full-length pocket, perfect for stashing your driver's license, cards, and some cash. Plus, the card slots feature RFID shielding technology, shielding your personal information from prying eyes.
Buy the SHIELDON Case for $30.99 here.
4. TORRO Leather Case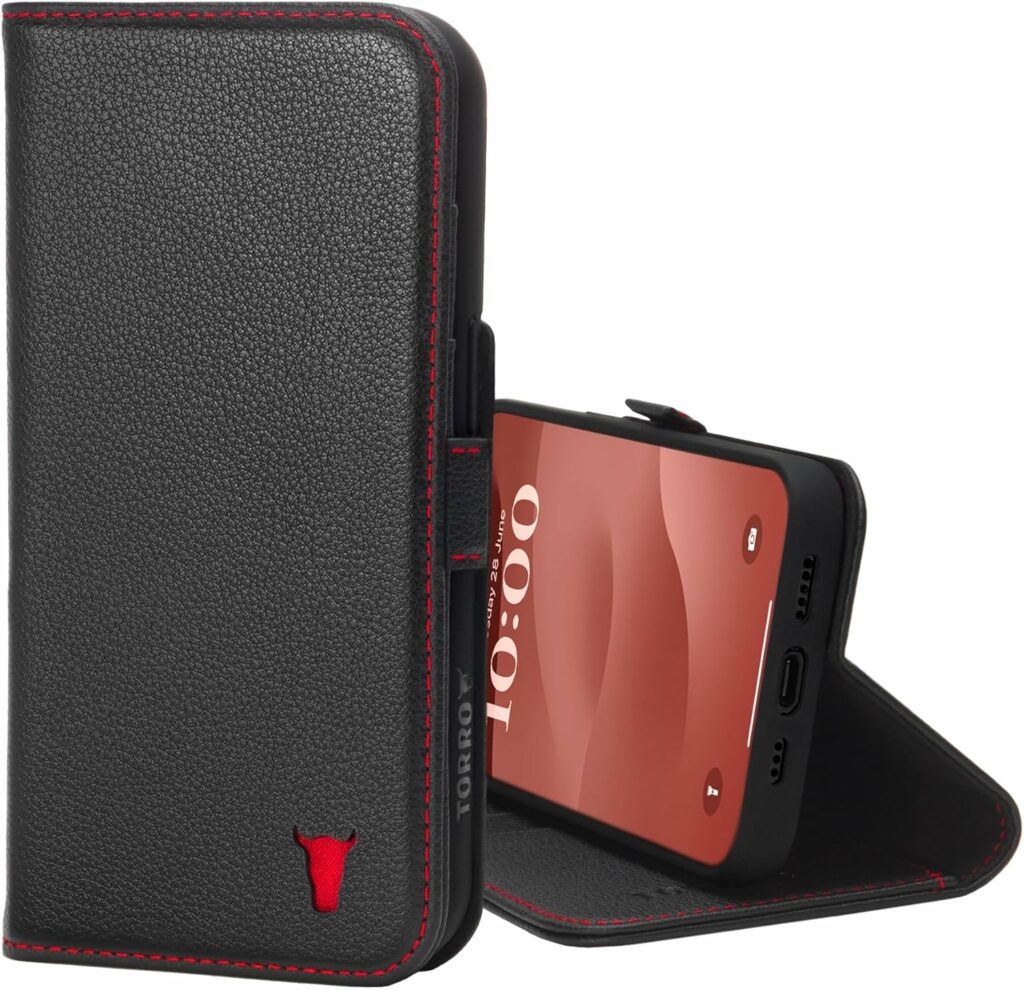 If you're in the market for a phone case that offers both style and substance, look no further. TORRO, a UK-based company renowned for crafting luxury leather goods from premium cowhide leather, has something special for you.
Their genuine leather phone case is all about precision. It's designed to provide full, unrestricted access to your screen, camera, buttons, and charging port. No need to fumble around when you need to capture that perfect shot or charge your device.
This case doesn't compromise on safeguarding your device. It incorporates TORRO's enhanced GEO-AS-3 technology with an internal structure featuring a specially engineered TPE layer for top-notch protection. Geometric air pockets and elastomer provide shock absorption, so your phone stays safe even when life gets a little bumpy.
Buy the TORRO Leather Case for $42.99 here.
5. OCASE Detachable Wallet Case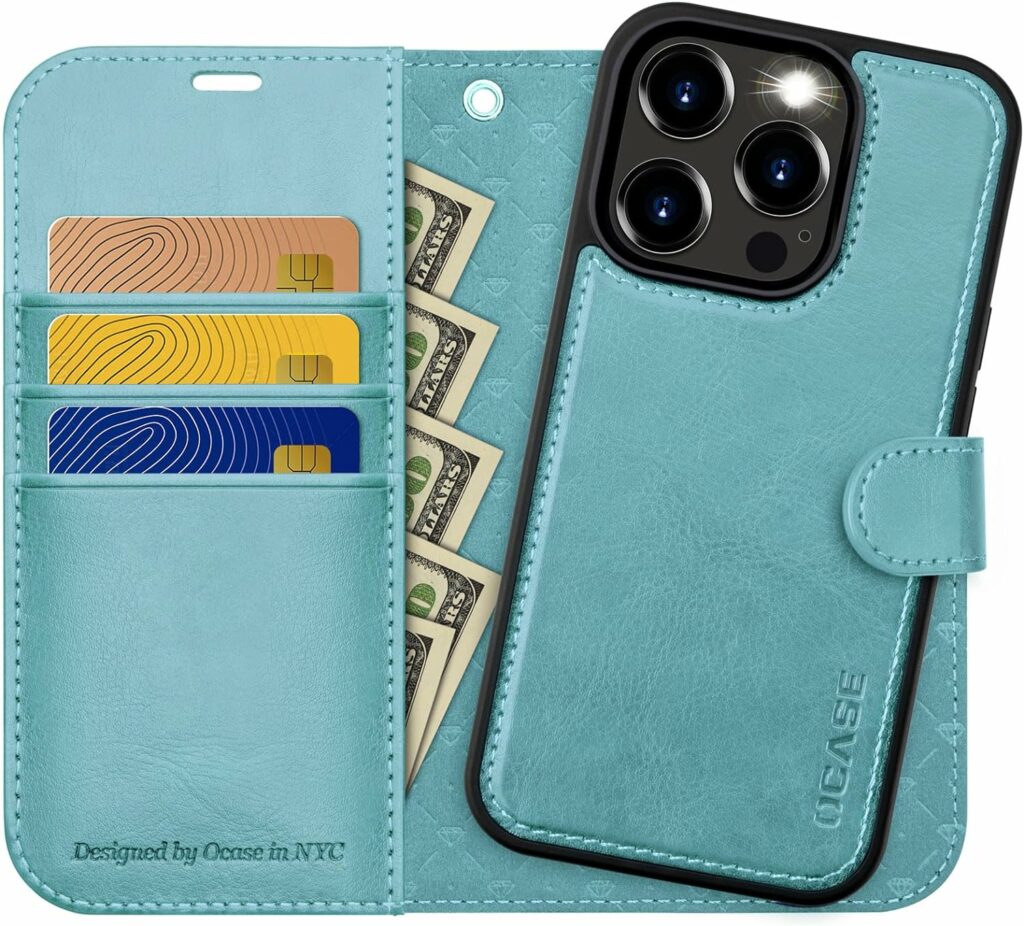 The OCASE Detachable Wallet Case for the iPhone 15 Pro, a must-have accessory that combines style, functionality, and security in one sleek package. This 2-in-1 marvel is a magnetic phone case and a detachable flip wallet rolled into one.
The magnetic single phone case is a powerhouse on its own. It's equipped with upgraded built-in magnets that not only support MagSafe and Wireless Charging but also happily cling to metal surfaces, making it a snap to attach your phone to cars, fridges, or filing cabinets. This convenience factor is off the charts.
With 3 card slots and a wallet compartment featuring a magnetic closure, it's your secure vault for up to 3 cards and some banknotes. Plus, we've got your back with RFID shielding technology, ensuring your card information is safe from any prying digital eyes.
Quality? You bet. This 2-in-1 case is crafted from premium PU soft leather that's tough enough to withstand scratches and fingerprint smudges. It's all about longevity. The natural surface texture offers a tactile, luxurious feel, and the single case boasts a raised edge and extra cushioning for all-around shockproof protection.
Buy the OCASE Detachable Wallet Case for $29.99 here.
6. DUX DUCIS Wallet Case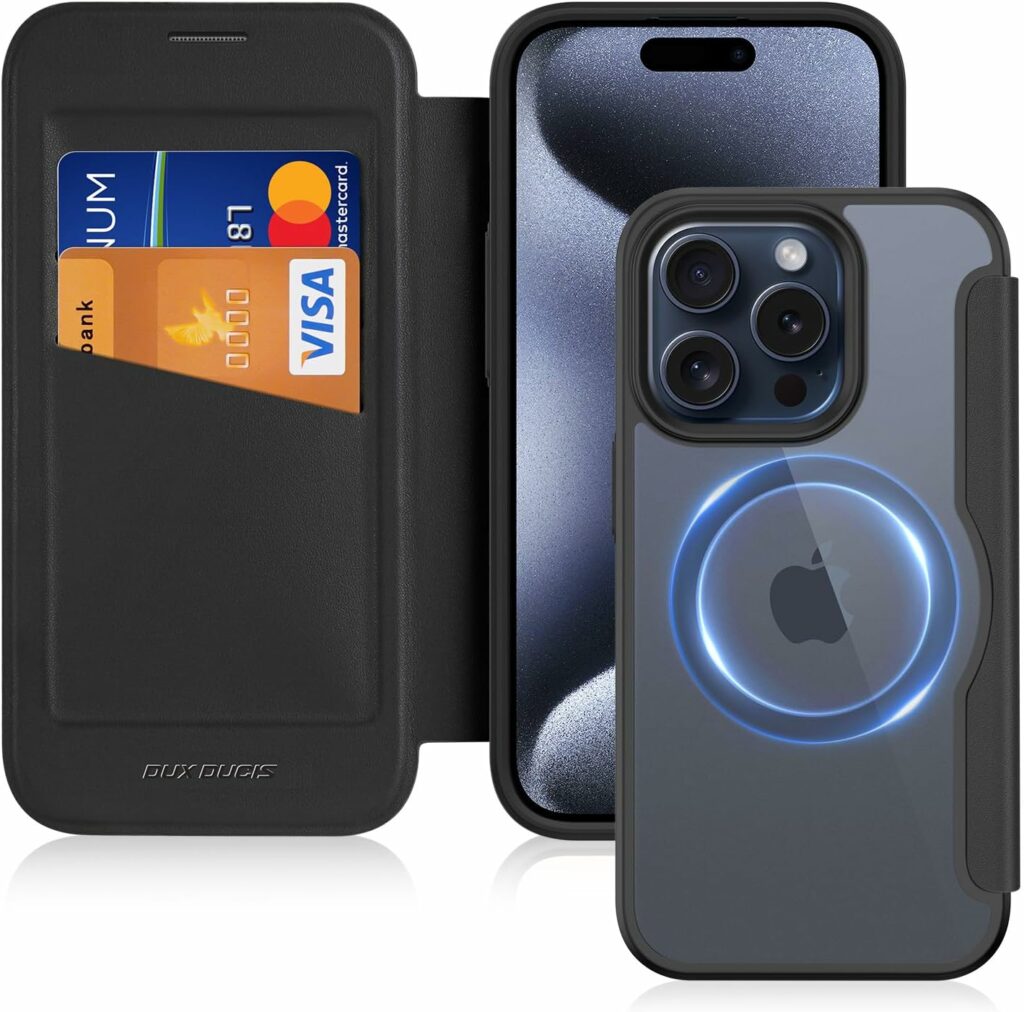 Imagine a sleek, classic design that not only protects your iPhone 15 Pro but also has a hidden talent. It's a cardholder that can snugly house two credit cards or one credit card and a bit of cash. Perfect for those days when you don't want to carry a bulky wallet, whether you're heading to the office or jet-setting on a business trip.
Crafted from high-quality, durable materials, this case is built to last. The soft PU material gives it a comfortable, luxurious feel in your hand, and the transparent, scratch-resistant acrylic back allows your iPhone 15 Pro's true beauty to shine through.
But that's not all – this Folio wallet case for iPhone 15 Pro is MagSafe compatible. That means you can charge your iPhone 15 Pro wirelessly with ease. Plus, it opens up a world of possibilities with other MagSafe accessories like a wallet, rechargeable battery, or a stand. It's all about making your life more diverse and convenient, right at your fingertips.
Buy the DUX DUCIS Wallet Case for $22.99 here.
7. Dreem Fibonacci Wallet Case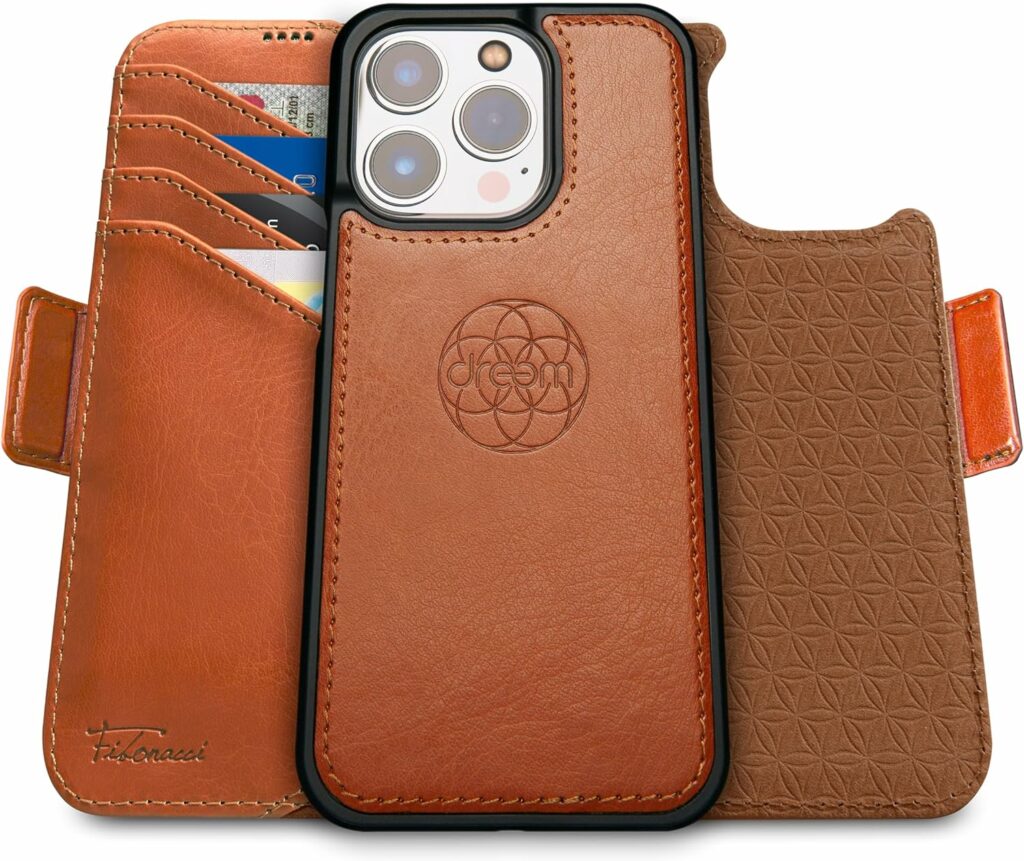 The Dreem Fibonacci wallet case features a stylish, attention-grabbing design with best-of-class button access.
This wallet is made with high-quality faux leather, and beautiful stitching, and comes in a variety of beautiful colors. It boasts efficient storage with 4 card slots accommodating 8-12 cards/IDs. Plus, the angled pockets ensure easy access and prevent pocket tearing.
The design includes an accessible bill pocket, practical cutouts for buttons, and unobstructed charging and audio access. The Dreem Fibonacci wallet case offers versatile viewing—vertical and horizontal, anchored by a robust magnetic clasp. The best part? Compatible with MagSafe charging and accessories, this case allows charging without removing the phone and has interior magnets for additional mounting options.
Buy the Dreem Fibonacci Wallet Case for $47.77 here.
To Conclude
When it comes to protecting and enhancing your iPhone 15 Pro, the choice of a folio case is more than just a practical one; it's an opportunity to make a statement about your style and functionality. The folio cases for iPhone 15 Pro showcased here are designed to harmonize form and function, offering a perfect blend of protection, elegance, and convenience.
So, make the most of your iPhone 15 Pro experience and wrap it in the perfect folio case that not only guards your device but also adds a touch of your personality. After all, your iPhone deserves nothing but the best, and these iPhone 15 Pro folio cases with wallet deliver just that, making every interaction with your device an absolute delight.
Disclosure: iOSHacker may receive a commission if you purchase products through our affiliate links. For more visit our privacy policy page.