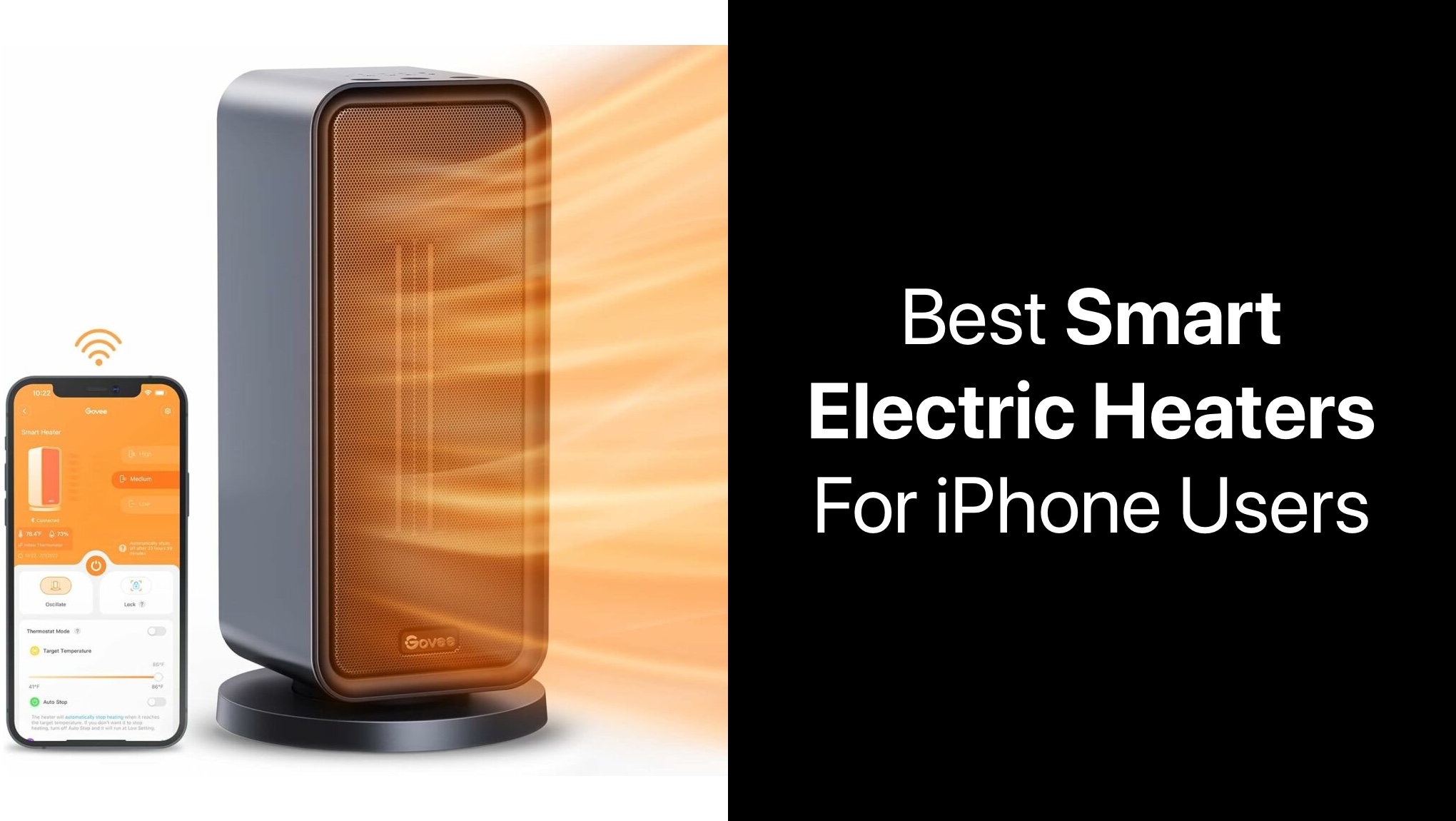 Are chilly winters giving you the shivers, making you wish you had a magic wand to summon warmth at your whim? Well, while we can't promise you a wizard's wand, we can introduce you to the next best thing – iPhone-controlled smart heaters. Imagine the luxury of adjusting your room's temperature without even leaving your cozy spot on the couch, simply by tapping a few buttons on your smartphone.
In this article, you will find the best smart electric heaters that you can control with your iPhone. These amazing smart devices add another layer of convenience to your life and give access to smart features to make your life easier.
Say goodbye to fumbling with knobs and thermostats, and say hello to a world of warmth at your fingertips.
Best Smart Electric Heaters For iPhone
Let's dive into the world of smart heating solutions, where comfort meets cutting-edge technology!
1. Govee Electric Space Heater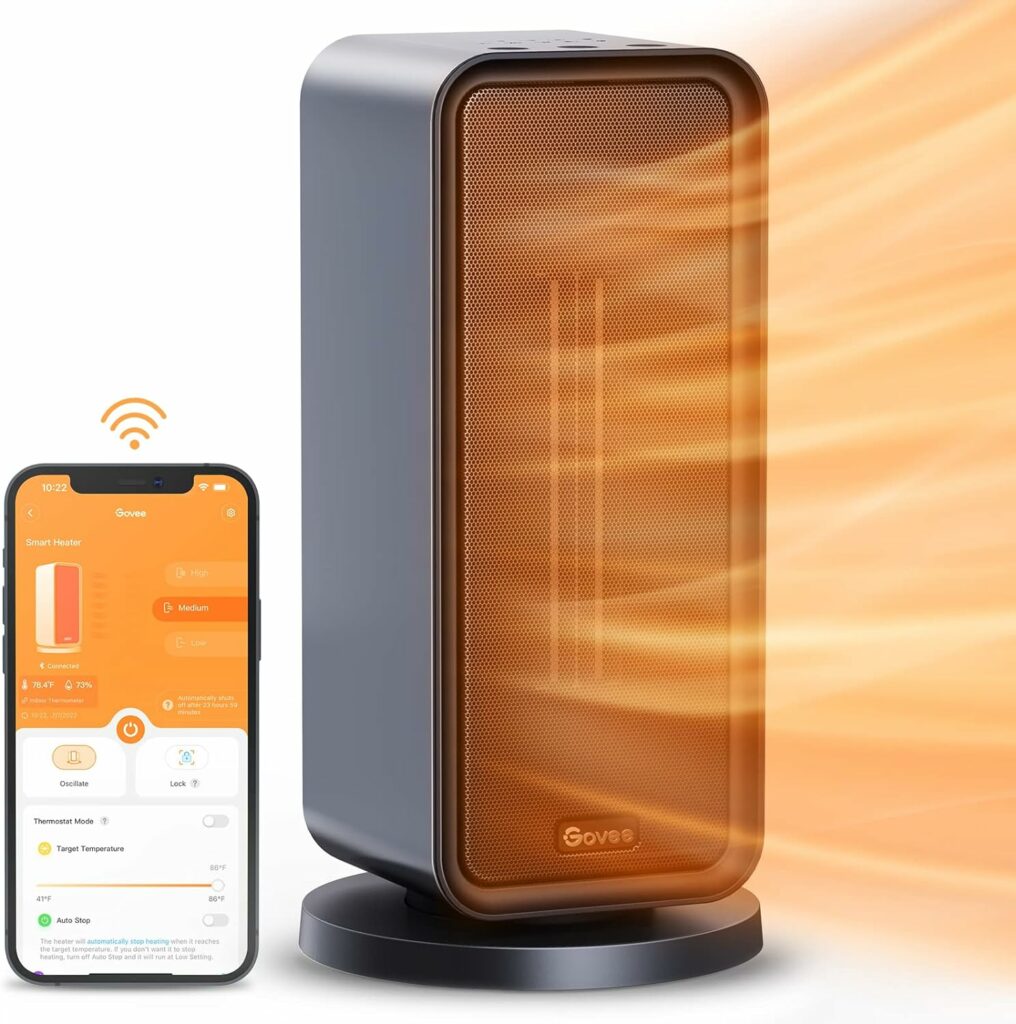 With a built-in sensor, the Govee Electric Space Heater takes care of the basics for you. It supports thermostat functionality, and when paired with the Govee Thermo-Hygrometer, it accurately reflects the ambient temperature without any manual adjustments, giving you an upgraded thermostat experience.
Safety is a top priority with the Govee Space Heater. It includes tip-over protection and over-heating protection, making it safe for use around kids, pets, and the entire family. It's also UL 1278 tested and comes with an auto-shut-off feature after 24 hours of continuous use, giving you peace of mind.
But that's not all the Govee Electric Space Heater has to offer! It features 80° oscillation, a soft heat mode, timer settings, a safety lock, a Do Not Disturb function, a generous 6-foot power cord, and more. It's the perfect fit for indoor spaces like living rooms, bedrooms, and offices.
Buy Govee Electric Space Heater for $79.99 here.
2. Govee Smart Space Heater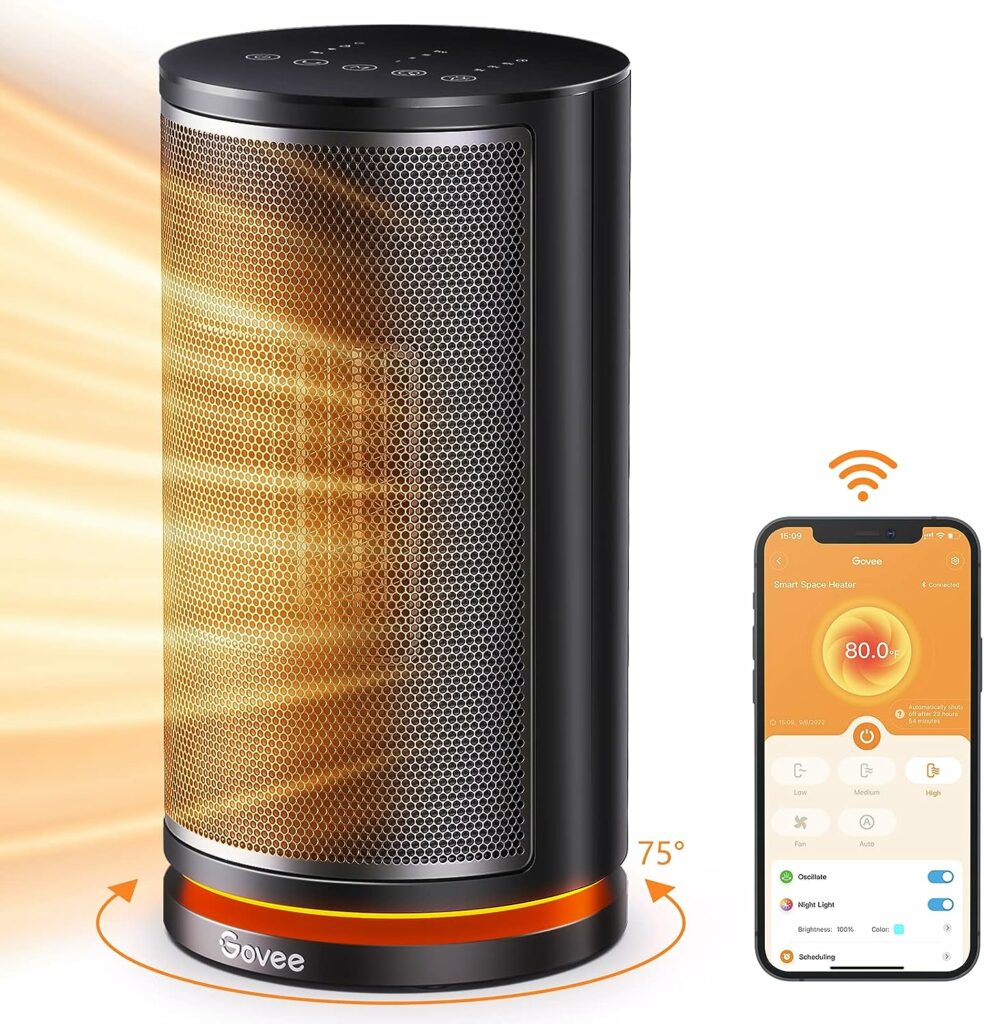 Ever wish your heater could read your mind? Well, almost. With a built-in sensor, Govee Smart Space Heater behaves like your very own thermostat guru. Heading out but want a warm welcome back? No problem! This smart heater lets you kickstart the warmth even when you're away. Bluetooth or Wi-Fi, take your pick for a seamless connection. And guess what? It plays nice with Alexa, Google Assistant, and IFTTT. Your wish is its command!
Worried about it sounding like a jet engine? Fear not! In Low Mode, it purrs at less than 45dB – quieter than a library, I promise. You can even customize the ambiance with different light modes via the Govee Home app. Why settle for the ordinary when you can have the extraordinary?
This one of the best indoor smart heaters with app has your back with tip-over protection, over-heating prevention, a nifty safety lock, and even a timer. Perfect for households with curious kiddos or mischievous pets.
Buy Govee Smart Space Heater for $55.99 here.
3. Atomi Smart WiFi Infrared Heater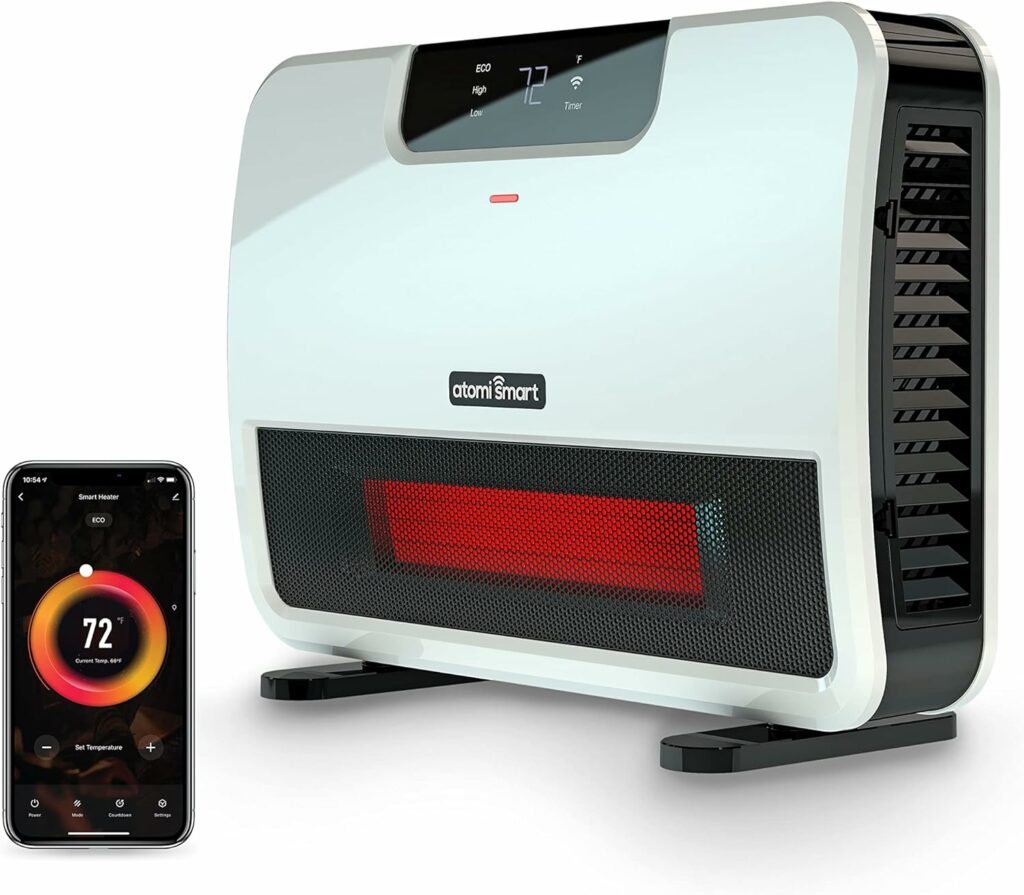 Control your heater with ease from anywhere using the free Atomi Smart app or simply by using your voice with Amazon Alexa or Google Assistant. With 1500W of infrared quartz tube heating power, this heater can quickly warm rooms up to 750 sq. ft. in seconds.
Save energy with the ECO function, which automatically adjusts heat and power settings once your desired temperature is reached. Plus, enjoy the convenience of the smart heater turning itself on and off as the room temperature changes.
This best electric smart heater is equipped with an electronic tip-over safety switch that not only turns off the heater when activated but also sends you a phone notification, all while keeping your previous settings intact. Additionally, it has automatic overheating protection and cool-touch housing for added peace of mind.
Need a space-saving solution? This heater's slim design allows you to mount it on a wall or use it on the floor. It's also completely portable, thanks to re-attachable feet and a convenient carry handle. Stay warm and in control with this versatile and smart heating solution.
Buy Atomi Smart WiFi Infrared Heater for $149.99 here.
4. Dr. Prepare Wi-Fi Space Heater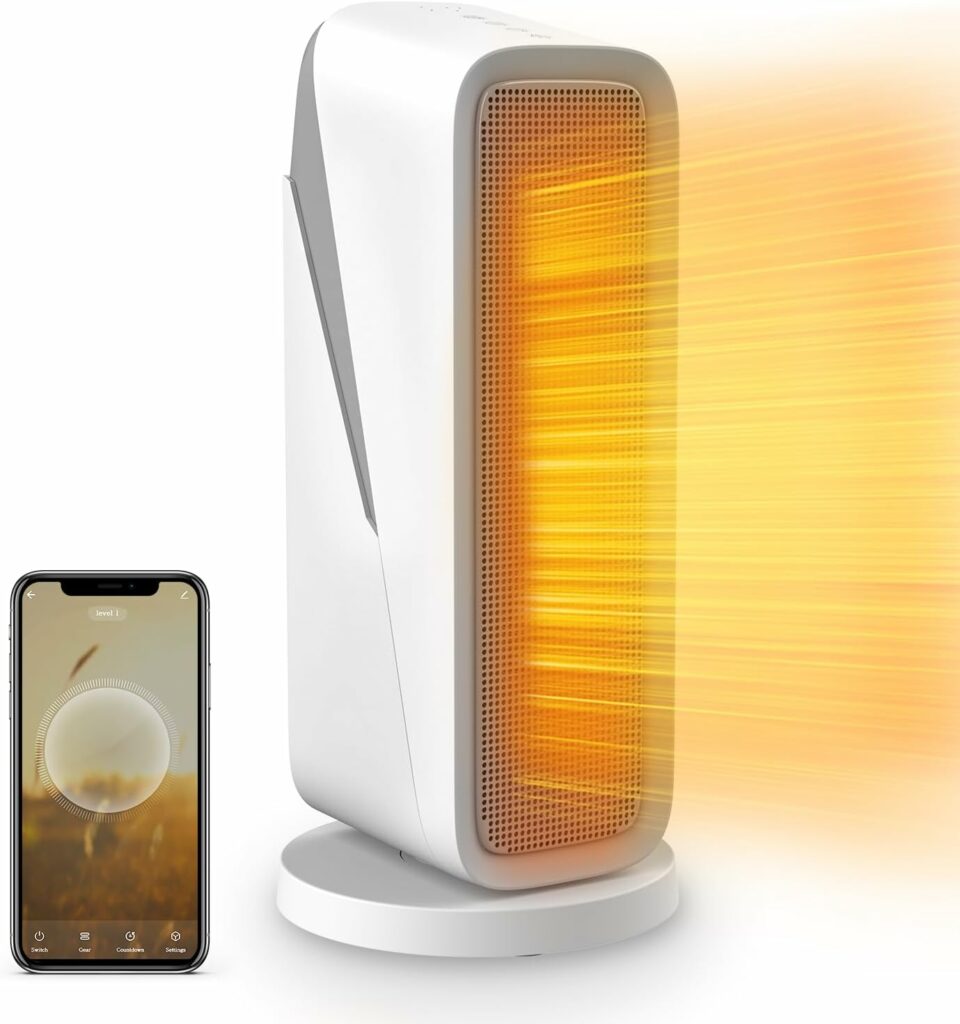 The Dr. Prepare WiFi Space Heater for Home is the perfect blend of convenience, comfort, and style. With its smart features and versatility, it's a heating solution that truly has your comfort in mind. Say hello to warmth like never before! This best electric heater for iPhone users is designed to keep you warm and comfortable while seamlessly blending into your home decor.
With built-in WiFi, you can control the heater using your smartphone or voice commands. Just sync it up with your home network, and you're good to go. The Dr. Prepare heater lets you choose your preferred temperature, fan speed, and heating mode. Whether you want a toasty blast of warmth or a gentle, consistent heat, this heater has you covered.
Worried about energy bills? Don't be! This heater is designed with energy-saving features, including a programmable timer and thermostat control, ensuring you stay comfortable without breaking the bank.
Buy Dr. Prepare Wi-Fi Space Heater for $49.99 here.
5. GiveBest Electric Wall Heater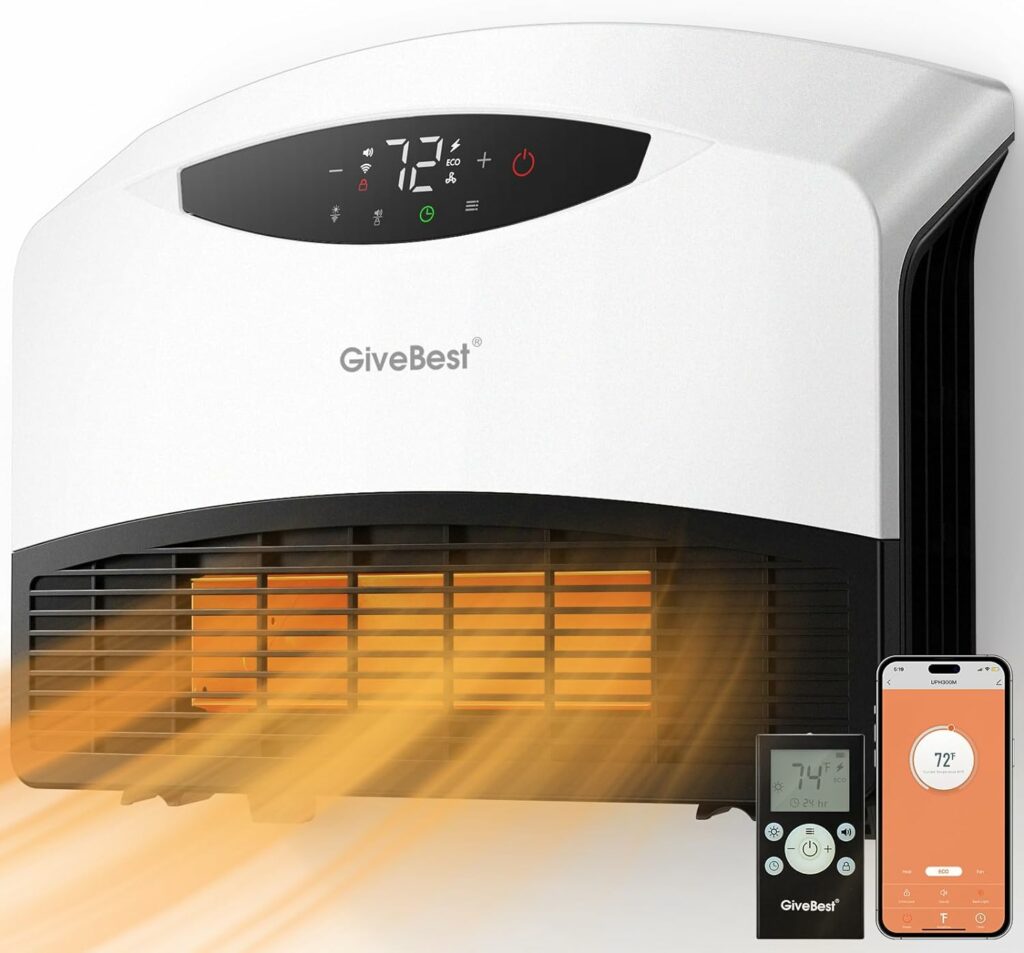 With the GiveBest Electric Wall Heater heater, you get the convenience of a remote control to tweak settings from afar. Plus, it's got WiFi control, so you can warm up your space in advance while you're still downstairs. No more shivering while waiting for your room to heat up!
This electric wall heater boasts an intuitive touch control panel that displays the current temperature and other vital info for easy monitoring. And it's wall-mountable, perfect for rooms with limited floor space. But if you prefer flexibility, you can pop it on the floor using the retractable feet and carry handle, making it easy to move around your home.
The ETL-listed system ensures tip-over and overheating protection, so you can enjoy warmth worry-free. Plus, GiveBest has used V-0 flame-retardant materials to guarantee ultimate safety.
Buy GiveBest Electric Wall Heater for $119.99 here.
6. Govee Smart Space Heater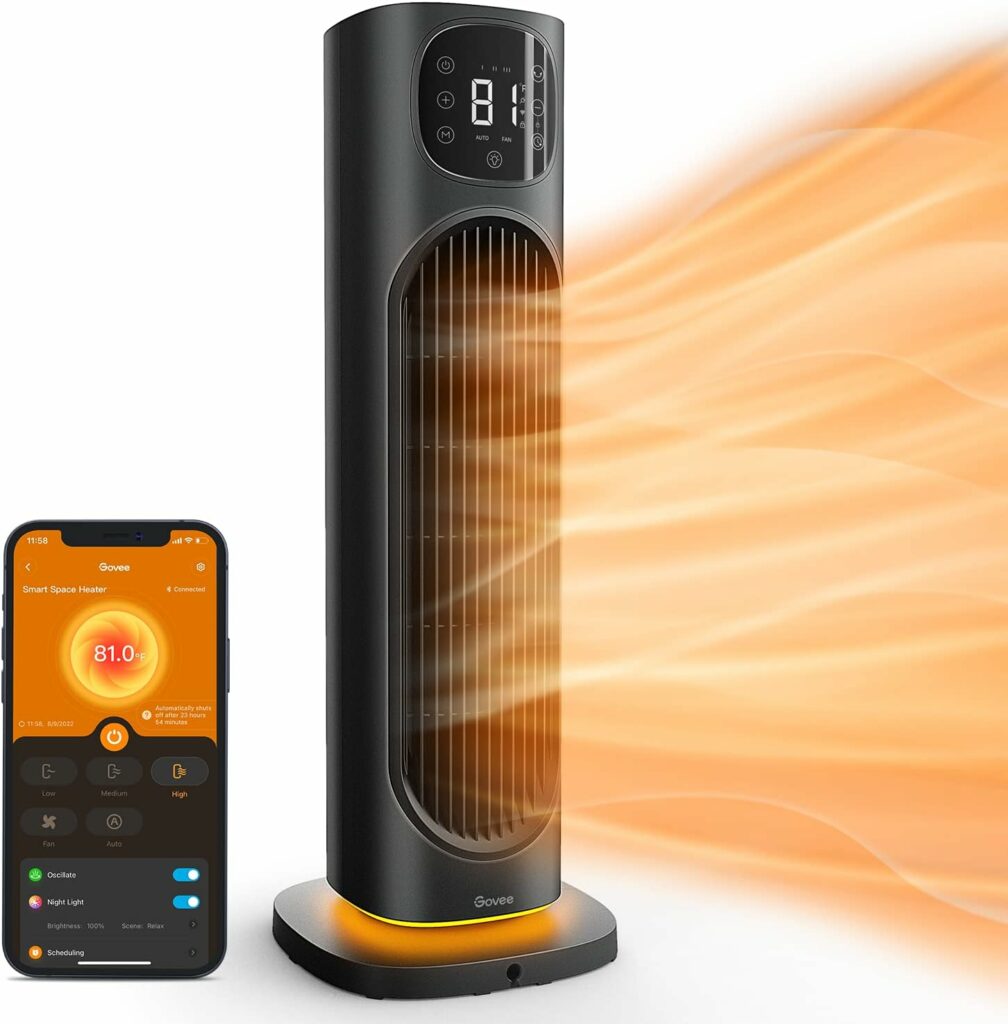 Imagine always stepping into a cozy haven—your space warmed to perfection. With Govee Smart Space Heater, that's exactly what you get, even if you're miles away. Thanks to its dual Bluetooth and Wi-Fi capabilities, connecting and controlling it is a breeze.
Picture this: A heater that not only heats up in a blink (within 2 seconds, to be exact) but does so with PTC ceramic heating, making it energy-efficient. And the best part? This is one of the best heaters you can control with iPhone and is compatible with Alexa, Google Assistant, and IFTTT.
This smart gadget has an array of modes to suit your every need. From a basic thermostat function with its built-in sensor to seamless integration with the Govee Thermo-Hygrometer, providing an accurate reflection of the ambient temperature—no manual tweaks are required.
With features like 75° oscillation, tip-over protection, over-heating safeguards, a safety lock, and a timer, you can rest easy. More than just a heater, it's a companion, surprising you at every turn.
Buy Govee Smart Space Heater for $103.99 here.
7. INKBIRDPLUS 1500W Portable WiFi Space Heater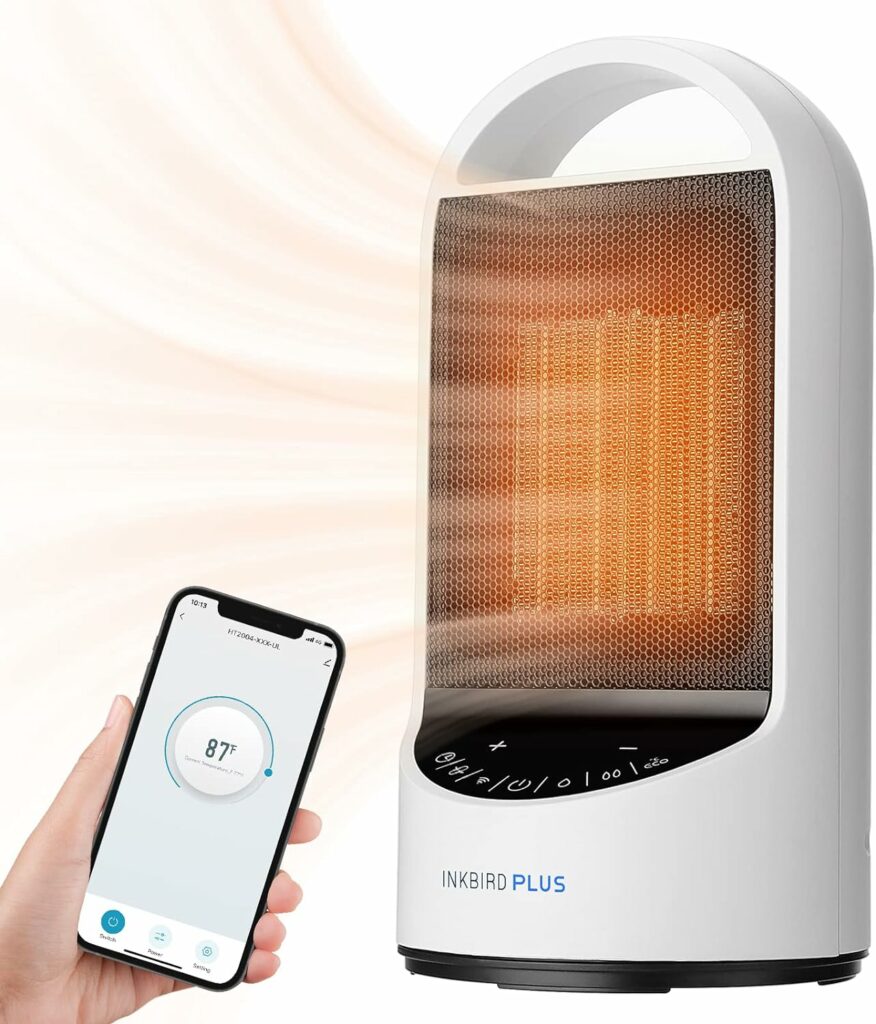 INKBIRDPLUS 1500W Portable WiFi Space Heater is crafted from V0-rated flame retardant material and boasts tip-over protection and overheating protection. It automatically shuts off at 140°F, with a 15-second cooling countdown before turning off. Rest assured, it's ETL, UL, and FCC-certified for your peace of mind during the winter season.
Imagine the convenience of controlling your heater from anywhere using the INKBIRD APP. Plus, there's a user-friendly LED panel for manual control, allowing you to easily switch the heater On/Off, adjust the temperature, toggle between 3 modes (High, Low, and ECO), set a 24-hour timer, and even control oscillation.
This electric heater also comes equipped with a thermostat featuring two heat modes (1500W/1000W). The ECO Mode intelligently adjusts to your preferred temperature, ranging from 41°F to 97°F in 1°F increments, ensuring you always enjoy the perfect warmth to suit your needs.
Buy INKBIRDPLUS 1500W Portable WiFi Space Heater for $89.99 here.
To Conclude
In a world where convenience meets comfort, iPhone-controlled smart electric heaters have truly revolutionized the way we stay warm indoors. These cutting-edge devices offer not only warmth at your fingertips but also energy efficiency and peace of mind. From adjusting the temperature while snuggling under your blanket to scheduling the perfect cozy ambiance for when you arrive home, these heaters cater to your every need.
So, why settle for the old-fashioned way of heating your space when you can elevate your comfort and control it all with just a few taps on your iPhone?
Disclosure: iOSHacker may receive a commission if you purchase products through our affiliate links. For more visit our privacy policy page.