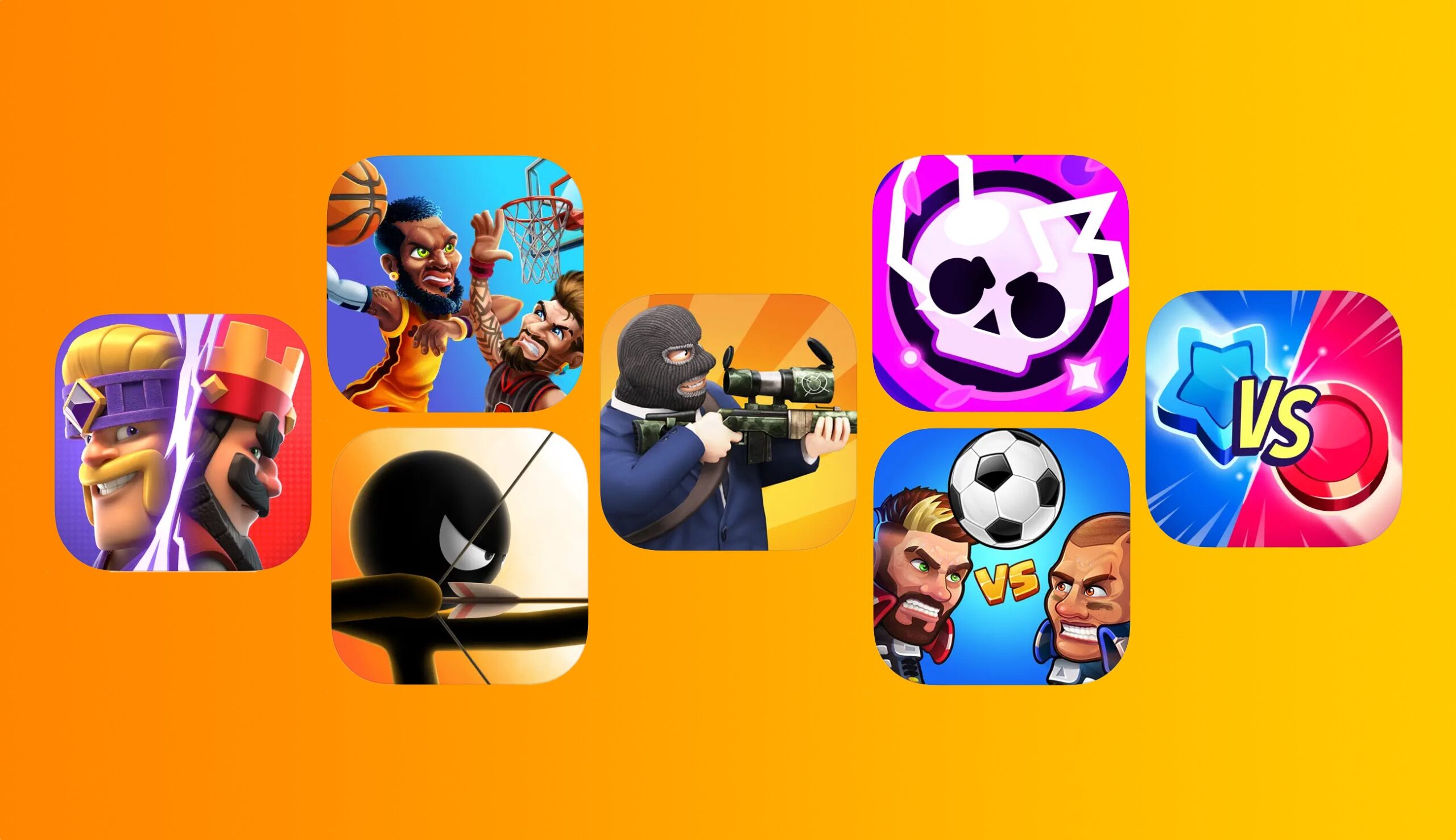 In this list, we dive headfirst into the world of the best PvP games for iPhone and iPad, full of fierce competitions, tactical showdowns, and jaw-dropping victories.
Are you tired of those single-player games where you conquer virtual worlds all by yourself? Don't you sometimes crave the adrenaline rush of competing against real human opponents, proving your skills, and emerging victorious in epic battles? If you nodded your head in agreement, you're in the right place.
Looking for Best 2 Player Games For iPhone And iPad In 2023? Read our list!
Game On with the Best Online Multiplayer Games for iPhone
Your trusty iPhone and iPad have evolved into powerful gaming platforms, and the App Store is teeming with PvP games that cater to every gaming taste. We understand the hunger for challenge and camaraderie, which is why we've embarked on a quest to uncover the very best PvP games for iPhone and iPad. Let's go!
1. Match Masters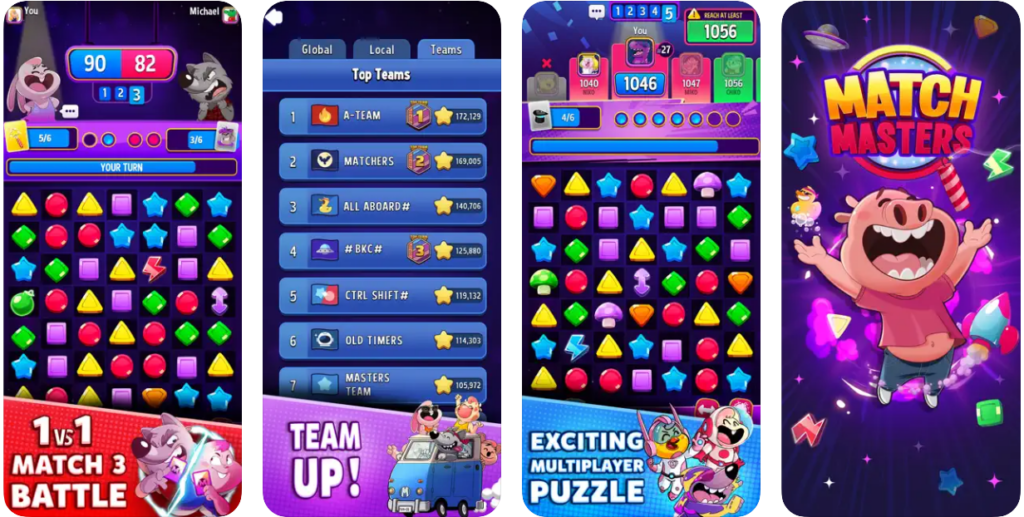 Match Masters takes the classic match-3 puzzle game genre and elevates it to a whole new level of excitement and competition. Unlike traditional match-3 games, Match Masters introduces a thrilling online multiplayer experience that allows you to play against friends and opponents from all corners of the globe.
In this game, you engage in intense PvP action, where you and your opponent take turns on the same match-3 game board. This twist adds an extra layer of strategy to your gameplay. Not only do you need to focus on maximizing your own score, but you must also anticipate how your moves might benefit or hinder your opponent's progress.
What makes it one of the best PvP games for iPhone are its awesome power-ups. Matching blue stars charges your Booster, while your opponent collects red circles. The Booster can be a game-changer, helping you gain more scores, turn the tide in your favor, and unleash massive combos. With over 20 unique Boosters to choose from, each offering its own strategy and effects, the possibilities are endless.
2. Brawl Stars

Brawl Stars is a team-based shooter where you'll team up with friends or go solo to defeat opponents in various game modes. With its fast-paced 3v3 multiplayer and battle royale modes, it's one of the best PvP games for iPhone users seeking quick and intense gameplay sessions.
Brawl Stars boasts a diverse cast of characters, known as Brawlers. You can unlock and upgrade these Brawlers, each with unique Super abilities, Star Powers, and Gadgets. Plus, the game offers a variety of exciting game modes to keep things fresh, making it one of the best PvP games for iPad.
In Gem Grab, you team up to collect and hold gems while strategizing to outsmart the opposing team. In Showdown, it's a battle royale where the last Brawler standing wins. There's also Brawl Ball, a soccer/football-inspired mode, Bounty for earning stars by taking out opponents, and Heist where you protect your safe and attempt to crack open your opponent's safe.
3. Snipers vs Thieves

Ever dreamed of being a master thief or an elite sniper? Snipers vs Thieves, an iPad multiplayer game, lets you choose your role in a dynamic game of cat and mouse. As you step into this high-stakes world, you'll have the opportunity to become the ultimate sniper or the mastermind thief, each offering a unique gaming experience.
The game's multiplayer asymmetric gameplay is what makes it one of the best PvP games for iPhone. You can choose to play as the sniper, tasked with protecting your hard-earned cash from those cunning thieves, or take on the role of the thief and work with your gang to escape with the loot. It's a game of strategy, wits, and cunning tactics.
With four game modes and a wide array of gadgets to assemble in your deck for battle, the game offers endless variety. You can collect and upgrade over 20 new guns, choose from a selection of more than 150 masks, and customize your character and make it uniquely yours.
Download Snipers vs Thieves now.
4. Stickman Archer Online

If you're into simple yet addictively fun games, Stickman Archer Online is the best PvP online game for iPhone. It's an action-packed PvP battle game that's all about proving your archery skills against other stickmen.
Firstly, the game boasts amazing graphics that bring the stickman world to life. The visuals are crisp, clean, and highly immersive, making every battle a visual treat. This alone makes it one of the best PvP games for iPhone. However, the game offers more. With a variety of unique maps, each with its own challenges and strategies to master, you'll never get bored. From tight quarters to wide-open spaces, you'll need to adapt your archery skills to conquer these diverse battlegrounds.
It's incredibly easy to handle, even for those new to mobile gaming. You'll find yourself quickly navigating through menus and taking aim in no time. However, the heart of the game lies in its online battles. Compete against players from around the world in real-time duels, reveling in the thrill of outsmarting opponents.
Download Stickman Archer Online now.
5. Basketball Arena

Bring your hoop dreams to life with Basketball Arena. Challenge players from around the world in fast-paced 1v1 basketball matches. Dribble, shoot, and dunk your way to victory by playing the best PvP game for iPhone.
This real-time PvP game for iPhone allows you to unleash your basketball abilities fully. You can aim for those jaw-dropping slam dunks, take daring shots from long-range, and even harness superpowers to secure victory. With each point you score, you're not just getting closer to winning, you're also filling up the basket with valuable rewards.
By winning matches, you unlock new characters, building your fanbase with each victory. As you rise through the ranks, you'll find yourself playing in upgraded courts, basking in glory, and reaping even better prizes. Compete with others and strive to be the champion, earning the most valuable rewards along the way. Your win streak is your ticket to the top spot, so don't let it slip away if you want to be number one.
Download Basketball Arena now.
6. Head Ball 2

Head Ball 2 iPad PvP real-time game combines soccer and fun head-to-head matches. This game promises an action-packed experience like no other, where you can revel in the thrill of fast-paced online multiplayer matches that will have you hooked in no time.
Looking to challenge your friends? Head Ball 2 is considered one of the best PvP games for iPhone for this very reason. You can connect your social media accounts and go head-to-head with your pals, proving once and for all who the best footballer among you is. Better yet, you can even create your own team and earn rewards as you win matches. Team up with friends or go solo – the choice is yours.
As you dive deeper into the game, you'll find yourself immersed in five different football leagues. Your goal? Reach the pinnacle of each league. Whether you join an existing team or form your own, the strength of your team will be your key to success. Weekly competitions pit your squad against teams worldwide, making every match a mystery until the final whistle.
7. Clash Royale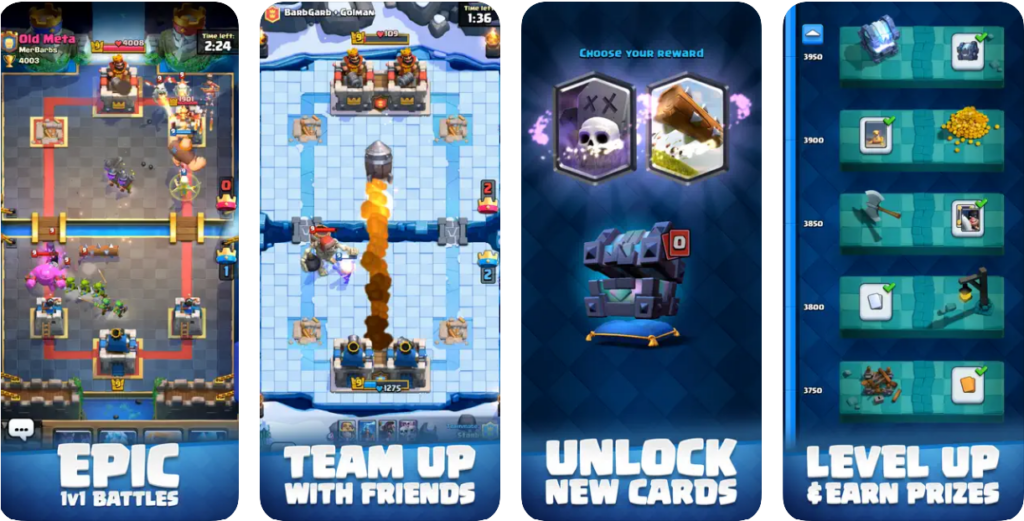 Enter the world of Clash Royale, where strategy meets real-time battles. Build your deck of cards, deploy troops, and cast spells to defeat your opponent's towers. Prove you're the ultimate strategist playing the best 1v1 game for iPhone.
As one of the best PvP games for iPhone, Clash Royale immerses you in the exhilarating world of strategic deck building and fast-paced matches against players from around the globe. Your journey begins with creating a Battle Deck by choosing unique cards from a vast collection. Each card has its own special abilities, so crafting the perfect deck is crucial. Once your deck is ready, you step into the Arena to face off against your opponents. The goal? Knock down their King and Princesses from their Towers using tactical card placement and strategy.
With over 100 cards to collect and upgrade, including troops, spells, and defenses from Clash of Clans, as well as new additions, Clash Royale keeps the gameplay fresh and exciting. Winning battles and advancing through different Arenas unlock powerful new cards for your collection, allowing you to fine-tune your strategy.
Conclusion
The thrill of challenging friends or facing off against skilled opponents from around the world, all from the convenience of your pocket-sized device, is an experience like no other.
From the strategic battles of "Clash Royale" to the quick reflexes required in "Stickman Archer Online," there's a PvP game for every taste. These games not only provide entertainment but also opportunities to sharpen your skills, build alliances, and, most importantly, have a ton of fun.
The adventure, competition, and excitement are waiting for you. Grab your device, download any of these best PvP games for iPhone, and get ready to show the world what you're made of.
Disclosure: iOSHacker may receive a commission if you purchase products through our affiliate links. For more visit our privacy policy page.