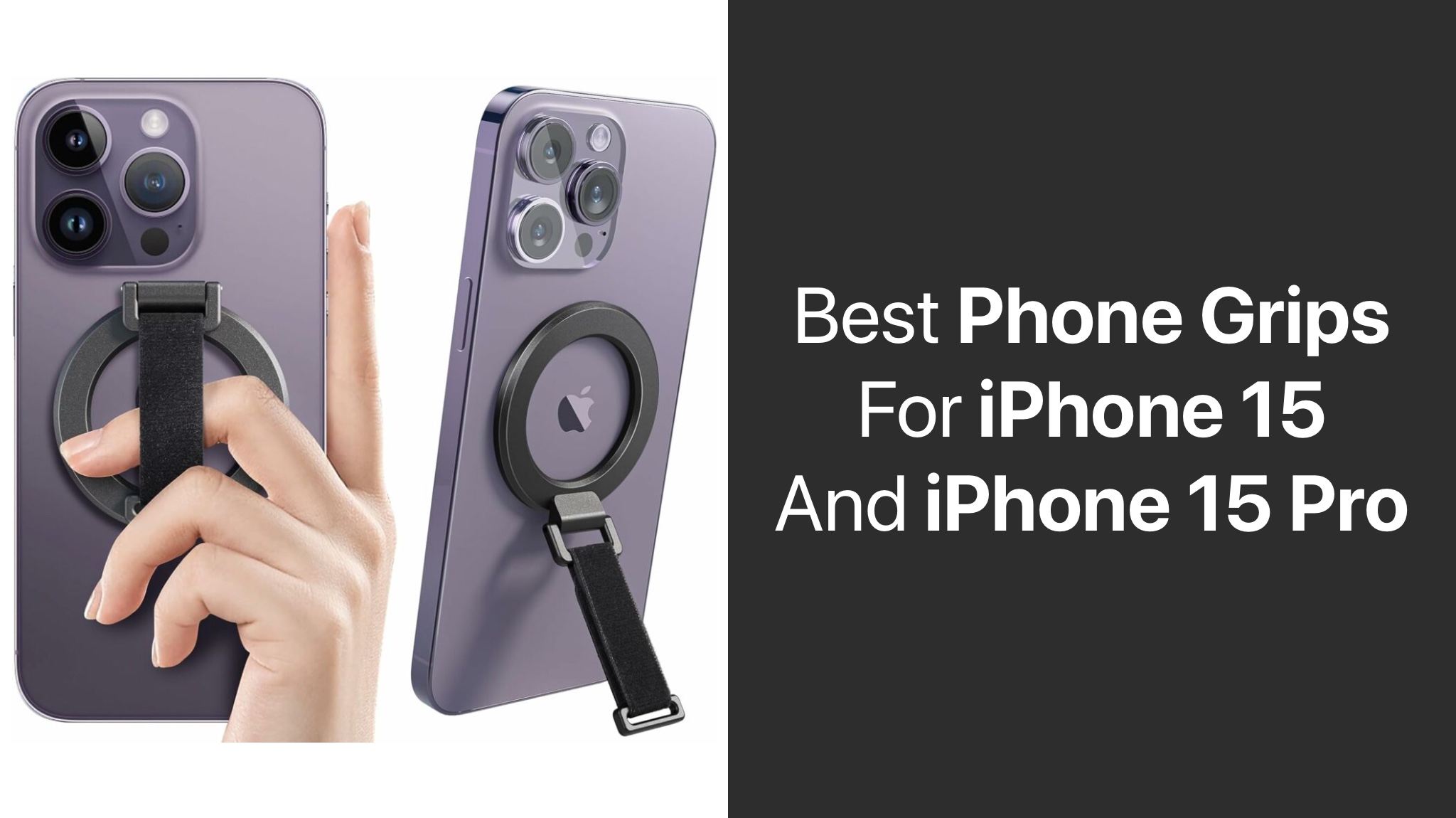 Looking for the best phone grips for your iPhone 15 or iPhone 15 Pro? Well, look no further, as that is exactly what we will talk about in this post.
With the unveiling of the iPhone 15 and iPhone 15 Pro, Apple has once again pushed the boundaries of innovation. These sleek, powerful devices deserve nothing but the best when it comes to enhancing their usability and style. Enter MagSafe phone grips – the ultimate companions for your cutting-edge iPhones.
In this curated list, we're about to take you on a journey through the most exceptional grips that seamlessly integrate with the magnetic magic of MagSafe technology.
A phone grip for the iPhone is an essential tool that makes it easy for users to carry their iPhones around. It significantly reduces the risk of the device falling from your hands and promotes a convenient iPhone-using experience.
Best MagSafe Phone Grips for iPhone 15
From enhancing your grip for those jaw-dropping photos to transforming your device into a multitasking marvel, these grips are about to revolutionize the way you experience your iPhone 15 or 15 Pro. So, let's dive into the world of gripping possibilities and make your iPhone experience truly magnetic!
1. PopSockets Phone Grip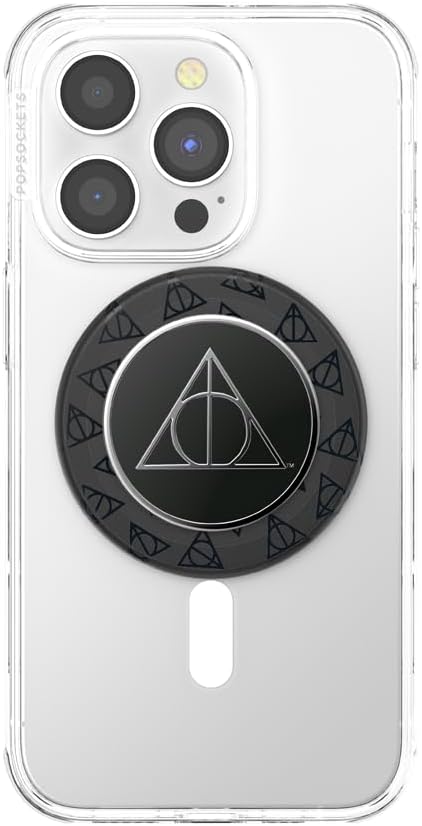 The PopSockets Phone Grip is the ultimate phone accessory that takes your mobile experience to the next level! With built-in magnets, this grip securely attaches to iPhone 15 MagSafe cases, making it a breeze to snap on and off for wireless charging.
Charging your phone has never been easier. Just slide off the magnetic round PopSocket and place your device on a wireless charging pad – no more fussing with cords. Plus, this iPhone 15 Plus phone grip magnetic PopSocket is fully compatible with the MagSafe ecosystem, which includes grips, wallets, cases, mounts, and chargers.
This new MagSafe PopSocket features a compact circular design that easily slips into your pocket, and it's a whopping 40% stronger than the standard Apple-compliant MagSafe.
Buy PopSockets Phone Grip for $39.99 here.
2. SUPERONE Phone Grip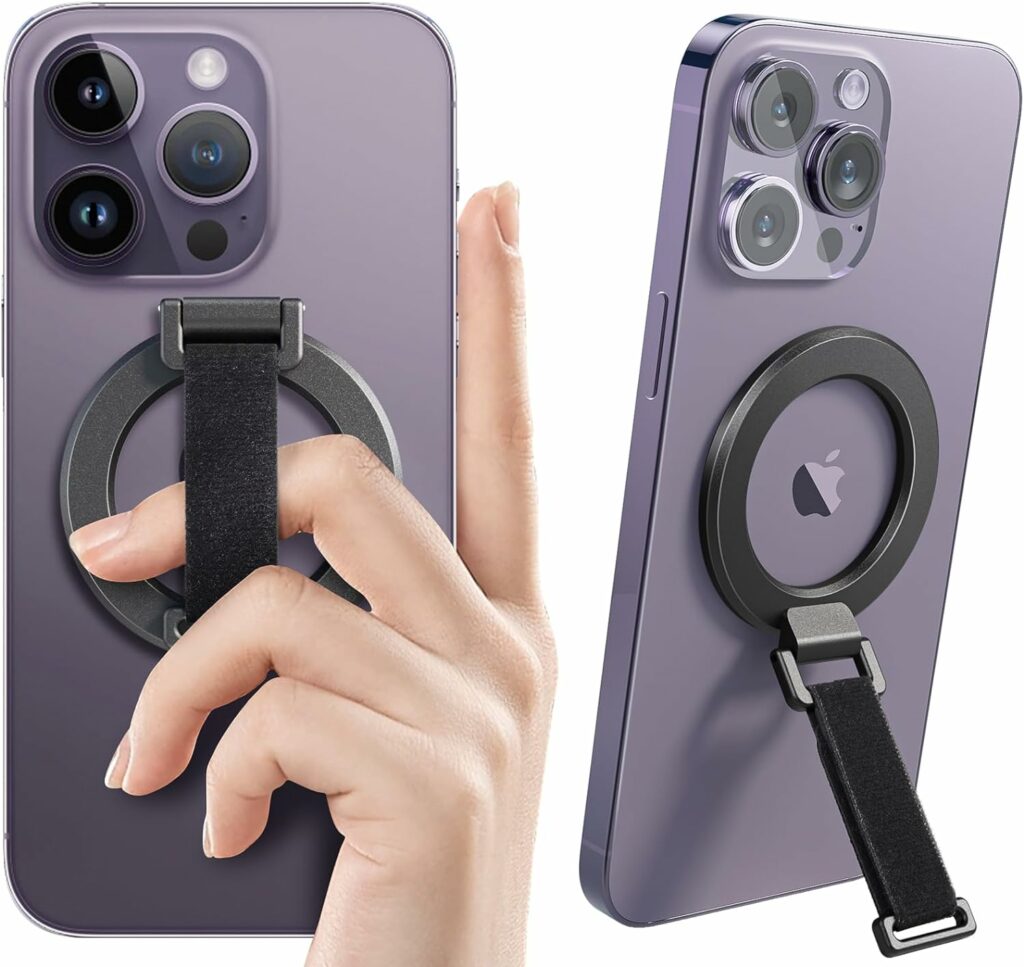 SUPERONE is designed with soft, elastic finger straps that effortlessly slide onto 1 or 2 fingers, providing a comfortable and secure hold for your phone.
It's a 2-in-1 solution! The ring grip can be used whether the stand is open or closed, allowing you to grip your phone at various angles while on the move. Whether you're watching videos, movies, YouTube, TikTok, taking selfies, or enjoying a FaceTime chat, SUPERONE's 2-way ring stand has got you covered. Plus, the finger loop rotates a full 360°, giving you the freedom to position your phone exactly how you like it – at any angle and height.
This phone finger ring has been tested to withstand an impressive 35,000 folds without loosening. And when you no longer need the grip, it's easy to remove with a simple slide – leaving your phone residue-free and ready for wireless charging.
Buy SUPERONE Phone Grip for $19.99 here.
3. Syncwire Magnetic Phone Ring Holder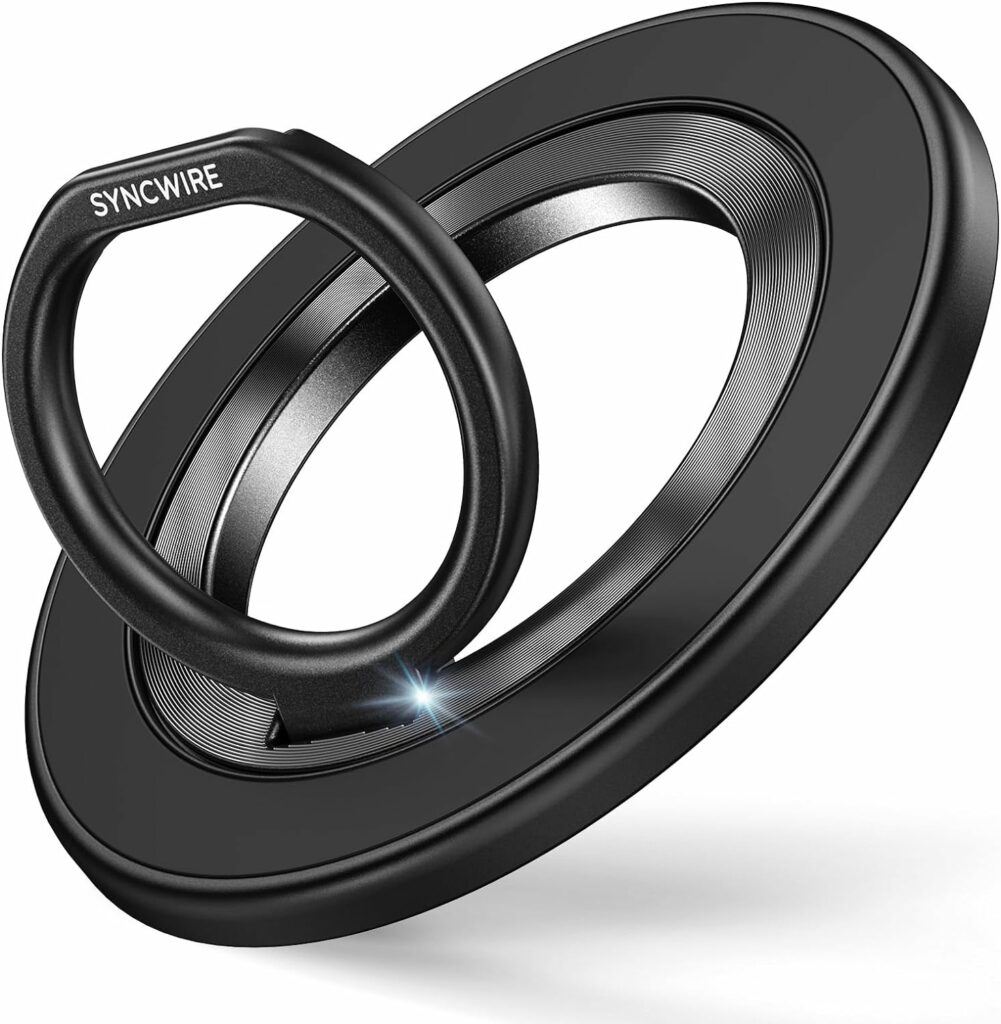 What sets Syncwire Magnetic Phone Ring Holder apart is its patented design, fusing gears and spring plates for rock-solid positioning. But it's not just about functionality – rotating the ring produces a satisfying click, making stress relief a breeze. It's innovation meets relaxation in a simple, enjoyable package.
The ring holder also offers multi-angle adjustment for a comfy grip and perfect viewing angle. And when it comes to magnetism, it's powered by N55 NdFeB magnets that deliver a magnetic pull like no other. Just a single finger and your phone is securely attached; shaking and movement are no match.
Even better, it plays nicely with wireless charging. No sticky residue is left behind when you detach it. And it's got a unique two-sided magnetic design, so it's MagSafe car mount-friendly without the need to remove the ring. Plus, it sticks to any magnetic metal surface – from your fridge to your fitness equipment.
Buy Syncwire Magnetic Phone Ring Holder for $12.79 here.
4. Spigen O-Mag Ring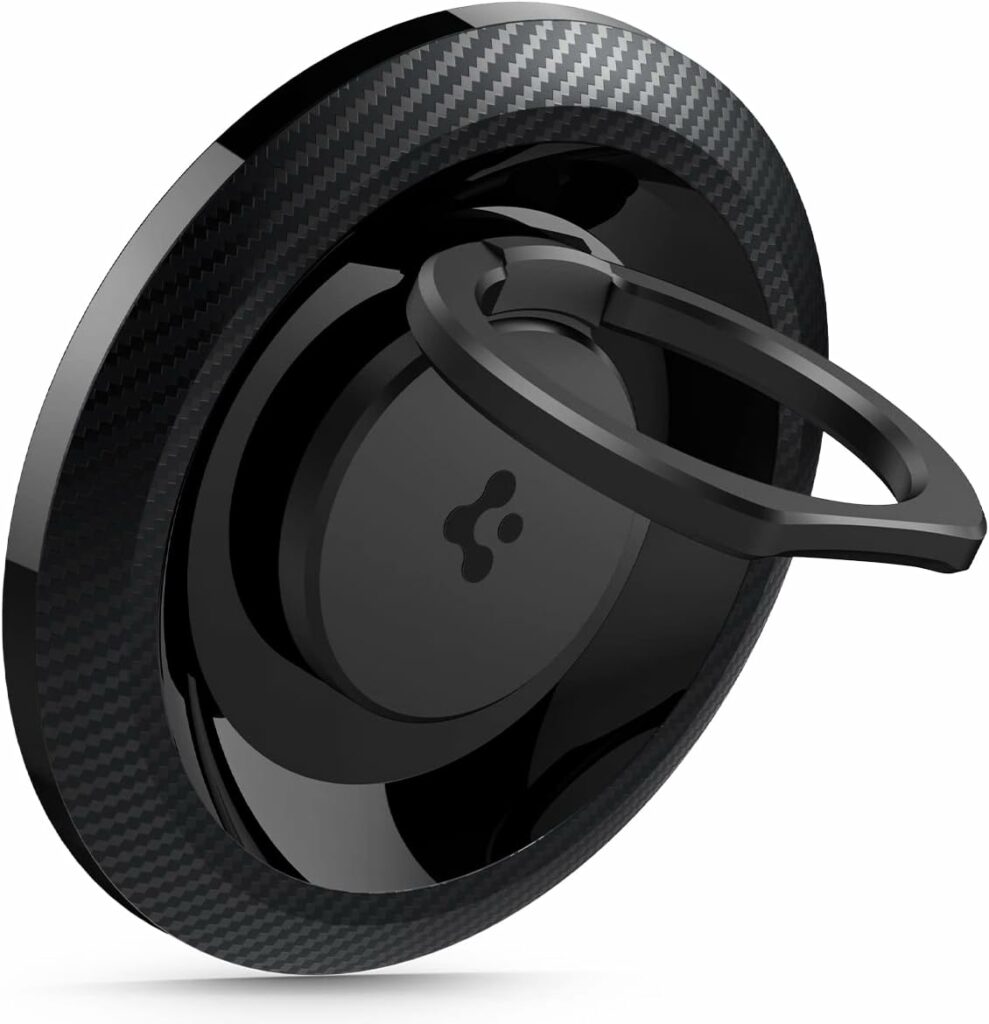 Are you tired of your phone slipping through your fingers like a slippery eel? Say hello to the anti-scratch design of the Spigen O-Mag Ring! Not only does it provide a comfy grip, but it also gives you the confidence that your device won't take a dive when you least expect it.
This little gadget is a true multitasker. With its 360-degree rotation ring, you can swivel your phone to find the perfect angle for your pictures, videos, or simply browsing the web.
The O-Mag Ring iPhone 15 Pro phone grip doubles as a kickstand, so you can binge-watch your favorite shows or video call your pals without holding your phone for hours. It's like having a mini-entertainment center right in your pocket.
Buy Spigen O-Mag Ring for $18.39 here.
5. Lamicall Magnetic Phone Ring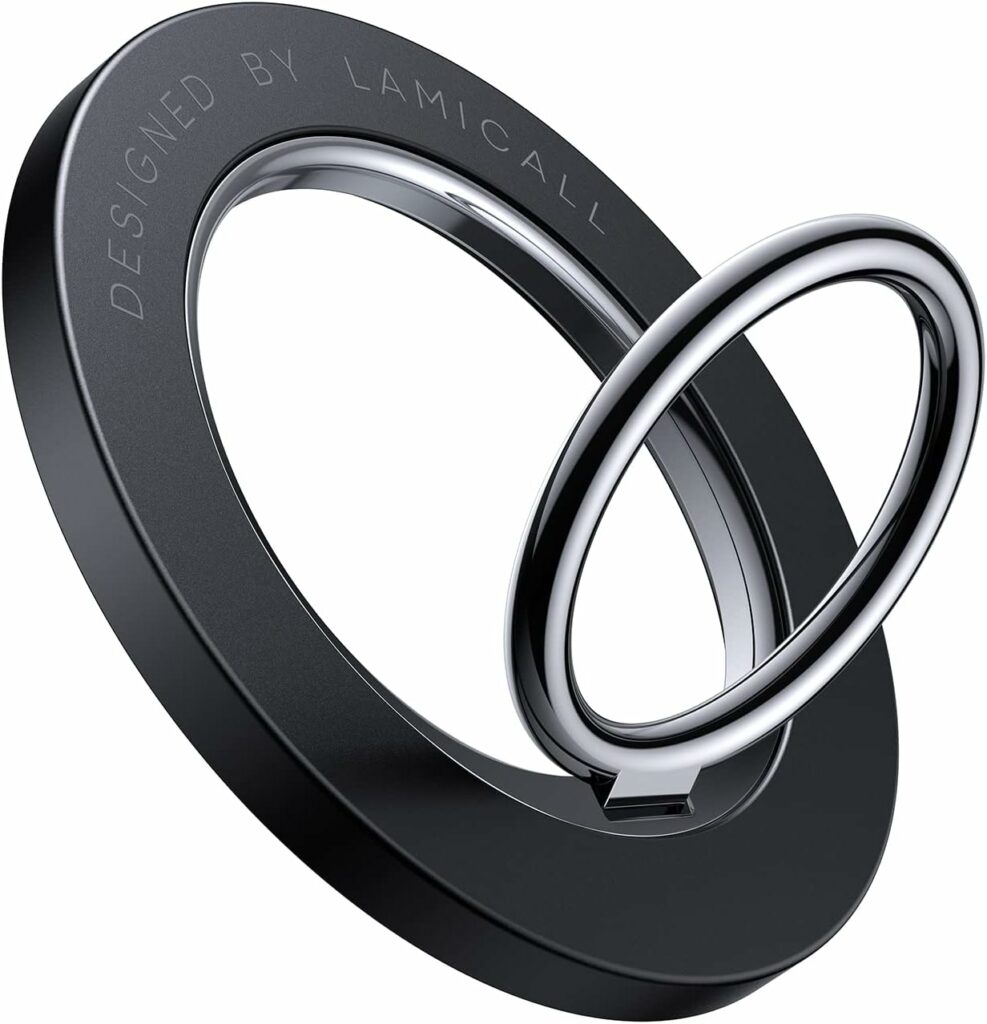 Lamicall Magnetic Phone ring holder iPhone 15 Pro Max is a lightweight marvel, weighing in at just 0.93 ounces, and boasting a magnetic force of up to 2.2 pounds. That's the same as the weight of five iPhone 15s! Stick a metal ring on it, and the magnetic force skyrockets to an impressive 6.6 pounds.
But it's not just about the strength; Lamicall has designed this MagSafe phone grip with user convenience in mind. The internal link is rotatable, allowing for a seamless 360-degree experience without the need for disassembly.
What's truly nifty about the Lamicall iPhone magnetic ring is its versatility. It can double as a MagSafe phone grip and a desktop kickstand. Need to use your phone with one hand? No problem – this grip ensures a secure hold, reducing the risk of accidental drops.
Here's the kicker – unlike other rings that are permanently attached, you can easily remove the Lamicall metal ring when it's time for wireless charging. Just swap it out, and you're good to go. And the best part? Your wireless charging won't be affected at all.
Buy Lamicall Magnetic Phone Ring for $13.59 here.
6. andobil Magnetic Phone Grip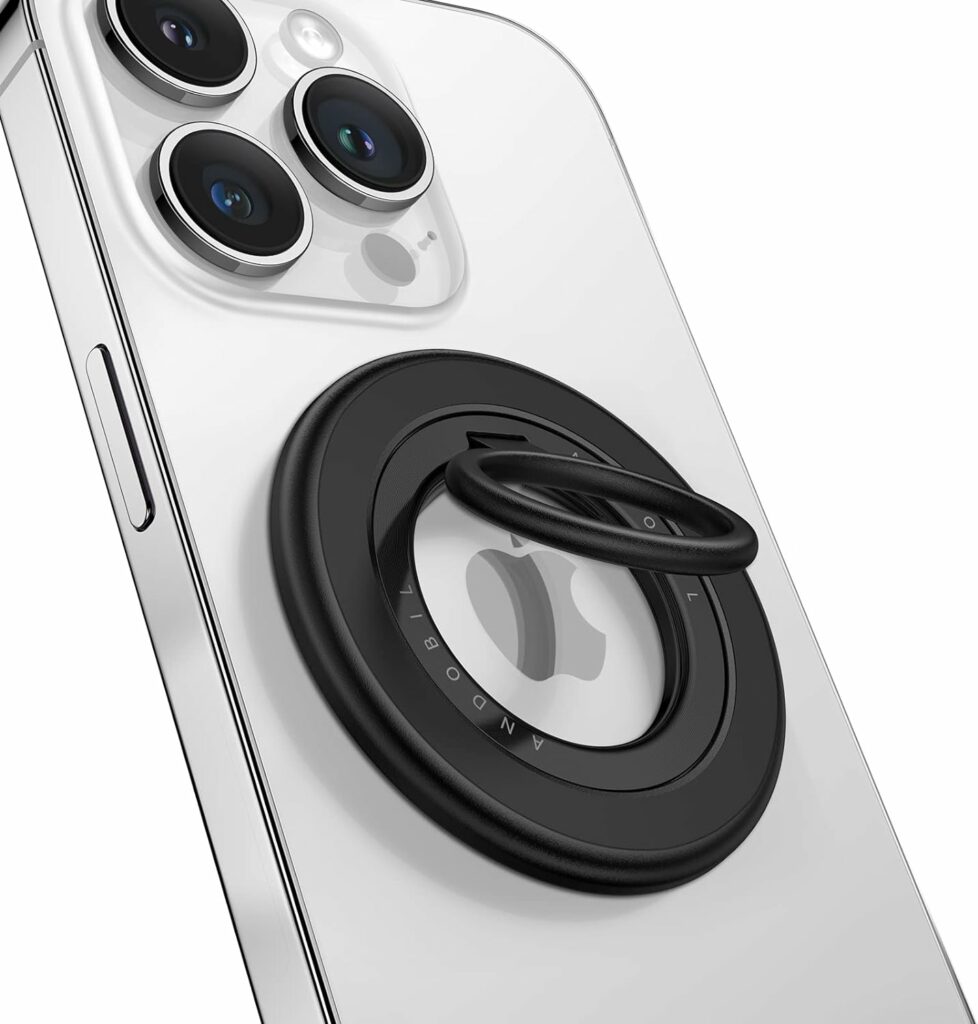 With its versatile design, the andobil Magnetic Phone Grip is a game-changer. You can flip it a whopping 110° and rotate it a full 360° for that perfect grip. Plus, it's got a spacious 0.94″ inner diameter, so it comfortably fits fingers of all sizes.
The magic behind this holder? It's made up of 16 super-strong 3mm N55 NdFeB magnets. This means it can support the weight of up to FIVE iPhones! Just hook your phone with one finger, and voila, it's locked in place – no shaking it off. For extra security, use the included MagSafe metal rings.
And here's the icing on the cake: this pop grip is magnetic on both sides. The side that attaches to your phone can hold up to a whopping 4.4–5 lbs (70.4–80 oz), while the back can manage 4 lbs (64 oz). Stick it to any magnetic metal surface like your fridge, bread machine, or car. If you're dealing with a non-magnetic surface, don't worry – there's an iron sheet. Just attach it and place your phone on it for true multitasking freedom!
Buy andobil Magnetic Phone Grip for $26.99 here.
7. PITAKA Phone Ring Holder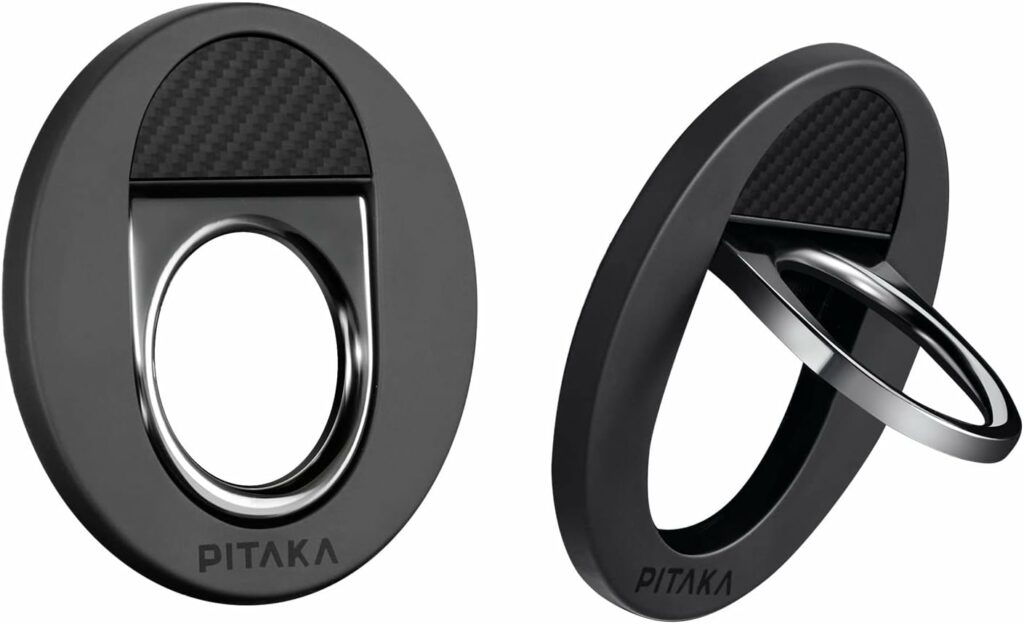 Crafted from premium zinc alloy, PITAKA Phone Ring Holder sleek metal ring is not only comfortable to hold but also a perfect match for your MagEZ Case, taking your style game to the next level. It's not just a pretty accessory; it's a versatile tool. Use it as a phone grip or a phone ring holder, and you'll instantly notice the difference. With just one finger, you can confidently hold your phone with a single hand, significantly reducing the risk of accidental drops.
This ring holder is designed for maximum flexibility. Easily rotate it 360° and flip it up to 110° to find the most comfortable viewing angle. Plus, it's MagSafe compatible, ensuring a snug and secure fit for iPhone 15 and MagSafe cases thanks to its strong N52 magnets.
Buy PITAKA Phone Ring Holder for $24.99 here.
To Conclude
Finding the perfect MagSafe phone grips for iPhone 15 Pro Max/Pro is like discovering the missing puzzle piece that completes the picture of your tech-savvy life. These grips not only provide an extra layer of security but also elevate your overall smartphone experience.
So, go ahead, give your iPhone 15 or 15 Pro the love it deserves, and never worry about accidental drops again. With the perfect magnetic phone grip iPhone 15 Pro Max, your phone becomes an extension of your style and personality, securely in your grasp, ready to conquer whatever the day throws your way.
Disclosure: iOSHacker may receive a commission if you purchase products through our affiliate links. For more visit our privacy policy page.