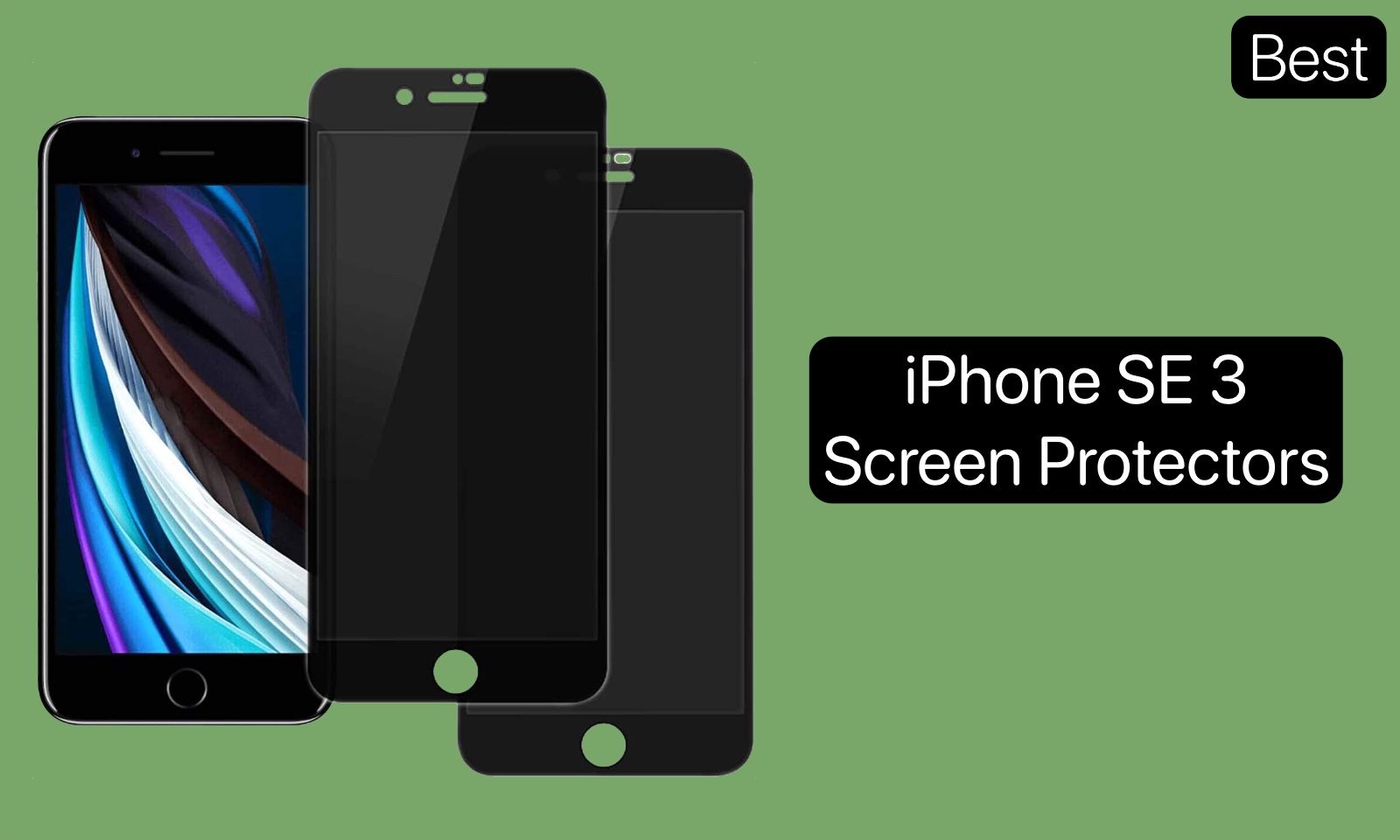 There is no doubt that the Apple iPhone SE 3 is one of the budget affordable smartphones on the market right now. Though it has an old-fashioned exterior, the A15 Bionic chip and 5G support are some of its modern features. 
It is now possible to own one of the fastest mobile chipsets available today. Consequently, this phone may remain supported for years to come, so if you buy it now, you can enjoy it for a long time to come.
Nevertheless, you should take certain steps to ensure that, such as purchasing a case and a screen protector. If an accident occurs, these could help you minimize the damages, keeping the purchase fresh for as long as possible.
We have compiled a list of the best iPhone SE 3 screen protectors for 2023 that you can currently buy and protect your device's display.
Best iPhone SE Glass Screen Protectors 
You'll likely find a wide selection of iPhone screen protectors because Apple's phones are so popular. Some screen protectors are more costly than others, while others offer standard protection at a budget-friendly price.
A more expensive version will do more than just protect your screen. It will also hide your screen from wandering eyes and protect the front camera from damage. It can be overwhelming to choose from all the options available. Hopefully, this guide will make the process a bit easier for you.
1. Spigen Tempered Glass Screen Protector [GlasTR AlignMaster]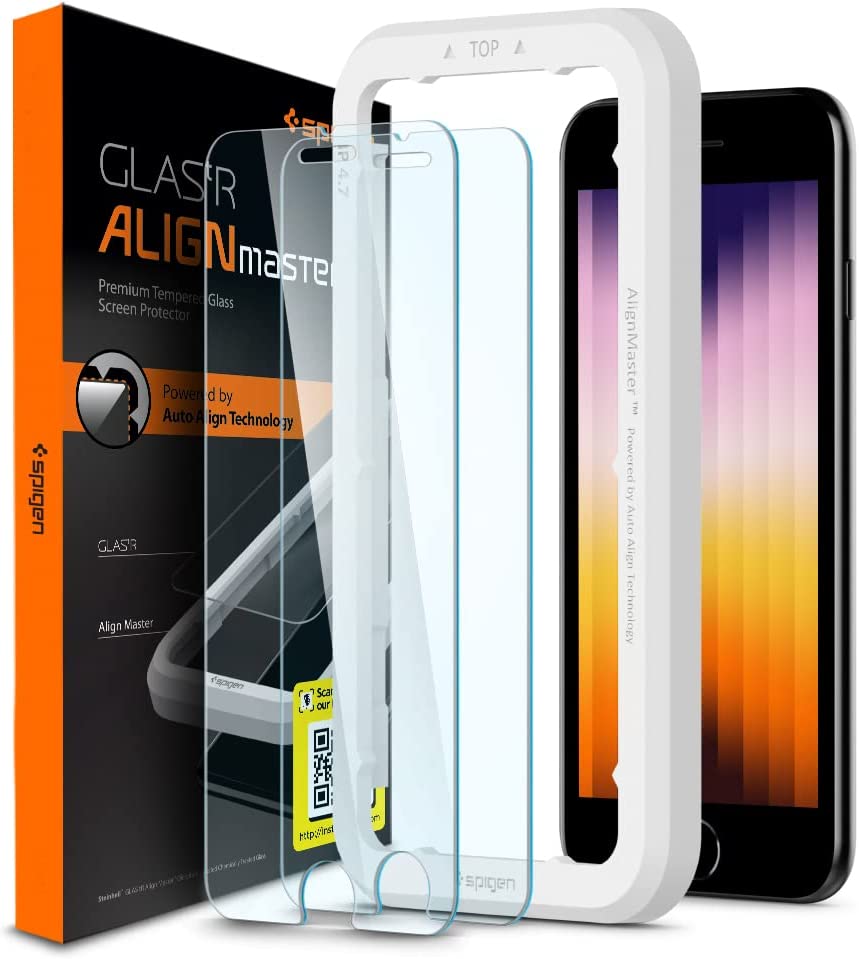 Now that Spigen offers tempered glass, they have an excellent option in the budget price range. The Korean company is known for its phone cases, but the company also provides affordable screen protectors.
This iPhone SE 2022 screen protector is made of tempered glass and comes with a lot of bells and whistles at such an affordable price. It has a 9H hardness rating (which is the highest level for smartphone protection), as well as an oleophobic coating (alongside five other layers). Despite its impressive performance, Spigen says this screen protector won't change the original brightness or clarity of your iPhone SE (2022).
Moreover, the box includes an installation frame to ensure proper alignment and installation. In addition, this package comes with two glass sheets.
Buy Spigen Tempered Glass Screen Protector [GlasTR AlignMaster] for $13.99 here
2. ESR Armorite Screen Protector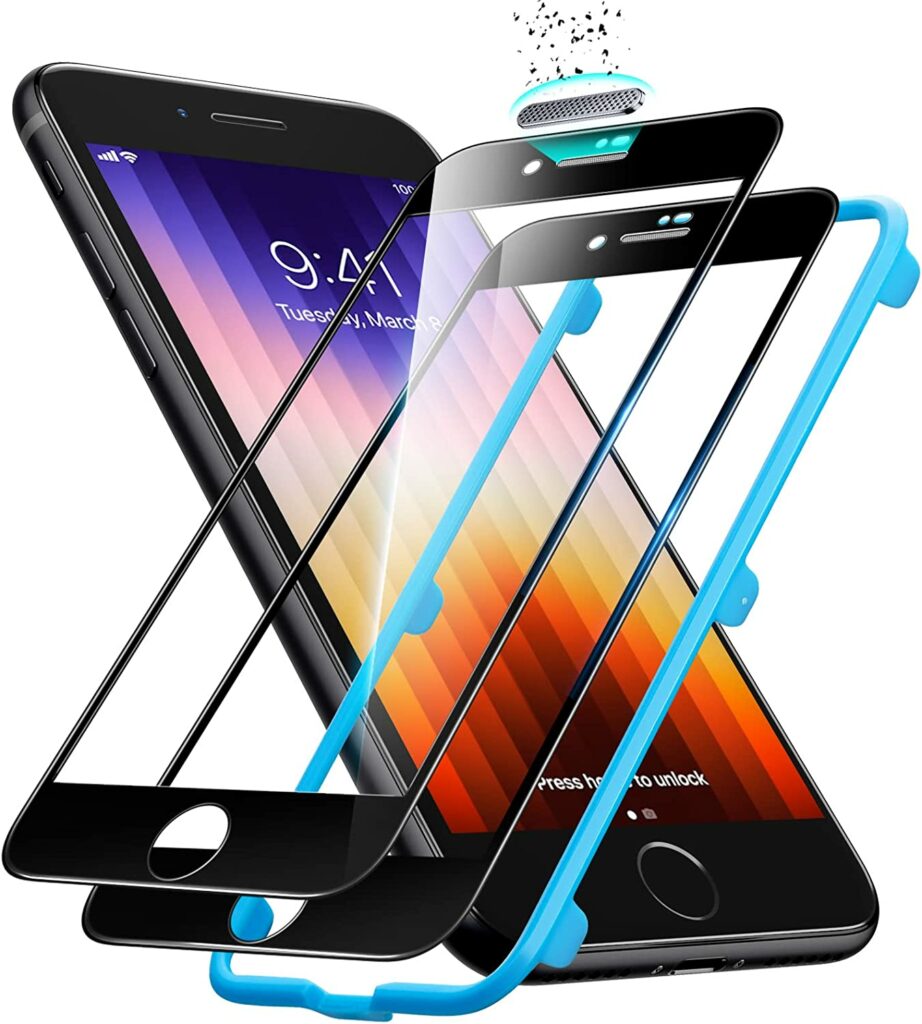 Designed to withstand over 110 lb of force in the lab and everything you can throw at it in the field, Armorite tempered glass prevents your screen from getting scratched and damaged. Furthermore, the speaker shield keeps dust and dirt out of the speaker, ensuring crisp, clear audio.
This iPhone SE 3 Screen Protector features a special coating that keeps fingerprints and smudges at bay. You can apply the product bubble-free every time with the included alignment frame and cleaning kit.
Furthermore, the precise cutout allows for comfortable access to Touch ID and the home button.
Buy ESR Armorite Screen Protector for $15.99 here
3. OtterBox ALPHA GLASS Screen Protector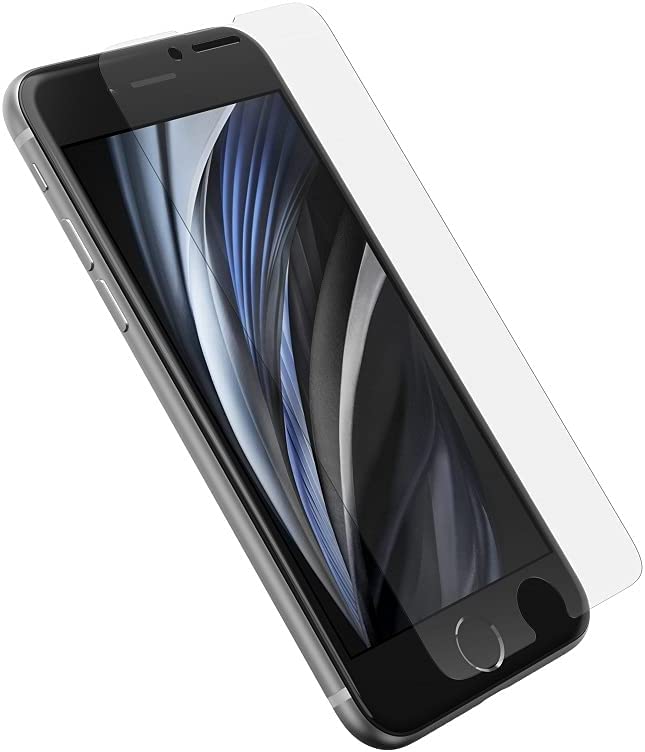 With OtterBox Alpha Glass screen protector, you can protect your screen against scratches and smudges. But it won't protect you against your mom's phone calls asking why you haven't called her back yet! (Just a friendly reminder).
This fortified, shatter-resistant Alpha Glass prevents scratches and splinters, allowing your screen's vibrant display to stand out. This fortified glass has a surface hardness of 9H, the highest level on the hardness scale. Additionally, it resists fingerprints, so you can touch, tap, and swipe while your screen remains smudge-free.
This best iPhone SE screen protector preserves the pristine quality of your device's images; Reactive touch: maintains touchscreen responsiveness.
Buy OtterBox ALPHA GLASS Screen Protector for $17.96 here
4. iSOUL [4 Pack] Screen Protector for iPhone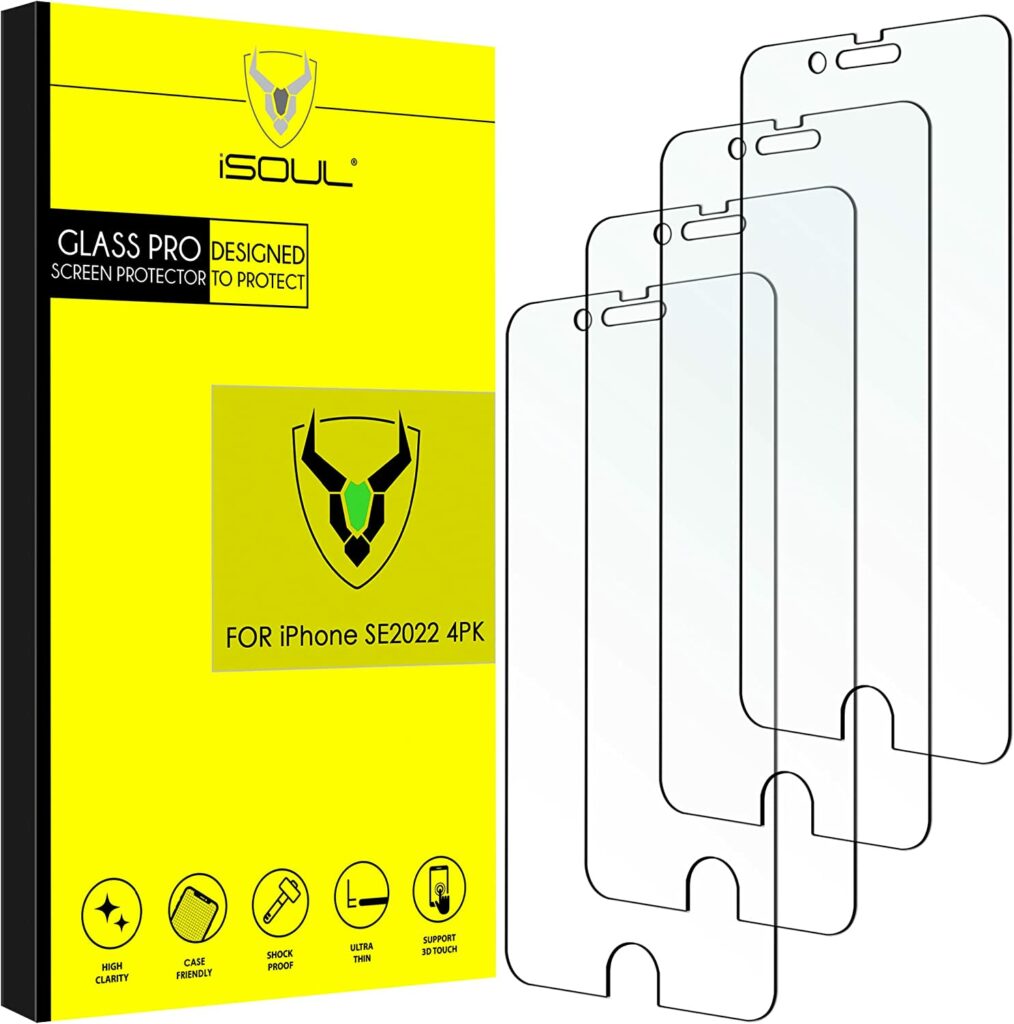 With its super-thin 0.33mm thickness, this screen protector is perfect for iPhone SE 2020, iPhone 8, iPhone 7, and iPhone 6s.
The coating is oleophobic, transparent, hard, responsive, accurate to the touch, and has perfect adhesion. With a scratch-proof hard coating [9H hardness], the glass resists objects such as knives and keys. Yeah, you can even scratch it with a diamond, and it won't budge!
Before installation, make sure dust is removed and the installation is appropriately aligned. You don't have to worry about bubbles. Just enjoy your screen as if it wasn't there. A cleaning cloth and sticky dust remover ensure that there are no bubbles or dust during application.
Buy iSOUL [4 Pack] Screen Protector for iPhone for $5.99 here
5. JETech Screen Protector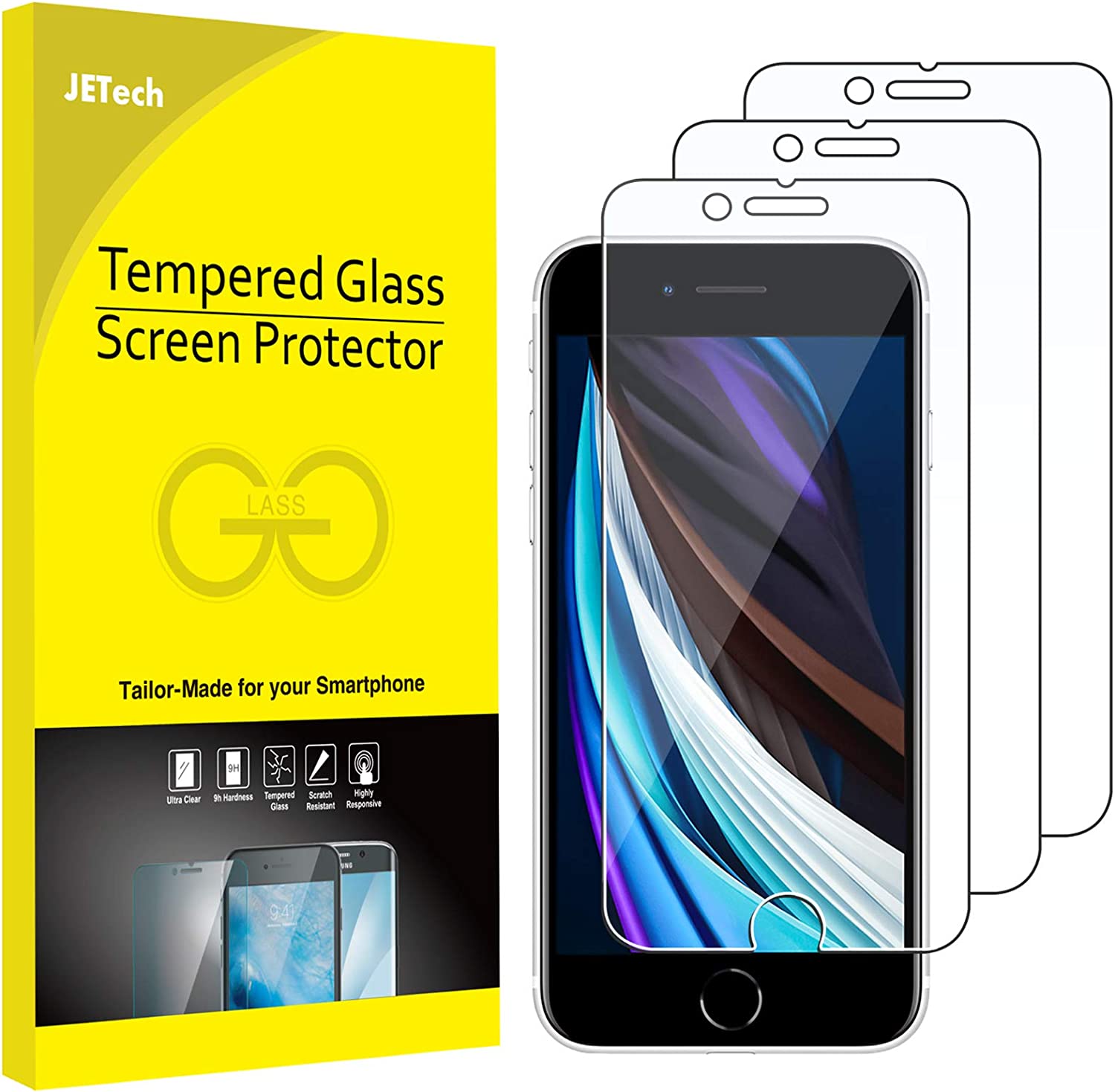 There are many screen protectors on the market, but JETech's are among the simplest and cheapest. Plus, they're so thin you won't even know they're there, just like your ex.
Since they're tempered glass with 9H hardness, they provide maximum protection from scratches and daily wear and tear while keeping the original beauty of the screen.
In addition, these are tough, fingerprint-resistant, and case-friendly, so if you want an affordable yet highly capable option, these appear to be a good choice.
It is also easy to install. Just make sure you read the instructions so you don't end up in a big mess.
Buy JETech Screen Protector for $7.19 here
6. UNBREAKcable Shatterproof Tempered Glass Screen Protector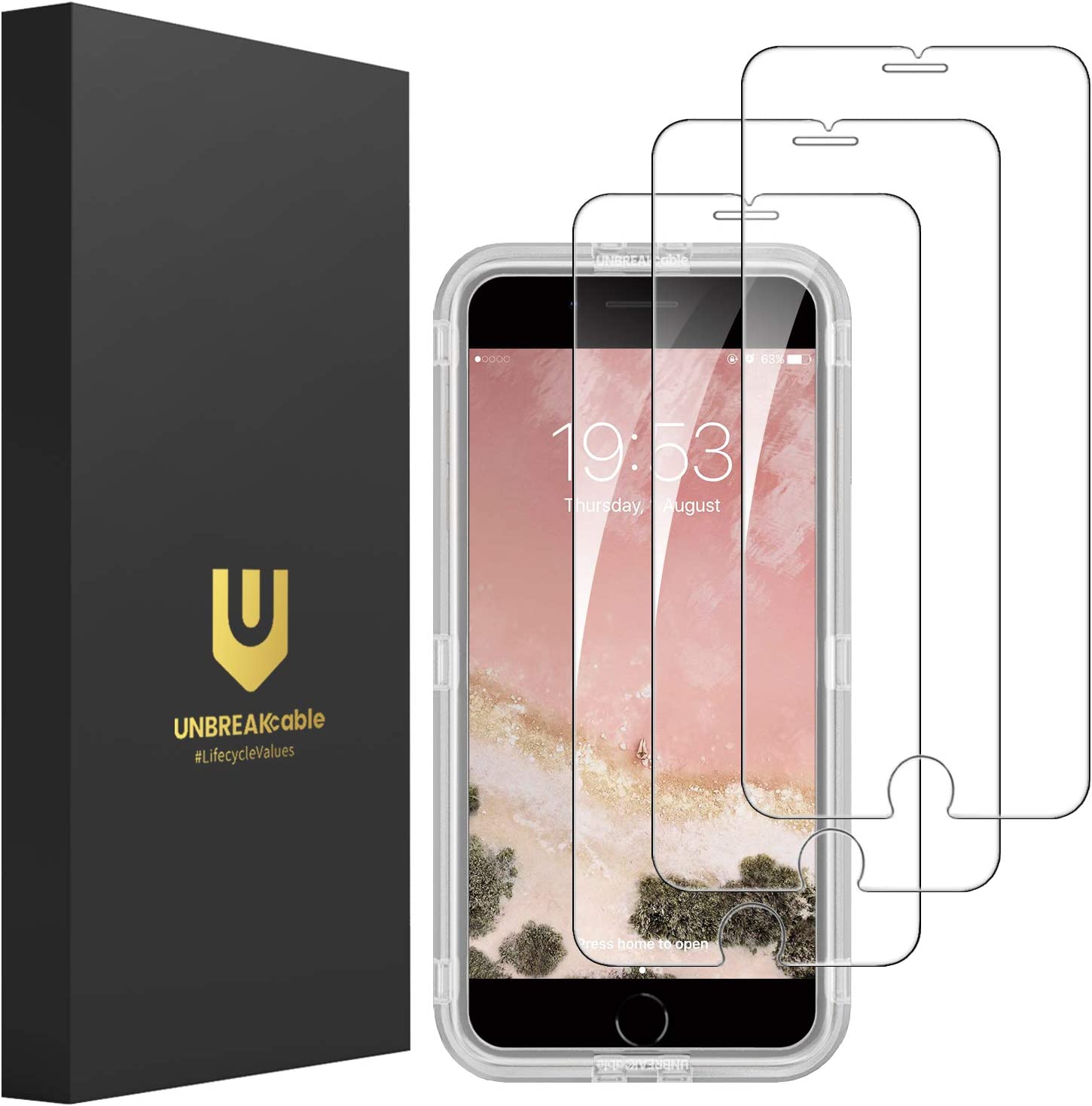 This 9H tempered glass is twice as strong as ordinary tempered films, making it highly durable and scratch-resistant. The screen won't break even when dropped from 1.8 meters onto a rock-like surface.
Plasma coatings are applied to the protective film, allowing it to be easily cleaned and preventing fingerprints. You can't resist the perfect crystal spotless experience.
Despite its rigidity, this iPhone SE 2022/SE 2020/iPhone 8/7 glass screen protector is ultra-thin. A thin 0.01-inch thickness makes its presence almost impossible to feel on an iPhone screen. It restores the best visual feast brought by the iPhone screen by making the screen 99.9% high-density glass, which brings 100% clarity improvement. You will also receive a sensitive response thanks to the silky-smooth touch feeling.
Buy UNBREAKcable Shatterproof Tempered Glass Screen Protector for $16.99 here
7. Ailun Screen Protector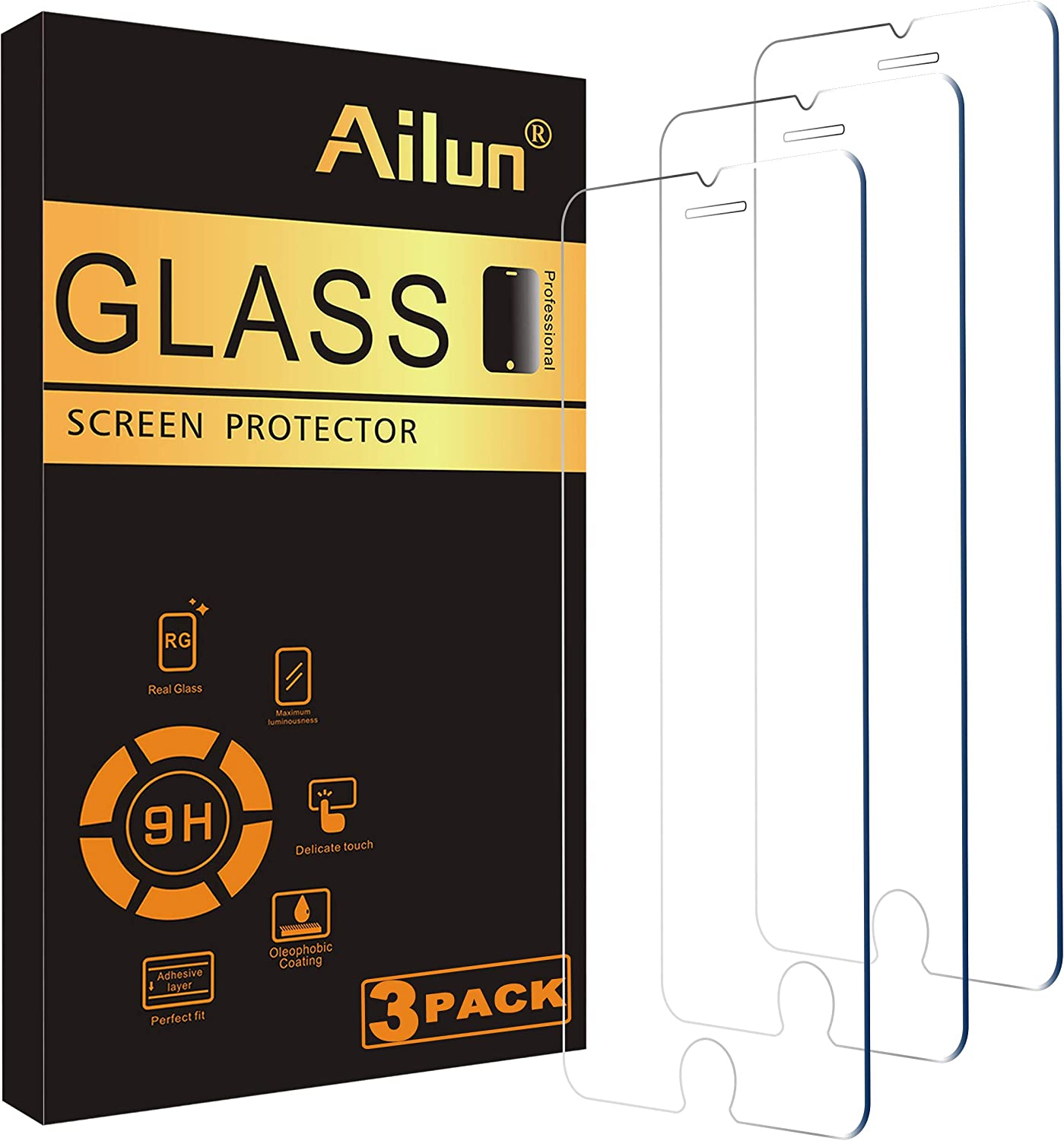 Due to the curvature of their screens, the iPhone SE 2020 2nd/2022 3rd Generation, iPhone 8,7,6s,6, 4.7-Inch, screens could not be entirely covered by screen protectors, which would peel over time and shorten the service life of the screens. With Ailun's screen protector, you can cover the maximum surface area of your flat screen while maintaining outstanding durability. This iPhone SE 2nd/3rd Generation iPhone 8/7/6/6s(4.7 Inch Screen) has ultra-clear rounded glass with 99.99% touchscreen accuracy.
99.99% high-definition non-slip screen coating prevents fingerprints from leaving sweat or oil residue.
This is a brand-new phone with precision laser-cut tempered glass, no front camera cutout, exquisitely polished edges, and rounded 2.5D corners.
Buy Ailun Screen Protector for $6.98 here
8. RoosterCo Privacy Screen Protector for iPhone SE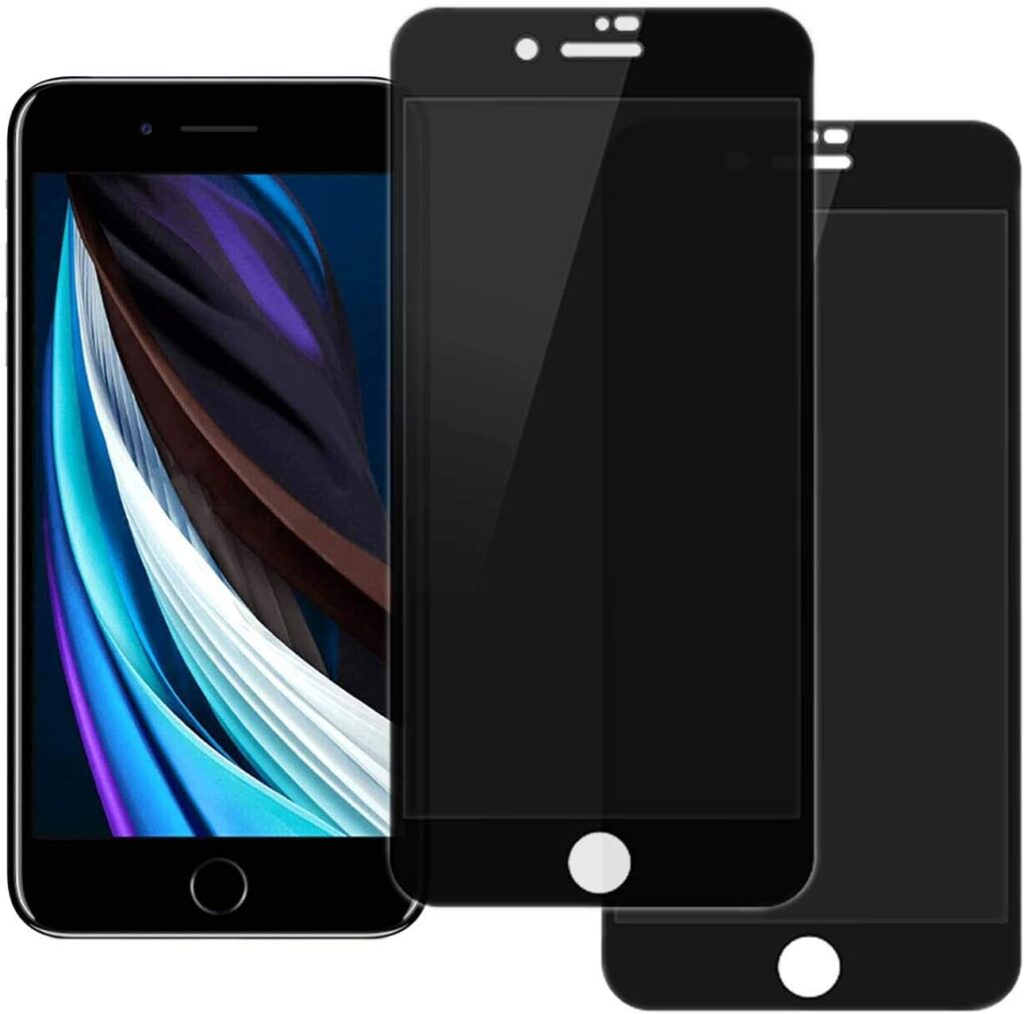 Explicitly designed for curved glass on iPhone (4.7 inches), it covers the entire screen, even the curved edges. It offers complete coverage and edge-to-edge protection to absorb most impacts.
The screen is only visible to people directly in front of it, so it is an excellent choice to use while on the bus, elevator, metro, or any other public place.
A Rooster privacy screen protector is made of high-quality, premium tempered glass that offers greater clarity than other privacy screen protectors.
The colored frame makes an alignment to the screen relatively easy. Plus, the bubble-free adhesive has a magnetic adsorption feature. So you won't have to worry about installation!
Buy RoosterCo Privacy Screen Protector for iPhone SE for $6.98 here
That's All, Folks!
So, that was our list of the highest-quality screen protectors for your iPhone SE 3! You can buy any of the above-mentioned products to keep your screen free from damage and scratches. It's important to regularly clean your screen protector to ensure it continues to work correctly.
Also, make sure to follow the instructions included with the screen protector for proper installation. Finally, double-check that your screen protector is compatible with your phone model before purchasing.
Until next time!