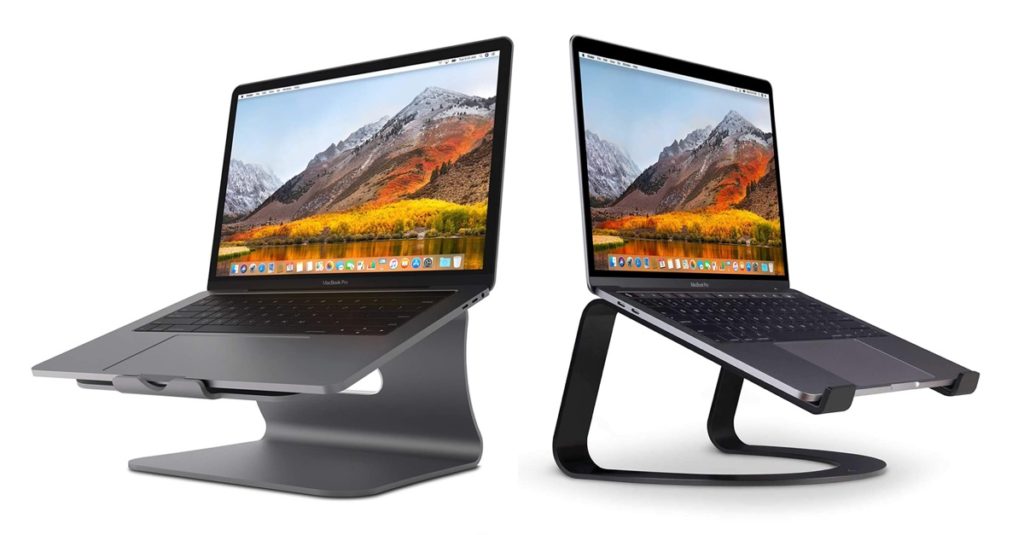 If you are in the market to buy the best MacBook Stands in 2023, then we have the perfect list for you.
Here you will find 6 amazing MacBook stands that are functional, good-looking, and offer the best features.
A MacBook is a must-have for those who use their MacBook as their main desktop computer.
By putting your MacBook on a desk stand you can not only use an external monitor, keyboard, and mouse in a better way but with many stands you can even use your MacBook's display as a secondary monitor.
Looking for the best desk pads for your Mac desk setup, then check these options here. You can also find the best desk lamps for your Mac desk here and best LED light strips for desk here.
Best MacBook desk stands for 2023
Here are some of the best MacBook desk stands that you should buy in 2023.
1. Bestand Cooling Laptop Stand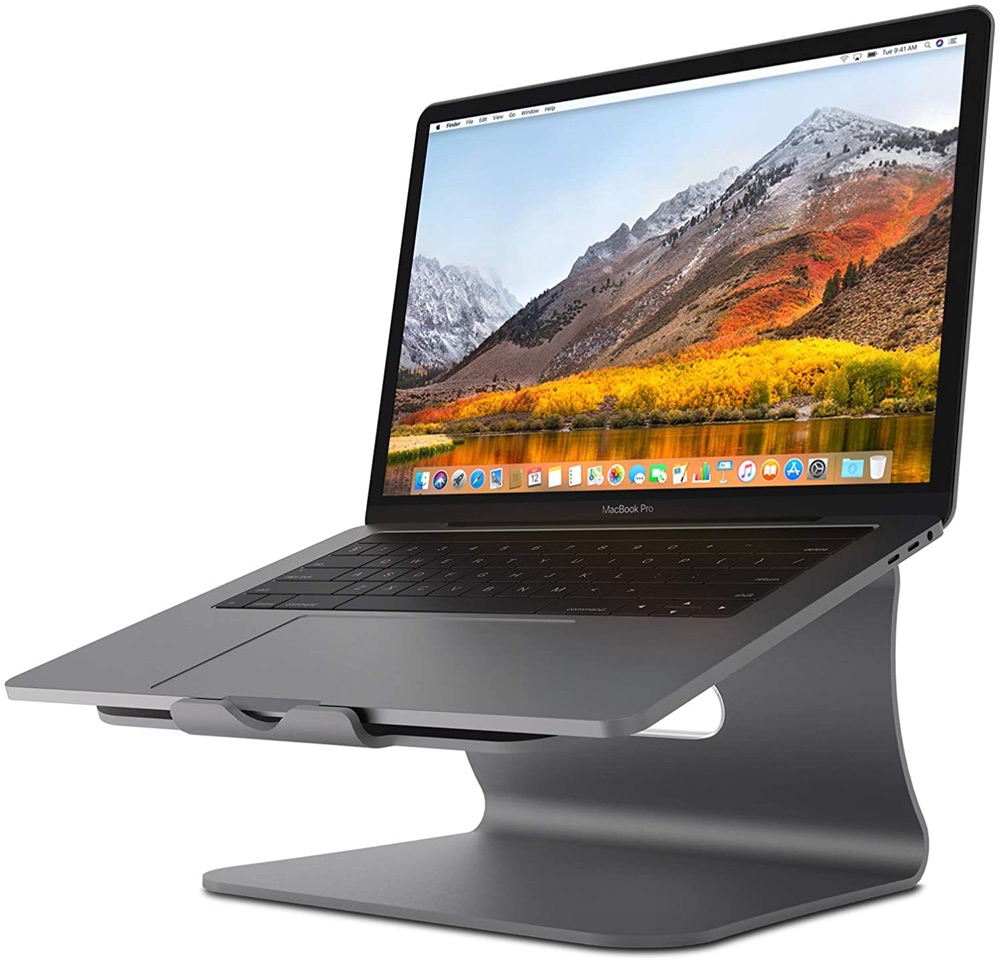 Bestand is the best MacBook stand made up of 7000 series aluminum alloy the material which is used in aerospace equipment.
It is more wearable and durable than other laptop stands. As the material goes through oxidation treatment, laptop stands from Bestand are better corrosion-resistant, wearable, and hard.
This stand has the capacity to bear 66 pounds load and is highly stable. The best thing is that it keeps your laptop screen at the right height and gives your eyes a perfect angle to view the screen.
Moreover, it becomes easy to type and you can sit with the right posture giving relief to your back, neck, and shoulders.
The silicon pads on the surface, front side, and bottom make sure that your laptop stays in its place firmly. The ventilation-oriented design keeps your laptop cool. 
Pros:
Sleek aluminum design
Corrosion resistant
Bent posture for easy typing
Premium look and feel
Cons:
Lacks height and angle adjustment

Takes up considerable desk space
You can buy this MacBook desk stand for $38.99 at the link below.
2. Twelve South Arc MacBook Stand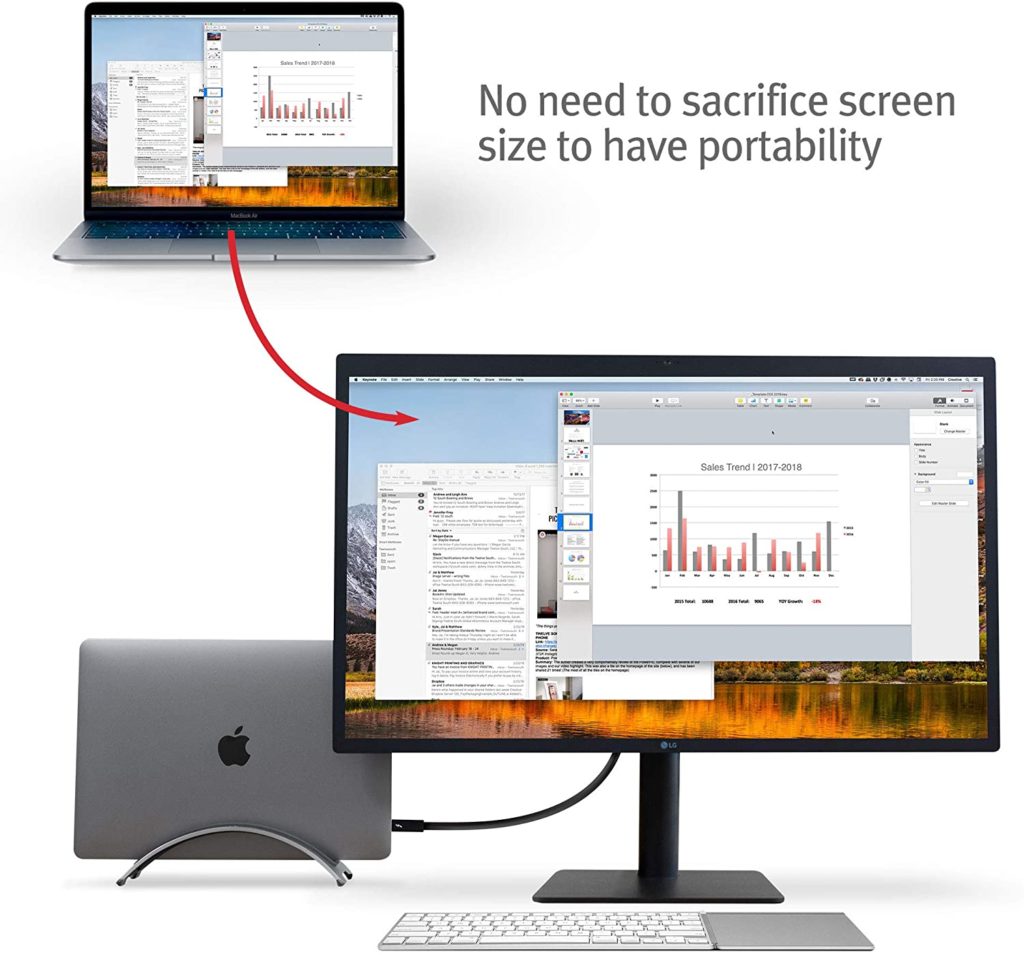 This best MacBook stand is specially designed for MacBook. Its sleek, smooth, and low-profile design is a perfect space-saving solution for your workstation.
You can connect the external monitor with a mouse and keyboard, and there you have a perfect luxury desktop.
The integrated cable organizer keeps your cables accessible and tidy and prevents them from falling when disconnected.
The arch saves your laptop from spills and makes your table less cluttered and organized. Moreover, the modern and edgy design smoothly blends with the décor.
You can fit in your MacBook measuring 13" to 16" with USB-C models.
Pros:
Unique design
Takes up less space on the table
Protects device from spills
Can fit any MacBook size
Cons:
Can only be used with MacBook's lid closed
Pricier than other options
You can buy this Twelve South BookArc for MacBook for $47.68 at the link below.
3. Rain Design mStand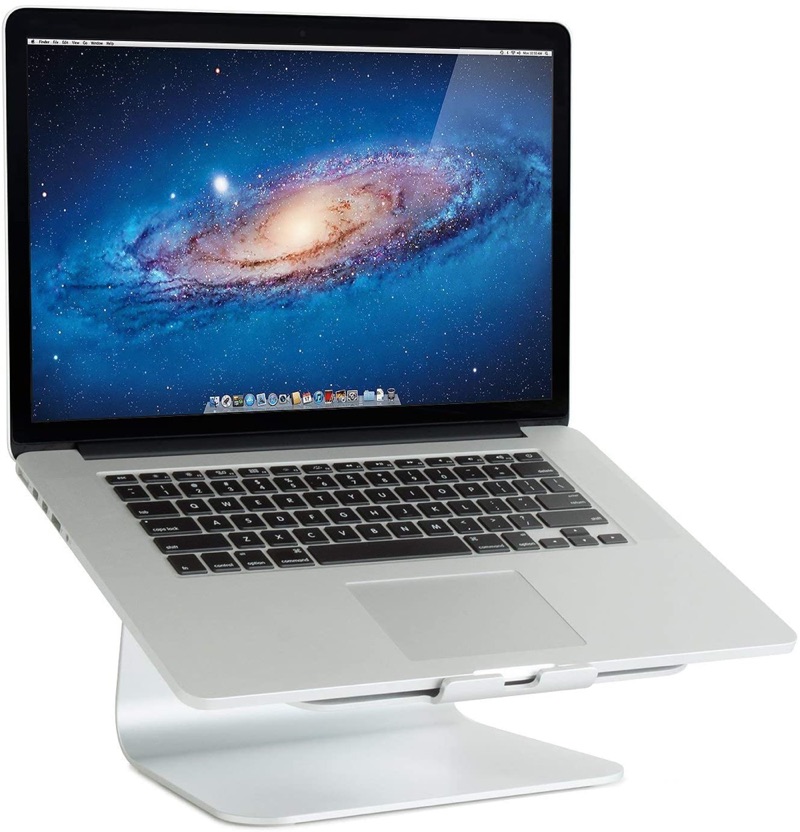 Next up on our list of best MacBook stands you can buy in 2023 is a stand from Rain Design. mStand is Rain Design's best MacBook stand that gives rise to your laptop to just the right eye level.
This is a single-piece aluminum laptop stand that offers a solid base and stability while keeping your laptop cool. The cable organizer hole routes the wires neatly and holds them together when they are disconnected.
The stand comes with a silver anodized and sand-blasted finish that perfectly matches your Apple MacBook.
This stand is also compatible with the Apple MacBook Pro, MacBook Air, and other laptops having a depth of fewer than 10.4 inches.
Pros:
Brings the MacBook to the user's eye level
Supports both open and closed MacBook modes
Solid and sturdy aluminum design
Cable organizer hole
Cons:
Takes up a lot of space on the table
You can buy this MacBook stand for $39.90 at the link below.
4. Twelve South Curve Laptop Stand
This ergonomic laptop stands from Twelve South is the best MacBook stand 2023 with an anti-slip body.
It holds your laptop firmly and the bent arms keep it at the right viewing angle. The curves raise your laptop 6 inches higher so that you don't need to bend your neck and shoulders to view the screen.
You can pair your laptop with a keyboard and mouse and turn the stand into a comfortable desktop setup. You can also use a monitor to have dual-screen functionality.
With this laptop stand, your MacBook will never get heated. The better airflow curves expose 70 percent of your laptop's base and make sure it gets optimal cooling. It's a single piece of bent aluminum adds style and modernity to your table. 
This stand is compatible with laptops measuring 11" to 17". It is equally good for other laptops such as Dell, Lenovo, Asus, HP, etc., with the same measurement.
Pros:
Creative and modern-looking design
Anti Slip body
Support for both open and closed MacBook modes
Heat ventilation with 70% of MacBook's base exposed
Cons:
Height and angle can't be adjusted
Takes up more space on the table
Pricey
You can buy this MacBook stand for $52.79 at the link below.
5. Orionstar MacBook Stand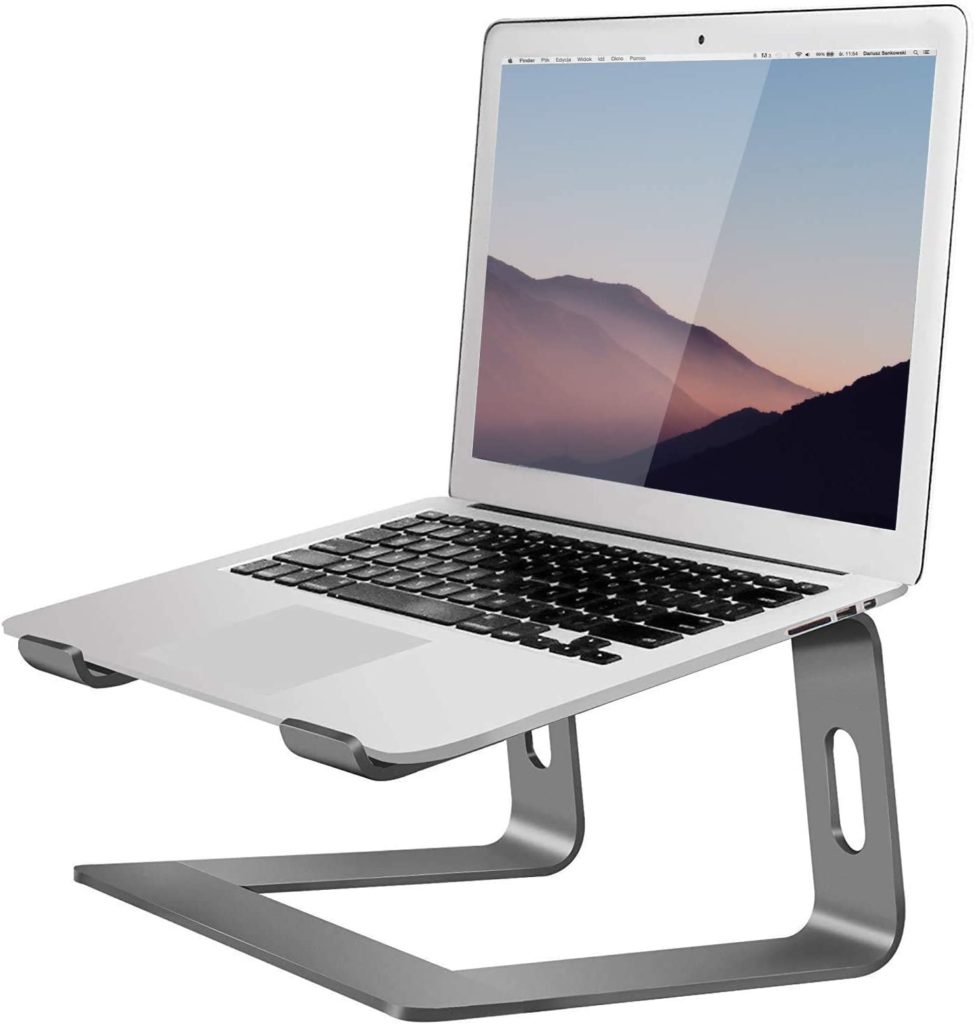 Orionstar portable aluminum MacBook is an adjustable MacBook stand with an ergonomic riser. The riser elevates the screen and gives you a perfect eye level and keeps your posture right.
You don't have to worry about eye strain, neck, shoulder, or back pain. This is on our list of best MacBook stands for 2023 mostly because of its stylish and practical design.
The design is sturdy and protective made up of 5mm aluminum alloy supporting weight up to 4 kg. The large rubber pads on the top surface keep your laptop stable and in place.
Concerned about heat dissipation? The aluminum alloy keeps your laptop cool. The open design exposes most of your laptop's body meaning there is great ventilation and hence, a zero chance of overheating!
Another good feature about Orionstar's laptop stand is that it is detachable and easy to install. You can easily detach it into three parts and store it easily.
Pros:
Detachable design
Aluminum design and support for 4KG weight
Keeps MacBook Cool
Cable cutout
Cons:
Height and angle can't be adjusted
Takes up more space on the table
You can buy this MacBook stand for $17.99 at the link below.
6. Nulaxy MacBook Stand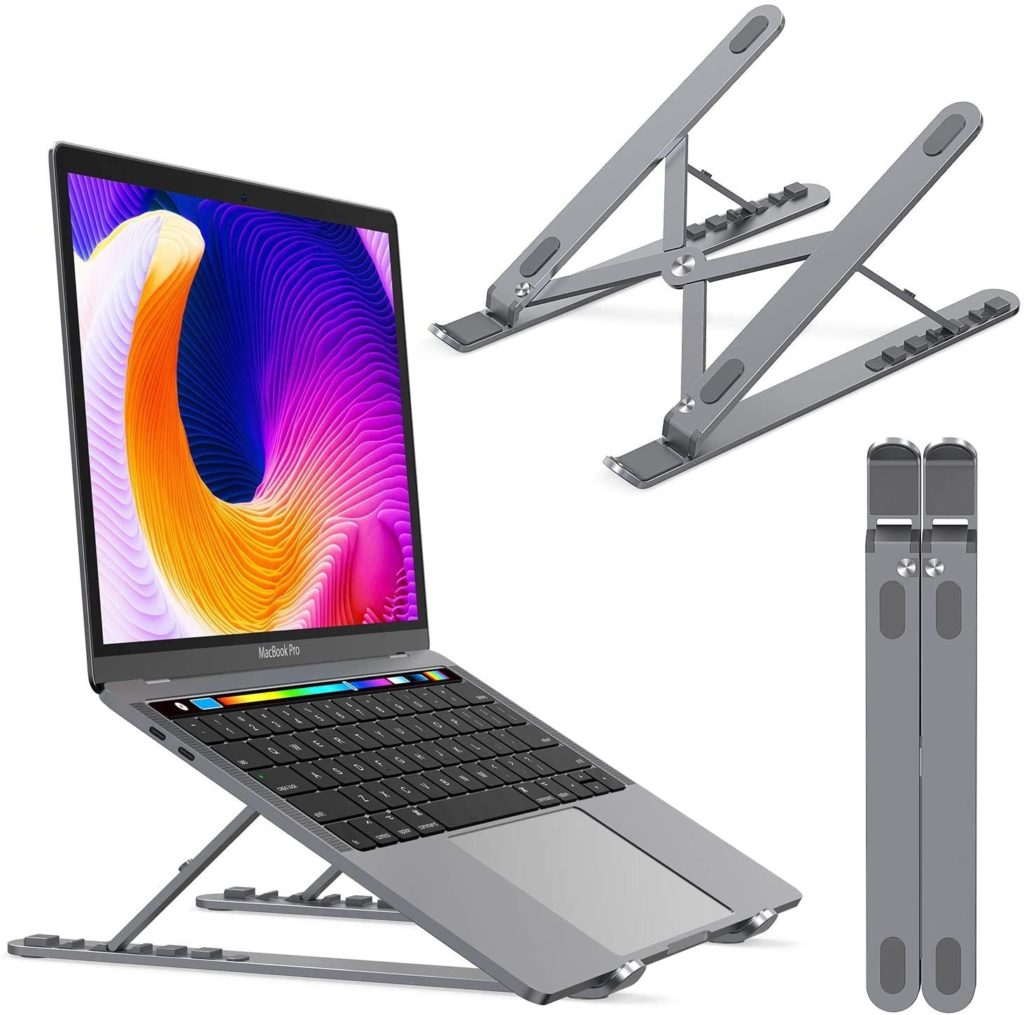 Nulaxy's laptop stand is the best MacBook stand for 2023 that fits nearly all laptops with sizes between 10 inches to 17.3 inches.
This adjustable MacBook stand comes with six modes of height adjustment, raising your laptop up to 5.34 inches off the table.
This mindful height adjustment protects your eyes from strain and keeps your body posture at the right angle.
Its foldable, lightweight, and portable feature makes it easy to carry anywhere and can fit in your travel luggage.
The body is quite strong and solid that can easily support weight up to 20 kg. Moreover, its protective rubber pads on the front edge prevent your laptop from sliding or falling.
Also, the design makes sure your laptop stays cool and well-ventilated. 
Pros:
Angle adjustment
Six modes of height adjustment
Foldable design i.e. great for travel and carrying in a backpack
Can support up to 20KG weight
Keeps MacBook cool and ventilated
Cons:
Low angle
Lack of height adjustment
You can buy this MacBook stand for $18.99 at the link given below.
Now that you have a few options to choose the best laptop stand, pick the one that suits your style and mood. Let us know in the comments below which laptop stand you liked the most.
There you go folks, these are the best MacBook Stands for 2023 that you can consider buying. What are your thoughts about these options? Let us know in the comments below.
For more accessories for your Apple MacBook, stay tuned to iOSHacker.com.
More awesome accessories:
Disclosure: iOSHacker may receive a commission if you purchase products through our affiliate links. For more visit our privacy policy page.