If you are looking for best desk pads for Mac in 2022, then you have come to the right place. Here you will find 6 of the best Mac desk pads that you need to consider before buying.
Every Mac desk setup needs a desk pad. A good desk pad isn't just great for aesthetics but it can also provide a soft surface on your desk to lay your hands on or place items like your smartphone and other small gadgets. Not to mention you can better organize your desk and bring more function to your desk with a desk pad.
In this list you will find some of the best desk pad options that are available for Mac users.
Best Desk Pads For Mac In 2022
Here are the best desk pads for Mac in 2022…
1. Gogloo Desk Pad for Mac (Black)
Gogloo desk pad is the best desk pad for Mac. It protects your desk from scratches, stains, heat, spills, and scuffs with its durable leather material. You can also use it as a random desk mat or mouse pad. Its smooth and finished surface makes writing and typing easy.
Being a double-sided pad, you can use the other side when one side stops working. The best thing about this desk pad is that it is waterproof, oil-proof, and very easy to clean. In order to clean it, make sure you use a piece of cotton fabric and wipe the surface with water. This desk pad for MacBook is a perfect gift idea for 2022! 
*When buying this product, you get a thirty days' money-back guarantee and a six-month replacement. 
You can buy the Gogloo Desk Pad for $8.99 at the link below.
2. ANNA STAY Large Leather Desk Pad (Brown)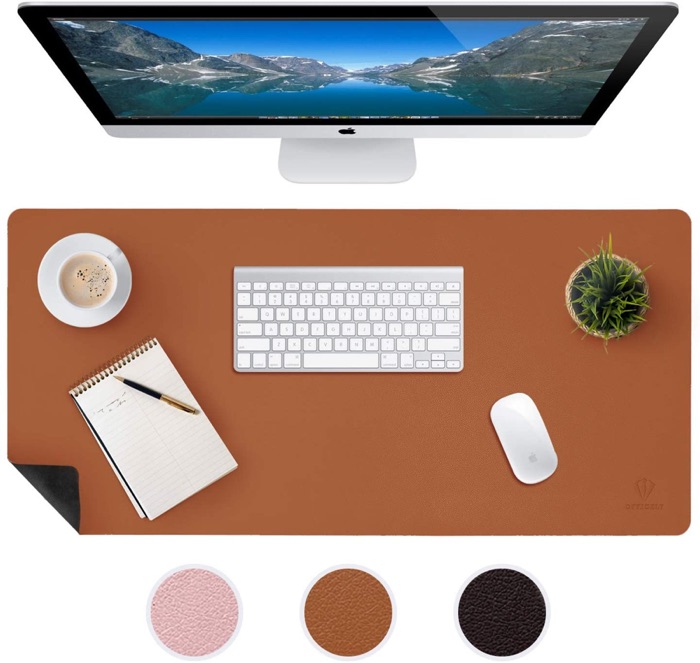 This large and waterproof pad is one of the best desk pads for 2022. It organizes your work station as well as a study table and makes it look clean and tidy. 
Its 31.5"x15.7" size is large enough to cover your workspace comfortably. Its durable leather protects the wooden or glass surface from abrasions, scratches, and heat. The upgraded desk pad for Apple is more stylish, fashionable, and durable than other traditional desk pads. This new desk pad ensures your productivity is enhanced and smoother than before.
With its 9 different colors, you can match your table with your office décor and color scheme. Moreover, you will find different colors but the same material on both sides. Both of the sides are good to use as a mouse pad or writing pad. Its strap helps you roll up the pad making it easy to carry and store.
If you want a pad with a desk blotter feature, this full desk pad is the right choice for you. Moreover, its water and heat resistance features make it last longer while giving maximum protection to your desk. Its high-quality leather is odorless and gives a professional finish to your workspace.
Be it your keyboard, mousepad, PC, or other office tools, this 35.4″x17″ large desk pad is simply a perfect tool to hold everything in its place. The anti-slip surface makes your writing experience an exceptional one.
*You will get a one-year warranty after purchasing ARITEE desk pads.
You can buy the ANNA STAY Large Leather Desk Pad for $19.97 at the link below.
3. TOWWI Dual Sided Desk Pad for Mac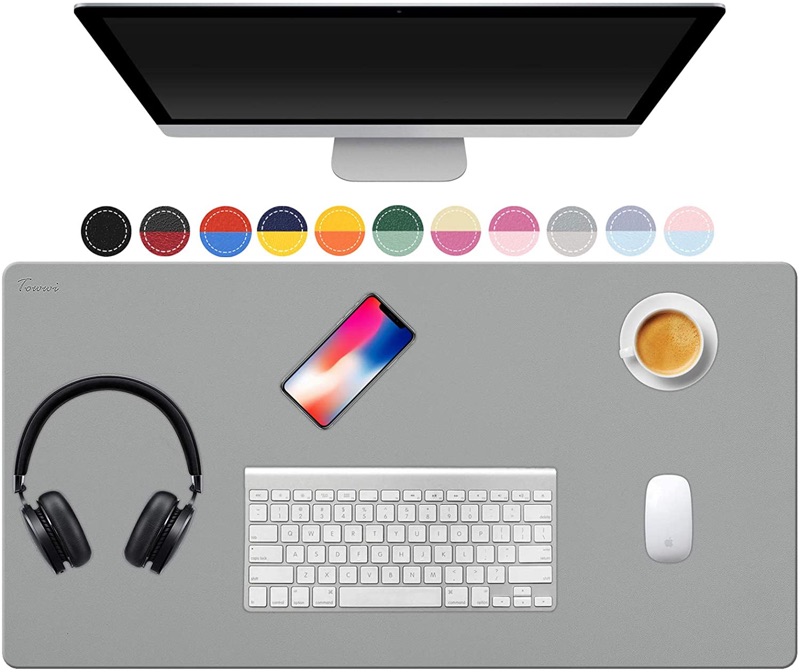 TOWWI's leather, waterproof desk pad is a full desk pad that accommodates your computer, keyboard, mouse, and office tools. It comes in 11 different colors to ensure it suits your style and mood. Use this pad on both sides to make the best out of it.
You can also protect your table from spills with this water-resistant desk pad. You simply need to wipe the pad with a wet cloth to clean it. This one of the best desk pads for 2022 made up of leather protects your table with scratches and is long-lasting. If you want an ergonomic desk pad, TOWWI's
The TOWWI Dual Sided Desk Pad for Mac is available for $13.99 at the link below.
4. Satechi Leather Deskmate for Mac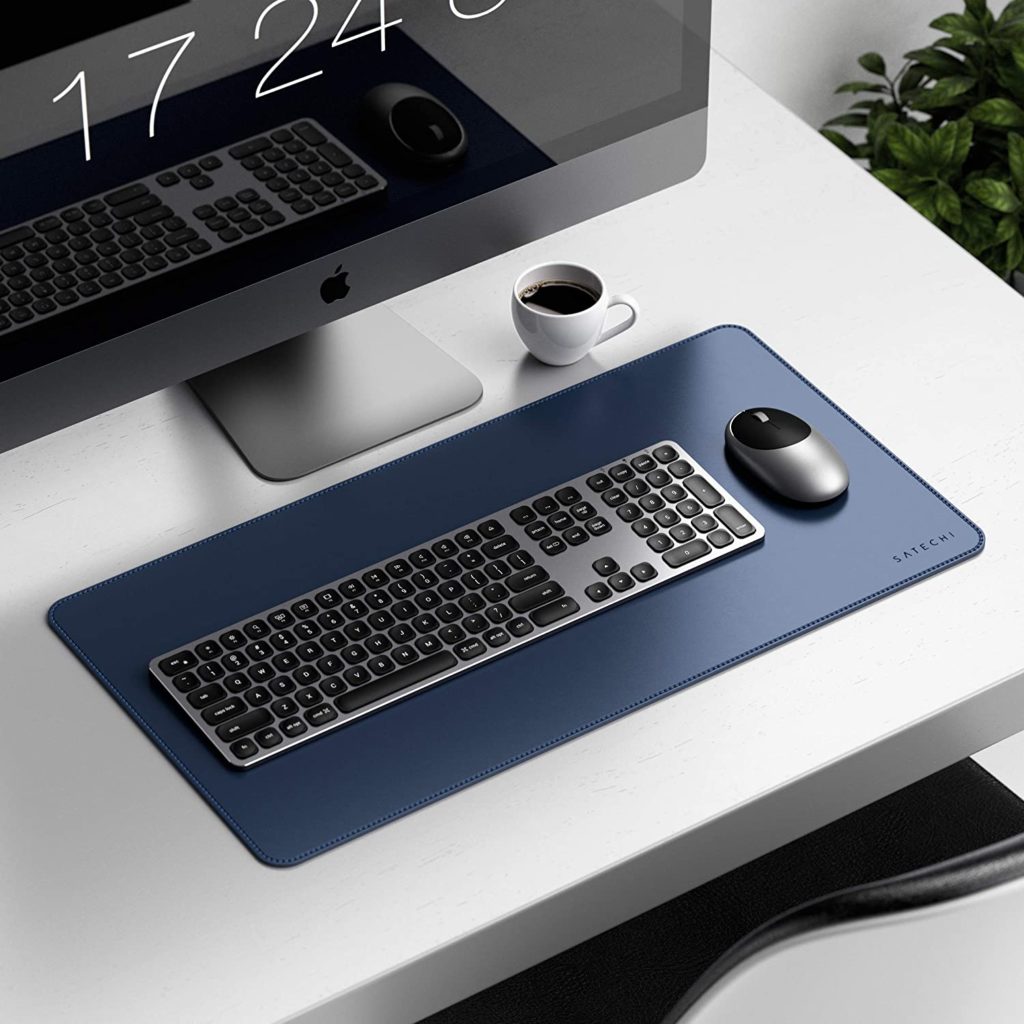 Satechi's high-quality leather desk pad is one of the best desk pads for 2022. The multi-functional desk pad for Apple enhances the modernity of your work station, and perfect to serve as a desktop blotter. Moreover, it is also suitable to use as a writing pad or mouse pad. This desk pad also gives your workstation a modern look. 
Its sturdy surface prevents the objects from falling or slipping. Each color of Satechi's full desk pad is excellent for a tasteful choice!
It is available for $39.99 at the link below.
5. Nordik Leather Desk Mat for Mac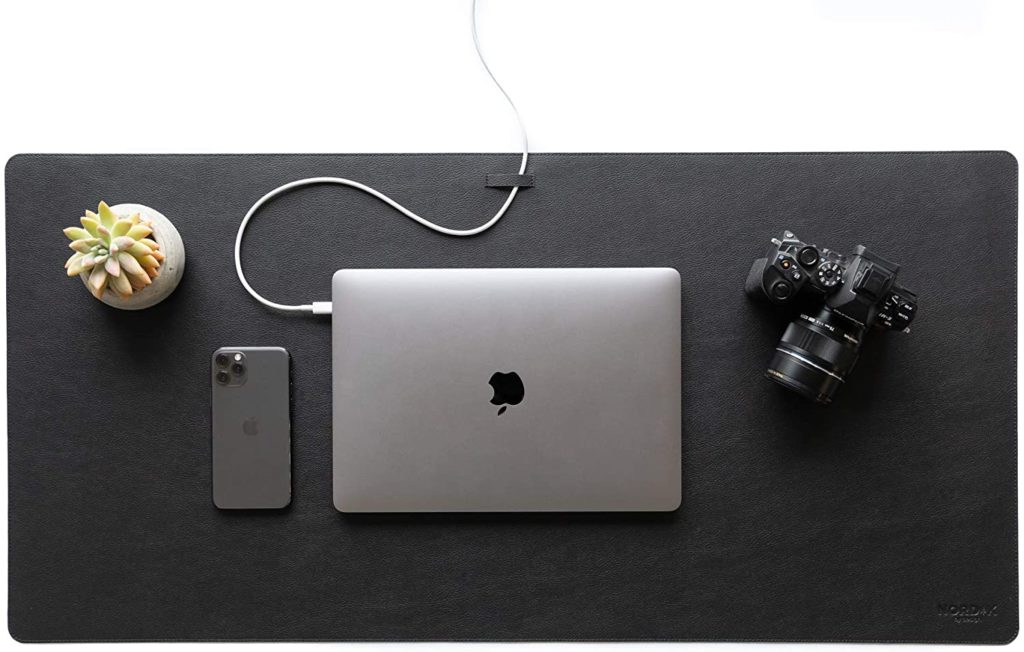 Nordik's whopping 35×17 inches mat is a large full desk pad that covers your whole table. It comes with Vegan PU leather, with a fine texture, look and feel. The sturdy and non-slip suede gives an extra grip and sober look to your table. The loop at the edge serves as a cable organizer to keep your desk tidy. Whereas, it's ergonomic built is a source of relief to your elbows, forearms, and wrists.
This sober desk pad for MacBook prevents your computer and other tools from falling down. Also, it's scratch and moisture resistant surface ensures your table remains free from any stains, or scratches. The pebble black desk pad is ideal for any home or office workstation, study table, or other similar uses.
You can buy the Nordik desk mat for Mac for $24.97 at the link below.
6. French Koko desk mat for Mac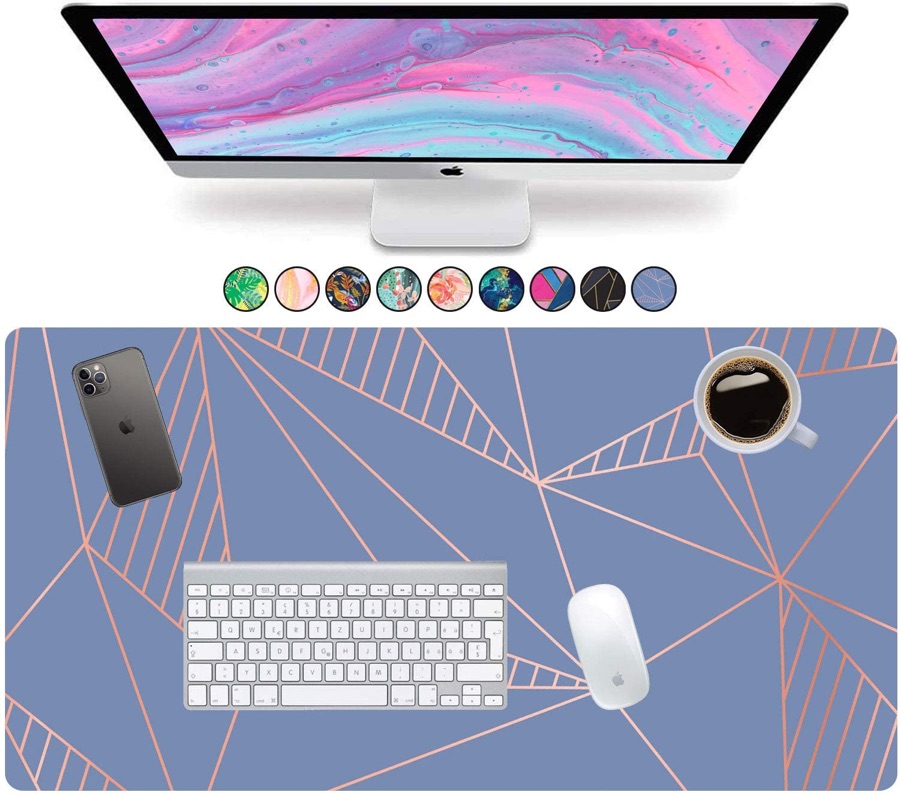 Koko's full desk pad is one of the best desk pads for 2022, ideal to give a personality to your office and home workstation. This 31×15 inches desk pad comes with a stylish and cute bag, and you can gift it to anyone. This large mouse desk serves as a BIG mousepad giving your mouse complete mobility. 
Be it your food, mouse, cell phone, or any decoration piece, this mouse pad for Apple keeps your desk comfortable and pretty. The funky color scheme of each desk pad comes with the highest quality rubber and cloth. The stitched edges and non-slippery surface ensures your desk pad and other stuff do not move or slips off the table. When it comes to cleaning, you simply need to do it with a wet cloth.
You can buy this desk mat for $16.99.
Interested in trying a desk pad for Apple? Let us know in the comments which one from the list you liked the most? Don't forget to share this with your friends and family.
For more accessories, stay tuned to iOSHacker.com.