The best iPhone apps to find cheap flights help you score a deal with only a few taps on your iPhone.
Travelers have had a tough time over the last few years. In the first place, the COVID-19 pandemic shut down most travel around the world. The price of fuel and inflation have risen dramatically this year. The combination of a labor shortage and higher airline costs have made airfares more expensive.
Fortunately, in spite of rising prices, you can still get a great deal on your next vacation.
These best apps for cheap flights offer exciting features including price drop notifications, search for cheaper travel times, and special discounts that are hard to resist.
Already booked your flight? Then check out these Best Flight Tracking Apps For iPhone Users.
After you have booked your flight with these apps, you can use one of the best hotel booking apps to book your affordable stay.
Best Cheap Flight Apps For iPhone In 2023
Being a frequent traveler, you can try any of the following apps to book your next flight at an affordable price.
1. Skyscanner – travel deals
Using Skyscanner, you can find, compare, and buy cheap flights. With search, you can check out millions of flights from hundreds of different airlines at once. You can rest assured that you will get the best deals because this is an independent, unbiased app.
From the app, you will be transferred to a travel agent or airline to make your purchase. The chart and calendar views allow you to easily identify the cheapest months and days to fly, and the Everywhere feature displays reasonable prices for all destinations.
Besides accessing your recent searches, you can earn frequent flyer miles and sync across all devices.
If you are traveling to a faraway destination on your trip, renting a car is the most practical option. This application lets you compare the prices of the main companies offering this type of service. This can all be done without commissions to ensure that your reservation is not more expensive. In addition, if you lack ideas of where you want to travel on a trip, you can find a wide range of options using the app.
Install Skyscanner – travel deals from the App Store now!
2. CheapOair: Cheap Flight Deals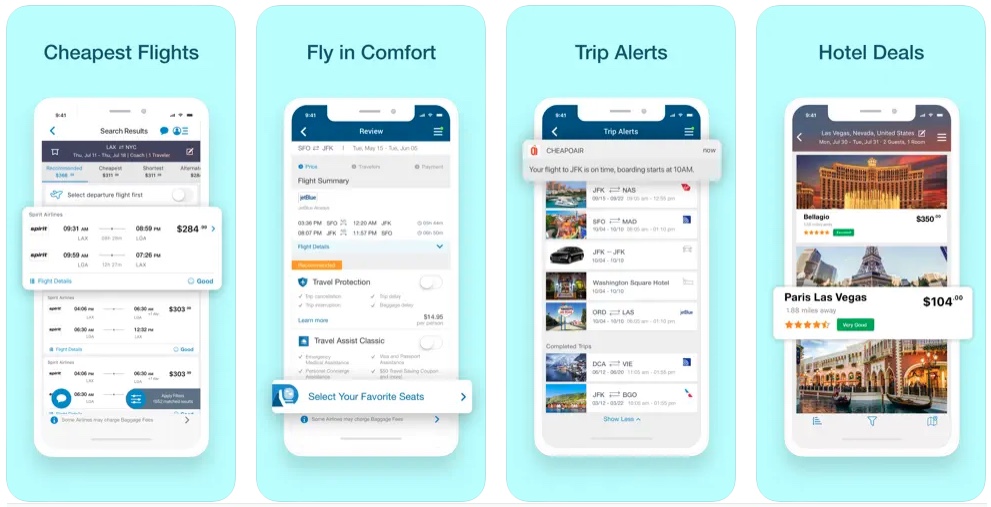 With this app, you can make any trip a memorable one.
Using CheapOair, you can find cheap flights at the right time. Get notified when the price drops on a flight by keeping an eye on it!
It's like having your own super-fast, all-knowing travel agent that finds you the perfect time to book flights from more than 500 airlines.
Take advantage of this app by downloading it today and:
Know the RIGHT time to fly and buy ticket!
Watch a trip to get price alerts.
Purchase securely and quickly on your iPhone or iPad.
Get extra savings in your wallet when you FLY.
Install CheapOair: Cheap Flight Deals from the App Store now!
3. Priceline – Hotel, Car, Flight
Finding the perfect flight with this app is easy as pie.
The Priceline – hotel, flight, and car app offers exclusive hotel deals, discounts on rental cars, and cheap flights all in one place.
Using the City, Address, or Point of Interest search, you can find the most conveniently located hotels and rental cars. Searching more will expose even more deals tailored to your preferences.
The My Trips feature lets you easily access and modify your trips wherever you are. Are you looking for an easy way to check your bookings on the go? This app is the answer! Travel and reservation information will be right at your fingertips, regardless of whether you booked on your computer or not.
Install Priceline – Hotel, Car, Flight from the App Store now!
4. eDreams: Book cheap flights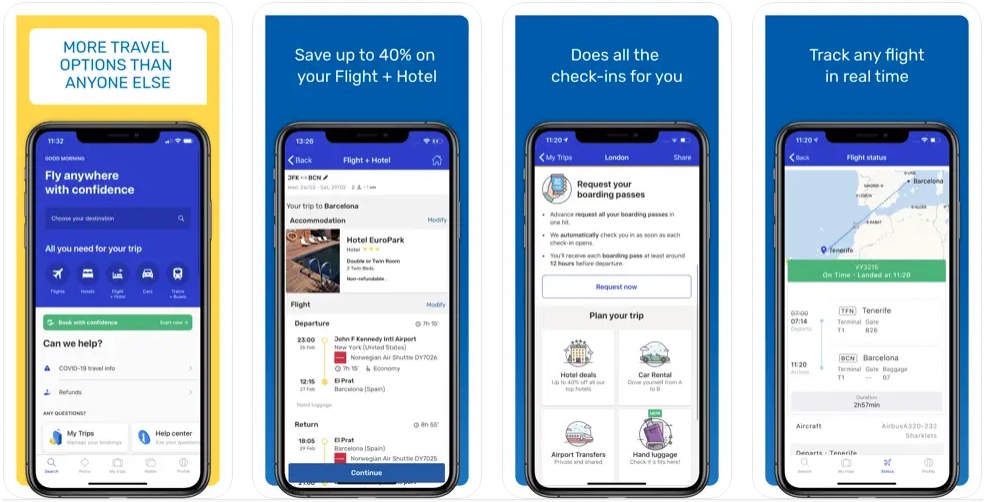 The eDreams: Book cheap flights app fo ripHone lets you book cheap flights, hotels and car rental all in one app. With this app you can search among 600 airlines and find the best deal for your destination and back!
This app lets you search from some of the best known budget carriers including Ryanair, Easy Jet, British Airways, United Airlines and many more. After finding your ideal flight you can buy the ticket and download your boarding passes directly from the app.
In addition to that eDreams app offers flight status tracking in real-time so you don't miss your flight on the travel date.
You can download the eDreams: Book cheap flights app from the App Store for free.
5. Cheapflights: Flights & Hotels
Are you looking for a staycation? Explore nearby attractions at great prices.
Browse 100s of travel sites to find amazing deals. What's even better is that the App is completely free!
Using Cheapflights, you can search, compare and book cheap flights, hotels, and rental cars from hundreds of airlines, travel agents, and accommodation and car rental providers worldwide. This is an ideal App for savvy explorers who want to find the cheapest flights, hotels & car rentals at their next travel destination.
You can also be one of the millions of people who find cheap tickets using this app every year. The most affordable flights and deals are just a download away, whether you are looking for last-minute flights, domestic flights, international flights, or cheap airline tickets.
By using the flight comparison feature, you can compare flights easily and for free. All you need to do is search, filter, and book your trip.
Install Cheapflights: Flights & Hotels from the App Store now!
6. Justfly.com Book Cheap Flights
You can book cheap flights at any time!
You can find and book the best flight deals, hotels, and cars with Justfly.com! Featuring over 150 airlines, 900,000 hotels, and 30,000 car rental locations, Justfly.com has the most affordable cheap flight deals.
With the App, you can compare thousands of flight options with over 150 airlines to find the cheapest deals. It's guaranteed that Justfly.com will provide you with the best prices since the system is continuously updated. Once you make your reservation, you will receive your e-ticket immediately.
In addition to booking flights, you can also stay at hotels you can trust during your trip. You can also rent a car when you are exploring new places at your travel destination. Well, to cut the long story short, this app is packed with incredible features!
Install Justfly.com Book Cheap Flights from the App Store now!
Final Verdict
You can find several applications on the App Store that can help you find the lowest-priced flights. Cheap Flights is an ideal app to find cheap flights anywhere. The app is a suitable choice if you're looking for a flight without any additional features. 
Using its advanced search engine, you can compare prices between different transport companies offering travel options to a variety of destinations, including international ones.
However, if you plan to book a hotel as part of your trip, Skyscanner is an ideal application for doing so. There are many filters available to help you choose intelligently what to do during your vacation. Furthermore, you can select from a variety of hotel chains to maintain a competitive price for your stay. As an added option, you can also rent a car during your vacation.
So, which app would you install? Let us know in the comments below.