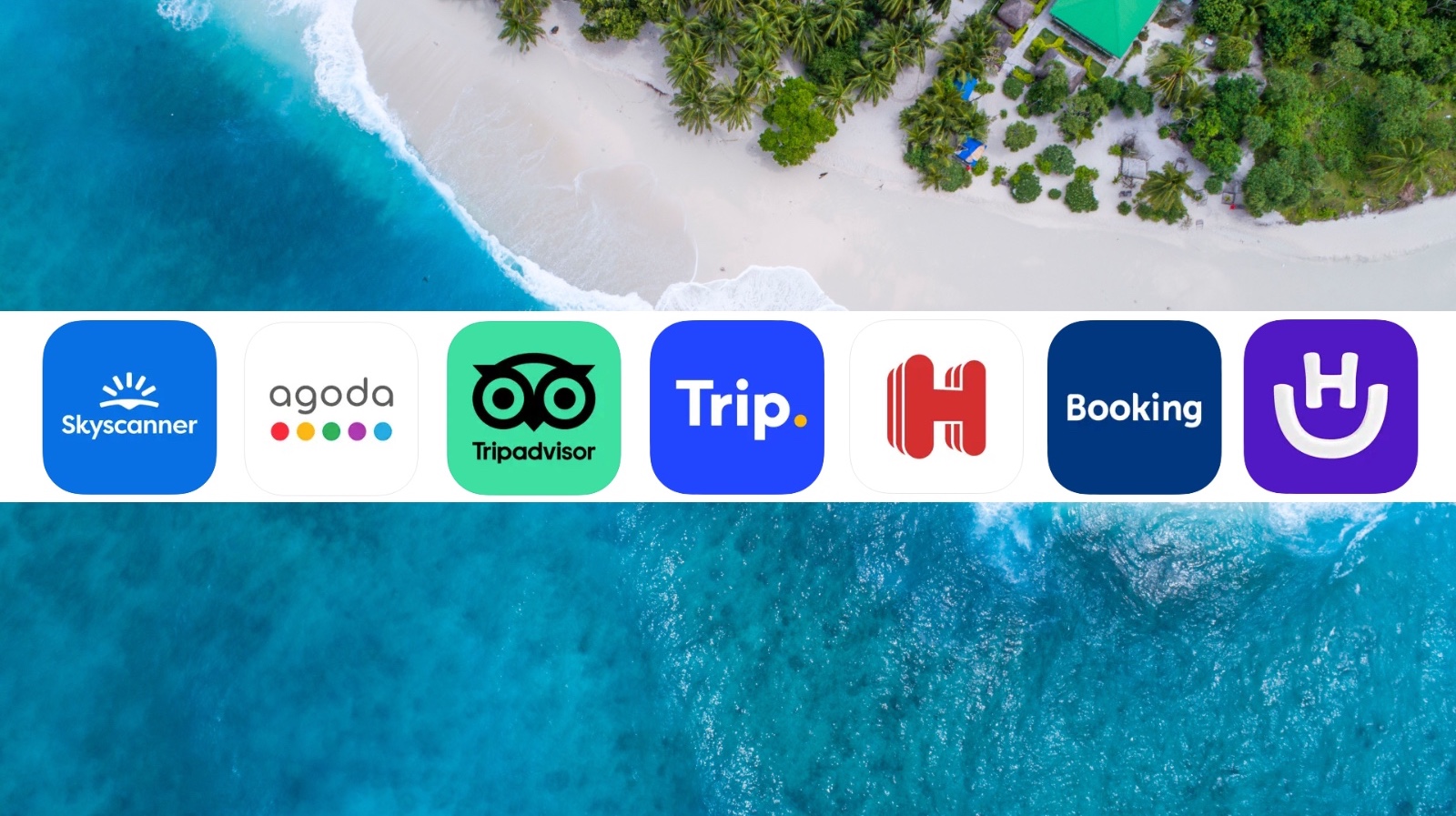 In this article, we have listed down the best hotel booking apps for booking hotels, apartments, holiday homes, and holiday villages at affordable prices and luxury options.
For last-minute travel, finding and booking suitable hotel accommodations can be challenging. It is often the case with frequent travelers or businessmen who are suddenly called to attend business conferences or seminars.
The same can happen to those who do not plan their trips in advance. The iPhone offers applications that make the process of booking accommodations as easy and quick as possible.
Booking a hotel is important but buying an affordable airline ticket to get to your hotel is equally important. To help with that you should check out our list of best apps to find cheap airline tickets on iPhone here.
Already booked your flight? Then check out these Best Flight Tracking Apps For iPhone Users.
Best Hotel Booking Apps For iPhone
Here are some of the most popular hotel booking apps for iPhone to book hotels and other accommodations.
1. Agoda – Best Travel Deals App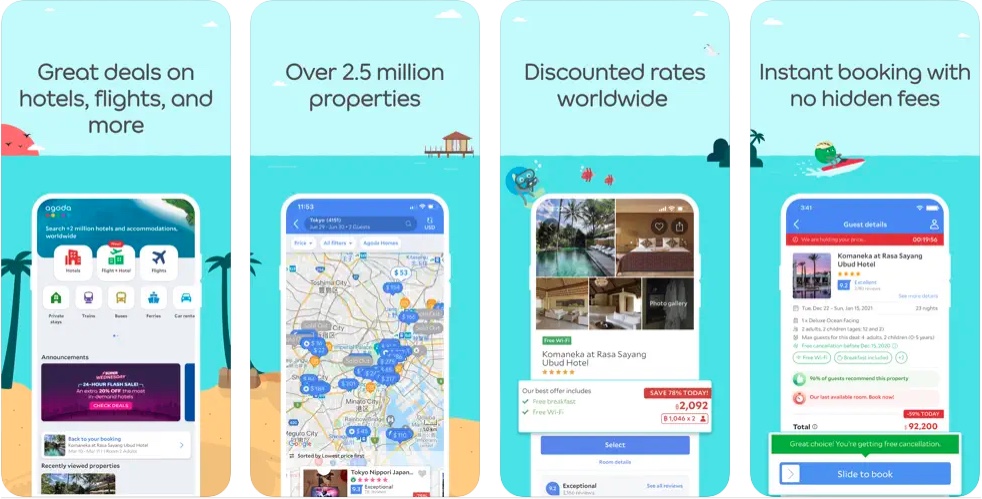 One of the top hotel booking apps, Agoda offers affordable prices on accommodation and flights around the world. It has more than 2.5 million hotels, villas, properties such as BnB and vacation rentals, and last-minute deals.
Over 15 million verified traveler reviews can assist you in finding the most suitable accommodation for your particular trip and budget, along with useful search filters and high-resolution photos.
Prices are even lower than on their official website! With the Agoda app, you can find and book great deals on a variety of accommodations and flights around the globe.
With the unique search engine, you can find and compare the cheapest flights on domestic and international flights in real-time, enabling you to book the cheapest airfare deal immediately.
So, install this App now and search over 200 airlines worldwide to find the cheapest fares on domestic and international flights.
Head over to the App Store to install Agoda – Best Travel Deals now!
2. Booking.com: Hotels & Travel App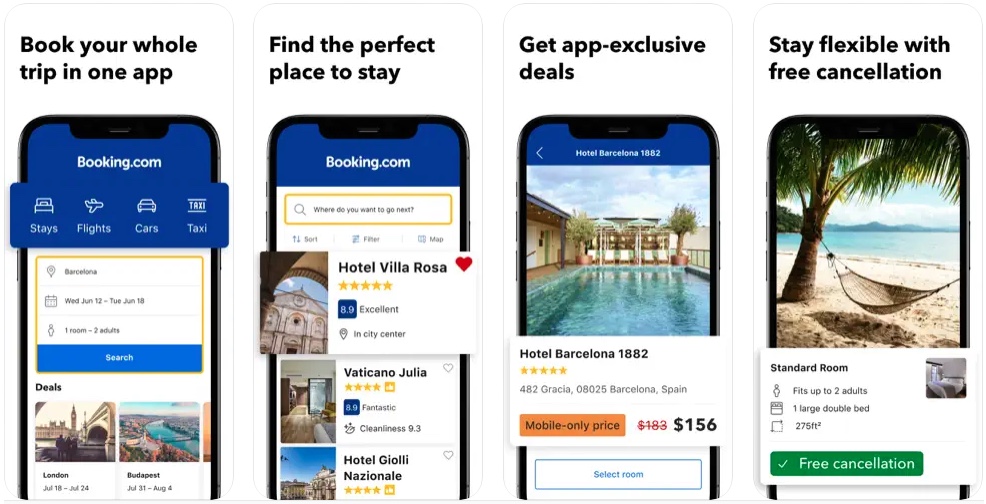 The app has gained enormous popularity among both experienced travelers and regular tourists. Booking.com allows you to find hotels anywhere on earth for your trip.
The app is safe, paperless, and contains offline maps so you can make reservations whenever you want. It provides last-minute reservations for more than one million hotels and apartments. The app makes a hotel search according to your preferences and location based on the features you select in the menu.
Based on reviews from other guests, you can select a hotel. The majority of Booking.com users are verified. With your smartphone, you can check the exact location of your hotel.
When planning a long trip, you can also use multifunctional tools such as a calendar. You can change your reservation details at any time by accessing your reservation 24/7. Using this best app for hotel booking, you will be able to communicate with hotel personnel almost instantly!
Head over to the App Store to install Booking.com: Hotels & Travel now!
3. Hotels.com: Travel Booking App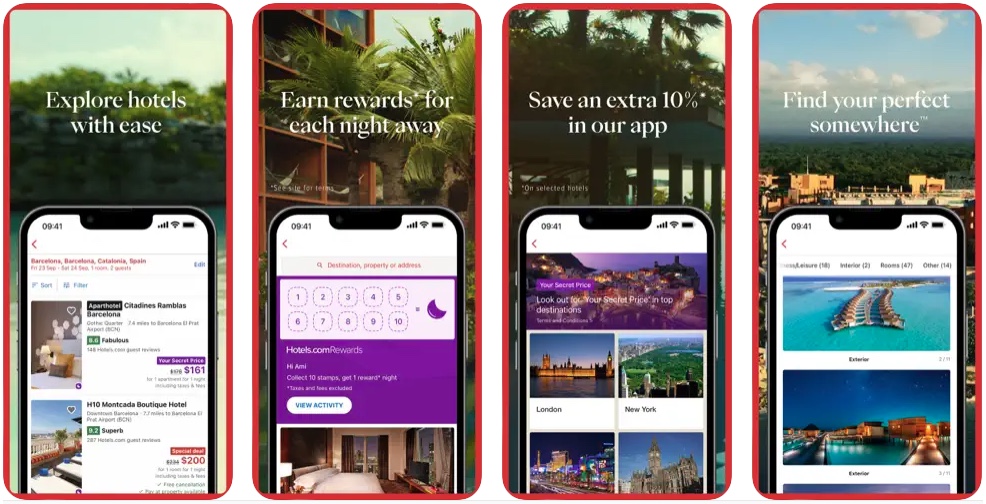 Booking the perfect hotel and reserving a room literally in a few clicks – isn't that what modern travelers dream of?
If you appreciate detailed information and reliability when booking a hotel, Hotel.com is the perfect app for you. The app detects the user's location when it is launched for the first time. Based on your preferences, the program suggests some hotels based on the location and price that are ideal for you.
By selecting the city, the arrival date, the number of nights, and the number of people, you will receive a list of available offers within a short period. The results can be sorted by price, the number of stars and reviews, special offers, and distance from the city center, which is extremely helpful when making independent travel plans.
An offline map can be used to find the hotel's location. Additionally, you will find some additional information about your current location and nearby famous sights.
Head over to the App Store to install Hotels.com: Travel Booking now!
4. Tripadvisor: Plan & Book Trips App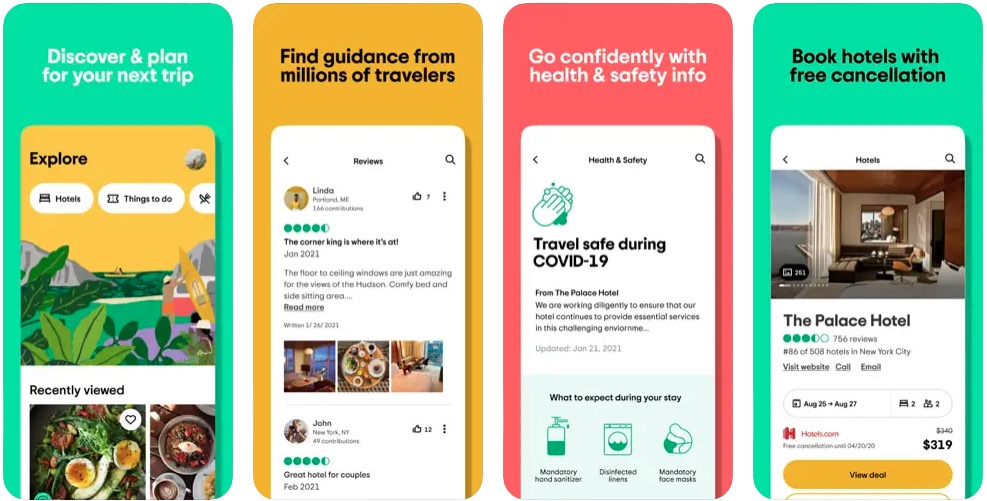 The purpose of Tripadvisor is to connect people, passions, and places through travel guidance. Take advantage of this app when planning or while on the go to make the most of your trip.
Find out what to do, where to eat, and where to stay based on recommendations from millions of travelers. Get discounted deals on hotels, book experiences, reserve tables at acclaimed restaurants, and discover nearby spots perfect for sightseeing. In addition to top-rated luxury hotels and tried-and-true favorites, Tripadvisor has a unique selection of swanky, one-of-a-kind boutique hotels around the world that are affordable.
The app allows users to filter hotels by city, tourist spot, or map location to find hotels that fit their needs. You can also find better deals based on how often you use the app.
Head over to the App Store to install Tripadvisor: Plan & Book Trips now!
5. Trip.com: Book Hotels, Flights App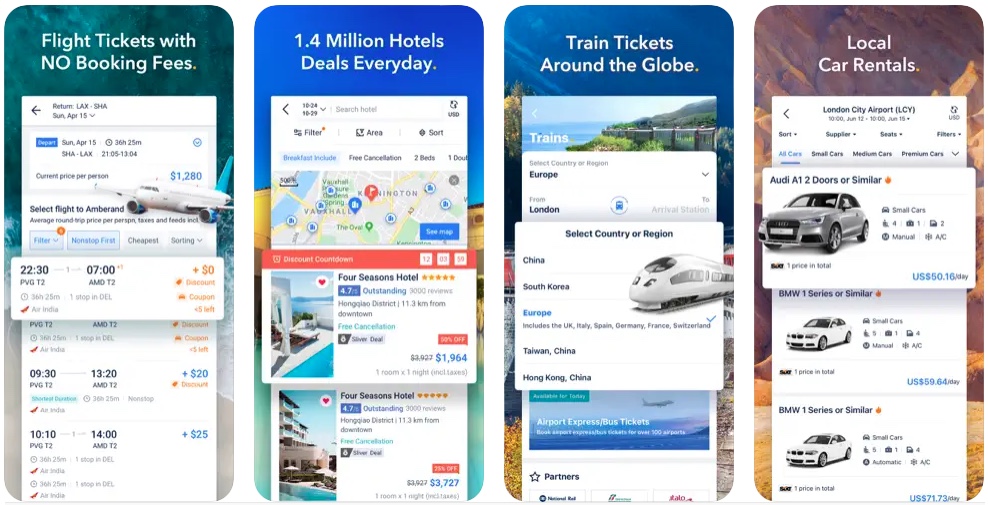 Trip.com is a ONE-STOP travel platform filled with TRAVEL DEALS that make your trips hassle-free and memorable!
Trip.com offers more than 1.4 million places to stay worldwide, so you can choose what suits your tastes. Using the App, you can find anything you need, from a budget-friendly apartment to a luxury five-star hotel, from a cozy holiday inn to a fun-filled resort.
You can book flights to more than 5,000 cities worldwide with the Trip.com app. Whether it be business class, first class, or charter flights, you can select what works for you! You can filter flights on this app based on price, flight duration, travel time, airline, and the number of stops. It is possible to fly into one city and out of another if you plan a multi-city itinerary.
Moreover, with this app, you can now book trains in mainland China, Taiwan, Korea, the UK, Italy, Spain, France, and Germany. For updated schedules and prices, you can connect directly with train information centers using the app. Using this feature, you can easily find the most reasonable fares, saving you both time and money.
Head over to the App Store to install Trip.com: Book Hotels, Flights now!
6. Hurb – Hotels & Resorts App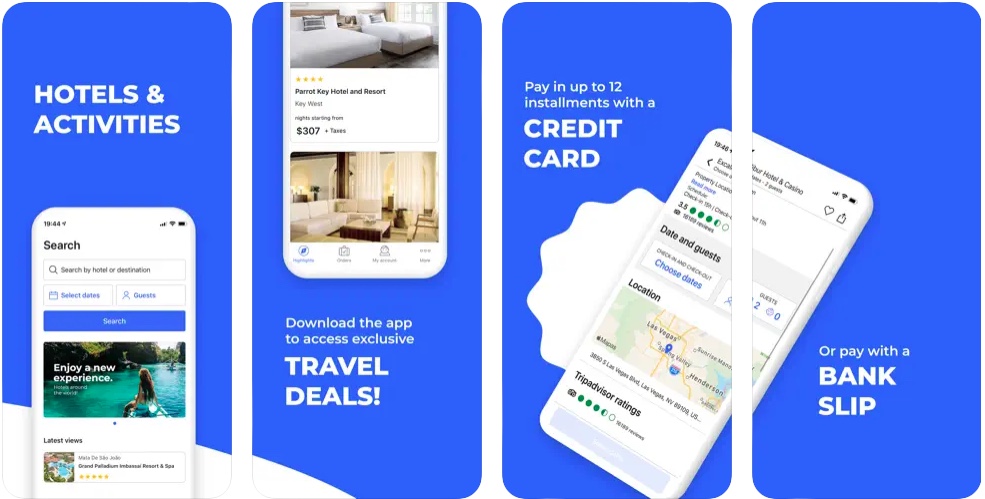 If you need a room on short notice and are in a pinch, Hurb – Hotels & Resorts can come to your rescue. This app takes advantage of hotels trying to fill vacant rooms, as this is the time when they typically offer the highest discounts. You won't be disappointed with your accommodations if you book with Hurb – Hotels & Resorts, as they are selective about their partner hotels. For quick checkout, Hurb – Hotels & Resorts supports Apple Pay for bookings up to five nights.
In Hurb – Hotels & Resorts, you can find detailed information about hotels including photos, maps, detailed descriptions, and added services.
In search results, the most favorable offers are always displayed, and updates are made based on updated special offers and discounts. Therefore, you can find a hotel right before your departure or on the day of your arrival.
Check the most convenient route, the budget, the location, the nearest sites of interest, the distance to the city center, the reviews, the location of a hotel's category (star ranking), and the availability of additional amenities, like laundry, the pool, and a beach inside its boundaries – all in one place!
Head over to the App Store to install Hurb – Hotels & Resorts now!
7. Skyscanner – travel deals App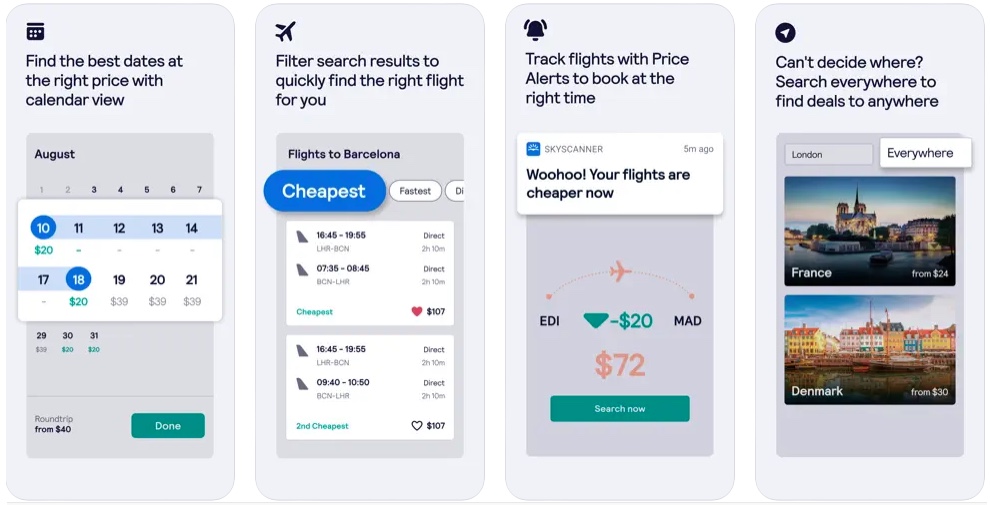 Plan your next trip with Skyscanner – the best hotel booking app 2023.
Looking for something specific? Using smart filters in the app, you can search by flight duration, airline, number of stops, travel class, departure, and arrival time.
Whenever and wherever you want – find flights, hotels, and car rental deals worldwide. With one simple search, you can compare and book from your favorite travel brands like Spirit Airlines, United Airlines, and American Airlines.
Browse thousands of cheap hotel, resort, apartment, motel, and hostel deals worldwide. For your next vacation, you can find rooms near your current location and take advantage of last-minute deals.
Head over to the App Store to install Skyscanner – travel deals now!
Final Words…
We highlighted some of the most popular hotel booking apps! Now you can travel without any worry or hassle!
Which booking app will you install? Let us know in the comments section.