Having trouble sleeping after a long day of work? Do you often wake up sleep deprived and dizzy? Honestly, that describes most of us. The daily schedule, work, and other responsibilities make it hard to rest easy. With the best sleep-tracking apps, you can achieve that much-desired daily slumber.
We all know that good and regular sleep is essential for the health of our minds and bodies. It's no surprise that there are apps to help you sleep like a baby.
This article explores some of the best sleep apps for iPhone.
Top iPhone Sleep Tracking Apps
The best iPhone sleep apps offer useful features that make it easier than ever for users to get sound sleep. A combination of natural sounds, atmospheric music, white noise, and sleep trackers works together to ease the mind and calm the nerves.
Here is a list of some of the best sleep-tracking apps, let's begin.
1. Sleep Cycle – Sleep Tracker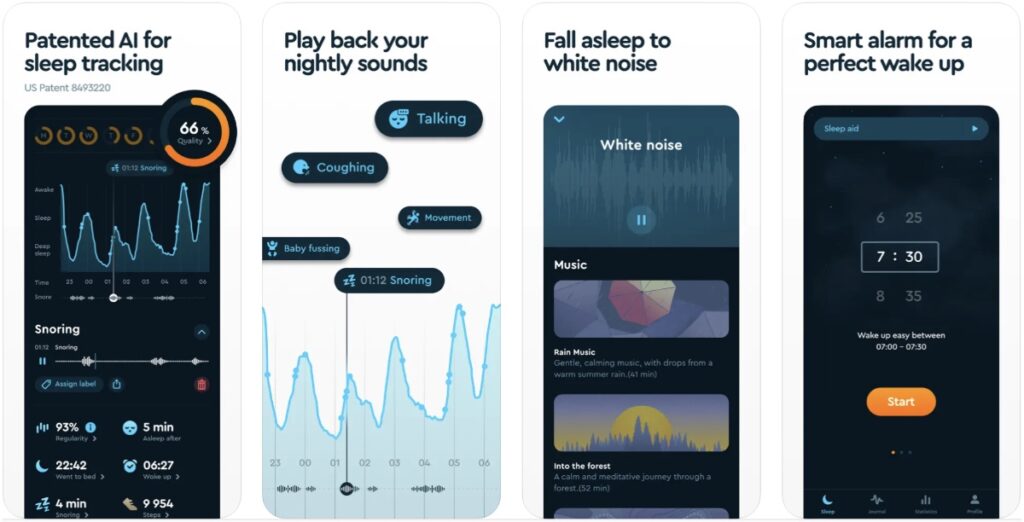 Could you imagine what it would be like if you knew what you did while sleeping? The Sleep Cycle brings you all the features you've ever dreamed of. You can hypnotize yourself with this sleeping aid if you suffer from insomnia or have difficulty following a sleep routine.
Furthermore, its extraordinary soundtracking feature captures whatever you say during sleep, along with the sounds around you. Moreover, the dashboard lets you set a sleeping window, so you can stick to a routine instead of a random sleep pattern.
Sleep Cycle is a health data collector that relies partly on user data to improve its accuracy. In any case, you can decide whether or not it should collect your health information.
All in all, Sleep Cycle is one of the best sleep-tracking apps for the Apple Watch. You can connect Sleep Cycle to your Apple watch to make it more convenient.
Install Sleep Cycle – Sleep Tracker from the App Store now
2. Sleepzy – Sleep Cycle Tracker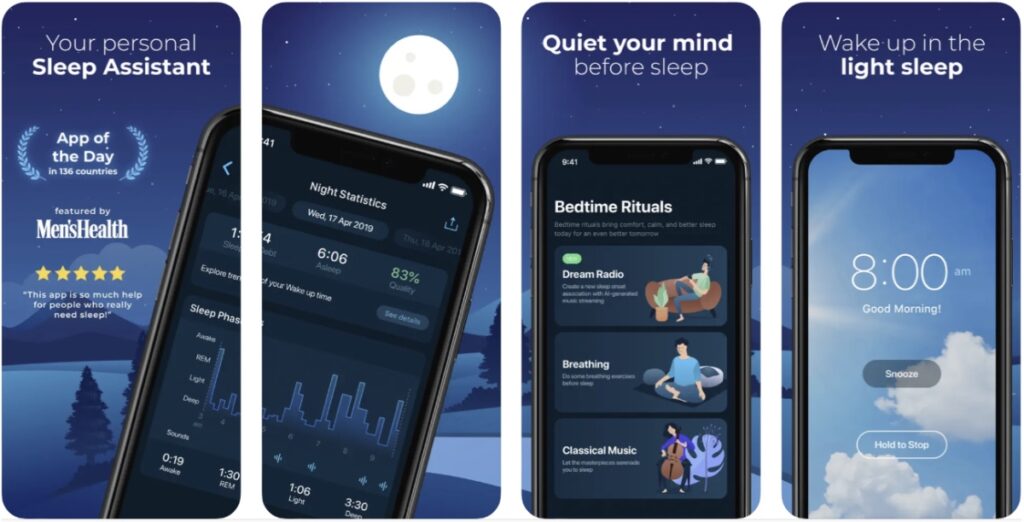 With Sleepzy, you can track your sleep patterns, wake up during the lightest sleep phase in a way that feels natural, analyze your sleep quality, and receive sleep debt notifications. Anyone can benefit from this app, whether they're night owls or early birds.
Besides recording what happens while you sleep, this one provides relaxing sounds to put you to sleep. Additionally, it provides typical comprehensive statistics.
Its unique feature, however, is that it contains articles geared toward improving sleeping habits. Additionally, the app offers bedtime rituals. These provide you with suggestions and exercises for preparing for bedtime and hypnosis that will improve your sleep.
Sleepzy is hands down the best free sleep-tracking app, however, you can get paid subscription plans to enjoy premium features.
Install Sleepzy – Sleep Cycle Tracker from the App Store now
3. Pillow – Auto Sleep Tracker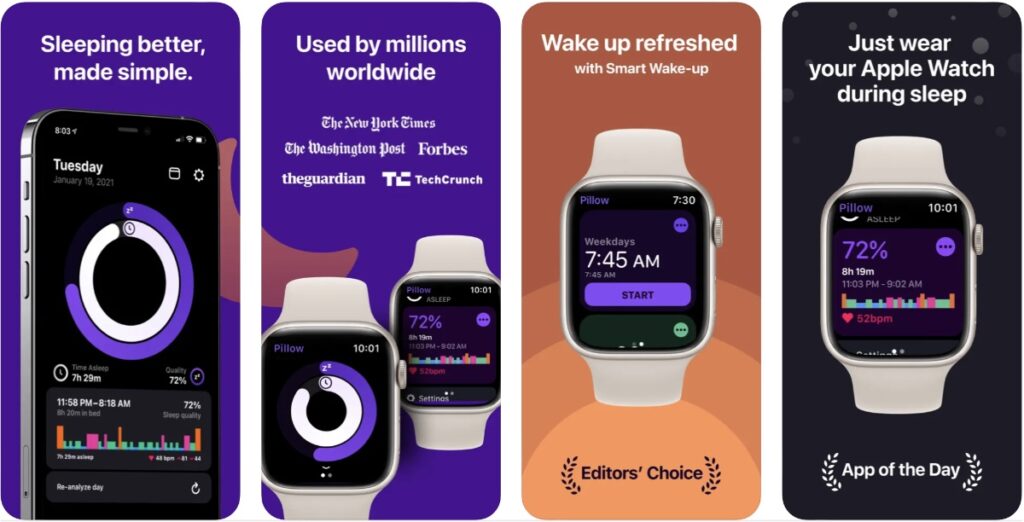 Is your sleep disturbed? Let Pillow be your top sleep tracker and smart sleep assistant so you can sleep better. The pillow app lets you set up your sleep schedule and title them appropriately. This sleep tracker is no different from those we've already discussed.
You can also track your sleeping habits over time through patterns in your motion and fitness activities. As soon as you wake up each day, you'll receive an alert about your sleep report. Additionally, its sleeping aids section deserves attention. There are hypnosis techniques provided in this section to assist you in falling asleep.
In the Snooze lab, you'll find valuable coaching tips that will help you sleep better. The Pillow app synchronizes your data and reports across other devices, including Apple Watch and iPad.
Install Pillow – Auto Sleep Tracker from the App Store now
4. SleepWatch – Top Sleep Tracker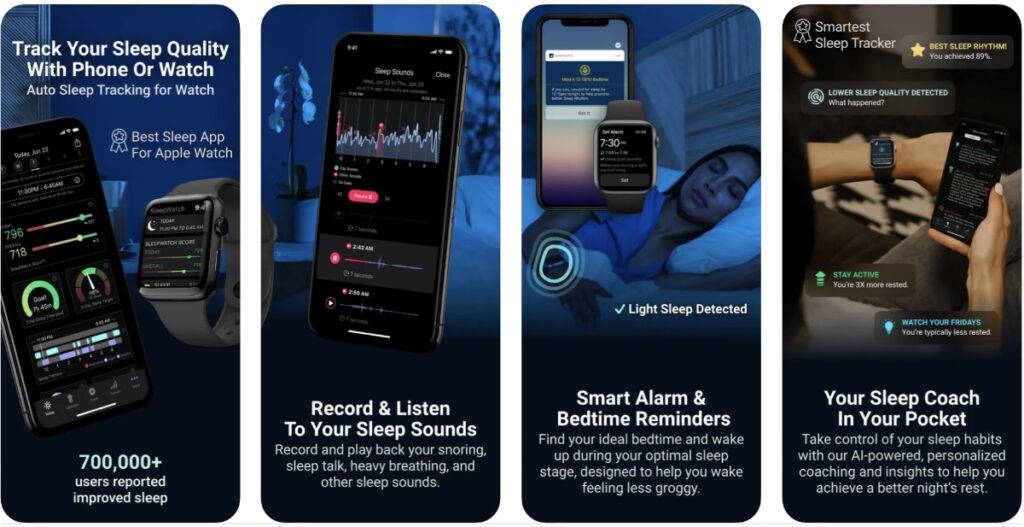 With SleepWatch, you can improve your sleeping habits with AI-powered components. You might enjoy SleepWatch if you like to hear raindrops on your roof or the rolling sounds of fan blades while you sleep.
One of the best features of this app is its hypnotic sounds and sleep recording capabilities, which you can enable when selecting a sleeping goal. It provides detailed sleep statistics, including sleep disruption, snoring, sleep rhythm, and sleep efficiency.
You can allow its AI algorithm to access your health information by enabling the Health app on your iPhone. When setting up the app, you simply need to follow the instructions on the screen to grant access to your health data. In this way, you may not need to provide additional health information explicitly.
Furthermore, it provides insightful feedback on your sleeping habits based on a sleep goal you set.
Install SleepWatch – Top Sleep Tracker from the App Store now
5. NapBot – Auto Sleep Tracker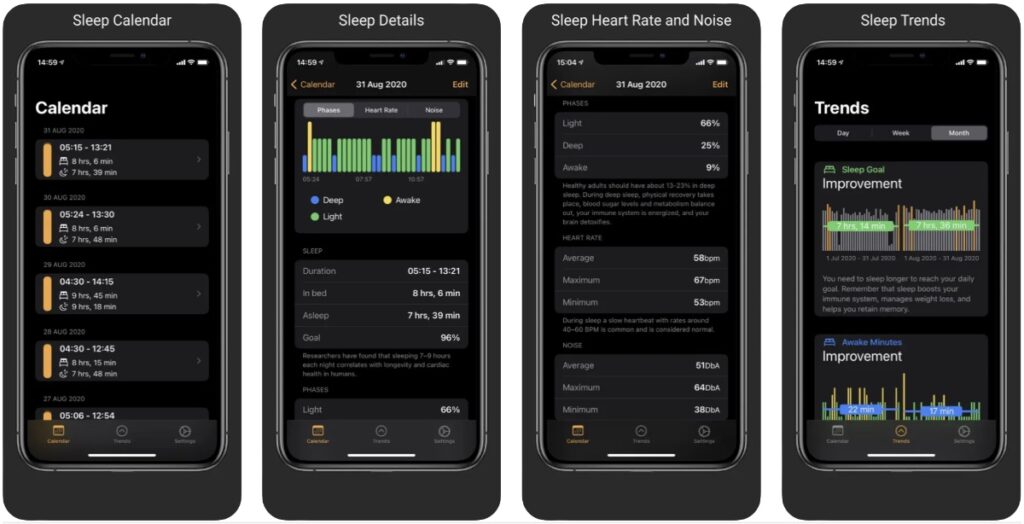 SleepBot is an iOS and watchOS app that tracks and analyzes your sleep automatically. Using on-device machine learning, it measures and analyzes your sleep.
The App tracks your sleep automatically, provides a detailed analysis of sleep phases based on deep and light periods, examines your Environmental Sound Exposure to determine the impact on your sleep, and summarizes your heart rate based on your HR zones.
Using the App, you can view your complete sleep history in beautiful overviews. Moreover, you can track your sleep patterns to determine how new habits impact your sleep quality.
A NapBot installation requires an iPhone with the Health App installed and an Apple Watch.
Install NapBot – Auto Sleep Tracker from the App Store now
6. Sleep++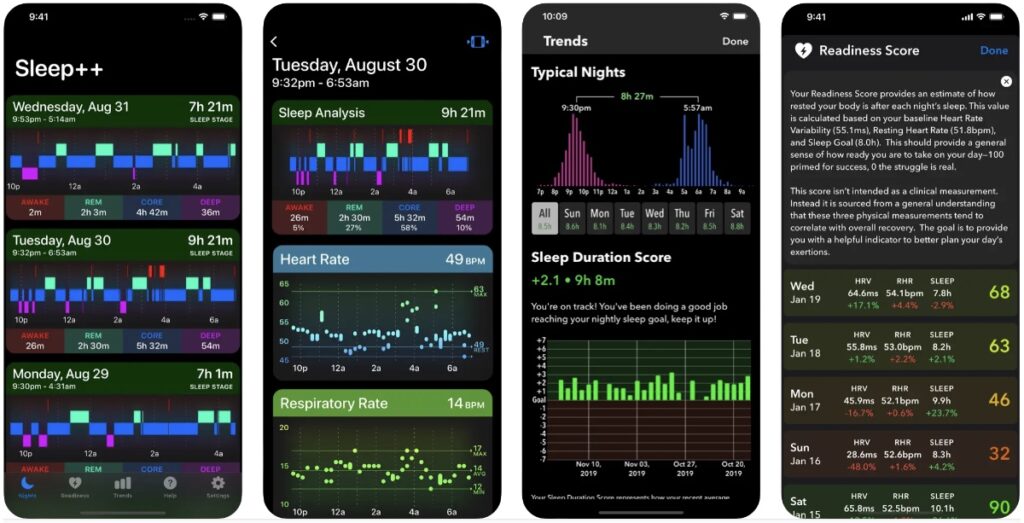 Looking for an Apple Watch sleep tracker? Sleep++ might be the app for you. A simple interface allows you to assess your sleep pattern based on the data pulled from the Health app. To provide comprehensive statistics, the app pulls various metrics, such as blood oxygen levels and respiratory rates.
Using the app as a diary, you can track your sleep habits over time and gain insights into how they affect your health.
There are two ways in which you can use the app; one is to allow your Apple Watch to record your sleeping time automatically. Or you can record manually. Choosing the former option might be helpful since it results in fewer biases. Furthermore, the app is extremely easy to use. To measure your sleep, you only have to put on your Apple Watch.
Using a premium subscription, you can remove advertisements from the app as well. This app, unlike the others, doesn't record sounds, but instead uses the Apple Watch to get sleep information and the Health app to make decisions.
Install Sleep++ from the App Store now
Bring on the Slumber Party!
Healthy sleep provides a sense of fulfillment and boosts self-confidence. It might seem like you are getting quality sleep right now. Even if you have an excellent sleep pattern. How do you track it?
Tracking your sleep habits might reveal you have been stumbling through sleep. The apps mentioned above offer a variety of sleep-tracking attributes. And we are confident you will find one that works for you.
Rest well. In the meantime, if you have any questions, please let us know in the comments below.