If you're looking for the best backlit keyboard for Mac in 2020 and 2021, then you have come to the right place. In this post we have gathered the 6 of the best illuminated keyboards that are specifically designed for the Mac.
All of the keyboards featured on this list offer Mac specific keys including Option and Command. And since these keyboards are Bluetooth powered, you can also use them with your iPad.
Read on to find out about our recommendations for the best backlit keyboards for the Mac and where to buy them.
Looking for a Mouse for Mac? Check our article.
Best Backlit Keyboards For Mac In 2021
1. Logitech MX Keys Advanced Wireless Illuminated Keyboard

If we talk about one of the best backlit keyboards for Mac, Logitech MX keys advanced wireless illuminated keyboard tops our list, for the many legit reasons.
The best thing about this keyboard is it is perfect stroke keys meaning the keys are stable and exclusively shaped for your fingertips making it super easy to press the keys and that too without making any sound. Its comfortable design helps you position your hands correctly and lets you work in a flow.
What's more? This amazing backlit keyboard for Mac light up automatically the moment you place your hands on the keyboard and adjust according to the lighting condition in the room.
And if you are working on multiple devices, the cross-computer typing is equally easy. Simply, pair up to three devices via Bluetooth or Unifying USB driver. So, Logitech MX keys should be your go-to option when looking for 2021 Mac Keyboards!
Get a good deal on Logitech MX Keys keyboard here ($169.99).
2. Logitech Craft Advanced Wireless Keyboard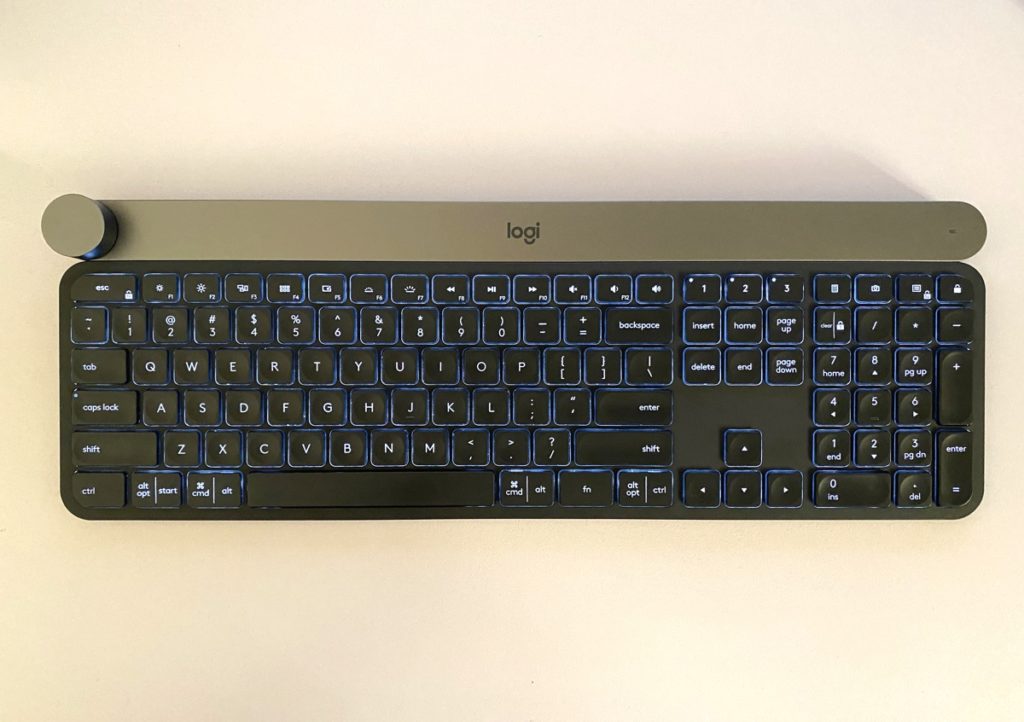 Another great invention for 2021 Mac Keyboards is Logotech craft advanced wireless keyboard with its highly creative input and backlit keys.
In order to access the specific functions of this keyboard, simply touch the crown and you are good to go. Precisely yet beautifully designed keys are highly stable and efficient and you type your work as smoothly as water flows!
Its beautiful backlit keys help you type regardless of the conditionmaking it one of the best backlit keyboards for Mac. Similar to MX keys, this keyboard can also get connected to up to three devices via Bluetooth low energy or USB dongle.
For recharging, you simply need to plug in the USB type C. Another impressive thing about Mac backlit keyboards in 2021 is that they are compatible with Windows 7 and above, as well as Mac OS 10 and above.
You can read our detailed Logitech Craft Review here.
Get a good deal on Logitech Craft Wireless keyboard from Amazon here ($199.88).
3. Satechi Compact Backlit Bluetooth Keyboard

When it comes to syncing a keyboard with multi-devices and compatibility all Apple devices that support keyboard, Satechi Compact backlit Bluetooth keyboard is one of the best backlit keyboards for Mac you can ever find!
Its efficient Bluetooth 5.0 connects seamlessly and is featured with a simple set up. Want to keep your keyboard powered for minimal downtime? Hats off to its USB-C port that gets the job done!
Moreover, if you want to adjust the illumination of the keys, you can set the brightness with up to ten levels and work in any type of environment. And for a cross-computer typing, pair it to up to three devices by just pressing a button.
You can buy this keyboard from Satechi from Amazon here ($79.99).
4. Keychron K2 Bluetooth Mechanical Keyboard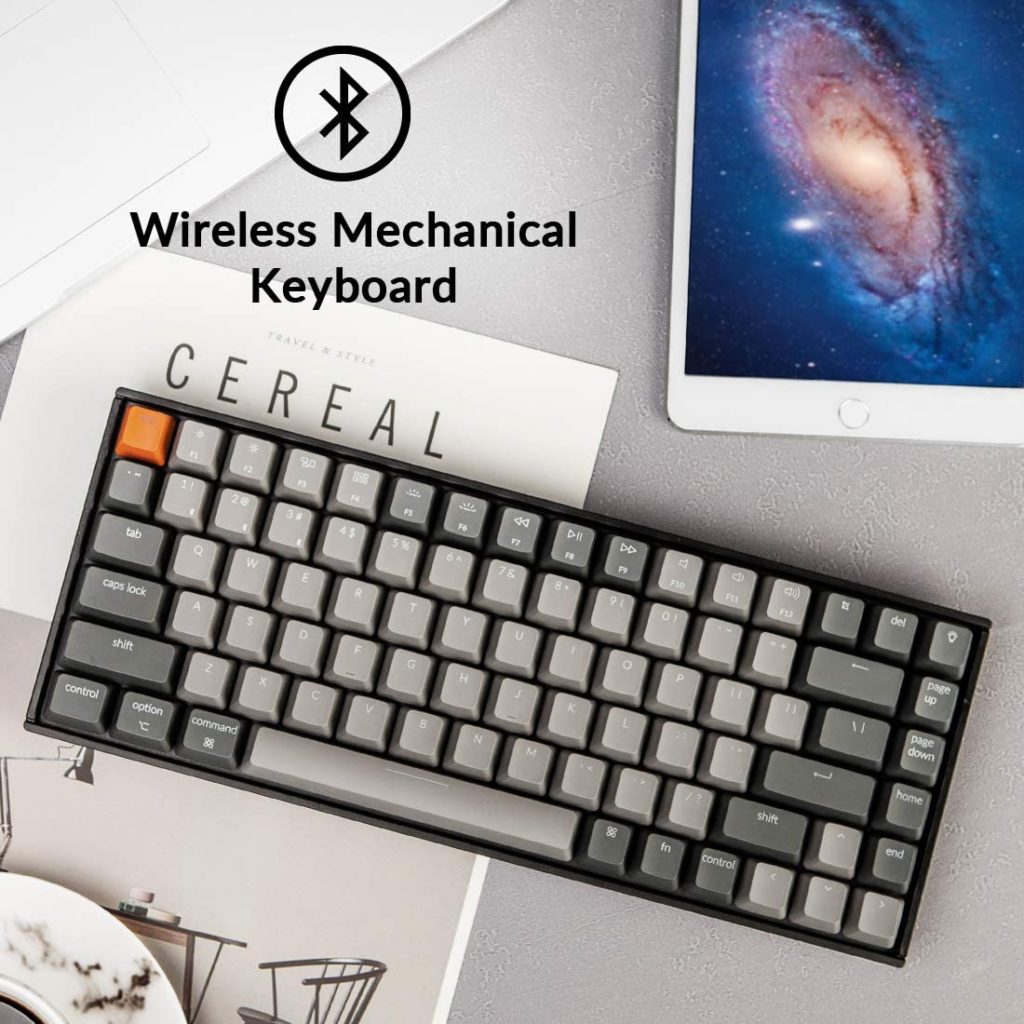 For a home, office, and light gaming purposes, Keychron K2 keyboard is one of the best backlit keyboards for Mac. Its highly compatible and reliable Broadcom Bluetooth chipset easily connects with your iPad, laptop, and smartphone fulfilling your varying needs and requirements.
For a wired connection, its USB Type-C is equally efficient and easy to connect.
The K2 is compatible with Windows and has a unique layout with every necessary function keys that make it one of the favorite Mac backlit keyboards in 2021.
If you are looking forlong typing hours, K2 lasts up to 72 hours typing or up to 7 daysof normal use that are the best mechanical features you could hardly find in other 2021 Mac Keyboards.
Its durable Gateronmechanical switch has a life span of 50 million keystrokes giving you unrivaled tactical responsiveness.
Get a good deal on this Keychron keyboard from Amazon here ($74.99).
5. BFRIENDit Wired USB Mac Keyboard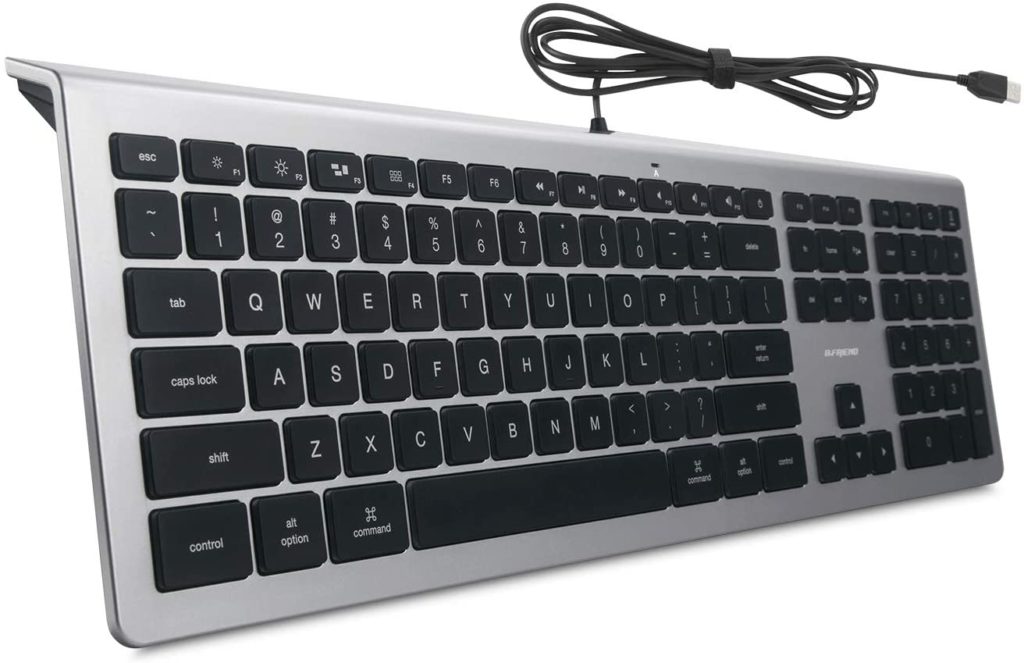 Just like its name, B.FRIENDit is your best friend as well as one of the best backlit keyboards for Mac. Wired and exclusively designed for Mac users. It is a full-sized keyboard displaying 108 keys with numeric keypad, multimedia keys, and low-profile keys that take your 'quiet typing experience' to the next level.
Although, ultra-slim with scissor key structure, yet very soft and easy-to-read keys let you type perfectly and accurately.
With a graceful color combination of black and silver and its quiet LED-backlit chocolate keys B.FRIENDit is one of the recommended backlit keyboards for Mac, which is also compatible with PC, Windows 10/8 / 7 / Vista, Mac OS.
You can buy this backlit Mac keyboard from B.FRIENDit for $44.99 here.
6. Matias FK418BTB Bluetooth Wireless Aluminum Keyboard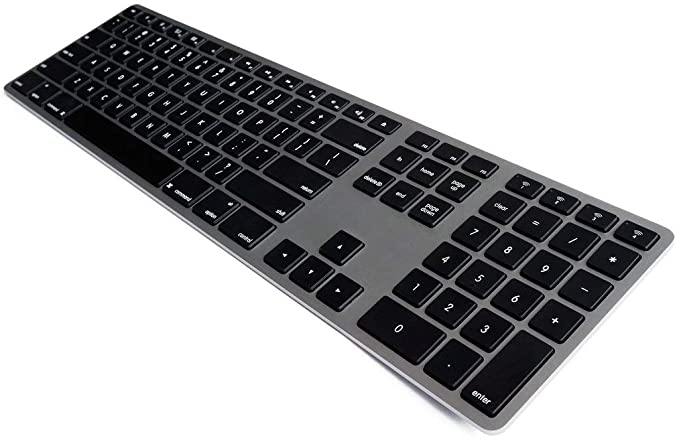 For an excellent tactical typing experience, without compromising speed, style, and comfort, Matias wireless keyboard is best backlit keyboards for Mac.
Unlike its other competitors enlisted above, it connects to up to 4 devices switch between them easily by just pressing a button.
It also adjusts the layout according to the device you choose to work on be it Mac, iPad, Windows, or Android. and
Fairly called one of our favorite Mac backlit keyboards in 2021, you can control the volume, screen brightness, iTunes, and other functions through function keys, giving you satisfying typing experience with its 2mm key click.
Just like the Apple keyboard. Moreover, from four color variants i.e. classic silver, space gray, rose gold, and gold, you can pick the color of the keyboard according to your own mood and style.
You can get a good deal on this Matias illuminated Mac keyboard at around $97 from Amazon here.
Now that you know a few of the best 2021 Mac Keyboards, choose that fits your needs, comfort, and style.
Which one of the above you would like to use? Share with us in the comments below. For more informative posts for your iOS devices, stay tuned to iOSHacker.com.