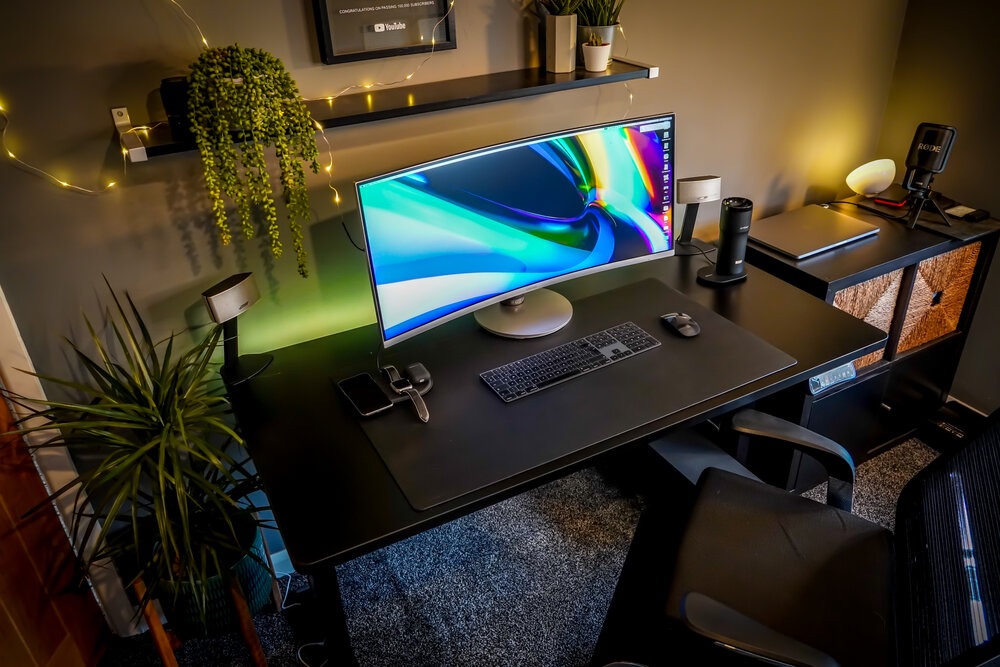 Are you looking for best LED Light Strips for your desk setup, gaming setup or TV setup in 2022?
If yes, then we have the perfect options that will allow you to decorate your work or gaming environment with the best ambience possible.
Here you can find several of the best LED Light Strips that you can buy from big brands like Philips Hue, LIFX, Govee, QJB or C by GE.
So without any further ado here are some of the best LED light strips that are perfect for your desk setup or gaming setup.
Not to mention these LED Strip Lights also make for a perfect holiday present for anyone no matter what they are decorating.
Looking to spice up your desk setup? Also read: Best Desk Lamps With Built-in Wireless Charger
Best LED Light Strips for 2022
Here is the list of best LED light strips that are essential for your desk or gaming setup.
1. Philips Hue Bluetooth Smart Light Strip Plus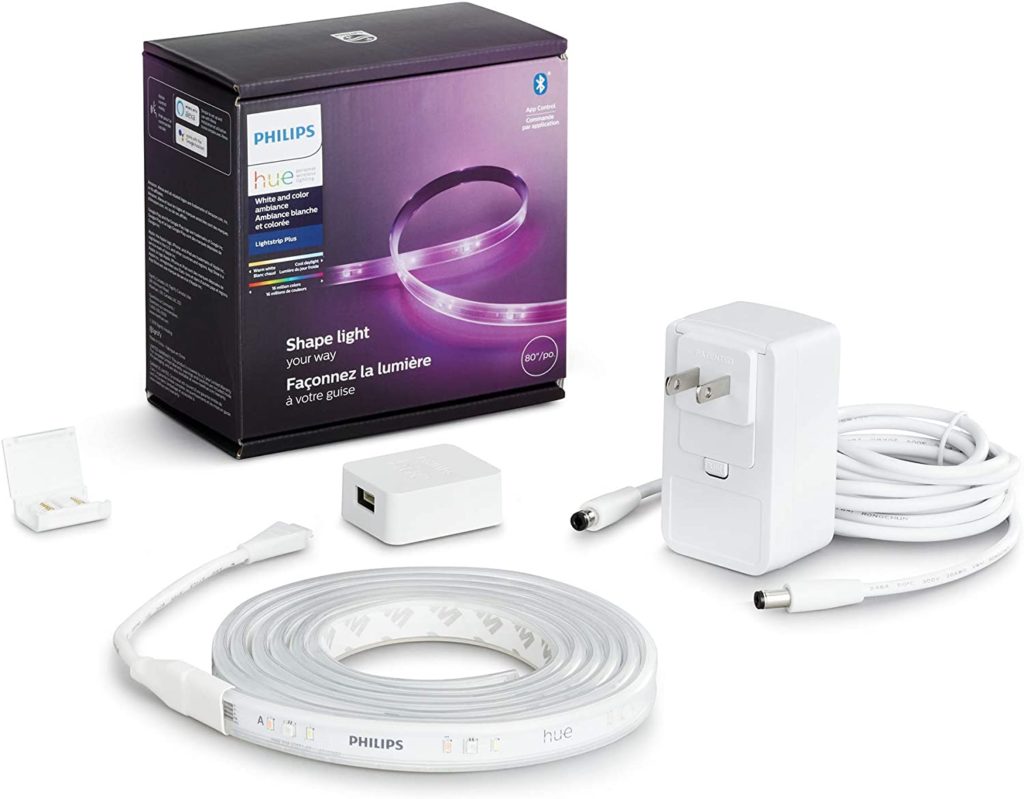 Looking for Philips Hue Bluetooth light strips means you get voice compatibility, Amazon Alexa supported, featured with Apple Homekit and Google Home, all in one!
With zero hassle in connecting these light strips with Bluetooth, you can control as much as 50 smart lights on this single Hue Hub without losing Wi-Fi connection for a second! 
There's no doubt that this is the best LED light strip that you can buy for 2022.
You simply need to stick the Bluetooth Light strips wherever you want such as under bars, on your bed frames, or even cabinets with the help of adhesive tape with it.
With its 32 feet length, it is easy to lit up any place in your room. Too large to fit on a cabinet? No worries, just trim it with the cut marks.
It is not just a plain light, the coating around the Light strips creates pleasant and vibrant colored lights making the whole ambiance aesthetic.
Moreover, the Hue Sync App helps you sync Gaming, Music, or Movies with these Light strips. 
2. LIFX Z-TV LED Light Strip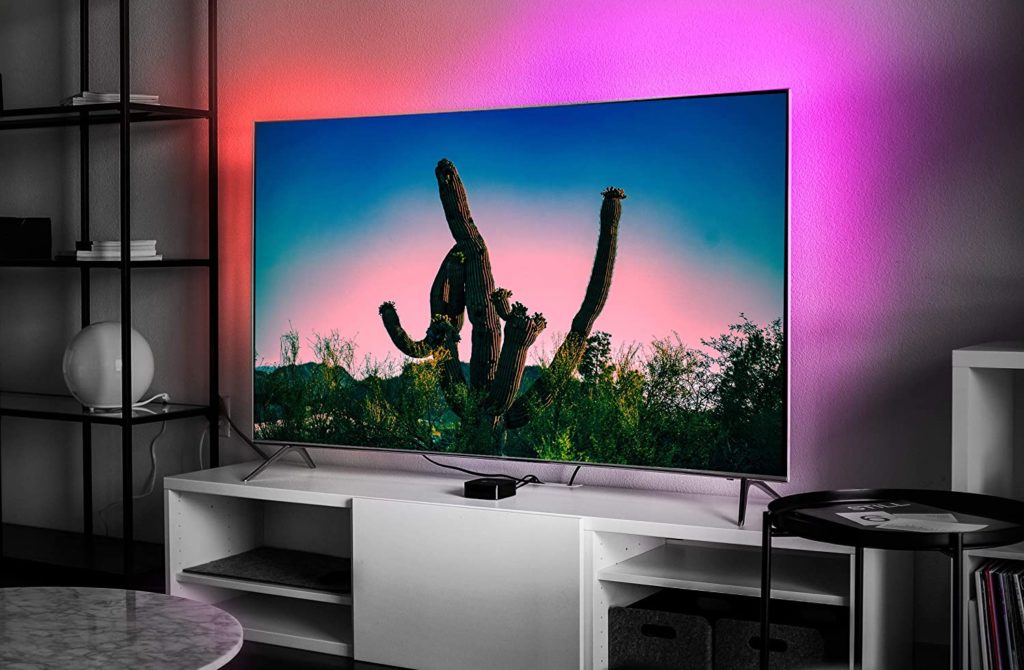 In case you want to brighten up your LED TV, LIFX Z-TV LED Light Strip with a multicolor is the one you need to get!
It comes with 3 feet 33 inches of strip, controller, power supply with US plug that make it super easy to use. This is a LED Light Strip that is well deserved to be on this list of best LED Light Strips for 2022.
In order to connect, you only need a Wi-Fi connection and no hub at all! It is 32.8 feet in length with 700 lumens per strip you can never go wrong in creating an excellent ambiance in your room.
Its free app helps you control the schedules, light effects, and much more. 
3. Govee LED Light Strips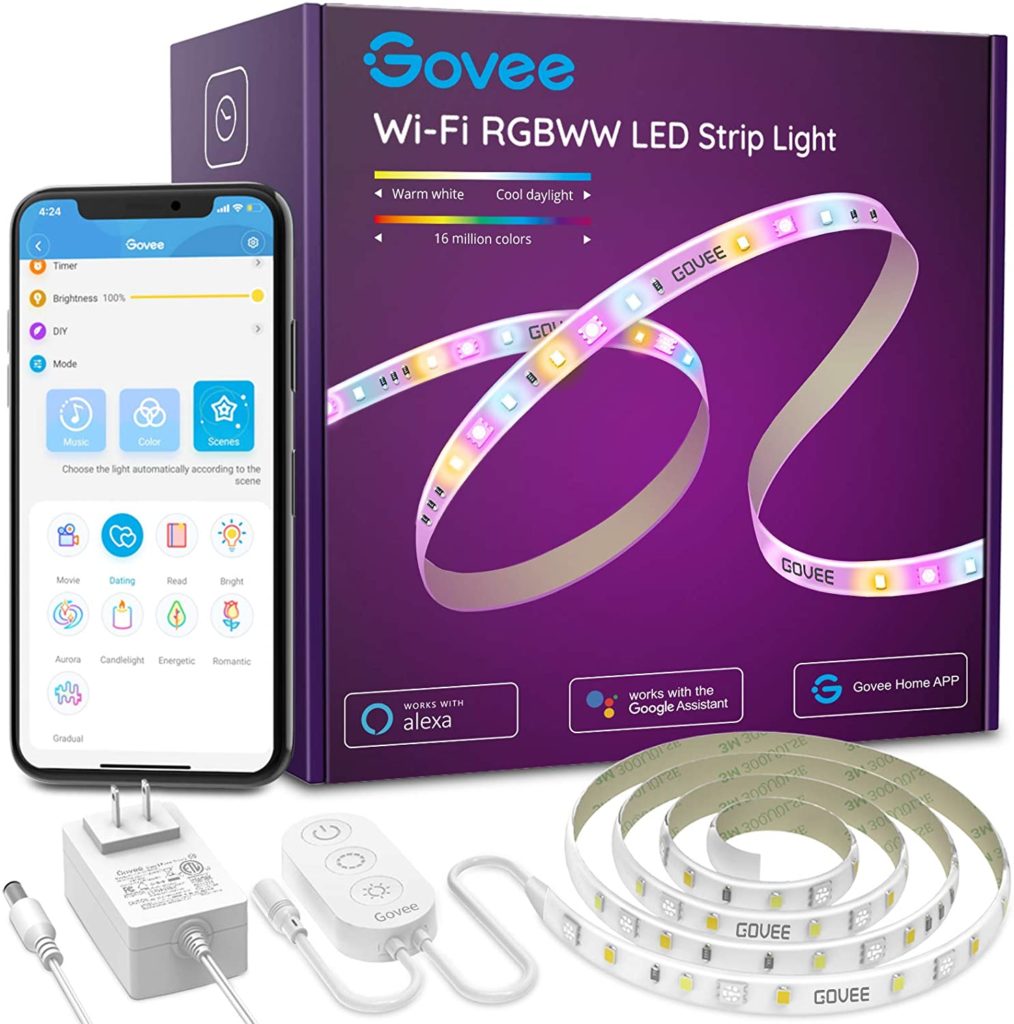 With a diverse range of up to 16 million colors, Govee Smart LED Strip Lights gives just the right aesthetics to your home.
Like others, these strip lights are Alexa Google Home supported. Whether you want to choose warm light colors or cool ones, with Govee LED Strip Lights, you don't need to worry about selecting the right shades of color.
Moreover, with your voice commands, you can change the color, adjust the brightness, or even turn on or off these lights.
Hats off to its highly sensitive microphone that helps you sync your favorite songs to the light strips. Be it a Halloween party or a Christmas evening, it simply jazzes up your evening. 
With Govee's 9 scene modes, you have complete freedom to choose any mode that matches your mood and lifestyle.
The features don't end here. The Convenient Timer Function enables you to adjust the colors and brightness to mimic the sunset or sunrise, making you awake of fall asleep comfortably. 
4. QJB LED Strip Lights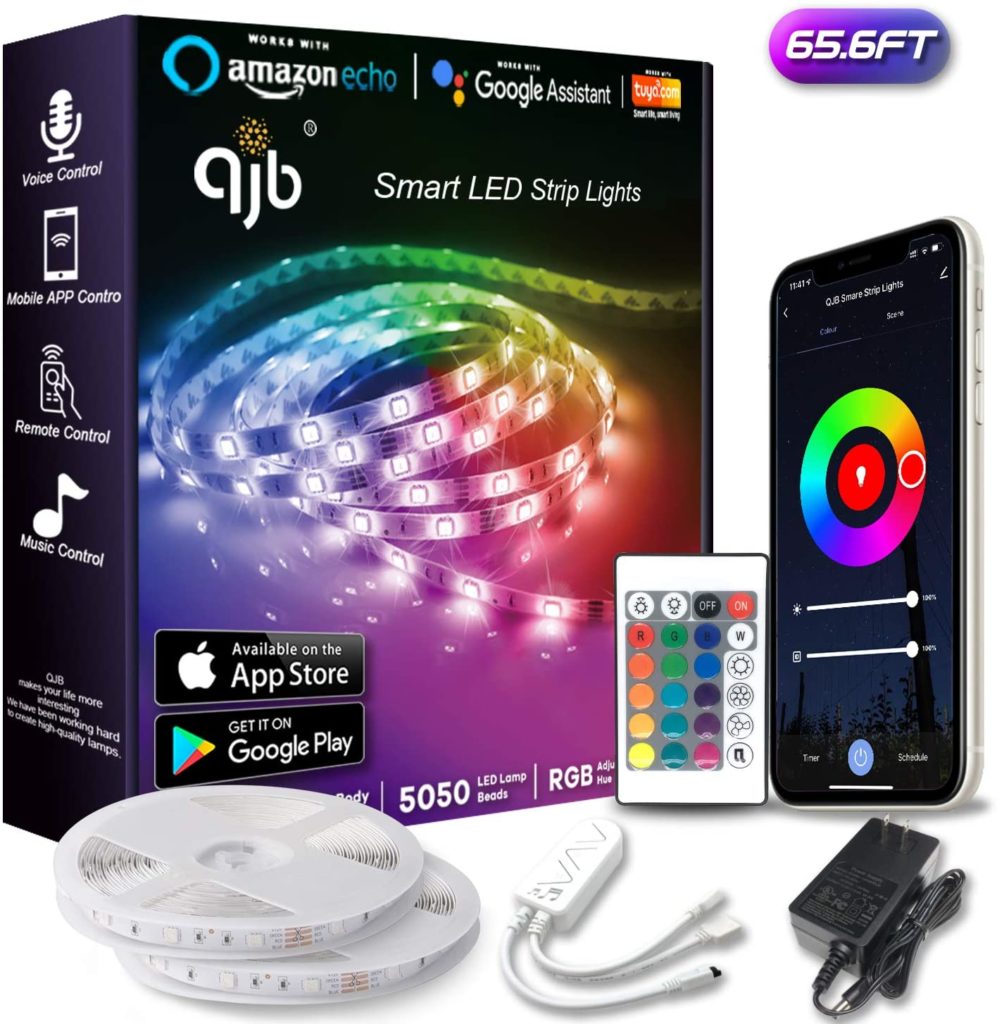 If you are into multitasking and DIY stuff, QJB LED Strip Lights are the ones you should opt. With these strips lights, you can DIY the color combination according to your own liking and style.
The music sync apps add more excitement to the lighting atmosphere of your room while you watch your favorite TV show or play video games. In case you find it too large to fit in a cabinet, you can cut the length accordingly.
5. C by GE LED Strip Lights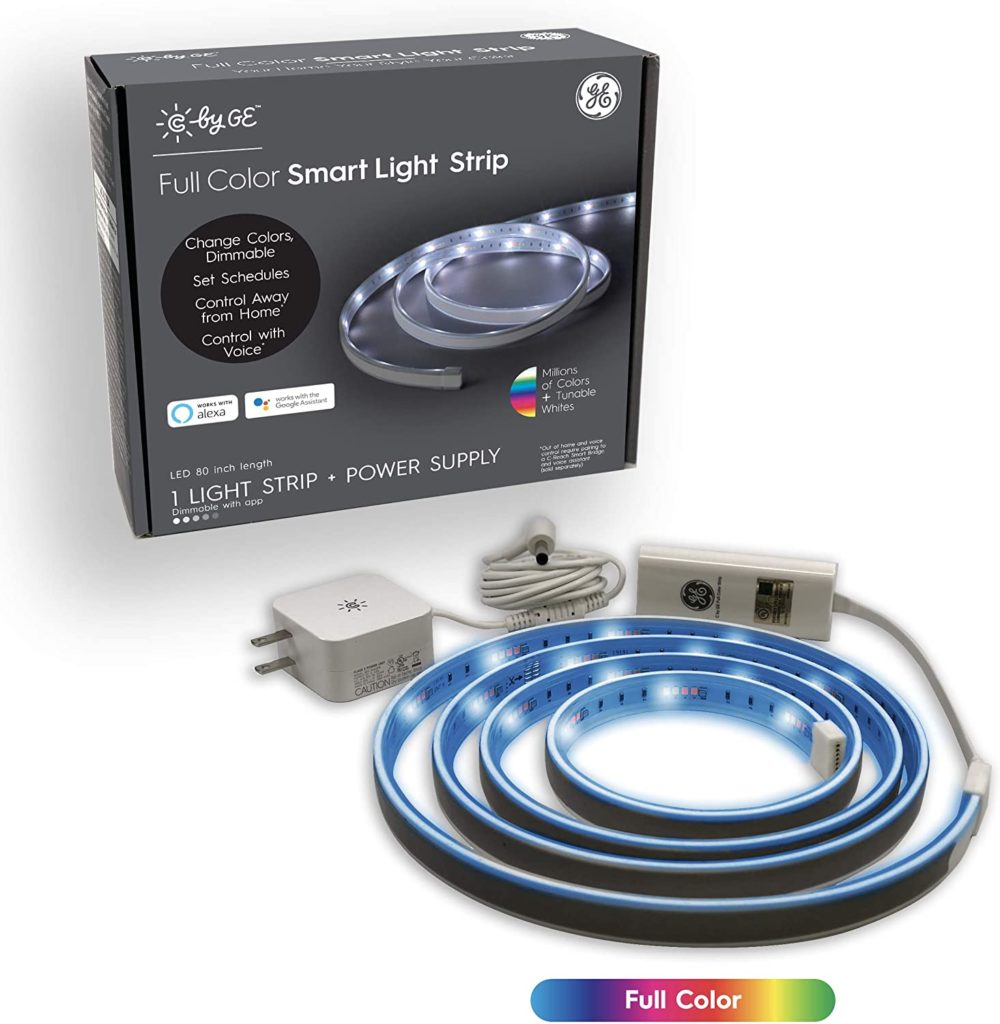 C Smart LED Strip Lights by GE with smart plug make your home smart and lit up. With the help of its iOS and Android apps, you can control devices when you are out of home, by enabling Alexa voice assistant.
That being said, you can control these lights even before entering your home. By pairing the smart plug by GE with C strip lights with its app, you can control these lights with your voice without disturbing your other work.
If you often forget to turn off the lights after work, that is not a problem anymore. You simply need to set an automated and customized schedule to turn them off and on.
Not only for work or living room, but these lights are also equally well for your bedroom aesthetics given a wide range of different colors and brightness adjustment options.
Note: The C by GE Plug and Voice Assistant are sold separately.
There you go folks, these are the best LED Light Strips that you should be buying for yourself or as a gift for a loved one.
Which smart LED light strip you would love to try? Share with us in the comments below.
For more interesting posts, stay tuned to iOSHacker.com.
More gift ideas: