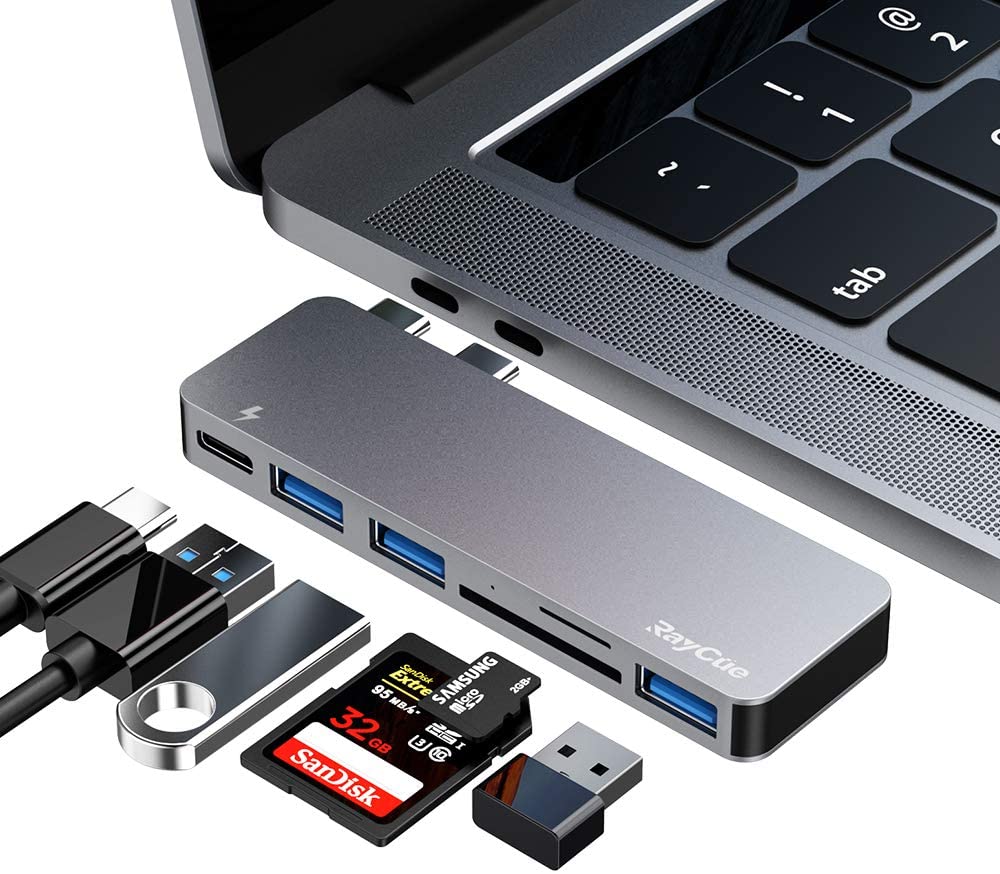 Owning an affordable MacBook USB Adapter or Hub has become essential for all MacBook users in the year 2022.
This not just due to the fact that MacBooks lack popular ports like USB-A and in the case of previous generation MacBooks ports like HDMI, SD Card Reader etc are missing, but because now we have so many accessories that we need to connect to our MacBooks to aid our workflow.
MacBook USB Adapters can get expensive and seem not worth the price tag they come with.
However you don't have to spend a lot of money to get quality USB adapters that do the job just as good as the expensive options out there.
In this post we have shared some affordable MacBook USB Adapters that allow users to connect multiple accessories to their MacBook's USB-C ports.
Most of these adapters are equipped with dedicated HDMI port, SD Card reader, USB-A port as well as additional USB-C ports.
Affordable MacBook USB Adapters
Check out our list of best and most affordable MacBook USB Adapters you can buy in the year 2022.
1. MOKiN 7-in-1 USB adapter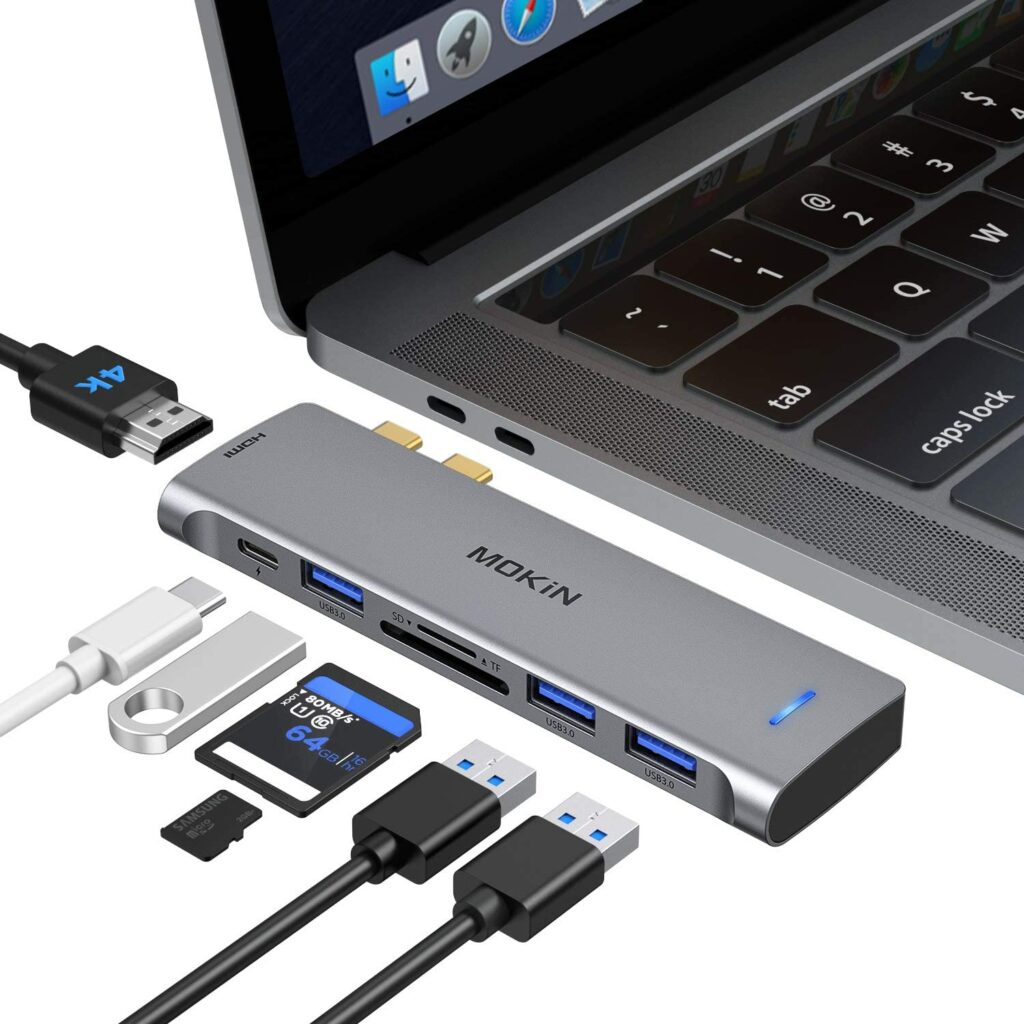 MOKiN's USB adapter is ideal to watch videos and images on big screens via an HDMI port. You can connect it to a keyboard, mouse, hard drive, U flash drive, SSD, HDD, etc.
It transfers data at a speed of 5Gbps. This seven-in-one adapter for MacBook adapter 2022 features 100W fast charging that charges your MacBook as quickly as the original charger does.
Moreover, using USB-C to 3.0 card reader you can quickly view your pictures and videos saving your time.
Its built-in advanced chip delivers stable performance and keeps your hub safe. It controls the temperature and prevents it from any short circuit or overheating.
Its compact design looks stylish with your MacBook.
You can buy this USB-C Adapter for MacBook Pro from MOKiN for $30.99 using the link below.
2. RayCue USB C Hub Adapter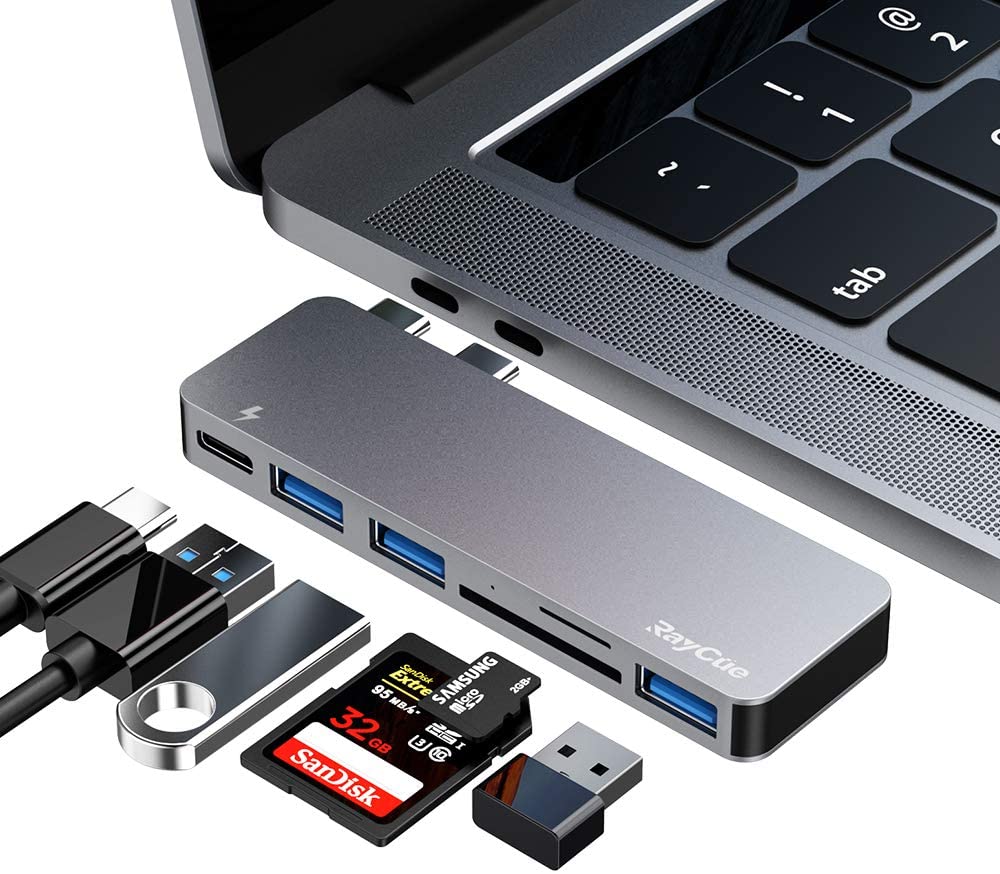 If you are looking for a powerful USB-C adapter for your MacBook, RayCue can be the answer. It supports a keyboard, mouse, external disk, and USB driver.
It transfers data swiftly with 5Gbps speed and can connect easily to your smartphones, tablets, and hard drives. 
This thunderbolt 3 USB adapter with 100W, supports a 5K, or 4K video display and performs at 40Gbps which is faster than the thunderbolt 2 adapter.
Its massive 512GB SD card stores all your data and can be connected to your PC so that you can view videos or pictures any time anywhere.
You can buy the RayCue USB C Hub Adapter for $16.98 at the link below.
3. WALNEW USB C Hub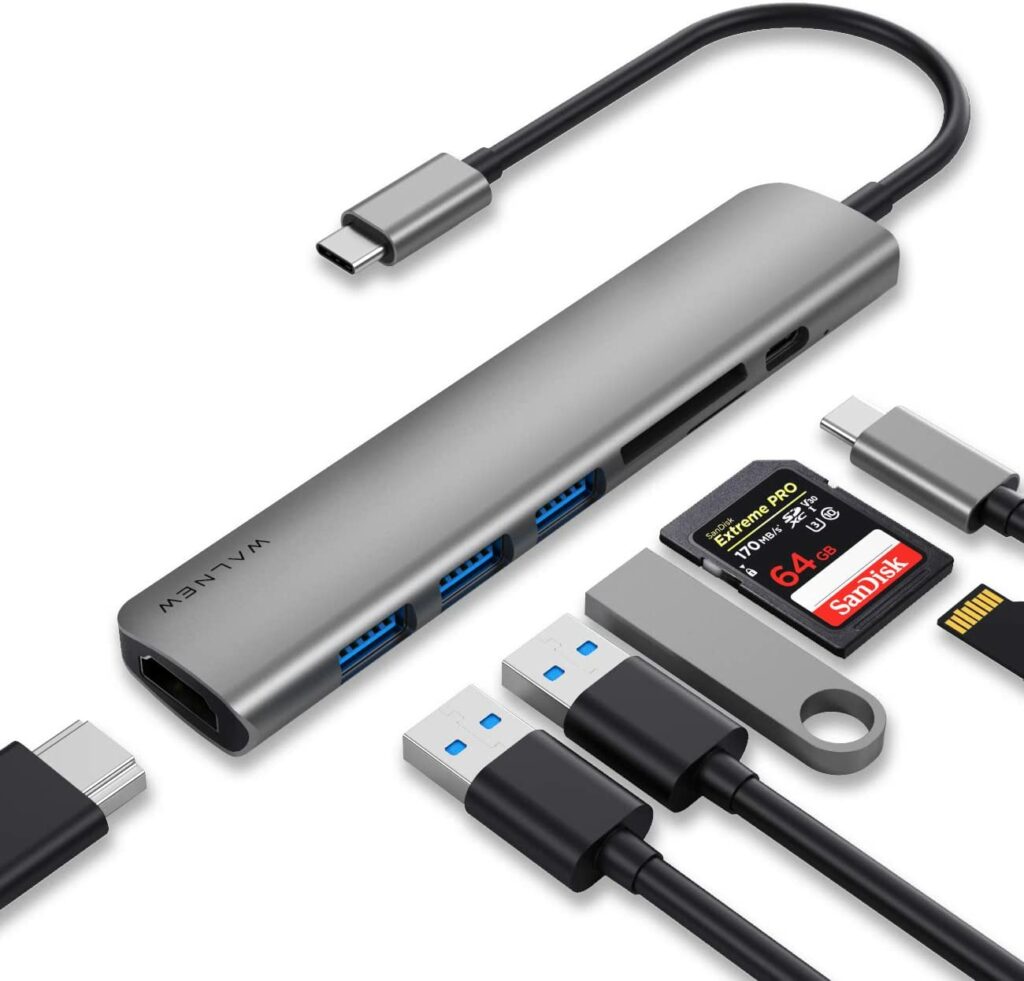 WALNEW's 7-in-1 USB-C adapter expands your MacBook into 7 ports and needs no additional driver. With this adapter, you can extend the screen with 4K video using HDMI output to monitors, projectors, or HDTVs.
Like other competitors, its USB-C charging input with 100W Power Delivery charges your laptop at high speed while performing all other functions. Its 5Gbps ensures data is transferred swiftly. 
Its whopping 512GB memory can store massive data and transfer it with a speed of 480Mbps. Its anti-overheat design prevents the adapter from any damage and is ideal to use in any environment.
You can buy the WALNEW USB C Hub Adapter for $22 at the link below.
4. MOKiN 6-in-1 USB C Adapter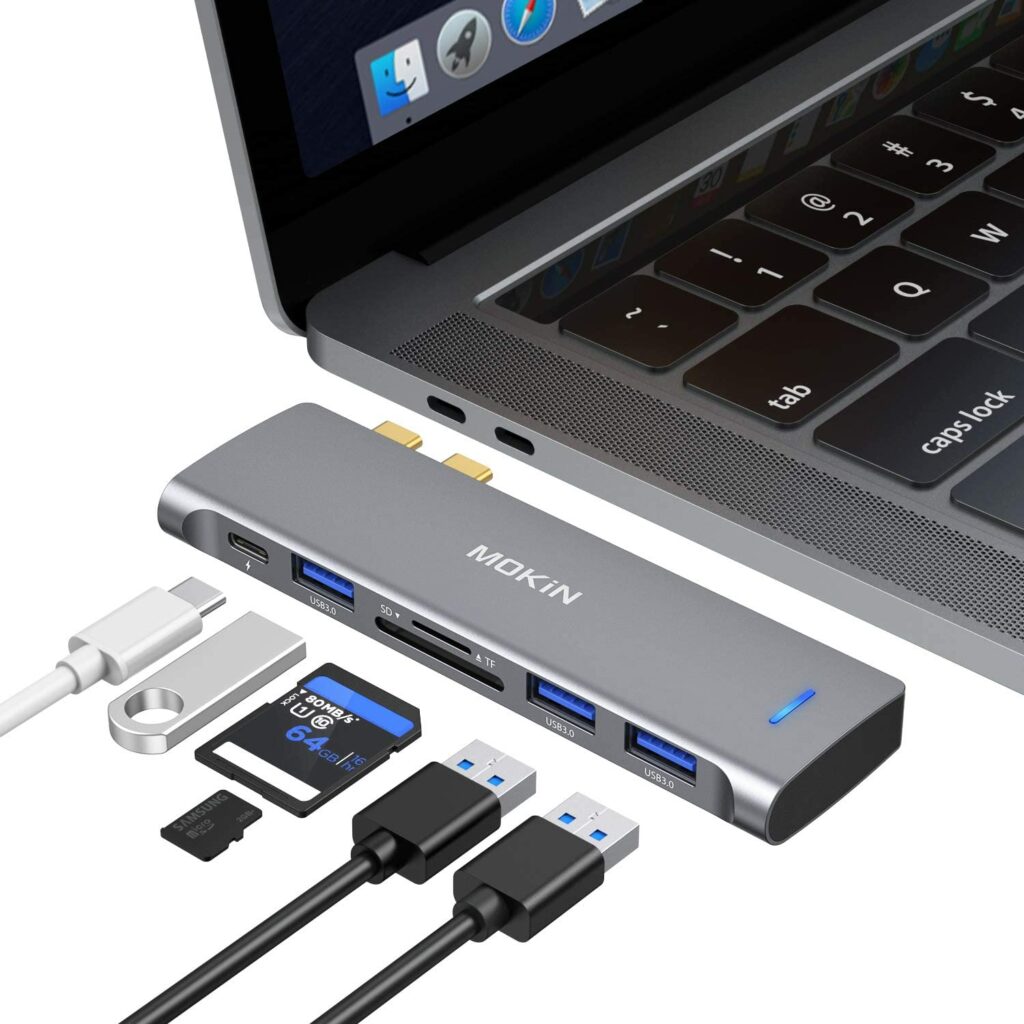 This six-in-one USB-C 3.0 adapter is exclusively designed for MacBook Air and MacBookPro 13, 15, and 16 inches.
You can expand your MacBook into six ports and perform multiple functions at the same time. It supports USB-C to USB 2.0 ports, SD card, 100W Power Delivery Thunderbolt 3 port. 
You can connect it to a mouse, keyboard, and hard drive and enjoy 5Gbps data transmission speed. This does not support Apple USB super drive.
This fast and convenient SD card reader can easily expand SD and TF slots and works with a speed of 104Mpbs.
Moreover, its powerful USB-C 100W Power Delivery keeps your MacBook charged all the time.
You can buy the MOKiN USB Adapter for $16.98 at the link below.
5. RayCue USB-C Adapter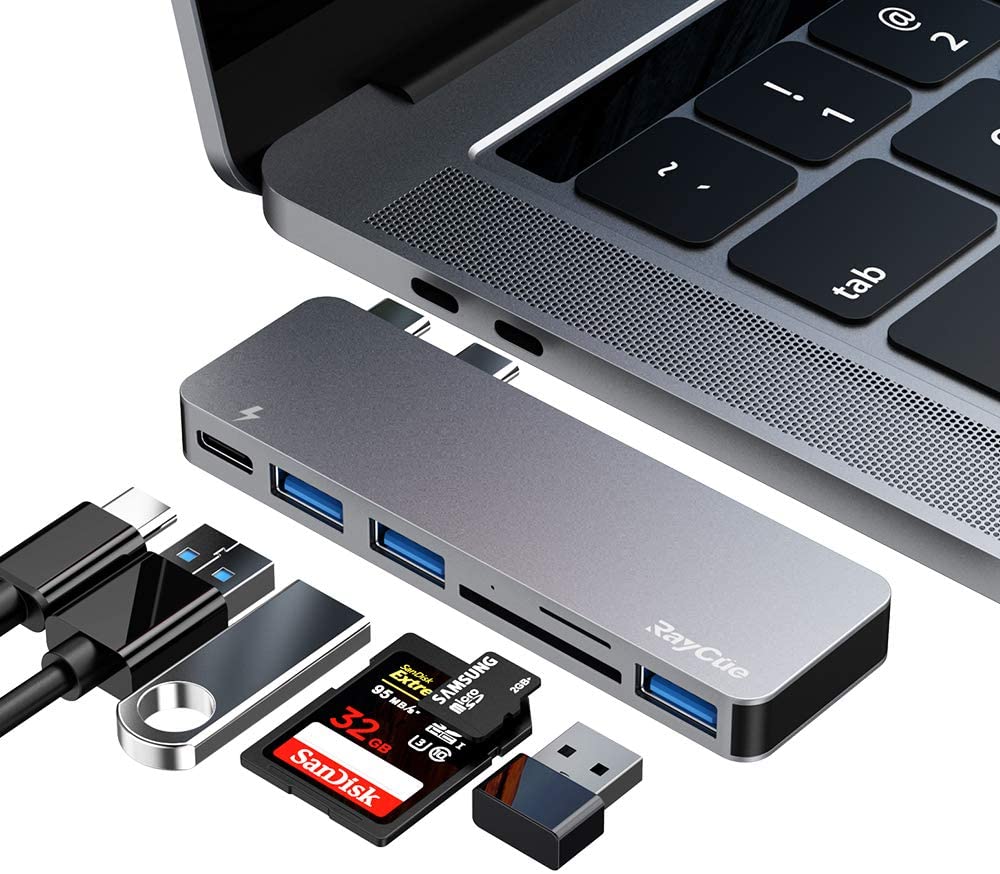 Here is another affordable MacBook USB adapter by RayCue which is compact and lightweight. Its sleek and durable body lasts longer without compromising on its performance.
It is exclusively designed for MacBooks 13.3" and 15.4". Its multi-function Thunderbolt 3 supports 100W Power Delivery charging your MacBook at full speed! Its astounding 40Gbps data transfer speed also supports a 5K display.
Using it's HDMI and Thunderbolt 3 you can connect two screens to have a larger view. 
You can buy the RayCue USB C Adapter at the price of $25.99 using the link below.
6. Argmao 7-in-1 USB C Hub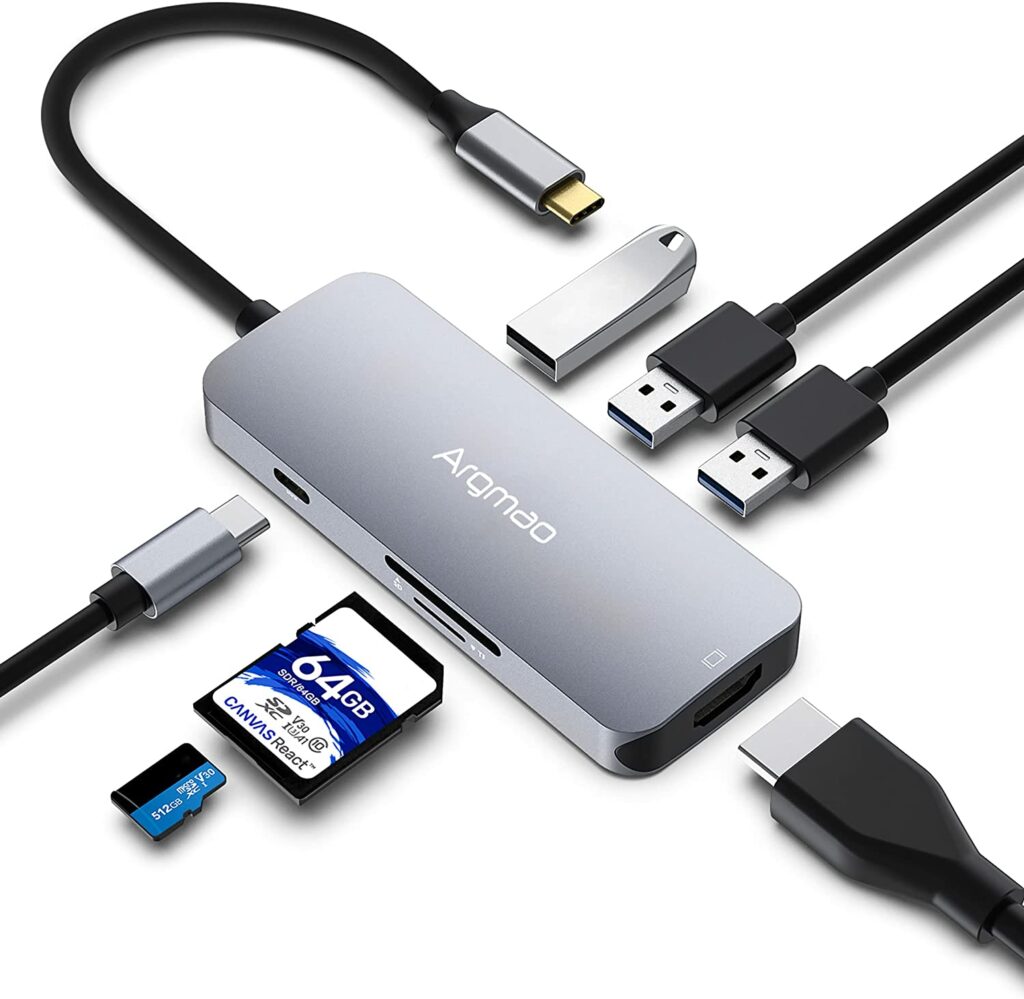 Argmao's affordable MacBook USB adapter is sleek, compact, and versatile. Its 3.30 USB ports transmit data to your smartphones, tablets, or hard drives effortlessly with a speed of up to 5Gbps.
Its SD and TF slots make it easy to access files from universal SD and Micro SD Card. It also supports two cards reading simultaneously.
Its HDMI supports up to 4K and 2K video, and is compatible with 720P, 1080P, and 1080I video. 
It is ideal for Apple MacBook, Apple MacBook Pro, Apple I Mac, I Mac Pro (21.5" and 27"), Google Chromebook Pixel, Dell, HP, Lenovo, and other laptops with Type C compatibility.
You can buy the Argmao 7-in-1 USB C Hub for your MacBook for $19.99. It is available on Amazon at the link below.
Which of the above-mentioned affordable MacBook USB adapters suits your needs best? Share with us in the comments below.
For more accessories for your MacBook, stay tuned to iOSHacker.com.