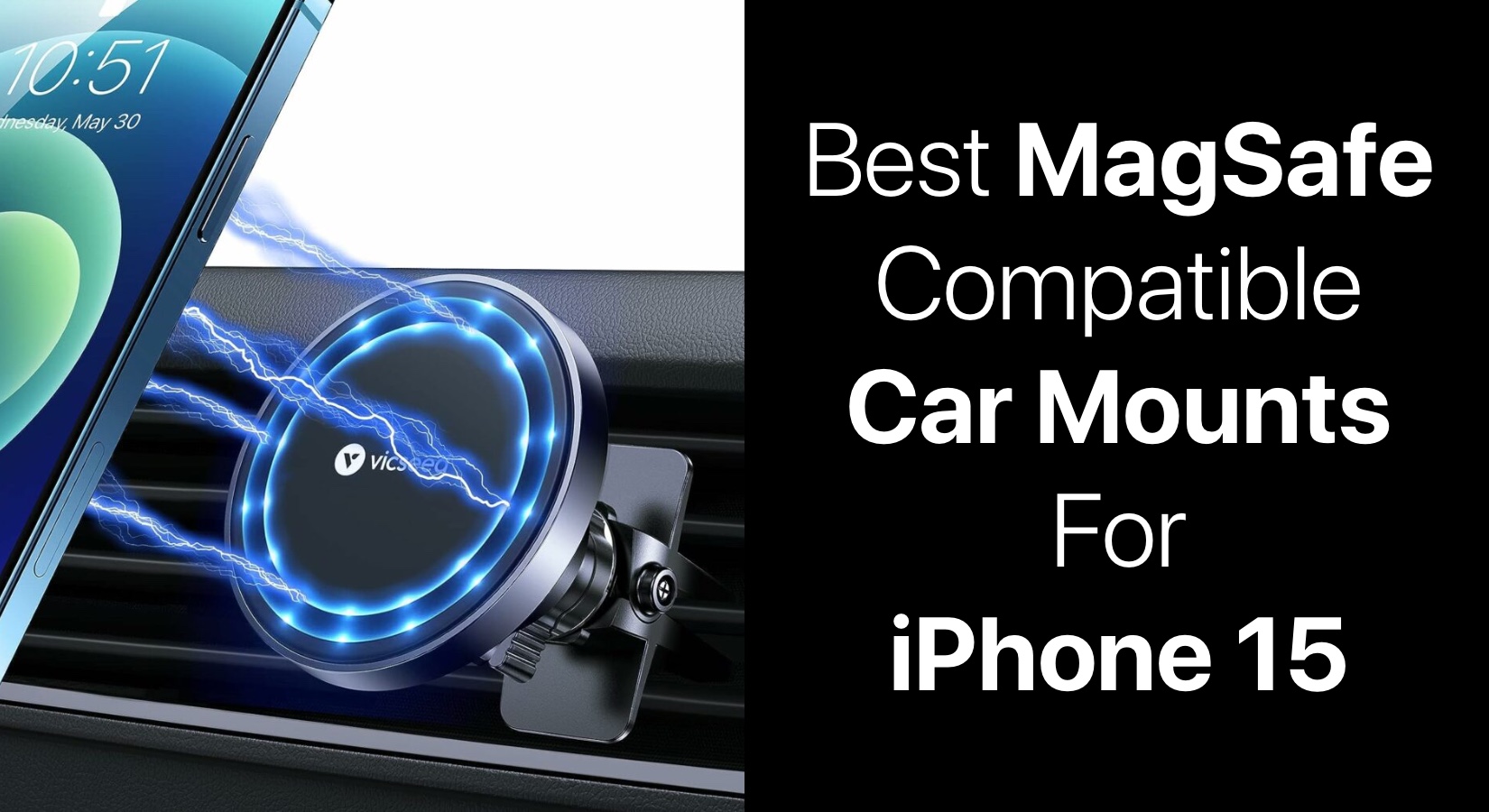 We all know how essential our smartphones are in our daily lives, and when it comes to using your brand-new iPhone 15 in the car, having a reliable and convenient mount is an absolute game-changer. With the advent of MagSafe technology, attaching your iPhone to a car mount has never been easier or more secure.
In this article, we're going to dive into the world of the best MagSafe Car Mounts for iPhone 15, exploring the top options that will make your driving experience not only safer but also more enjoyable.
So, whether you're a navigation ninja, a podcast aficionado, or just need a hands-free solution for those important calls on the go, buckle up because we've got some fantastic recommendations coming your way!
Best MagSafe Car Mounts For iPhone 15
Here are the best MagSafe car mounts for iPhone 15, iPhone 15 Plus, iPhone 15 Pro, and iPhone 15 Pro Max that you can buy right now.
1. Montar Air Car Mount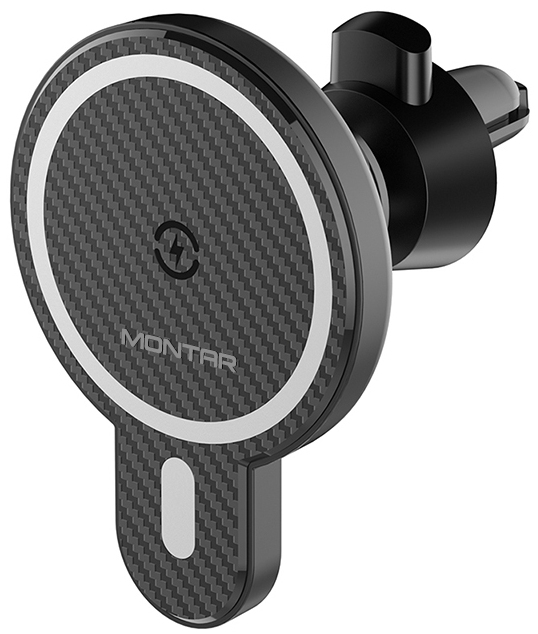 Let's start this list with Montar Air Car Mount. This MagSafe-compatible car mount features strong n52 magnets that make sure your iPhone does not fall even when you are driving off-road or on bumpy roads. This is a Qi-compatible mount, meaning it can provide up to 15W of fast charging to any device you connect to it.
Thanks to the strong magnets your iPhone will automatically align and lock on the car mount without requiring much effort from you. This is great, as you probably don't want to get distracted while trying to attach your phone to the mount.
Another great thing about the Montar Air car mount is that it is attached to your car's AC vents. This not only makes the mount more reachable compared to the mounts that attach to the windshield but it also doesn't block your view.
Montar Air comes with a USB cable, that lets you connect this wireless charger to your car's USB port.
Buy the Montar Air car mount at a price of $29.95 from the official website here.
2. VICSEED for MagSafe Car Mount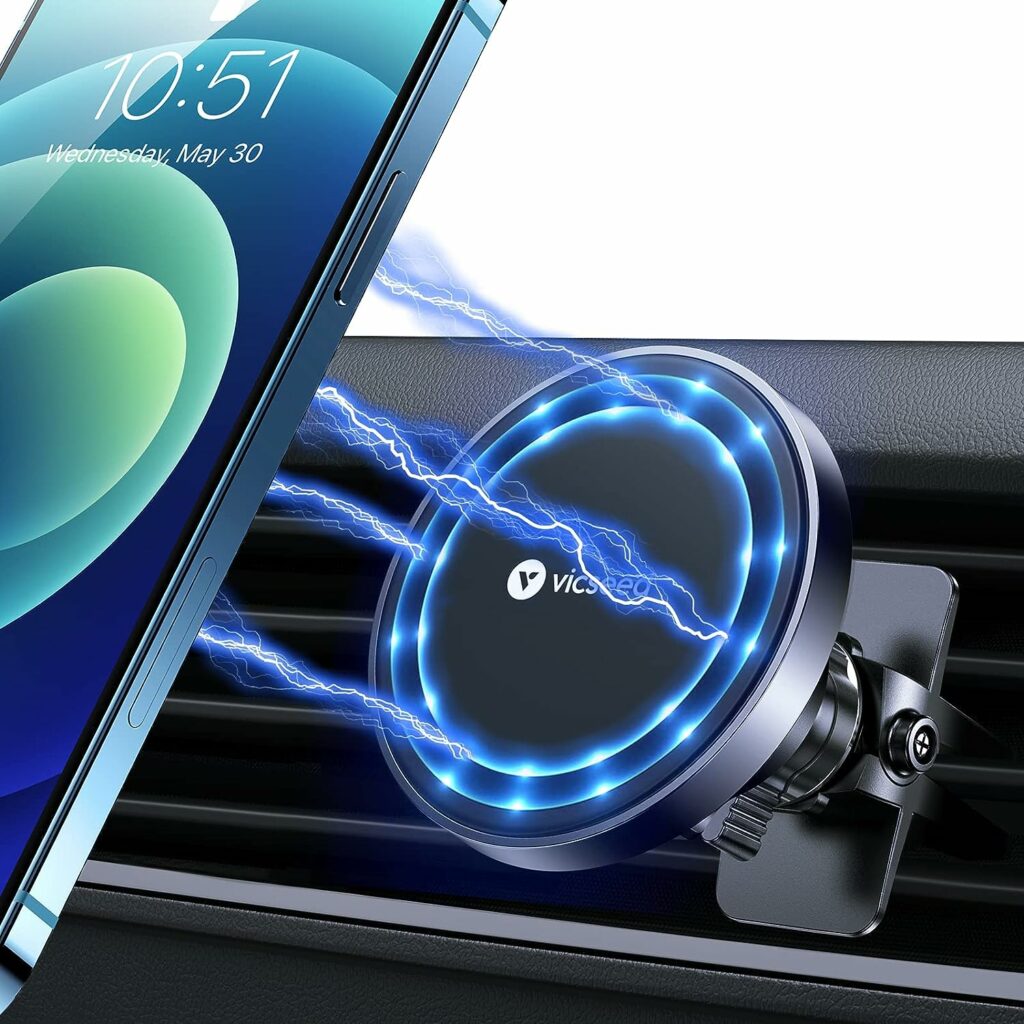 Next on our list of the best iPhone 15 MagSafe car mounts is the VICSEED magnetic phone mount. It offers a sleek design and can securely hold iPhone 15 and even works with Original Official MagSafe cases and other MagSafe case brands, eliminating the need for extra magnet plates.
With 20 powerful Rb magnets, this mount provides a super strong grip, capable of securely holding up to 10 smartphones. The air vent clip is built to last with its sturdy metal structure, ensuring it won't break. Its reliable lock system ensures it stays securely attached to your air vent without ever falling off. The soft silicone on the clip provides a strong hold while protecting your air vent from damage.
You'll have full flexibility with the 360-degree rotatable design, allowing you to use your phone horizontally, vertically, or at any angle you prefer. This one-hand operation design makes it easy to mount your phone before you hit the road and remove it when you arrive, saving you time and keeping your hands free.
Buy VICSEED for MagSafe Car Mount for $23.98 here.
3. UGREEN for Magsafe Car Phone Holder
Meet the UGREEN car phone mount with powerful N52 magnets that keep your iPhone securely in place. Whether you're taking calls, navigating, or jamming to music, this mount is a safety essential. Attaching your new iPhone to this magnetic car mount takes just 1 second, and it works seamlessly with iPhone 15 and MagSafe cases – no extra metal plates required.
Thanks to Magsafe technology, your phone's signal won't be affected, ensuring smooth navigation and other functions. Plus, this UGREEN Magsafe vent mount offers 360-degree rotation, so you can keep your eyes on the road and your phone screen at the perfect angle.
With an upgraded air vent clip featuring a secure hold, even on bumpy rides and sharp turns, your phone won't fall off your car's vent blades.
Buy UGREEN for Magsafe Car Phone Holder for $24.99 here.
4. LISEN Fits MagSafe Car Mount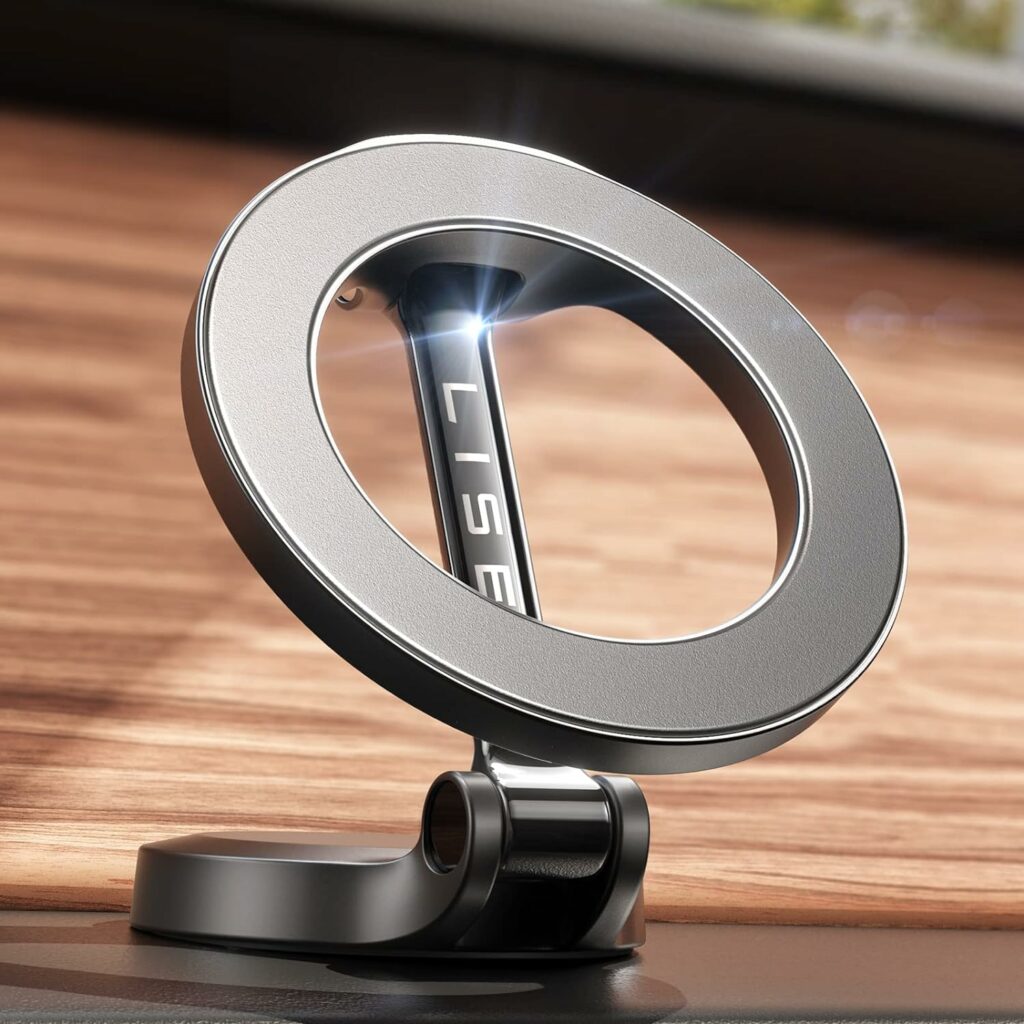 This Master Magnetic Car Phone Mount comes with a Rotation/MagSafe Function designed to elevate your driving experience. With its adjustable extension arm and free-angle rotation, you can set the perfect mood for your drive – be it a relaxed ambiance or a vibrant and refreshing atmosphere that complements your car.
Crafted with a full zinc alloy body, this one of the best MagSafe car mounts for iPhone 15 Pro Max is not just scratch-resistant and attractive but also remains cool at high temperatures, ensuring safety. Unlike plastic holders, this metal car phone holder won't overheat.
The adhesive strength of this upgraded MagSafe dash holder is remarkable, exceeding 66 lbs. Thanks to the nano-based adhesive pad with impressive heat resistance and dissipation, our tests show that it can withstand extreme temperatures, holding up against heavy loads for more than 72 hours – a testament to its reliability on the road.
Buy LISEN Fits MagSafe Car Mount for $29.99 here.
5. Lamicall for MagSafe Car Mount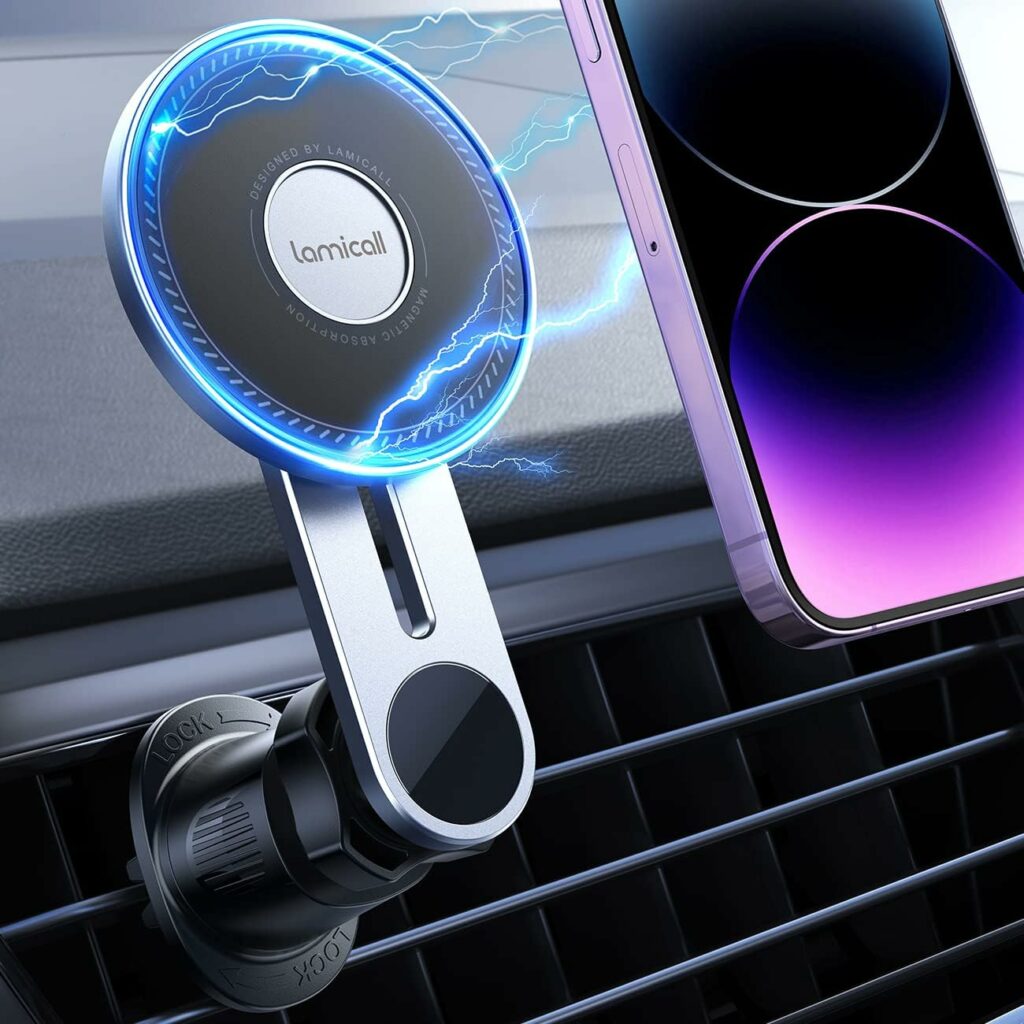 The Lamicall car phone holder for MagSafe uses 20 powerful N52 magnets to ensure your phone stays securely in place, even during sharp turns or rough roads.
Its sleek matte design with a frosted finish and silicone surface looks stylish. The L-shaped aluminum support arm doesn't block your vent, and the 360-degree joint ball lets you easily adjust the mount for the perfect viewing angle.
This MagSafe car phone mount has an ultra-stable metal hook, locking device, soft silicone, and a triangular structure for a strong "4-lock protection" that keeps your phone securely attached without falling off. The anti-slip silicone also protects your air vent from scratches.
Installing or removing your phone is a breeze thanks to the magnetic design—no buttons or presses are required. Plus, you can switch between landscape and portrait mode with one hand. All in all, the PC and rubber materials on the surface protect your phone from scratches.
Buy Lamicall for MagSafe Car Mount for $19.99 here.
6. ESR Magnetic Car Mount (HaloLock)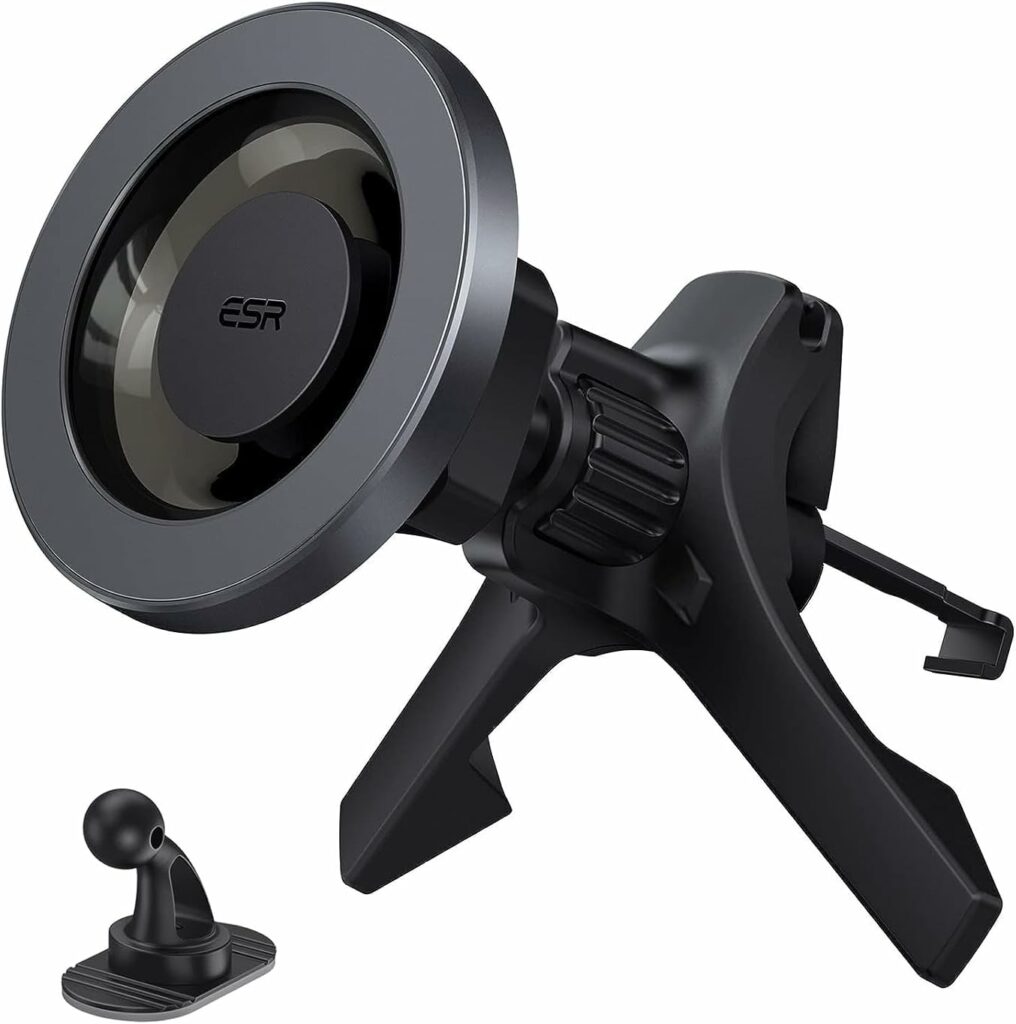 The ESR Magnetic Car Mount has some serious magnetic power, with high-grade N52H magnets that can hold your phone securely with a force of 2,300 grams. To get the strongest magnetic lock, pair it up with the ESR HaloLock case.
What's cool is that this mount has a 360° ring of magnets that align perfectly with the magnetic system in the iPhone 15 series. This makes one-tap mounting a breeze.
The design is pretty nifty, too. It hooks onto your car vents and locks firmly in place. Plus, the mounting arms add extra stability, so your phone stays steady even on bumpy roads. The best part? It's versatile. It works with all types of car air vents, whether they're horizontal, vertical, circular, or cross-hatch. Just use the easily rotatable hook.
Buy ESR Magnetic Car Mount (HaloLock) for $19.99 here.
7. OMOTON for MagSafe Car Mount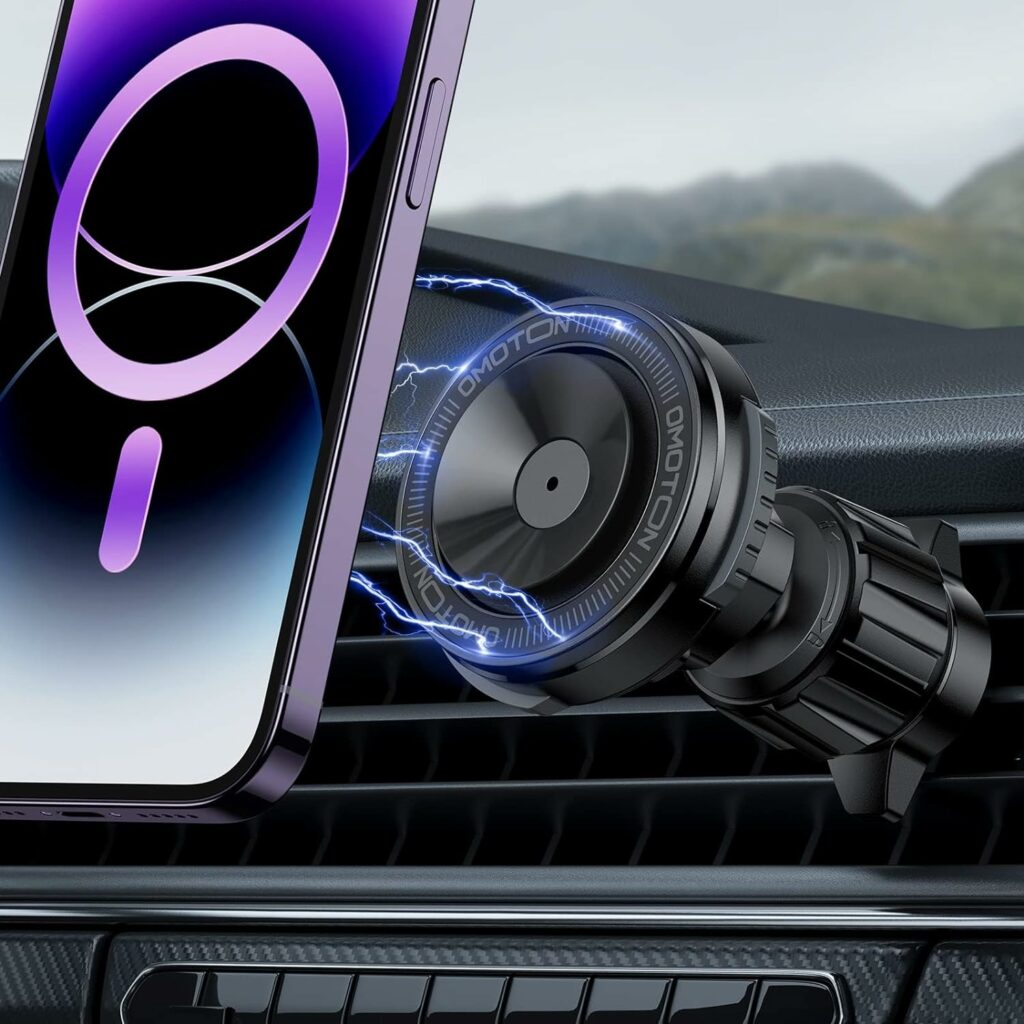 OMOTON car phone holder is unlike any other, featuring a powerful dual-mounting system. It combines a ring of N52 magnets with an advanced vacuum suction cup, providing a grip that's 3.6 times stronger than the regular options.
Worried about your phone taking a tumble during a bumpy ride? No need to fret! The MagSafe mount stays securely attached to the vent thanks to its metal hook, silicone pad, rotatable support ring, and adjustment knob.
With a 360° ball mount, you can effortlessly adjust your device to the perfect angle for tasks like making calls, navigating, charging, or enjoying music. Plus, the DriveSafe MagSafe car vent mount is designed to fit most vertical and horizontal air vents, ensuring your normal ventilation isn't compromised.
Buy OMOTON for MagSafe Car Mount for $11.89 here.
8. Hinyx MagSafe Car Mount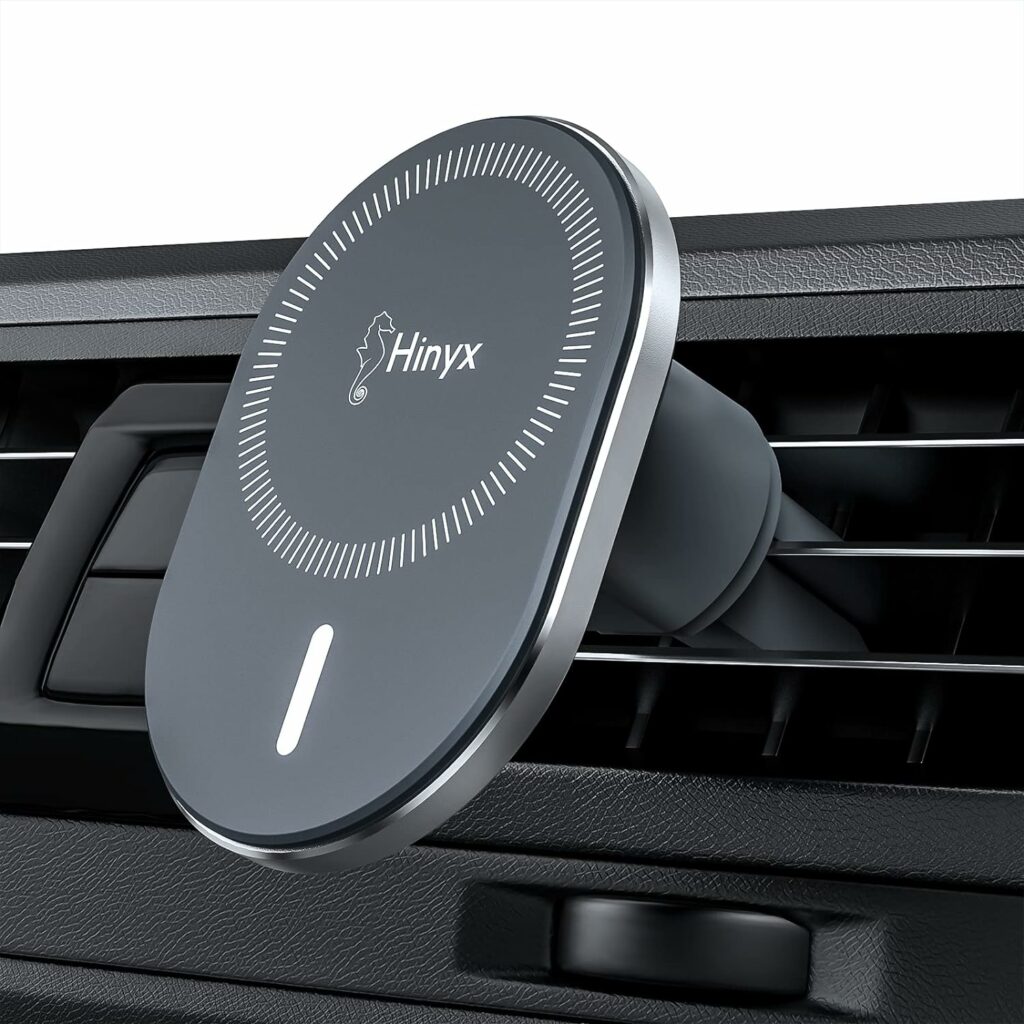 This magnetic car mount for iPhone 15 Pro is a game-changer. It works seamlessly with MagSafe, so you can attach your phone directly without worrying about signal interference. And the best part? It's compatible with both MagSafe and non-MagSafe cases, including the Original Official MagSafe case and third-party options.
This magnetic car mount boasts 16 powerful neodymium magnets (N52, the strongest kind), providing a grip so strong it can support the weight of up to 10 iPhone 15 Pro Max devices. Your phone will stay firmly in place, no matter how rough the terrain or how many potholes you encounter.
Installation is a breeze with its one-piece design. Simply insert the car mount clip into your vent's horizontal or vertical slats, and you're done. The upgraded soft silicone clip ensures a snug fit without scratching or deforming your air vent blade. And for the cherry on top, the magnetic car holder is 360° rotatable, allowing you to find the perfect viewing angle, whether you prefer landscape or portrait mode
Buy Hinyx MagSafe Car Mount for $29.99 here.
To Conclude
So, there you have it – the top MagSafe-compatible car mounts that will make your iPhone 15 the ultimate co-pilot on the road. As you hit the road with one of these trusty iPhone 15 Pro Max car mounts, you can enjoy a hassle-free and safe driving experience, all while having your iPhone 15 right where you need it.
Happy driving, and may your journeys be filled with smooth roads and great tunes!
Disclosure: iOSHacker may receive a commission if you purchase products through our affiliate links. For more visit our privacy policy page.