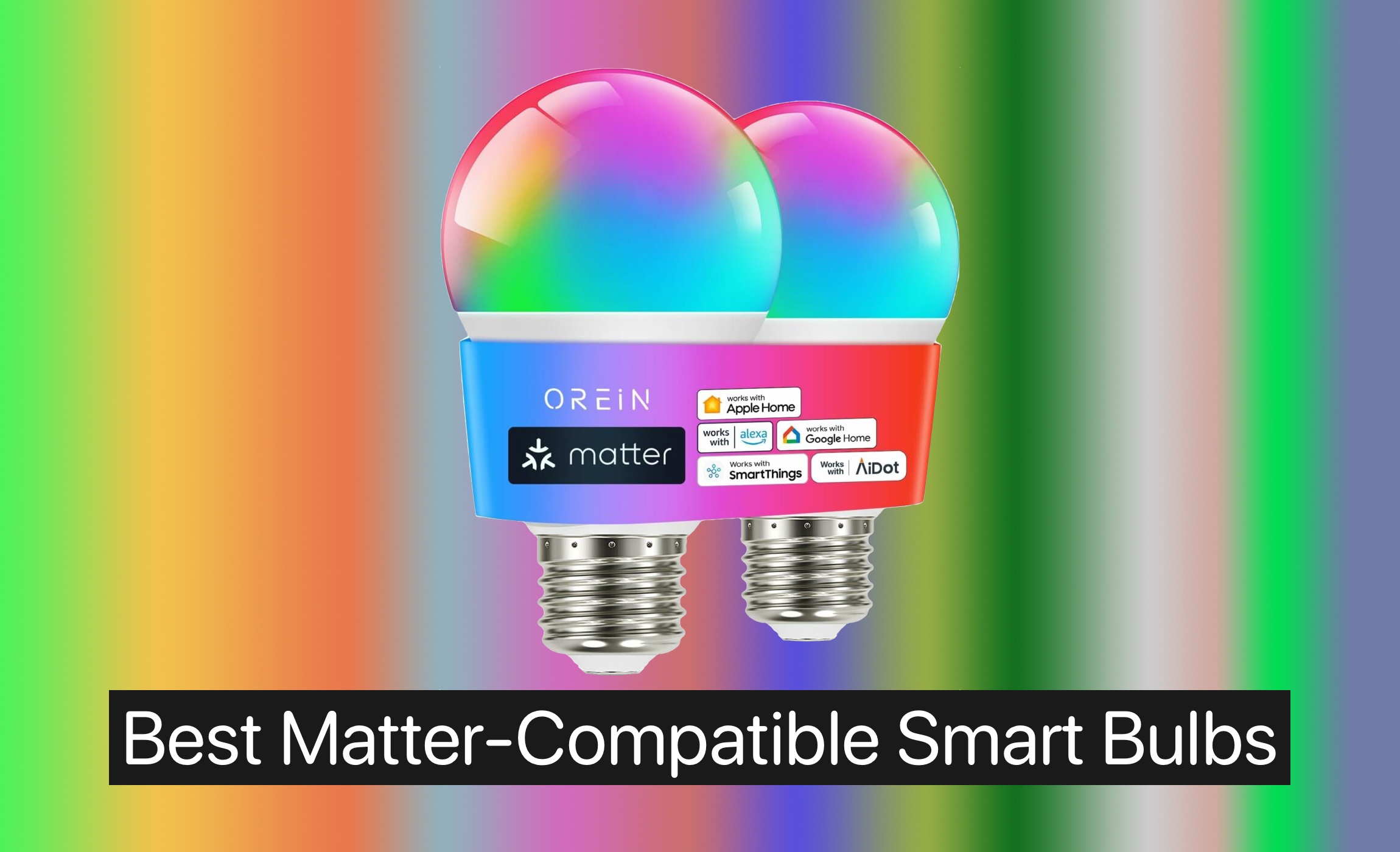 Welcome to the bright new world of smart home illumination, where your living space transforms into a symphony of lights at your command. If you've ever wondered what makes your smart home devices speak the same language, it's time to meet the conductor of this smart orchestra: the Matter smart home standard. The Matter smart home standard is like the universal language for smart devices. It helps different brands of smart gadgets, like lights, thermostats, and locks, to talk to each other easily.
So, instead of needing separate apps for each device, Matter makes them work together, making your smart home life simpler and more connected. It's like the glue that brings all your smart things into a harmonious symphony!
In this article, we're diving headfirst into the captivating realm of Matter-compatible smart bulbs for iPhone and iPad users, to help you discover the smart bulbs that work with iPhone that'll illuminate your home with both brilliance and unity.
Best Matter Compatible Smart Bulbs
Here are some of the best Matter-compatible color-changing smart bulbs that work with your iPhone, iPad, and other Matter-compatible devices.
1. Linkind Matter Wi-Fi Smart Light Bulbs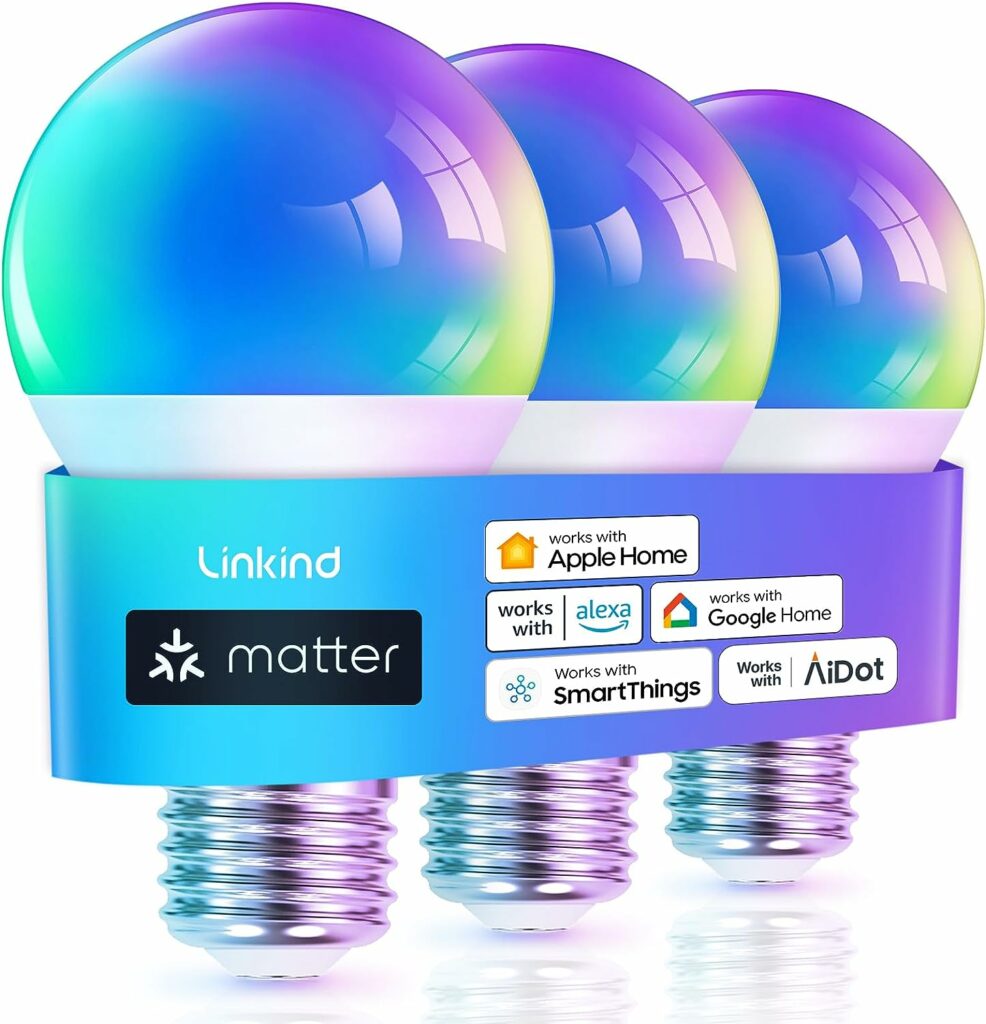 Linkind Matter Wi-Fi Smart Light Bulbs – the perfect addition to your smart home setup. What's special about these bulbs? Well, for starters, they're compatible with all Matter platforms. This means you can control all your smart devices using a single app that's certified by Matter, eliminating the need for a jumble of apps and boosting your privacy and security without relying on cloud services.
Linkind's color-changing bulbs are built to last, with a remarkable lifespan of approximately 22 years when used for 3 hours a day. Plus, they're energy-efficient, equivalent to a 60W incandescent bulb but saving up to 80% of energy and money. A single 9W A19 smart bulb can effortlessly light up a room of about 54ft².
One standout feature of Linkind's smart light bulbs is their commitment to your well-being. These bulbs emit a gentle 60HZ light that's easy on the eyes, reducing the risk of visual fatigue, vision loss, migraines, and other issues.
Buy Linkind Matter Wi-Fi Smart Light Bulbs for $29.99 here.
2. Consciot Matter Wi-Fi Smart Light Bulbs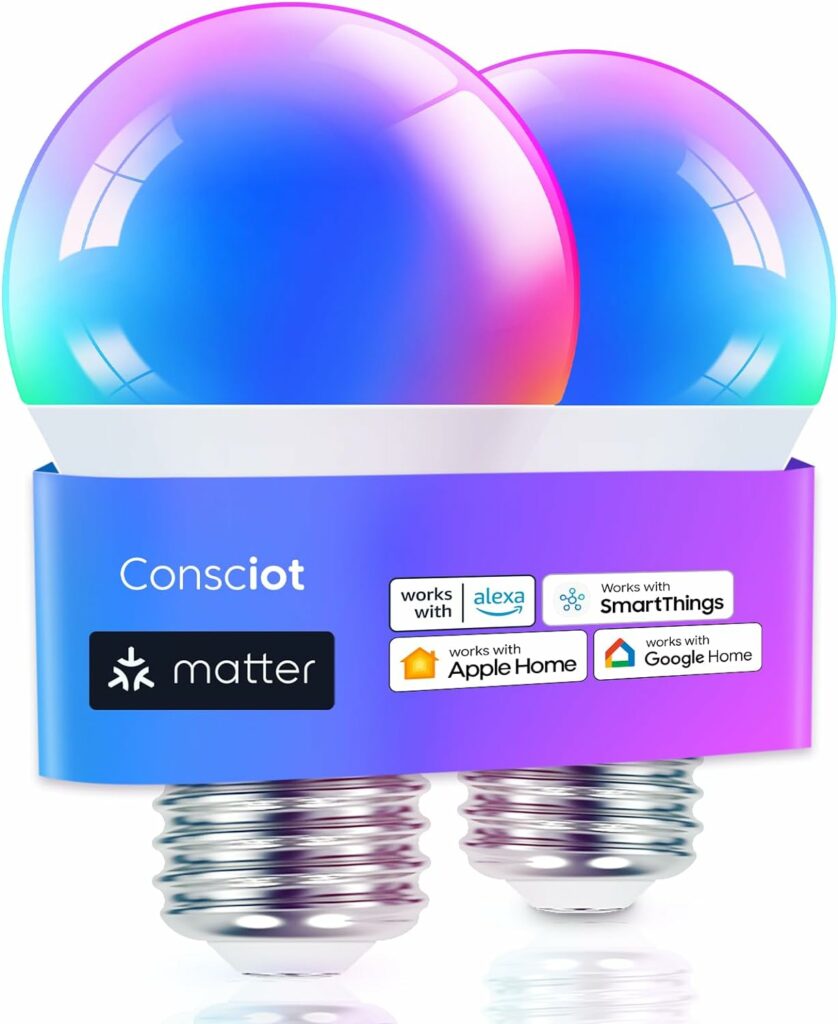 The Consciot Matter Wi-Fi Smart Light Bulbs are your gateway to a smarter and more colorful home! These bulbs are at the cutting edge of technology, using Matter compatibility to seamlessly integrate with a wide range of platforms like Apple Home, Alexa, Google Home, Siri, and SmartThings.
Controlling these E26 smart LED bulbs is a breeze. You can use voice commands or your preferred Matter app or the AiDot app to do it all – from turning your lights on and off to adjusting their brightness or creating customized light scenes. And if you want to control multiple bulbs simultaneously, setting up a group is a snap, as long as you're on a 2.4 GHz WiFi network.
What sets these smart bulbs that work with Alexa apart is their incredible versatility. With a palette of 16 million colors at your fingertips, you can go from cozy warm whites to crisp cool whites, and enjoy dynamic scenes that match your mood.
Buy Consciot Matter Wi-Fi Smart Light Bulbs for $16.60 here.
3. OREiN Matter Smart Light Bulbs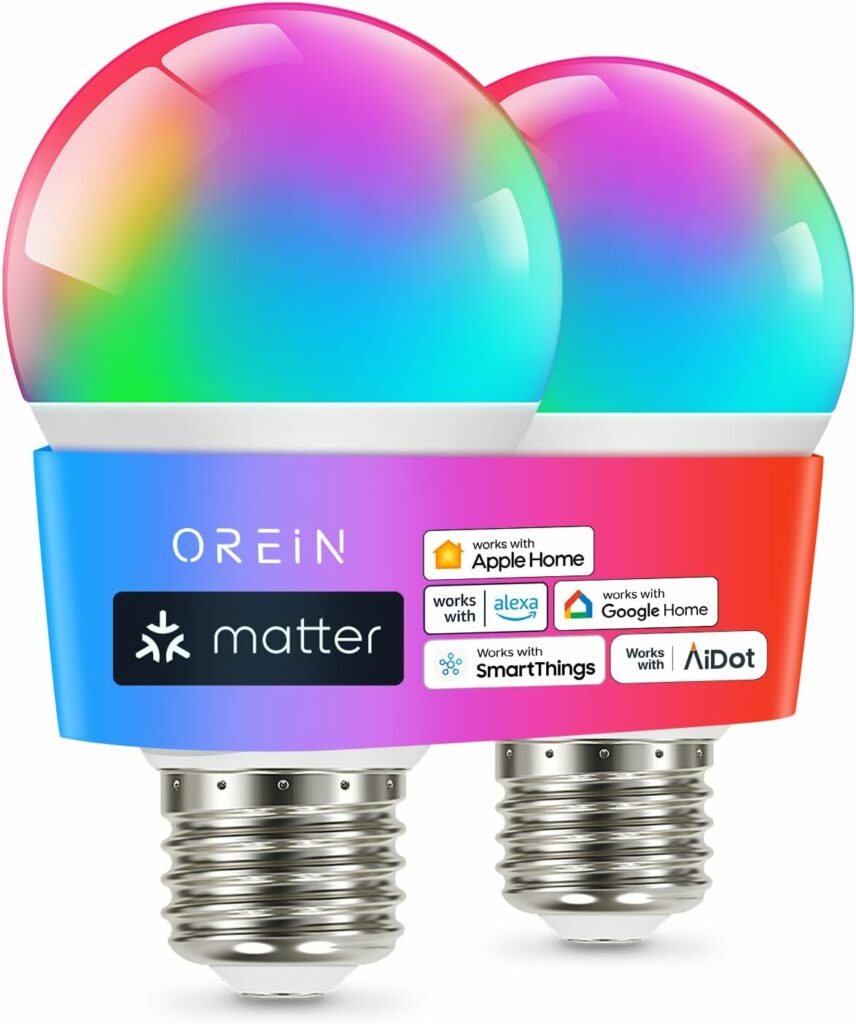 OREiN Matter Smart Light Bulbs is the ultimate solution for seamless smart home control. No need to fret about internet connectivity issues – these best-matter compatible bulbs work flawlessly on your local network even if your internet goes offline. You can easily connect them via popular apps like Alexa, Google Home, Apple Home, SmartThings, or our very own Aidot App, which lets you scan nearby devices or simply enter the QR code for instant connection.
What sets OREiN Matter bulbs apart is their unwavering commitment to security. They utilize strong cryptographic algorithms to safeguard every message and prioritize user data protection. With unlimited over-the-air upgrades, your security measures remain up-to-date.
OREiN Matter Wi-Fi light bulbs offer a dynamic lighting experience. These best smart bulbs sync with your music's rhythm, whether you're in the mood for a party, a calm evening, or an automatic rhythm. With over 16 million colors to choose from and the ability to adjust the warmth from 1800K to 6500K, these 9W bulbs are as bright as 60W incandescent, saving you up to 85% on energy without sacrificing quality.
Buy OREiN Matter Smart Light Bulbs for $19.99 here.
4. mujoy BR30 Smart Light Bulbs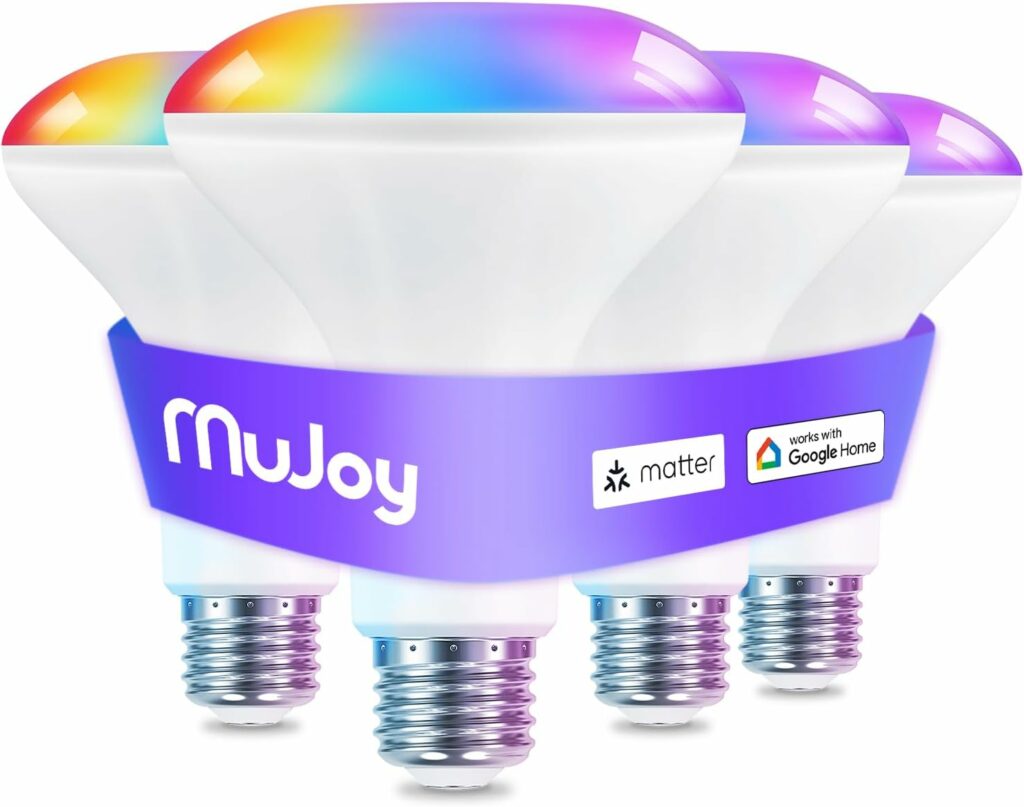 No matter which smart hub or voice assistant you prefer, Mujoy's smart bulbs that work with Google Assistant are here to make your life easier. Whether you're using Amazon Echo, Google Hub, or Apple HomePod, or managing your smart devices through apps like Alexa, Google Assistant, or HomeKit, you'll have complete control right at your fingertips.
And when it's time to set the mood, Mujoy's Aidot app has your back. Whether you're diving into intense gaming sessions, throwing lively parties, powering through workouts, or enjoying a cozy movie night, Aidot's scene presets have you covered. Instantly transform your space to create the perfect ambiance for every occasion, making every moment unforgettable.
What sets Mujoy apart is its commitment to security and privacy. With Matter as the smart home standard, your IoT devices are in safe hands. Each Mujoy Matter BR30 multi-colored smart bulb boasts a unique identity and undergoes authentication before joining the network. Data encryption ensures that your privacy is safeguarded, protecting you from potential privacy attacks.
Buy mujoy BR30 Smart Light Bulbs for $49.99 here.
5. Sengled LED Smart Light Bulb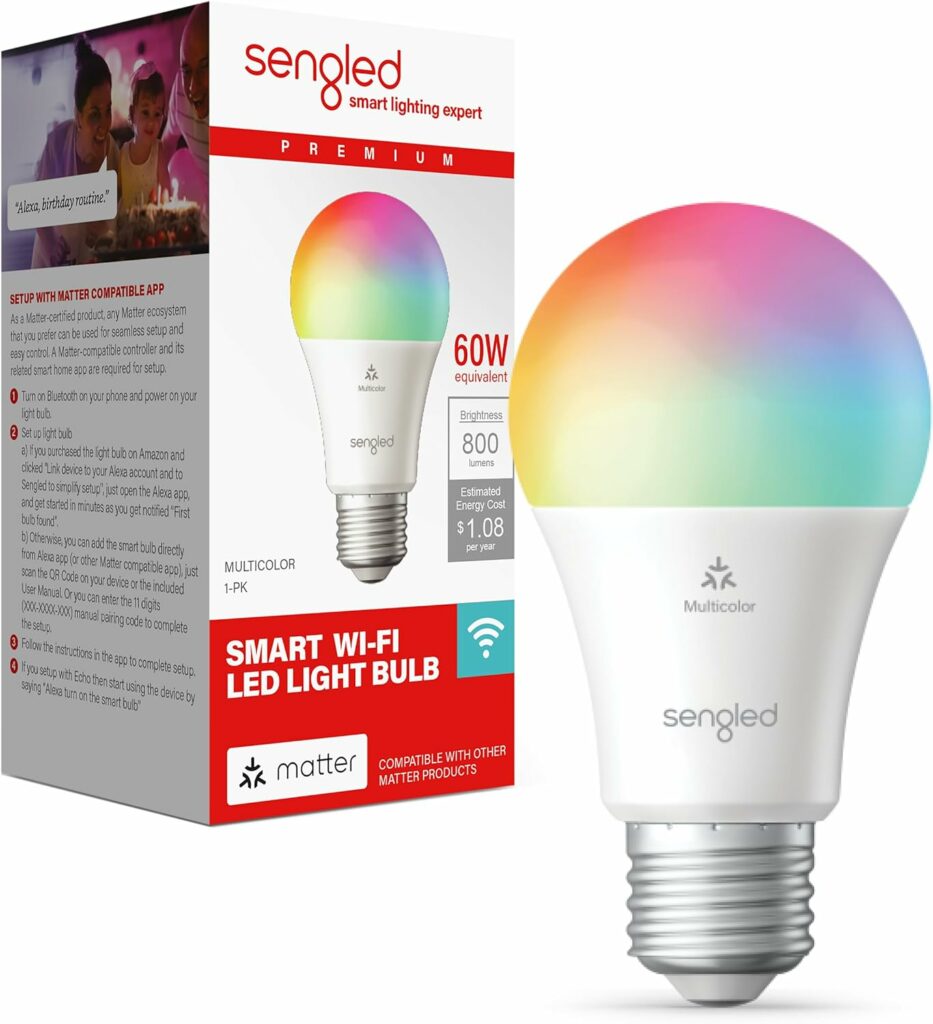 The Sengled LED Smart Light Bulb doesn't just shine bright; it's smart and easy to control. You can command it with your voice using Amazon Alexa, Google Assistant, Apple HomeKit, and Samsung SmartThings. Just imagine the convenience of saying, "Hey Alexa, turn on the lights," and watching your room come to life.
What makes it one of the best HomeKit-compatible smart bulbs 2024 is its impressive 800 Lumens of brightness, which outshines many bulbs with similar wattage. At just 9 watts, it's an eco-friendly choice that reduces energy usage by up to 85% without compromising on brightness or color quality. Say goodbye to high energy bills and hello to a greener future.
Controlling your lights is a breeze with either voice commands or the mobile app. Adjust brightness, change colors, create groups to control multiple lights simultaneously, and set up routines to automate your lighting schedule.
Buy Sengled LED Smart Light Bulb for $19.99 here.
6. WiZ Color Filament LED Smart Bulb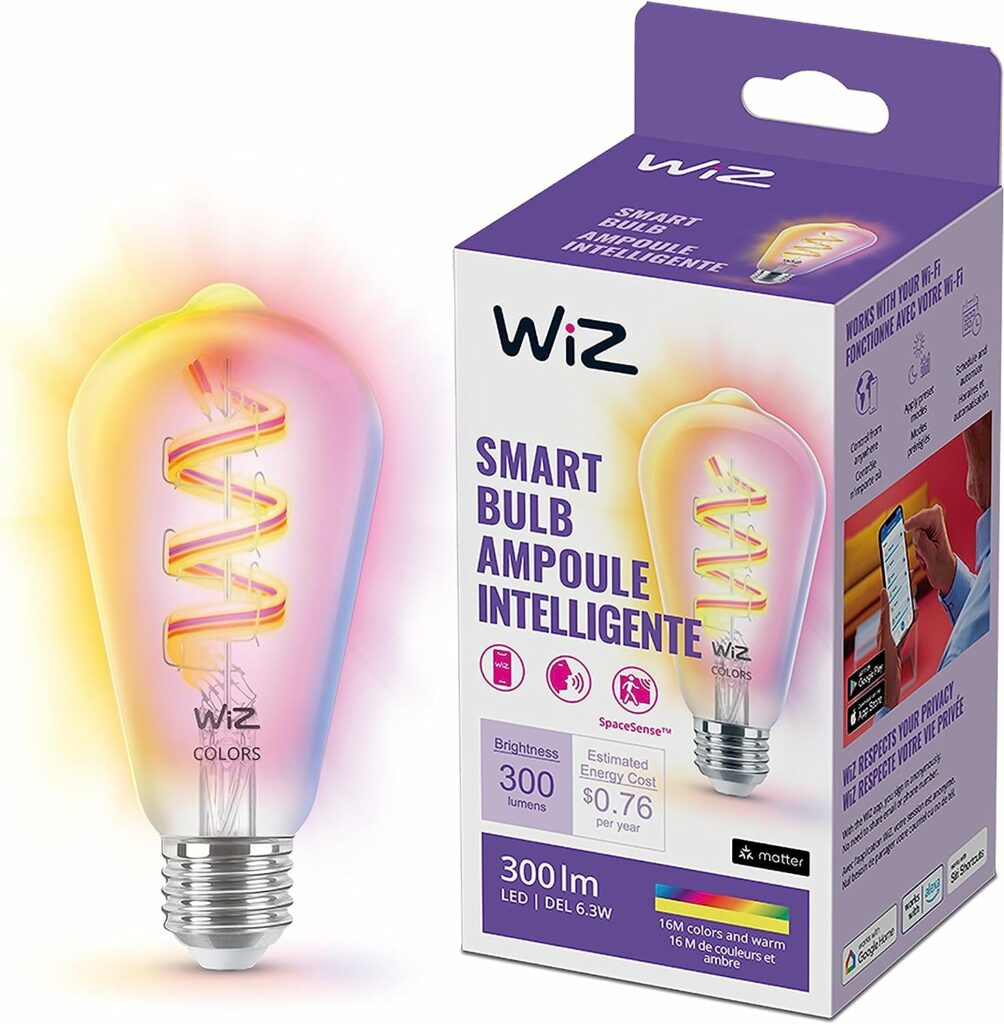 The WiZ Color Filament LED Smart Bulb not only brings a touch of retro elegance with its spiral LED filament but also packs a punch with modern smart features. Imagine walking into a room and having the lights automatically come to life as they sense your presence, thanks to the SpaceSense feature in the WiZ v2 app.
The oversized matter-compatible smart bulb emits a beautiful, warm glow, reminiscent of classic incandescent bulbs, but with all the energy efficiency of LED technology. You can easily customize the lighting to suit your mood and activity, whether you prefer energizing cool white or soft warm white light. Plus, there are handy preset modes like Focus and Relax for the perfect ambiance.
Setting up the WiZ smart bulb is a breeze. Just screw it in, download the WiZ v2 app, connect to your 2.4GHz Wi-Fi, and voila, you're good to go – no hubs or gateways needed. You can control your lights through your smartphone, voice commands, the WiZ remote control, or even your existing wall switch, toggling between two favorite modes. It's compatible with popular smart home ecosystems like Google Home, Alexa, and Siri Shortcuts, making your life even more convenient.
Buy WiZ Color Filament LED Smart Bulb for $28.56 here.
To Conclude
In a world where technology continues to shape the way we live, the choices we make for our smart homes become increasingly important. When it comes to lighting, matter-compatible smart bulbs are the future, offering seamless integration and enhanced convenience. As we've explored the best options for your smart home, we hope you've found the perfect match to illuminate your world. From setting the mood with a single voice command to optimizing energy efficiency and security, these matter-compatible iPhone smart bulbs are more than just lights; they are the glowing heart of a truly intelligent home.
So, whether you're an early adopter or a seasoned tech enthusiast, rest assured that the best color-changing matter-compatible bulbs are lighting up a brighter, smarter future for us all. Upgrade your space today, and bask in the brilliance of your connected, energy-efficient, and effortlessly controlled smart home lighting experience.
Disclosure: iOSHacker may receive a commission if you purchase products through our affiliate links. For more visit our privacy policy page.