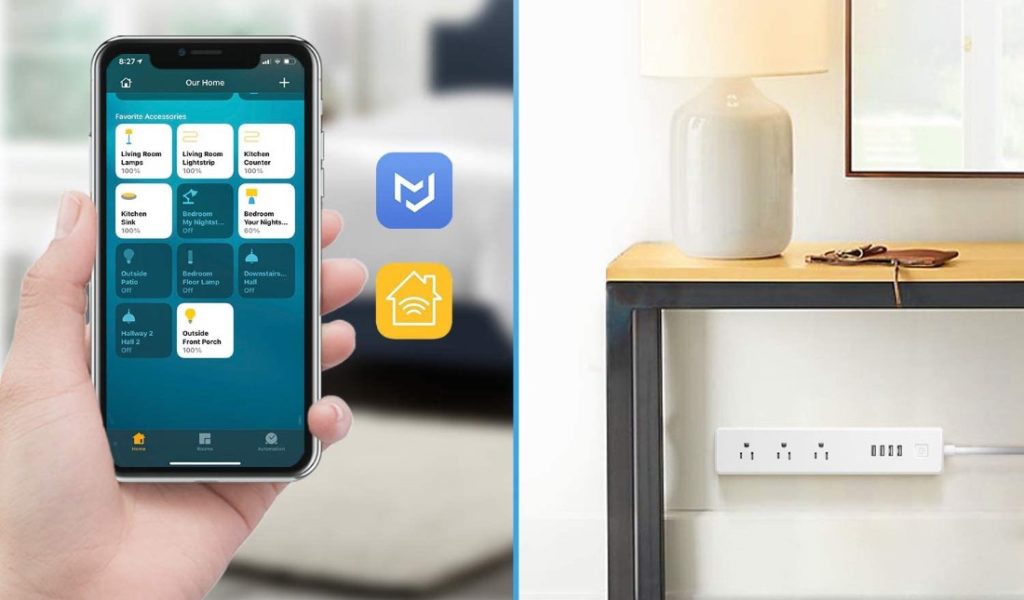 No HomeKit Smart Home is complete without a good power strip that is compatible with HomeKit. That's why we have gathered a list of 5 amazing energy strips that you can control with your iPhone or iPad.
These HomeKit-compatible power strips enable users to remotely turn on or turn off appliances that are connected to these power strips. Since you can control these power strips with the iPhone, this essentially means all of the appliances that are connected to these smart power strips also become smart and HomeKit compatible.
If you are also looking for HomeKit compatible Smart Plugs, then we have got the perfect list for you.
Best Power Strips For HomeKit in 2023
Here you can find a list of best power strips that work with HomeKit in 2023. Read on to learn about great options from Meross, Eve, MangoTek and Vocolinc.
1. Meross Power Strip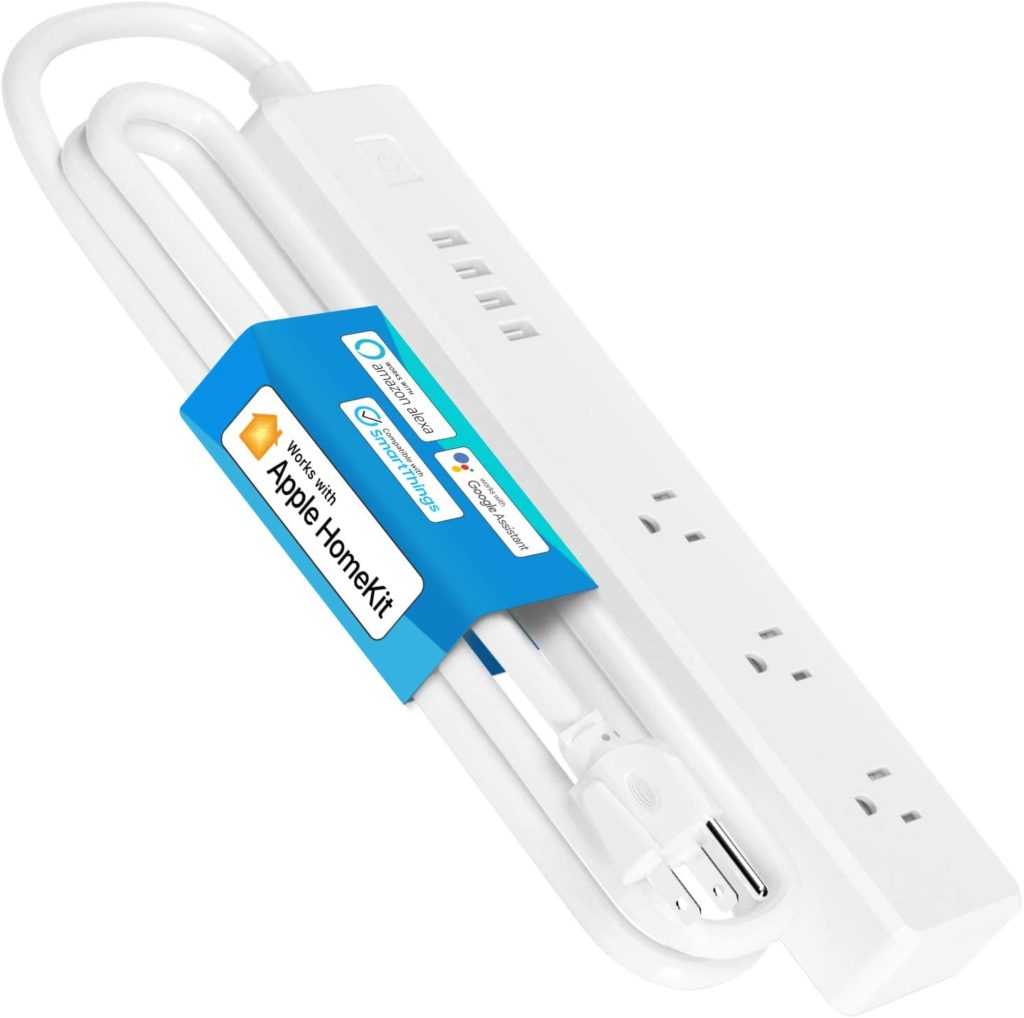 For a quick and easy solution for power outlets in your home, Meross has one of the best HomeKit power strips. It is an all-in-one smart power strip that can accommodate 3 power plugs and 4 USB devices at a time.
Compatible with Amazon Alexa, Apple HomeKit, Apple Watch, Siri, Carplay, and Google Assistant, you can even control it through your voice. Moreover, you can control this smart power strip from anywhere, anytime through the Meross app. Remember, to run this strip, you must have an iPad, HomePod, or Apple TV installed in your home.
Apart from controlling it remotely, you can schedule the devices to turn on or off connected with it. And when the battery goes down, the fast charging feature recharges it super quick! The best thing is it is compatible with both iOS and Android.
You can buy this smart power strip from Meross with HomeKit compatibility for $31.65 at the link below.
2. Eve Smart Power Strip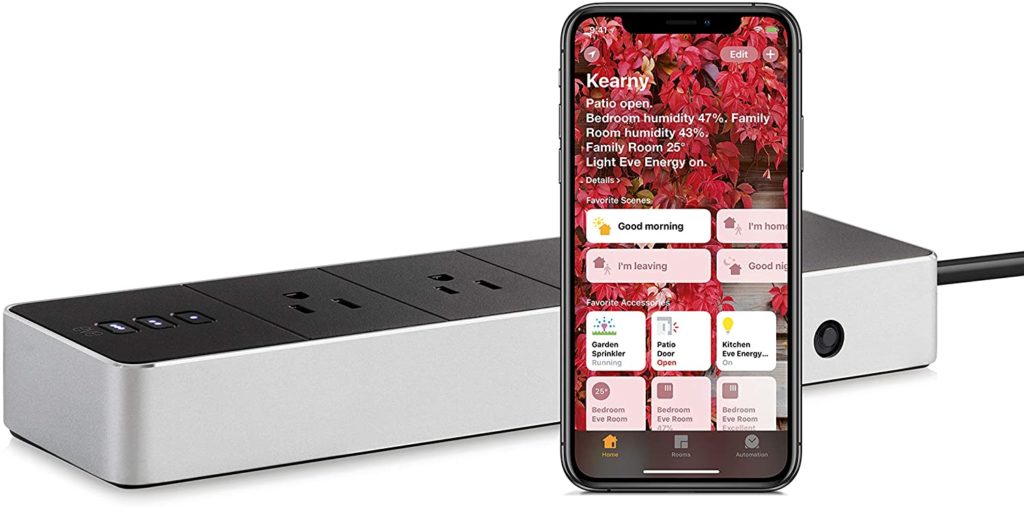 Eve's iPhone-controlled power strip is best to protect your home appliances from overcurrent, overheating, and overvoltage. It can control three appliances at a time. You can connect it to your Wi-Fi directly without needing a bridge. Forget worrying about your data being sent to a cloud. 
In order to power it up, simply tap on your iPhone and let the connected appliance work. Or you can call Siri to do the job for you, especially when you are away. Another legit reason to use this smart power strip is you can track the electricity consumption and control its use.
You can see how much and which appliance is consuming more power daily, weekly, monthly, and annually. When not in use, you can completely turn off kitchen gadgets, entertainment systems, and office equipment. And turn them on when required. Kids in the midst? Turn the child lock on and save your power strip from accidental touches. The control is all yours! 
You can buy the Eve Energy Strip for $99.95 at the link below.
3. Mangotek HomeKit Power Strips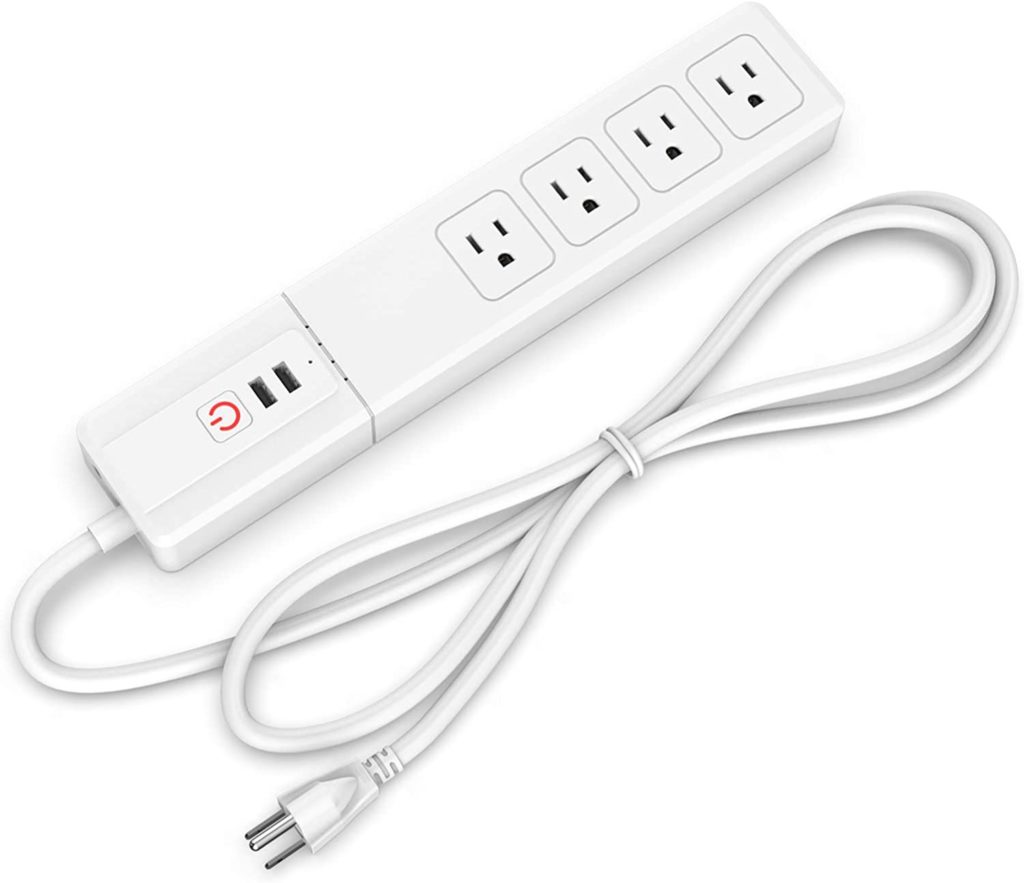 Another one of the best HomeKit power strips is from Mangotek, worth a try. It can accommodate 4 appliances and 2 USB devices at a time. Its remote control functionality leaves your mind with peace.
Especially, when you are not home, you can send voice commands to it via Amazon Alexa, Google Assistant, or Apple HomePod. Its 3-prong plugs ensure you can connect any appliance. Whether it is your home or holiday lights, power them up remotely.
Its surge protection feature shields your appliances and devices from power outages, overvoltage, or overheat. With this iPhone controlled power strips, you can set the timer and schedules to turn the devices on or off any time separately or as a group.
Note: In order to pair the smart power strip with your phone, open the Mangotek app first, and then pair the Apple Home in Mangotek app.
Buy this smart energy strip for $38.99 at the link below.
4. Meross Outdoor Smart Power Plug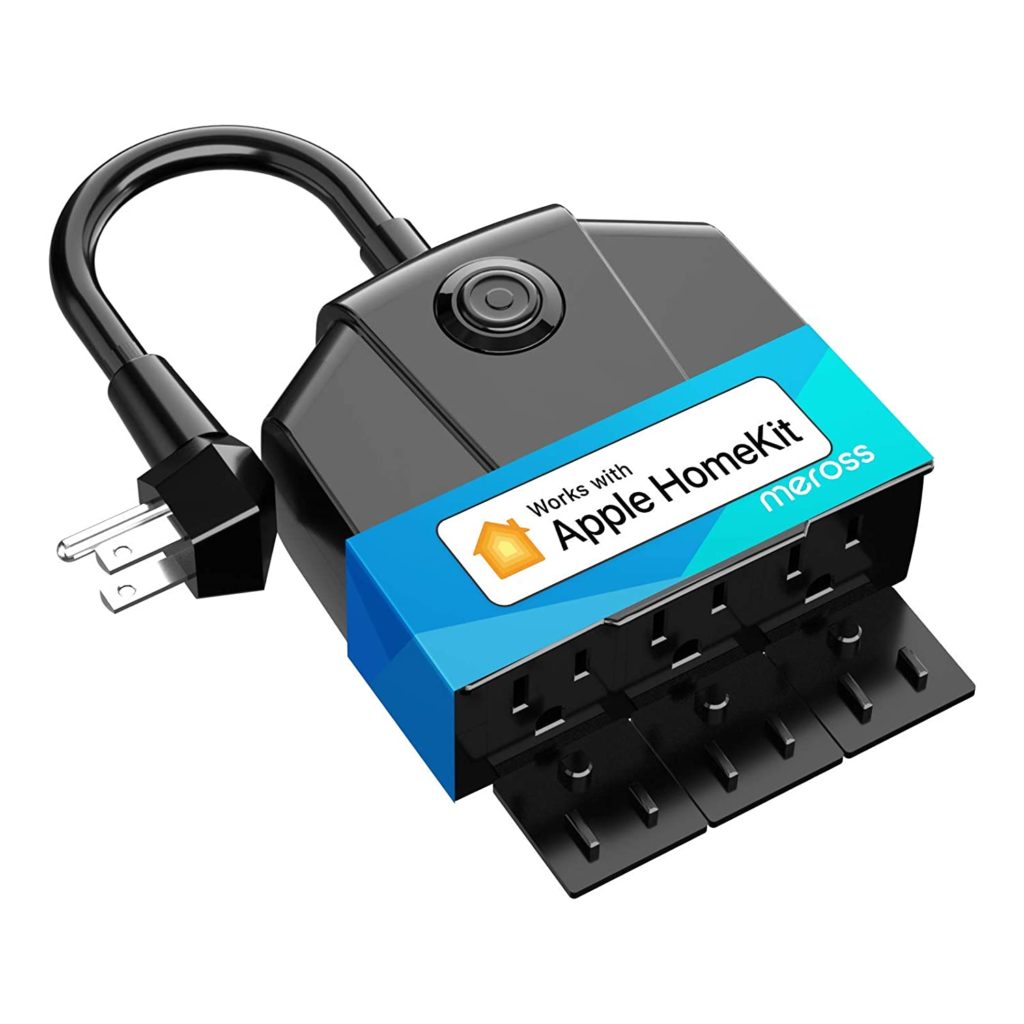 Looking for an effective outdoor power supply solution? Meross has got you covered! Its 3-separately controlled power outlets are together but work independently. Its long Wi-Fi connection range ensures a low offline rate. However, you ensure your phone is connected to 2.4GHz Wi-Fi when you set up the outdoor Wi-Fi plug.
This iPhone controlled power plug is weatherproof and ideal for outdoor use. The sockets are covered which prevents rainwater from entering in. This hanging smart power plug is good for use in the garden, kitchen, bathroom, porch, landscape lighting, sprinklers, basement, and balcony.
This HomeKit compatible smart plug is easy to set up with HomePod, iPad, Apple TV, or Apple TV HD. In order to use a smart plug, set any of these devices in your home as a HomeKit bridge and connect it to Wi-Fi. Make sure the HomeKit bridge is kept online.
Its automatic scheduling function allows you to set up the time for devices to turn on or off. Send voice commands to appliances when you are away.
This outdoor power supply from Meross is available for $16.99 at the link below.
5. Vocolinc Power Strip
Given its advanced power protection, VOCOlinc has one of the Best HomeKit Power Strips available in the market. It not only protects your appliances but also chargers through high-quality USB ports.
You can control this smart power strip through the app or voice by pairing it with Alexa, Google Assistant, or HomeKit. Remember, in order to use the strip remotely, you need to set up Apple Home Hub. And if you have Android you can use it without a hub.
Its strategically-placed smart outlets, each 1800W, let you control your heavy-duty electronics at a time. You can schedule the turn on and off time whenever needed. The LED indicators are a big plus as you can know what's the status of the smart power strips and their outlets in real-time.
Moreover, via the VOCOlinc app, you can get more firmware updates. This way you can improve the use of smart power strips.
This power strip for HomeKit users is available for $39 at the link below.
Which smart power strips do you like from the list above? Share with us in the comments below. Also, don't forget to share this with your friends and family.
For more iPhone controlled home appliances and gadgets, stay tuned to iOSHacker.com.
More Smart Home Accessories