Looking for a multi-directional conference microphone that can help you in communicating in team meetings and conference calls? Then look no further than the amazing options we have picked up especially for you in this post.
You may have witnessed participants press a special button before speaking at a press conference, a government meeting, or a similar event. The conference microphone button is part of a device called a conference microphone, which allows you to speak without worrying about devices in front of your face.
It's interesting to note that conference microphones pick up your voice throughout the room and then relay it in a controlled and audible manner despite not being anywhere near your mouth. Because getting a good audio recording relies on software and hardware working together.
The fact that conference microphones are predominantly used in conferences doesn't mean you can't use them for smaller meetings, school video calls, or at your home office.
This article features top conference microphones that would work wonderfully in your home or office.
Best Conference Microphones
A wide range of options is available that offer high audio quality and are ideal for conferences. If you have a decent microphone that produces smooth, high-quality audio, your voice will be delivered to your teammates without cracking.
Here are some of the best microphones for Mac that you can buy right now!
1. Anker PowerConf Bluetooth Speakerphone
With six microphones arranged in a 360° array, Anker PowerConf Bluetooth Speakerphone transforms any space into a meeting room instantly.
Bluetooth speakerphones from PowerConf use a custom DSP algorithm to optimize your voice in real-time. The Bluetooth speakerphone automatically balances your voice to compensate for volume differences and distance.
The device can be connected to your phone via Bluetooth or to your computer via USB-C cable without the need for drivers. PoweredConf Bluetooth speakerphones are Zoom certified and compatible with all popular online conferencing applications.
You can charge other devices at optimized speeds using PowerConf with integrated Anker PowerIQ technology. In addition, a built-in 6,700mAh battery allows you to go wireless and hold meetings virtually anywhere, anytime.
Buy Anker PowerConf Bluetooth Speakerphone for $139.99 here
2. X9 Performance Bluetooth Speakerphone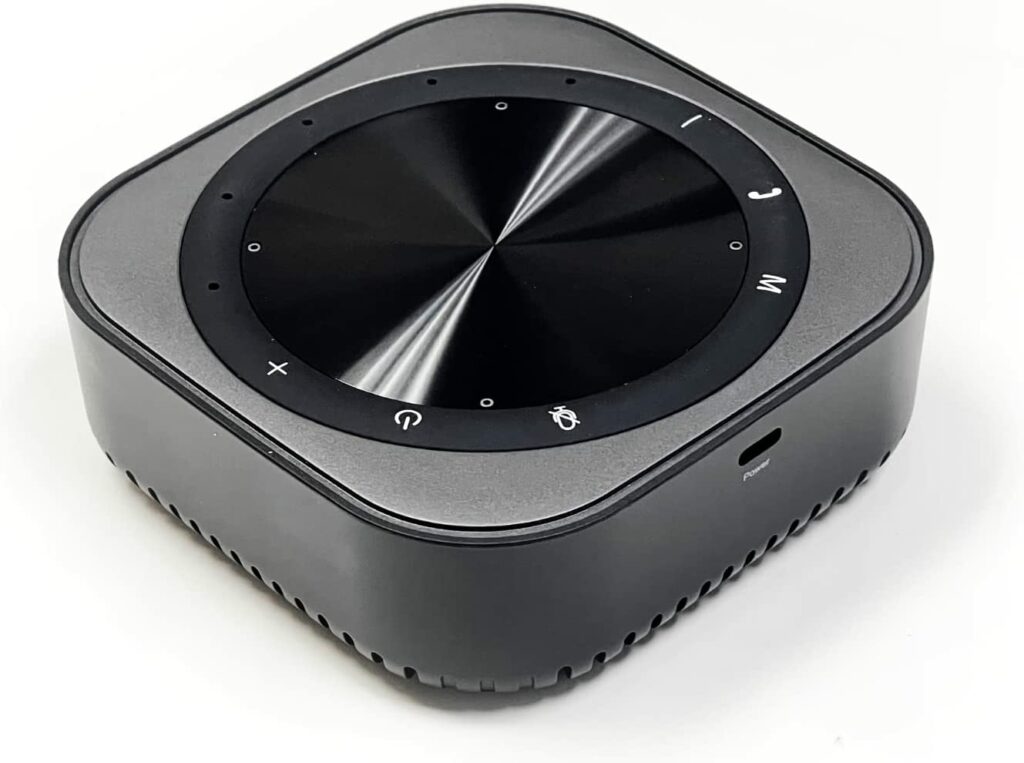 For crystal clear conversations, the X9 Performance Bluetooth Speakerphone comes with 4 omnidirectional microphones, real-time voice enhancement, active noise, and echo cancellation.
With the provided USB-C cable, you can either connect the conference microphone directly to your computer or smartphone via Bluetooth.
The conference call speaker can be easily paired with either a Mac or a PC. Compatible with all major conference apps such as zoom, skype, facetime, and google meetings.
Powered by a powerful Bluetooth chip, the Bluetooth conference speaker with a microphone can be taken anywhere and can run for up to 12 hours.
Take control of your video conference with this speaker phone and be prepared. There is everything in this microphone you need to sound great and loud enough for everyone to hear you.
Buy X9 Performance Bluetooth Speakerphone for $79.99 here
3. EMEET Luna Conference Speaker and Microphone
The EMEET Luna conference speaker and microphone utilize exclusive VoiceIA technology to eliminate background noise, such as noise from air conditioning or keyboard clicks. Luna Bluetooth speaker with microphone provides a smooth and clear voice call experience with the auto-vocal-increase function that allows it to detect the sound source distance and adjust the volume automatically.
The Luna Bluetooth conference speaker is equipped with a three-microphone array that utilizes voiceIA algorithm technology to realize 360 ° free pick-up, and the enhanced volume of 85dB allows it to be used in large conference rooms. With full-duplex functionality, this conference microphone and speaker also ensure your remote conference calls don't get interrupted.
The Luna conference speaker has been made with a full metal and matte color shell so that it can better integrate with your office design or home office. You can carry Luna USB speakerphone all over and hold meetings wherever you want thanks to its dongle slot and portable design.
Buy EMEET Luna Conference Speaker and Microphone for $59.49 here
4. Yealink Bluetooth Speakerphone
When compared to other half-duplex speakerphones in the market, Yealink CP700&CP900 support a built-in full-duplex microphone so calls sound their best on both ends.
Bluetooth speakerphones from Yealink can eliminate background noise wherever they are used, whether in a shared office or workspace, or a public location. Speaker phones effectively reduce common work noise, like air conditioning, mouse clicks, or friction sound, so that attendees at the far ends can enjoy the best communication possible.
With YEALINK, more than 2,000,000 users redefine their workspace through a great conference experience. The two noise-canceling microphones built into the YEALINK Bluetooth speakerphone are arranged in a 360° array to ensure voice pickup across a conference room measuring 6.5 feet by 6.5 feet, while the full-duplex audio solution makes meetings accessible and clear.
Buy Yealink Bluetooth Speakerphone for $129 here 
5. Goldensky Omnidirectional Microphone
Goldensky offers one of the best omnidirectional conference microphones. It is a professional conference mic with a high-quality speaker for a business conference with up to ten people. The speaker supports HD voice and can be heard clearly within a range of three meters.
There is only one conference microphone with two USB hubs that allow us to connect more devices to our computer system. The convenient Mute Button allows you to quickly mute/unmute your microphone. Plus, an indicator light in the USB microphone indicates whether it is working or not.
This speakerphone is compatible with a wide range of devices and operating systems including Windows 7, 8, 10, and macOS. Plus, it supports major mainstream conference applications including Zoom, Skype, WebEx, Goto Meeting, Google Hangout, Facetime, etc.
With a pickup distance of 11.5 feet, it captures the most subtle sounds from 360 degrees and transmits them louder and more clearly. No need to raise voices when participants are talking to each other while using this microphone.
Your voice will be clear on the listener's end, too, as the speakerphone features an omnidirectional microphone and HD voice. This Acoustic Echo Canceller effectively eliminates the echo, and the noise-isolating microphone ensures a high-quality conference experience even in noisy outdoor areas. Moreover, it features Digital Signal Processing (DSP) provides automatic gain control (AGC), acoustic echo cancellation (AEC), and automatic noise suppression(ANS).
Buy Goldensky Omnidirectional Microphone for $99.90 here
Make Your Call Now!
One can find many conference microphones online, but it is important to make sure you choose one that works and sounds great. Because if a product cannot do its job efficiently, you shouldn't spend your money on it.
Pick any of the microphones from our list today – we bet; you won't regret it!
So, which microphone would you pick for your next conference call? Let us know in the comments.