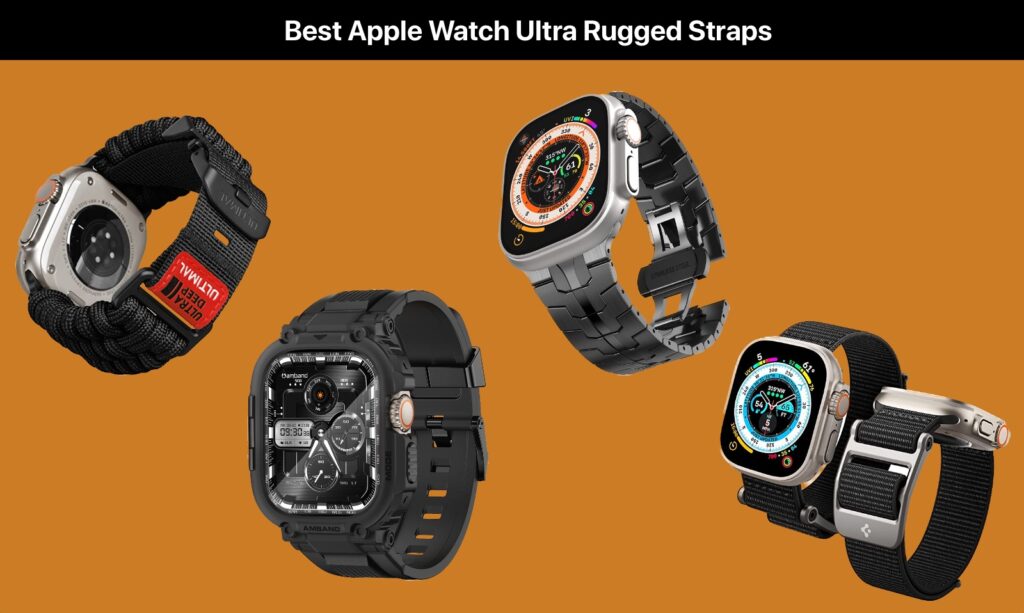 There is no other smartwatch from Apple that is as rugged and high-performing as the Apple Watch Ultra. It is designed for athletes, divers, and adventurous users who do not want their Apple Watch to be broken while they are engaged in an activity.
Some Apple Watch Ultra rugged bands seem the most natural choice to complement the watch's rugged aesthetic.
In this article, we have rounded up some of the best Apple Watch ultra straps from renowned brands.
Even though we have listed these Apple Watch straps with a focus on Apple Watch Ultra, you can use them on various other Apple Watch sizes including 45mm, 44mm and 42 mm.
Best Rugged Straps for Apple Watch Ultra
You can choose from a variety of rugged bands for the Apple Watch Ultra depending on your needs. It doesn't matter whether you run a lot or surf all the time, you can find the perfect band in the list.
Below are some of our favorite rugged Apple Watch Ultra bands, have a look.
1. Spigen Rugged Band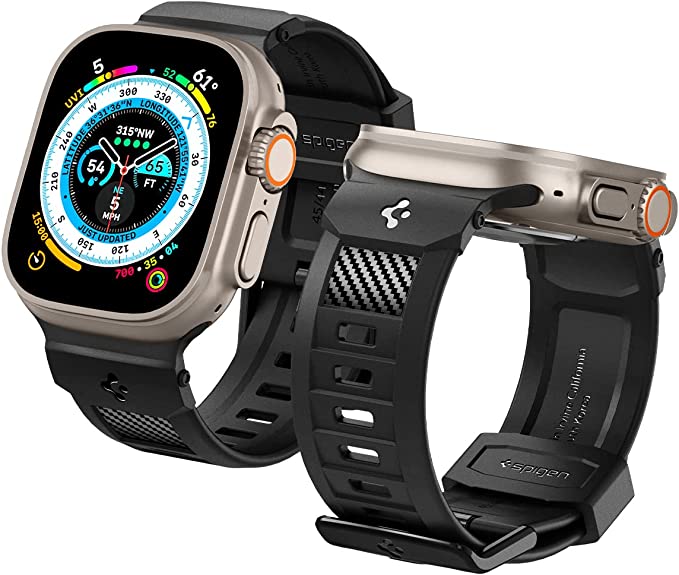 Spigen offers a matching case for this band, which makes them a dynamic pair.
Despite its size, the band fits perfectly on your wrist and is way more stylish than you might expect. There is a high chance that you might prefer it to the original band that came with the watch.
It features a great fit and finish, and once the Apple band is removed, it slides into standard slots. Furthermore, the band comes with a stainless-steel buckle that ensures stability with Smart Lock Technology when swimming or surfing.
In addition to its features, an accent of carbon fiber and a matte finish give this band a modern look.
Buy Spigen Rugged Band for $26.99 here
2. Spigen DuraPro Flex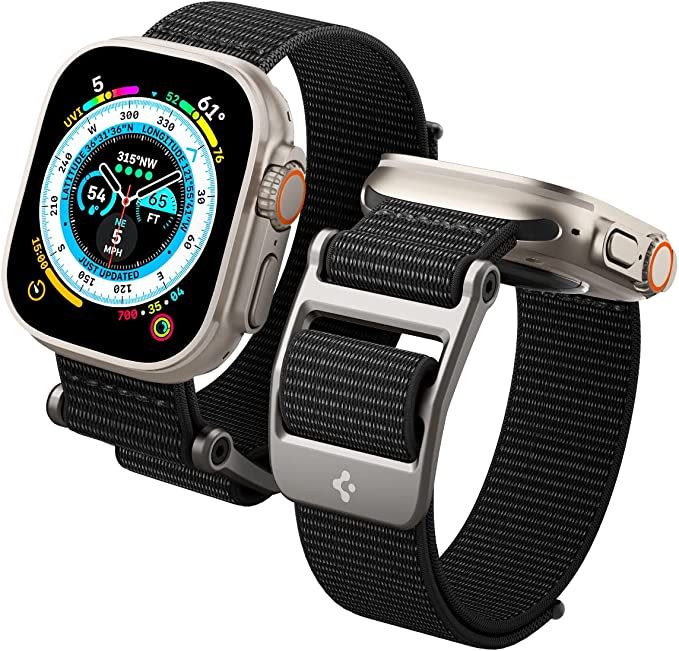 Spigen DuraPro Flex straps for Apple Watch Ultra fit securely on your wrist and get installed effortlessly.
In addition to being breathable, the band stays secure while exercising and dries quickly even after intense workouts. Comparatively to the standard Apple Watch band, it is much more comfortable and suitable for active and long-term daily wear.
A zinc alloy buckle ensures a secure stronghold while complementing any look and style. All in all, the band is exceptionally comfortable, easy to get on and off, and looks appropriately sized for the watch.
Buy Spigen DuraPro Flex for $21.99 here
3. ULTIMAL Band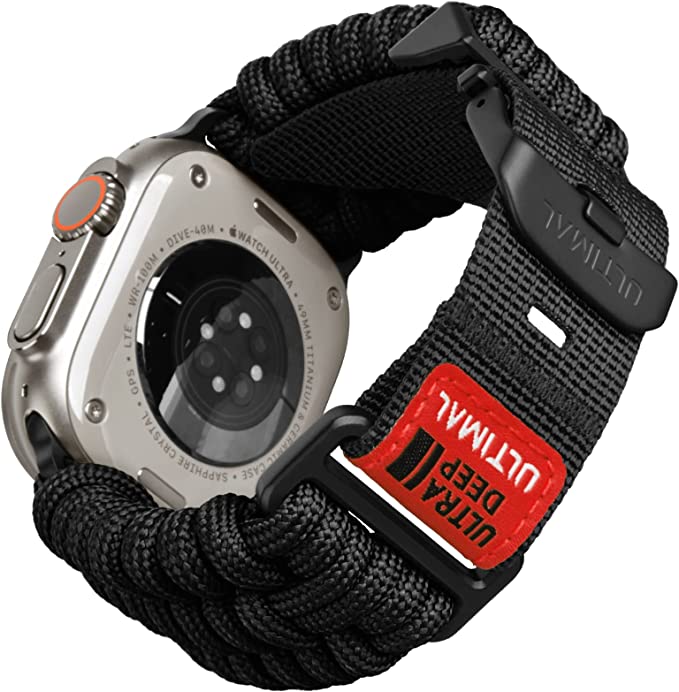 The Ultimal band is large, substantial, and heavy-duty. If you are on the lookout for a go-anywhere, masculine, take-all-kinds-of-abuse watch band – this is the one.
The majority of the band is made up of thick, heavy-duty paracord, with heavy-duty nylon making up the strap that goes through the stainless-steel buckle. Since it is all made of nylon, you can get it wet and clean it up when it gets dirty.
There are no gaps or wiggle room between the metal attachments for the Apple Watch, nor will they fall out accidentally. All the materials feel high quality grade.
Additionally, the paracord is a bright safety orange color, and the nylon straps are strong and wide.
Buy ULTIMAL Band for $19.99 here
4. CHANCHY Stainless Steel Band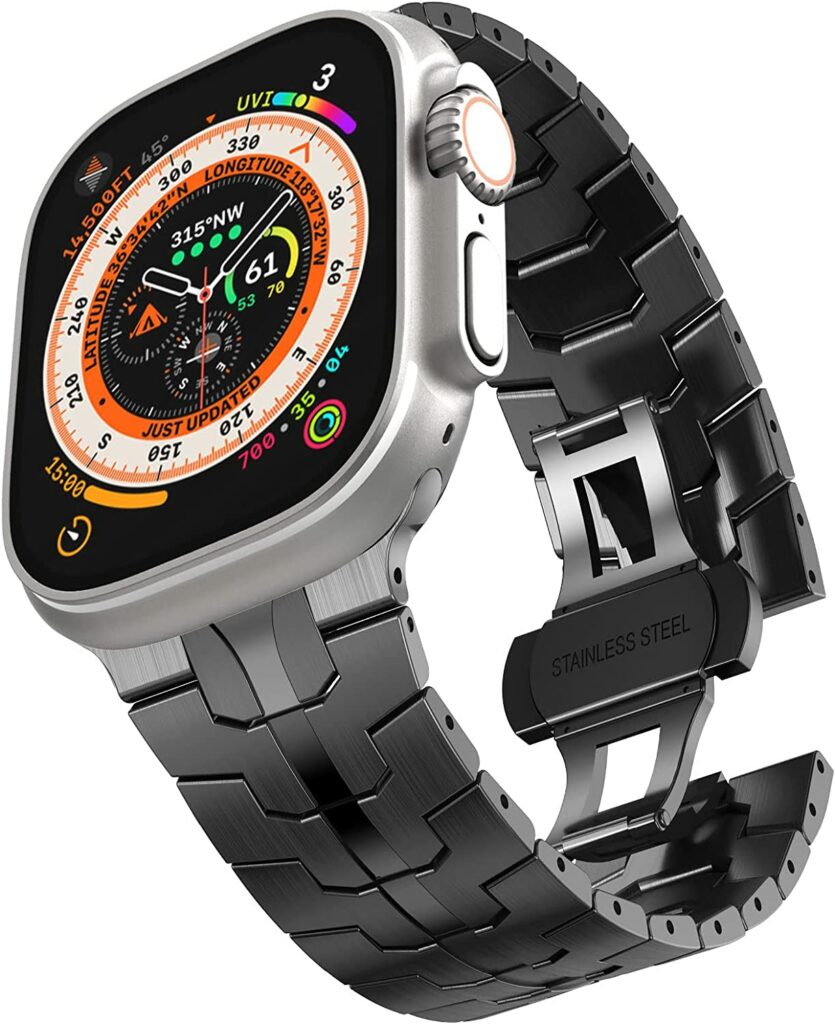 Chanchy Band's masculine, flowing lines and sharp aesthetic are reminiscent of the Iron Man, crafted from satin-brushed 316L steel stainless steel with a folding buckle.
Having a band like this will make you stand out among the crowd because it is thick, heavy-duty, and strong.
To maintain its neat appearance, the butterfly closure is folded neatly within the link bracelet. It is easy to open the hidden deployment buckle with the two side buttons, without any special tools needed.
Fits wrists between 5.5″ and 9.1″ (140-230mm), you can keep the original length or adjust it by adding or removing links. To be more specific, twelve links can be removed.
Buy CHANCHY Stainless Steel Band for $25.99 here
5. amBand Bands Case Screen Protector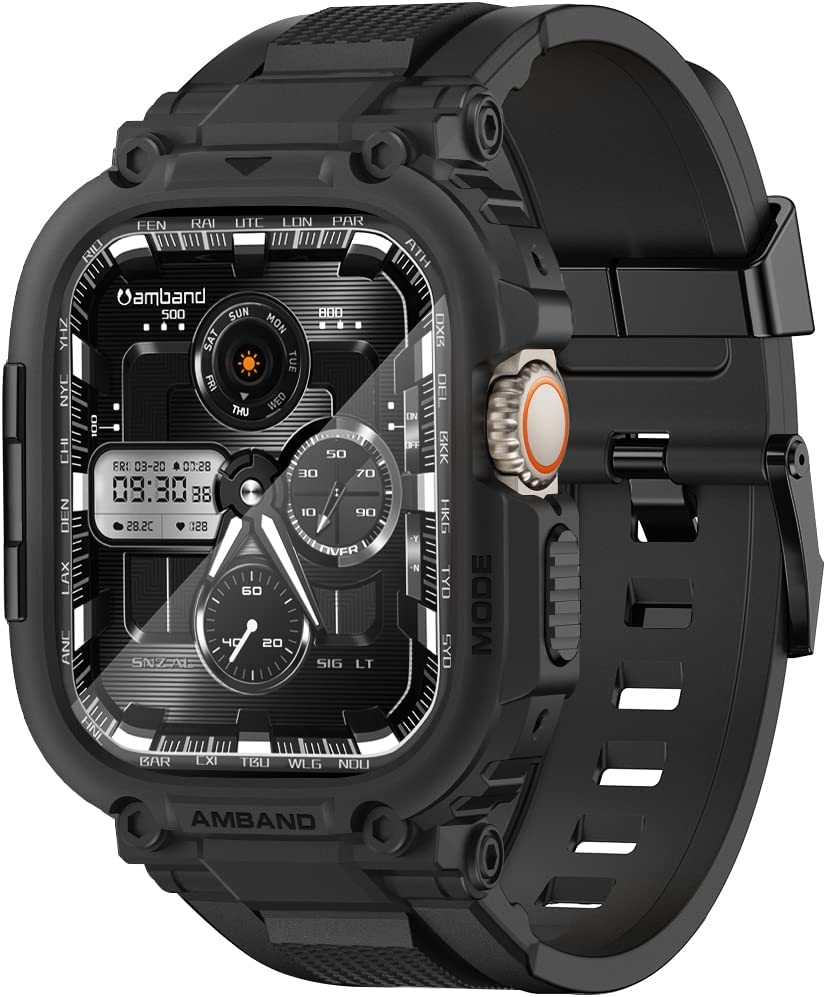 amBand is well known for being classic, bold, and stylish, making it a global leader in smartwatch accessories. AmBand watch bands elevate your smartwatch and make it more functional and attractive.
It is made of high-quality TPU and is decorated with a metal patch. It is comfortable, durable, and full of mechanical senses – ideal for regular wear and workouts.
With a clicky button and precise cutouts, the button, screen, and crown operate smoothly.
The watch buckle is made of durable stainless steel 316L that won't rust or chip. Furthermore, it allows you to adjust the length of the band to fit your wrist easily.
Buy amBand Bands Case Screen Protector for $27.99 here
6. i-Blason Armorbox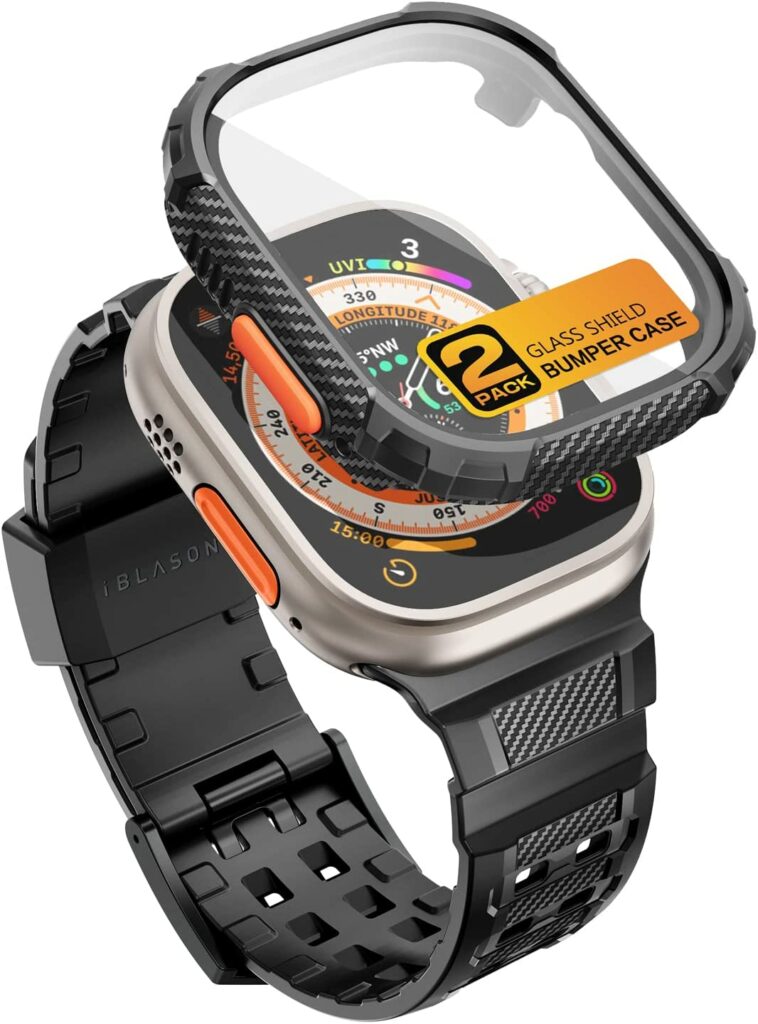 The watch band is made of high-performance TPU and carbon fiber and is flexible and scratch-resistant. It fits wrists measuring 130mm – 255mm.
With the strap and case separated, installation and removal are easier, since the front case snaps on without removing the strap first. You can also use both independently to meet your diverse collocation requirements.
Tempered glass screen protector effectively guards your apple watch from scratches and scuffs, and it greatly restores the best visual quality of your iWatch.
The precision cut and design make it easy to use all the watch buttons and features with ease.
Buy i-Blason Armorbox for $24.99 here
7. Suitisbest Sport Bands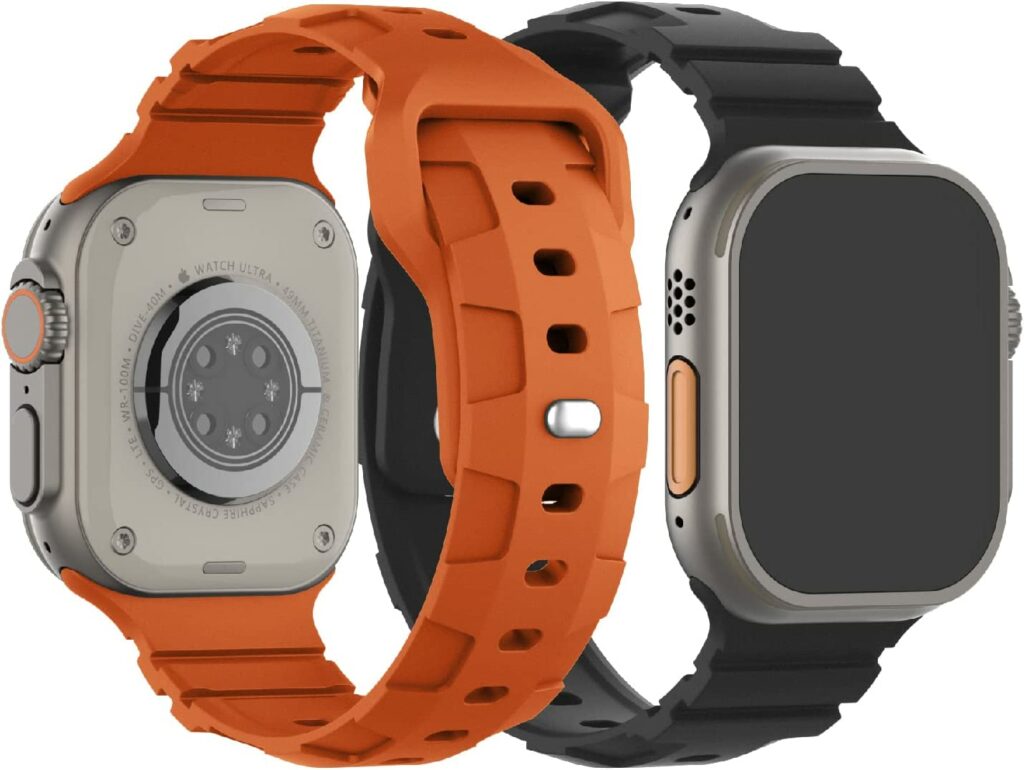 Unlike other Apple watch bands, Apple Watch Sport bands feature a highly advanced shape design for a powerful sense of style.
This Apple Watch Ultra 49mm Band provides a manly appearance and is specially designed for men. Its unique design makes it ideal for military use, sports, daily work, business, and different outdoor activities.
iWatch Ultra, Apple Watch SE, series 8, series 7, series 6, and series 5 are all compatible with Suitisbest Apple Watch straps.
Suitisbest offers high-quality silicone replacement bands to fit the Apple Watch Ultra. In addition to being sweat and water-resistant, it is lightweight, durable, and wrist-friendly. The silicone sport apple watch band offers a comfortable feel to your wrists when you wear it, making it a great affordable option for your smartwatch.
To sum it up, the wrist strap is designed with an integrated buckle that locks more securely, is durable, and can be adjusted appropriately.
Buy Suitisbest Sport Bands for $16.99 here
To Conclude
One of the major features of the Apple Watch Ultra is its ability to track activity.
Your choice of the band should be based on what you will be doing while the wearable is attached to your wrist. Getting fit could mean hiking or running up a mountain, exploring the ocean's depths, or achieving fitness goals in the gym.
Even though the Apple Watch Ultra is already tough enough for most users, if you want it to be even tougher, you can get any of these best third-party Apple Watch Ultra straps to enhance the look and feel of your watch.
So, which Watch band do you think will best match your needs? Let us know in the comments section.