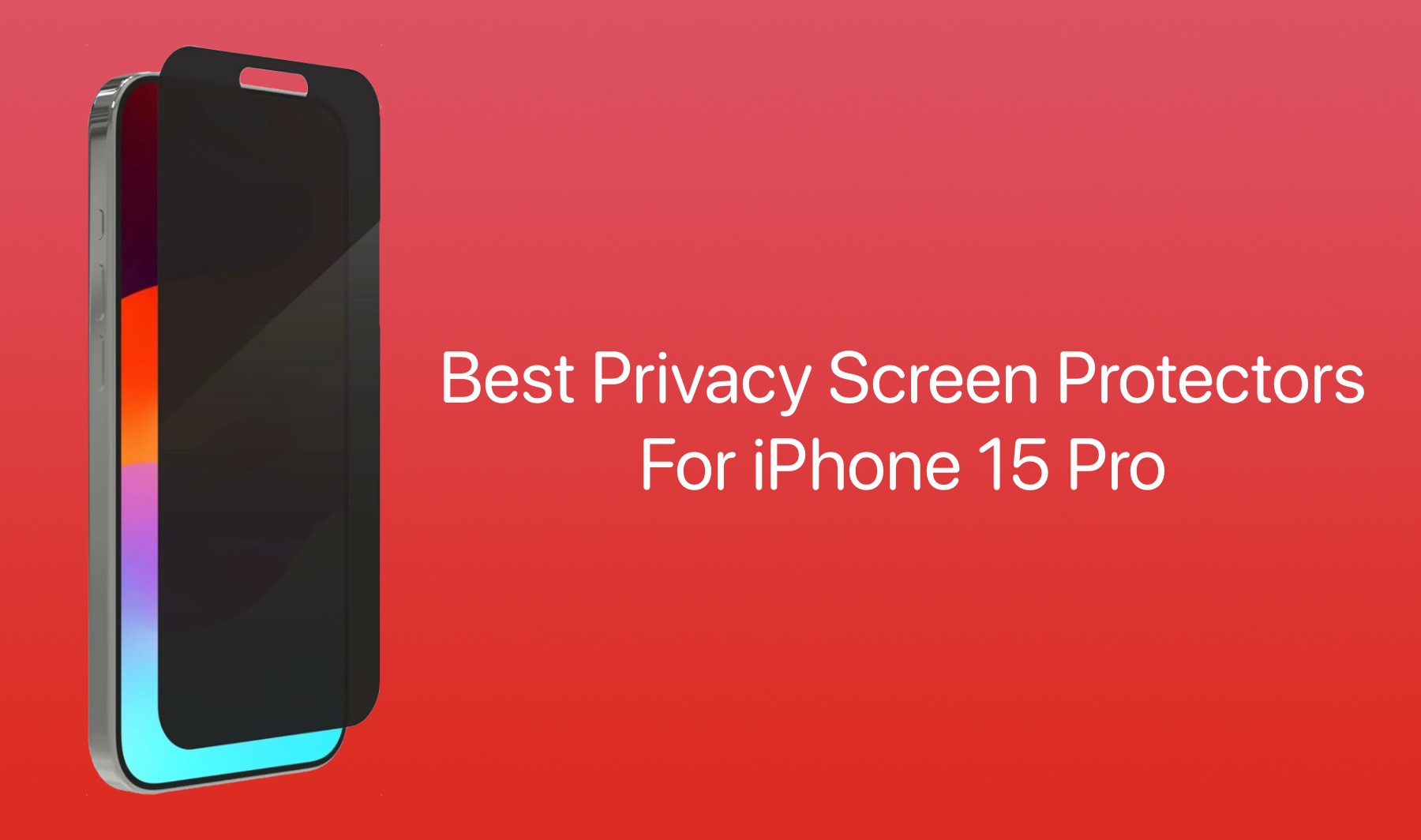 We all know that our smartphones have become more than just gadgets; they're like an extension of ourselves. But with that constant connectivity comes the need for some serious privacy. Whether you're browsing sensitive emails, swiping through personal photos, or just want to keep nosy neighbors at bay, a top-notch privacy screen protector is your trusty sidekick.
In this article, we'll dive into the world of the "best privacy screen protectors for iPhone 15 Pro," so you can protect your digital secrets and keep your iPhone experience as private as you want it to be.
iPhone 15 Pro Privacy Screen Protectors
With advanced technology that limits viewing angles and ensures that only you can see what's on your screen, the 6.1-inch iPhone 15 Pro Privacy Screen Protectors offer peace of mind in a digital age where privacy is a precious commodity. Discover a new level of confidentiality and protection for your iPhone 15 Pro with these cutting-edge screen protectors.
Let's get started!
1. Ailun 3Pack Privacy Screen Protector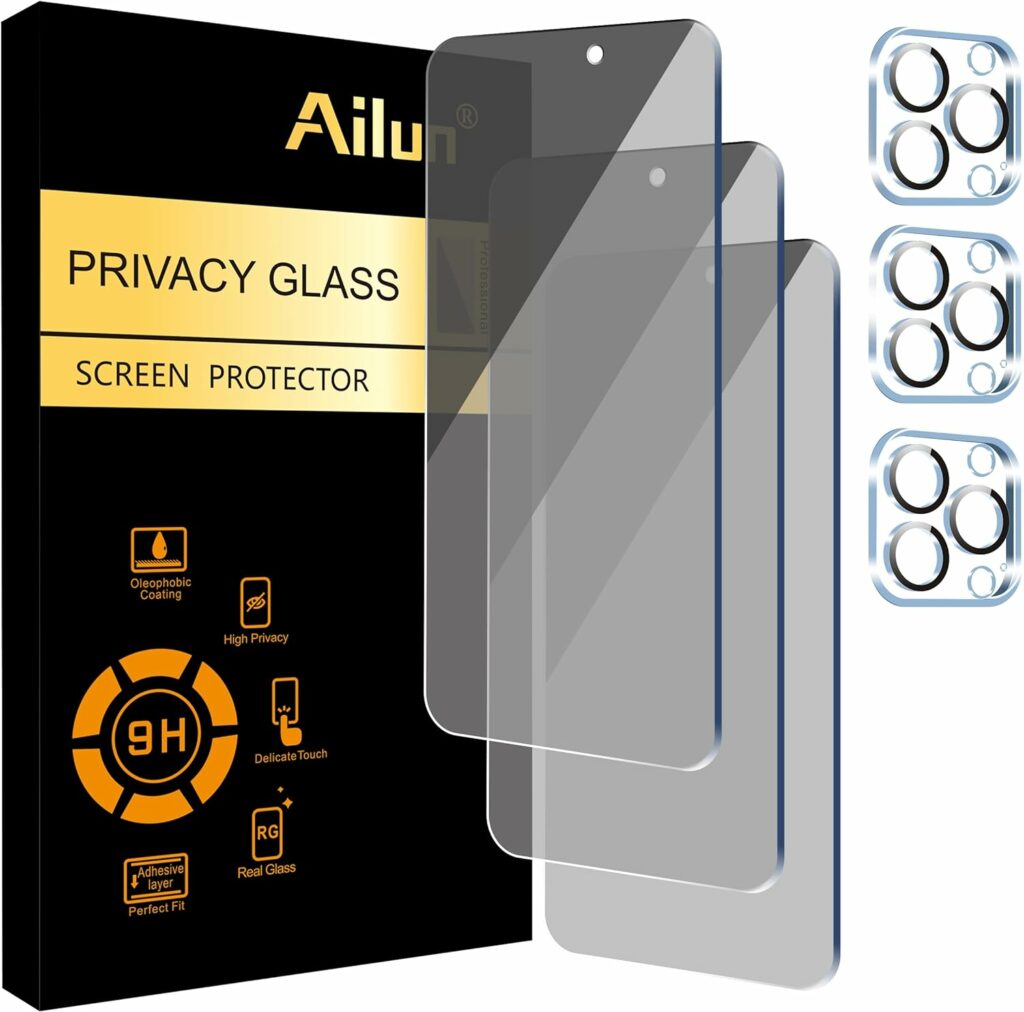 Elevate your iPhone 15 Pro's protection and usability with this cutting-edge tempered glass screen and camera lens protector combo – it's the smart choice for your device.
The camera lens protector is a game-changer with its innovative "seamless" integration of augmented reality technology. This means it enhances your photography experience by improving light transmittance and night shooting capabilities.
No more worrying about flash positions – your photos and videos maintain their original quality when you use the flash at night. It's 100% brand new, precision laser-cut tempered glass, meticulously polished to a 0.33mm ultra-thin profile. This not only ensures your screen's safety but also preserves its original responsiveness and touch sensitivity, delivering an exceptional tactile experience.
And here's a bonus: Ailun screen protector keeps your personal and sensitive information hidden from prying eyes. Only those directly in front of the screen can see what's on it. So, whether you're on a bus, in an elevator, on the metro, or at any other public gathering, your privacy is protected.
Buy Ailun 3Pack Privacy Screen Protector for $9.89 here.
2. ZAGG InvisibleShield Glass Elite Privacy 360 Screen Protector

Experience enhanced privacy and durability with the InvisibleShield Glass Privacy 360 Screen Protector. This screen protector offers 360-degree privacy protection while being five times stronger than traditional glass protectors. It safeguards your phone from drops and scratches, giving you peace of mind.
Crafted with precision, this protector boasts a surface finishing process that maximizes scratch resistance.
You won't have to worry about accidentally tossing your phone in your pocket with keys anymore. Plus, the ClearPrint surface treatment effectively disperses fingerprints and oils, ensuring your phone's touch sensitivity and screen performance remain top-notch.
What sets this screen protector apart is its ability to inhibit the growth of odor-causing agents and protect against screen guard degradation. It's all about keeping your phone in its best condition.
And the best part? Installing the InvisibleShield Glass Privacy 360 is a breeze. Thanks to the EZ Apply installation tray and tabs included with ZAGG Screen Protectors, you can apply it seamlessly without any annoying bubbles. Enjoy privacy, durability, and a crystal-clear screen with this exceptional screen protector.
Buy ZAGG InvisibleShield Glass Elite Privacy 360 Screen Protector for $59.99 here.
3. ZUKDO for iPhone 15 Pro Matte Privacy Screen Protector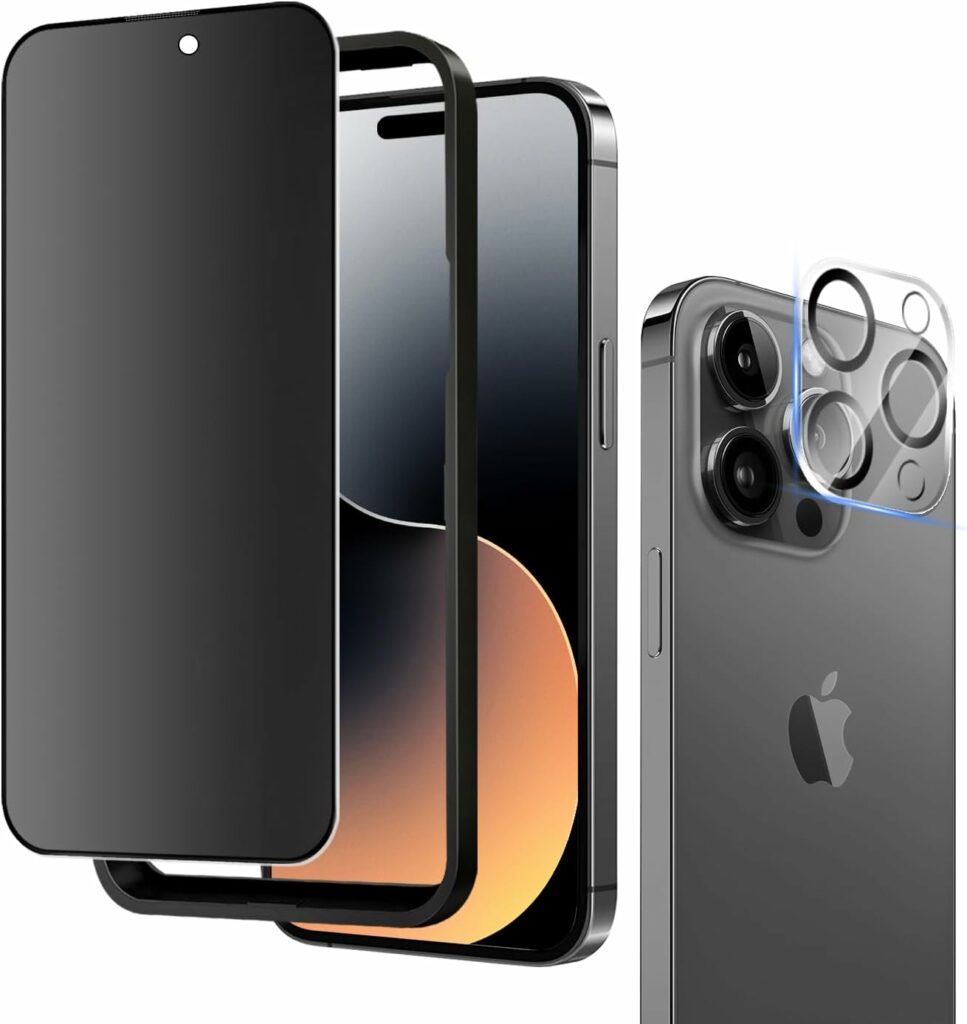 The matte privacy screen protector for the iPhone 15 Pro is designed with premium German glass, boasting a robust 9H hardness level that effectively shields your screen from everyday bumps and knocks. Plus, it's compatible with 99% of phone cases on the market, ensuring a perfect fit without any interference.
What sets this protector apart is its advanced 25° privacy technology, offering a smaller viewing angle but higher clarity compared to most privacy screen protectors. This means your screen will only be visible to you, not prying eyes around you.
Moreover, the matte finish helps prevent light reflection and glare, ensuring a clear display even in bright sunlight. Its clarity surpasses that of other matte privacy screen protectors, and the electroplated oleophobic layer keeps fingerprints and oils at bay, ensuring a clean screen.
If you're a gamer, you'll appreciate the super-smooth touch and responsive feel this protector offers. It's also designed with a black circle to prevent overexposure in photos taken with your iPhone 15 Pro.
Rest assured, this protector won't interfere with Face ID or Dynamic Island functionality. It's easy to install with precise mounting frames and a user manual included, making it a breeze for even beginners to achieve perfect alignment in seconds.
With 99.99% light transmittance, your iPhone 15 Pro's original quality shines through, delivering a super-clear viewing and photography experience, day or night.
Buy ZUKDO for iPhone 15 Pro 6.1″ Matte Privacy Screen Protector for $12.99 here.
4. TORRAS Stealth Privacy Screen Protector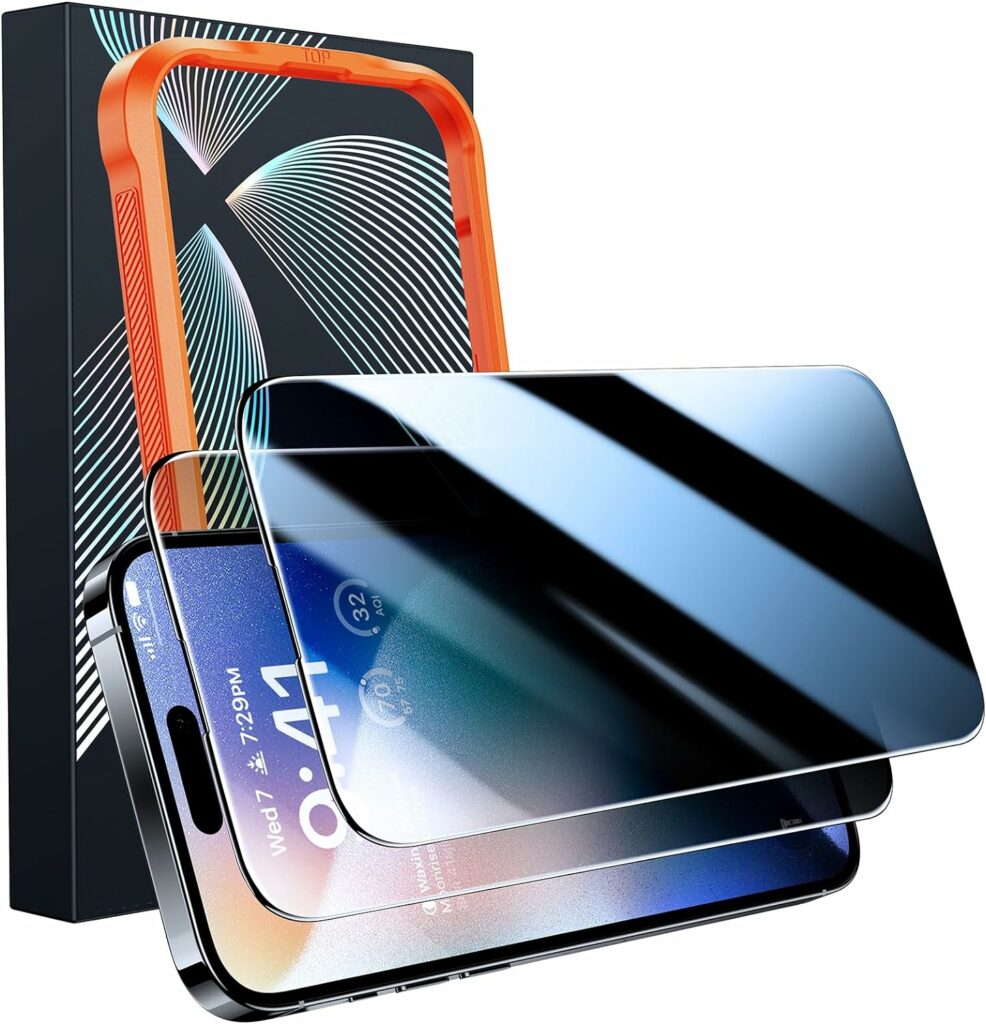 Protect your iPhone 15 Pro screen and your privacy with our cutting-edge privacy glass screen protector. Crafted with aerospace-grade glass and Tora-CRC technology, this protector is built to last. It can endure 6-foot drops and withstand 10,000 scratches thanks to its impressive 9H hardness surface.
Not only does it provide top-notch protection against impacts, drops, and scratches, but it also excels in privacy. Unlike most privacy protectors for iPhone 15 Pro with only 80% light transmission, this iPhone 15 Pro privacy protector offers nearly 95% light transmission. This ensures your HD display quality remains intact while shielding your screen from prying eyes.
Say goodbye to annoying glare with the Tora-Silk coating, which guarantees excellent screen visibility even in bright sunlight.
Plus, it's designed to resist fingerprint smudges, reducing them by a whopping 96%. This means your device remains clean, making it easier to use and more enjoyable, all while providing a smooth touchscreen experience akin to using your phone without any protector.
Buy TORRAS Stealth Privacy Screen Protector for $27.99 here.
5. Hoerrye Privacy Screen Protector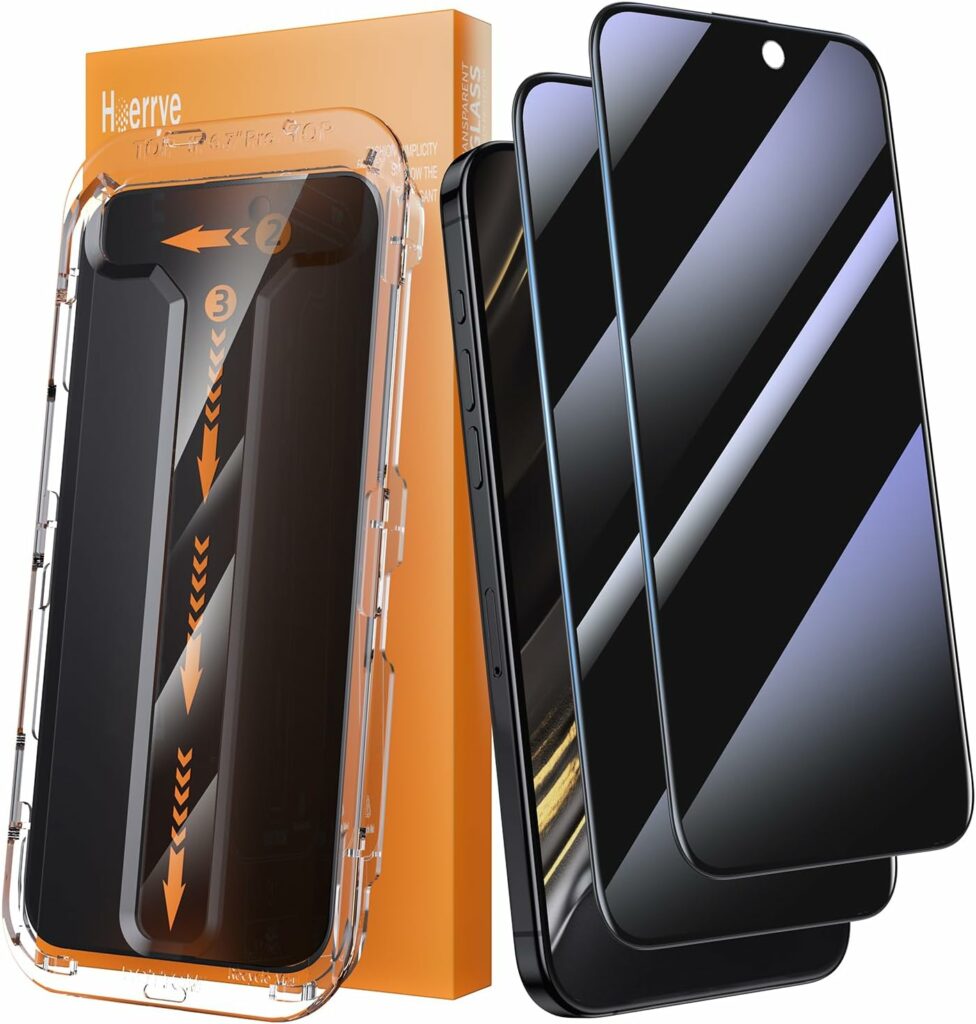 Crafted from 0.25mm ultra-thin tempered glass, this screen protector not only safeguards your phone but also ensures a smooth and sensitive touch experience.
Thanks to its plasma oleophobic coating, it strikes the perfect balance between privacy and functionality, allowing for quick app navigation and responsive gaming.
This unique 25° anti-spy technology, made possible by advanced cutting techniques, minimizes noise distortion and maintains high resolution.
This means that the screen is only visible to those directly in front of it, keeping your private information concealed from prying eyes nearby. Say goodbye to unwanted peekers and protect your privacy with confidence.
What's more, this Alignment Kit Technology takes the hassle out of installation. It intelligently aligns the protector for you, eliminating the need to struggle with finding the precise location, dealing with dust, or enduring slow venting, as often seen with traditional installation methods.
Buy Hoerrye Privacy Screen Protector for $17.99 here.
6. JETech Privacy Screen Protector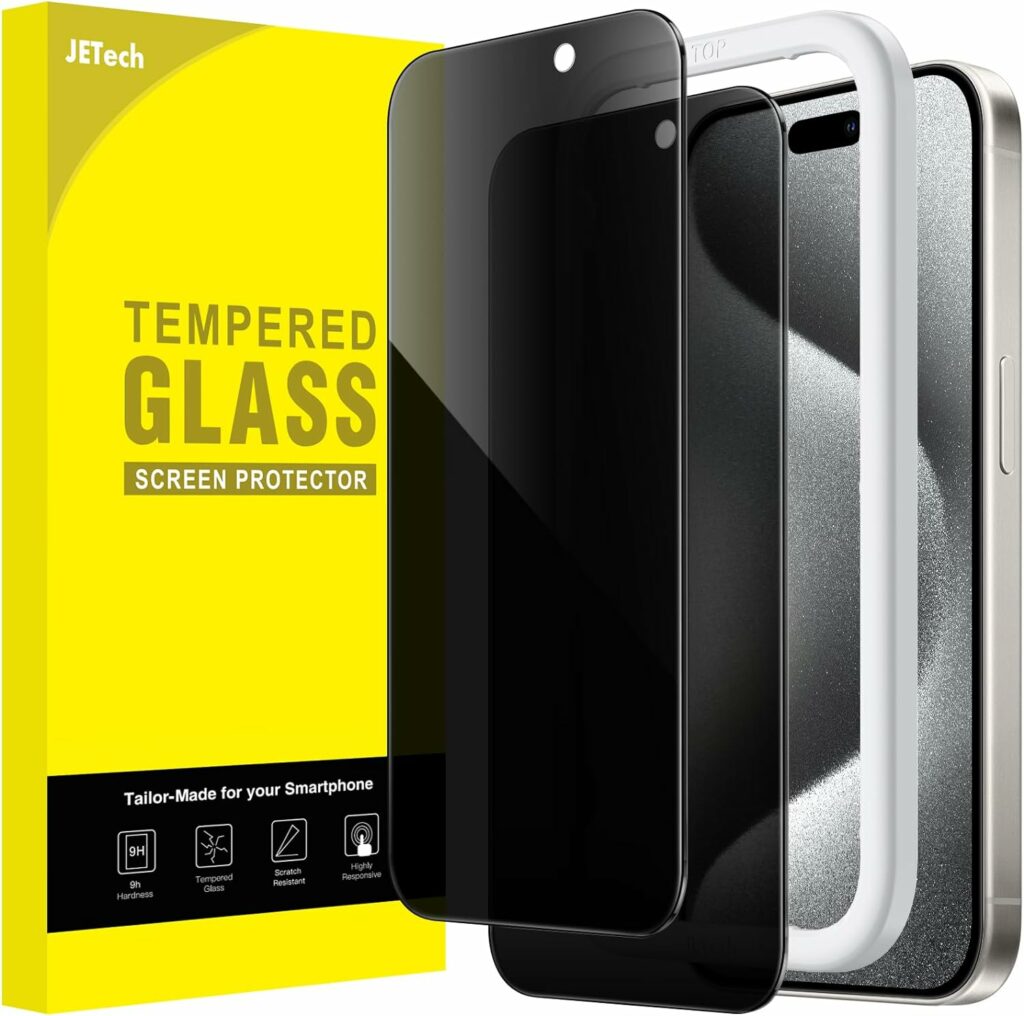 Designed exclusively for the iPhone 15 Pro 6.1-Inch, JETech privacy screen protector offers a unique feature: the screen is only visible to the person directly in front of it, ensuring your privacy remains intact.
Installing it is a breeze, thanks to the included easy installation tool that allows for perfect alignment and a bubble-free installation. Crafted from 9H high-hardness tempered glass, it provides robust protection against scratches and abrasions.
Additionally, the hydrophobic and oleophobic coating effectively wards off fingerprints, oil, and watermarks, keeping your screen clean and smudge-free. Plus, it has been designed with extra space around the borders to accommodate your phone case, allowing it to wrap around the edges seamlessly.
Buy JETech Privacy Screen Protector for $9.99 here.
To Conclude
The iPhone 15 Pro Privacy Screen Protectors offer a seamless blend of security and functionality, ensuring that your personal information remains confidential while delivering an exceptional user experience.
With their advanced technology, easy installation, and durable design, these protectors provide peace of mind without compromising the beauty and functionality of your device.
So, whether you're safeguarding sensitive data or simply valuing your privacy in a digital world, the iPhone 15 Pro Privacy Screen Protectors are a must-have accessory, promising to protect your screen and your privacy with style and precision.
Disclosure: iOSHacker may receive a commission if you purchase products through our affiliate links. For more visit our privacy policy page.