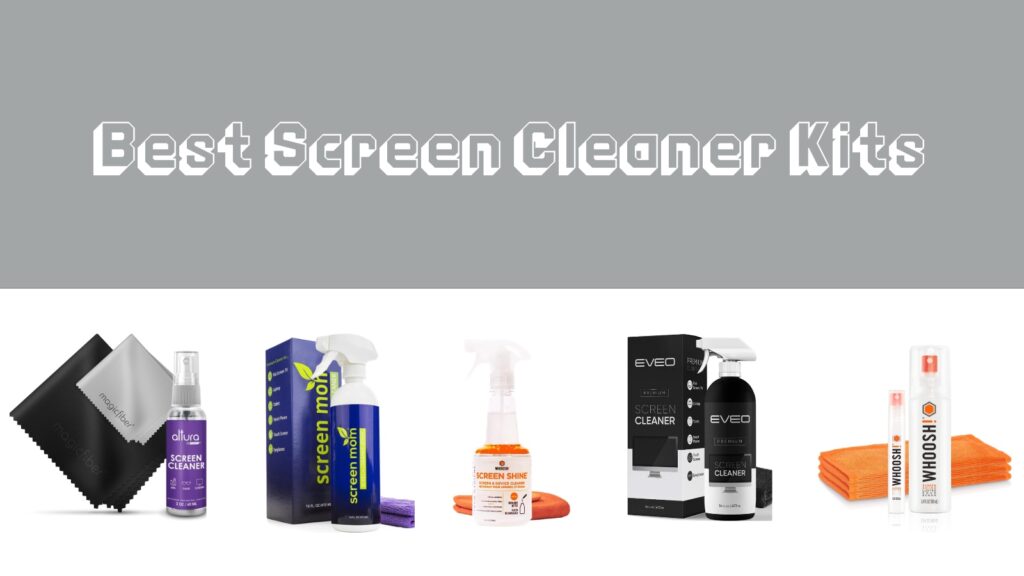 If you are looking for the best screen cleaner kits to clean your iPhone, iPad and Mac's screen then we have the perfect selection of products for you.
In this buying guide we have identified the best screen cleaner kits that let you clean fingerprints, dust and other even germs from your gadget's screen.
No matter how many times you clean your hands, your phone is one of the most vulnerable things to catch germs. Our today's post is not about any tech device, but about how can you keep your iPhone screen clean and germs-free.
Best Screen Cleaner Kits
Here are the top screen cleaner kits that you should buy to clean your iPhone, iPad or Mac's screen in 2022.
1. WHOOSH! Screen Cleaner Kit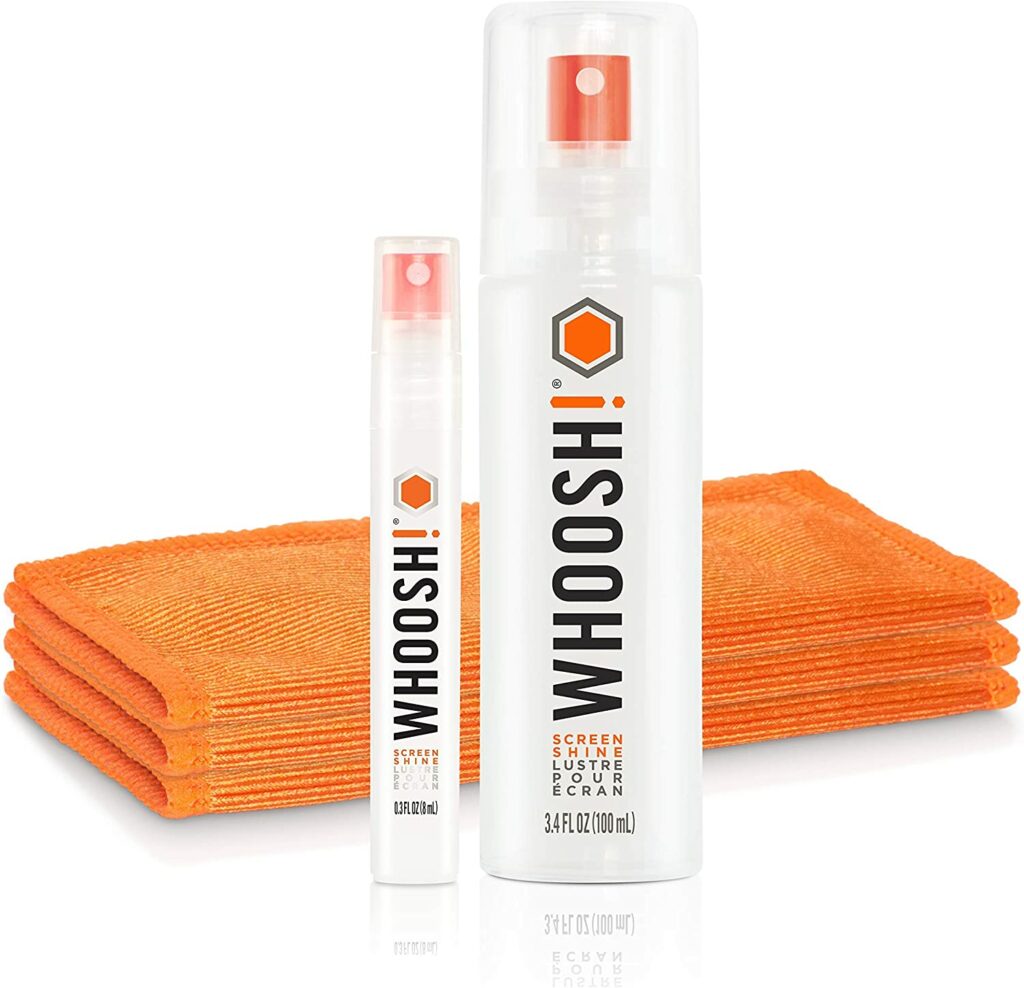 This screen cleaner kit by WHOOSH! is the game changer for your iPhone and other devices. This screen cleaner keeps the screen of your iPhone, iPad, and Mac shining like new.
This cleaner is free from alcohol, dyes, ammonia, and fragrances that can damage the surface of your tech devices. 
WHOOSH! is the only Apple-approved cleaner used in all Apple stores worldwide.
WHOOSH! screen cleaner kit will wipe off dirt, oil, gunk, and fingerprints and leave your device clean and clear.
Its microfiber cloth is ultra-soft, treated with Protx2 technology which is mindfully designed for cleaning tech devices. This can be machine washed for up to 50 minutes without needing any dryer or fabric softener. 
You can buy the Whoosh Screen Cleaner Kit for $16.49 at the link below.
Note:  
2. EVEO Screen Cleaner Spray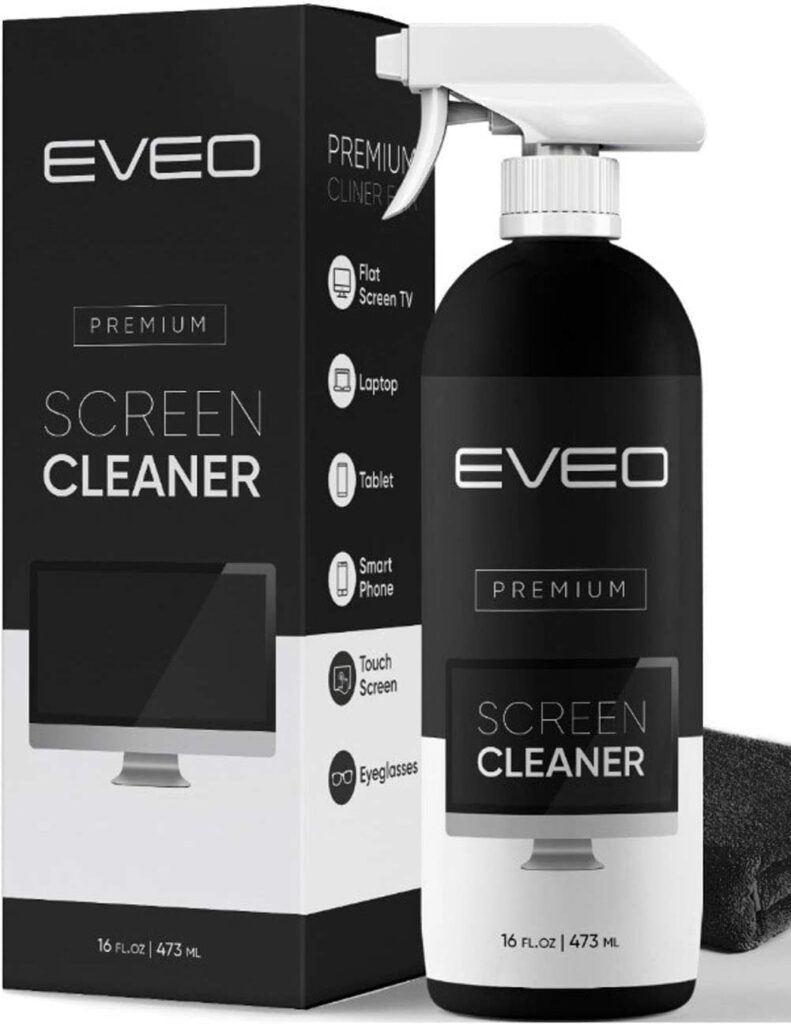 EVEO Mac screen cleaner kit is your Mac's new best friend! It not only cleans your Mac, iPhone, iPad, or Kindle but also your TV or computer screen.
The cleaner with plush microfiber cloth makes the cleaning super easy and flawless. It easily removes dust, dirt, fingertips, and gunk from a screen and leaves it germs-free.
A big plus is it remains gentle and safe on any screen of your electronic device such as LCD, LED, OLED, and CRT screens. 
Its premium super-soft microfiber cloth gives you a better cleaning experience. it efficiently absorbs dirt, and stains and leaves no streaks, fiber shedding, or discoloration.
You can use this highly convenient Mac screen clear kit anywhere in any environment.
You can buy the Eveo Screen Cleaner Spray for $16.97 at the link below.
3. Screen Mom Screen Cleaner Kit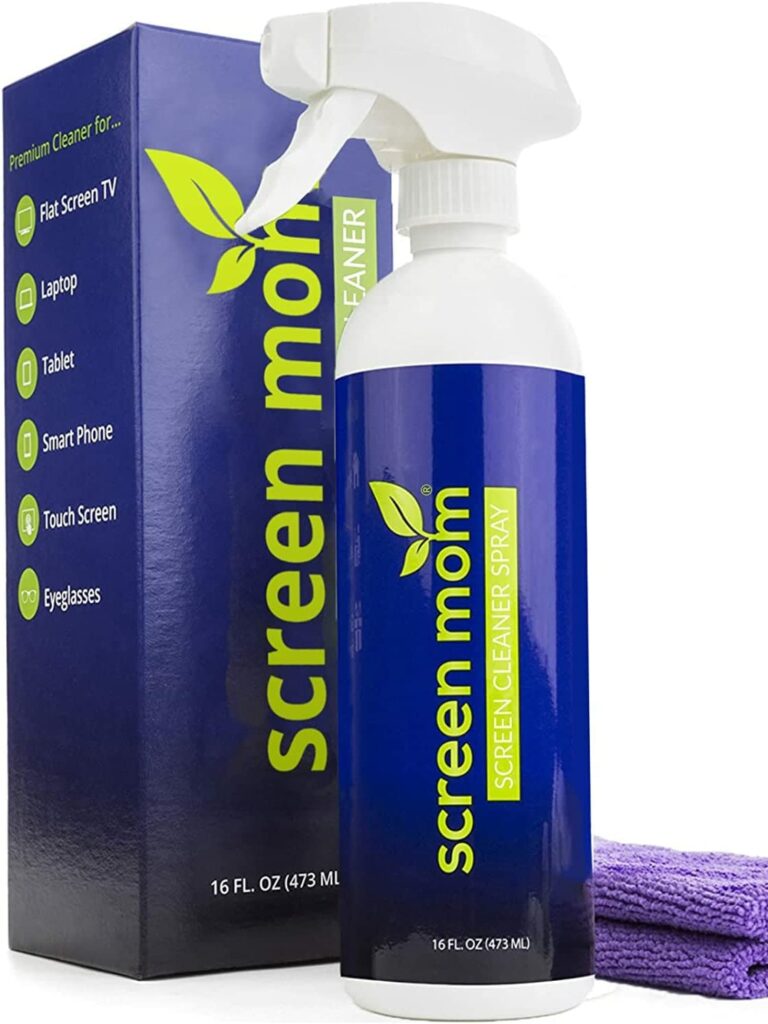 Screen Mom's iPhone cleaner kit is unscented with an efficient cleaning mechanism. It leaves your device's screen scratchless unlike other cheap cleaners on the market. It renews your screen and revitalizes the fresh look of your device.
A gentle swipe of Screen Mom with its microfiber towel leaves your HDTV, flat screens, PC monitors, laptops, and smartphones clean and new. With no alcohol, phosphates, or ammonia it is completely harmless for delicate screens.
You can buy the Screen Mom Screen Cleaner Kit for $19.97 at the link below.
4. Altura Photo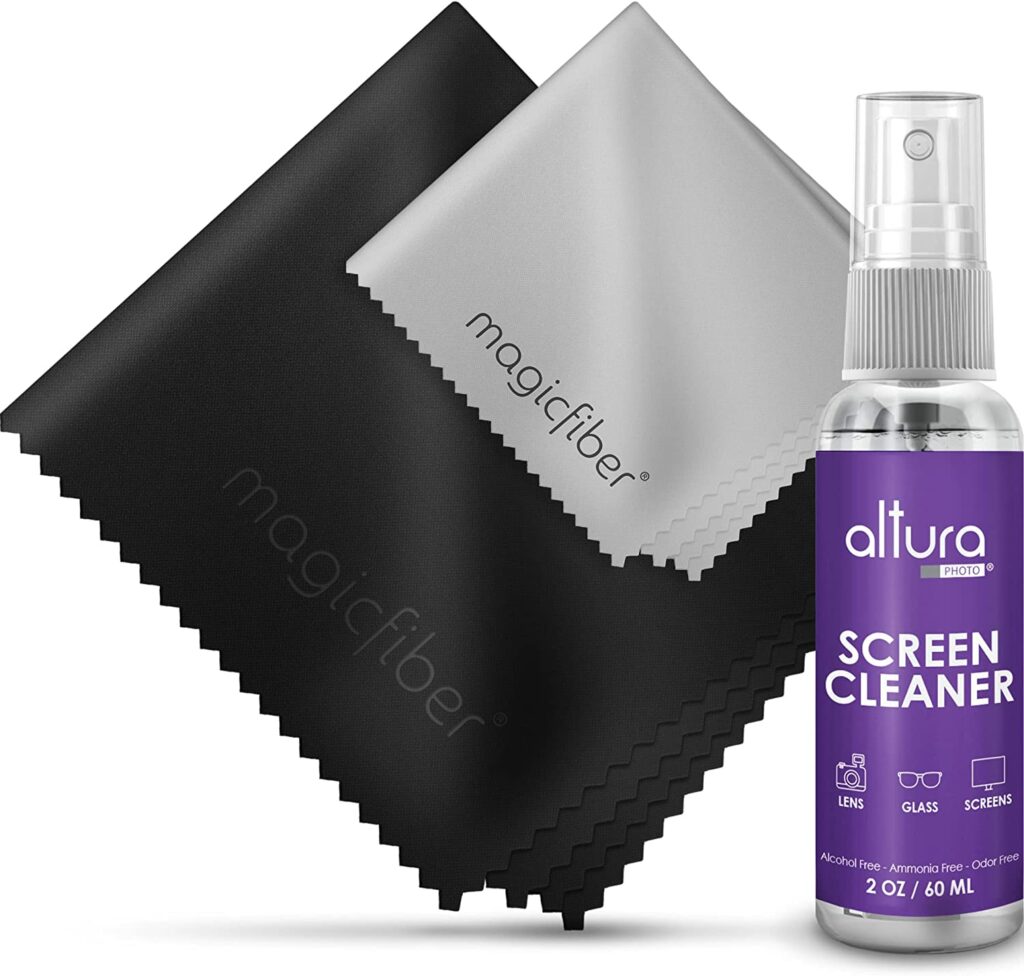 Altura Photo's screen cleaner kit offers more than you imagined! Unlike other brands, the kit contains a cleaning spray solution, and two MagicFiber microfiber cleaning cloths (16×16" and 6×7").
This kit is alcohol ammonia, and odor free to give your screen maximum protection while leaving no streaks, scratches, or marks behind. 
Be it your iPhone, Mac, iPad, Flat screens, or any other electronics, simply spray the solution on the microfiber cloth and wipe the surface until the desired shine is achieved. It is completely safe for all surfaces including your glasses, car screen, and camera lenses.
You can buy the Streak Free Screen Cleaner Kit For $9.99 at the link below.
5. WHOOSH! 2.0 Cleaner Screen Cleaner Kit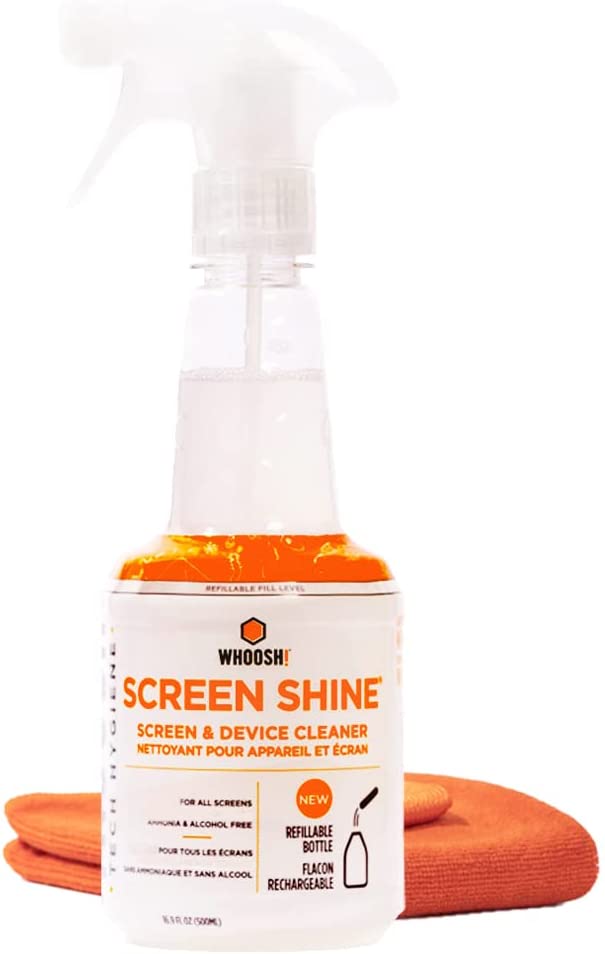 WHOOSH! 2.0 is a multi-purpose cleaner with a refillable 16.9 Oz bottle. Your electronics deserve love and care, and WHOOSH! 2.0 does the job perfectly.
Its odorless formula is alcohol and ammonia free which along with its microfiber cloth, gives your screens ultimate shine and cleanliness. 
Not only your smartphones, but this award-winning Mac screen kit cleaner will also take care of your eyeglasses, computer monitors, LEDs, LCDs, OLED screens, and other electronic devices. You need to buy the bottle only once, and refill it with the cartridges.
Note: Refills will work only with this bottle and not the old designs. 
You can buy the WHOOSH! 2.0 Screen Cleaner Kit for $18.88 at the link below.
6. Click Clean Touchscreen Mist Cleaner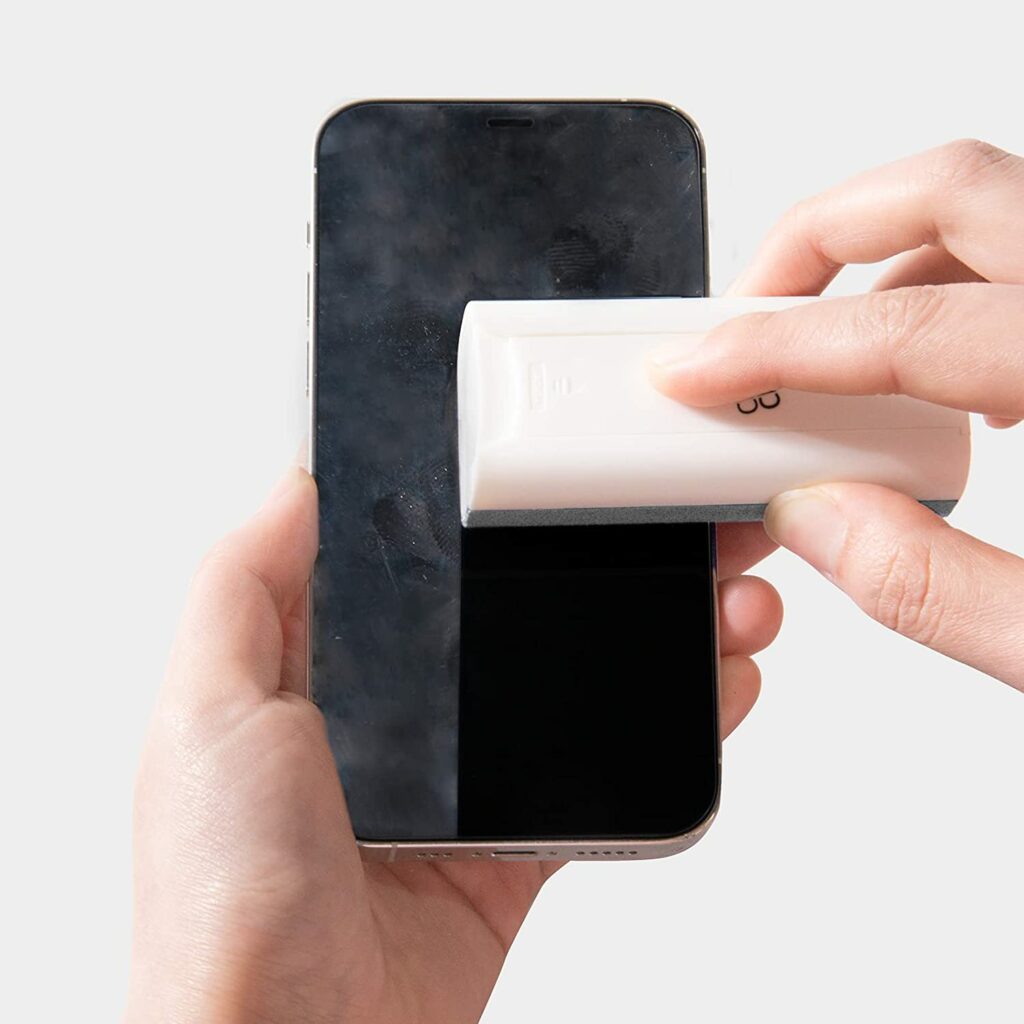 This multipurpose iPhone screen cleaner kit is more than just a cleaner! This travel-friendly cleaner spray is wrapped with a microfiber cloth.
You don't need to carry a separate cloth to clean your device. Just spray and wipe! Moreover, its iPhone and iPad stand functionality makes it more practical than other competitors.
The stand works well for every 4 to 8inch smartphone while providing you a comfortable viewing angle. 
The microfiber cloth on the spray is washable and reusable. Like its other competitors, it is light and has no alcohol, odor, or ammonia.
In addition to cleaning your smartphones, this Mac screen cleaner can clean your computer, TV screens, and all electronic devices.
You can buy the Click Clean Touchscreen Mist Cleaner for $12.99 at the link below.
Which of the above-mentioned screen cleaner kits do you like the most? Share with us in the comments below.
For more products for your iPhone, stay tuned to iOSHacker.com.