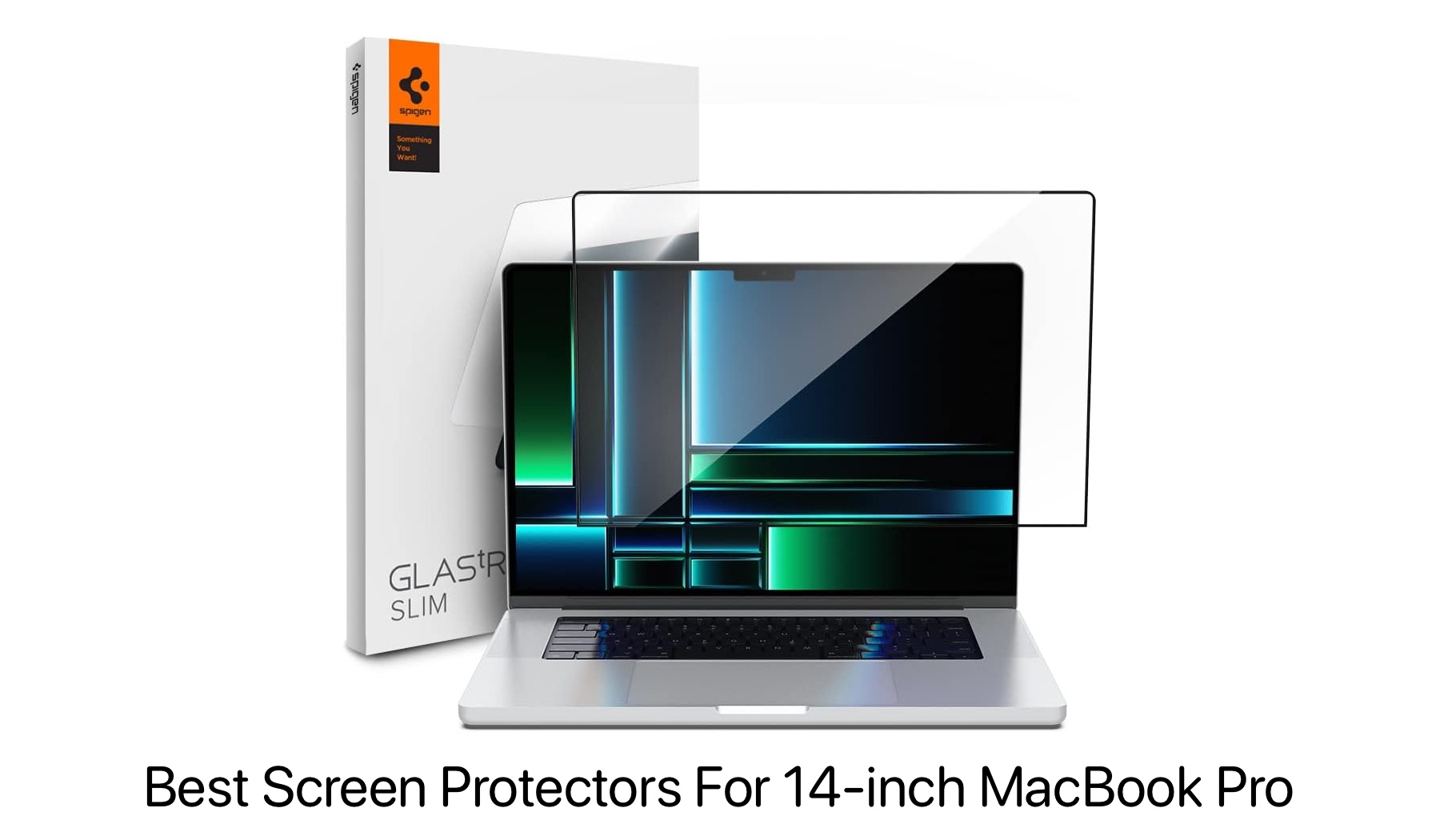 In this buying guide, we have highlighted some of the best M3 MacBook Pro screen protectors you can buy for your 14-inch MacBook Pro.
Picture this: you've just unboxed your brand-new 14-inch M3 MacBook Pro, marvelling at its sleek design and impressive power. You're ready to dive into a world of productivity and creativity, but there's one thing on your mind – protecting that stunning screen. After all, it's your window to the digital universe, and keeping it pristine is paramount.
Fear not, because in this article, we're about to embark on a quest to find the absolute best screen protectors for M3 MacBook Pro 14-inch. We'll explore the top contenders, separating the saviors from the slackers to ensure that your screen stays as flawless as the day you first laid eyes on it.
Best 14-inch screen protectors for MacBook Pro M3
Let's gear up and shield your MacBook Pro's display, because we've got a whole range of M3 Pro MacBook Pro screen protectors 14-inch ready to join the battle for screen supremacy.
1. Spigen Tempered Glass Screen Protector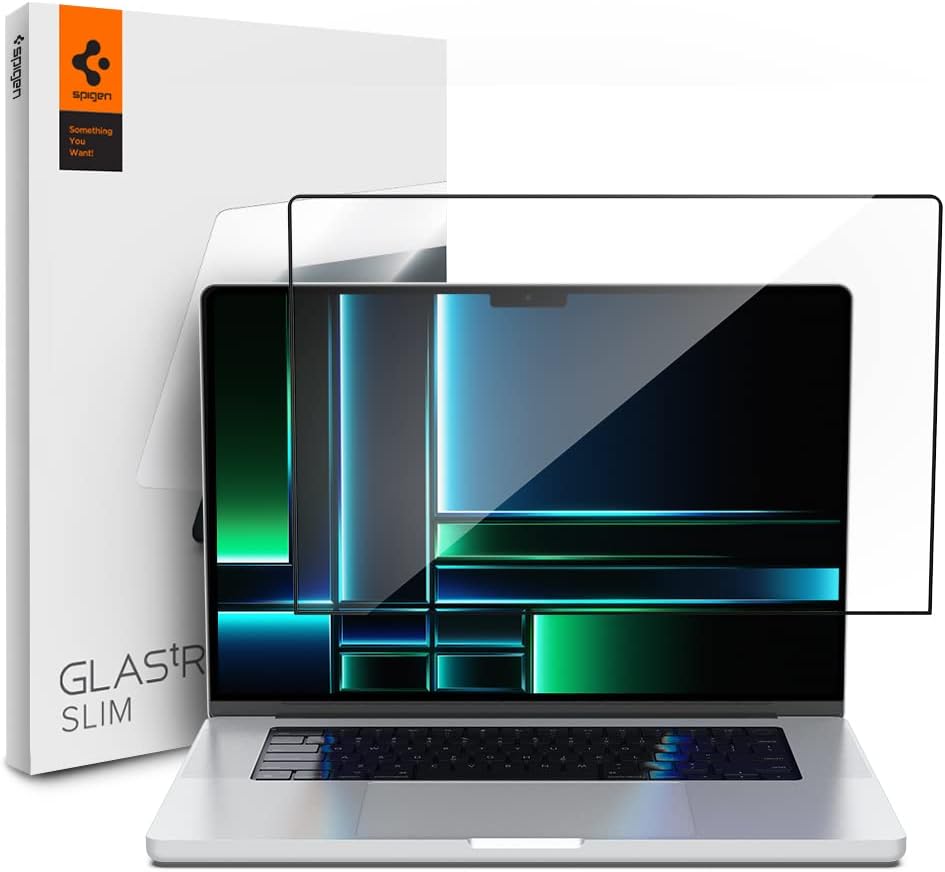 If you love your laptop and want to keep it looking brand new, the Spigen Tempered Glass Screen Protector is a must-have. It's the ultimate combo of protection and style.
Imagine having a shield of super-tough glass for your phone screen. That's exactly what this protector offers! It's like a force field for your phone, with a durability rating of 9H hardness. That's some serious armor against the daily grind that your phone goes through.
But it's not just about toughness; it's also about style. The Spigen Screen Protector covers your entire screen, providing full-screen protection from impacts and scratches. No more worrying about those pesky dings and nicks ruining your beautiful display.
And guess what? You won't even notice it's there! The extreme clarity of this tempered glass preserves your screen's original brightness and vibrancy. It's like having an invisible guardian that keeps your screen safe without compromising its visual appeal.
Buy Spigen Tempered Glass Screen Protector for $29.99 here.
2. F FORITO 2-Pack Anti Blue Light Laptop Screen Protector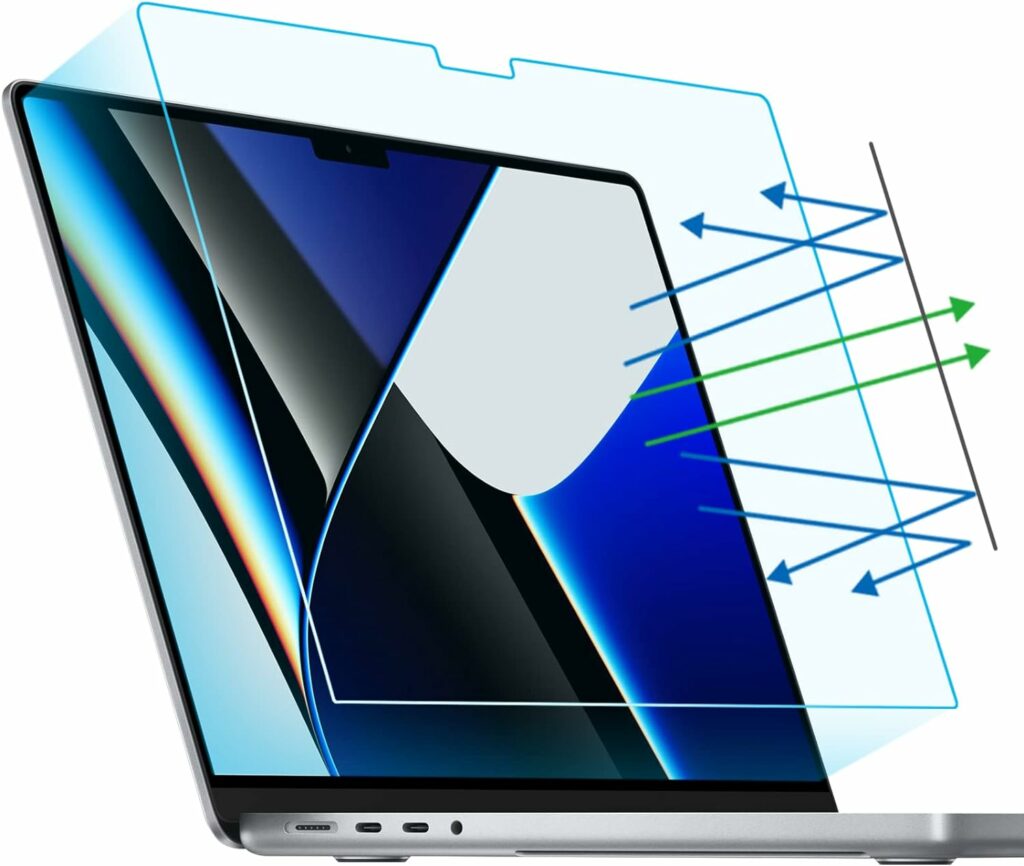 Crafted from premium materials, this MacBook Pro 14-inch Blue Light Screen Protector is built to last, all while maintaining an ultra-thin profile that won't interfere with your laptop's closure. Get ready for an enhanced screen experience with exceptional durability and unbeatable clarity.
Say goodbye to annoying reflections caused by sunlight or bright surroundings. With advanced anti-glare technology, this screen protector shields your eyes and keeps your display looking clean.
But what about the quality of your display, you ask? Well, this MacBook Pro 14 M3 screen protector maintains the crystal-clear, high-definition visuals you love. Say hello to crisp images and text without any blurring or distortion. Your screen's brightness and vibrant colors will shine through for a truly immersive viewing experience.
Installation is a breeze, thanks to the upgraded Nano-silicone absorption layer. No more struggling with bubbles and sticky adhesives. Just make sure to prep your screen with the provided accessories for a seamless application.
Buy F FORITO 2-Pack Anti Blue Light Laptop Screen Protector for $18.99 here.
3. SightPro Magnetic Privacy Screen Protector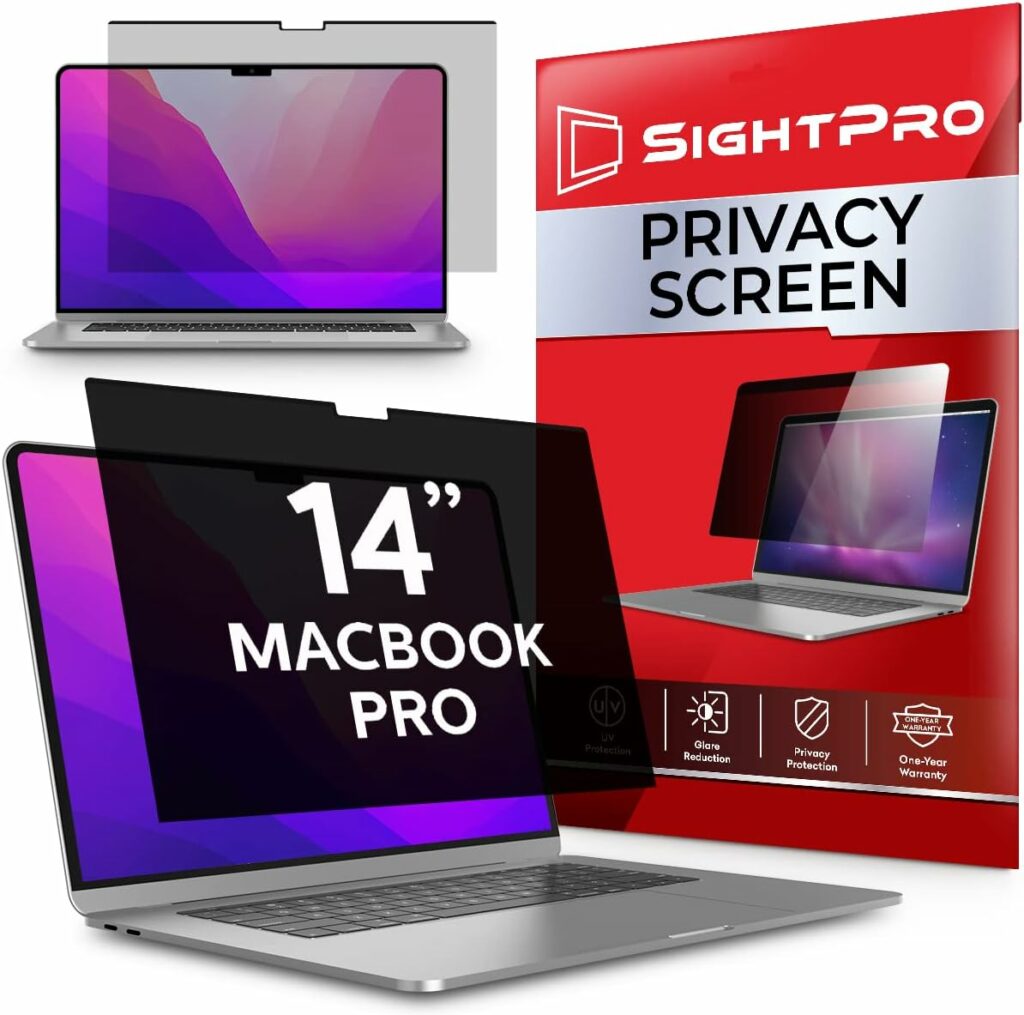 Healthcare providers, mobile workers, commuters, students, and business travelers – this one's for you. It's the ultimate solution to stay compliant and safeguard sensitive corporate information, even when you're working in crowded places like airplanes, subways, airports, or public areas. Your privacy and eye comfort – both sorted with the SightPro Magnetic Privacy Screen Protector.
The SightPro Magnetic Privacy Screen Protector is the hassle-free way to protect your MacBook's screen and your privacy. No more struggling with tricky placement, messy tape, or damaging adhesives. Just slide it onto the top of your MacBook, and let the magnets do the work for you. Need to remove it? No problem, it's a breeze to detach and reattach whenever you like.
This clear screen protector for M3 MacBook Pro 14-inch also goes the extra mile to protect your eyes from harmful glare, UV rays, and blue light. So not only do you get privacy, but you also get added eye protection. It features an advanced multi-layered film that works like a charm. When you view your screen from the side, it blacks out, ensuring your sensitive information stays private. And when you're looking straight at your screen, it remains crystal clear – no compromise on image quality.
Buy SightPro Magnetic Privacy Screen Protector for $29.99 here.
4. Supershieldz (3 Pack) Anti-Glare (Matte) Screen Protector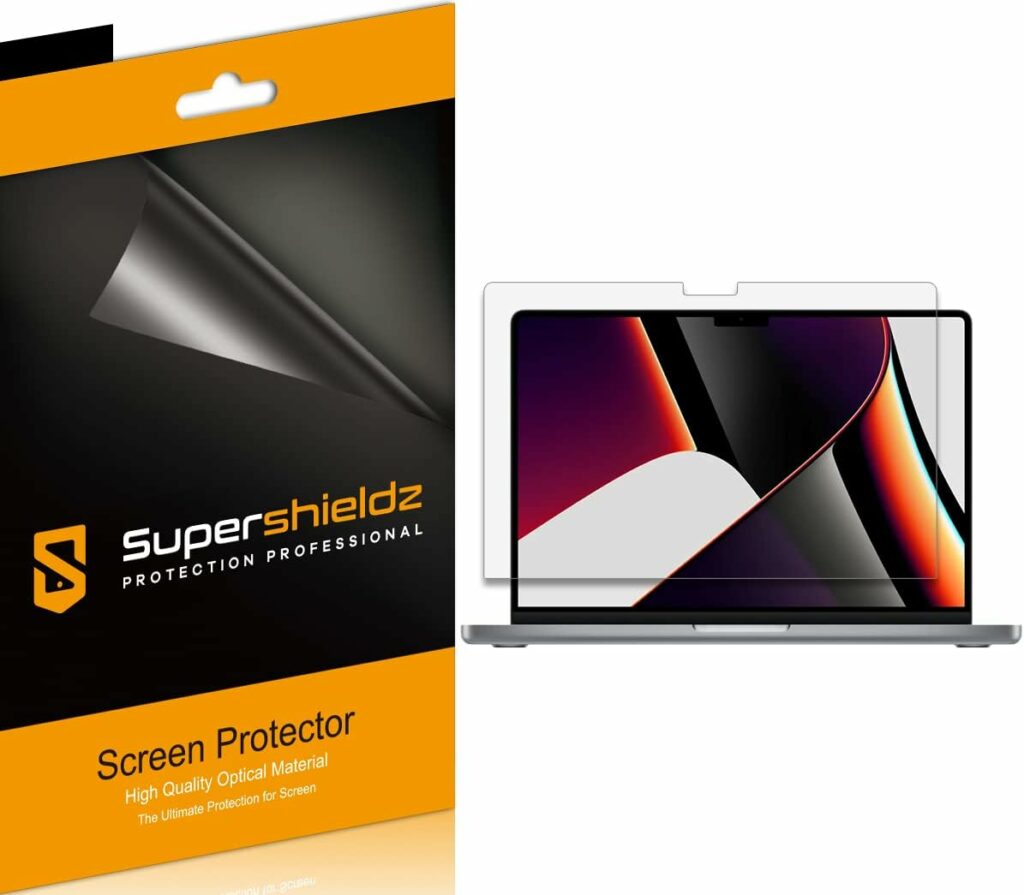 If you're tired of battling glare and smudgy fingerprints on your screen, Supershieldz has got your back with their Anti-Glare (Matte) Screen Protector. This fantastic 3-pack 14-inch MacBook Pro screen protector is designed to reduce glare, making your screen easy on the eyes even in bright light. Plus, it's made from high-quality Japanese PET film, so installation is a breeze, and you won't have any sticky residue headaches when it's time to remove it.
But that's not all – this screen protector offers real touch sensitivity, so your device still feels like, well, your device. You won't miss a beat with flawless touch screen accuracy. And while it's providing that seamless experience, it's also quietly working in the background, shielding your screen from those everyday scratches, dust, and scrapes. It's like a silent guardian for your precious screen.
Buy Supershieldz (3 Pack) Anti-Glare (Matte) Screen Protector for $9.99 here.
5. ZOEGAA Ultra-transparent Screen Protector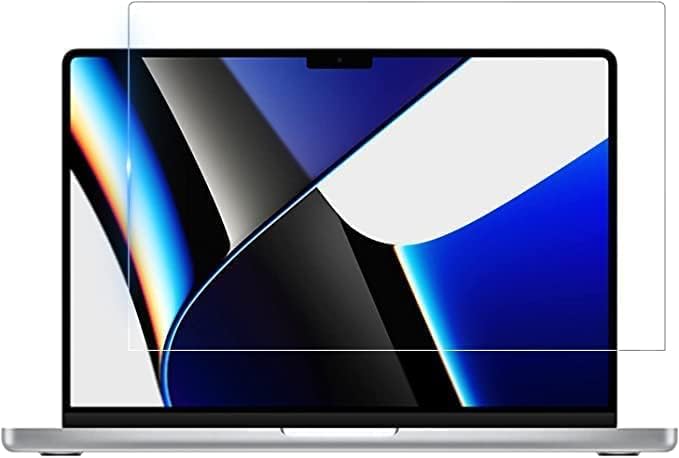 Unlike screen protectors with camera holes that can be dust magnets and leave the screen vulnerable, ZOEGAA Ultra-transparent Screen Protector for your MacBook Pro 14 inch provides a full-screen fit without interfering with your laptop's camera.
What sets this screen protector apart is its impressive 95% light transmittance, offering clearer visuals compared to ordinary clear films. The ZOEGAA MacBook Pro screen protector boasts a minimal reflectivity of just 1.1%, making it a stellar choice for those working near windows or in brightly lit areas, as it significantly reduces annoying reflections.
The design philosophy of this protector is all about "Release Screen Color," allowing you to enjoy high-definition, high-transparency visuals during your downtime and enhancing the efficiency of designers and video editors when at work.
Buy ZOEGAA Ultra-transparent Screen Protector for $21.99 here.
6. KEANBOLL Anti Glare Screen Protector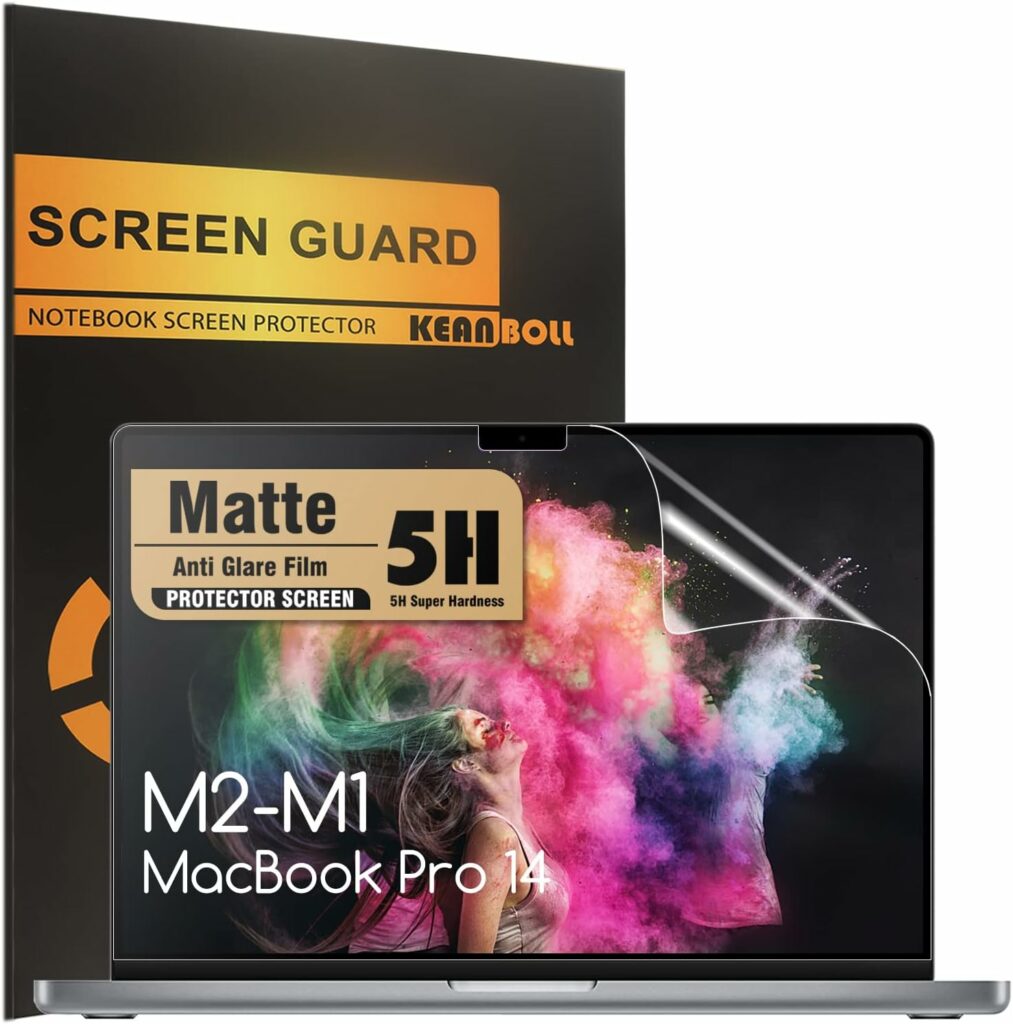 Say goodbye to those annoying fingerprints and pesky scratches with the high-definition KEANBOLL Anti Glare Screen Protector that won't distort your view. It's like a guardian for your laptop, shielding it from screen radiation and reducing visual fatigue during those long work or gaming sessions. The matte technology even makes your screen a breeze to use in bright sunlight.
This screen protector offers true touch sensitivity, so your laptop feels just as responsive as ever. Plus, it's a snap to install, following the included guidelines. And when you decide it's time to part ways, don't worry about any sticky residue – there won't be any left on your laptop's display.
Buy KEANBOLL Anti Glare Screen Protector for $9.88 here.
To Conclude
So, as we've journeyed through the world of M3 MacBook Pro screen protectors, we've discovered an array of options to keep your cherished laptop's display in pristine condition. From the robust armor-like protectors that withstand life's unexpected adventures to the sleek and almost invisible shields that preserve the beauty of your MacBook's screen, there's a protector for every need and style.
Remember, the right screen protector not only safeguards your investment but also enhances your daily computing experience. Whether you're a busy professional, a creative visionary, or a student with dreams as big as your ambitions, don't underestimate the importance of a quality screen protector. With these trusty companions, your MacBook Pro screen will continue to shine as you embark on countless new digital adventures. Cheers to crystal-clear visuals and a MacBook Pro that looks as good as the day you got it!
So, go ahead, pick the one that suits your personality and lifestyle, and let your MacBook's screen dazzle in all its glory.
Disclosure: iOSHacker may receive a commission if you purchase products through our affiliate links. For more visit our privacy policy page.