Here's a list of best tech pouches that you can buy in 2022 and organize your cables, chargers and memory cards. These tech pouches are also great for travel as they let you carry all the things you need in a convenient manner.
We come across two kinds of people in our lives: those who are always looking for a lost pen, memory stick, or charger, and those who keep their things organized in a bag. We believe that you fall in the category of the second kind of people and want to keep your life simple and easy.
Thus, if you are looking for the right tech pouch to organize your easy-to-lose tech accessories, below are a few options to consider.
Best Tech Pouch To Organize Cables and more (List)
Here you will find some amazing tech pouches to organize cables, chargers, memory cards and more from brands like Native Union, Bellroy, Tripped, Sterkmann, Rofozzi, and DDgro.
1. Native Union Stow Organizer
Native Union's tech organizer is a great way to stay neat while on the go. Its large flexible pockets with elastic loops organize chargers, cables, USB, dongles, AirPods, etc. You can also secure your easy-to-loose items such as SD cards, SIM cards, or other tiny accessories in the hidden zippered pocket.
Its durable fabric material is wear-and-tear-resistant while the soft cotton lining inside protects your tech accessories. Its waterproof body ensures you can carry it anywhere you want! 
You can buy the Native Union Stow Organizer Premium Travel Tech Kit for $59.99 at the link below. It comes in five color options.
2. Bellroy Tech Pouch
Bellroy has the best tech pouch if you want to keep your accessories smooth, sorted, and without tangles! Its large pockets and the elastic band hold everything in its place. The magnetic pocket fits in the mouse, power bank, hard drive, etc. While the elastic strip keeps cables sorted.
Its huge zip opening gives you full access to your accessories without any hindrance. This handy organizer keeps large and small accessories separate with no mess or tangles. 
You can buy the Bellroy Tech Kit for $59 at the link below. It comes in five color options.
3. Tripped Tech Bag
If you are looking for a tech pouch for travel, Tripped has got you covered! This travel tech organizer helps you quickly organize your accessories and keep them handy. Its premium 900D Polyester with waterproof zippers makes this bag extraordinarily durable.
Its interior mesh pocket is ideal to accommodate smaller items such as SD cards, SIM cards, etc. Its minimal design with premium leather accents maintains your style preferences. Whether you are traveling, or want to fulfill your everyday needs, this is one of the best pouches for cables you can get your hands on. 
You can buy the TRIPPED Tech Bag and Electronics Organizer Pouch for Travel for $44.95 at the link below. It comes in six color options.
4. Peak Design Tech Pouch V2 Black
If you are a frequent traveler and an adventure enthusiast, Peak Design has the best pouch for cables. Its waterproof 200D Nylon exterior protects your tech accessories from water damage. Its internal pockets ensure sleek and aesthetic organization.
Even if you have dozens of tech accessories, its multiple compartments can hold all of them! The smooth and cushioned inner lining of this tech organizer protects the accessories from impact and damage. While the zip ensures you have instant access to your gadgets. 
You can buy the Peak Design Tech Pouch V2 Black for $59.95 at the link below.
5. Sterkmann Tech Pouch
Looking for the best pouch for cables? Sterkmann's tech organizer is the answer! This tech bag has astonishing sixteen pockets that keep your cables and other accessories organized. This pouch is an ideal way to keep your business trips, travel, work, and daily life sorted. Not only small items but the larger ones such as Kindle, iPad mini, or iPhone can also be adjusted in this tech bag.
Its nylon and polyester body along with seal-tight zippers make the bag withstand any tough weather conditions. 
The Sterkmann Tech Pouch is available on Amazon for $39.99.
6. Rofozzi Genuine Leather Tablet Case and Tech Bag
With the Rofozzi tech organizer, now you can secure and carry all your gadgets in one bag. This bag can accommodate everything – from 9.7-inch iPad tablet, iPhone, and passport to cables, USB, power banks, etc. Its padded pockets are shock-proof while the elastic band holds the cables in place while you travel. And if there is an accidental spillage, its waterproof nylon lining prevents water from damaging your gadgets.
Its vintage-looking leather body adds a beautiful accent to your style. Also, this tech pouch for travel can be the best gift for clients, birthdays, anniversaries, Christmas, graduation, or holidays. 
The Rofozzi Genuine Leather Tablet Case and tech pouch is available for $54.95 at the link below.
7. DDgro Travel Tech And Cable Organizer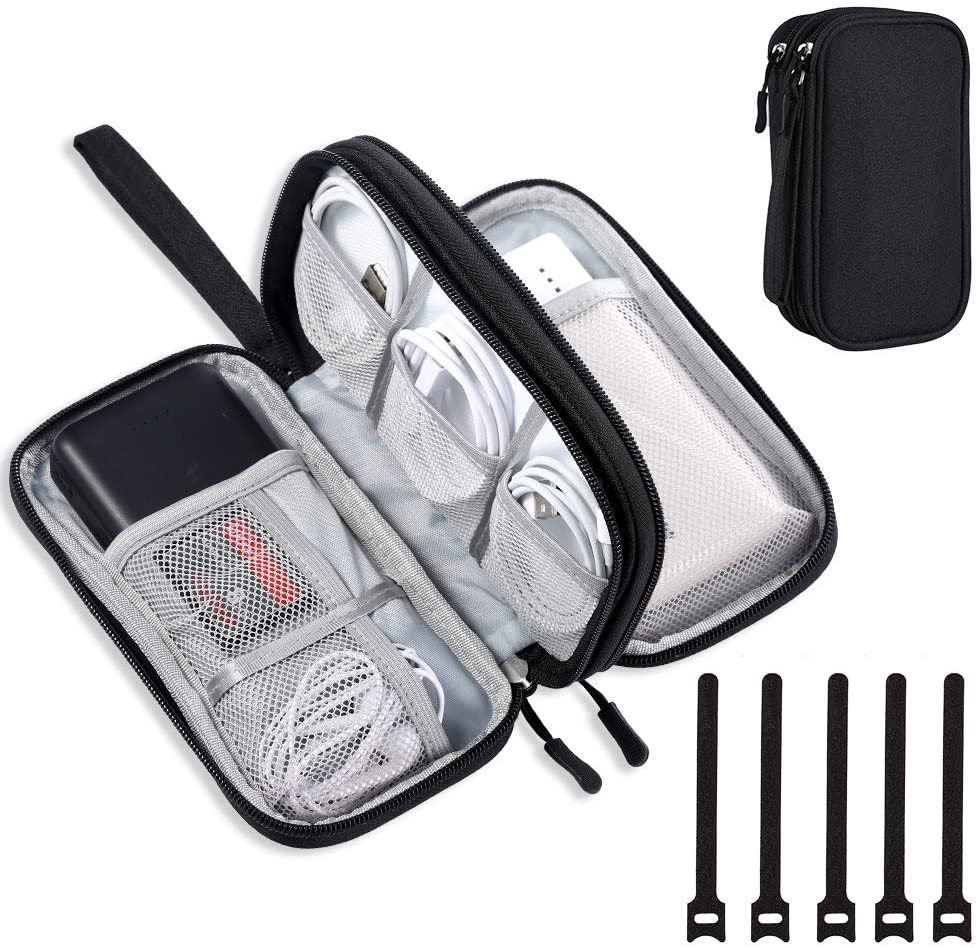 DDgro has the best tech pouch for travelers, students, and office workers. This two-compartment organizer has different-sized pockets thoughtfully designed to organize each of your stuff. It can secure stationeries, power banks, USB, external drives and SD cards, etc.
Its Jacquard body is waterproof and makes sure your accessories are secured from water access. Moreover, its slim body is lightweight and compact which is easy to carry in your backpack. 
The DDgro Electronics Travel Organizer is available for just $11.04 at the link below. It comes in eight color options.
If you liked this post, let us know in the comments section which best tech pouch from the list you want to try? Also, don't forget to share this with your loved ones!
For more tech accessories, stay tuned to iOSHacker.com.