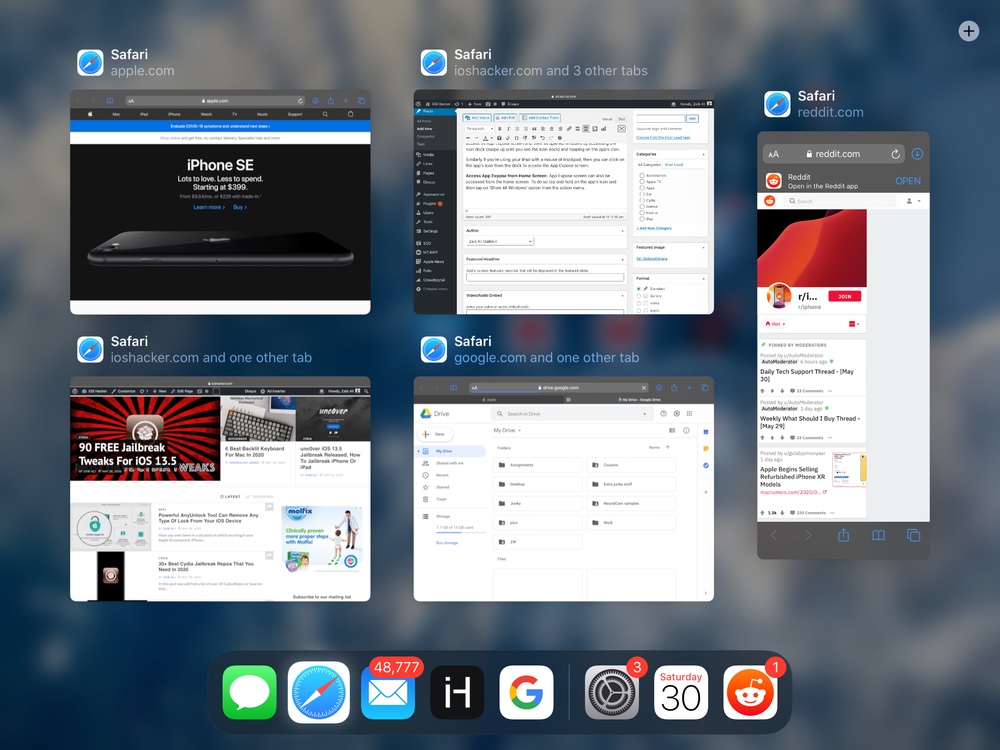 iPadOS has become a lot more powerful than ever before. Now the iPad operating system offers Mac like multitasking capabilities that make it a viable replacement for desktop computers for a large number of users.
One multitasking feature found on iPadOS enables users to have multiple Windows opened for their favorite apps.
Similar to how you can have multiple instances of an app opened on your Mac, iPadOS also lets you have multiple windows of an app opened.
You can switch between these windows, open new windows and close opened windows through the App Expose screen.
Users can access these app windows or app workplaces for normal views, instances of app running in Split-View and in Slideover features.
Being able to have multiple app workplaces can be very beneficial in apps like Safari. In this app you can open certain types of tabs in one window while other types of tabs in another window. This way you can separate these two workplaces without filling up your main window with tens of tabs.
You can manage and add new windows of an app through a screen called App Expose. There are two ways to access this particular screen. Both of these are explained in the next section.
How To Show All Windows, Close Windows and Open New App Windows
You can access App Expose screen in the following two ways. Once you are on the App Expose screen you can switch between multiple opened windows, close windows and open new windows.
Access App Expose when inside the app: When you are using the app you can access its App Expose screen and view all opened windows by accessing the icon dock (swipe up until you see the icon dock) and tapping on the app's icon.
Similarly if you're using your iPad with a mouse of trackpad, then you can click on the app's icon from the dock to access the App Expose screen.
Access App Expose from Home Screen: App Expose screen can also be accessed from the home screen. To do so tap and hold on the app's icon and then tap on 'Show All Windows' option from the action menu.
Use App Expose screen to close, open and switch between app windows
Once you are one the App Expose screen you can tap on the Window card to access various opened app windows.
You can also close app windows from the App Expose screen. To do so, simply swipe up on the window card to close it, similar to how you swipe up on App Switcher screen to close an app.
Users can also add new windows or workplaces for an app. This can be done by tapping in the '+' button location on top right corner of the screen.
If you happen to close a windows accidentally, then you can also restore closed windows by tapping on the 'Reopen Closed Windows' button. This button shows up next to the '+' button once you have closed any window.
There you go folks, this is how you can use iPad's Show All Windows feature to access multiple instances of an app and do desktop like multitasking on your tablet.
If you have any questions related to this guide, then let us know in the comments.