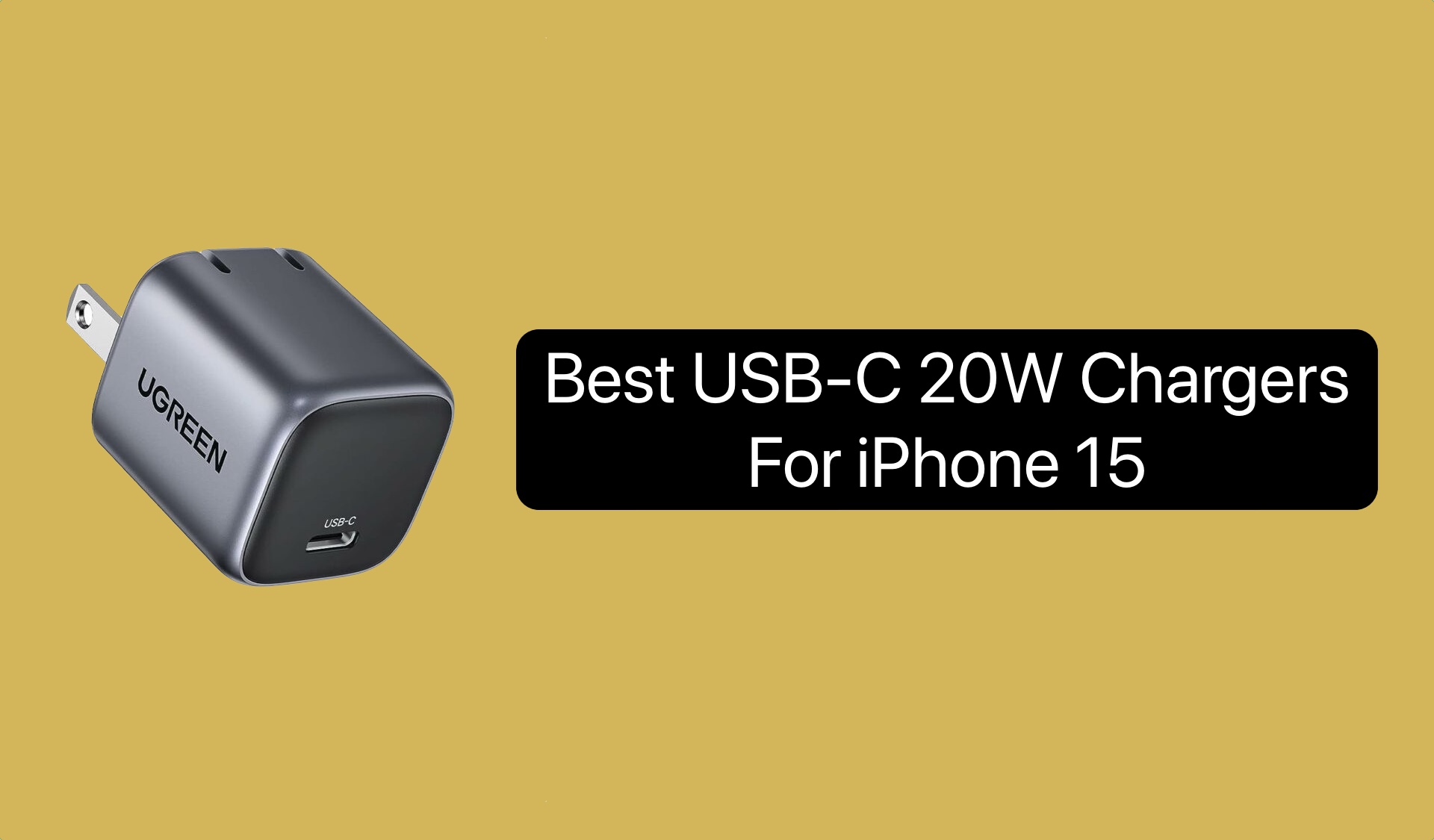 As Apple continues to push the boundaries of smartphone innovation, we find ourselves eagerly awaiting the latest and most significant additions to the iPhone family. And guess what? The iPhone 15 and iPhone 15 Pro are here to satisfy our gadget cravings!
But wait, there's a catch – these bad boys come with a thirst for power that's unlike anything we've seen before. Don't fret, though; we've got your back.
In this article, we're diving into the world of the best USB-C 20W chargers for iPhone 15 Pro Max, the unsung heroes that'll keep your shiny new iPhones juiced up and ready for action. So, join us on this electrifying journey as we uncover the best options to keep your iPhone 15 and 15 Pro fueled up and raring to go!
Best USB-C 20W Chargers For iPhone 15
Here are the USB-C 20W chargers for your new iPhone 15 Pro, iPhone 15 Pro Max, iPhone 15, and iPhone 15 Plus.
1. Apple 20W USB-C Power Adapter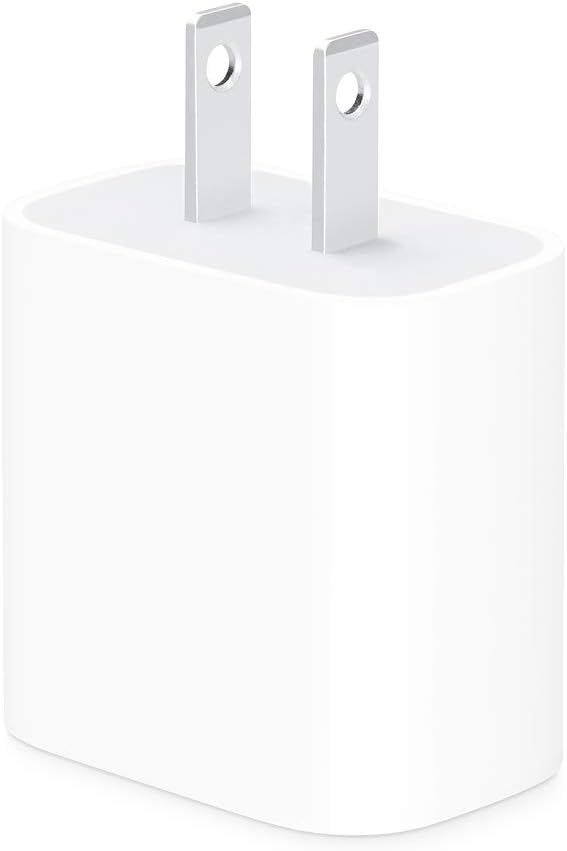 First on our list of the best iPhone 15 Pro 20W chargers is the Apple 20W USB‑C Power Adapter. It is a game-changer when it comes to charging your devices.
When you team it up with the iPhone 15 series, you'll be amazed at how quickly it works its magic. You plug in your iPhone, and within 30 minutes, you'll have a whopping 50 percent battery life! No more waiting around for hours to get back in the action.
But that's not all – it's not just for iPhones. If you're rolling with an iPad Pro or an iPad Air, this adapter is your best friend for charging. It delivers optimal performance to keep those tablets juiced up and ready to tackle whatever you throw at them. It's a versatile powerhouse that'll keep your tech running smoothly.
Buy Apple 20W USB-C Power Adapter for $16.99 here.
2. Anker 511 Charger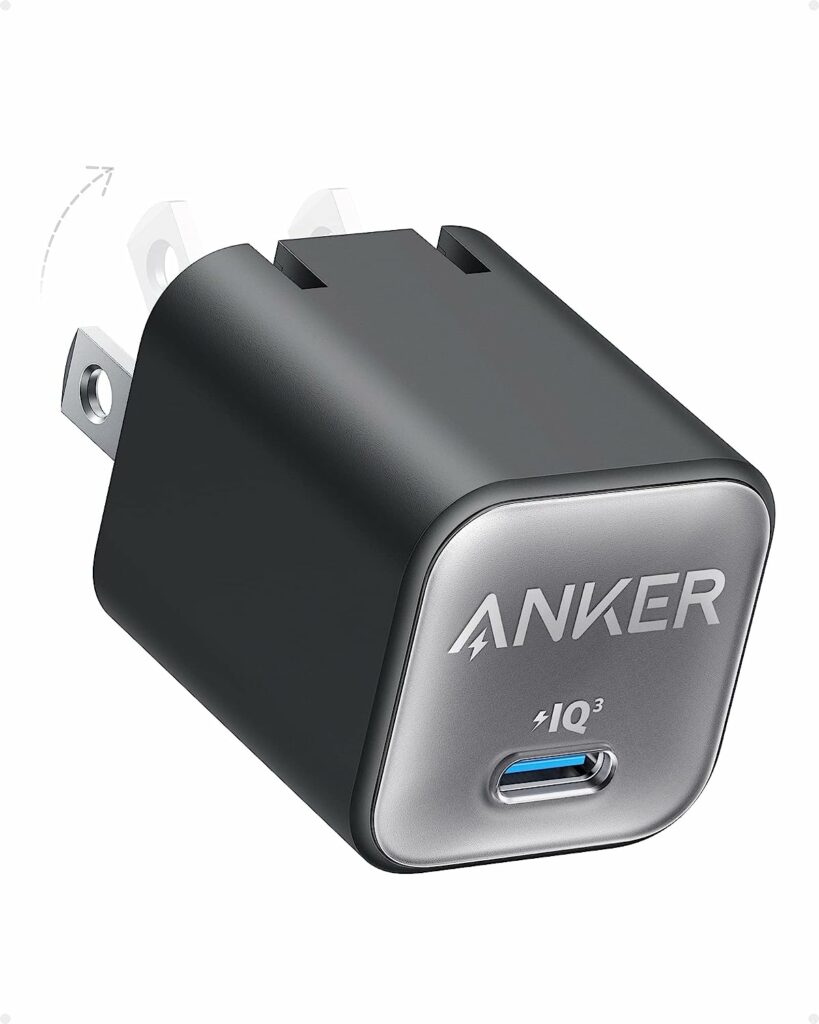 Anker has done something pretty cool by switching from silicon to Gallium Nitride (GaN) in its chargers. What's the big deal? Well, the company has managed to pack a whopping 30W of power into a charger that's only 1.12 inches thick. That's a 70% reduction in size compared to the old 30W chargers!
With its 30W output, you can charge a variety of devices, from your earbuds and phone to your tablet and even your trusty MacBook Air, all with this tiny charger.
Need your iPhone 15 or Pro to charge up in a jiffy? No problem. This one of the best chargers for iPhone 15 delivers full-speed 30W charging for these devices. And if you've got the new iPad Air (5th Generation), you can get it up to 50% battery in just 45 minutes.
Buy Anker 511 Charger for $19.99 here.
3. UGREEN 30W USB C Charger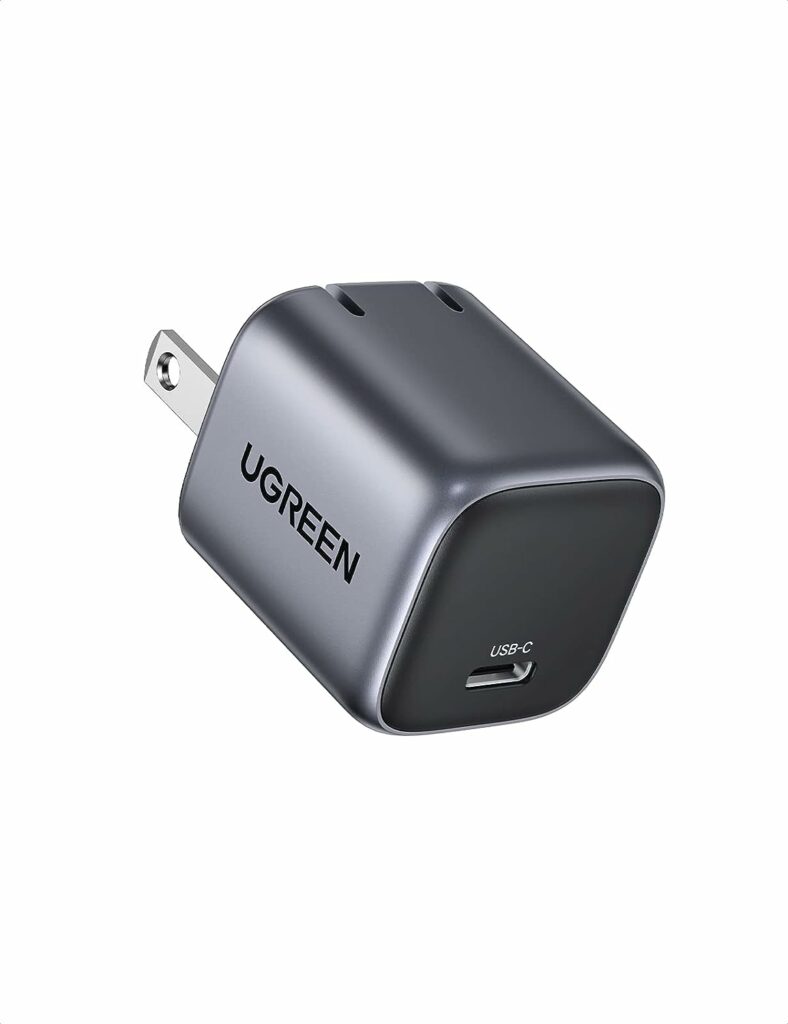 Are you tired of waiting for your phone to charge? With Nexode Mini, you can set your shiny new iPhone 15 Pro Max from 0 to 55% in just 30 minutes – lightning fast!
But what sets this fast charger for iPhone 15 apart is the upgraded GaN II chip, exclusively designed for the Nexode series. It not only delivers groundbreaking performance but also comes incredibly compact. The foldable plug design makes it easy to carry with you wherever you go.
Worried about safety? Don't be! The Thermal Guard technology scans the temperature a whopping 800 times per second, ensuring your device stays cool and safe during charging.
Buy UGREEN 30W USB C Charger for $19.99 here.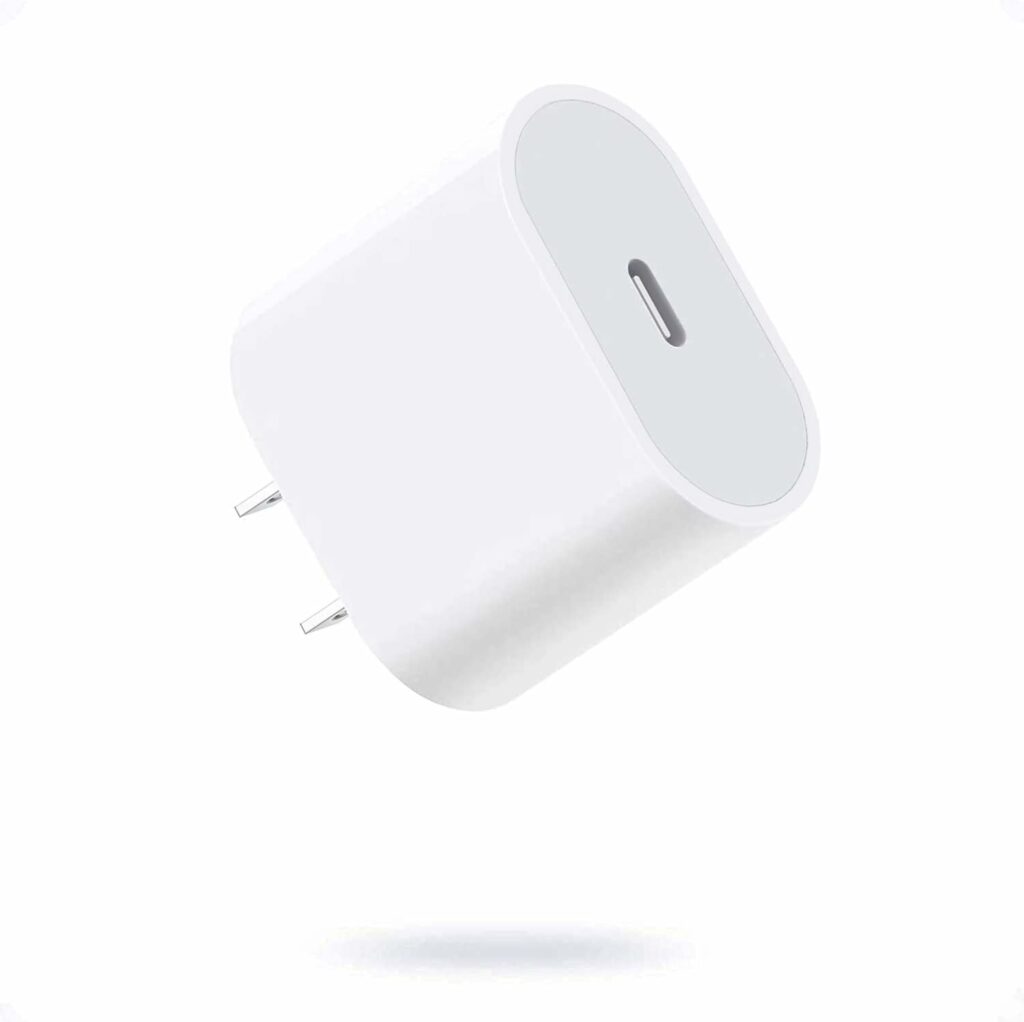 Next on our list of the best 20W USB-C chargers for iPhone 15 is the IPREMIUM 20W USB-C Power Adapter. It is your ticket to lightning-fast charging for the latest iPhone 15 and 15 Pro, as well as other USB-C devices that support USB Power Delivery. This little powerhouse delivers a whopping 20W of power, making it up to 3 times faster than the standard 5W iPhone charger.
And here's the icing on the cake – the IPREMIUM 20W USB-C Power Adapter has earned its stripes with ETL, FCC, CE, and ROHS certifications. It's like a bodyguard for your device, offering multi-charging protection that shields against over-current, over-voltage, over-heating, and short-circuiting.
Buy ipremium [Apple Certified] 20W USB C Charger for $8.99 here.
5. Anker 47W USB C Charger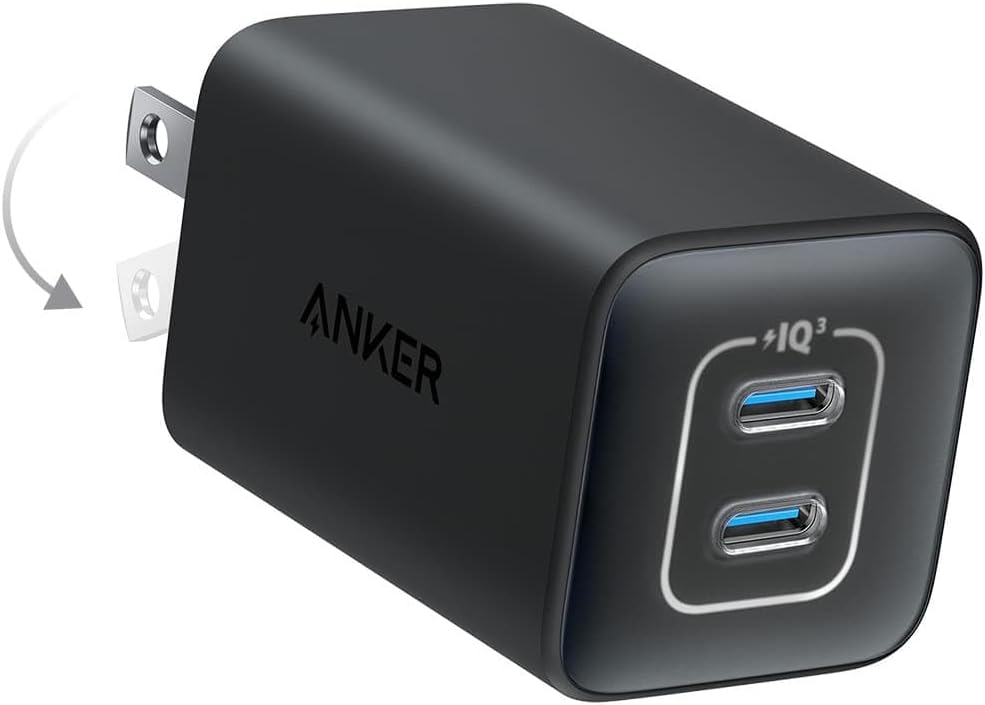 Imagine having a charger that can supercharge your iPhone 15 and iPad simultaneously. One USB-C port pumps out a whopping 27W of power, while the other delivers a speedy 20W. That's the dream team for all your Apple devices!
Anker has gone the extra mile to keep your devices safe. Their cutting-edge technology monitors the temperature a mind-blowing 3 million times a day. That's double the protection compared to the older ActiveShield 1.0 tech, ensuring your gadgets have a long and happy life.
Now, here's the real kicker – this charger crams 47W of power into a body that's no bigger than your trusty old 20W charger. That means you can take it with you on your travels without sacrificing any charging speed.
Buy Anker 47W USB C Charger for $26.99 here.
6. Spigen 40W Dual USB C Charger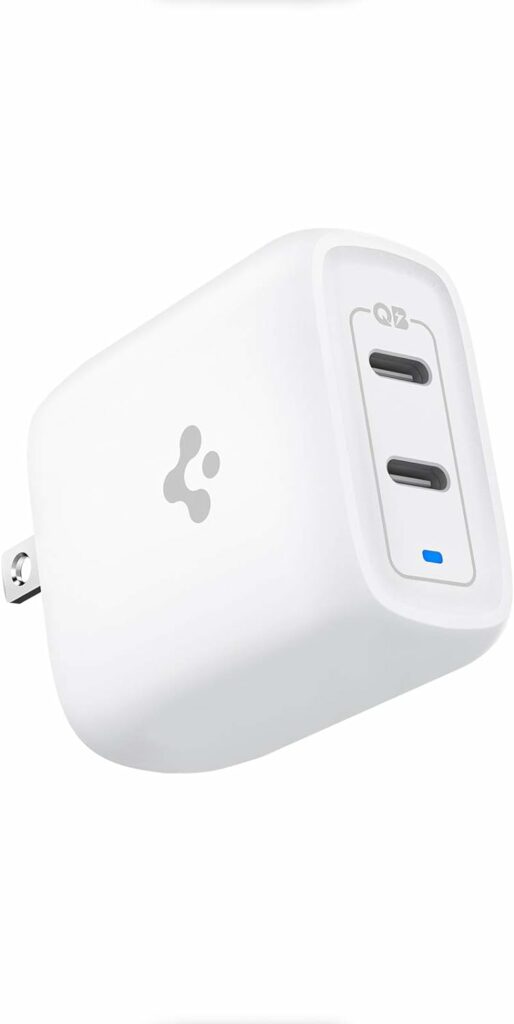 You can charge your devices faster and more efficiently with the ArcStation charger. It's equipped with a single USB C port that can deliver up to 30 Watts of power. And if you're using both ports simultaneously, you can still get a total of 40 Watts (20 Watts for each port).
What makes the ArcStation stand out is its use of Gallium Nitride (GaN) technology. Unlike traditional chargers with Silicon chipsets, the GaN chipset in the ArcStation allows it to be smaller in size while operating with higher efficiency. Plus, it generates less heat compared to your standard charger.
But safety is a top priority with the ArcStation. It features GaN (Gallium Nitride) chips and Intelligent Safety Technology, ensuring your safety and that of your devices. It adheres to a 15-point safety standard and effectively manages heat dissipation, giving you peace of mind while charging your devices quickly and efficiently.
Buy Spigen 40W Dual USB C Charger for $29.99 here.
7. TECKNET 65W PD 3.0 GaN Charger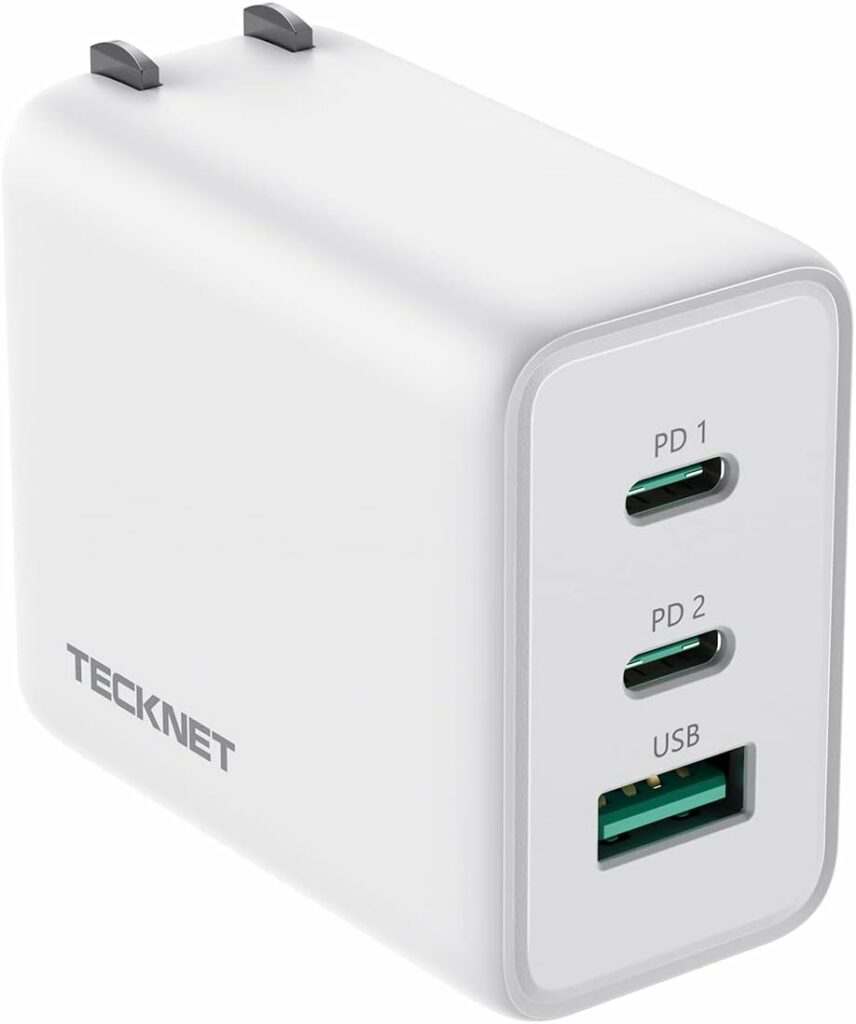 This charger is a game-changer! It's equipped with 65W Power Delivery 3.0, which means it can juice up your iPhone 15 and Pro from 0% to 100% in just 2 hours using a USB-C to USB-C cable. Plus, it works like a charm with other USB-C devices that support USB Power Delivery. TECKNET really nailed it with their PD 3.0 and PPS technology, ensuring speedy charging for most mobile gadgets.
It's super compact, measuring just 2.2 inches by 1.95 inches by 1.18 inches and weighing a mere 3.88 ounces. That's a 50% reduction in size compared to your typical charger. Plus, it's designed for travelers with its foldable plug and ultra-portable build.
And speaking of safety, TECKNET has your devices covered with built-in safeguards. They protect against excessive current, overheating, and overcharging, ensuring your gadgets stay in tip-top shape. The charger's (ABS+PC) shell adds sturdiness to the design, so you can recharge your devices worry-free, no matter where you are.
Buy TECKNET 65W PD 3.0 GaN Charger for $36.99 here.
8. Stuffcool 20W USB-C Power Delivery Wall Charger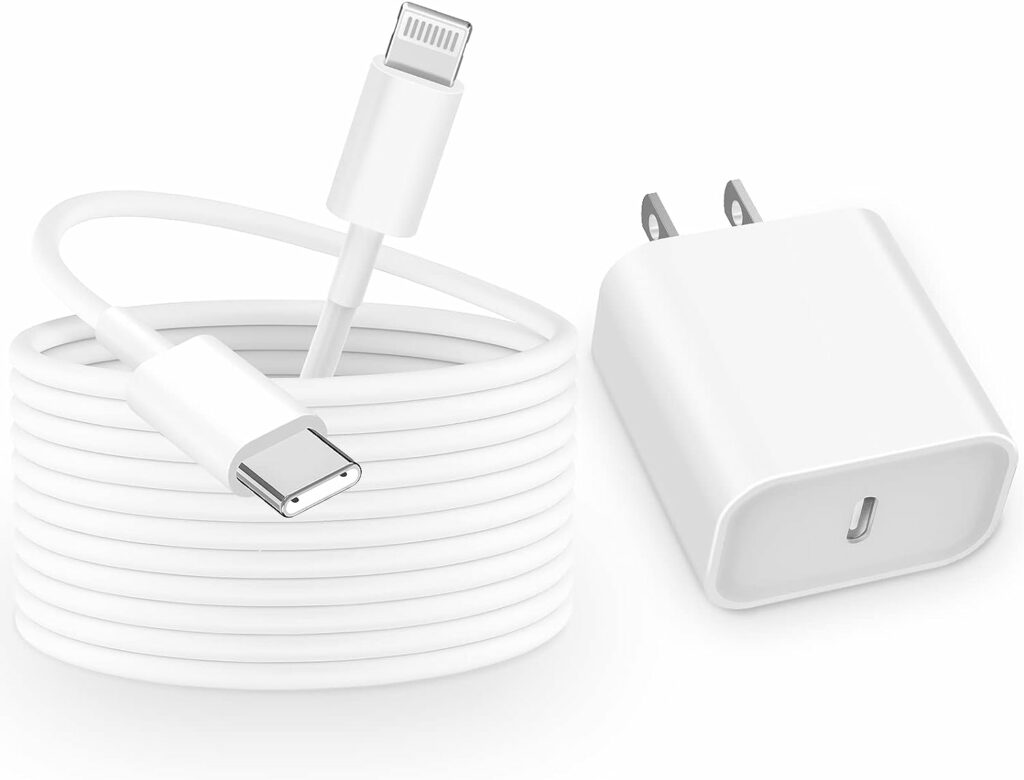 Picture this: you can say goodbye to the sluggish 5W wall charger that comes with your iPhone. With a whopping 20W maximum output power, this charger is three times faster than the standard adapter. Translation? Your iPhone goes from zero to fully charged in just 1.5 hours, saving you a precious 1.8 hours of your time.
Safety? Absolutely covered. This PD Wall FAST Charger is a certified powerhouse boasting UL, ETL, FCC, CE, and ROHS certifications. It's equipped with an intelligent temperature control system and Multifunctional Intelligent Protect Technology, which means it keeps an eye on the temperature, guards against surges, and prevents short circuits.
Your MFi Certified lightning cable ensures it matches your iPhone's required current automatically, so you can charge your iPhone, iPad, or AirPods Pro quickly, safely, and steadily, all while extending the lifespan of your battery.
Buy Stuffcool 20W USB-C Power Delivery Wall Charger for $8 here.
To Conclude
the quest for the perfect charger for your iPhone 15 and iPhone 15 Pro in 2023 ends here with the best USB-C 20W iPhone 15 chargers. These chargers not only ensure lightning-fast charging speeds but also prioritize safety and efficiency, making them the ideal companions for your cutting-edge devices.
As we continue to witness advancements in technology, these chargers stand out as reliable and future-proof options, ensuring your iPhone 15 and iPhone 15 Pro stay powered up for years to come.
Stay ahead of the curve and invest in the top-tier iPhone 15 chargers 2023 has to offer because when it comes to keeping your devices charged and ready, excellence is the only standard.
Disclosure: iOSHacker may receive a commission if you purchase products through our affiliate links. For more visit our privacy policy page.