Are you ready to take your iPhone 15 or iPad to the next level of productivity and entertainment? In a world where screens dominate our daily lives, having the perfect display can make all the difference.
Whether you're an on-the-go professional looking to transform your mobile office or simply seeking a bigger canvas for your favorite apps and content, the right iPhone and iPad USB-C monitors can be a game-changer.
Say goodbye to squinting at your small screen and say hello to a world of vibrant visuals and seamless connectivity.
Join us as we dive into the top contenders in the realm of USB-C monitors, carefully selected to unleash the full potential of your iOS devices.
Best USB-C Monitors For iPhone 15 And iPad
From work to play, we've got your screen needs covered, and we're about to reveal the best USB-C monitors for iPhone 15 that'll turn your devices into a dynamic duo you won't be able to resist.
In addition to iPhone 15, iPhone 15 Plus, iPhone 15 Pro, and iPhone 15 Pro Max you can also use these monitors with iPad Pros, iPad Air, iPad minis, and iPad 10th generation.
1. Dell S2722QC 27-inch 4K USB-C Monitor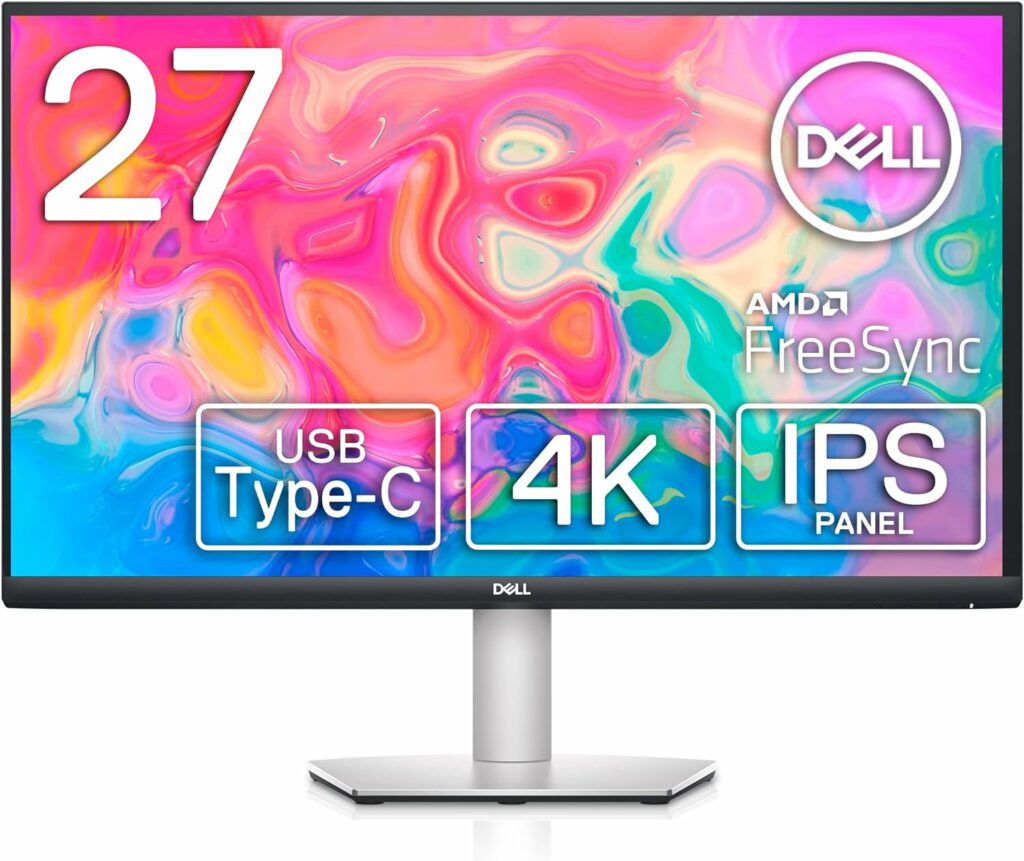 The Dell S2722QC 27-inch 4K monitor for iPhone 15 Pro is the perfect blend of style and functionality for your business needs. Imagine a monitor that's not just a workhorse but also a sleek addition to your workspace. This monitor features a three-sided ultrathin bezel design that maximizes your screen real estate, letting you see more without annoying interruptions. Whether you're crunching numbers, crafting presentations, or watching your favorite movie, this monitor's 4.0ms response time ensures crisp and clear visuals.
What sets this monitor apart is its versatility. You can adjust it to your heart's content, thanks to the height-adjustable stand and flexible tilting, swiveling, and pivoting options. So whether you're sitting up straight for an important presentation or reclining for a movie marathon, you'll always be at your most comfortable.
And here's the real game-changer – the USB-C connectivity. No more cable clutter on your desk. Just plug in a single cable, and you're good to go. It not only delivers power but also handles video, audio, and data seamlessly.
Buy Dell S2722QC 27-inch 4K USB-C Monitor for $369.99 here.
2. Dell S3423DWC Curved USB-C Monitor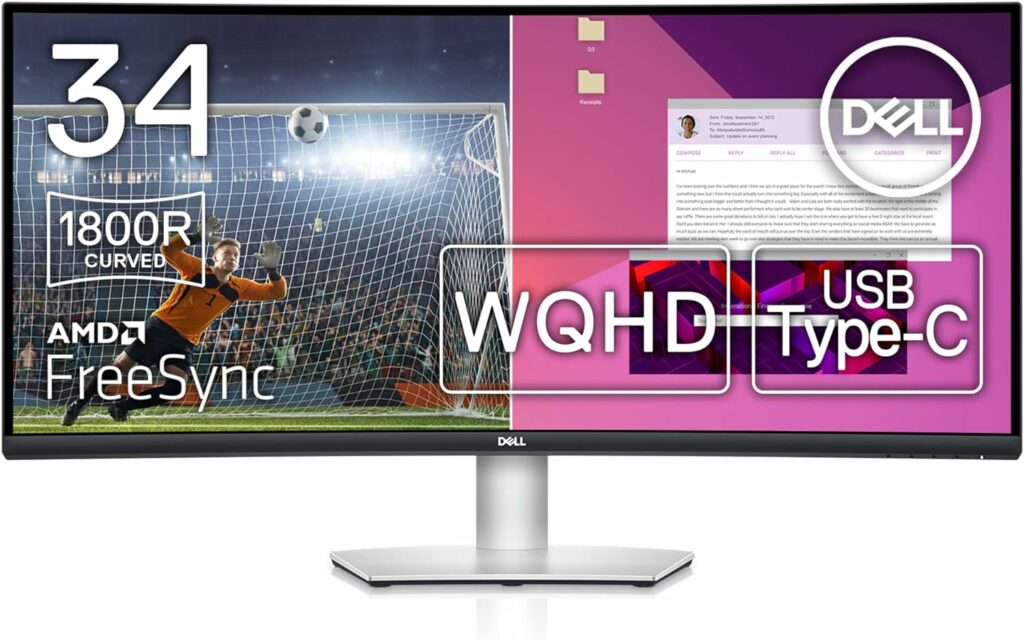 If you're looking to take your home office setup to the next level, the Dell S3423DWC Curved USB-C Monitor is a fantastic choice. Its platinum silver pattern and micro-texture design add a touch of elegance to any workspace. Plus, the 3-sided ultrathin bezel creates a seamless and distraction-free viewing experience.
When it comes to picture quality, this one of the best USB-C 4K Monitors for iPhone 15 doesn't disappoint. Thanks to Vertical Alignment (VA) display technology, you'll enjoy a remarkable contrast ratio of 3000:1 and an impressive 99% sRGB color accuracy. Your images will pop with vibrant, true-to-life colors. And with a resolution of 3440 x 1440, this ultrawide WQHD curved screen with a 21:9 aspect ratio offers a wraparound view that's incredibly immersive, allowing you to see every fine detail with absolute clarity.
One of the standout features is the single-cable USB-C solution. It combines 65W power delivery, video, audio, and data transmission all in one cable. This means you'll have more desk space for what truly matters—your work.
Buy Dell S3423DWC Curved USB-C Monitor for $549.99 here.
3. LG UltraFine UHD 27-Inch Computer Monitor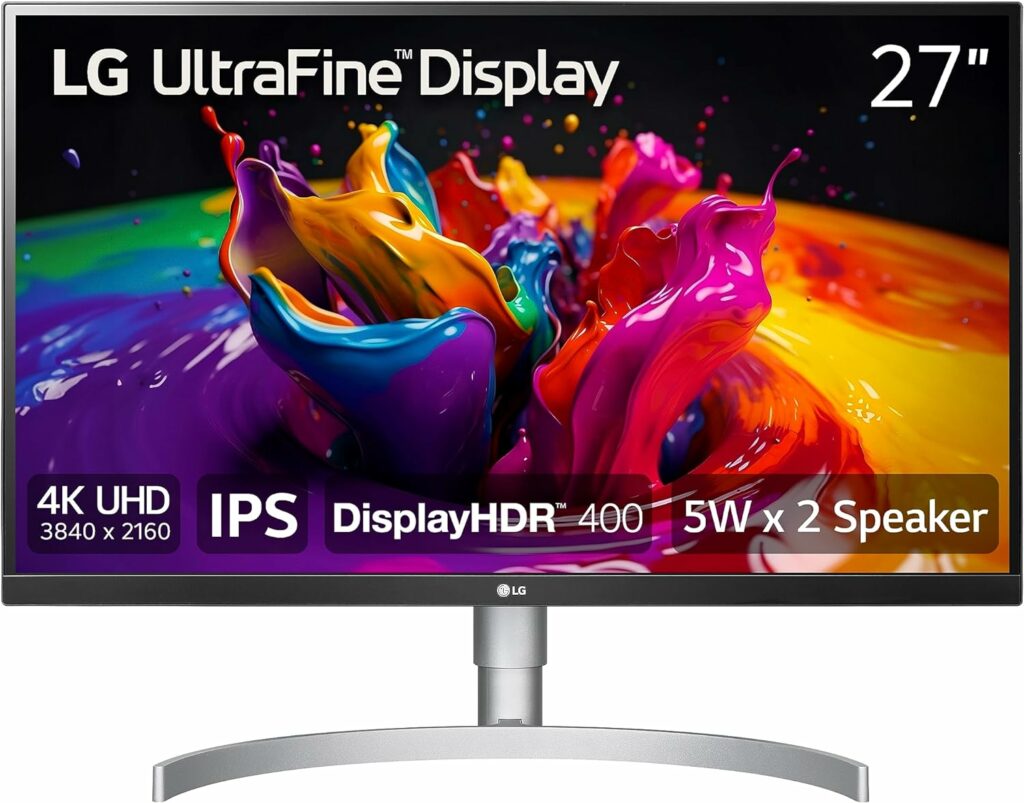 Step into a world of vibrant visuals with the LG UltraFine UHD 27-inch Computer Monitor. This isn't just a monitor; it's a portal to lifelike experiences. Thanks to its VESA DisplayHDR 400 high dynamic range compatibility, your work, and virtual escapades burst into vivid existence.
For the creatives out there, rejoice! This iPad Pro USB-C 4K monitor boasts a remarkable 99 percent coverage of the sRGB spectrum, making it a dream come true for photographers and graphic designers. Say goodbye to color inaccuracies; this monitor is your color-accurate ally.
But the LG UltraFine doesn't just stop at work; it's a gaming powerhouse too. If you're armed with an AMD Radeon series video card, you're in for a treat. AMD FreeSync steps in, managing refresh rates and banishing screen tearing, flicker, and stuttering.
Buy the LG UltraFine UHD 27-inch Computer Monitor for $299.99 here.
4. SAMSUNG 32″ M80B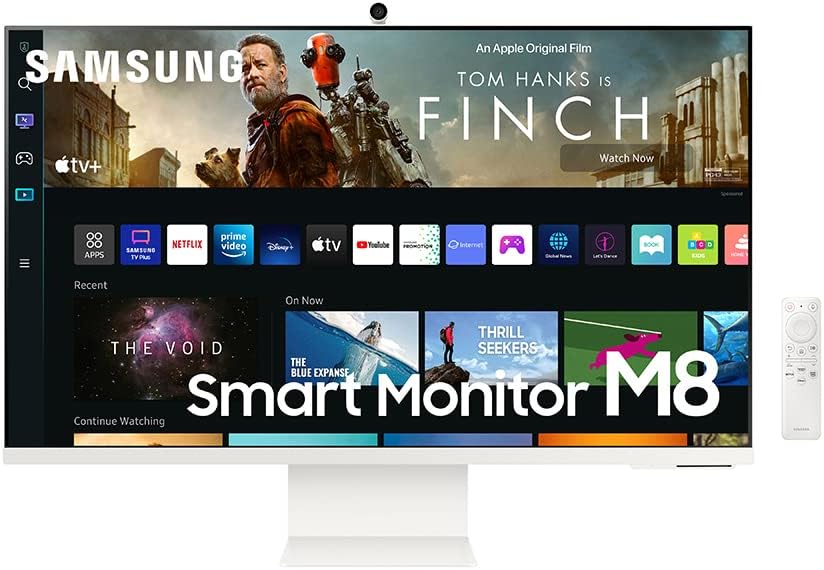 The Samsung 32″ M80B is your gateway to a world of entertainment and productivity seamlessly blended into one sleek monitor. Imagine kicking back and enjoying your favorite shows on Netflix or diving into the endless realm of YouTube, all with the convenience of connecting to Wi-Fi.
The M80B boasts an iconic slim design with an ultra-slim flat back, a camera that seamlessly blends into the monitor, and a palette of beautiful colors. It's not just a monitor; it's a statement piece that effortlessly complements any environment, enhancing your setup with a touch of super style.
But here's where it gets interesting. No need for a separate PC to browse the web or work on your projects. With the innovative Workmode, you can remotely access another PC, utilize Microsoft Office 365 programs, and connect to Samsung mobile devices via Samsung DeX for a truly seamless working experience.
Buy SAMSUNG 32″ M80B for $399.99 here.
5. Lenovo L27m-30-2022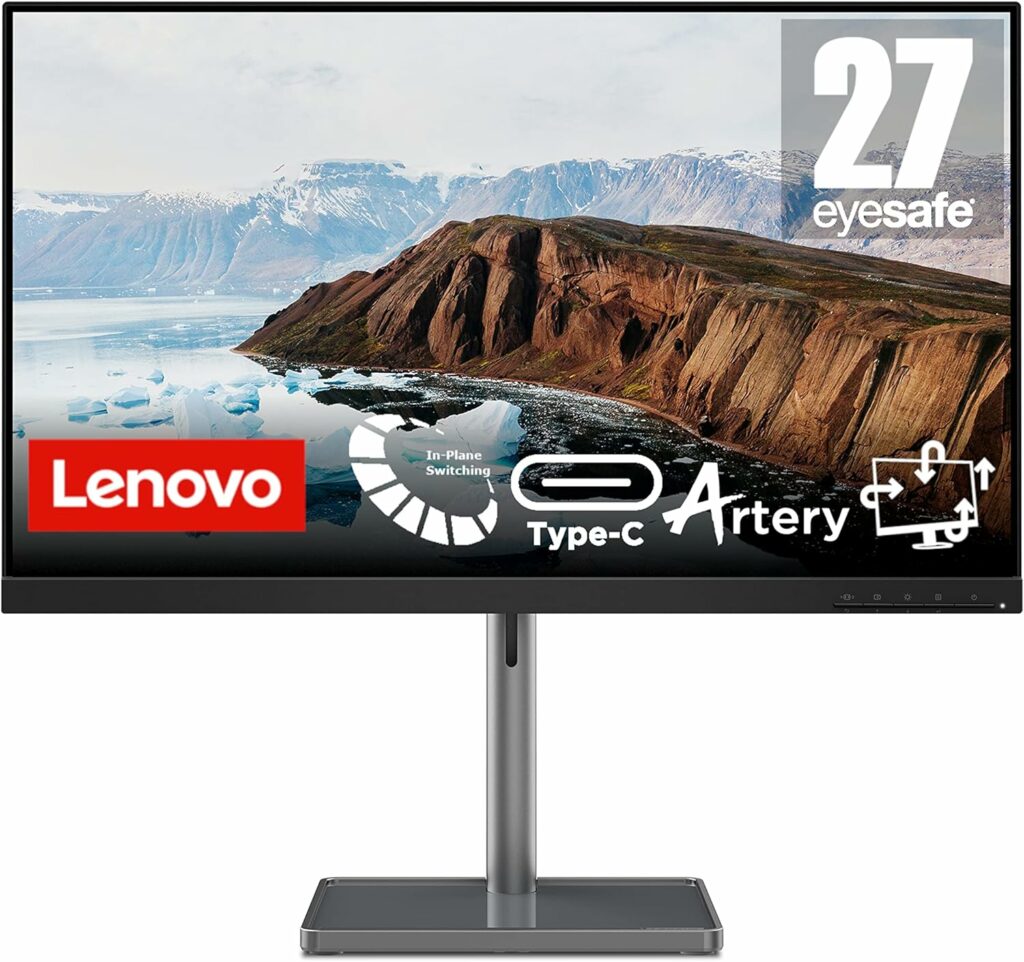 Looking for a monitor that's got it all? Meet the Lenovo L27m-30-2022. This sleek display offers a crystal-clear 1920 x 1080p resolution, ensuring your visuals are sharp and vibrant. Whether you're collaborating remotely or enjoying a gaming session, the 75 Hz refresh rate and AMD FreeSync technology make sure everything is buttery smooth, reducing those annoying screen tears and stutters.
Lenovo knows we need our gadgets to connect seamlessly, so they've loaded this iPhone 15 Pro Max USB-C monitor with ports. You've got HDMI 1.4 for your video needs, USB Type-C for data, power, audio, and video transfer (with power delivery of up to 75W), plus four USB 3.2 ports for all your peripherals – keyboards, mice, webcams, headphones, you name it!
The Lenovo L27m-30-2022 also features In-Plane Switching (IPS) panels. What does that mean for you? You get impeccable display quality with no distortions and wide viewing angles of up to 178°.
Buy Lenovo L27m-30-2022 for $199.99 here.
6. Dell 27-inch USB-C Monitor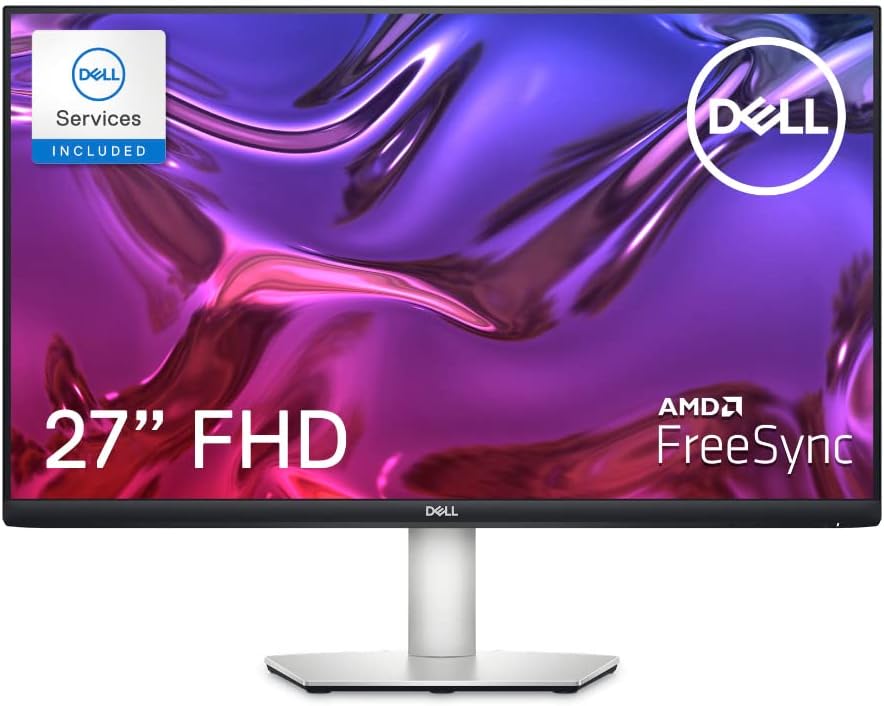 Looking for a monitor that blends functionality and style seamlessly? Well, the Dell 27-inch USB-C Monitor might just be the perfect match for you. This monitor boasts a sleek three-sided ultrathin bezel design that not only looks great but also minimizes distractions, giving you a more immersive viewing experience.
This monitor is designed to make your life easier. With a 16:9 aspect ratio and a 178-degree viewing angle, you'll be able to see everything clearly from almost any position. And with a lightning-fast 4.0-millisecond response time, you won't miss a beat, whether you're gaming, working, or watching videos.
You can customize your viewing experience too. The height-adjustable stand allows you to tilt, swivel, and pivot the monitor to your heart's content, ensuring that you can find the perfect angle for your needs. And to sweeten the deal, this monitor comes with built-in dual 3W speakers, so you can enjoy your content without the need for external speakers.
Buy Dell 27-inch USB-C Monitor for $235.99 here.
7. LG UltraWide FHD 29-Inch Computer Monitor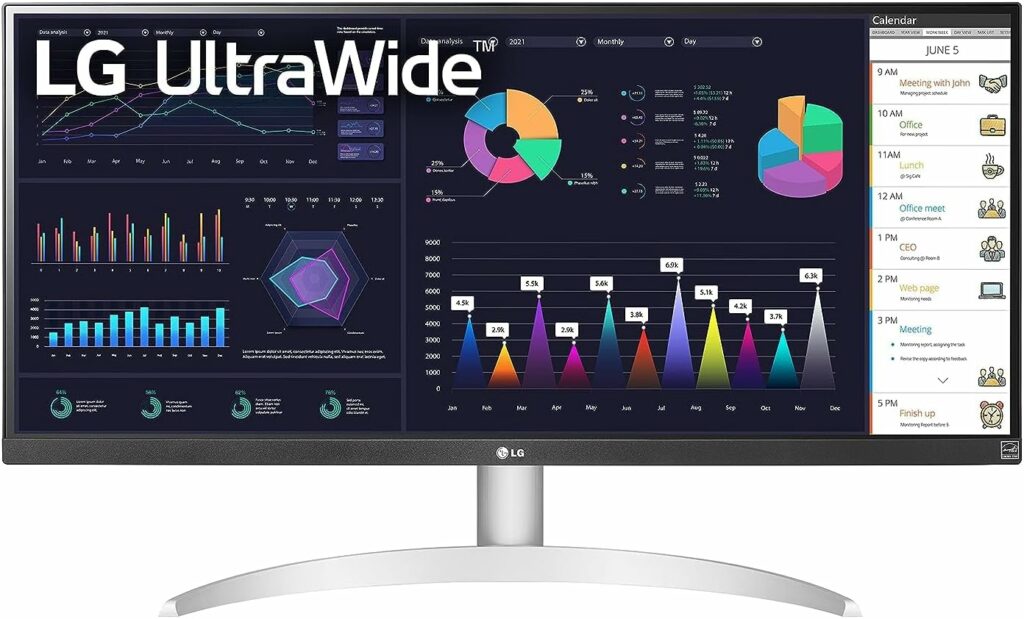 Looking for a computer monitor that takes your gaming and work experience to the next level? Meet the LG UltraWide FHD 29-Inch Monitor! This beauty is not your average screen – it's a 29-inch widescreen wonder with a 21:9 aspect ratio and a stunning 2560×1080 resolution.
What makes it stand out, you ask? Well, for starters, its IPS display ensures you get realistic, accurate colors with enhanced contrast and clarity, no matter what angle you're viewing it from.
Gamers, take note! This monitor features a 1-millisecond Motion Blur Reduction (MBR) that guarantees fluid motion without the annoying lag. Fast-paced games just got a whole lot smoother. Plus, with AMD FreeSync technology, you can say goodbye to screen tearing, flicker, and stuttering for a seamless gaming experience – as long as you have supported video cards like the AMD Radeon series.
Buy LG UltraWide FHD 29-Inch Computer Monitor for $249.99 here.
8. PHILIPS Creator Series Black Display
With the all-new IPS Black technology, this display brings exceptional color expression and a superior contrast ratio to the forefront, making it a must-have for those rocking multi-monitor setups.
But here's the real showstopper – a phenomenal 4K picture that boasts a pixel density like no other. With a resolution of 3840 x 2160, it paints your screen with razor-sharp imagery, capturing even the finest details.
And it's not just about sharpness; it's about Hollywood-grade colors. Covering 100% sRBG, 98% Display/DCI-P3, 100% REC 709, 110.5% NTSC, 108.6% Adobe RGB, and VESA-certified DisplayHDR 400, this 4K USB-C monitor for iPad Air will have you seeing colors in a whole new light. The Calman Ready certification makes it a piece of cake for color professionals to fine-tune the display to perfection or give it your unique flair.
Buy the PHILIPS Creator Series Black Display for $499.00 here.
To Conclude
The best USB-C monitors for iPad and iPhone aren't just screens; they're windows to innovation, productivity, and endless possibilities. So, don't just settle for a monitor; invest in a gateway to a brighter, more vibrant digital future, right at your fingertips. Cheers to a future where your devices and screens harmonize effortlessly, making your tech world feel like a symphony of convenience and creativity!