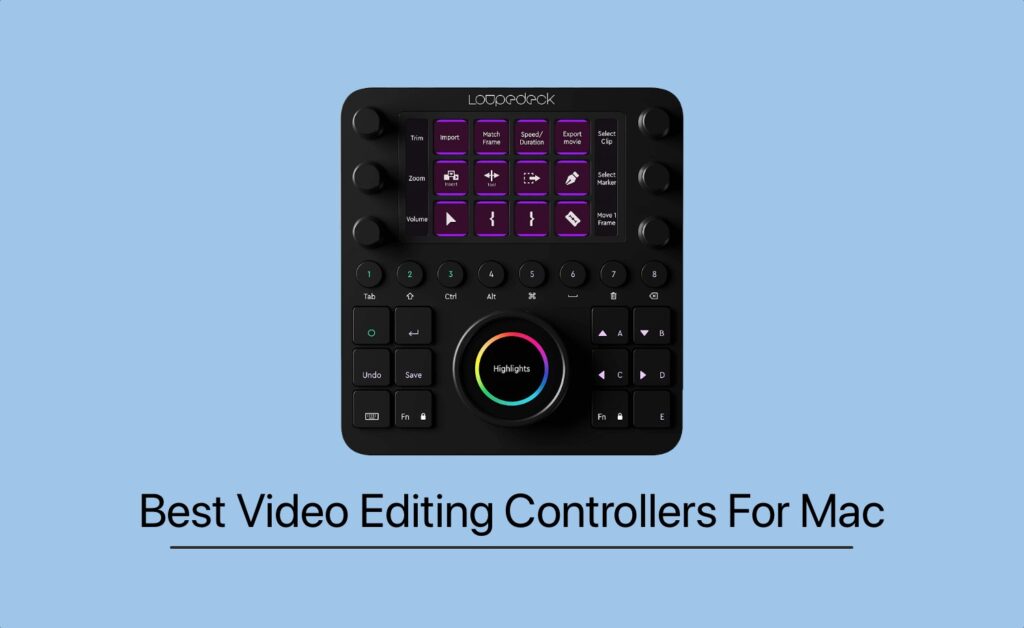 In this post we have gathered the best video editing controllers and consoles that you can use with your Mac or Windows PC. These video and photo editing controllers are designed to make your life easier and reduce your workload, which could result in a boost in productivity.
With multiple videos to edit, it is difficult to use a standard keyboard and mouse because it can be hectic and time-consuming. Whether you are a beginner or a professional, there are several video editing consoles available for Mac. The tool allows you to edit entire videos, especially from a full-length feature film. 
Your video editing console should be of superior quality so that it can serve you effectively and efficiently. There are primary features in these devices that boost the editing process as a whole. Therefore, your primary priority should be investing in video editing consoles that will enhance your creativity.
Read on to find the best controllers for video editing.
Best Video Editing Controllers for Mac
Although photo editing consoles typically work along with a mouse and keyboard, they can also replace them. Additionally, they offer trackballs and customizable buttons for improved editing efficiency.
Here is the list of the best video editing controllers.
1. TourBox Elite, Bluetooth Video Editing Controller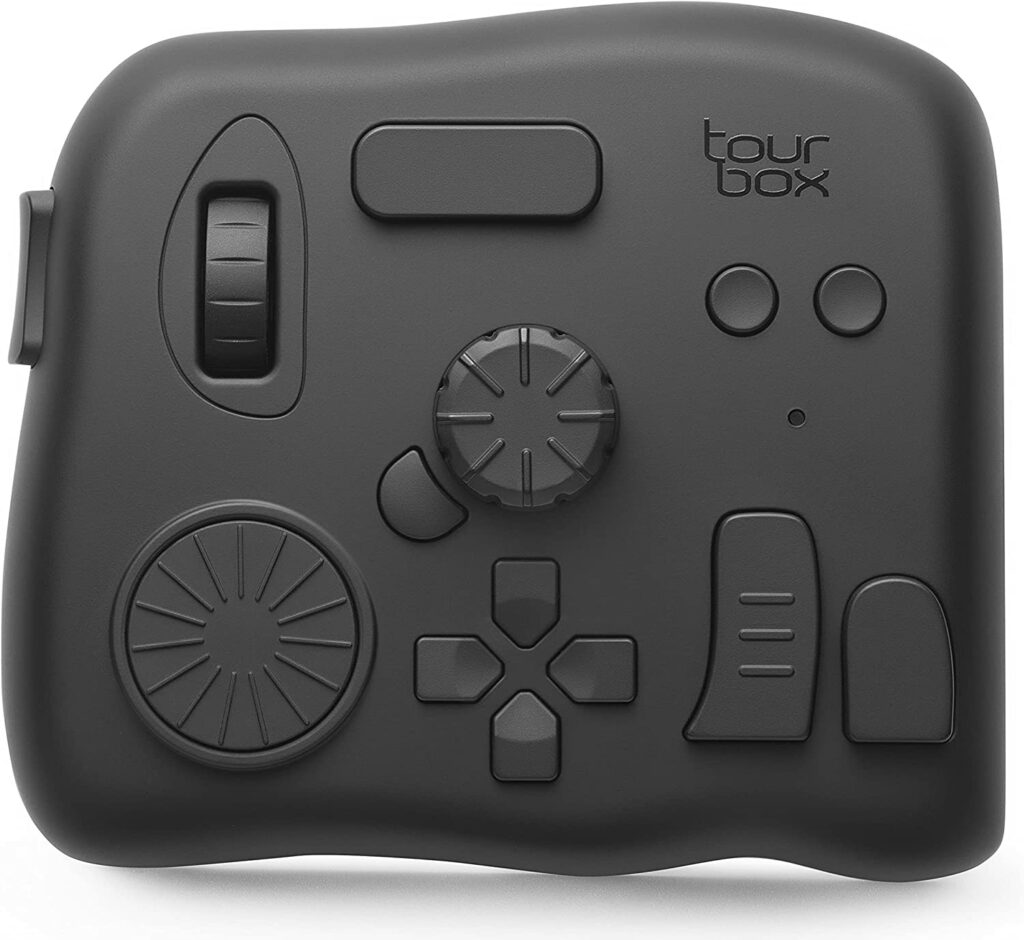 TourBox Elite is an upgraded Bluetooth video and photo editing controller that speeds up all digital content creation. A couple of new features have been added to TourBox Elite over its predecessor, TourBox Neo.
It supports Bluetooth connection with two devices, letting you handle different workflows simultaneously on two computers.
For a more immersive editing experience, you can enable the haptic feedback whenever you turn a knob, scroll, or dial.
An upgraded chip and four different switch encoders have been adapted to meet the needs of different scenarios and frequencies.
TourBox has 14 buttons that can be clicked once, double-clicked, pressed and held, or a combination of these. The TourMenu panel can be used to map keyboard shortcuts, and macro commands, such as mouse movement and drag, text, or built-in functions.
The buttons on this palm-sized console each have their unique shapes and touches. There is no need to look down and search for every button.
Buy TourBox Elite, Bluetooth Video Editing Controller for $268 here
2. Loupedeck Creative Tool – The Custom Editing Console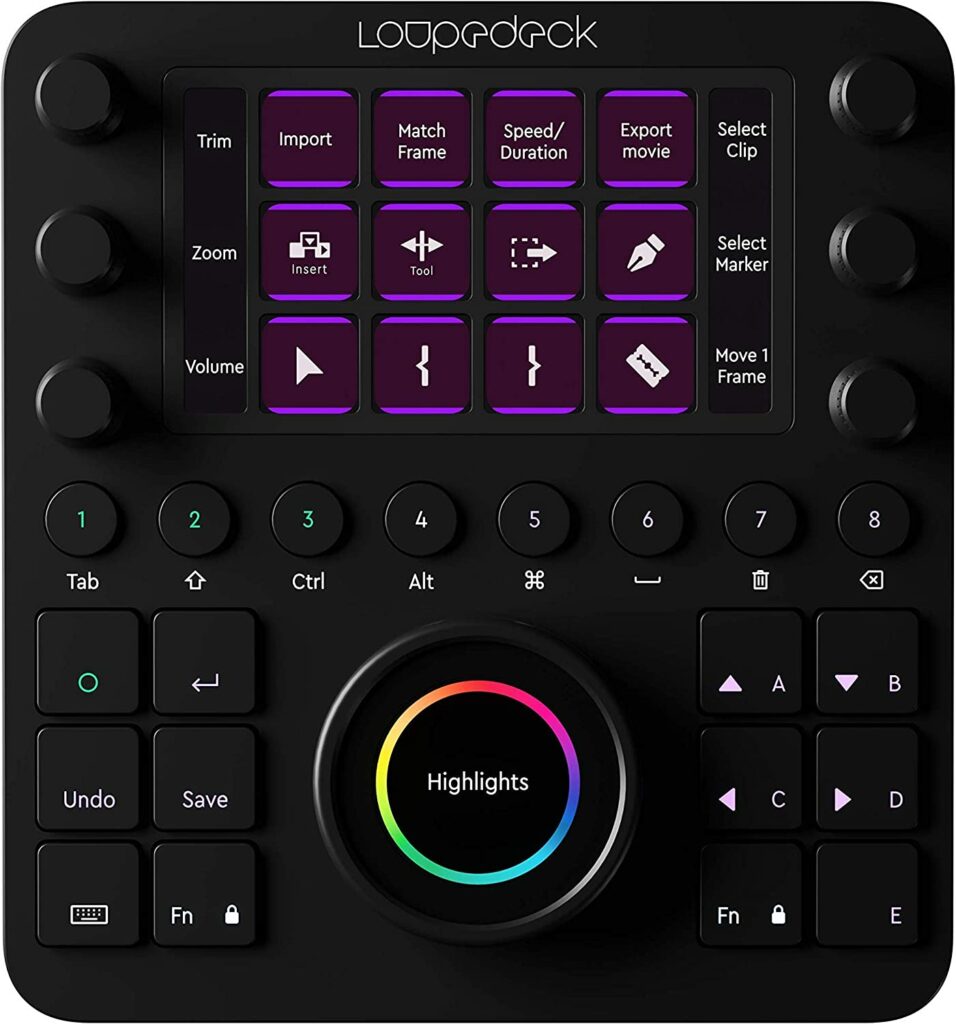 To kickstart your creative journey, Loupedeck CT comes with a set of predefined tools and workspaces, so you can start boosting your productivity right away.
With almost any button, touchscreen, wheel, or dial, you can assign tools and functions based on your workflow. The Loupedeck software offers features such as a full-screen editing mode that let you edit with precision.
Loupedeck CT delivers a powerful and precise experience within a variety of creative environments and software because of its high-quality aluminum cover and dials, touchscreens, LED backlighting, and machine-quality ball bearings.
You can create custom profiles for any application using shortcuts and macros. With Loupedeck, you can build and share your Custom Profiles for DaVinci Resolve, Cubase, and more.
Buy Loupedeck Creative Tool – The Custom Editing Console for $549 here
3. Loupedeck+ The Photo and Video Editing Console

Loupedeck+'s intuitive buttons, dials, and sliders make achieving the perfect edit a breeze for both professionals and beginners.
You can easily edit thousands of pictures and video clips, manage multiple editing functions simultaneously and get the most out of your image and video with Full-Screen editing.
This video and photo editing controller is compatible with Adobe Lightroom Classic, Lightroom, Capture One Pro 21 for MacOS, Photoshop CC with Camera Raw, Premiere Pro, After Effects, Audition, Final Cut Pro, and Skylum Aurora HDR.
You can begin editing right away with Loupedeck+'s factory default functions for each supported software. Using the plethora of customization options available, you can create the perfect photos and videos.
Buy Loupedeck+ The Photo and Video Editing Console for $272.58 here
4. Shuttle Pro V.2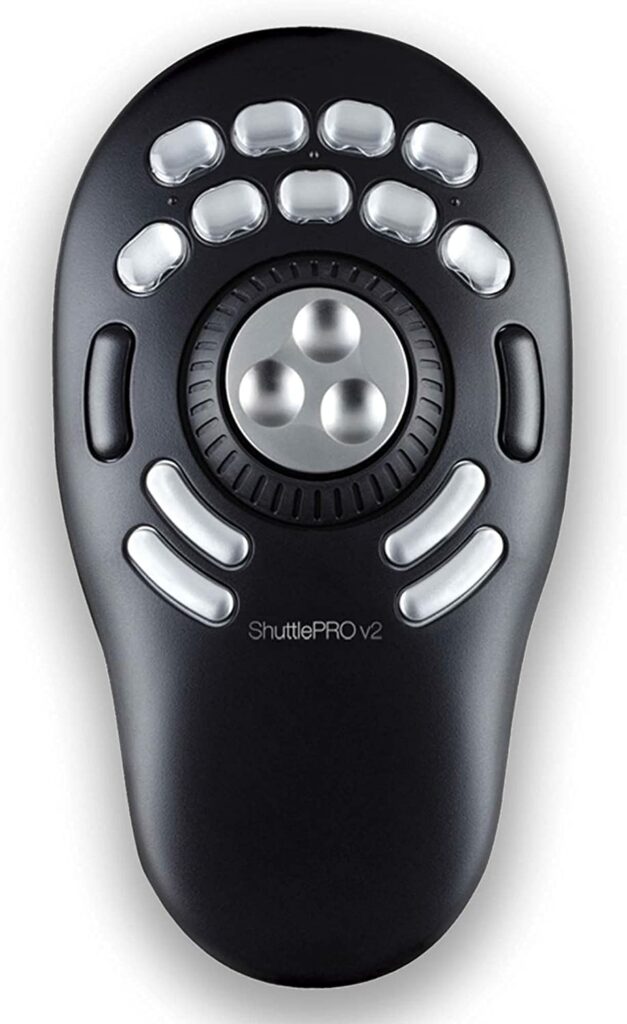 Whether you use a PC, Mac, or video editing application, the Contour ShuttlePRO v2 is a great productivity tool. With its innovative design and intuitive controls, ShuttlePRO v2 maximizes keyboard efficiency and improves workflow alongside your mouse and keyboard.
With perfect form and function, the ShuttlePRO v2 multimedia controller will maximize your audio, video, graphic design, or other shuttle and jog productivity. By utilizing commonly used macros, 15 customizable buttons make working amazingly fast and precise with many of the industry's leading audio and video editing applications.
When using a traditional mouse and keyboard, scanning your software timeline can be a clumsy process. With ShuttlePRO v2, you can scan forwards and backward along your timeline at multiple speeds.
ShuttlePRO v2's 15 programmable buttons allow you to easily apply your most commonly used shortcuts or macros, increasing productivity. You can download labels with the most commonly used shortcuts to make things easier for you.
Buy Shuttle Pro V.2 for $99 here
5. Loupedeck Live – The Custom Console for Live Streaming, Photo, and Video Editing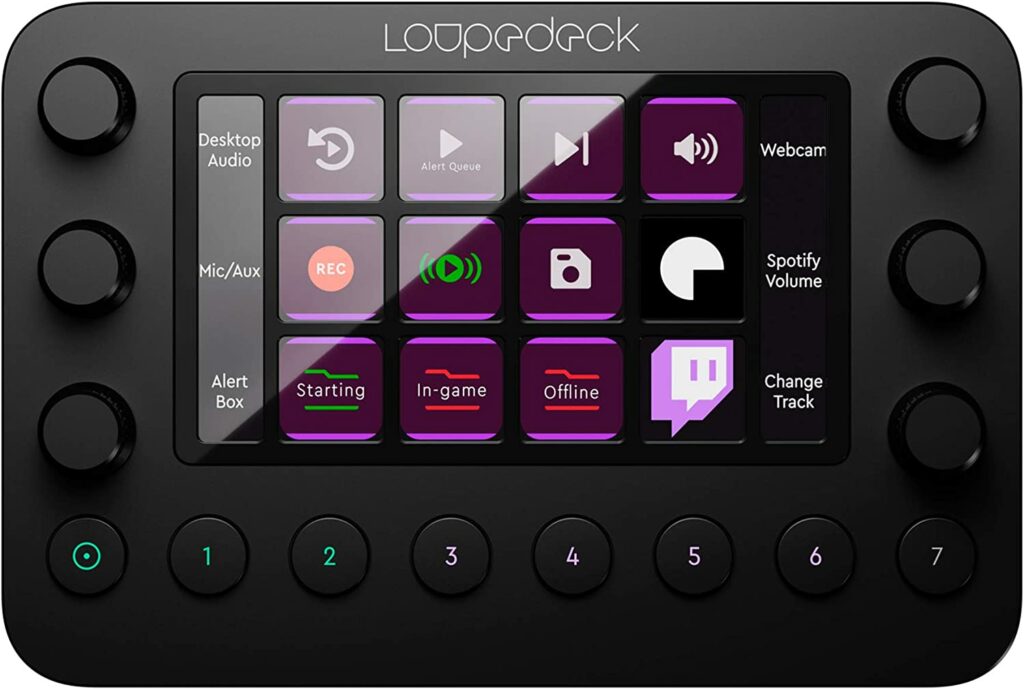 You can get started on your editing tasks right away with OBS Studio, Streamlabs (WINDOWS), Twitch, Ecamm, vMix, Spotify, Adobe Lightroom Classic, Photoshop with Camera Raw, Premiere Pro, After Effects, Capture One Pro 21 (MacOS), Illustrator, Audition and Final Cut Pro!
Additionally, you can create Custom Profiles for any software using shortcuts and macros and assign your actions to all the buttons and dials!
With Touch Buttons and Dials, you can create unlimited controls, assign actions and organize them into workspaces. Custom Actions allow you to create complex macros, combine commands, add delays, and upload your icons.
It comes with haptic analog dials, customizable buttons, LED backlighting, and more. In addition to haptic feedback, Loupedeck's aluminum dials allow you to monitor incremental changes.
While live-streaming or editing, you can control Spotify media, adjust volume, and brightness, launch any app, open folders or web pages quickly, and more!
Buy Loupedeck Live for $269 here
6. Contour Design ShuttleXpress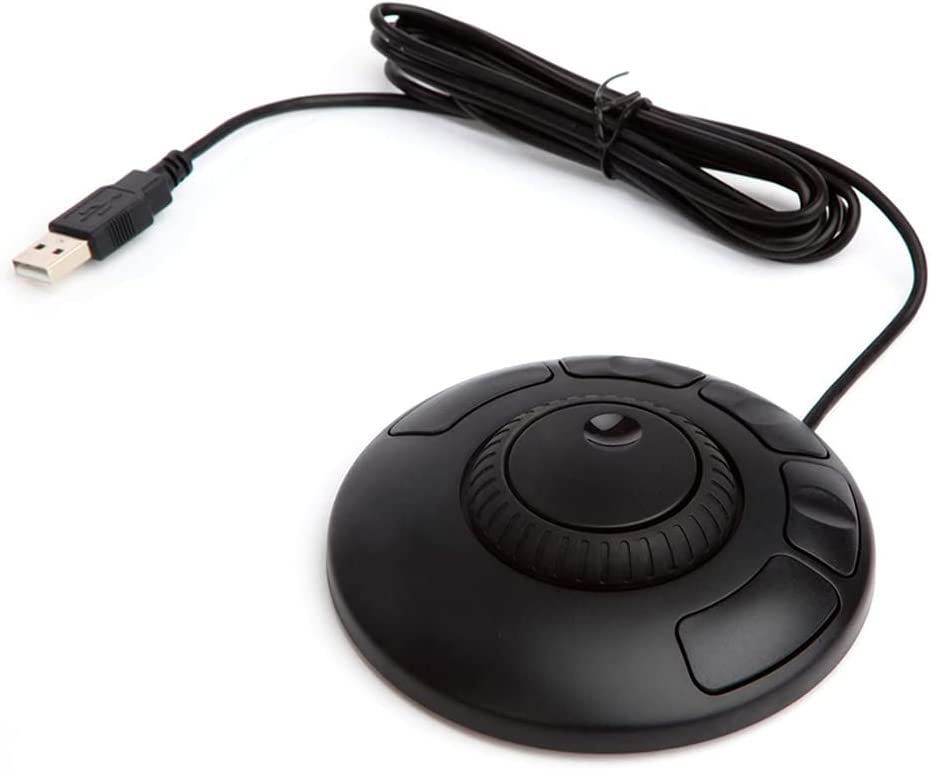 Ergonomic computer accessories from Contour Design promote preventative posture variation, as well as solutions for people already suffering from computer-related ailments.
With the Shuttle, you can control everything from video, audio, and photography to graphic design without sacrificing productivity, allowing you to focus on what matters: content creation and creativity.
By mimicking your favorite keyboard shortcuts, this jog shuttle controller has intelligent app detection, variable speed timeline scrubbing, and shortcut buttons, so you can easily find the perfect editing spot.
The one-handed controller features five programmable buttons and preset shortcuts for over 100 programs. You can customize every shortcut to the hotkey of your choice for each button!
ShuttleXpress is compatible with PCs and Macs, providing users with a cross-platform editing controller!
Buy Contour Design ShuttleXpress for $59 here
To Conclude
It's clear from the list that there are some fantastic photo and video editing controllers on the market. You will be able to finish those unedited images and videos more quickly with these products!
Models like the Loupedeck+ and Loupedeck Live are excellent choices if you want a console with lots of buttons.
Was this helpful? Let us know in the comments section.