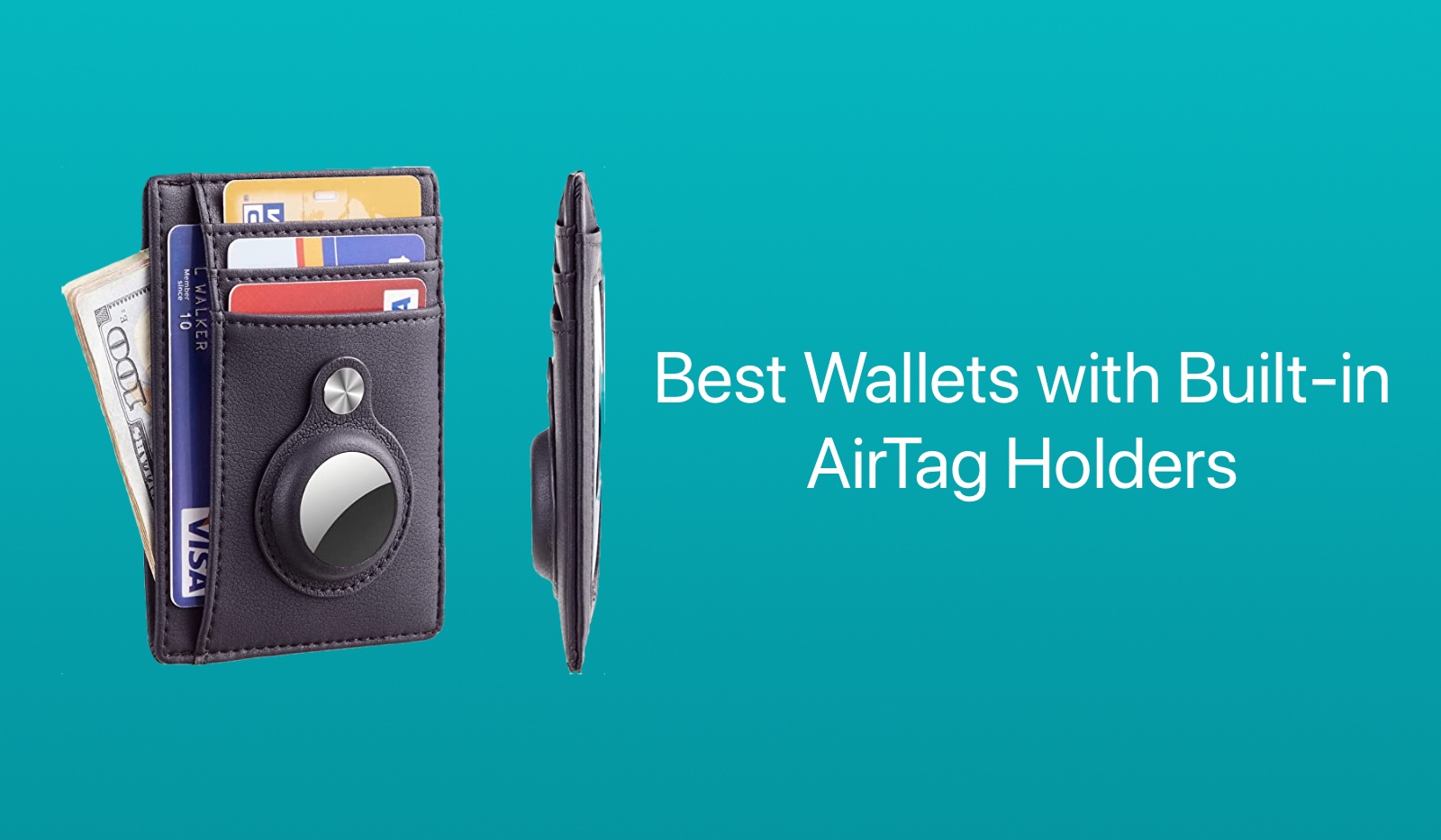 People lose things even when they are responsible, and a wallet is among the worst items to lose. A Wallet with AirTag holder keeps your cash, cards, and ID close at hand.
As an introduction, an AirTag Wallet is similar to a traditional wallet, but it comes with a pocket or insert where you can embed your AirTag tracker.
And if you are curious about what an AirTag is, it's a silver dollar-sized gadget that connects to your iPhone to help you track down lost items, such as wallets, keys, TV remotes, and even sunglasses.
Taking all of your cards, cash, and ID in one AirTag wallet is a smart yet suave way to go. However, the AirTag wallet is a new product category, so there are only a few to choose from.
In this article, we have rounded up the best AirTag wallets for you.
Must-Buy Wallets with AirTag Holder
The wallet should be the first thing you tag in your everyday carry stash. Many wallet makers offer dedicated AirTag wallets that let you carry your Apple AirTag anywhere. Despite their simplicity, there are subtle differences between these wallets.
Here is our list of the best wallets with AirTag pocket to buy in 2023.
1. doeboe AirTag Wallet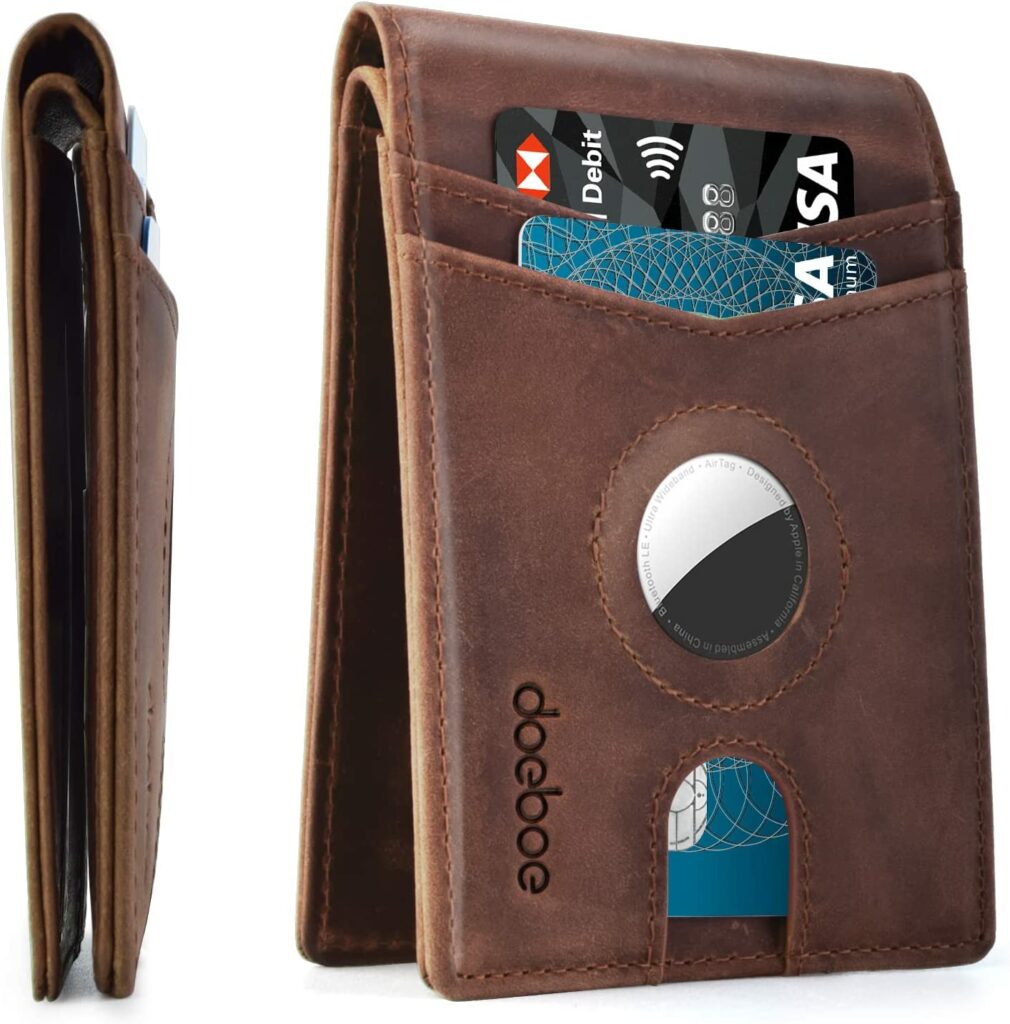 A simple design reflects the elegant demeanor of this AirTag wallet, which is made from high-quality Crazy Horse leather with a premium texture and exquisite craftsmanship. You can choose from a range of trendy colors to finish off your outfit.
The doeboe AirTag wallet uses the latest RFID security technology, which is reliable for protecting your personal information.
There is a built-in pocket in this apple AirTag wallet that keeps the tracker snugly in place. The wallet includes 8 card slots, one ID window, and a bill pocket that can hold a certain amount of cash.
With its built-in AirTags slot, it can serve as an AirTag holder and bifold leather wallet at the same time.
Buy doeboe AirTag Wallet for $27.99 here
2. Typecase Leather Wallet with Stealth Pocket for AirTag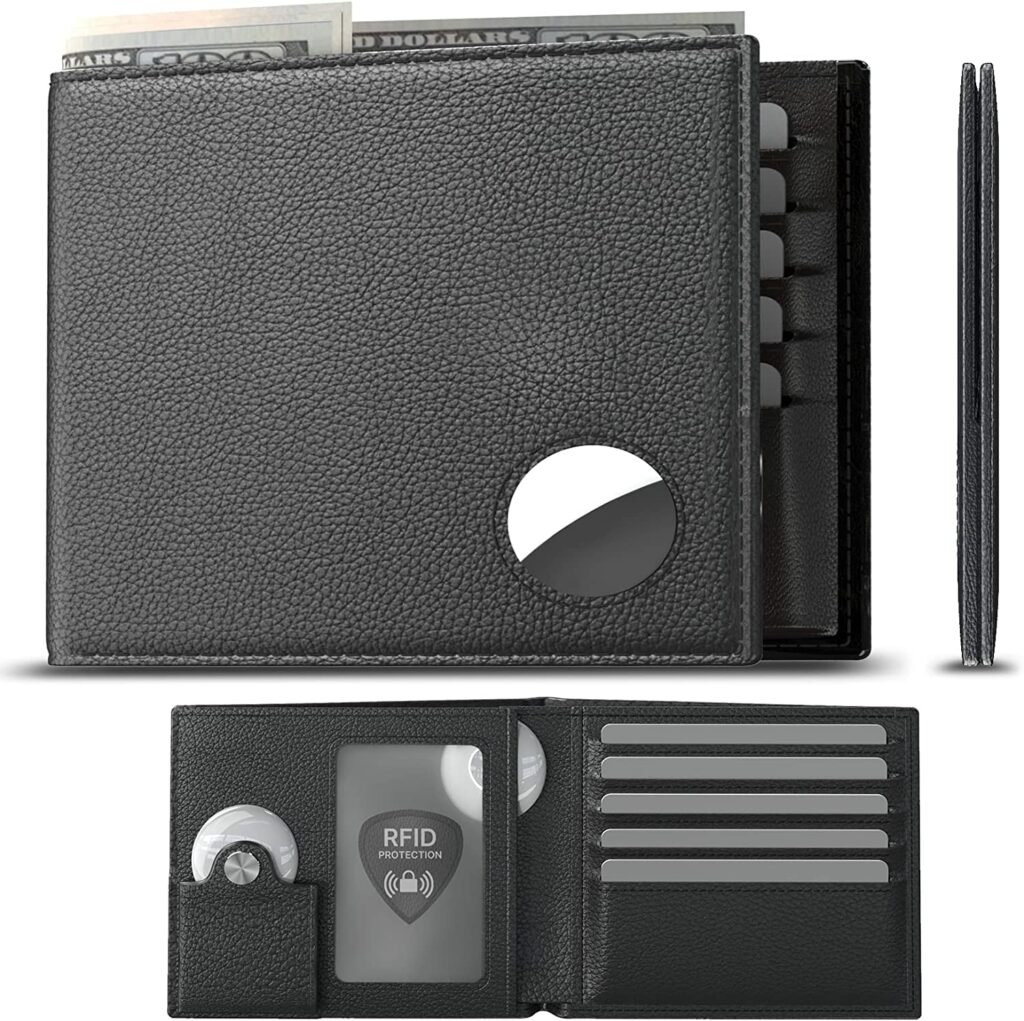 The Typecase has a classic bifold design distinguished by two inner pockets for AirTag with different uses: The stealth mode hides the AirTag in a secret compartment underneath the ID window, while the space-saving mode places the AirTag in a round tight window for unparalleled thinness. These holders provide peace of mind with strong, flat snaps that lock AirTag into place and prevent it from falling out.
Featuring a soft surface and grained texture, top grain leather provides generous grip, resists water, cleans easily, and is a wonderful material courtesy of its natural, 100% top grain leather exterior and 100% leather lining.
The internal RFID blocking layer protects personal data from radio wave interception without interfering with AirTag signal transmission. Additionally, the RFID layer protects all types of debit and credit cards, including chip-embedded cards, magnetic cards, and TAP cards.
Buy Typecase Leather Wallet with Stealth Pocket for AirTag for $29.97 here
3. Hawanik Slim Minimalist Front Pocket Wallet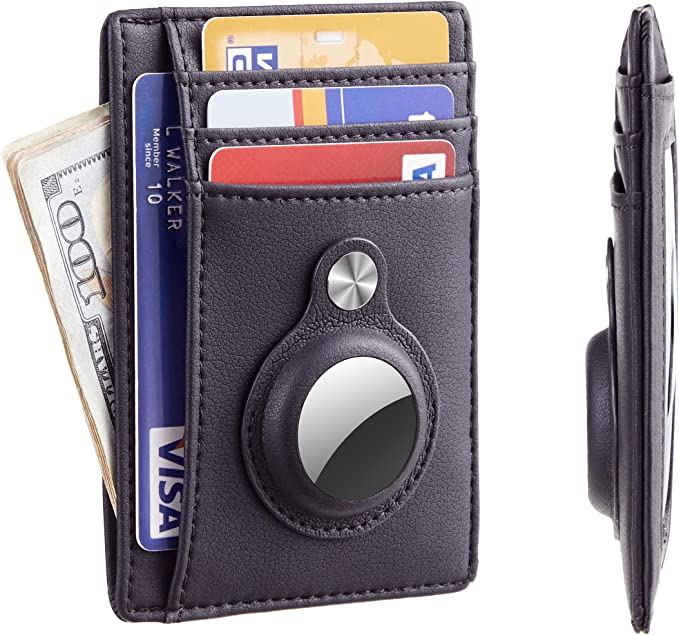 Don't let your traditional wallet weigh you down! This AirTag wallet allows you to carry 12 cards and 20 bills without the bulk or weight of a conventional billfold. This allows you to accomplish more with no limitations.
The Slim Wallet from Hawanik is a great option if you are looking to try out the AirTag's features without breaking the bank.
The wallet is made from artificial leather and has 12 colorways to choose from. On one side, it houses a buttoned compartment that holds the tracking chip.
The minimalist silhouette makes it ideal for people who don't carry much cash or cards.
Buy Hawanik Slim Minimalist Front Pocket Wallet for $11.99 here
4. Handadsume Quality Crazy Horse Leather Wallet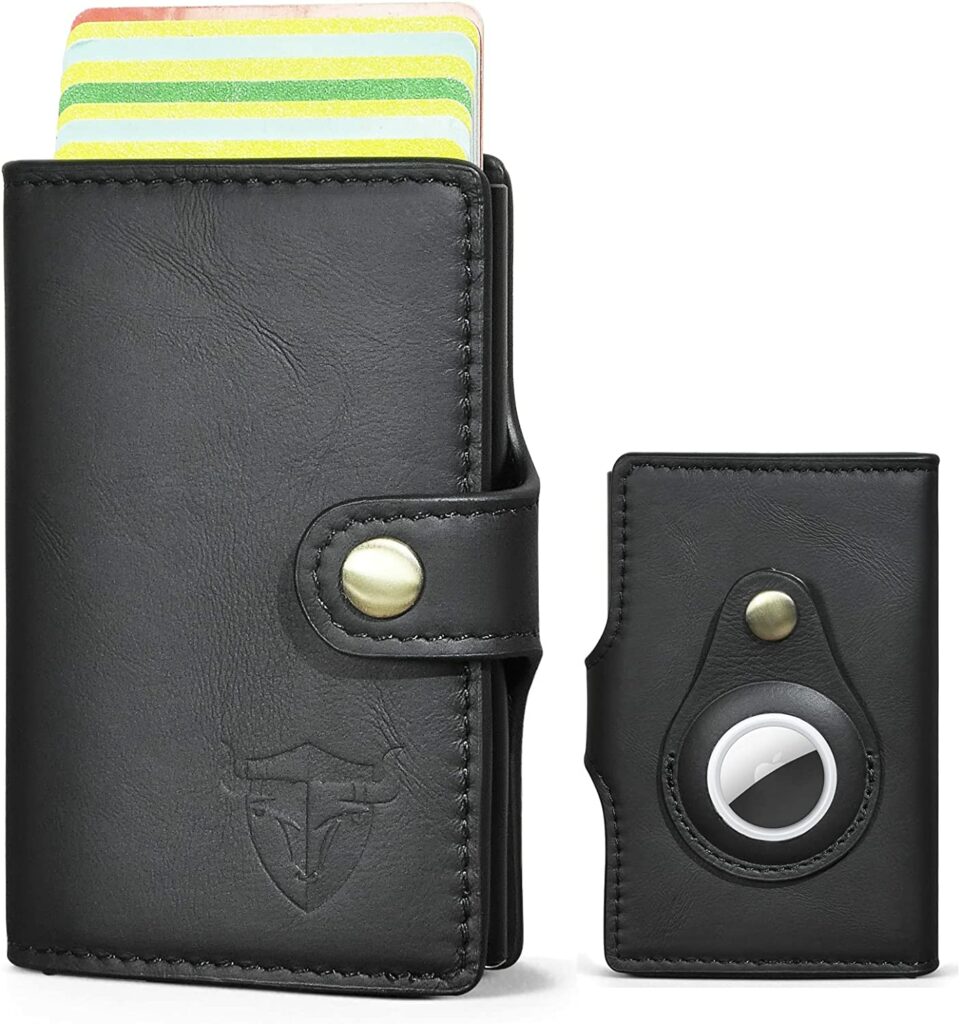 Don't let it go because it's only 20 bucks. These days thieves can scan your information without touching your wallet in seconds. Thankfully, this wallet protects your cards from this danger!
With crazy horse leather and anti-RFID protection, this one will last a lifetime.
Advanced RFID blocking technology prevents unauthorized scanning of your cards, preventing electronic pickpocketing. Plus, this integrated Apple AirTag holder ensures that you never lose your wallet again by combining wallet and AirTag.
It's a slim, thin wallet that fits perfectly in the front pocket and is perfect for carrying some cash and cards.
Buy Handadsume Quality Crazy Horse Leather Wallet for $25.00 here
5. ROSSM AirTag Wallet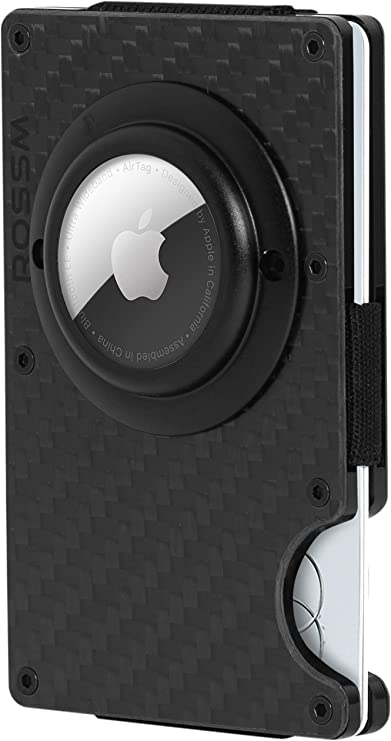 The sinking feeling that you get when you realize you have lost your wallet is awful. Even if the wallet is buried deep under the couch cushion, the Find My app will help you find it easily.
The less you have in your wallet, the better. The ROSSM AirTag Walletwon't let you deal with unsightly bulges that can ruin your look! In addition to looking great in your pocket, this carbon fiber wallet is durable as well as lightweight.
Despite advancing technology, RFID wallets won't let you down when it comes to contactless theft. Despite its carbon fiber body, this RFID wallet for men can't be penetrated by even the most powerful readers.
Buy ROSSM AirTag Wallet for $29.99 here
6. Spigen Wallet S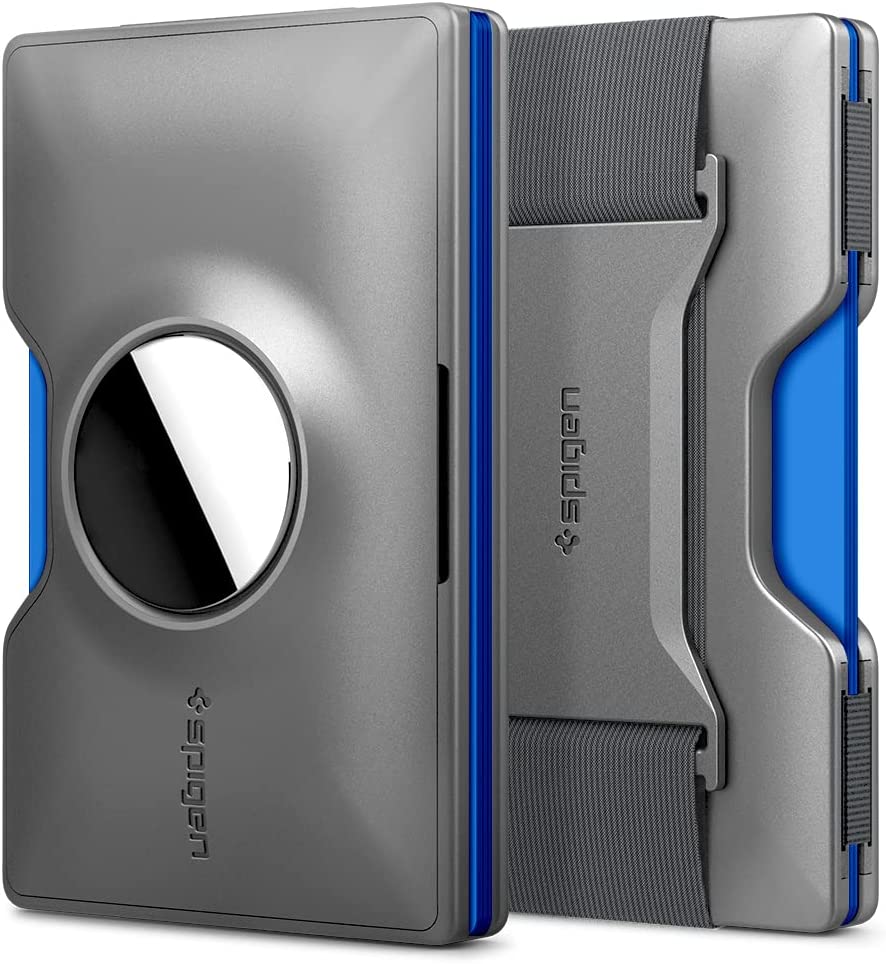 In addition to smartphone cases and screen protectors, Spigen offers a broad array of well-crafted, cleverly designed EDC products. AirTag Wallet S is no exception. This slim, lightweight design is perfect for stashing in your front pocket thanks to its lightweight, unobtrusive design.
In black or gunmetal, this look complements just about any personal style. Featuring a sturdy polycarbonate construction, it will last for years.
Additionally, the key ring allows it to be clipped directly to the home or car keys, as it is equipped with strong RFID-blocking technology. Moreover, it's one of the most affordable AirTag wallets.
Buy Spigen Wallet S for $29.99 here
7. TRAVANDO AirTag* Wallet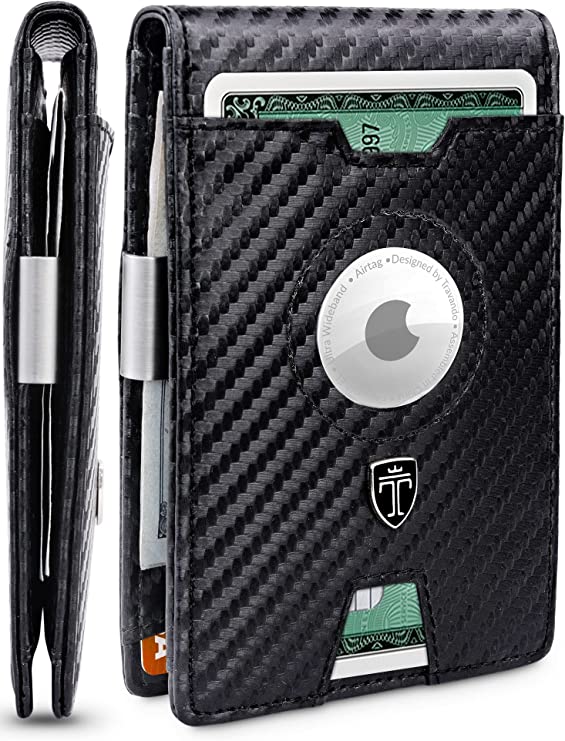 Its slim design is complemented by the right number of card slots and an integrated stainless steel money clip. Besides, metal emblems emphasize the classy design.
To ensure long-term durability, TRAVANDO wallets are assembled with utmost precision using carefully selected, quality-tested materials.
The slim design of this wallet makes it easy to slip it into a trouser pocket without bulging.
This wallet offers enough space for all your needs, yet is slim and won't bulge your pocket thanks to the clever layout of card slots and money clips.
Buy TRAVANDO AirTag* Wallet for $27.95 here
8. WXM Wallet for Men with AirTag Holder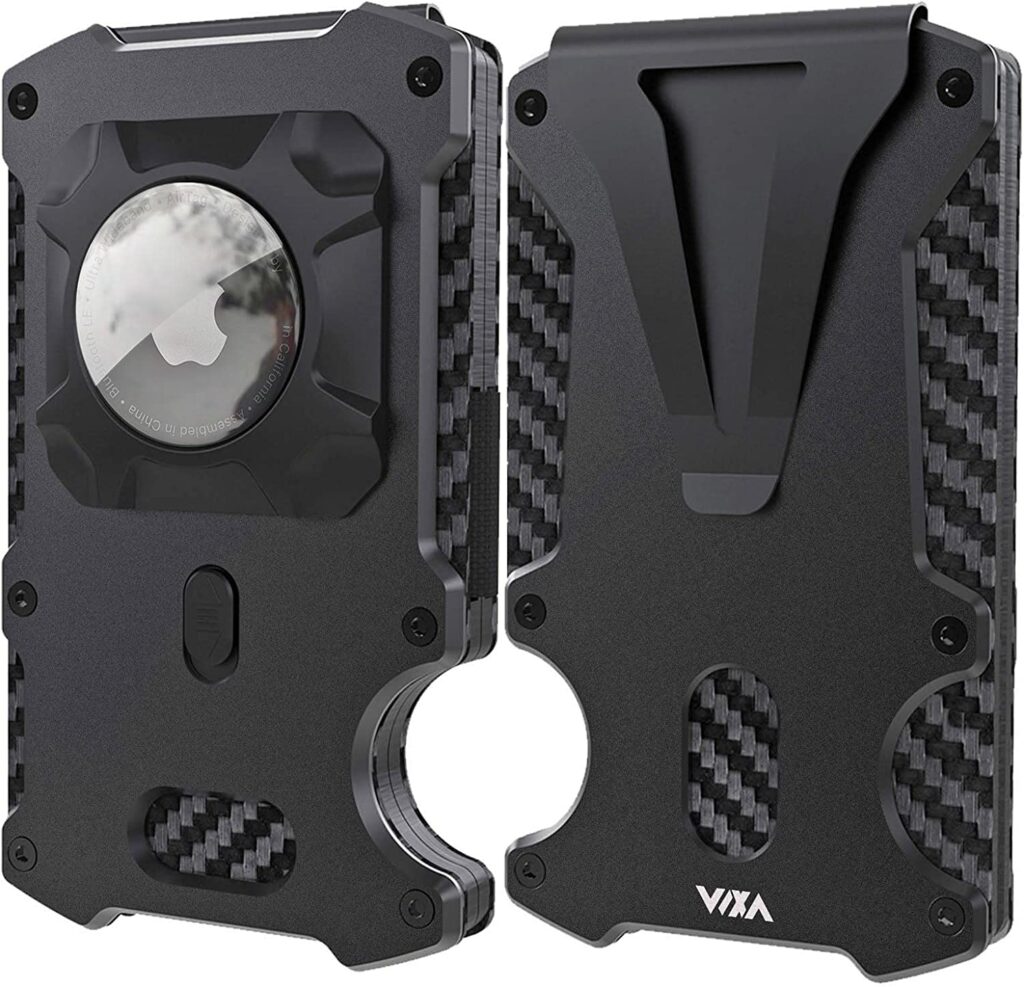 With the new WXM Tactical Wallet, you can carry up to 15 credit or debit cards securely and easily. You can also seamlessly pull out the cards with the outside notch.
The metal body of this wallet protects your cards from even the most powerful RFID readers, so you can breathe easily.
The WXM products are made from military-grade materials. This WXM Tactical wallet is made of 100% carbon fiber and framed in aluminum alloy for strength and lightness. The wallet can easily be used daily and will last longer than traditional leather wallets.
Due to their sleek design and quality metal construction, these RFID sleeves are popular slim wallets for both men and women. The perfect gift for the traveler in your life!
Buy WXM Wallet for Men with AirTag Holder for $24.59 here
To Sum Up
This list includes dozens of gift-worthy, best-rated wallets, ranging from budget to designer. However, before you decide, make sure you look at the leather quality, overall aesthetics, card capacity, and price.
Which wallet would you prefer to purchase? Let us know in the comments section.