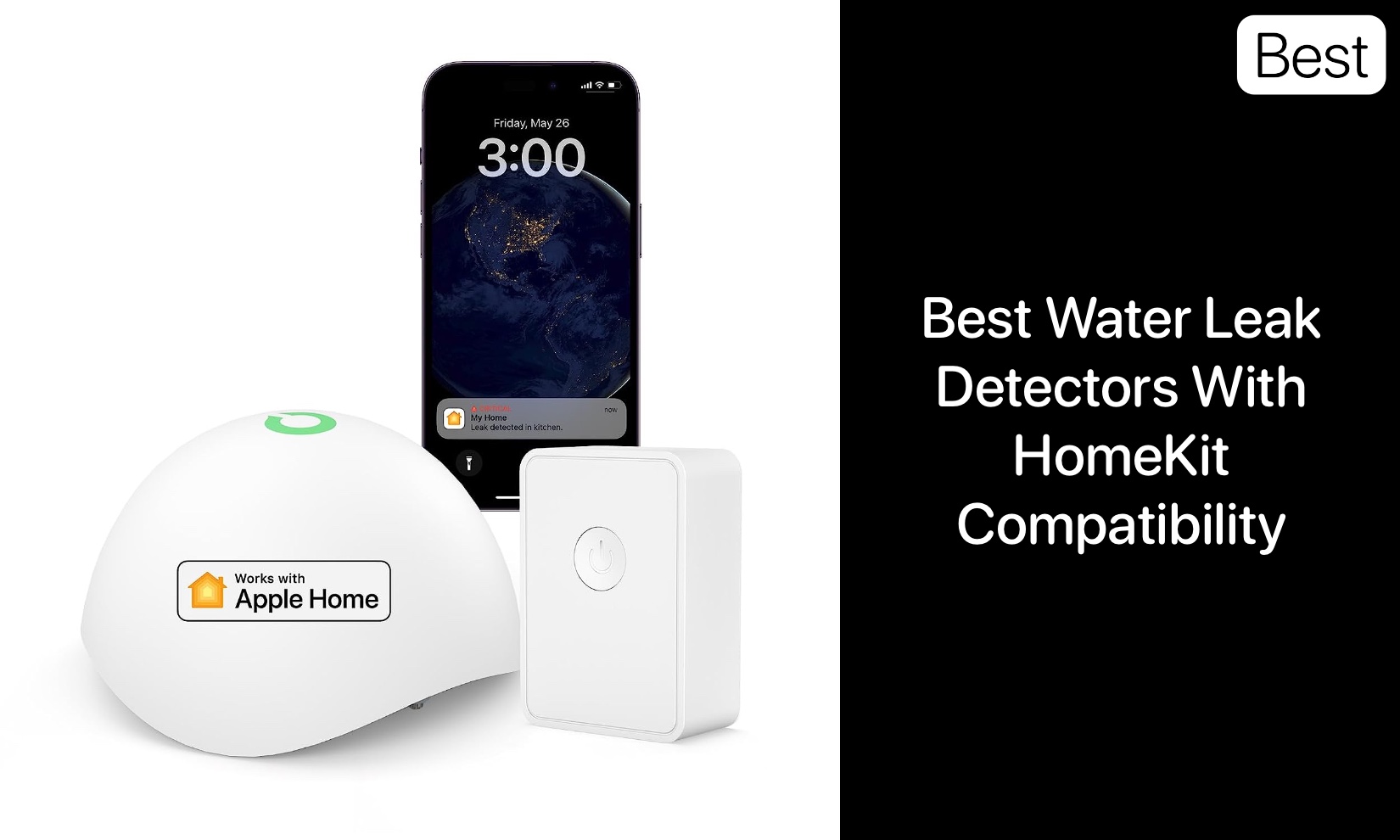 In this article, we discuss the best smart water sensors that are like vigilant water detectives, sniffing out leaks before they can even cause a single drop of trouble.
Tired of those surprise water leaks turning your home into a mini indoor swimming pool?
We feel you! But fear not, because we've got the ultimate solution to keep you high and dry: smart water leak detectors that are besties with HomeKit.
Let us paint you a picture. You're sipping on your favorite beverage, cozy on the couch, and suddenly—drip, drip, drip. Your blissful bubble bursts as you discover a sneaky leak wreaking havoc in your home. Ugh, talk about a wet blanket moment!
But fear not, for we've scoured the waters to bring you a fabulous lineup of smart water sensors that will leave you amazed and worry-free.
These little wonders are not only super smart but also chummy with HomeKit, Apple's smart home platform. That means convenience and control are at your fingertips.
HomeKit Heroes: Smart Water Sensors to Supercharge Your Home Protection!
Gone are the days of frantic calls to the plumber or mopping marathon sessions.
With HomeKit compatible water leak detector, you'll be the captain of your ship, navigating through any water-related disasters like a pro.
So, buckle up, because we're about to take you on a splash-tastic journey through the best water leak detectors for iPhones out there.
It's time to turn your home into a leak-free oasis, all with a little help from technology and a whole lot of fun. Let's go!
1. Meross Smart Water Sensor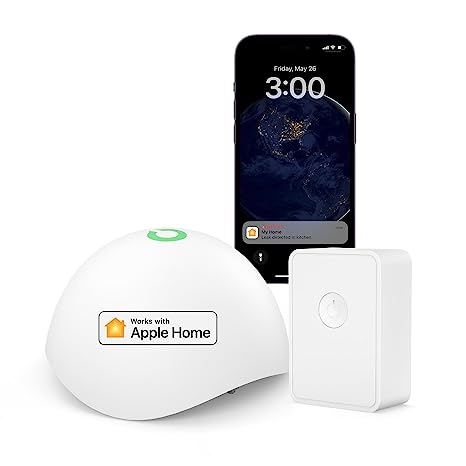 Meet the Meross Smart Water Sensor, your home's very own leak watchdog! This little hero will sound the alarm the moment it senses unwanted water.
First off, it's compatible with Apple HomeKit and SmartThings, so you can easily set it up and monitor water leaks remotely.
Secondly, it's got sensitive probes and a water level threshold of just 0.5mm, in addition to a whopping 100m/328ft transmission distance. Plus, with just one hub, you can control up to 16 Meross sensors. Oh, and it's incredibly power efficient, with a battery life of over 18 months.
Lastly, the water detection sensor for HomeKit boasts IP67 waterproof and dustproof design ensuring no rust, no short circuits, and no false alarms. Made with advanced nickel-plated carbon steel, it stays put even when the water level rises beyond expectations.
Buy the Meross Smart Water Leak Detector from Amazon for $29.59.
2. Aqara Hub M2 Plus Smart Water Sensor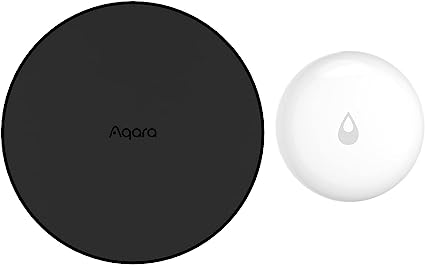 Not only does this smart water sensor detect leaks, but it also measures temperature and humidity. A triple threat, right? And with HomeKit compatibility, you'll know what's up in your home instantly.
With a secured 2.4 GHz Wi-Fi connection, this nifty device can connect up to 128 Aqara devices, ensuring your entire smart home stays in sync.
The functionality is the same as others – it detects water and sends an alert to your iPhone immediately. But what sets this water sensor apart?
Well, it's equipped with Zigbee 3.0 support, making it super speedy and energy-efficient. Plus, Aqara's water sensor for HomeKit detects even the tiniest water droplets with its sensitive leak probes, boasting a 0.5mm threshold.
Additionally, it gets along splendidly with various smart home ecosystems and voice assistants like Apple HomeKit, Google Assistants, Alexa, and IFTTT.
Buy the Aqara Smart Water Sensor (bundle of 2) from Amazon for $69.99.
3. Eve Water Guard Smart Water Sensor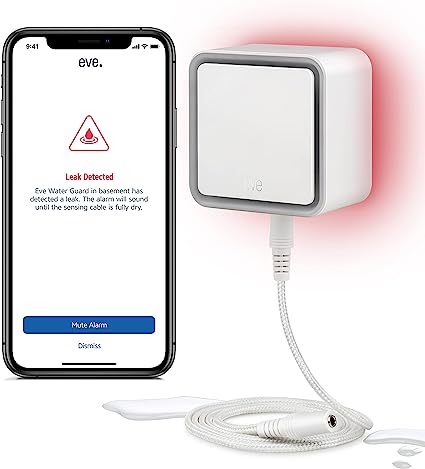 Rain or shine, the Eve Water Guard smart water sensor will keep a keen eye out for any unwelcome water intruders. With its seamless HomeKit integration, you'll stay dry and worry-free wherever you are.
With a booming 100 dB siren, a red flashing warning light, and notifications sent straight to your iPhone, iPad, or Apple Watch, you'll be alerted instantly and in style.
Its super impressive 6.5 ft sensing cable acts as a full-length sensor to monitor large areas of your room. And if that's not enough, you can extend it up to a whopping 490 ft, ensuring no inch of your space is left unprotected.
This water leak detector iPhone also supports both Bluetooth and Thread technology, ensuring improved stability and enhanced reach throughout your smart home.
Buy the Eve Water Guard from Amazon for $92.95.
4. Fibaro FGBHFS-101 Flood, Water & Temperature Sensor

Don't let leaks dampen your day! The Fibaro FGBHFS-101 flood, temperature, and smart water sensor is here to the rescue. This HomeKit-compatible water leak detector delivers timely alerts and temperature updates.
Thanks to immediate notifications on your iPhone, you'll be alerted the moment any water leakage occurs in your home. Even if you're out of Bluetooth range, don't worry. Just have an Apple TV or HomePod set up, and you'll still receive those crucial alerts.
Equipped with a visual and sound alarm, it can act as a stand-alone defender, sounding the alarm at the first sign of trouble. Plus, you can even set it up to trigger your HomeKit-enabled light bulb to change color when water leakage is detected.
Just place the Fibaro Flood Sensor under the sink or next to pipes, add it to your Apple Home app, and voilà—you're all set to dive into a leak-free home.
Buy the Fibaro Smart Water Sensor from Amazon for $71.48.
5. iHome iSB02 Dual Leak Smart Water Sensor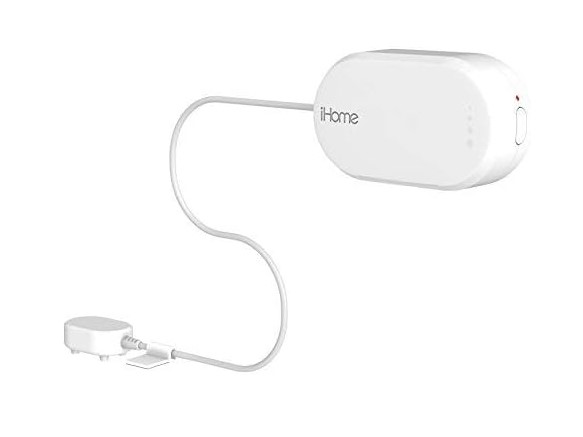 The iHome iSB02 Dual Leak smart water sensor has your back (and floors) covered. Its dual leak detection arms ensure that no water goes unnoticed. Connect it to your HomeKit, and you'll be in the loop with notifications—keeping you one step ahead of potential disasters.
It gets even better. With the dual leak probe feature, it's like having two sensors in one.
You'll find a leak probe on the bottom of the sensor and an extra-long 6′ sensor probe, giving you the flexibility to place them wherever you need. Under sinks, by washers, near toilets, hot water heaters, doorways—take your pick.
Thanks to its battery-powered and Wi-Fi connectivity, this water detection sensor for HomeKit offers the freedom to place it anywhere without worrying about wires. Plus, with global remote access, you can stay in the loop 24/7, receiving instant alerts through iHome's highly secure and encrypted data and privacy protection.
Buy the iHome iSB02 Battery Powered WI-FI Dual Leak Sensor from Amazon for $38.33.
Catch Leaks in the Act!
No longer will you need to fear sneaky leaks hiding in the shadows or surprise puddles turning your floors into mini swimming pools.
Thanks to the water sensor for HomeKit, you can receive instant notifications, wherever you are, keeping you in the loop with your home's H2O status.
So go ahead, take the plunge into the world of home automation, and let these smart water sensors be your guide to a worry-free life.