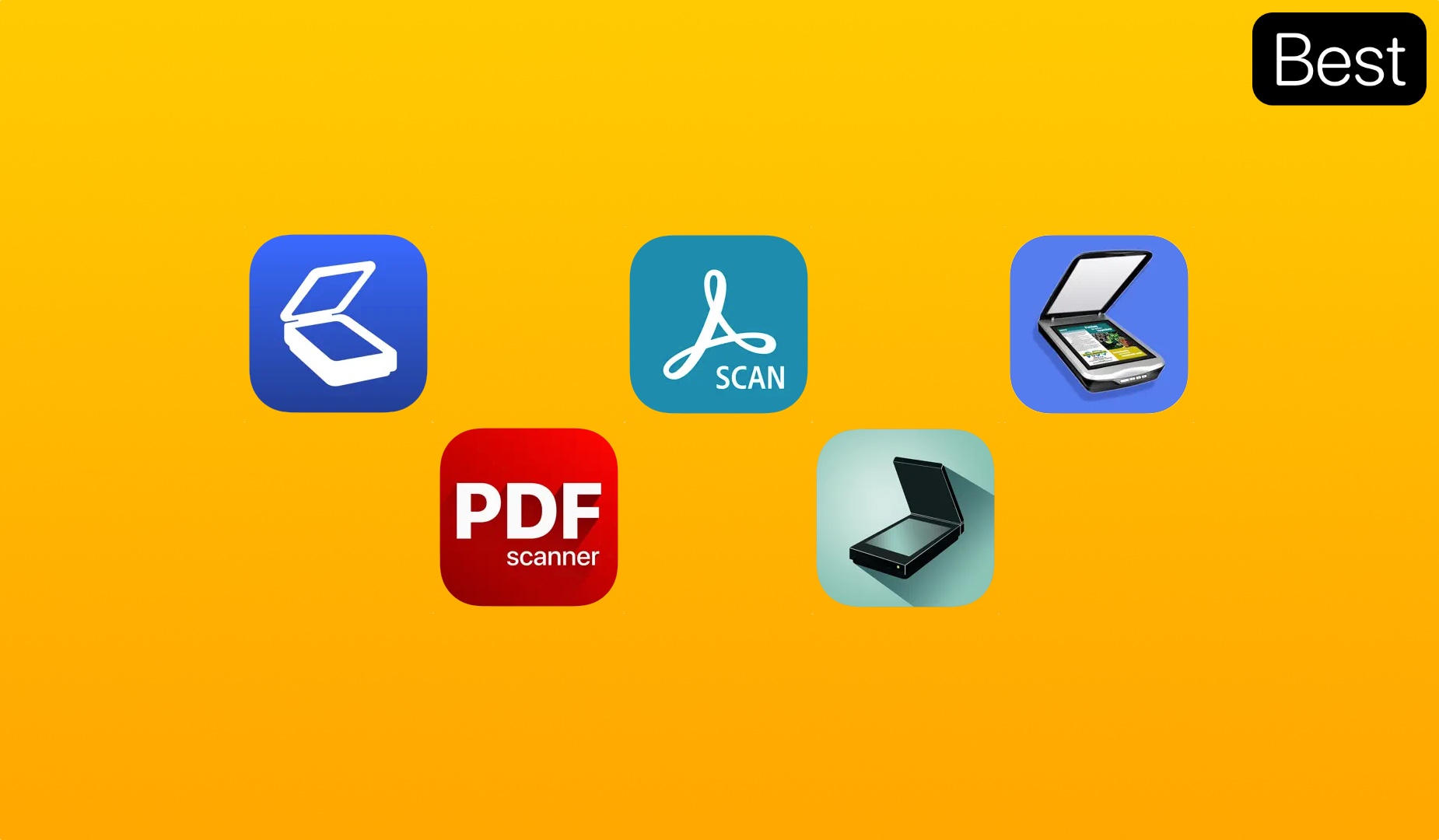 In this article, we will explore the best text scanner apps for iPhone, turning your trusty device into a portable document wizard. Lost in Papers? Not Anymore!
Raise your hand if you've ever found yourself buried under an avalanche of papers, receipts, and random notes, desperately wishing for a way to magically digitize them all.
We've all been there – the struggle is real!
Wanna know all about the secret sauce that'll turn your iPhone and iPad into document-scanning wizards? Say hello to the marvelous world of OCR scanner apps.
For the uninitiated, OCR stands for Optical Character Recognition, and boy, is it a game-changer! These nifty little apps have the power to transform your handwritten or printed texts into digital gold.
They're like real-life wizards, minus the pointy hats and wands (but hey, we can pretend, right?)
Must-Try OCR Scanner Apps for iOS
Say goodbye to the days of frantically searching for that one elusive piece of paper or struggling to keep track of important notes.
With these incredible scan-to-text apps, your iPhone will transform into a portable office and your iPad into a digital document wizard.
From the basics to the fancier features, we'll delve into each app's unique powers and why they deserve a spot on your device. Let's dive in!
1. Text Scanner – OCR Scanner App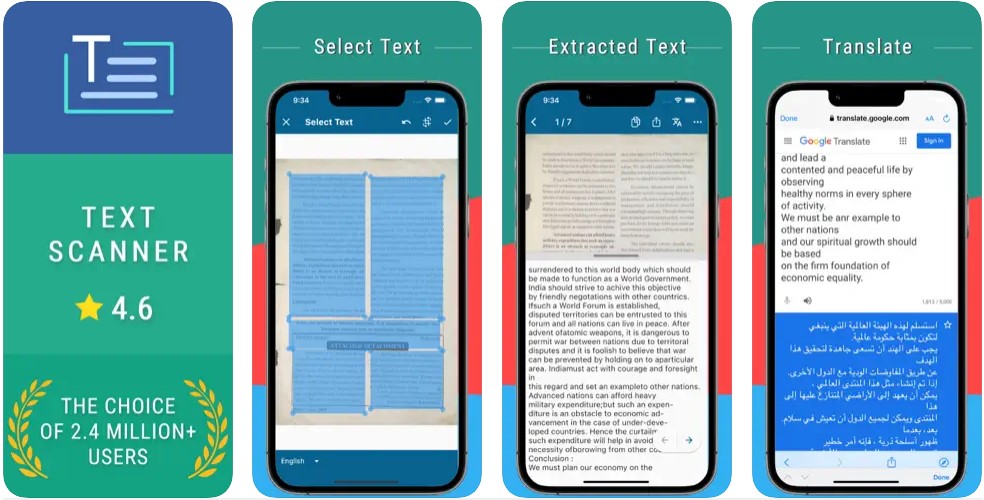 Of course, we have to start with the OG OCR scanner app. This one does it all with simplicity and efficiency. Scan your receipts, notes, or random doodles. It's like having a personal assistant in your pocket, minus the coffee runs.
The Text Scanner app for iPhone can extract text from images like a pro with 99% accuracy and in a whopping 92 languages. Plus, this wonder app is not just about image scanning. Need to grab some text from your screen? No worries! With a simple screenshot, Text Scanner lets you copy text directly from your screen
It can translate text into over 100 languages, crop images before OCR, edit and share OCR results, and offers backup and restore options. Moreover, you can import PDFs, use share extensions, and offers backup and restore options as well.
Download the Text Scanner app for iPhone now.
2. Adobe Scan – OCR Scanner App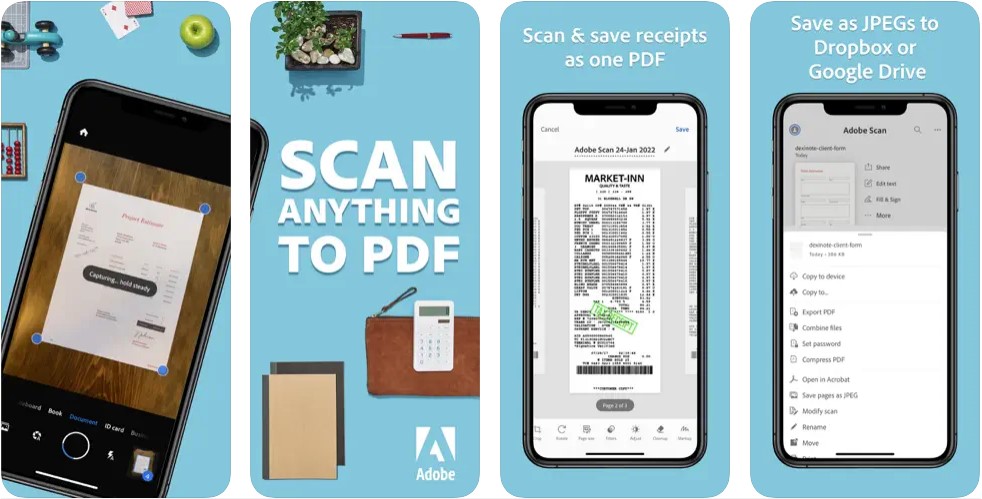 Adobe, the name that screams creativity.
The Adobe Scan OCR app for iPad brings that artistic touch to OCR scanning. It's like a scanner on steroids but in a good way! Plus, the extra features are pure bliss for creative minds.
The OCR scanner app can automatically recognize text from your scanned documents. Plus, the Book Mode can create high-quality scans of never-ending pages without breaking a sweat.
And the best part? You can save all your important scans directly to Dropbox or Google Drive, making them easily accessible from anywhere.
Furthermore, you can adjust the brightness and contrast of your scan. While the advanced image technology automatically detects borders, sharpens content, and performs OCR wizardry on the text it finds.
The features are endless. Give your documents a quick makeover through edits, create custom folders, sync your contacts, and more.
Download the Adobe Scan text scanner app for iPhone now.
3. Tiny Scanner – OCR Scanner App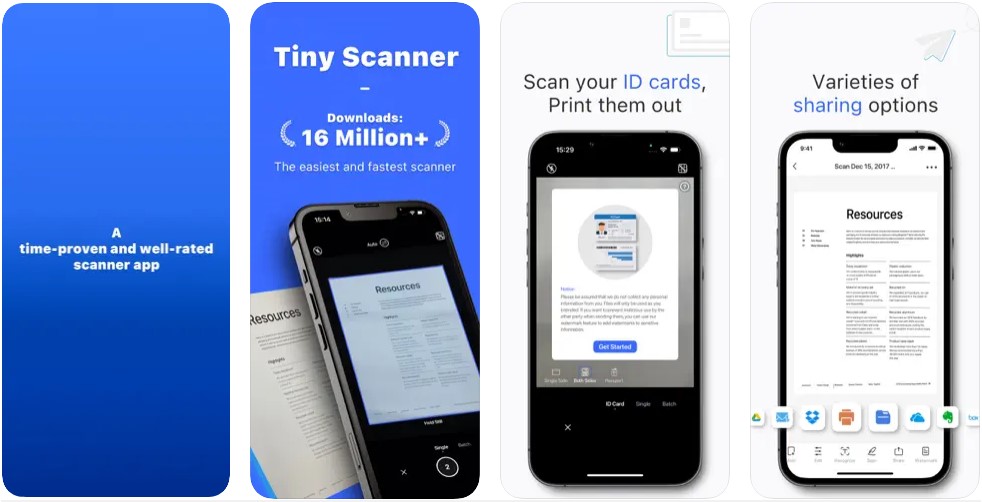 Don't be fooled by the name; the Tiny Scanner iPhone OCR app is mighty powerful. A small app with big results, it's like Ant-Man but for scanning documents.
One of the coolest tricks up this OCR scanner app's sleeve is its single/multi-page scan mode. And it guides you through the process with helpful tutorials, making you feel like a scanning pro.
As for security, Tiny Scanner has your back with PDF encryption and password protection, ensuring your documents are safe and sound. Plus, the smart border detection feature makes automatic document recognition a breeze, saving you time and effort.
Tiny Scanner goes the extra mile with cool features like adding watermarks, handwritten or scanned signatures, and tagging documents for easy searching and organization.
Download the Tiny Scanner text scanner app for iPhone now.
4. PDF Scanner – OCR Scanner App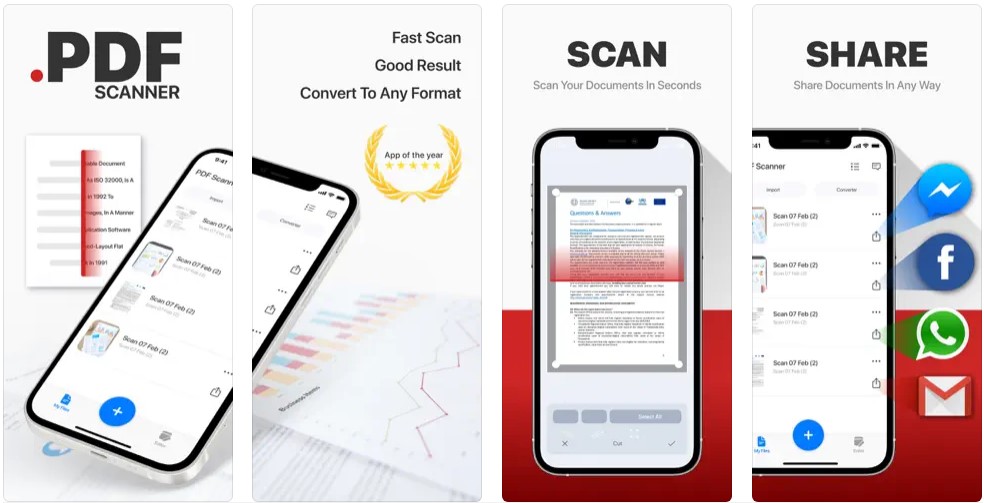 Who doesn't love PDFs? They're like the cool kids of document formats. And this app makes PDFs from your scans like a magician pulling a rabbit out of a hat.
With this OCR scanner app, your iPhone becomes a powerful portable scanner that can work its magic on various file formats like docx, jpeg, png, and more. It's like having a pocket-sized office assistant that's ready to scan, edit, save as PDF, and even share your scanned documents with ease.
It recognizes handwritten text, creates, edits, and views PDFs, converts files, improves content quality, and scans multi-page documents as well as images. Moreover, this scan-to-text app is a genius when it comes to recognizing text in different languages and can handle unlimited requests.
Plus, your data is always protected, so no worries there.
Download the PDF Scanner text scanner app for iPhone now.
5. SCANNER – OCR Scanner App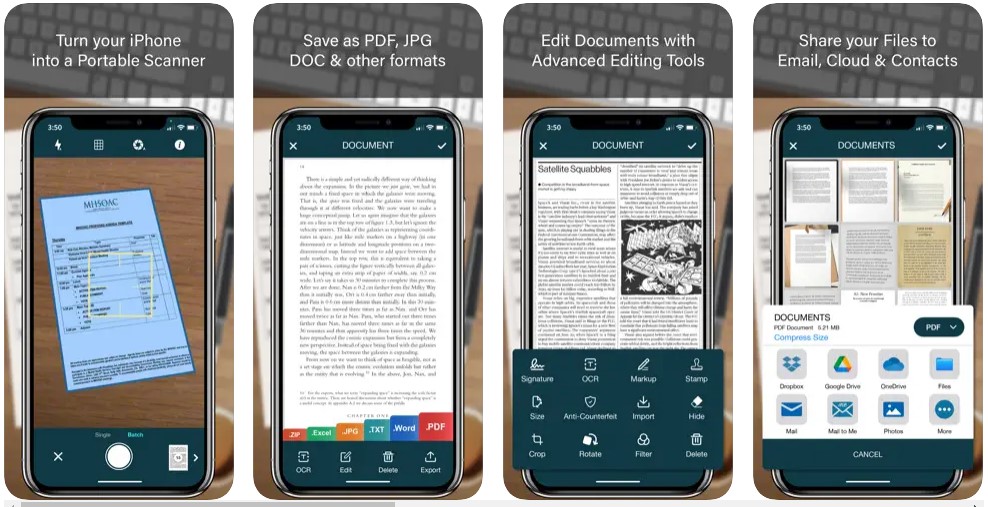 The OCR SCANNER app doesn't need fancy bells and whistles to impress. It's a no-nonsense app for no-nonsense folks.
First up, prepare to be dazzled by the sheer variety of file formats you can create with SCANNER. We're talking PDF, DOC, EXCEL, TEXT, ZIP & JPEG files – it's a scanning smorgasbord! And with auto edge detection, you'll be zipping through scans faster than a cheetah chasing its prey.
With the auto enhancement, your graphics and text will look so sharp, you'll feel like you've upgraded your scanning glasses. Plus, automatic noise removal, color correction, and perspective correction mean your scans will be picture-perfect every time.
To sum up, it can extract text from images and turn them into text files, edit text on scanned documents, search and replace specific text, and so much more.
Download the SCANNER text scanner app for iPhone now.
6. Fast Scanner – OCR Scanner App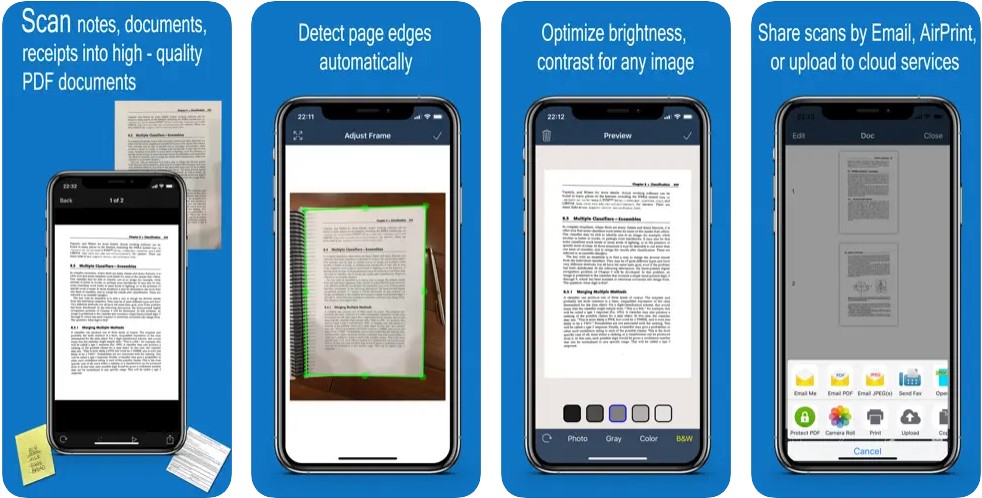 Life is moving at warp speed, and so is the Fast Scanner OCR scanner app. Zap through your paperwork like The Flash, but instead of fighting crime, you're conquering clutter.
With a tap of your finger, you can quickly scan all sorts of documents, from a tiny receipt to a massive multipage book. But Fast Scanner doesn't just scan and leave you hanging. Oh no, it takes it up a notch by allowing you to export your scanned masterpieces as industry-standard PDF files. Fancy, right?
Plus, you can effortlessly add or delete pages within the PDF file, so organizing your digital documents becomes a breeze. The Free OCR app for iPhone is all about making your life easier.
Furthermore, it offers a bunch of image editing options to ensure your scanned documents are as clear and easy to read as possible.
Download the Fast Scanner text scanner app for iPhone now.
Tap, Scan, Digitize!
These OCR scanner apps are like pocket-sized superheroes, ready to save you from the clutches of paper chaos and usher you into a world of seamless organization.
Whether you're a student aiming to conquer those endless class notes or a professional looking to streamline your paperwork, we've got you covered.
No more shuffling through stacks of paper like a mad scientist; it's time to go digital and embrace the future of the organization.
Are you ready for this epic journey of digitization and organization?