The use of a numerical keypad simplifies data entry for financial professionals as well as anyone who uses ten-key keyboards. The numeric keypad on the keyboard is not a standard feature on Macs and MacBooks today. Thus, you may want to consider purchasing one separately.
We have searched the internet to find the best wireless numpads for Mac, so let's see which one will fulfill your needs.
Finding the Best Wireless Numpad for MacBook
So, you need a new numeric keypad to do accounting or finance work. How do you choose the right one for your needs? It is subjective to determine which features are significant. For example, you may want a small pad with just ten keys, or a larger pad with arrow and function keys. Before making a decision, you need to think about a few basic things.
Here is the list that would help you make a final decision.
1. Foloda Wireless Number Pads
A Foloda number pad is made of high-quality ABS material that provides maximum comfort and precision control, superior resilience, fast response, and reduced press noise.
With this Numeric Keyboard, you can use NumLock, ESC, Tab, Delete, etc. Using shortcut keys, you can directly access the computer's calculator. In comparison to other laptop keyboards, the Wireless Multi-Function 22 Keys external number pad has more features.
The numeric keyboard weighs only 87 grams and works through 2.4GHz wireless technology. All you have to do is plug the receiver into a USB port. It has a maximum working range of 32.8 feet.
Additionally, it has an auto sleep function, which lowers power consumption, and offers energy savings.
Buy Foloda Wireless Number Pads for $18.79 here
2. havit Bluetooth Number Pad
A rechargeable lithium battery in this wireless numeric keyboard eliminates the need for constant battery replacement. This numeric keypad supports Bluetooth 3.0, plug and play, no delay, fast data transmission, and a 33-foot working range.
There is also a shortcut key that opens the computer calculator directly, as well as the NumLock, ESC, and Delete keys. You can even combine three currency symbols ($€) through the Fn+composite keys.
These advanced quiet SCISSOR-SWITCH KEYS provide a comfortable and smooth typing experience, quick response, and smooth tactile rebound, which helps improve work efficiency. The 15-degree tilt design fits well with human body habits when working on spreadsheets, accounting, and financial records.
Using the USB protocol, the rated charge voltage of this Numpad is 5V. It is recommended to use the USB port of your computer to charge it, and not to use other chargers or USB ports that do not belong to your computer.
Buy havit Bluetooth Number Pad for $19.99 here
3. iClever Bluetooth Number Pad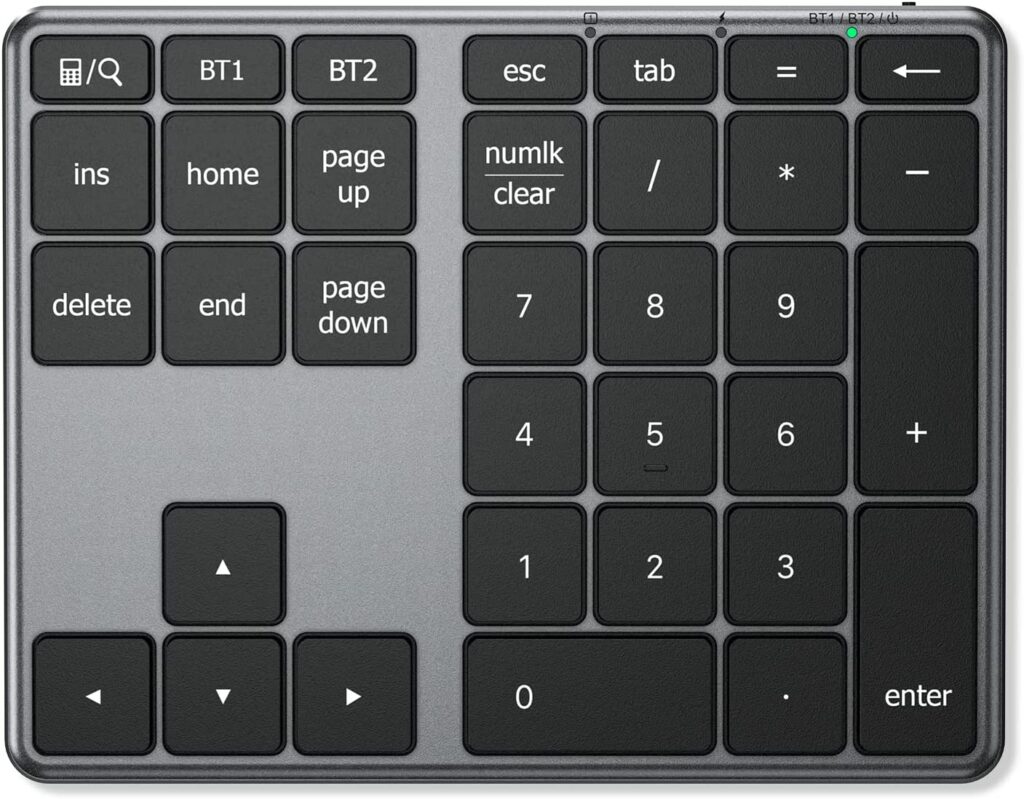 The Bluetooth 5.1 wireless number pad supports two devices, making it easy to use. In addition to calculator keys, external keypads include pgup, pgdn, insert, etc, which are handy for students, office professionals, spreadsheet experts, and accountants.
Combining a stainless-steel bottom frame, ABS top cover, and scissor-switch key structure (similar to the laptop key structure) makes this numpad slimmer and more solid. A key can be used 3 million times before it needs to be replaced.
This wireless number pad is powered by a lithium battery that has a capacity of 200mAh. The battery can be fully charged in one hour and last for up to 100 hours.
Buy iClever Bluetooth Number Pad for $27.99 here
4. FELICON Wireless Numeric Keypad
This wireless Numpad for accounting can be used with a small USB port connected to the computer interface. You don't have to install any software to use it. Your productivity will be greatly improved by this numeric keypad, because it works without delays or dropouts, allowing fast data transmission.
This numpad has 18 full-size quiet keys that are easy to use with excellent touch and precision control. Especially suitable for staff who work on spreadsheets, accounting documents, or financial applications. Besides, its ergonomic design ensures long-term use without causing fatigue.
The Felicon wireless numeric keypad will automatically enter sleep mode when not in use for 5 minutes, so you won't have to worry about wasting power. It will turn on an indicator light when the power is low, so you also won't have to fret about it not working when you need it the most.
Buy FELICON Wireless Numeric Keypad for $17.99 here
5. Lekvey Bluetooth Number Pad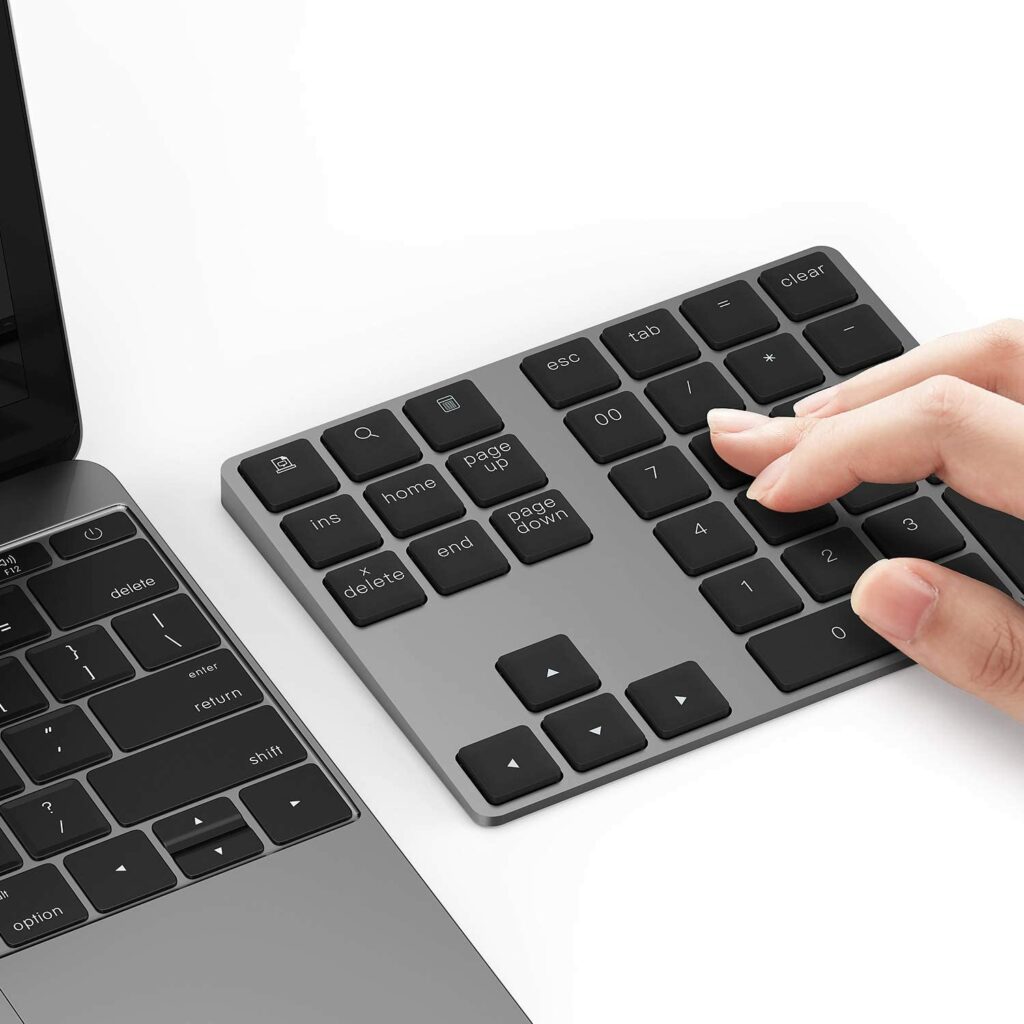 As a side, external numeric keypad for Macbook, MacBook Air / Pro, iMac, PC, Surface Pro, laptop, or desktop, the Lekvey Bluetooth number pad is made of solid and high-quality aluminum materials for long-lasting use. It features an ergonomic tilt for comfortable typing and looks stylish.
Wireless Bluetooth technology allows you to extend your existing keypad by 34 keys while staying cable-free and clutter-free. It operates at a distance of 10 meters.
It is equipped with a 160mAh lithium rechargeable battery. With the included USB cable, the Bluetooth numeric keypad can be recharged without replacing batteries. In addition to the auto-sleep feature, the Bluetooth wireless keypad also boasts low power consumption, energy-saving features, and a humanized design.
Buy Lekvey Bluetooth Number Pad for $38.99 here
6. Rottay 2.4GHz Wireless Mechanical Numpad
A 2.4GHz wireless connection (not Bluetooth), with no drivers required, delivers the speed and reliability of a corded connection. There are 27 keys on the keyboard with NumLock, ESC, Tab, Delete, and a shortcut key to access the calculator quickly to help you become more productive. It can also be combined into 3 currency symbols ($, €, ) via the Fn + composite key.
This wireless numeric keypad includes high-capacity batteries and a universal Type-C cable for quick charging. Depending on daily use, it can last 1-2 months after charging for about 2 hours.
Featuring tactile feedback, a quick trigger, and a distinctive sound, this low-profile mechanical blue switch is a smart choice. You can even work in dimly lit rooms with 3 backlighting modes: full light, breathing light, and lights off.
The keycaps are made from durable ABS material to provide great touch and precise control. Furthermore, the USB receiver is stored inside the number pad at the back, making it convenient to transport.
Buy Rottay 2.4GHz Wireless Mechanical Numpad for $27.99 here
7. Qisan Mechanical Numeric Keypad
Qisan mechanical numeric pad is equipped with 21 keys. It has Esc, Tab, Back Space, and FN keys, which are extended from other standard keypads. With the mechanical switch numpad, you can expect a fast response time.
Using this wireless numeric keypad saves USB interface space, allows seamless Bluetooth connections, and frees users from cable shackles. There is also an independent power switch on the keypad. In this way, you can prevent accidentally touching the wireless keypad.
What's more, an automatic sleep function is built into this mechanical numeric keypad. Its Num Lock indicator also shows Bluetooth Match Codes and battery low voltage alarms.
In addition, it contains a calculator shortcut key, which you can use at any time to perform keyboard calculations.
Buy Qisan Mechanical Numeric Keypad for $29.98 here
Final Words
We have done the best we can and compiled this list of the best mechanical Numpad keyboards for Mac, but it's still crucial that you do thorough research before you consider buying.
So, which one would you most likely buy? Let us know in the comments section.